5 Inspiring Ideas For A Stylish Staircase At Home
It interests people to see what common themes tend to emerge each year whether for home building or remodeling projects. One of the most obvious ones that seem to be prevalent (as always) is the desire for larger kitchens, master bedrooms, front rooms, or let's say a bigger home, yes. And with great demands for bigger spaces, staircases can literally be the great uniter that binds the entire home.
Staircases, stairwells, a flight of stairs, or simply stairs are almost as old as architecture itself. But because of style and function, stairs are still common to modern-day homes. Admit it or not, this is something that we usually look forward to when visiting a neighbor's home for the first time. As guests, we're excited to learn like how many steps do they have, is it wooden or made of stone, or what particular style do they own.
But behind what we see is the deal that all project home builders know about: making a decision on one design often leads to a million other to-dos. Designers might have penciled it onto blueprints but it's just the beginning. We're not yet talking about the number of steps, the shape, shade, pattern, choice of materials, and other related elements to consider. Read on to see sample ideas of stylish staircases ranging from classic to modern.     
Floating Edgy Staircase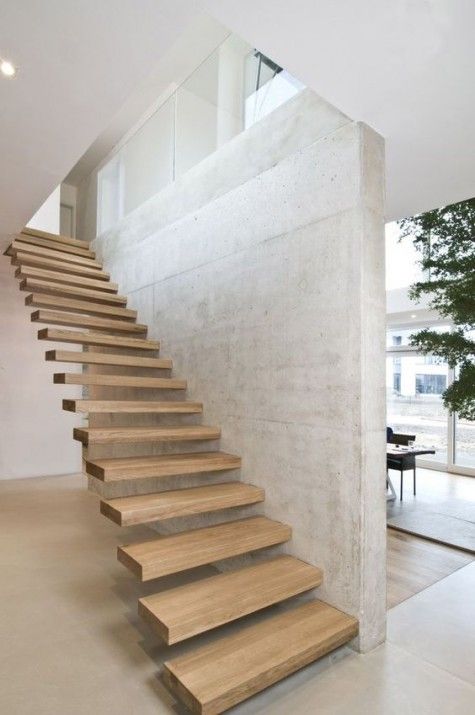 Source: stantondavishomestead.org
The idea of floating stairs has been improved for so many years now. It started with the plan of eliminating the base to achieve a lighter and wider look. More and more changes occurred eventually.
While others have handrails and balustrades, some floating stairs have none at all. Floating stairs with no handrails are best and safe to use if wall-mounted. This idea is more common to modern commercial or residential projects, giving them a lighter and simpler scheme with levitating treads that can be in the form of glass, wood, acrylic, or concrete supplies.  
Three-tiered Staircase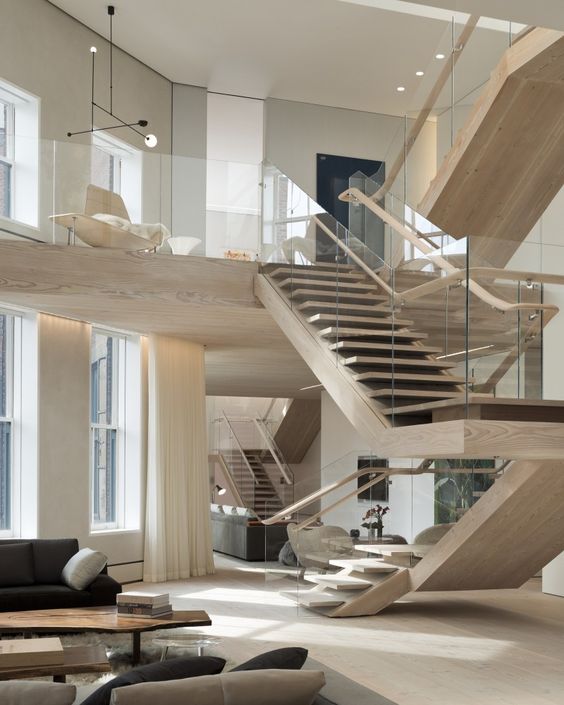 Source: i.pinimg.com
Unlike the previous type that's designed after small spaces, a three-tiered staircase is ideal for bigger homes preferably with two or more levels. Glass is used in place of wooden balustrades to make it more involved.
Also Read:- 10 Beautiful And Creative Staircase Designs That Defines Elegance For Your House
Glassy Spiral Staircase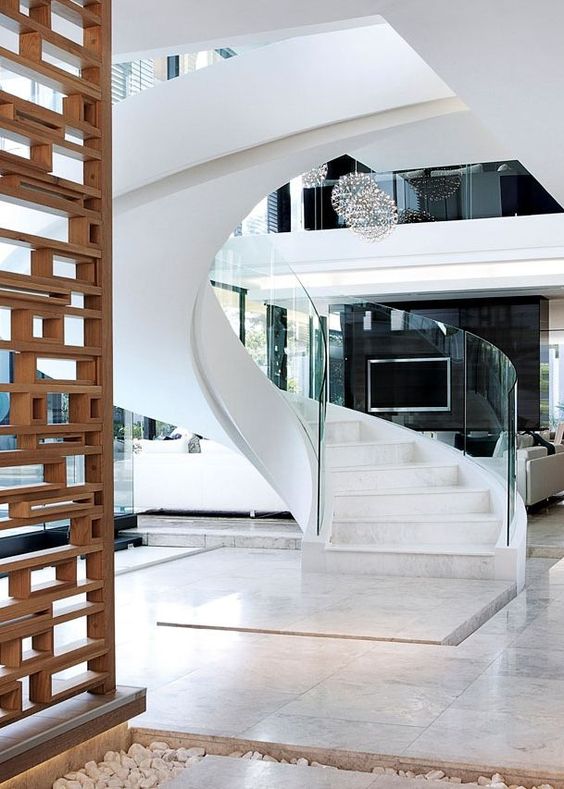 Source: i.pinimg.com
The classic spiral stairs were usually created with narrow-shaped treads (steps) and a compact layout that is centered around a single pole so it would form a perfect circle when you look from above. But since narrow treads are difficult to cross, spiral stairs are now improved with wider steps that can hold your feet safely. With attention to details, modern fabricators use glass materials on balustrades to enhance design, beauty, light, and energy usage.
Artsy and Curvey Staircase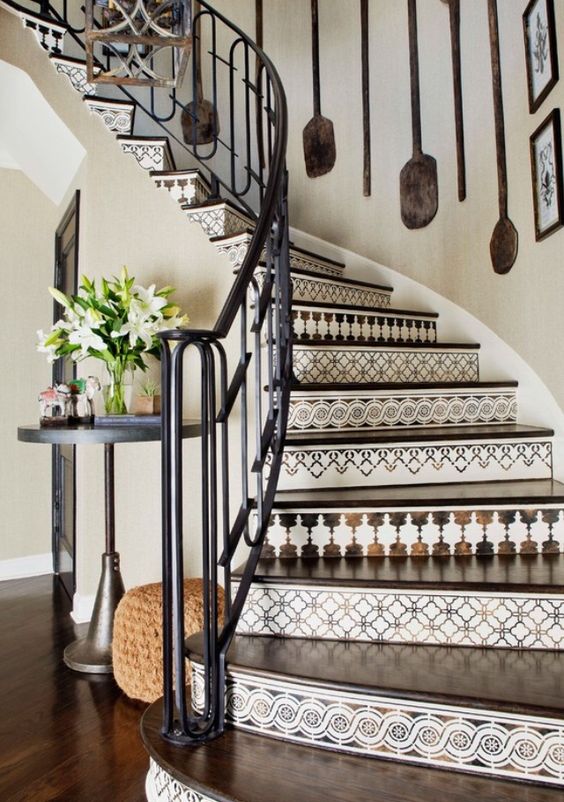 Source: i.pinimg.com
When people developed an extreme fascination to wallpapers, designers begin to showcase several inspos, ranging from gorgeous bedrooms, kitchens, (and now) to staircases. There are two options when it comes to giving your stairs a trendy edge. One can either choose a pattern that will complement the staircase style or break the ordinary with bursting colors and unexpected patterns.   
Grand Bifurcated Staircase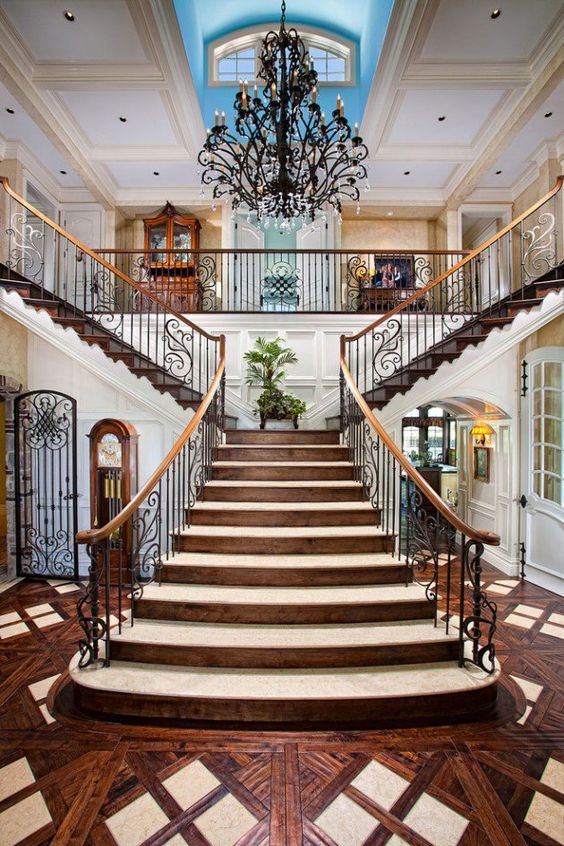 Source: i.pinimg.com
The grandest of them all – a bifurcated staircase is commonly used in entrance halls of either commercial buildings, private suites, or mansion homes to define richness and luxury. The staircase includes a sweeping set of steps that splits off into two smaller flights with opposing directions from left to right. Treads and handrails are normally made of wood or marble while balustrades are creatively patterned out of steel. To honor its glitz and glamour, lay a stair runner on the center and watch how it makes your jaw hit the floor.