A Guide to Landscaping Around Your Pool
525 views
You've finished installing your backyard swimming pool and it's definitely all you've ever dreamed of, a cool oasis on a hot summer day that you, your family and even your friends and neighbors will undoubtedly get years of enjoyment from. There's only one problem – now the rest of your backyard looks dated and pales in comparison to the bright, shiny new pool that will soon be getting all of the attention. But fear not, there are plenty of things you can do to spruce up the rest of what is to become a summertime oasis in the middle of your backyard. It all begins with a little landscaping, and we've got a number of suggestions for you to consider. So, let's get started and give you some ideas to ponder moving forward. Today's top tips come from a Custom Pool Builder in San Antonio, Sanchez Pools has been building pools for over 70 years and knows a thing or two about Landscaping Pool Ideas.
Add Some Plants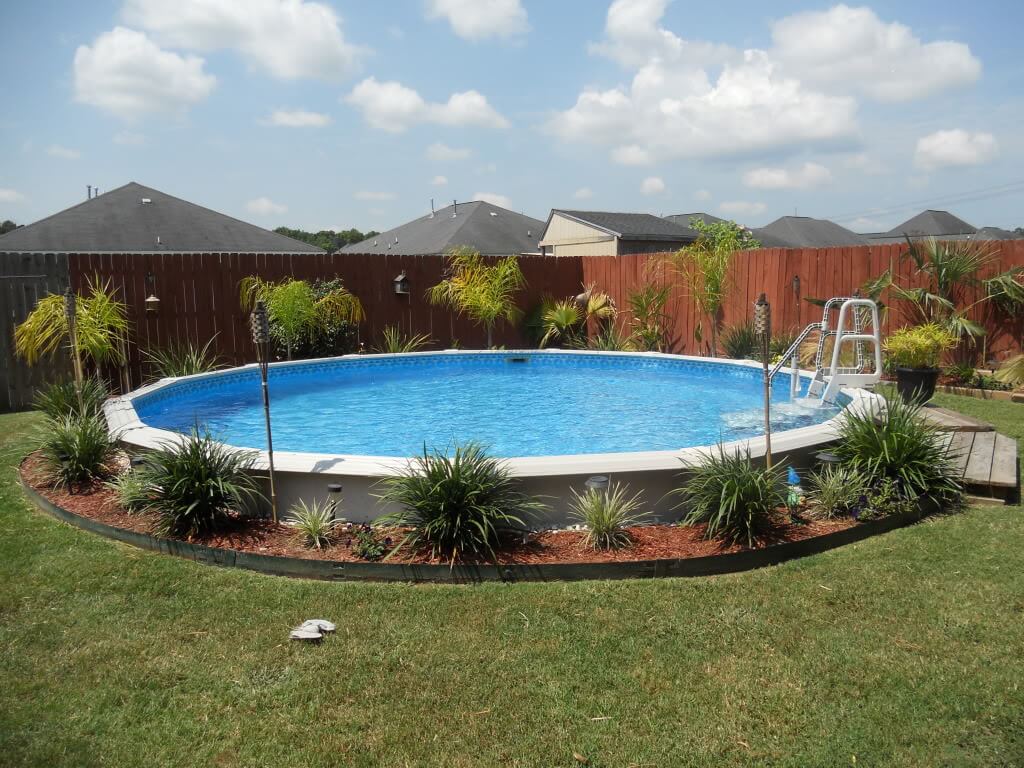 Source: inyopools.com
The right plants can brighten up any space, and can certainly add a lot of symmetry to your backyard pool area. But before you head to the greenhouse and buy any greenery to plant near your pool, consider the following tips:
Also Read: Best Different Types Of In-Ground Pools
Plant Trees at Least 10 Feet from The Pool to allow for Future Growth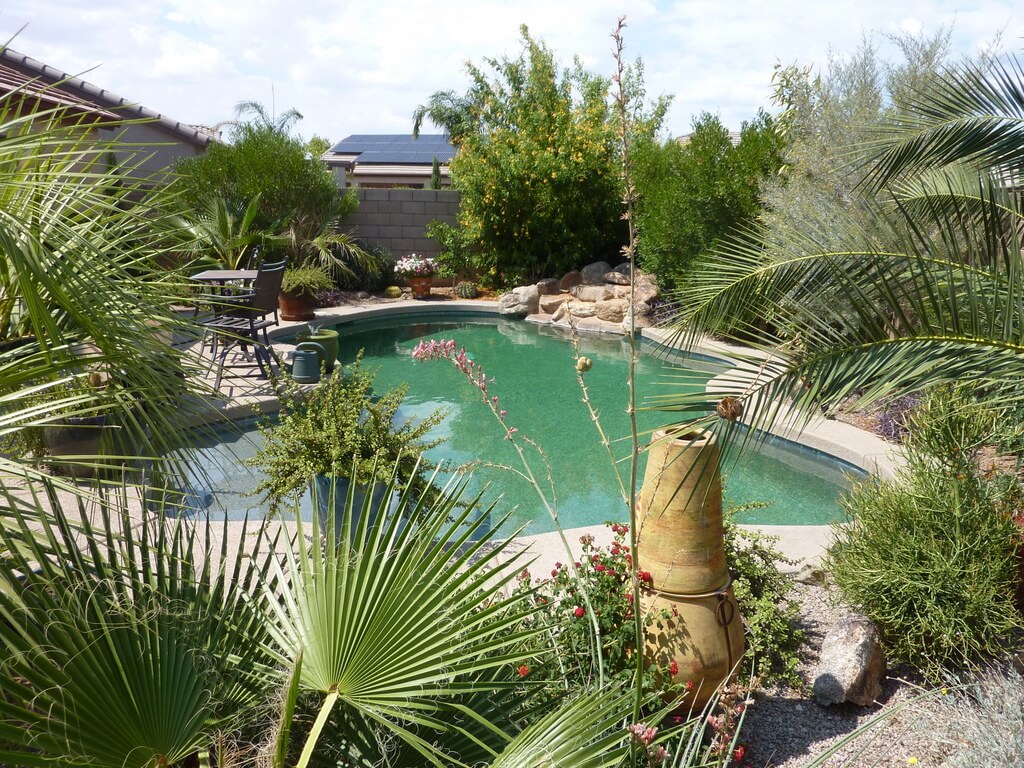 Source: city-data.com
Consider evergreen plants as they aren't seasonal, don't require much water and will do well all year round. Trees with large canopy or root systems can cause problems and/or filtering issues with your pool, due to leaves and pollen Cedars and Oaks should not be planted near a swimming pool due to heavy amounts of pollen and abscission that can harm filters and pumps. When using fertilizer, make sure there's not much wind as it can easily blow into your swimming pool and cause problems with your water chemistry. Some of the best pool landscaping plants include palm trees, aloe vera, weeping dalea, and red justicia.
Rock Gardens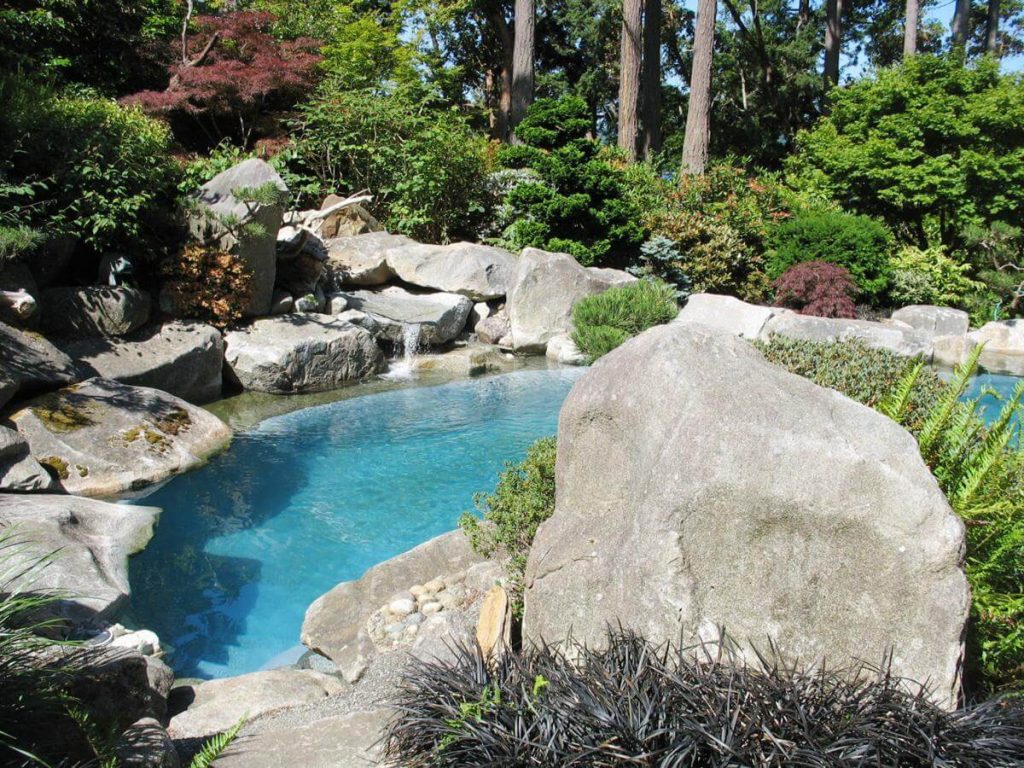 Source: townnews.com
Rock gardens can add an aesthetic element to your backyard and don't require a lot of work or upkeep. It's really as simple as gathering some rocks and filling up a bed of dirt with them, in whatever area of the backyard that you desire. These can really be easy on the eye and, once created, need a minimal amount of work.
Lighting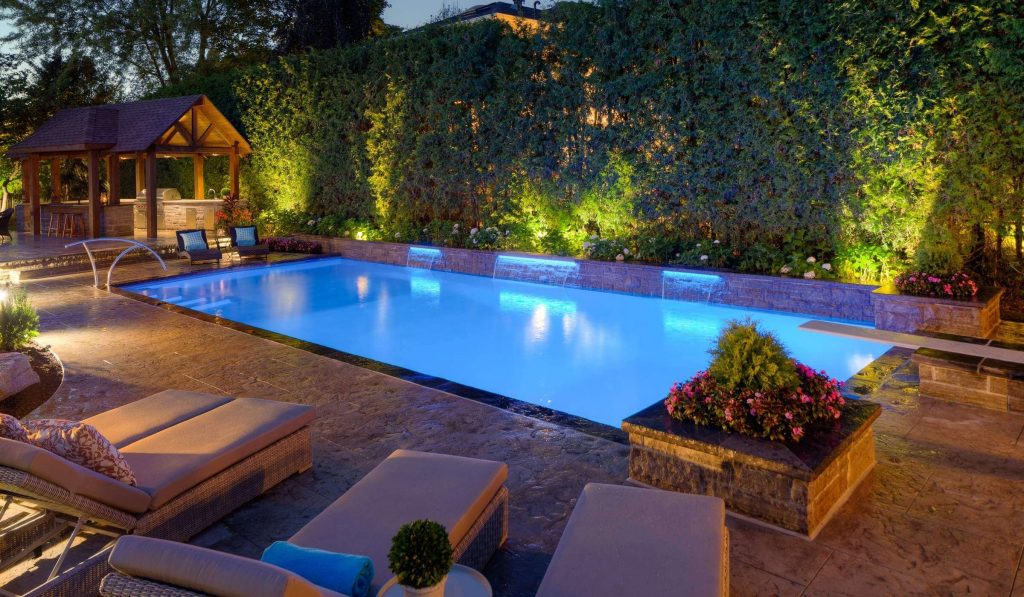 Source: betzpools.com
Is there anything easier on the eyes than some well-placed lights around your swimming pool during the evening hours? Types of lighting to consider include string lighting, that can be placed around the pool, lights that are placed underwater in the pool itself and lighting that can be hung on fences or outbuildings in your backyard. You might even want to consider something like a fire pit, which will add some natural lighting to the area but also serves the dual purpose of providing heat on a cool evening.
Patios and Walkways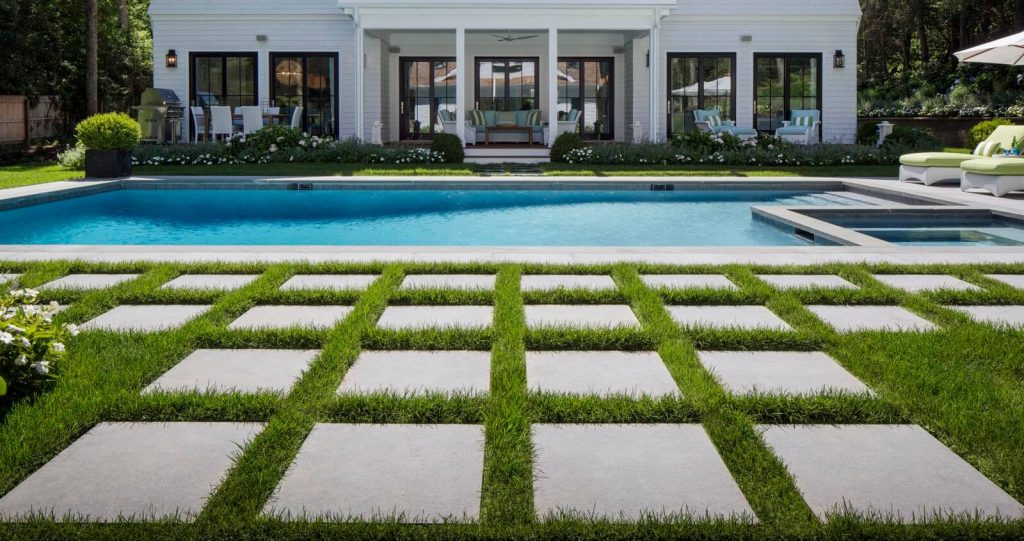 Source: wp.com
Use stone, slate, pavers, or a number of other materials to create patios, walkways or just aesthetically appealing elements to your new backyard oasis. You can get as creative as you want to with this type of a project and really the only limitations are your imagination. These types of additions have the added benefit of keeping unwanted debris out of your swimming pool, as people are not walking in the dirt and grass to get to the water. Experienced Decorative Concrete contractors can help you get that right mix of color and texture for any patio and walkway around your pool.
Flower Beds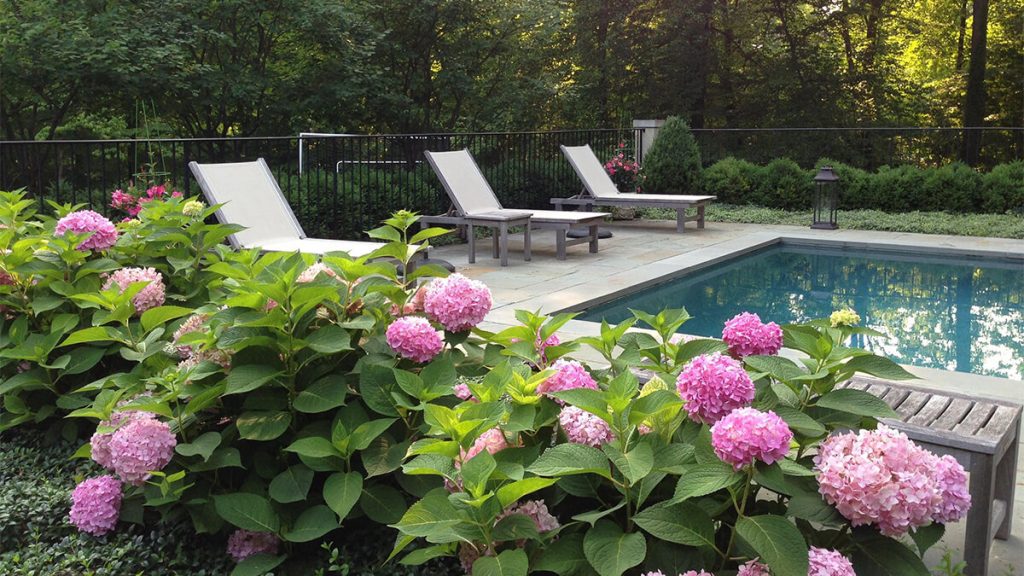 Source: growbeautifully.monrovia.com
Who doesn't like the look and smell of beautiful flowers, right? Consider planting a bed of roses, or the flowers of your choice, in the area between the rear of your home and where your new swimming pool is located. It will provide another visually appealing element, as well as a bit of a wow factor for people who are coming over to visit and use the pool. You might even pick one for your wife from time to time, just to let her know you're thinking about her. Bonus!
Gazebos and Decks
Source: hgtvhome.sndimg.com
If done properly, these will naturally fit in with the landscaping you've already installed or are thinking about installing in your backyard pool area. Just be sure that the Type of Gazebos or decking that you're putting in don't clash with other things that you've already done. You want it to flow naturally with the rest of the elements in your backyard. A quaint and picturesque gazebo will be a wonderful addition to your new recreational area and give people a place to sit and enjoy the day.
A Fish/Koi Pond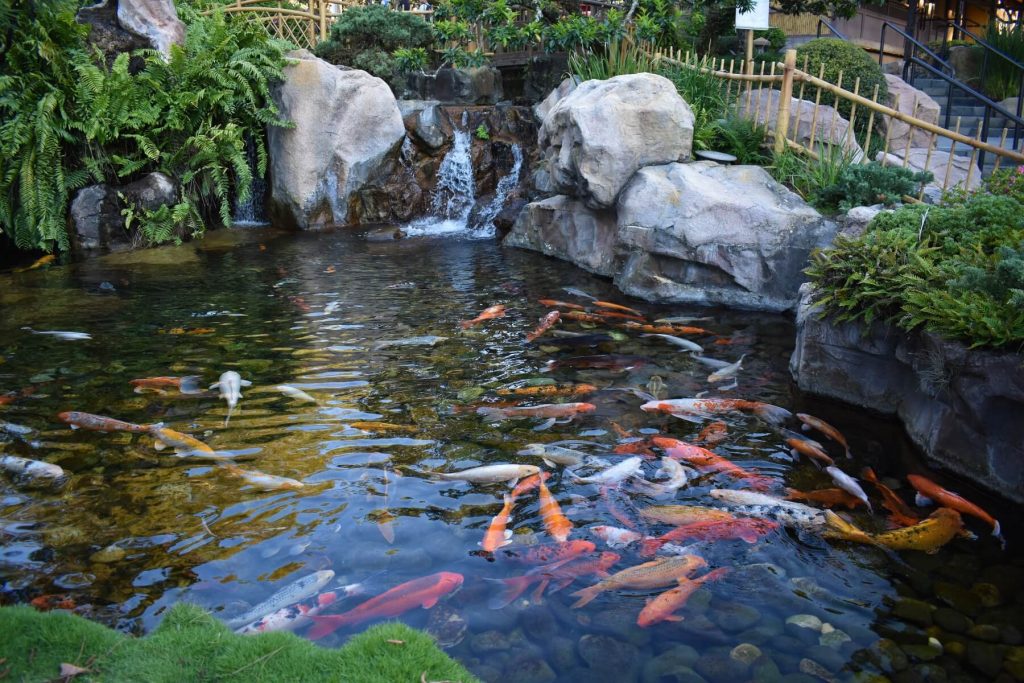 Source: pondplants.co.uk
Consider adding a fish pond to your backyard, but not close enough to the pool where the splashing and noise will disturb and stress your fish…A fish pond with a constant water feature can add another level of visual beauty to your backyard area. And when the pool is not being used, the trickling of the water can be the perfect backdrop for enjoying a cup of coffee or an adult beverage in the evening hours.
Other Water Features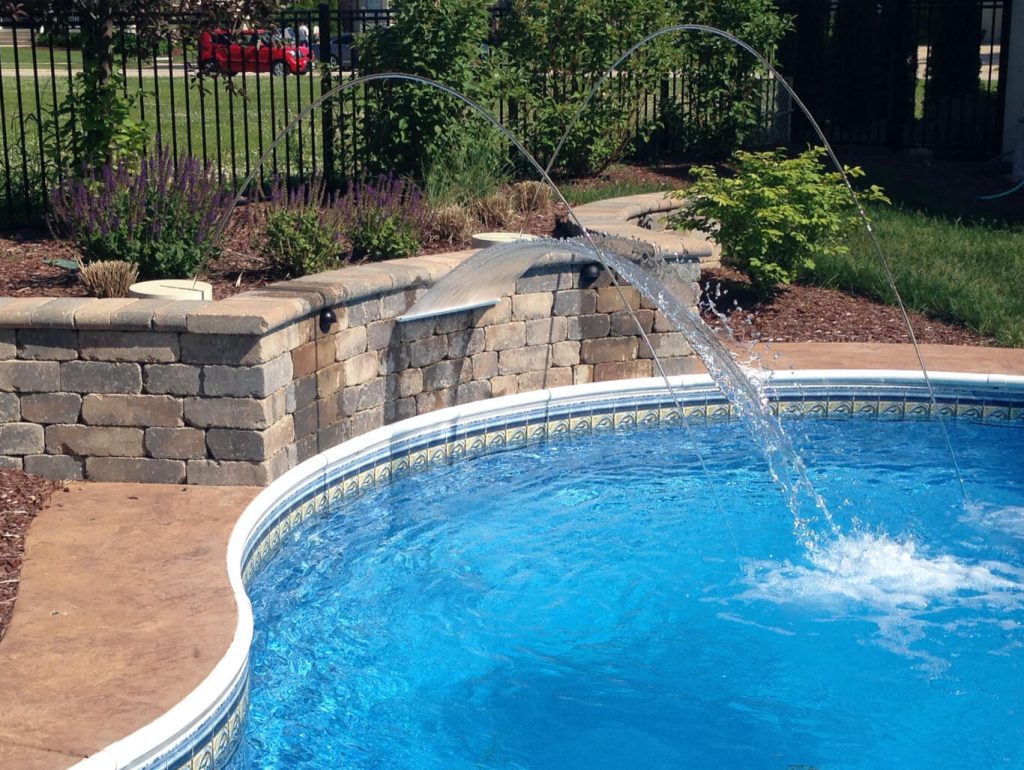 Source: swimshackinc.com
In addition to, or perhaps instead of, a fish pond, you could consider adding a different water feature to your backyard as a landscaping element. Ideas include water fountains, a small man-made stream, some stone stairs with cycling water or perhaps even a hot tub or spa.
Walkways/Bridges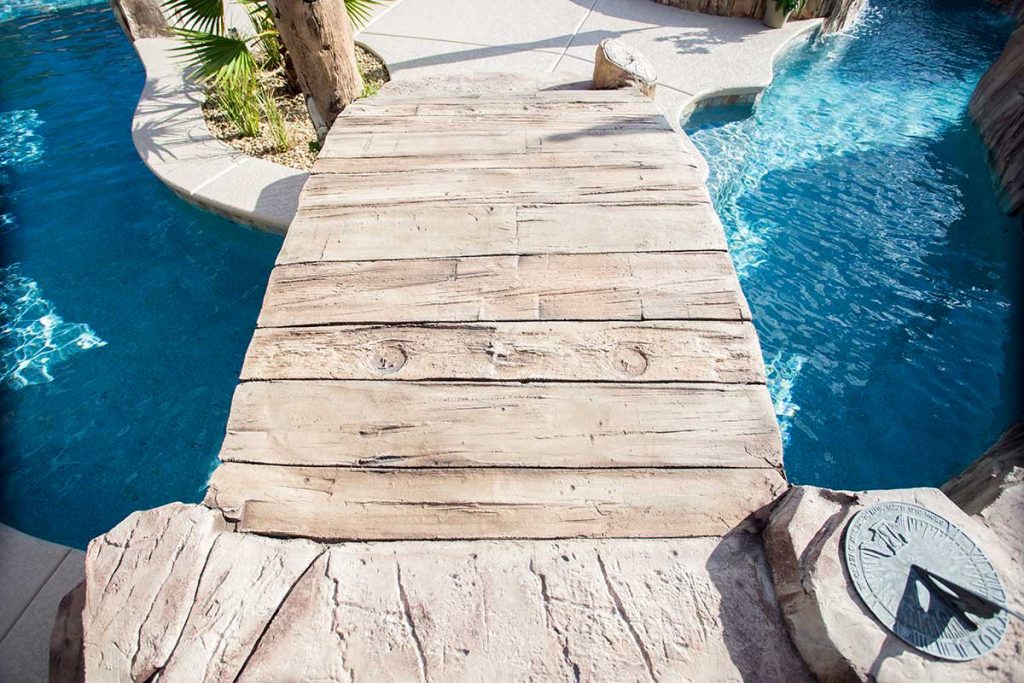 Source: poolsandlandscapevegas.com
To create another visually appealing addition to your backyard swimming pool area, you might want to consider an uncommon idea like a bridge that crosses the pool. This can especially be useful if you have one area for younger children and another for adults, as you can easily navigate from one area of the pool to the other. But usefulness notwithstanding, the main benefit of this type of addition is really the visually appealing aspect of it. A walkway or bridge that goes over the actual water in a swimming pool can be permanent or it can be removed and/or raised in some way to avoid any types of accidents when children are present.
The Right Furniture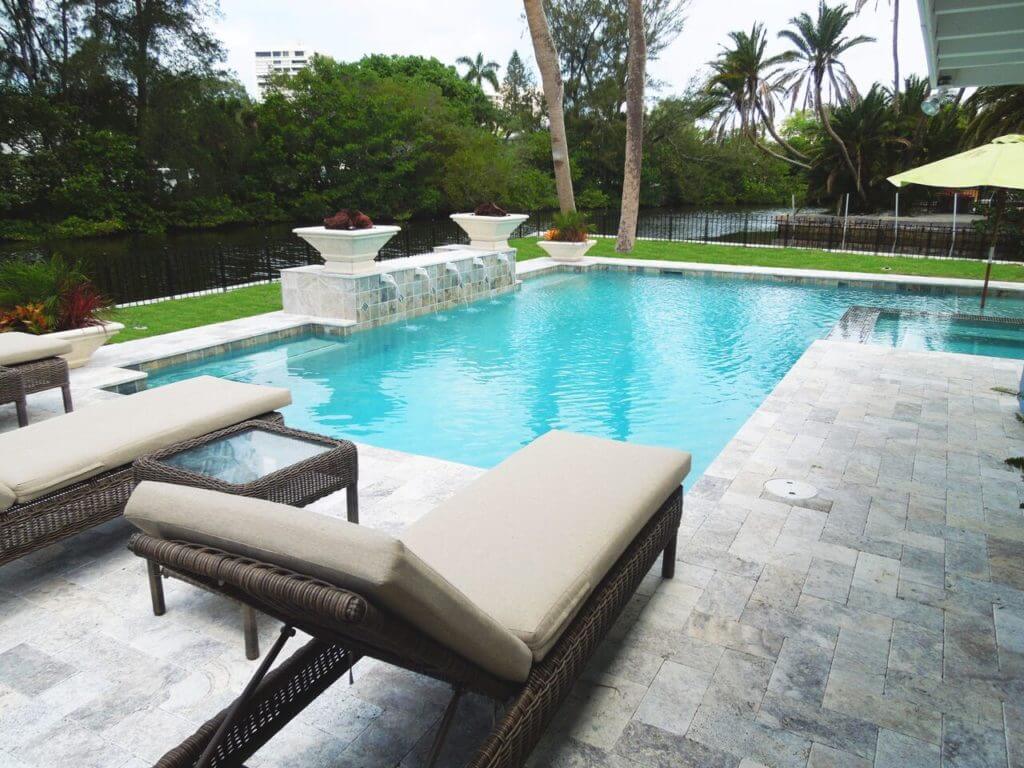 Source: premierpoolsandspas.com
People are going to need a place to sit while in your pool area, so choosing the right outdoor furniture can make a big difference in the overall appeal of your swimming pool area. If you've built a gazebo, for example, many people can sit there while watching others, particularly children, enjoying the swimming pool. But if you're adding other furniture like chairs, lounges, and tables, be sure that they fit in well with the gazebo, the walkways and the other elements of your backyard.