Can I Install My Kitchen on Top of My Engineered Timber Flooring?
86 views
When it comes to the interior designing of a modern kitchen, engineered timber flooring has become a popular option for homeowners – and for good reasons. The warmth, practicality, and elegance they lend to space are at the heart of a modern house.  
However, to set the kitchen up before installing engineered timber flooring or after it, that's the question!
Most homeowners wonder if they can and if they should install their kitchen on top of engineered timber flooring. If you're getting Timber Flooring in Melbourne and are confused about the same, this post is for you!
We're going to shed light on the pros and cons of installing flooring and cabinets first separately so that you can make a well-informed decision.
Also Read: Top Hardwood Flooring Materials For Best Looking Floors
Installing Recycled Timber Flooring First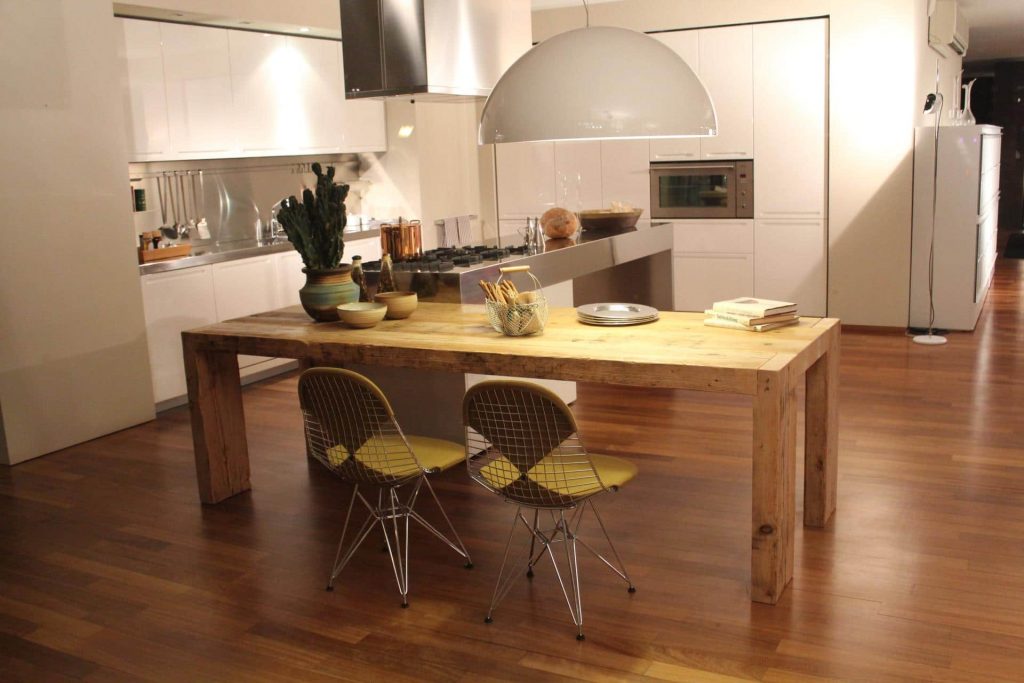 Source: property360.mu
Many people prefer installing timber flooring before any kitchen equipment for a number of reasons. This practice presents the following pros and cons:
Pros:
One of the biggest reasons why people who install engineered timber flooring first prefer doing so is that they think doing the opposite will ruin the edges of cabinets and kitchen appliances. And obviously, it will be a major turn-off! 
Another reason for not installing cabinets and appliances first is that it may make it difficult for homeowners to switch them out in the future. Hence, people who dread the idea of having to live with the same kitchen footprint go with the flooring installation first. 
However, people who're Remodeling Their Kitchen tend to have a specific design in mind that they won't want to change anytime soon. Hence, they don't really mind going with the installation of the kitchen first.
Lastly, installing engineered timber flooring beneath the base cabinets makes for a cleaner and more organized effect. It also eliminates the problem of having to install quarter rounds with the cabinets.
Cons:
Installing kitchen flooring first presents a number of drawbacks. Firstly, cabinet installation can ruin the look of newly installed floors due to scratching during installation. Moreover, installing flooring throughout the kitchen, including the areas under the cabinets and other appliances results in wastage of flooring materials. Flooring under these areas is never visible to the eyes. 
Thus, people who don't like the idea of paying extra for unnecessary material and installation of flooring prefer to install kitchen cabinets and appliances first. 
On top of that, this scenario also poses the problem of a costly renovation following flooring replacement. Of course, you'll have to take the cabinets out to be able to make flooring change in the kitchen. 
Another reason why people prefer installing the cabinets first is that they believe that timber flooring may expand and contract due to changes in the temperature and moisture levels. Thereby, it may need enough space beneath the cabinets or else the new floor will be damaged. Considering this, experts usually recommend installing timber flooring after the cabinets and kitchen appliances.
Installing Kitchen Cabinets and Appliances First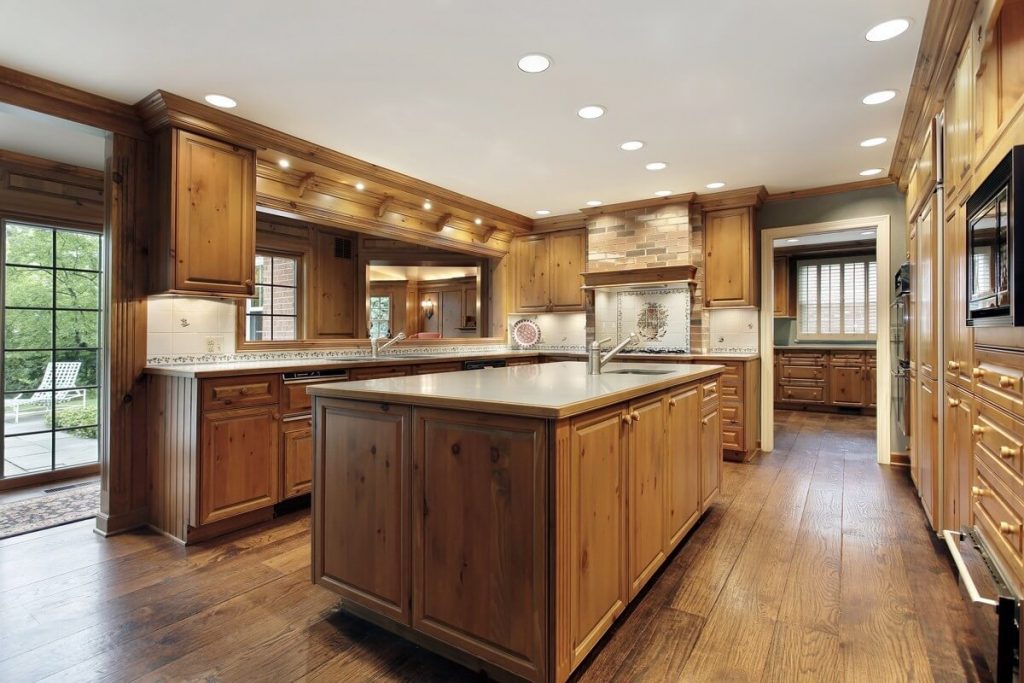 Source: britishhardwoods.co.uk
Here are the pros and cons of installing the kitchen after the flooring has been done. 
Pros:
As mentioned earlier, installing cabinets and appliances first means that you won't have to waste your money on extra flooring that you won't ever see. In addition to this, taking this road prevents any possible damage to the new floors, including the problems of scratching and denting.         
Cons:
Installing cabinets and kitchen appliances first means that you'll have to stick with the same footprint in the future. Apart from this, you'll have to go through the hassle of cutting the flooring to fit around the base cabinets. This ultimately makes the process more time-consuming and expensive. 
Furthermore, if your kitchen has built-in appliances, they will be trapped in place if you go for this option. The engineered timber flooring material will end up cornering these appliances, which will make switching difficult for future renovations. 
 The bottom line is that none of the two approaches comes with all advantages and no disadvantages. As discussed, installing recycled timber flooring in Melbourne may pose more risks. That being said, the best option depends on the kind of appliances you have in your kitchen as well as your kitchen renovation plans for the future. 
Typically, working with a contractor helps in this regard, as they are experts at what they do. An experienced contractor may guide you in the right direction as to which method will suit your needs and requirements best. 
About Author
Simon is an entrepreneur and self-proclaimed jack of all trades. Simon has experience in the building and home renovation industry and he knows what it takes to knock out a successful project whether it be commercial or residential.  Currently, he works as a marketing consultant with Smarter Timber Flooring – a prominent supplier of High Quality Parquetry Flooring in Melbourne. Another niche for Simon is to travel and outdoor leisure, including sporting equipment and bikes. A big kid at heart if it goes fast, bounces, slides or you can climb it Simon has put it to the test.