How to Save $5,000+ on Your Kitchen Remodel
Tired of looking at your boring old kitchen? Of spending hours each week in a drab, uninspiring space? For many of us, the idea of a complete kitchen remodel is all too enticing. But the available budget can be tight, especially with the holidays around the corner. 
No one should have to suffer a sub-standard kitchen. Here's how you can save thousands on a total kitchen redesign, without going overboard.  
Do-it-Yourself
Yes, this might seem like an obvious suggestion, but if you're trying to save on a kitchen remodel, DIY is the way to go. There are plenty of online tutorials and guides to get you started. The first place to start is with the demolition. Provided you observe proper safety practices, you shouldn't need the help of a professional to take out hardware and remove outdated furniture.  
Other things you can easily DIY include the painting and decorating, assembly (especially if you're shopping at IKEA), and even tiling if you fancy yourself as somewhat of an amateur handyman (or woman).  
When it comes to anything involving plumbing, wiring or structural elements, getting professional help is wise. But for everything else, grab your tools and get to it!  
Also Read: 6 Tips for a Budget-Friendly Kitchen Remodel
Stick to Your Existing Floor Plan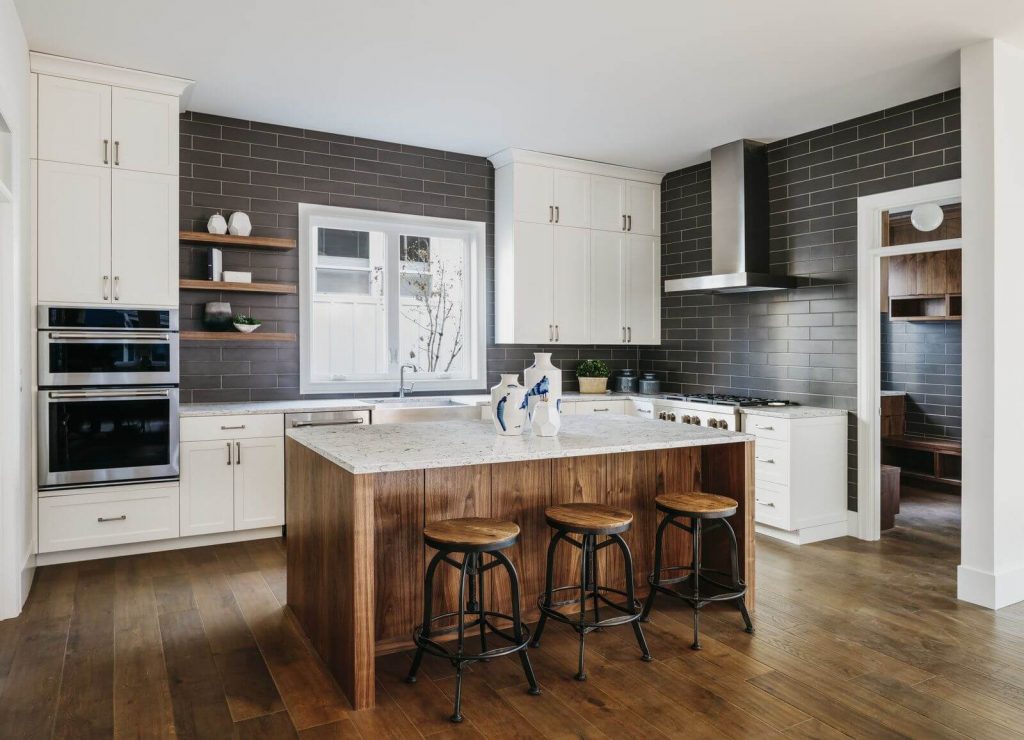 Source: morethankitchens.co.uk
Speaking of structural elements, changing your kitchen layout can quickly ratchet up your costs. Not to mention, moving pipes, taking up flooring and rewiring can be a royal pain, especially if you still need your kitchen to be usable during the project. Stick to your current layout to save money and for the sake of simplicity. You'll find there's still plenty of room for creativity.  
Repurpose or Recycle
While some of your kitchens may be outdated, odds are there's still plenty you can salvage to save money. Think about cabinet bones, fixtures, and appliances. If they're in good condition, it's better to keep them and only replace what's necessary. You'll also save on scrappage, by keeping or repurposing as much as possible. 
Upcycling has become a popular pastime. Taking old or outdated pieces and transforming them into something beautiful or useful. Pinterest has a wealth of inspiration for upcycling old kitchen furniture or fittings.  
You can also find a treasure trove of items at your local thrift store. You might find a vintage hutch, perfect for storing plates and glasses for under $100. Or an old cart that can be repurposed into a bar cart or kitchen island. It's amazing what some people will give away. 
Get Painting
Paint is your friend when it comes to budget-friendly redesign. You'd be amazed at what a couple of layers of paint can do to a room. Tired of your 90s era kitchen cabinets? Give them a new lease of life with a coat of paint, transforming them from tired looking to fabulous at a cost of $20 a tin.  
Save on Kitchen Cabinets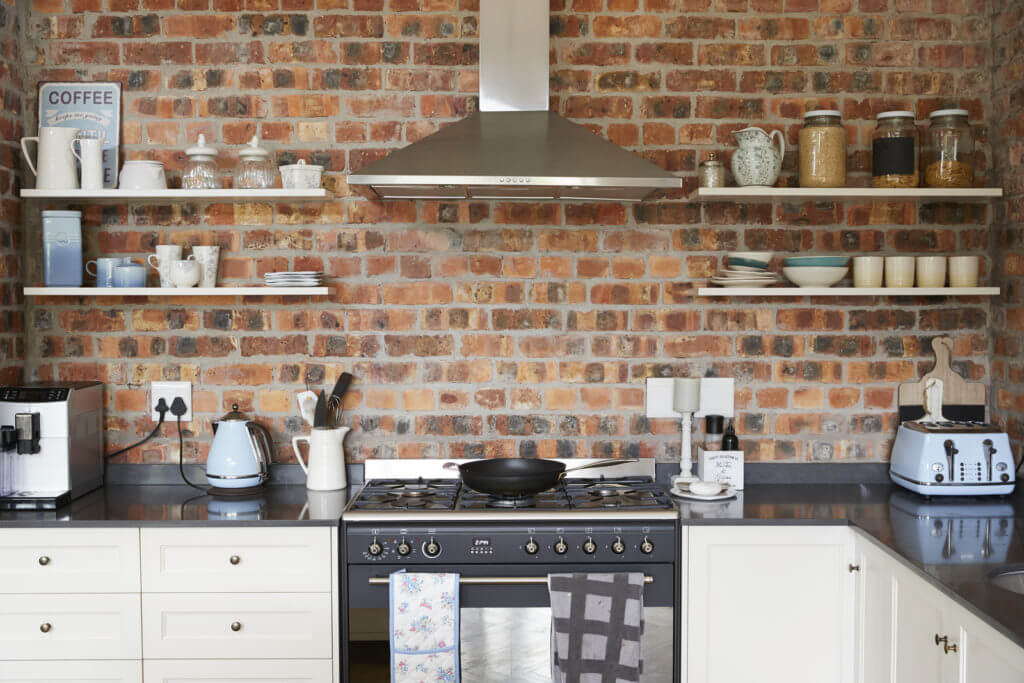 Source: propertydivision.co.uk
If you're after custom cabinets for your new kitchen, be prepared to see your budget disappear into the clouds, my friend. There's really no need to dispense half your budget on specially made cabinetry. Not when you can buy off the rack, ready to assemble cabinets from places like IKEA at a fraction of the price. Add custom moldings or fillers to make them look high end. 
Now, if your existing cabinets are in good condition, you could save even more by keeping the bones and simply refacing them with new doors and handles. Or even just a coat of paint can make all the difference. 
In love with all those clever little storage solutions, those custom cabinets seem to all come with these days? DIY them! You can buy a lazy susan or some extra shelves and create your own clever storage hacks that will maximize your pantry space, without spending big bucks. 
You could even forgo cabinets altogether. Hear me out. Open shelving is much cheaper than installing new cabinets. Plus it's on-trend and makes your kitchen look more airy and spacious. Consider swapping expensive cabinets for open shelving, for easy access to your kitchen essentials.  
Find Affordable Appliances
Don't be tricked into splurging on an appliance that comes will all the bells and whistles, most of which you'll never use. Appliances from mid-range brands typically offer all the functionality you'd need from a washing machine or fridge freezer, at a lower cost.  
However, if your heart is set on a certain higher-end model, there are ways you can save. Ex-display appliances can come with massive discounts, especially if you don't mind one or two minor scratches or hidden dents that can be easily covered up. And don't forget big sales events such as Black Friday or Cyber Monday.  
Choose Materials Wisely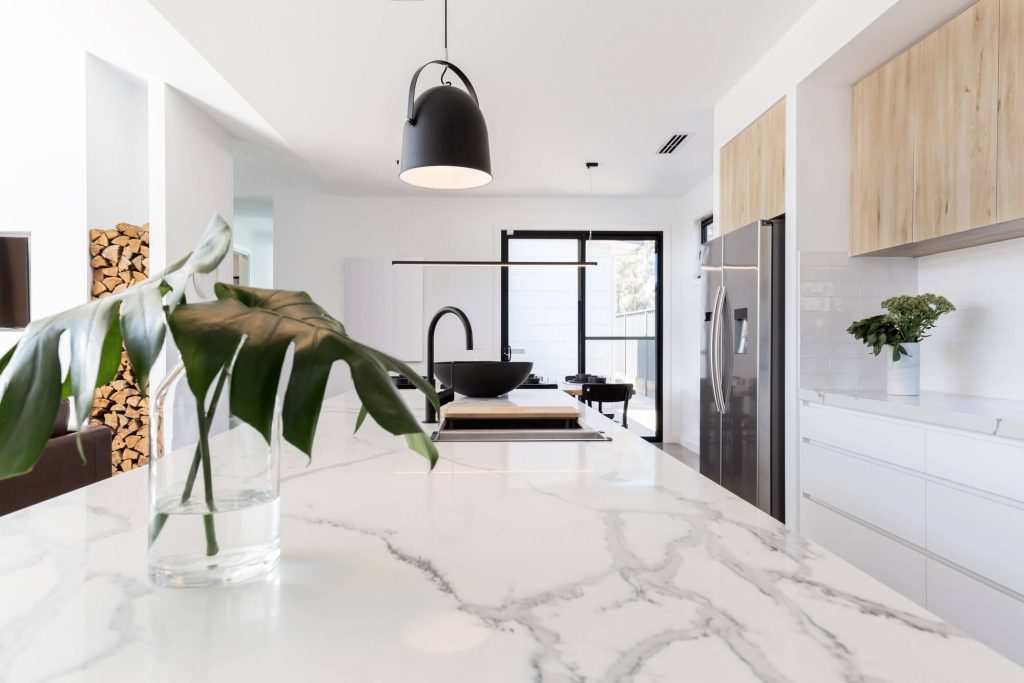 Source: wp.com
While the allure of luxury materials such as hardwood flooring or marble countertops is strong, these are going to set you back a pretty penny. There are plenty of cheaper materials that look expensive without, you know, actually costing you a ton. 
For flooring, laminate and vinyl materials have come on in leaps and bounds over the last few years. Not only are they inexpensive, but they'll also hold up under repeated drops and spillages. You can find sustainable vinyl and laminate online or from local suppliers for a great price.
These days it seems like all the kitchens featured in Ideal Home or Good Housekeeping have marble countertops. And don't get us wrong, marble is beautiful. But, a boy is it pricey! If your heart is set on a marble worktop, but your budget isn't, you can fake it with contact paper. This tutorial from Honey n Hydrangea is a great place to get started. Laminate again can look high end, without breaking the bank. Another popular countertop trend is butcher blocks, which are super cheap but look country chic.  
Shop Around for Quotes
Unless you're a total DIY master, at some point you'll probably need to call in a professional tradesperson. So, when you do, heed this advice: shop around. Get multiple quotes to find one that fits your budget. Ask for recommendations from people you know, or check reviews online to make sure you're hiring someone who is reliable. When getting a quote, ask where you can reduce costs on your remodel, without compromising on quality. An experienced contractor is sure to have some helpful advice to help you stay within your budget.  
High-End Features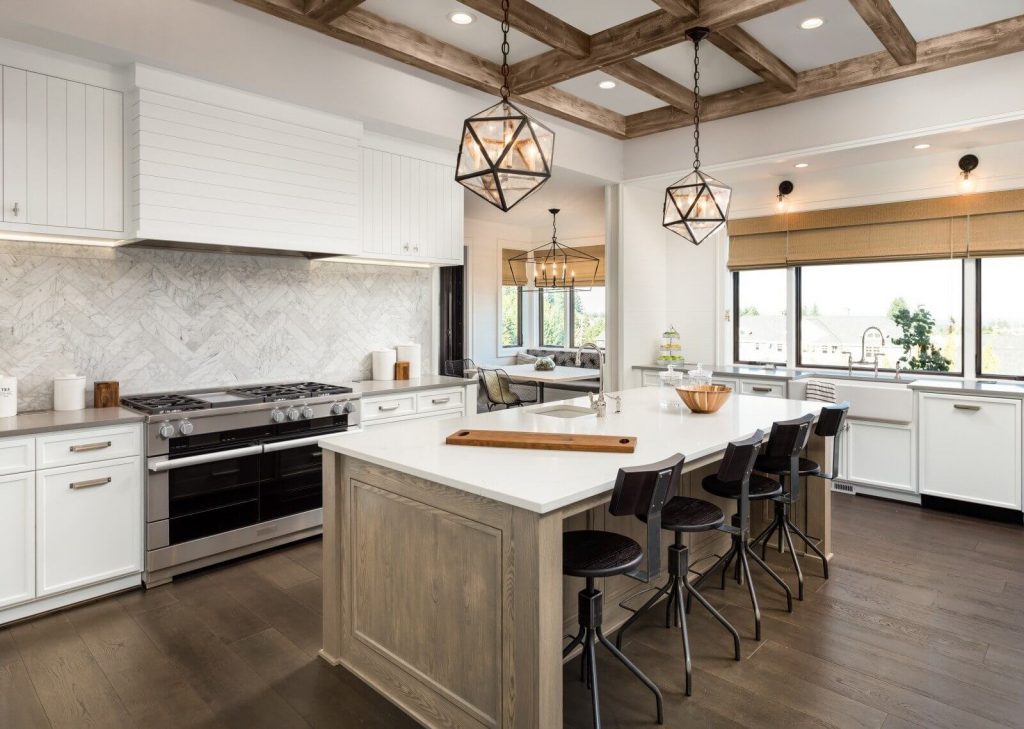 Source: dcdn.lt
If there is one area you should splurge, it's your fixtures. Installing a few high-end fixtures will help draw the eye and make your kitchen look altogether more elegant. By not going overboard on expensive details, the things you do splash out on will have a greater impact. So go ahead, buy that luxury pendant lamp or a cooker hood. You won't regret it.
So, there you have it. Some top tips for cutting down the costs on your dream kitchen renovation. See how much you can save.