4 Unusual Ways to Incorporate an Aquarium into Your Home
If you love property and design, you will know there are various things you can do to make your home stand out from the crowd. One of them is to add an aquarium. Aquariums come in all different shapes and sizes, and you can also have bespoke ones made, so the boundaries are pretty much limitless. If you arent too knowledgable about all things fish related, Aquarium Source is a website that offers advice and a wealth of information and will be a great resource to use if you are considering a home aquarium. You can find them at https://www.aquariumsource.com/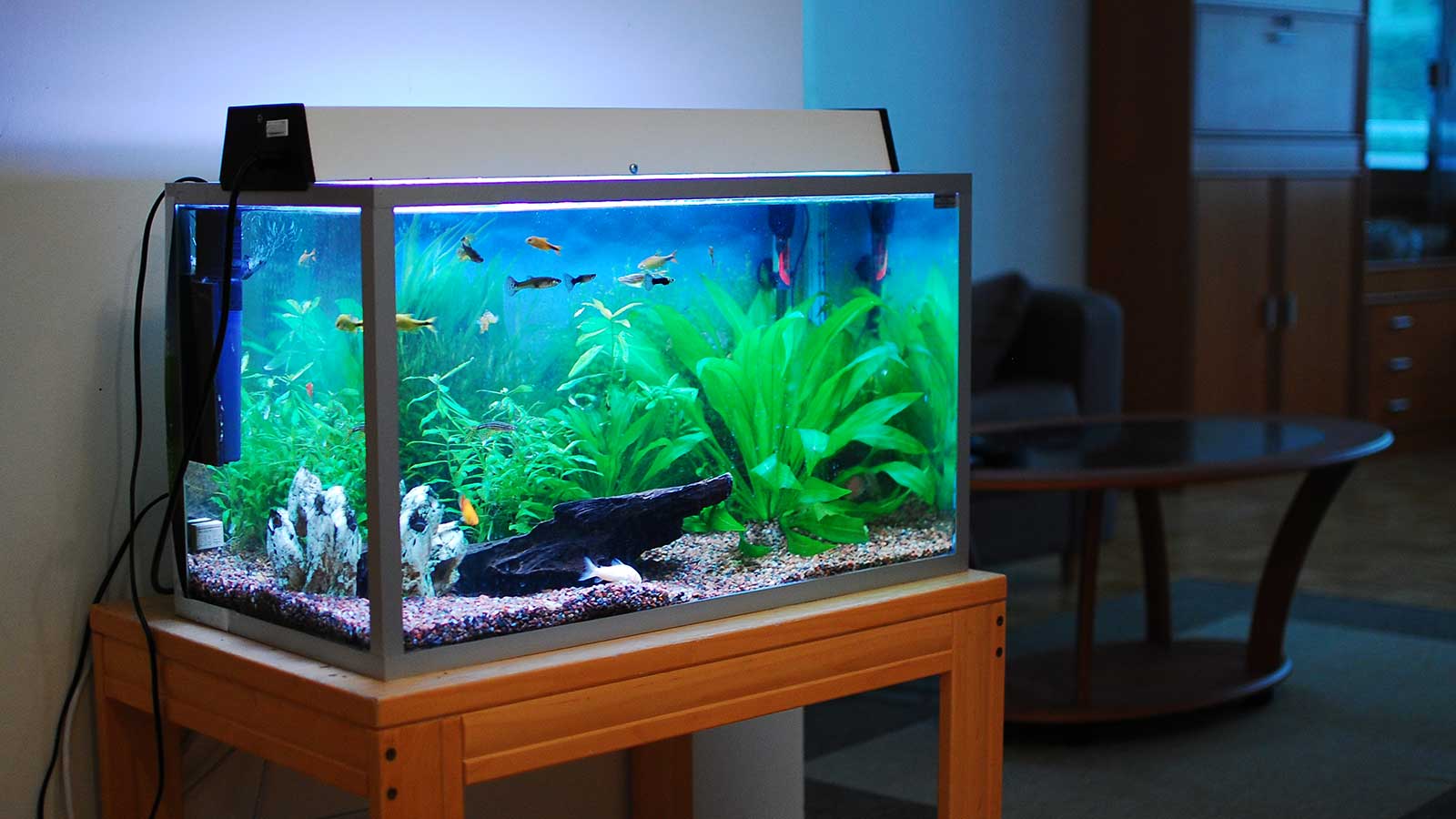 Source: comeintothewater.com
Here are 4 ways to incorporate an aquarium into your home.
In the Kitchen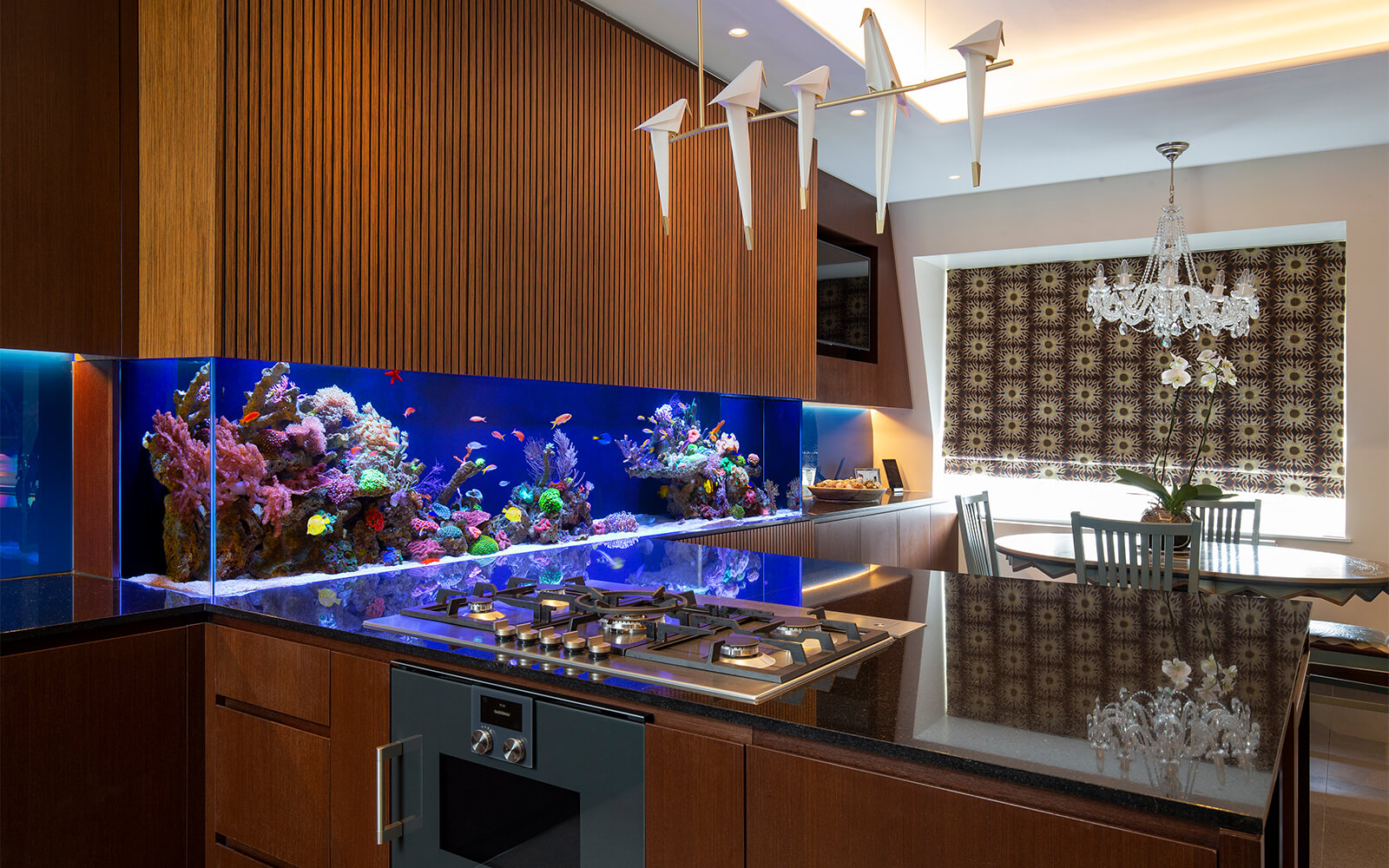 Source: aquariumarchitecture.com
From handle-less soft close cabinetry to remote control lighting and the latest built-in kitchen gadgets, creating a kitchen with a wow factor is fairly easy these days. Adding an aquarium can take it to a whole different level. If your kitchen is big enough and you can free up some counter space, why not have a large aquarium built between your base and wall cabinets. It will not only look amazing but will create an incredible focal point. If that doesn't appeal then you can take things one step further and build an aquarium island! Instead of a run of the mill cabinets underneath your worktops, you will have lots and lots of beautiful fish! You would need to ensure that the aquarium could withstand the weight of your countertops, but if you take professional advice, there is nothing to stop you from creating this amazing feature in your kitchen.
A Room Divider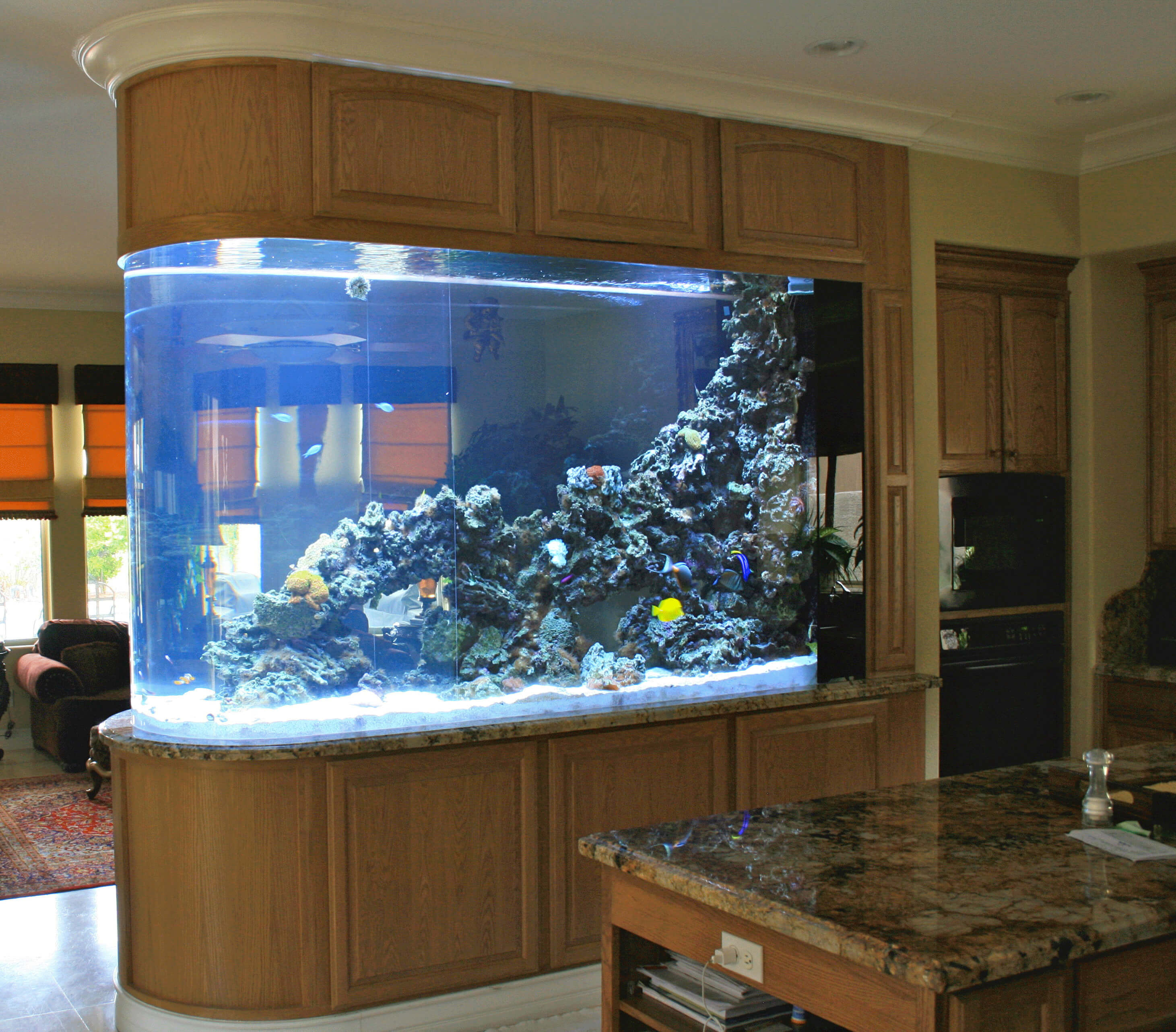 Source: infinityaquarium.com
If your room is fairly substantial in size, adding a division to create two separate smaller yet more functional spaces might be a consideration. Instead of going down the usual route of having a builder create a stud wall partition, why not incorporate an aquarium? Adding lots of beautiful fish, differently colored coral, and some stunning reef lighting will create a room divider with more character than you could ever have imagined.
A Coffee Table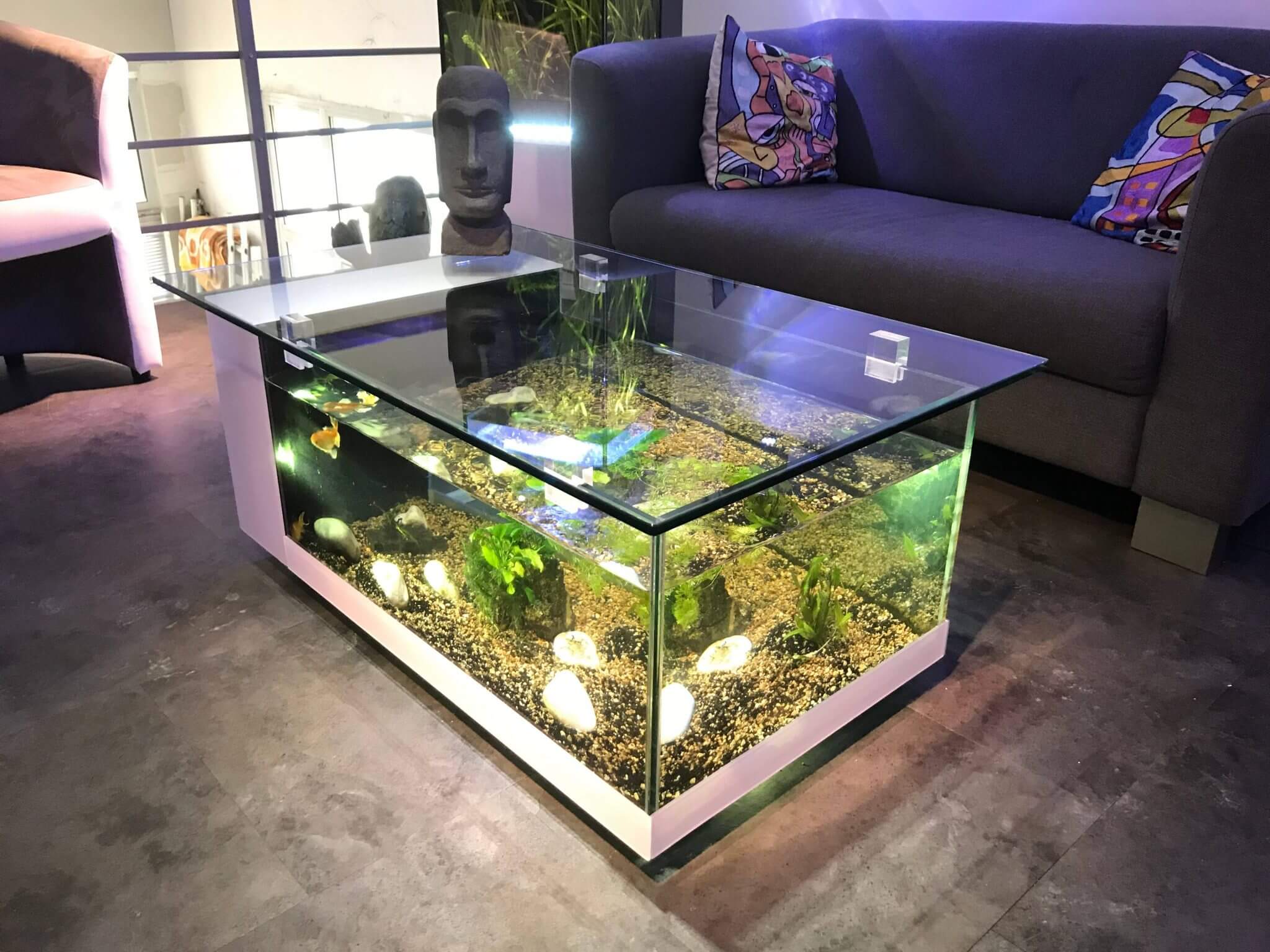 Source: champagnereef.com
Another unusual way to incorporate an aquarium into your home is with a coffee table. Placing an aquarium on a lower shelf and adding a tabletop will not only create a statement piece but will be extremely functional too! Add some color changing lights and succulent planting, and coffee time will never be the same again.
Also Read: Top 24 Largest And Most Astonishing Aquariums In The World To Visit This Weekend
A Piece of Art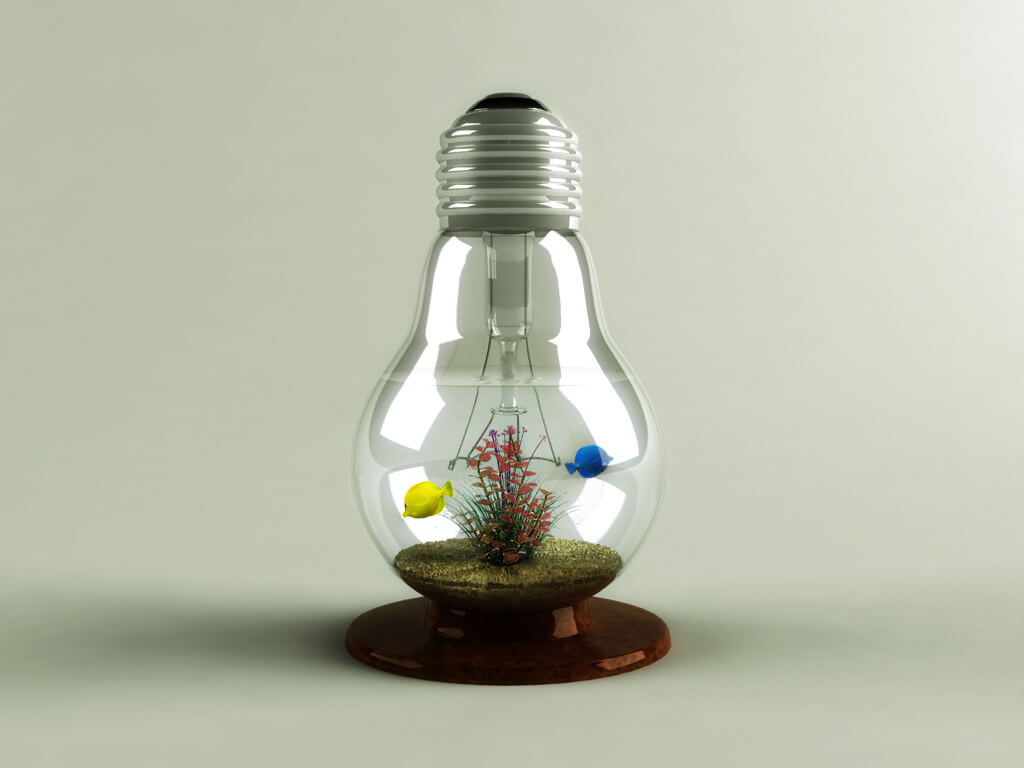 Source: mydesignbeauty.com
If you love the idea of having an aquarium in your home but don't want a huge statement piece and fancy something more portable, have a go at making a lightbulb aquarium.  Just to be clear, you don't add fish – that would be dangerous and cruel. Adding glass beads, moss, embellishments and water to a lightbulb or lightbulb shaped bottle or container can be a really fun craft to try and the finished result can look amazing! It's a great way to add splashes of color to your home and the kids will love getting involved too.