Art Deco – A Simple How-To Guide to Achieving the Glam Interior Style
Perhaps, you've thought of the idea of creating an interior design that looks retro and modern at the same time. In this sense, Art Deco is the true definition of timeless. The famous interior design from the 20th century has slowly regained its popularity among homeowners in the past decade. If you love symmetry and opulent looks, then Art Deco will perfectly suit your landed property or Condo. Here are a few simple tips on making the past century look to inspire your modern home interior.
What Is Art Deco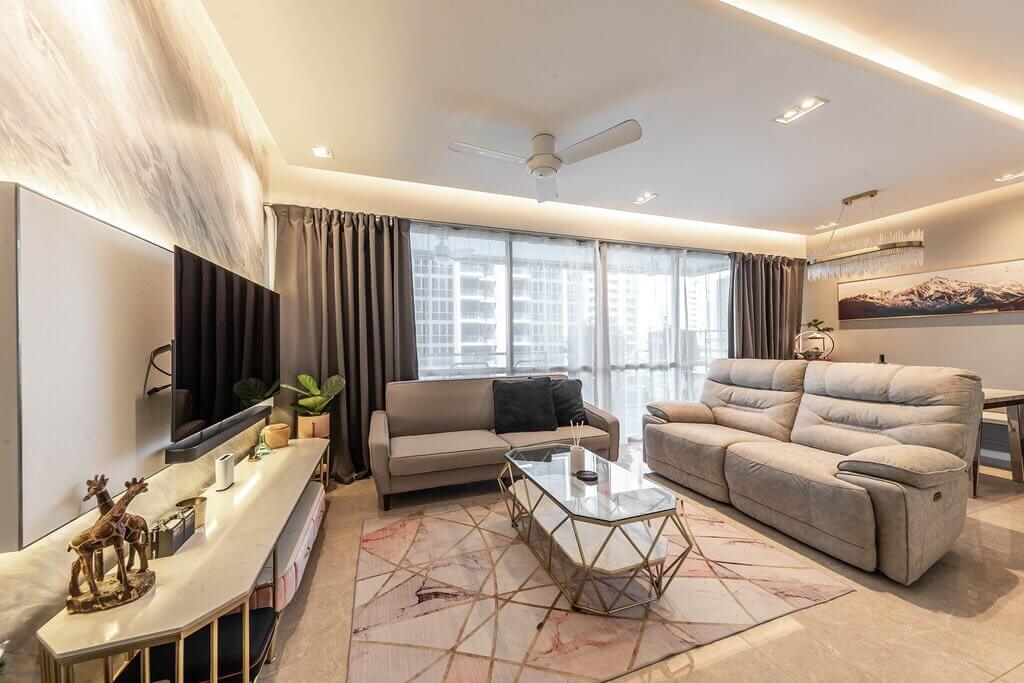 Source: swissinterior.com
Initially, Art Deco came out in France right before the First World War. Its peak was in the 1920s when interior design started spreading across the world. At that time, many homeowners and designers loved the concept of geometric shapes and symmetry created with luxurious materials. 
During the Great Depression, the lavish and bold look employed less exuberant materials like plastic, chrome, and stainless steel. When the Second World War broke out, many dispelled Art Deco as a not so nifty interior style. 
Still, the trend remained, further influenced by technological advancements. Nowadays, the style combines the glamour of Hollywood while bringing in some inspiration from the world of design, too. In a sense, the concept tries to emulate the excitement of luxury and cultural diversity in a tiny space.
How to Create an Art Deco Interior Design
By now, it's clear that Art Deco's interior design is luxurious and opulent. In this regard, every rich, rare or exotic element is more than welcome in your plans. Some decent examples include velvet, leather, opal glass, and glossy finishes. Of course, let's not forget the straight lines and geometric shapes that complement the big, bold, but vibrant patterns. Here's a more detailed breakdown of how to achieve this playful and modern interior look at home:
Use the Right Materials
As you may know by now, materials are crucial to creating the perfect Art Deco vibe. Typically, anything slick and reflective is a go, including different kinds of metallics to add an elegant and luxurious feel. Another great way to adorn your interior is with glass and lots of geometric patterns. Your living room will look strikingly stylish with a glass-topped coffee table and a patterned rug in bold color. 
What's more, you can adorn your rooms with lots of decorative vases, lamps, and mirrors. If you're an art lover, you can create a small focal point in your hallway or living room with a few sculptural pieces. Unlike more contemporary styles, Art Deco is heavily dependent on luxe materials like dark woods and marble. As expected, inlaid wood furniture and marble floors will likely cost a fortune, but they'll certainly live to the expectations.
Employ the Signature Theme
Similar to most past century interior design concepts, Art Deco blends its typical symmetry with nature. In this regard, you're free to use various decorative elements that fit the narrative. Some bright ideas include laurels of leaves, branches, and even feathers. 
Another way to employ the signature theme is to decorate your bedroom and living room with stylized sculptures and art. A black feather print wallpaper or a zebra print rug will undoubtedly fit perfectly in any combination. 
While such elements will make a bold statement, they will remain within the style's boundaries. Complement them with various geometric shapes like trapezoids, chevrons, and zig-zags to add even more texture to your interior design.
Pick Colours That Set the Tone
When it comes to colors, the first thing that probably comes to mind is black, white, silver, and gold. Indeed, these are the primary palettes that you'll see in every Art Deco interior design. Still, any tone that's rich and comforting is more than welcome. Moreover, you can use the black and white shades interchangeably to play with the overall contrast.
In this regard, it's safe to use both bright and deep colors like blue, green, and red. If you're looking to achieve a softer look, you can use creamy and beige shades. The latter scheme is ideal for your bedroom or dining room to achieve a calming atmosphere. What's more, these colors are perfect for a budget Art Deco interior design where you can mix other styles. 
Fabrics Are Crucial
Another essential part of the Art Deco interior design is the use of certain fabrics. In most cases, they are of a solid color or have a geometric design. If you plan to buy soft furnishings, make sure they are in bold colors. You can then throw some soft cushions in geometric prints.
If you want to impress, you can go with some shinier tones like gold and pink accents. Such patterns are a great addition to the typical black and white textiles. What's more, a set of glamorous curtains in a glossy gold-bronze blend will make your bedroom exude luxury.
Be Bold with Furniture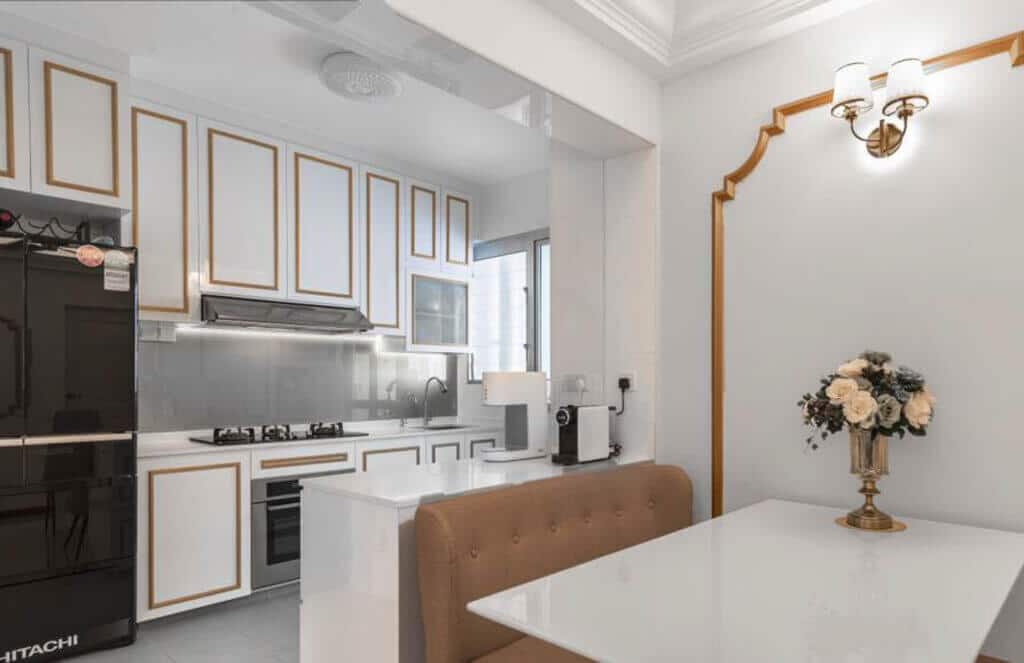 Source: swissinterior.com
Native to its 1920s roots, Art Deco opts for a distinctive and unique style with opulent pieces of furniture. Here, you'll often see inlaid wood and rare materials like ebony. Typically, the sofas and armchairs take up quite a lot of floor space, so you'd want to make sure they fit.
Make sure you bring in the classic geometric and symmetrical concept. Of course, you can take things further with some Grecian patterns to achieve some of the historical and exotic feels.
Create a Stunning Flooring Design
Undoubtedly, flooring is just as crucial as a wall palette because it sets the tone. What's more, the typical black and white Art Deco tile flooring is the ideal contrasting background for your furniture. Such a setup would look stunning in your hallway or bathroom, too. 
Let's not forget about the lacquered glossy parquet flooring that will complement your glam theme. If your budget doesn't allow replacing the flooring, you can cover it with large rugs. The geometric patterns will ensure everything matches the overall interior design of your HDB or Condo.
Don't Forget the Accessories
Last but not least, never forget that the devil's in the details. In this regard, you'd want to pick the most suitable lighting and accessories carefully. Such items can be fixtures and fittings, door handles, or switch pannels. Such minor upgrades can be of great help, especially if you don't have the money to splurge on luxurious materials.
Also, don't forget to adorn your rooms with enough ornate mirrors to complete the Art Deco atmosphere. Finally, you can make a statement with different wall art and sculptures, preferably stylizing animals. 
Final Thoughts 
Indeed, Art Deco is the right way to create a unique interior design that's easy to recognize. The mix of luxury, geometry, and symmetry is undoubtedly here to stay. What's more, it offers a much different take from the typical interior styles.
Thanks to Swiss Interior, you can make a bold statement with an elegant Art Deco HDB or Condo interior design. The company's experts will help you create a unique interior design that will change your views on luxe and elegance.