15 Cool Basement Bar Ideas and Designs for 2023
Have you ever wished for a special area like basement bar ideas in your house where you could express yourself, a place where you could define yourself?  Most of us desire that one thing that makes us feel at ease and welcomed.  It must contain a factor that reflects you and makes you happy; it might be a pastime such as gardening or carpentry, or something you created and constructed yourself. Basements are often missed out while homeowners plan to utilize the maximum spaces in their homes efficiently.
However, basements hold an immense potential which with little effort can be converted into one of the most attractive and fun zones of your home – like bars in basements! Hardly anything surpasses unwinding with a glass of finely blended cocktail or wine after a long day, which is why many of the homeowners convert their underutilized living space into a basement bar room.
A bar designed at home is a great place to entertain guests and may even increase the value of a home. With a wide range of basement bar ideas, the idea of coming up with unique basement bar designs seems fun and a simple task that is not too hard on the budget.
While constructing a bar may appear intimidating, there are a plethora of inexpensive, quick, and simple options for making your basement bar the greatest hangout area. In fact, most people enjoy a DIY home bar since it gives a sense of freedom to customize the drinking space as per their liking. There are creative and simple basement bar ideas that may help to utilize the most neglected space of the house and create a wonderful man cave for partying and drinking with pals, even if the room is small.
Design Your Chill-Zone: 15 Basement Bar Ideas
The majority of people are unaware that basements can be so much more than a neglected basement storage space. Any drab basement may be transformed into a cool basement bar that may become the star of the show with the appropriate mix of design imagination and effort.
Here are 15 basement bar design ideas that will help you in turning your basement into a basement bar. As a result, your once-forgotten basement becomes a hive of activity.
1. Man Cave Basement Bar Designs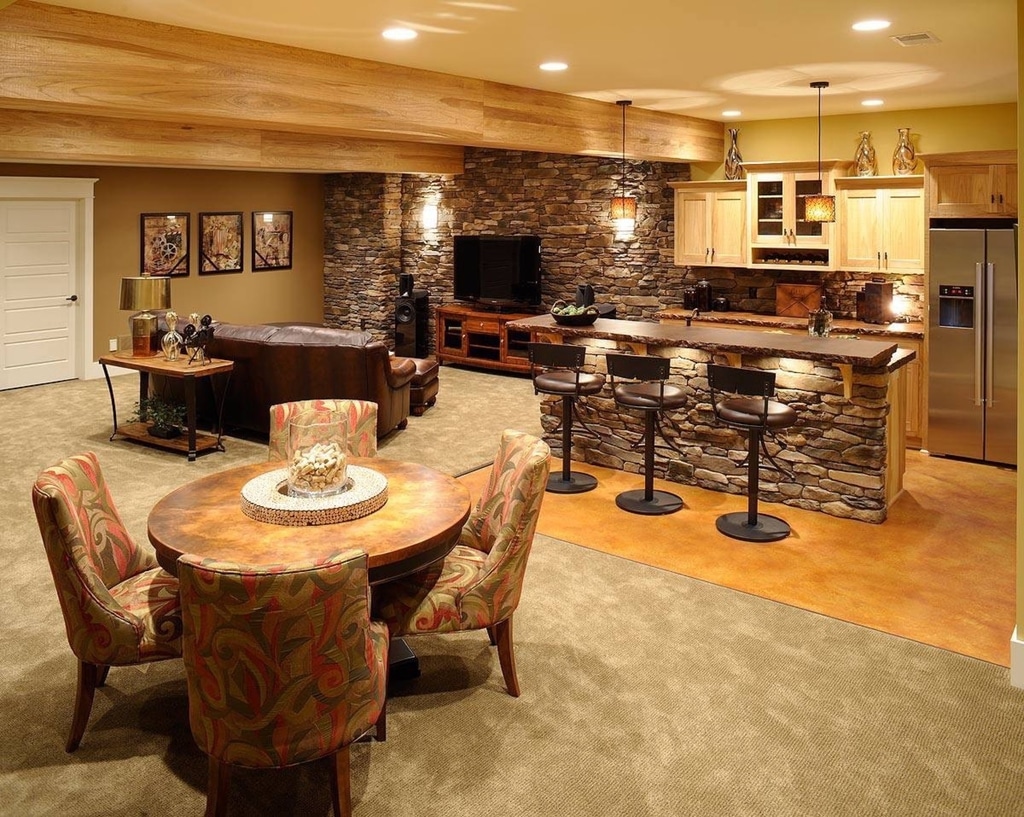 Source: Architecturelab.com
With smart lighting and matching furnishings, an overall design can be achieved that exudes a comfortable and warm atmosphere. This idea of a basement bar suits the need of the man of the house to have a space for him to relax. It imparts a sense of comfort and being self.
2. Garage Bar Ideas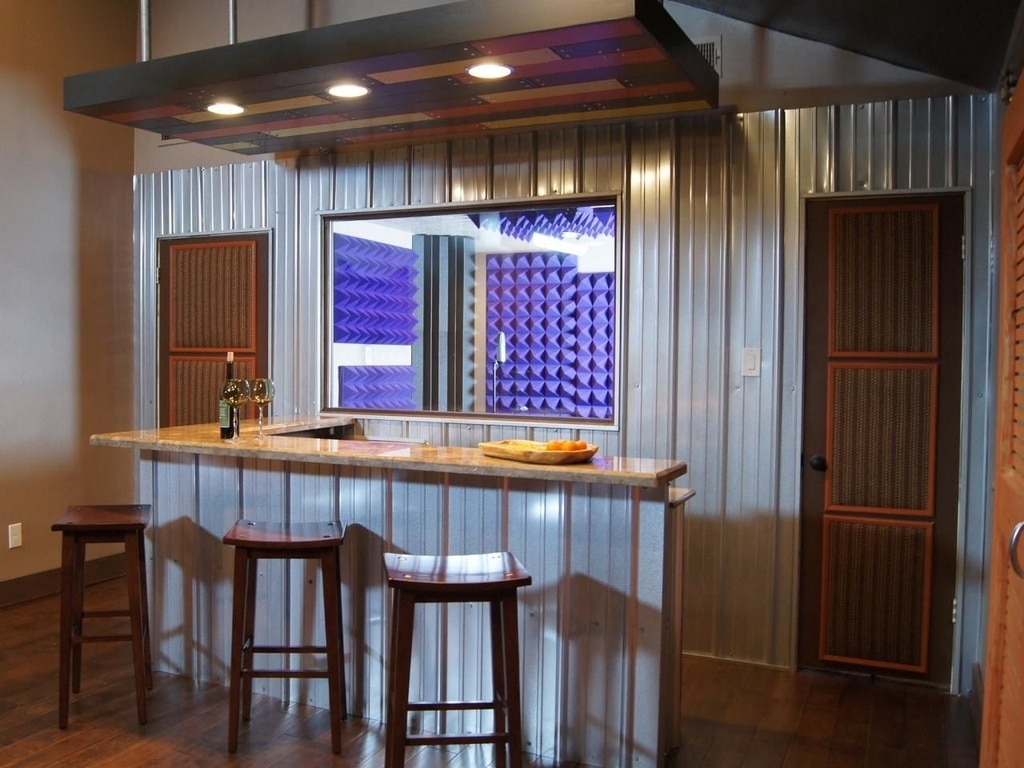 Source: Architecturelab.com
Nothing beats a basement bar idea with a garage-inspired theme. Just one glance at this design is enough to inspire the creative conversion of the basement into a bar. The basement will be transformed into a true industrial bar with the use of corrugated metal sidings and flat, clinical decor. This is a simple basement bar idea that looks aesthetically pleasing.
3. Shiny Chrome Decor for Modern Basement Bar Ideas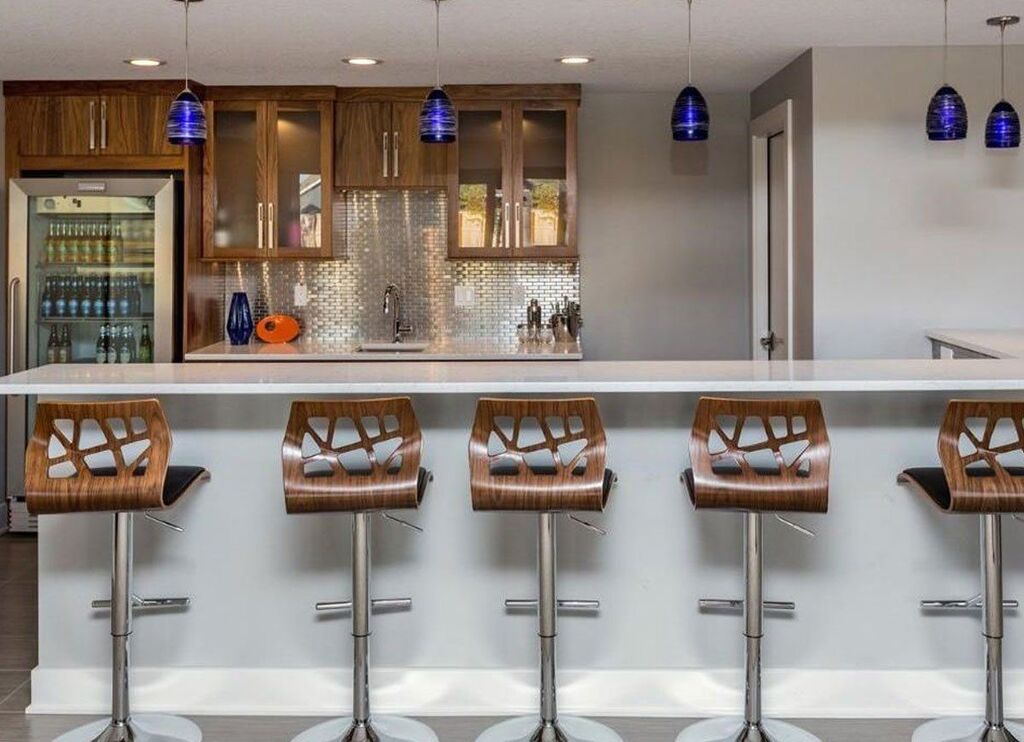 Source: Architecturelab.com
This is a modern basement bar idea with the use of a reflecting chrome tile background instead of the clean white option.
Complementing pendant lights with organic bar stools can mark a statement to the otherwise simple basement area.
4. Small Basement Bar Design Ideas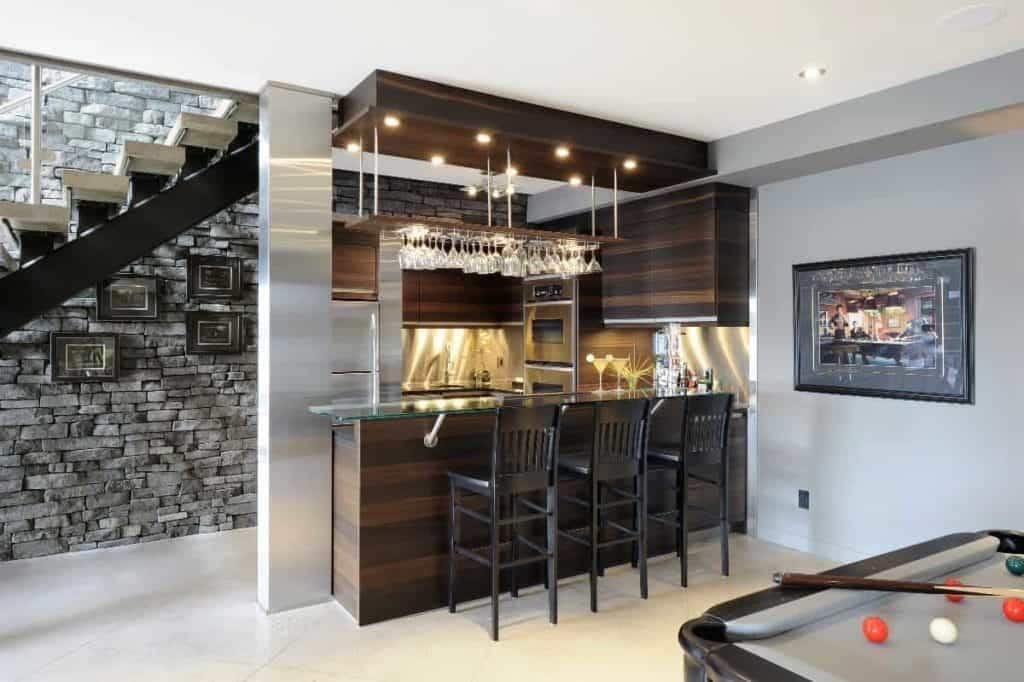 Source: Architecturelab.com
Because not everyone wishes to dedicate their entire basement, a modest basement bar is a great compromise. A small basement bar idea allows you to utilize the leftover space to add a sitting area or any other recreational zone by building the bar in the corner. 
5. Modern Compact Home Bar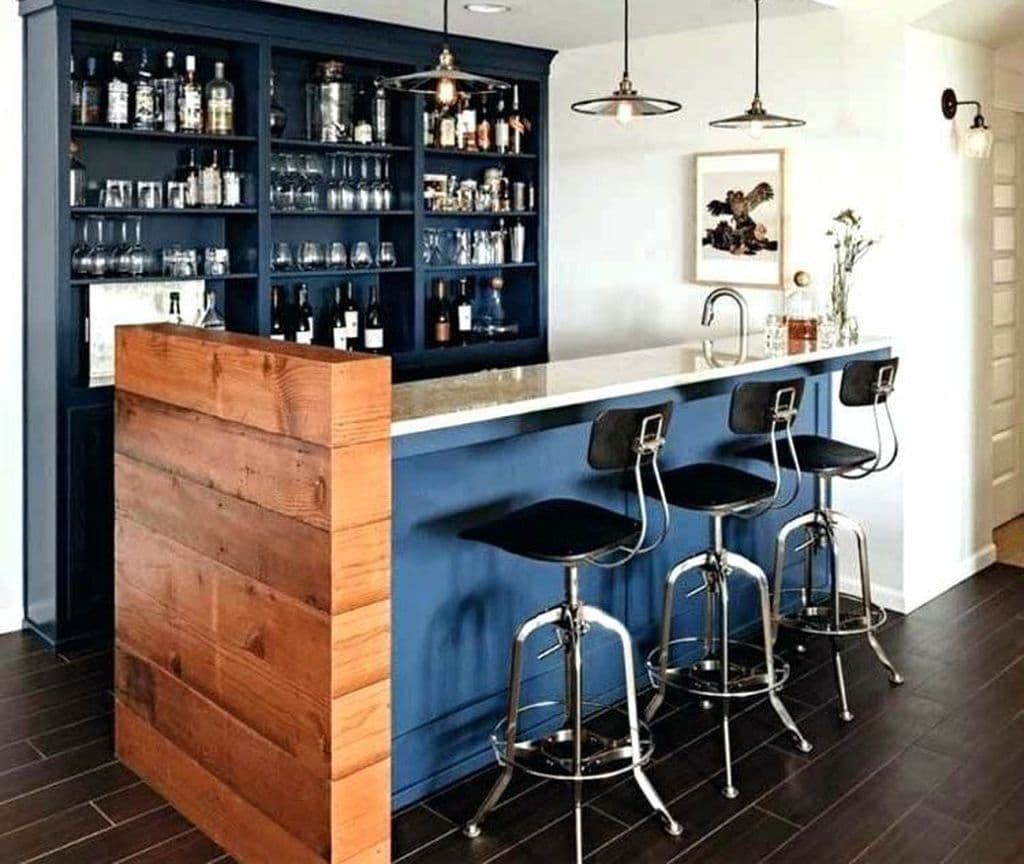 Source: DesignIdeasGuide.com
This contemporary basement bar design idea is ideal for gentlemen who desire a modest drinking area but are on a tight budget. All the elements can be simply put together using multi-functional furnishings. This basic yet efficient basement bar design idea is an amazing option. from the cool blue shelf holding glasses and liquors complemented with a clean white countertop and the gorgeous wooden creates an accent piece.
6. Cocktail Contemporary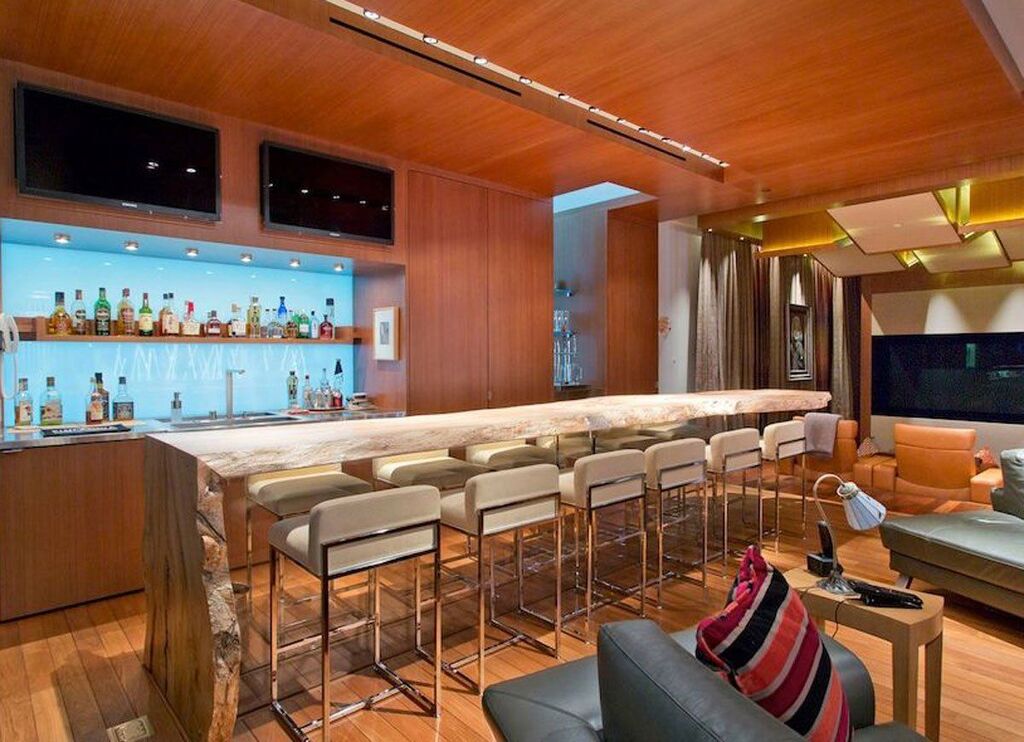 Source: Architecturelab.com
An upscaled basement bar idea is to plan a space with entertainment sources like television with comfortable seating. Lounge chairs can be contrasted with the wooden bar stools set against shelves with a glass background. This is a cool basement bar idea offering comfort and entertainment.
7. Cool basement bars with Colour Pop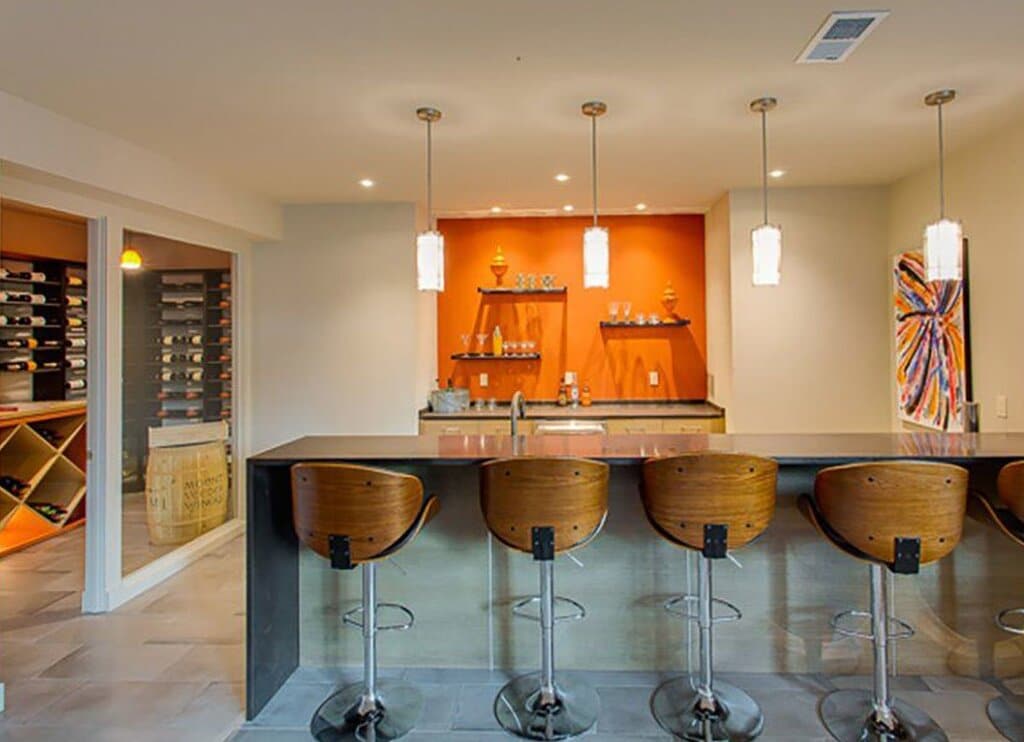 Source: Architecturelab.com
A splash of bright colours can add life to any dull space. This basement bar idea incorporates bright hues with equally colourful artwork. The pop of colours impart an energetic vibe to the whole space and creates a fun atmosphere.
8. Small Basement Bar Idea with a Statement Ceiling
Source: Architecturelab.com
Another great basement bar idea is to style a traditional bar but visually appealing ceiling. An ornamented tin ceiling contrasted against brick walls form a point of interest in the whole space. This may further be beautified with leather seating and dark-tones cabinet designs to deliver a sense of cosy elegance in the basement bar.
9. Farmhouse Bar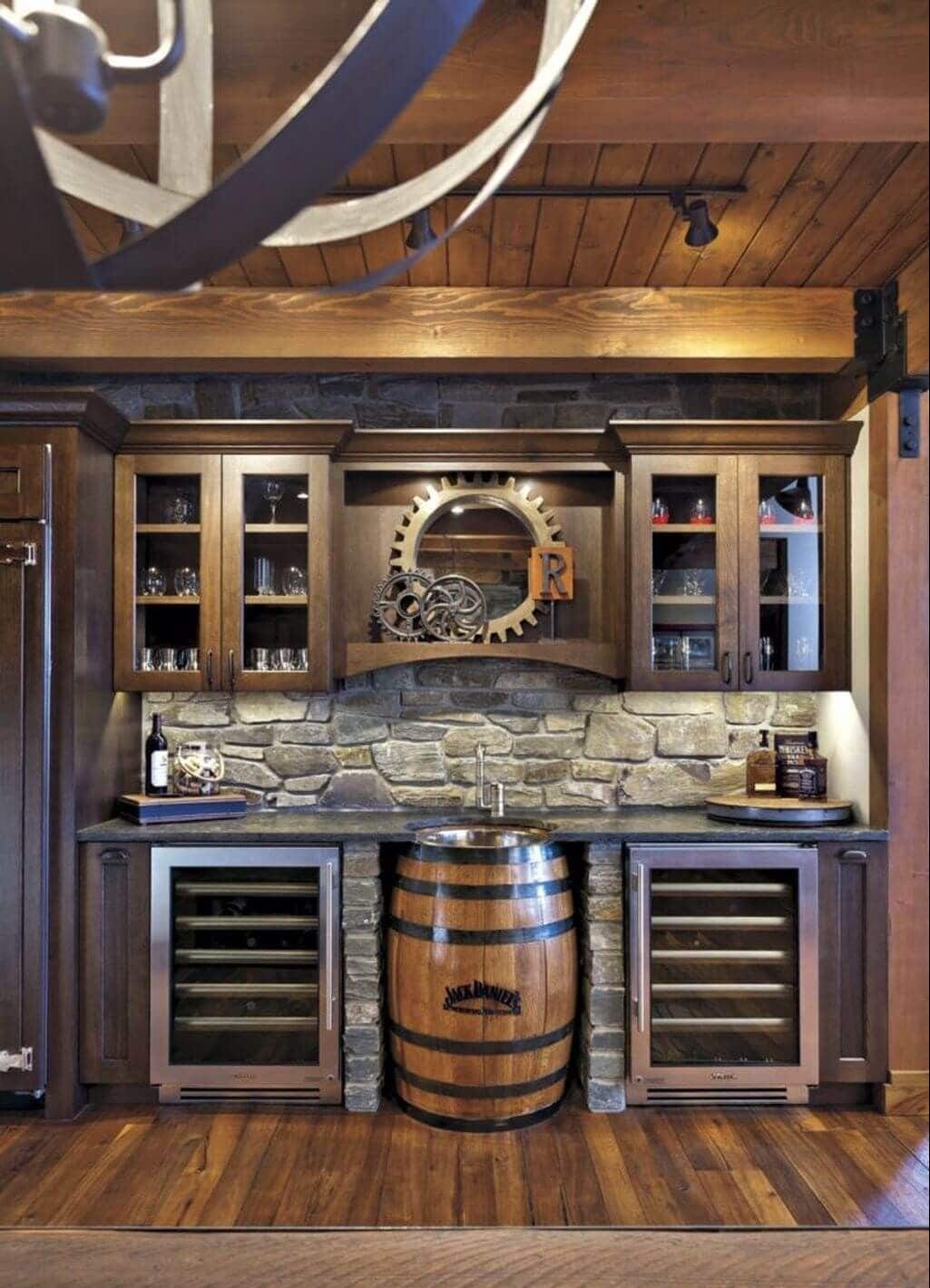 Source: Architecturelab.com
Farmhouse themes bar in the basement is a bad idea to strive for. A  charming tiny pub with a rustic theme can be designed with this basement bar idea. The fantastic gear-and-spoke-wheel wall cabinet can be utilized to store liquor, and the stone wall can add a wonderful finishing touch. 
10. Home Pub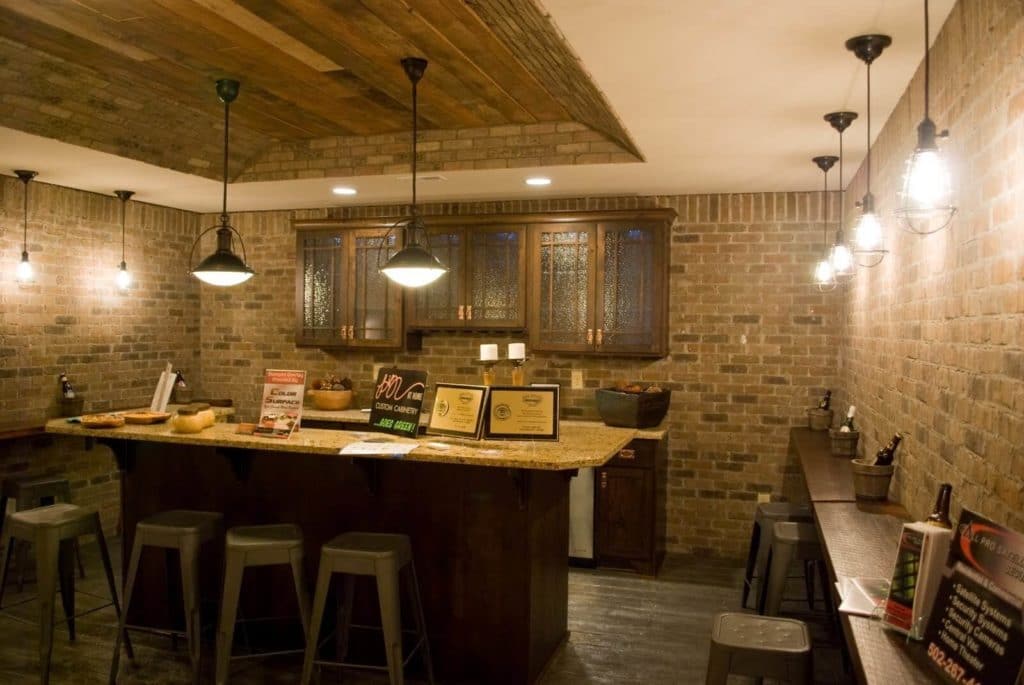 Source: Architecturelab.com
One of the most challenging basement bar ideas is to create a pub-like atmosphere in the home. The use of stone walls with hanging lights and low-height stools creates a welcoming atmosphere. Placing an informal table against the wall imparts a pub-like feel to the basement bar.
11. Bars in Basements with Curvy Style
Source: Architecturelab.com
A curved option is a refreshing departure from the monotony of straight and geometric lines and form. This basement design when enhanced with an arching marble bar-top reflects an impeccable taste, while the incorporation of dark oak cabinets and stoned walls can work together to create a pleasant look. To top it off, the regal seats may provide an undeniable sense of grandeur to the scene.
12. Minimalist Bar Ideas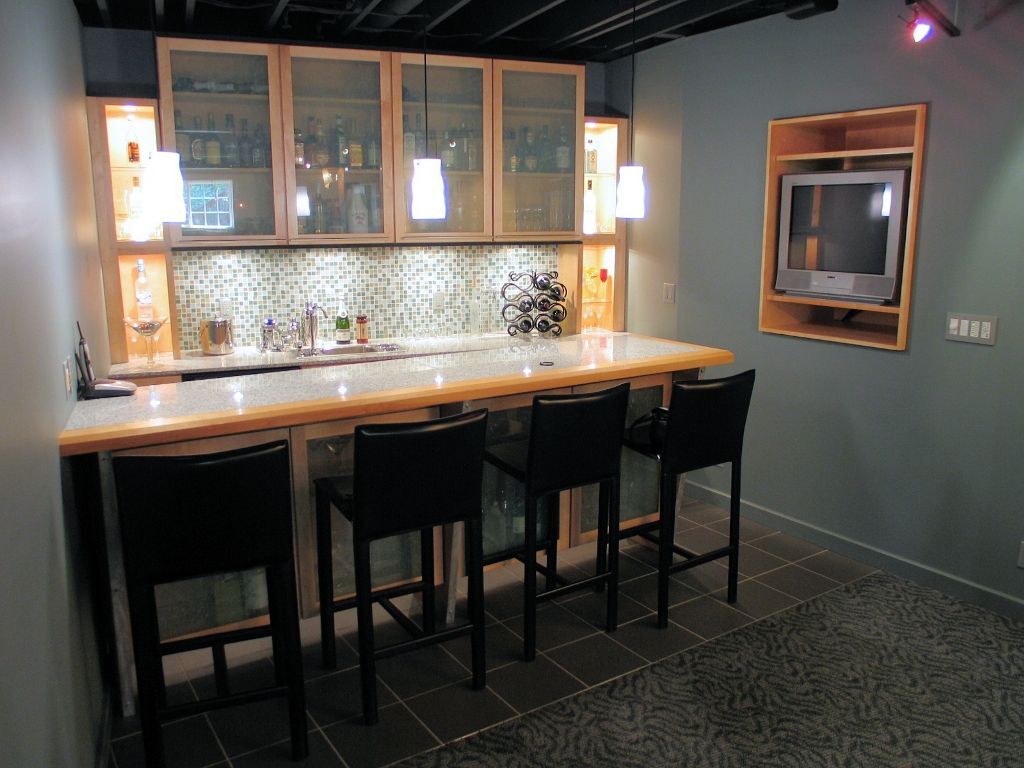 Source: Architecturelab.com
Contemporary spaces always provide the finest styles. Sharp lines and minimalist decor combine to create a space that is both utilitarian and elegantly appealing. A cloudy bar cabinet and sharp-edged bar-top can additionally serve a vintage vibe along with the cosiness factor.
13. Wood-Themed Bars in Basements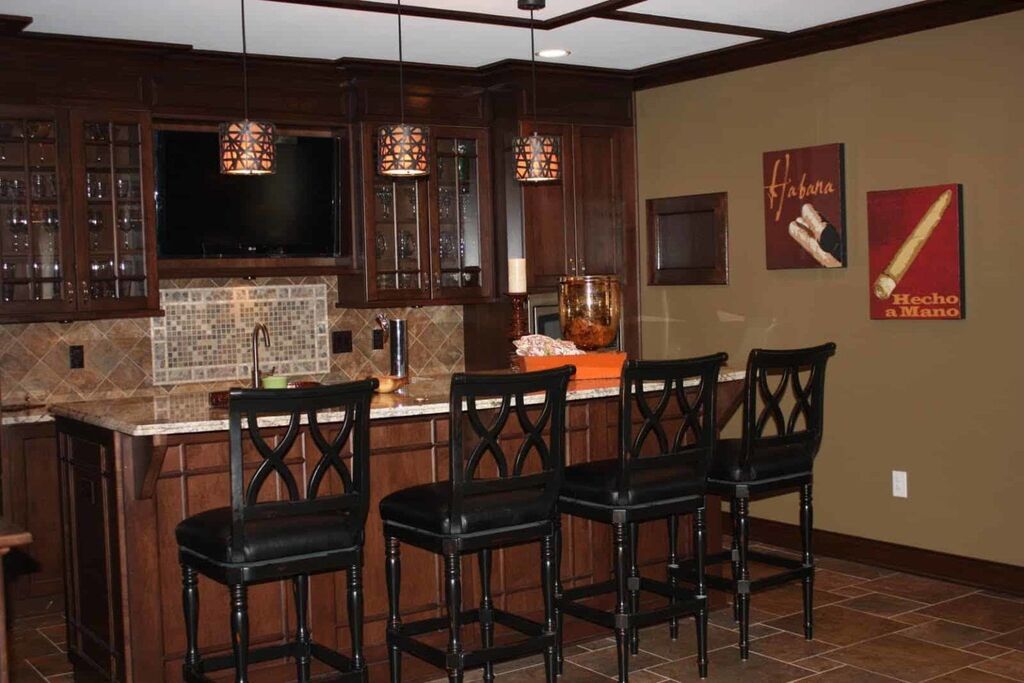 Source: Architecturelab.com
Wood is one of the few stylish materials the charm of which never fades. Basement bar ideas with this theme exemplify perfection. The deeply coloured, luxurious cabinets with enough space and a wet bar make the greatest entertainment room property can offer. This simple basement bar idea with a clean design nearly calls to you. Furthermore, the personalized wall hangings provide a personal touch to the area, making it feel more like your own.
Also Read : You Need to Check These 3 Things Before Remodeling Your Basement1
14. Neon Bar
Source: Architecture lab
This is a great idea for a bar in the basement to brighten up the otherwise drab space with a splash of neon in it. Neon touch can make the space feel more significant. The incorporation of a stone path leading to the counter is an aesthetic addition, along with the incorporation of wooden cabinets with LED signage in neon. It will add to a bar in Vegas' vibe to the whole space.
15. Vintage Theme
Source: Architecture lab
This theme suits the need for a retro bar appearance. The wet bar offers a relaxed atmosphere that will appeal to anybody who enters. The design can be planned with a pool table and comfy decor, to impart an appealing old-world charm. 
Basement Bar Ideas for Houseparty
Basements have a terrible reputation for being messy and spooky, but they don't necessarily have to live up to this common assumption. This can be transformed if you decide to turn it into a home bar- Your personalized zone for happy hours at home.
Even if you've chosen to construct, style, and furnish a basement bar, there are a few things to consider. Aesthetics are always important: you may go for a modern appearance or go for rustic themes.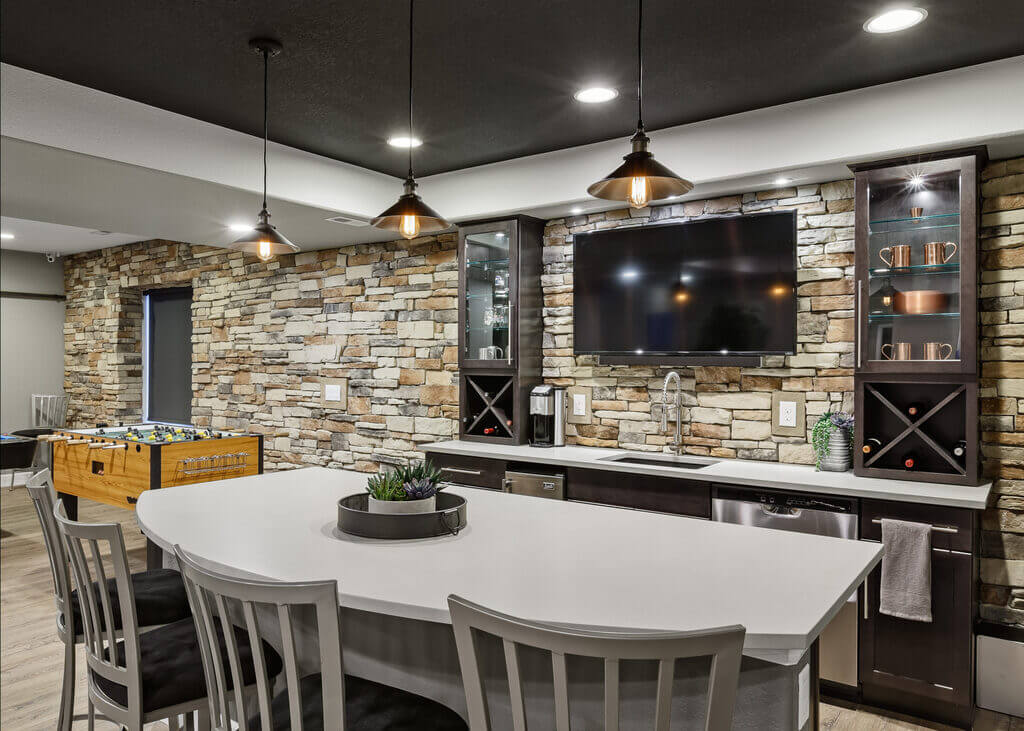 Image Source: elkstonebasements.com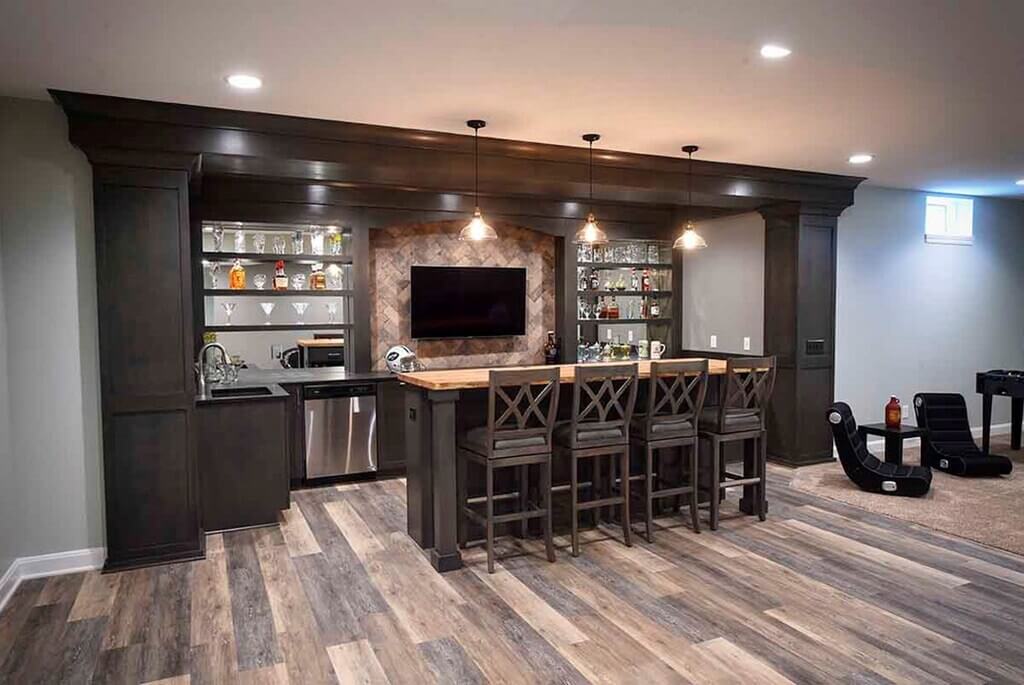 Source: hurstremodel.com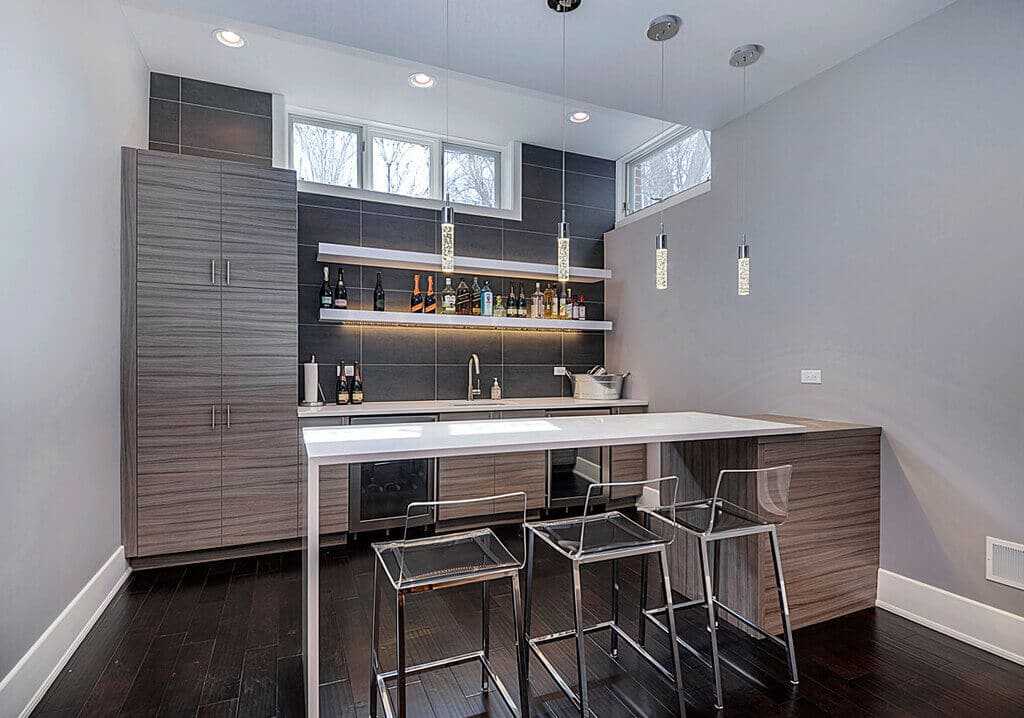 Image Source: sebringdesignbuild.com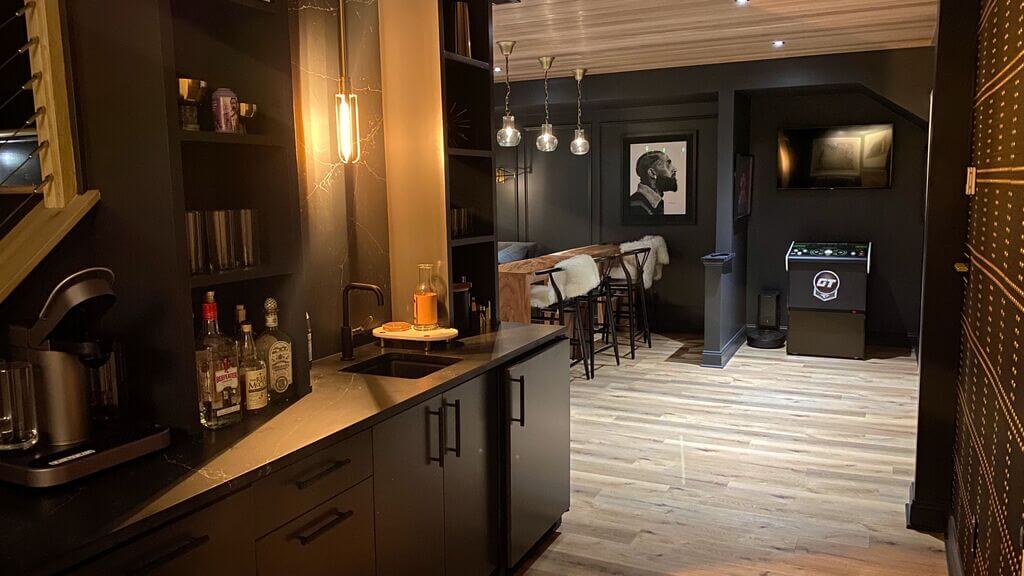 Source: thespruce.com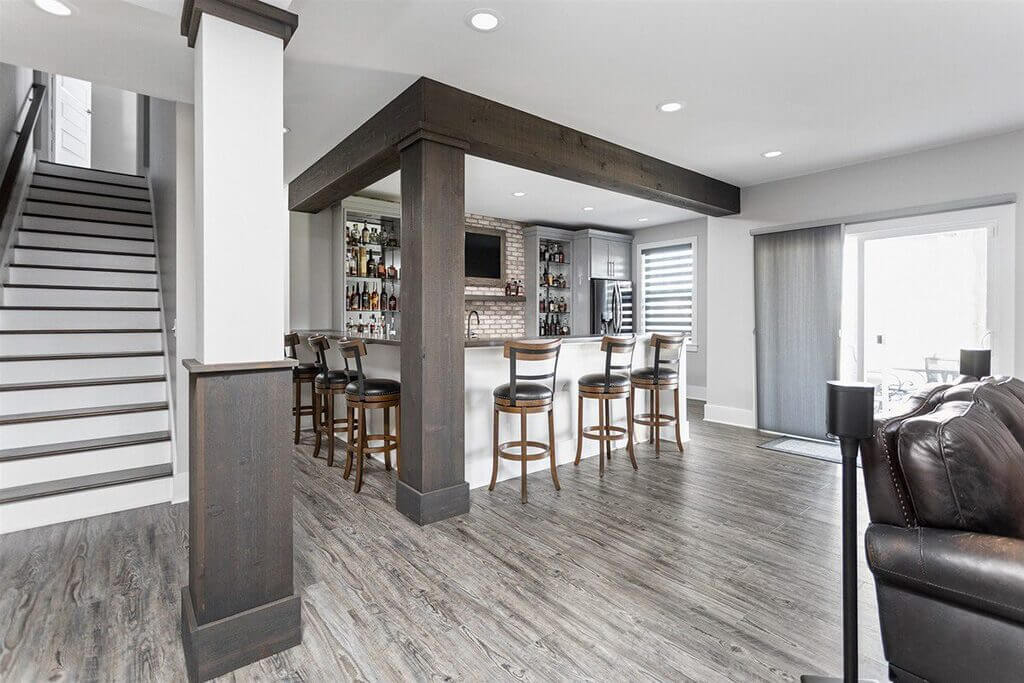 Source: caseindy.com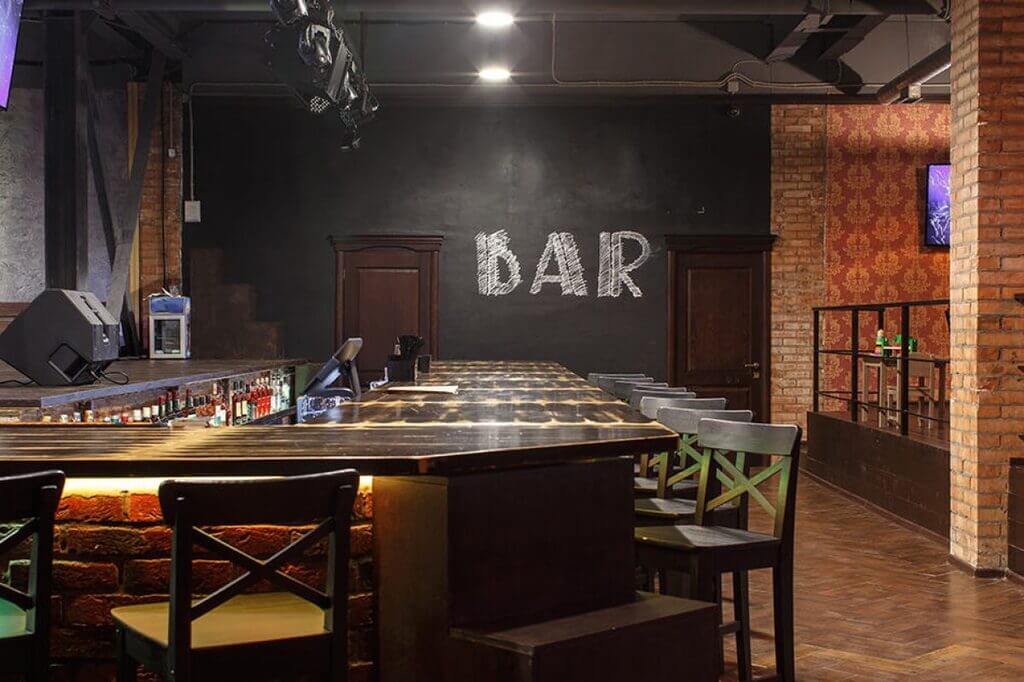 Image Source: homenish.com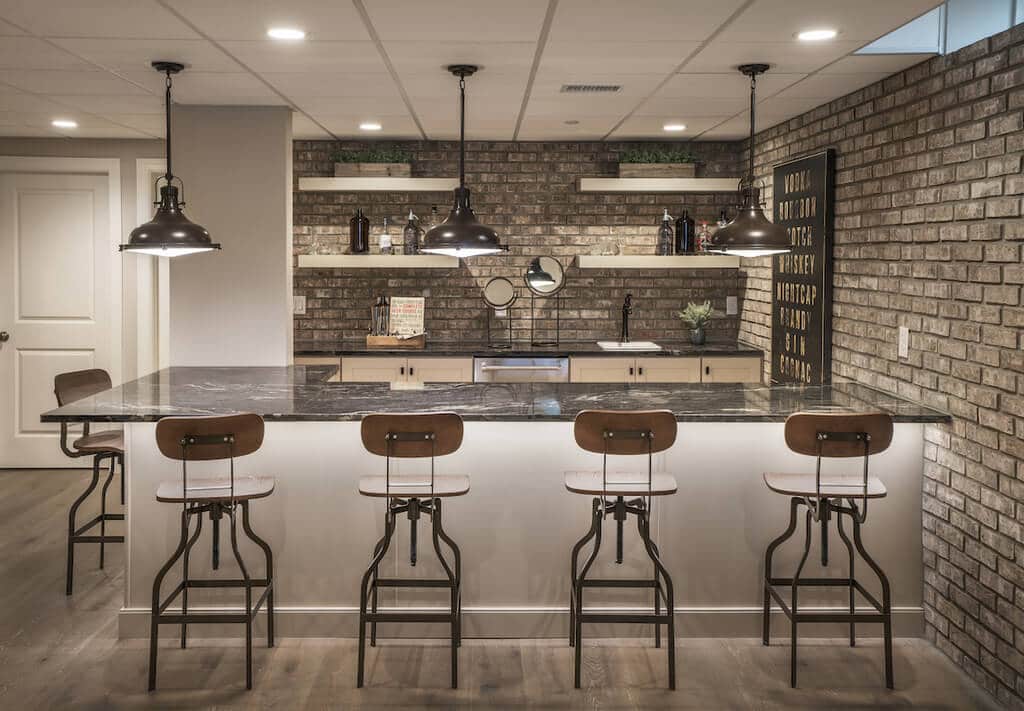 Source: tollbrothers.com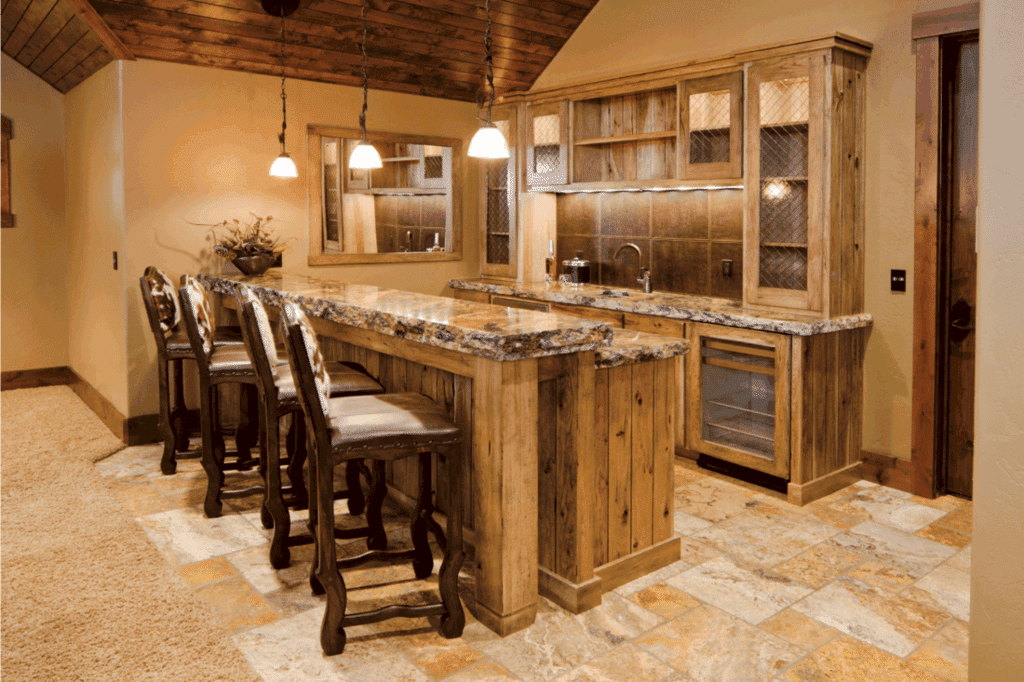 Source: homedecorbliss.com
There's also the matter of cost: you may build a high-end home bar with high-end cabinets and counters, or you can go for more budget-friendly decor options. Many various factors might influence your finances. Fully custom completed basement bars with elegant imaginative decor may be costly.
However, if you're handy, you may save money by building your own bar. Basement bar ideas help you make the most of your cellar space. These are inventive ideas to turn unusual nooks and corners throughout the house into temporary bars. They're just what serves a space the best in terms of style, also happen to be the best way to design a space to suit your comfort and entertainment needs.
To know more about cleaning tips, home improvement tips visit Architecturesideas.
For daily updates, follow us on our Instagram page @architectures_idea.