Top 10 Bathroom Renovation Tips to Make You're Luxury Bathroom a Reality
Bathrooms used to be just a place to get clean and do our business. Not anymore. Bathrooms are so much more these days. Now, bathrooms are sanctuaries against the world. Home spa products and luxurious spaces create these tiny utopias where we can take a few moments away from the turmoil and stress of the world around us.  So we're not surprised to see an uptick in the number of bathroom renovations homeowners are taking on the deeper we go into this pandemic. In this article, we will talk about some bathroom renovation tips that update your bathroom.
One: Pick a Contractor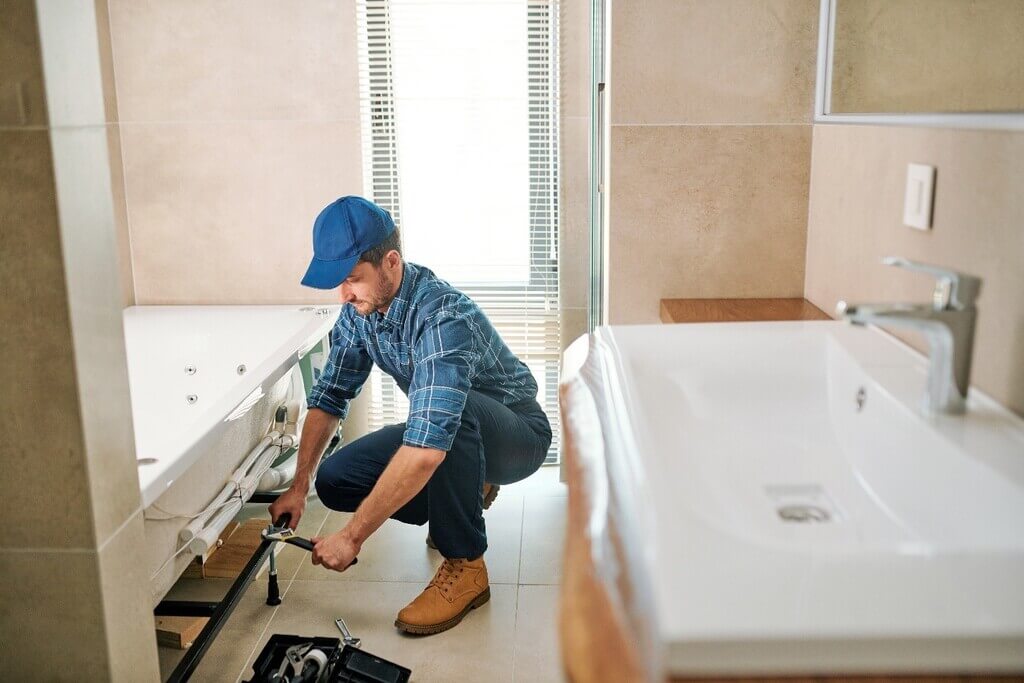 Source: mydecorative.com
If all you were doing is adding some new drawer pulls or swapping a showerhead, we'd be all for you tackling it as a DIY. Instead, when you're talking about a complete bathroom renovation, the first thing you want to do is find a highly recommended contractor. You're entire project hinges on choosing someone who knows what they are doing.
Contractors are more accessible than ever to research. They often put up photographs from their most recent projects on their website so that prospective clients can get a good idea of the type of work they offer.
You'll also likely find a questions and answers section on their website that will allow you to find the basic answers to questions they get asked over and over. Don't worry if you don't see the answer you're looking for. Any reputable contractor will answer your questions directly; all you have to do is ask. 
Two: Money and Mayhem 
We know you don't want to think too hard about how much money you are about to spend but keep in mind that this is a long-lasting investment into your home. Renovations can often actually raise the overall resale value, but this is also an investment into your comfort and quality of life, even if it doesn't.
Everyone needs a way to unwind, and if you're anything like us, there's nothing quite like a good long hot shower. So make sure you work through the numbers and see where you're at, and that way, you can take that to your contractor and go from there. 
Three: To Bath or Not to Tub?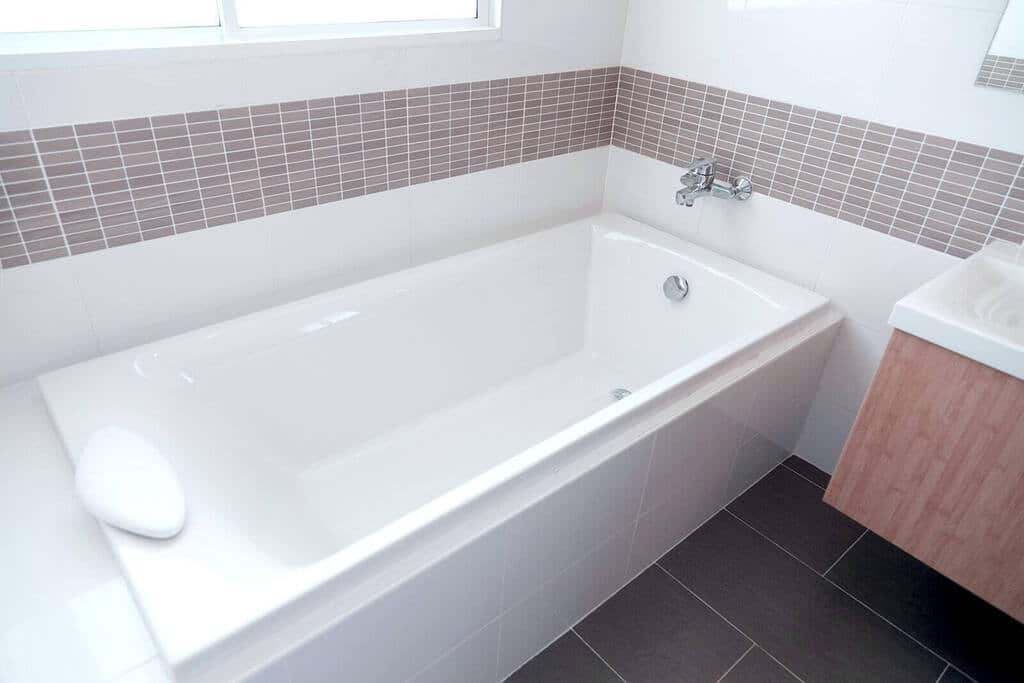 Source: jdservicenow.com
There are two types of bathroom people, those that can't live without a bathtub and those who simply don't care if they ever have one. Choosing between a shower and a tub is one of the first decisions you're going to want to make when remodeling the bathroom.
For master bedrooms, if you're thinking about selling your home at any point in the future, a luxury bathtub is the way to go. However, if you're just doing this for your wants and needs, perhaps you'd rather have the space a bathtub uses for something like a dressing area, a makeup station? 
Four: Ventilation is Important 
Proper ventilation in a bathroom isn't just about avoiding unwanted smells. Those exhaust fans serve a purpose. They help keep the moisture levels down even for those who prefer our showers at the scalding steamy temperatures. Mold isn't something you want to have to fight down the road, so be sure to talk to your contractor about getting your bathroom ventilation checked and updated if necessary. 
Five: Natural Lighting and Imitation Lighting
Source: drurydesigns.com
The next thing to consider for your bathroom update is the type of lighting you want. Good lighting is critical in the bathroom, especially a master bathroom. The bathroom is where we spend our time getting ready for all the big events of our lives. You don't want to be checking yourself before you go out the door to that critical meeting and miss the fact that you have a bit of breakfast on your suit because there wasn't enough lighting in the bathroom.
There are ways to add natural lighting in a bathroom that can be a valuable addition. Skylights are increasingly popular options, from tubular to traditional. Also, adding windows if you can improve the quality of light you get in the small space. 
Six: Accessibility
Okay, so you're probably in your twenties or thirties now, but if you plan on staying in your home for the rest of your life, you may want to seriously consider accessibility issues that you will probably need down the road.
Being prepared doesn't mean you need to add safety hand grips right now, but it does mean considering things like having a walk-in shower without any bumps to trip over and ensuring that the work behind the drywall is ready for those rails if and when you need them.
Preparing for these needs now can be cost-effective in the long run. Tiles with texture can also help prevent slips and falls years from now. Just keep it in the back of your mind and discuss your options over with the contractor. 
Seven: What's Luxury These Days?
Freestanding bathtubs have been an increasingly popular choice for luxury master bathrooms. They come in designs that can fit in with whatever your overall style happens to be and add a spa-like opulence to any bathroom remodel. Fireplaces are another thing that's trending when it comes to luxury master bathrooms.
One popular option is a fireplace that goes in between the master bath and bedroom. Finally, heated floors are becoming a must-have in luxury bathrooms. Just think how nice it will be to step out of the shower onto warm floors instead of freezing cold ones in the winter.
Eight: Storage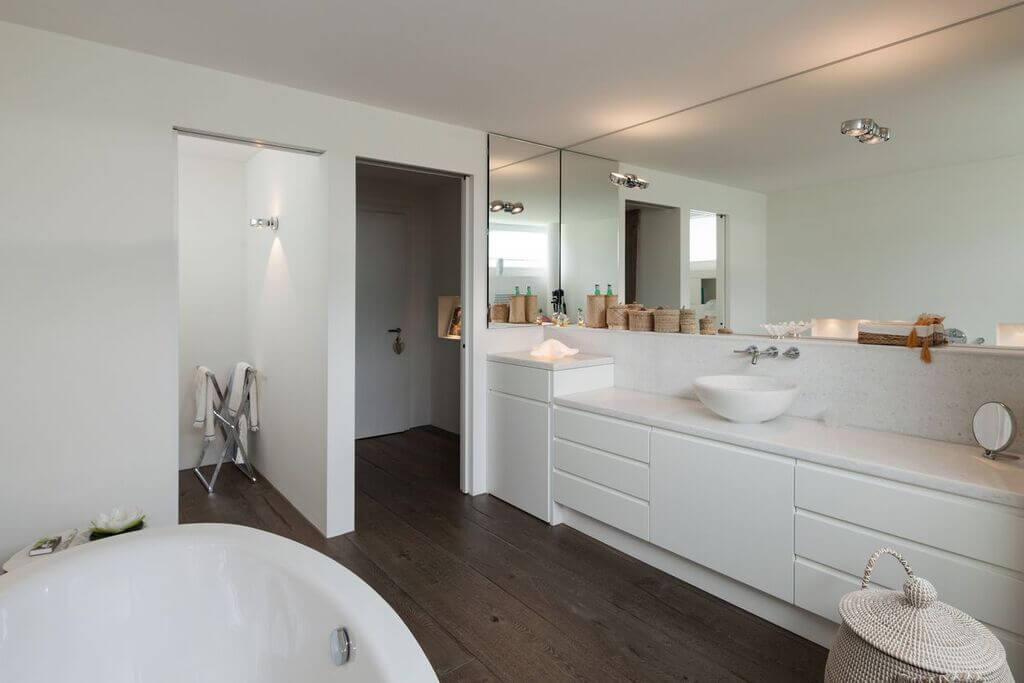 Source: pinimg.com
The bathroom storage should be plentiful. We keep a lot of our necessities tucked away in our bathrooms, and it's best to keep it organized in the process. From medicine cabinets to drawers and space for the linen, there are many great ways you can add storage space to your new bathroom without having to compromise on design.
You'll be happy when you're putting everything back together, and you have a place for all those pesky bathroom products without cluttering up your beautiful new vanity space. 
Nine: Always Consider the Quality
You always want to go with the higher-end quality when you're choosing the materials to remodel your bathroom. In some cases, this may mean spending a little bit more and sacrificing something else, but it will be worth it in the long run. When you choose high-quality sinks and tubs, you know you're choosing something that's going to stand up to the ravages of time. 
Also Read: 11+ Stylish and Practical Jack and Jill Bathroom Ideas!
Ten: Remember Your Goals for Remodeling 
It's normal to get so involved in the details that you lose sight of the objective. Make sure you keep focused so that you end up happy with the results. For example, if you're making the renovation solely to improve the resale value of your home, focus on things that will matter to prospective buyers, like keeping the colors neutral and adding the items that will add the most interest for someone looking for their dream home.
Keep that in mind while planning and working with your contractor. On the other hand, if you're doing this to improve the house solely for yourself, then make sure you stick to the plan and budget so you won't have regrets when everything is finished. Discuss those overall goals and objectives with your contractor. They can often offer alternatives or other methods to get the same results.