Who should you follow if you are fond of architecture, urbanism or just love to travel and look at the buildings around you?
We decided to collect our favorite Architectural Instagram accounts. We are actively exploring the social network. We've to learn that in order to become popular like these accounts, it's best to use Instagram service Iigers.com.
About the city
Unusual and talented photographs of the Architecture of large and small cities will help you to look at your own city with different eyes, and maybe inspire new ideas on how to ennoble it and change the landscape you are used to every day.
Ilya Ivanov
@photoivanov. Ilya Ivanov needs no introduction. Just start following her and fall in love with the architecture of Russia.
Iwan Baan
@iwanbaan. Photographing from the age of 12, and considers meeting with Rem Koolhaas in 2006 a turning point in life. He looks at the architecture through the eyes of his heroes.
Fernando Guerra
@fernandogguerra. Free artist: photographs architecture, watches, cars. Sometimes Barack Obama and photographic equipment. Documents from five angles.
Inigo Aguirre
@bujedoaguirre. We could not skip him because of the beautiful portraits of Benedetta Taglibue and Farshid Moussavi.
Yuksel Camas
@camasyc. A photographer for whom architecture is geometry. He searches for successful combinations of lines and underlines them with color.
Caroline from Rotterdam
@carolinerotterdam. A little girl in great architecture is the motto of this photographer. The camera frames the stairs and captures the "wells", and that's the whole secret of success.
Ash Camas
@adyycam. The most colorful Instagram in the truest sense of the word. Color rules the ball – and not necessarily the object, sometimes the background favorably emphasizes the building.
Nick Houghton and Ali Crow
@huftonandcrow. Panoramas, monochrome shots, landscape sketches – these guys shoot everything and always work in pairs. They became classics.
Marcus Cederberg
@marcuscederberg. A minimalist photographer who sees the world like a toy. He is a self-taught person who wants to become an architect. And he is against monumentality – no polyphony of colors and heaps of lines.
Sebastian Viesz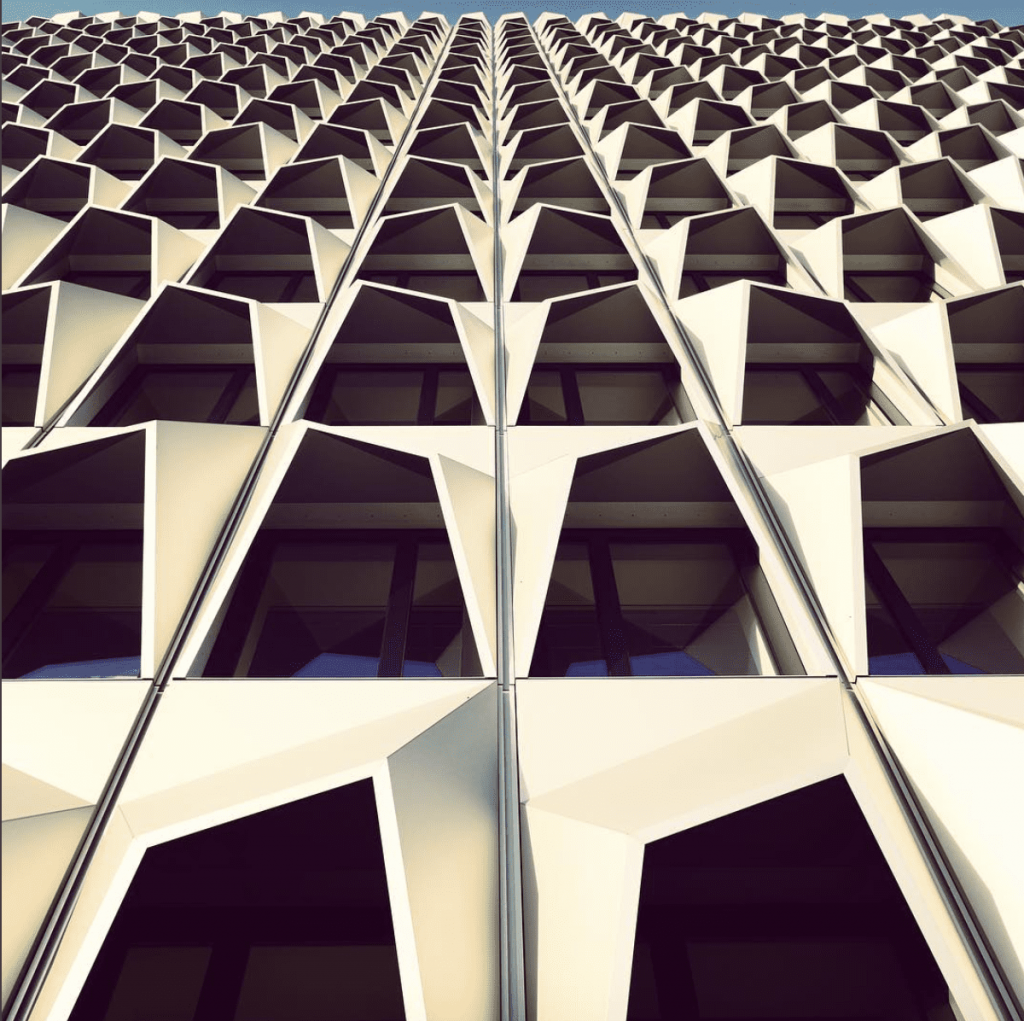 @le_blanc. Another minimalist. Prefers to shoot individual fragments of buildings. Very light and "easy" blog.
Zhenya Air Hockey
@aerohockey. The fantasy of a man who chose such a nickname is a priori worth admiring. But look through his photo – they are solid triangles. You will not believe how many of them in our life: they lurk in the patterns of tiles, emit buildings against the sky, wait on the plate, pretending to be a toaster.
Nikita Sergyshkin
@sergyshkin. The laconism of the black-and-white world of architecture in all its glory. The main characters of the pictures are the girls on the roofs, surrealistic stairs, and gloomy facades. This Instagram is a single photo essay, from the frames of which you can glue together a silent film about the life of a person in a cruel but beautiful monochrome universe.
Vitaly Raskalov
@raskalov. Crazy videos and "postcard" views from the world's skyscrapers – the card of the young photographer. If you have lost the taste for life or you are tired of the textbook frames of facades, start following Vitaly Raskalov.
Korbusje
Polish photographer Jakub Jakubishin shoots houses built in his native Poland during the Soviet era. Surprisingly, in his lens from gloomy and cumbersome, they turn into neat and even cute.
Stop the Roc
Blogger Rock Icern is based in Barcelona, ​​but travels around the world, showing us the most diverse facades of modern buildings and unusual architectural structures. He is mostly dedicated to the aesthetic geometric facades of Barcelona buildings.
JC Figuera
Juan Carlos Figuera is an architect and an artist who always finds a favorable perspective to sketch and capture the moment on paper. Instagram is his personal repository of watercolor sketches of various places and people who are very curious to see and maybe do the same at home or on a journey.
Matthias Heidrich
Berlin photographer Matthias Heiderich blurs the boundaries between photography and graphic design, processing his pictures in the delicate colors of children's chocolates. By the way, prints of photos of Matthias can be ordered from the photographer and decorate the room with them.
Ben Thomas
Well-known Australian photographer Ben Thomas shoots the populous urban space and turns them into real colored cards that would be nice to send to friends.
For traveling
Before traveling to a new city or country, people usually collect some inquiries about the place, its history, and culture. Architectural geeks also make plans where to go to see incredible buildings, monuments of architecture or abandoned houses. We tell whom to follow before planning large and small travels.
Bjarke Ingels
An Instagram about architectural findings from the travels of Danish architect Bjarke Ingels is a real treasure. Follow him to see the world through the eyes of one of the most influential architects of our time.
Serjios
"This is not about what you see, but about how you look at it," says Serge Le Najar, an architectural photographer from Lebanon, about his Instagram. In its frames, there is always an unusual view of the building, frame geometry, and a person, because without a person there is no architecture itself.
Archi liza
Journalist Liza travels the world in search of buildings of the modern era. When Lisa finds them, she takes pictures and tells what kind of building it is, how it appeared and what role it played in the structure of the city. Excellent "educational program" – Instagram for those who are also not indifferent to the ornate and patterned architectural style of modern.
Philip Vogt
The German photographer Philip Vogt travels the world in search of buildings that will eventually become the greatest architectural monuments of the 21st century. Follow him and you will see buildings built by the great Zaha Hadid, Alvaro Siza Vieira, Santiago Calatrava, and other geniuses of the architectural minds of our time.
Amazing Architecture
Not so much amateur Instagram as professional media about architecture, where every day they write about all the most interesting and important things that happen in architecture. The most beautiful houses in the world, the most unusual buildings, and the best architectural studios are all here.
Read More:-