Are you planning on having family and friends over to your home for the holidays? Here's some good news: there's still time to upgrade your kitchen this fall before they arrive. By making improvements to your kitchen, you'll make the space more enjoyable for your family to use and boost the value of your home. With that in mind, here are four of the best kitchen improvement projects to get your home ready for the months ahead.
Upgrade to New Countertops and Cabinets
No kitchen remodel is complete without new countertops and cabinets. For a vast majority of homeowners, countertops and cabinets are an essential part of any kitchen remodel.
Given that, you want to invest in high-quality materials that both look great and are made to last. Opt for stone countertops (granite or quartz countertops are ideal for the kitchen) and real wood cabinets. Also, work with a trusted contractor in your area. A professional will not only install your new countertops and cabinets right but can also be counted on as a resource for finding high-quality materials at contractor-only or bulk prices.
Make sure that your new counters and cabinets fit the overall aesthetic direction of your kitchen remodel. Some popular combinations include a pairing of:
white quartz counters with either light-grey or charcoal cabinets

dark countertops with white cabinets

natural stone colors with cherry or maple cabinets
Replace Your Kitchen Sink
By upgrading the sink, you're not only enhancing the overall visual appeal of your kitchen, but you're also improving how space works for you and your family. To that end, choose a kitchen sink that both looks great and is something you can see yourself using on a daily basis for washing vegetables and doing dishes. Sink size is important, but keep in mind that the larger the sink is, the less countertop space you'll have.
Beyond the sink basin itself, consider the faucets and fixtures. Opt for a faucet with a detachable hose—this is incredibly useful for washing vegetables and cleaning the sink as a whole. In addition, in-sink hand and dish soap pumps help keep the sink area from looking cluttered with various bottles. If you have a water filter below the sink, you can also add a separate faucet at the top to pour clean drinking water.
Add a Backsplash
Much like the sink, your kitchen backsplash serves both an aesthetic and functional purpose: it's essential for keeping food waste and stains off of your walls but can also be the perfect complement to your cabinets and countertops. There are a wide variety of backsplashes available. It's hard for homeowners to go wrong with a classic tile backsplash, such as a subway tile or herringbone. In the end, however, it really comes down to your vision for the kitchen.
See Your Kitchen in a Brand-new Light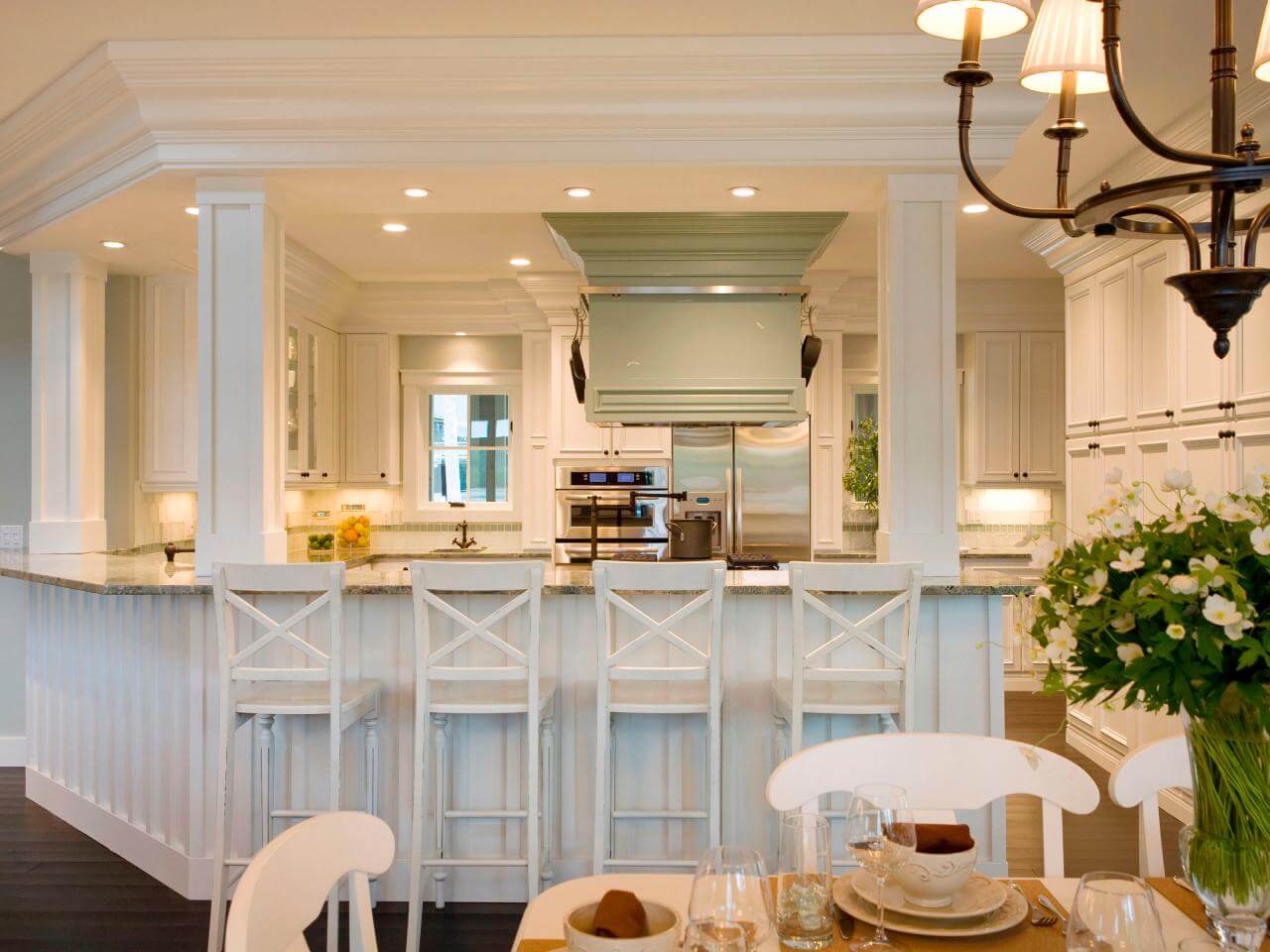 If you really want to make your new kitchen "pop" ahead of hosting holiday guests, lighting is the perfect final touch. The right lighting can completely change how your kitchen looks. Consider these situations and how light plays a role in changing both the perception and the use of the space:
Have newly installed countertops and cabinets?

Under-cabinet lighting strips not only put your countertops in the spotlight, but they add everyday functionality to your kitchen by lighting food prep areas.

Have a new kitchen island with stool seating?

Pendant lighting from the ceiling allows you to make this space a cozy and comfortable place for guests and family members alike to sit and eat.
Done right, light is more than just an accessory to your kitchen: it can fundamentally change how space is used and perceived.
Work with a Professional
If you want to transform your kitchen before the holidays arrive, you'll need to adhere to a strict timeline. This is a job for a kitchen remodeling professional. We recommend that you find a trustworthy, recommended contractor in your area who has prior experience with kitchen remodels. Talk to them about your vision for your kitchen, and they'll work with you to hammer out the details and nail down specifics.