Building a Spa at Home Costs Less Than You Think
As soon as the pandemic hit, people rushed to create or improve their home gyms. Now that the world is adjusting to the "new normal", people are moving on to creating home spas. The good news is that building a spa at home costs less than you think. Here are some tips to help.
Invest in a "Hero Piece"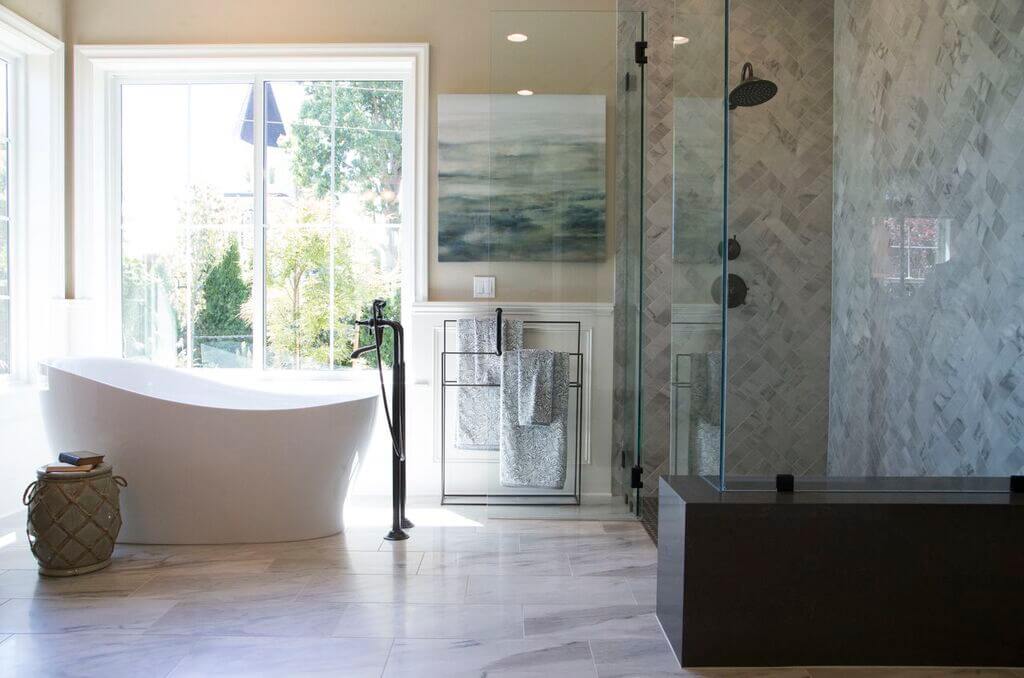 Source: oregonlive.com
Andrew Ellis of steamshowerstore.co.uk advises investing in one "hero piece". He says "If you have the space and the budget then invest in a combined whirlpool bath and hydrotherapy steam shower cabin. If you don't, your next best option is a hydrotherapy steam shower cabin.  
If money is really tight, however, you can just go for a hydrotherapy shower cabin and then retrofit a steam generator when funds allow. Whichever option you choose, you really want a shower cabin rather than a traditional shower. These are much lower-maintenance. In particular, they spare you the misery of having to clean tiling.
Even if you're on a budget, this is one time you do want to spend as much as you can reasonably afford.  Basically, this is going to bring the functionality of a public spa into the privacy and convenience of your own bathroom."
Show Your Other Appliances Some Love
If your toilet and sink are in good condition then keep them. Just show them some love. For toilets, consider investing in a new seat. Wood, or wood-look, is always a good choice for a spa-bathroom. Also, consider upgrading your toilet-roll holder and your toilet brush. Try putting an essential oil diffuser on the cistern. These are safer than candles and just as effective.
For sinks, clutter is often the issue. It's hard to evoke a feeling of zen-like calm when you can't actually see your counter and you know your vanity is stuffed full. Decluttering doesn't have to mean getting rid of stuff (although that's often a good idea). It can simply mean reorganizing it to use your space more efficiently.
If you have limited storage at your sink then prioritize what you use most often. When you run out of space, move on to other parts of the bathroom or other parts of your home. Remember, you can put items into easy-to-carry containers and bring them into the bathroom with you when you want to use them.  
Once you've cleared up your sink space, take a good look at it and see if it impresses you. If it doesn't then think about what it needs to give it that "wow" factor. This can be something very simple like adding wall-hung dispensers for soap and moisturizer. You could also try upgrading your vanity's hardware and/or getting new faucets.
Dress Your Window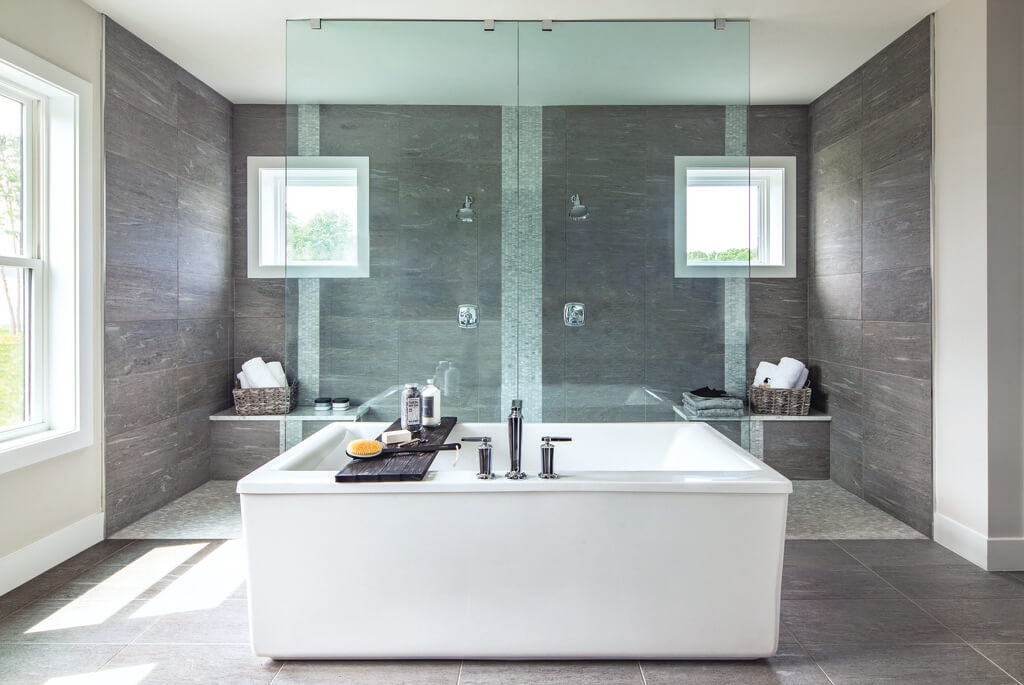 Source: tollbrothers.com
If your bathroom window has privacy glass, you may never have bothered to dress it. Practically, this is totally fine. Visually, however, bare windows often have a harsh look to them. That's the opposite of what you want in a spa. A simple (and affordable) sheer curtain will help soften the look without blowing the budget.
Look at Your Floors
Bathroom floors are usually tile and for good reason. If your bathroom tile is in good condition but doesn't have the look you want, there are two low-cost ways you can update it. The easier option is to use a peel-and-stick floor covering. This is designed for renters but a lot of homeowners use it because it's simple, affordable, and effective.
Peel-and-stick floor coverings can last for a long time, especially in low-traffic areas like bathrooms.  They are, however, not as durable as the second option, tile paint. Tile paint is also the way to go if you want a custom design at a low cost.  
Tile paint is straightforward to use. It just takes a lot more effort than peel-and-stick wallpaper mainly due to all the priming involved. On the plus side, however, it will last for longer too. You can also do custom designs. You don't need artistic skills for these, just use stencils.
Bring Out Your Best Linens
If you're on a budget then try using what you have. You can always upgrade later if you want. If you've accumulated a collection of mismatched towels, then put them in a container so they're hidden. Baskets are great for this.  
For bonus points, roll them instead of folding them. This doesn't actually make them easier to store but it can make them look a lot tidier. It can also make them easier to access. For example, if you're stacking towels of different sizes, you can usually pull out one towel of the size you need without disturbing all the others.
Make sure you have plenty of washcloths and make-up remover pads. These save you from buying disposable products. As such they're good for your wallet and good for the planet. If you really want that spa-bathroom experience, then you'll also want a proper bathroom (as opposed to a dressing gown). If you don't have one already then look for a pre-loved option.
Also Read: 9 Designer Bathroom Wallpaper Ideas to Recreate Beautiful Walls
Make Sure There's Somewhere to Sit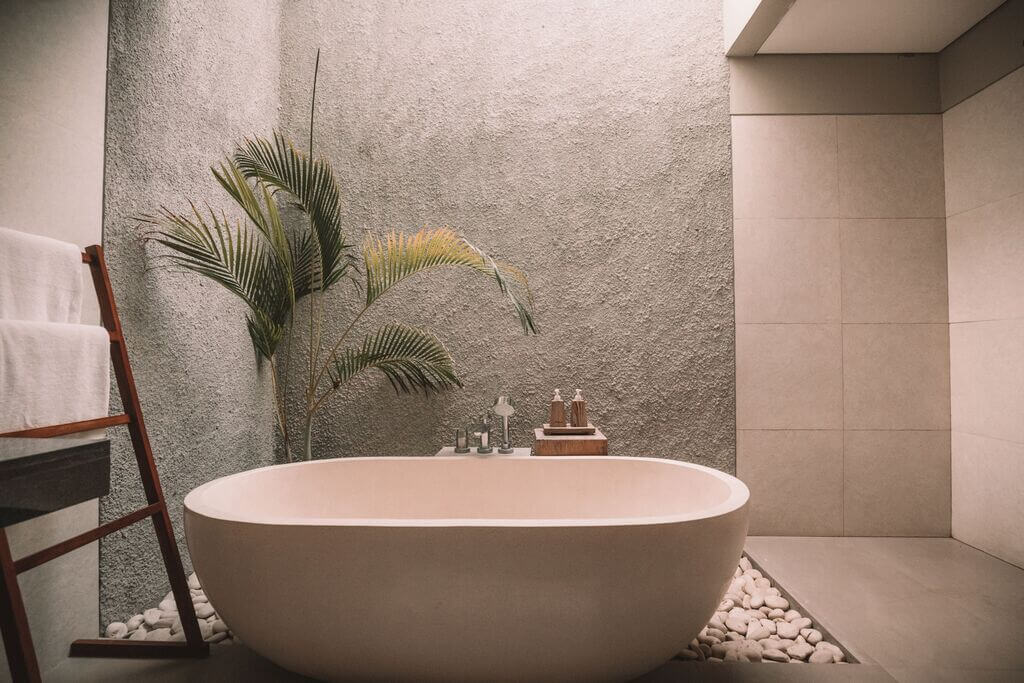 Source: parismatch.be
That means somewhere other than the toilet. There are a couple of clear options here. Option one is to invest in a shower stool. This is a good move anyway because there are always going to be times when you want to sit in the shower. For example, you might be feeling under the weather or have a slight injury. On a more positive note, you might just want a long shower.
The other option is to go for a storage seat. Just remember that the weight limit is the total weight i.e. including anything you put inside it. Storage seats can be great choices for bathrooms but larger people might not be comfortable on them. Another option would be to split the difference and have a shower stool with a storage basket underneath it.
Have Fun with Decor
Instead of going out and buying decor, look for pieces from other parts of your home. Just make sure that they can survive the heat and steam of bathrooms. If you do want other items, then check for pre-loved options first and also see what you can pick up for free outdoors.