Cafe Design Ideas to Make Your Shop Be On Top
A cafe's success is not guaranteed by having the best coffee on the menu. Designing your cafe in a way that makes it stand out also is key, especially now that people eat and drink in places that are "IG-worthy" too. Your shop's decor and ambiance can go a long way in making lasting impressions on your customers.
With the rise of social media, customers tend to look for cafes that have unique and picture-perfect exteriors and interiors- a great place where they can sip their coffee and take pictures. If the word spreads that your shop has an unconventional and beautiful decor to offer, customers will certainly flood to visit. 
How To Design Your Cafe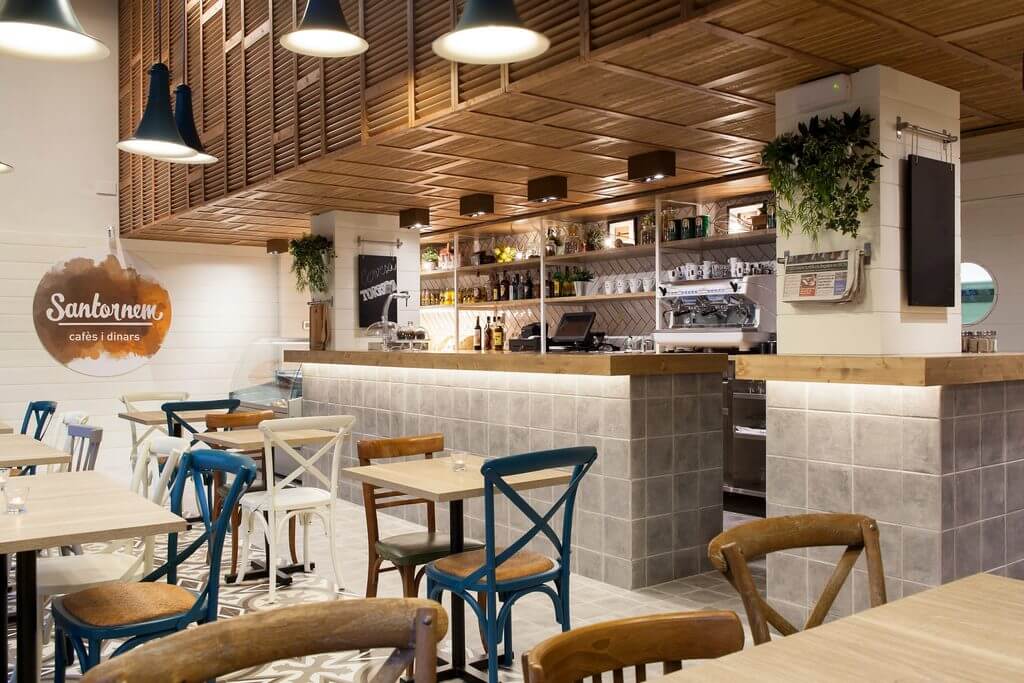 Source: impeccabuild.com.au
There are many ways you can do to make your cafe beautiful and unique. Whether it's playing with color palettes, taking inspiration from pop culture, bringing books into the scene, or going all-out to make it instagrammable. The possibilities are endless. You just have to make the right move. 
To help you out, here are some tips and tricks you can try:
Focus On Your Target Audience
It is vital to consider your target audience in designing your cafe. The design should cater to their needs and tastes in every way possible. Moreover, your cafe's design should attract them and provide a fulfilling and comfortable experience.
Suppose you want your cafe to connect with college students. You might want to consider decorating your shop into something youth-friendly. It might help if you give it a theme from pop cultures like comic series or movies. 
On the other hand, if you want to connect with working individuals. It would be best to provide Wi-Fi and charging stations for their cellphones, laptops, and other gadgets. Moreover, you can opt to design your cafe into something more subtle and classy instead of decorating it with bright colors.
Create a Concept 
There are many things you can choose from when it comes to lighting, color schemes, and artwork. In order for you not to get too overwhelmed, it would be best to hire a professional. Go ahead and get in touch with a designer that can help you out.
First, you have to discuss what you have in mind with the designer and what you plan to do. After that, you can make a blueprint or a layout plan for your cafe. You can then share your ideas with the designer and pick from the different options you can choose from. You can then settle on your final choice.
Most of the time, your designer can impart to you some current preferences clients usually choose. Not only that, but the designer can also help you with the best way to tackle your potential overall cafe design.
Decide On The Seating Arrangements
Do you want your cafe to have outdoor and indoor seating? Do you want to have plush seats where customers can curl up while reading a good book? Do you want comfortable tables and chairs where clients can work efficiently? If you want to have outdoor seating, how do you plan to make the chairs comfortable in colder and hotter seasons? What view will your customers have? These are just some of the questions you should consider before you decide on seating arrangements.
Pick a Color Scheme
If you plan to make your cafe look bright, consider yellow and orange. However, if you want a little less vivid, white tones with a darker color combine perfectly well. Furthermore, the colors you choose for your decor, logo, and entrance impacts your customer's behavior.  
Provide Great Lighting
Lighting plays a big role in the ambiance of your cafe. This includes natural light that passes through your glass windows as well as lamps that give warm and soft light, which makes the cafe feel a little bit more cozier. 
Consider Complementing Furniture
It would be best to make sure your cafe furniture complements your shop's colors (paint and lighting). It has to be uniform and comfortable at the same time. Moreover, you can also opt to decorate your cafe with photos, paintings, and posters that complements your theme.
Other Ways To Make Your Cafe Stand Out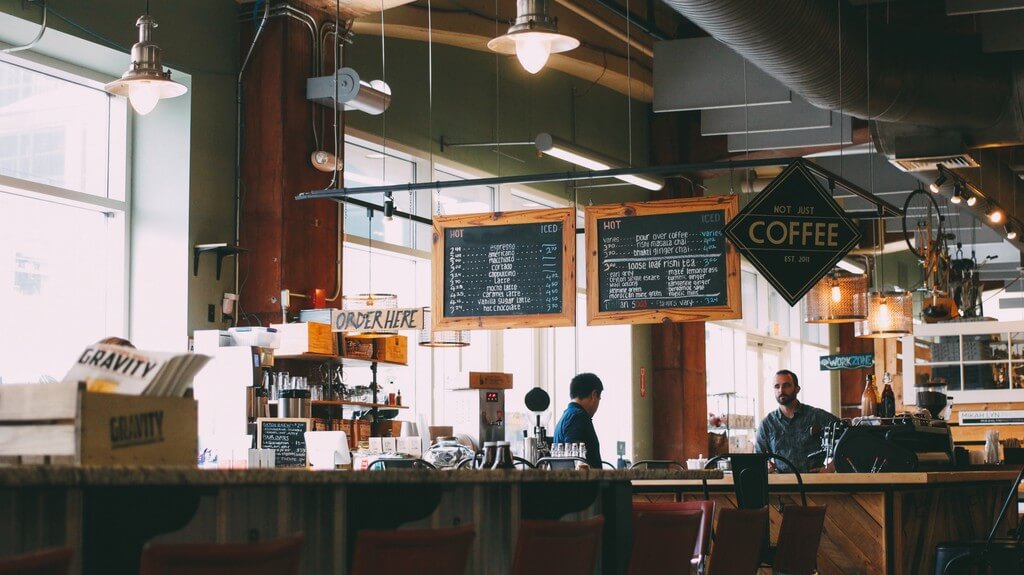 Source: medium.com
Besides the cafe designs tips above, here are some other ways you can do to make your cafe stand out from the competitors:
Create Seasonal Drinks
If you have been serving the same teas and coffee over the years, then there is no stopping your competitors from checking them out if they have already been through your doors just even once. 
So, in order to keep your shop relevant to the public and keep your customers curious, consider creating seasonal drinks. Try out floral flavors in springtime, pumpkin spice in fall, and yuletide spices during the holidays.
Also Read: Vastu Centred Restaurants And Cafes : A Positive Aura For Public Gathering
Take Advantage of Social Media
About a third of the world's population is now on social media. Hence, it would be best to make use of it for your cafe's benefit. Consider keeping some lively, active, and engaging social media accounts that promote your cafe and the products it offers.
Put People First 
Most of the time, coffee shops don't go down because of the products they serve. They fail since they put their needs first above those of their customers. It would be best for you not to go down the same track. Moreover, your caffeinated patrons will tend to become regular and loyal customers if you put them first.
Host Creative Happenings
Make the most of your cafe space by hosting slam poetry competitions, live music, galleries, and many more. Doing so can be a great advantage to attract new customers. You can also ask your social media followers on what kind of creative happening they would like to see in your cafe.
Invest in Food Technology
Food technology includes aspects such as an efficient point of sale (POS) system that can help your daily cafe operations run smooth and quick- one that takes care of all your taxes, billing, finances, receipts, invoicing, and so much more. Furthermore, the right food technology helps lessen the burdens of running a cafe and the probability of errors. 
To Sum It Up
Offering great food and coffee not enough to make your cafe stand out from the rest. The interior design of the place also is great in attracting customers. As such, find a way to make your cafe unique from those mainstream coffee shops in your area. Certainly, an aesthetic and one of a kind cafe can help build an excellent reputation and boost your sales.