100 Modern Cafe Interior Design Concepts For Elegant Look
Do you want to open a Coffee Shop or to remodel the interior of the existing one? Then follow us, we take you on a tour of some amazing Cafe Interior Design Concepts. All these ideas are out of this world and will surely help you in establishing a one. There are a number of increases in coffee shops in recent years. You'll find a cafeteria almost at every other corner of the street. Because they just don't provide the food and beverages, but they go beyond that.
In the beginning, people went to cafes to grab a drink and snack, but nowadays it is more about having quality time with your friends and to do office work. The atmosphere, location, and services make it an ideal place to work. All the cafes around the globe have something in common, like warmth, coziness, and a relaxed environment. There are many factors you need to keep in mind in the cafe interior designs such as entrance, area of the cash register, and, most importantly, the comfortable seating arrangement. The excellent decor and of course, the personalized coffee of the place invites more customers. 
Also Read: Expressive Cafe Wall Decorations: Maintaining Decorum Of The Atmosphere
Don't get confused with the interior designs after searching on many sites. First, always decide a theme for your cafe and decorate the rest of the place with the similar and complementing decors. Here we are providing the best cafe interior design ideas, so check out these too. From Modern Cafe Interior Designs to farmhouse interior, you'll find all the incredible themes here.
Here is some overview of Farzi cafe Aerocity.
Take a look at these fourteen wonderful cafeteria design concepts before planning out the interiors: 
Industrial Look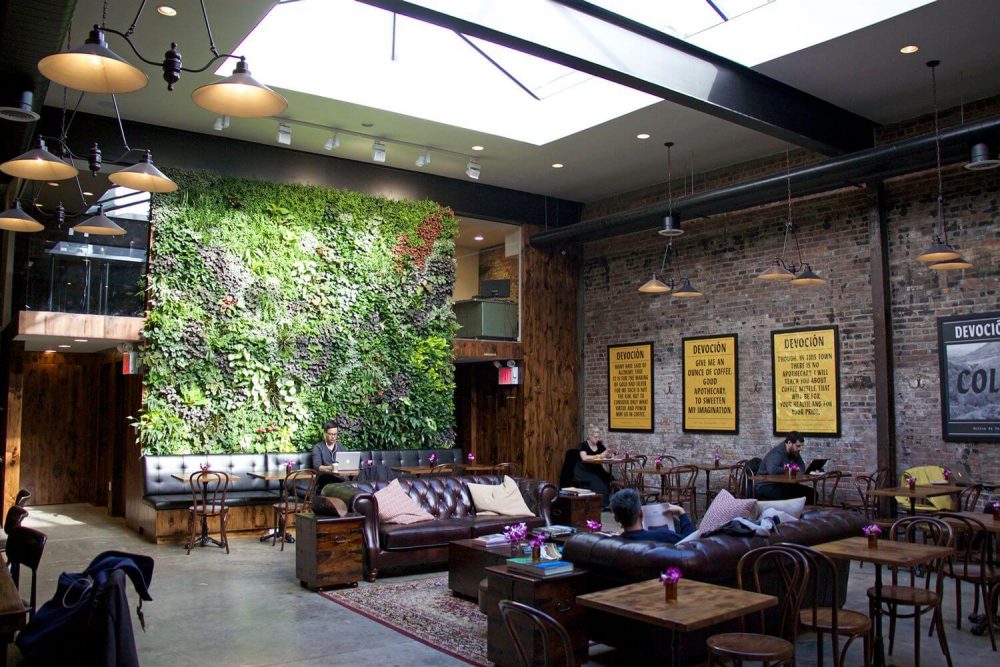 Source: pinimg.com
As you can see, this cafe as an aesthetic appeal to it, and people just love to hang out at these cafes. It has a beautiful combination of industrial elements with modern ones, which makes this place more attractive. This cafe has a roof that is open at the center and covered with glass, so you'll have a beautiful sky view while having your drink.
Farmhouse Vibe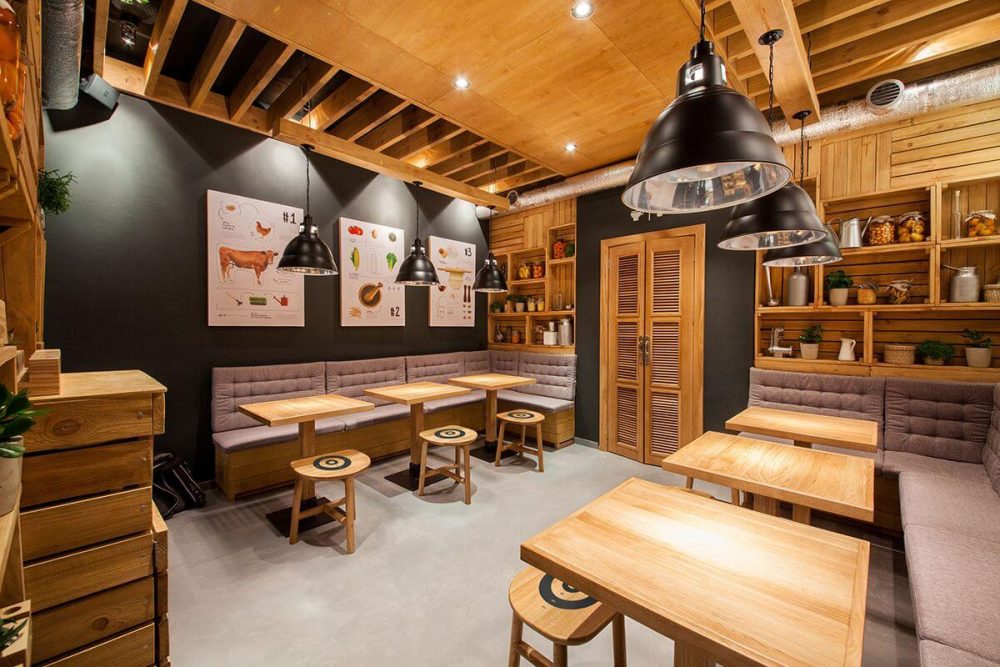 Source: pinimg.com
Farmhouse or countryside themes are also popular these days. It has all the natural elements with a twist such as milk crates as shelves and plank wood furniture.
Modern Interior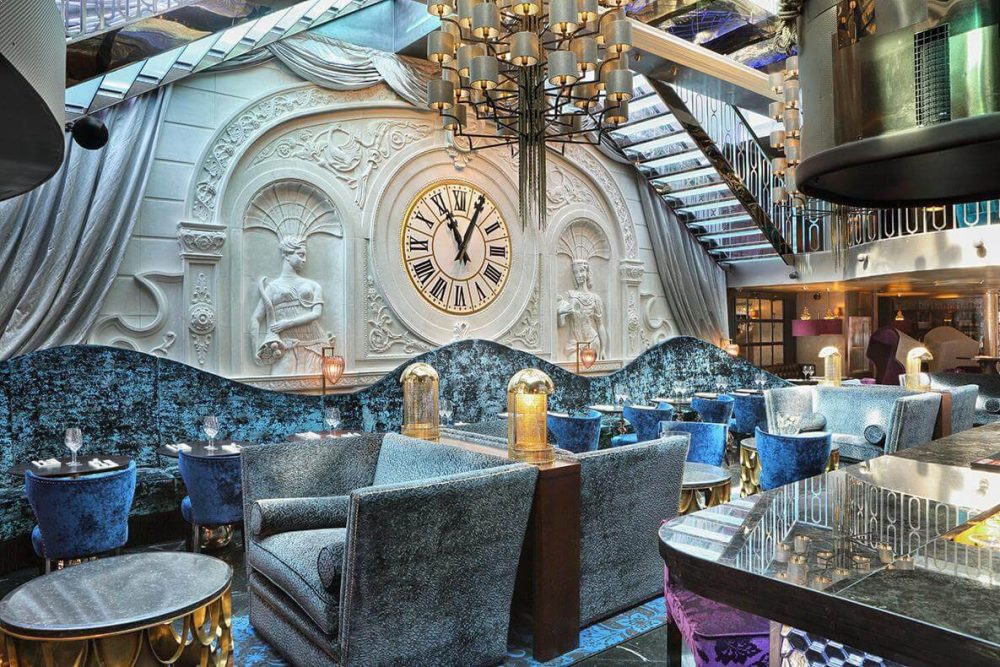 Source: donpedrobrooklyn.com
The modern designs follow a principle; in this design style, every piece is a functional unit, and they are straightforward and practical. Interior design includes crisp lines and smooth surfaces. Like, this cafe has a blend of comfortable and sophisticated design elements with pastel colors. Its interior has clean lines that are beautifully balanced out by bold and vivid accessories. 
Mid-Century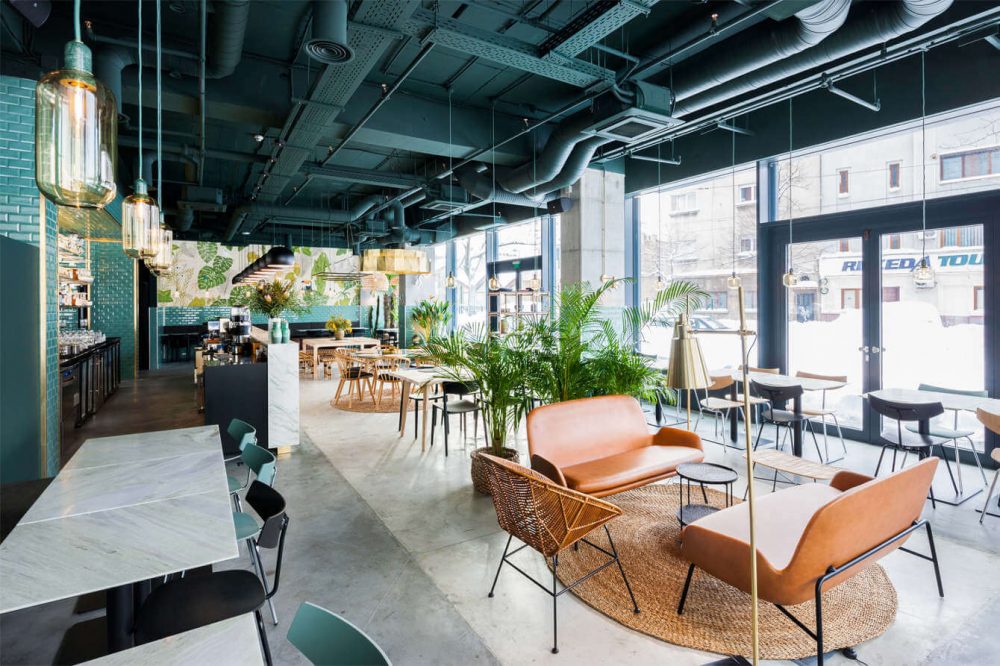 Source: cargocollective.com
Mid-century style is all about the exploration of the new materials infusion with the traditional ones. This style also focuses on functionality over form, as we see in modern interior designs. Do use contrasting materials such as plastic, vinyl, plexiglass, and plywood. Don't forget to create clean lines with organic geometric shapes to create an outstanding space. 
Beautiful And Bold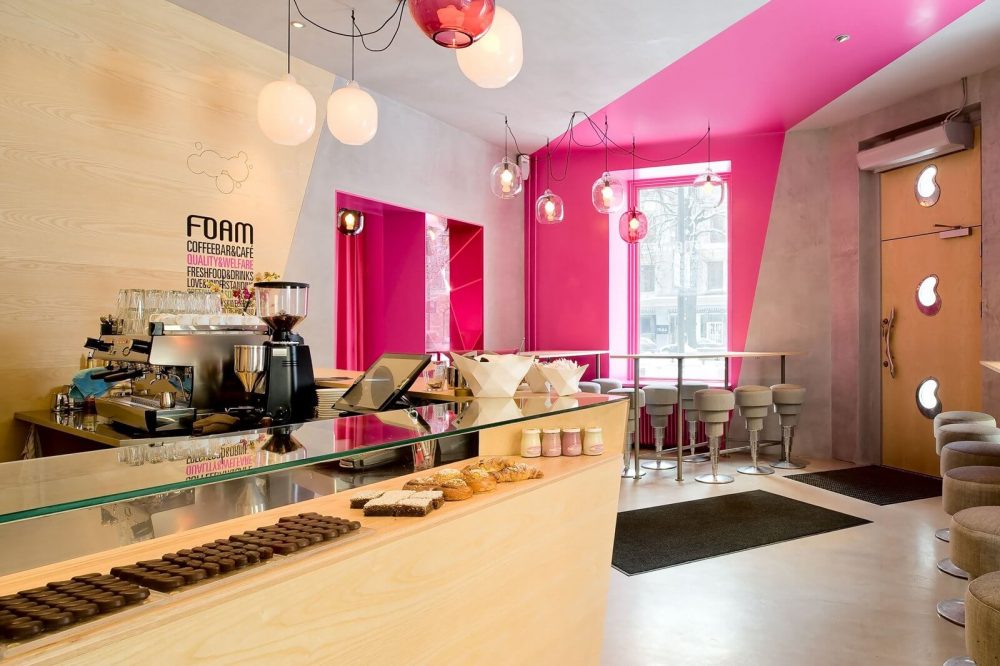 Source: dwell.com
Don't be afraid to involve bold designs in your interior. Maybe this will become the central attraction spot in your cafe. Select bold colors such as bright orange, red, and vibrant blue and implement them with geometric shapes and patterns. Place irregularly shaped chairs to make your place fun and exciting.  
Gorgeous Roof Designs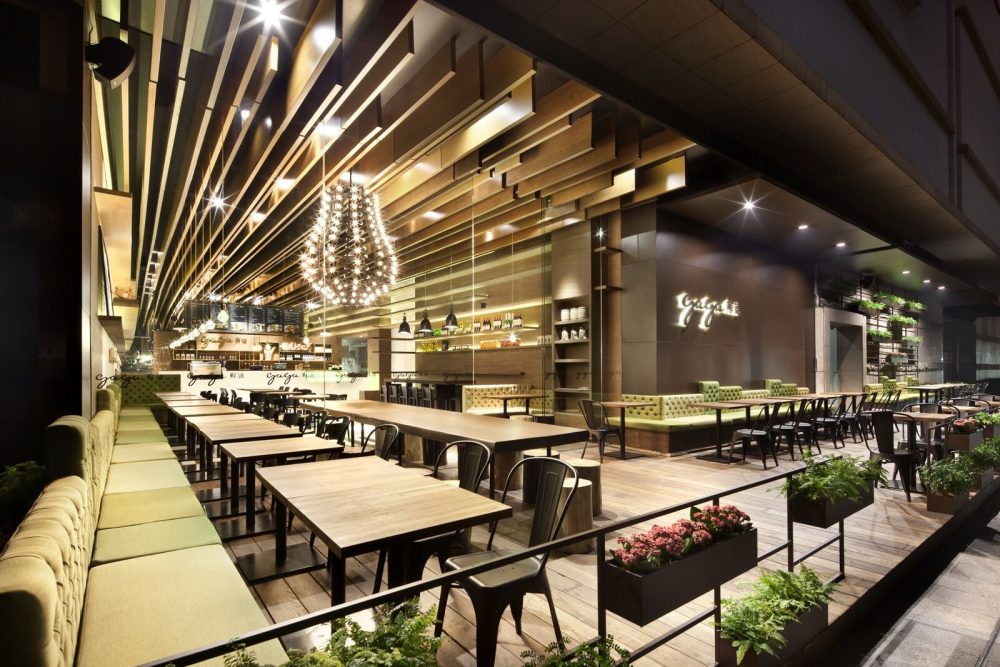 Source: architecturaldigest.com
Want to make your cafe attractive and eye-catching? Then focus on the fifth wall, that is the roof. We always forget about this wall, but the amazingly designed roof will definitely catch the eye of the customer. Take the above image as a reference and create your dream cafe with a stunning roof to make it stand out among all the other cafes around the city. 
Vintage Vibe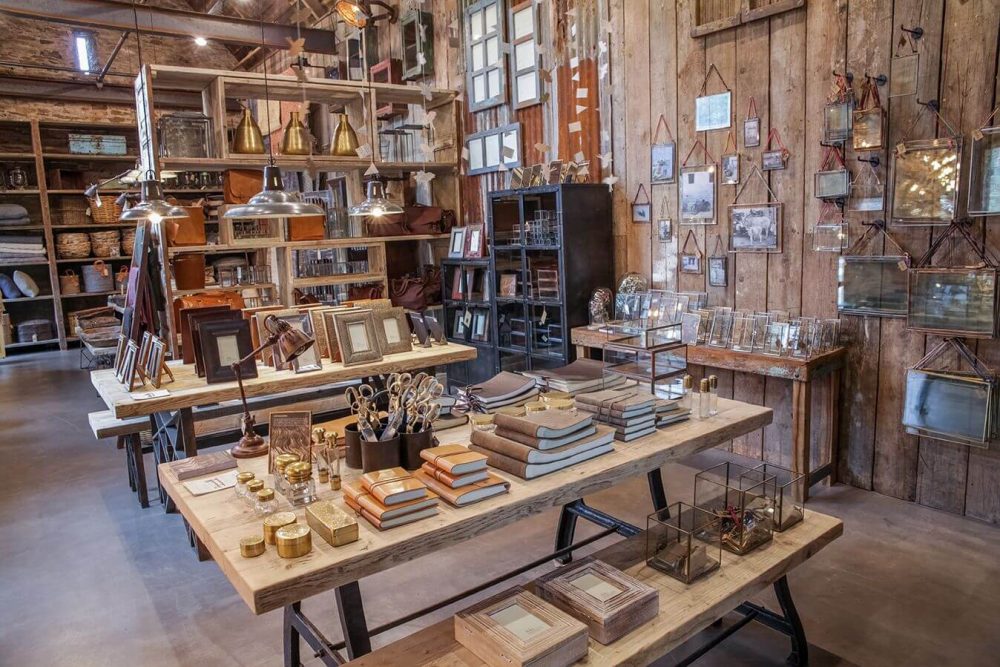 Source: pinimg.com
Vintage interior designs inspired this cafe. In vintage style, a variety of styles from past decades are mixed together. It has a romantic and charming feel, which makes you feel lost. You'll see the excess use of mahogany wood with antique decors in the interior cafe designs.
Hygge Style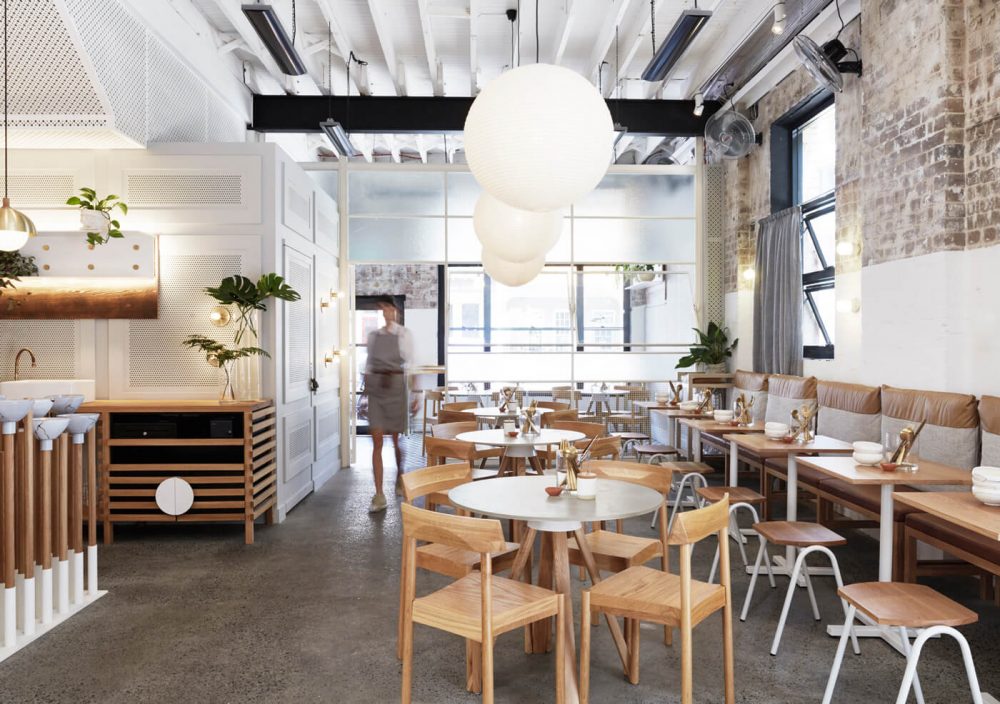 Source: squarespace-cdn.com
'Hygge' is a Danish word that literally means joy and presence. This style also insists on comfort and warmth.  You should keep your place clutter-free and also include some cozy elements such as candles and twinkling string lights. 
Rough Rustic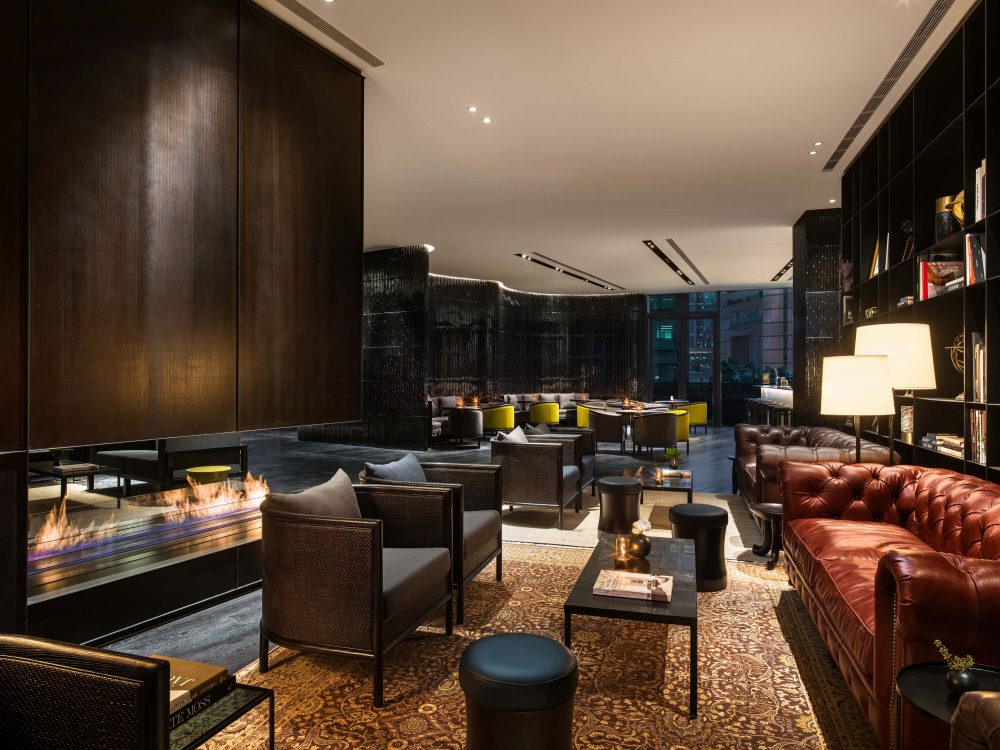 Source: petriepr.com
As this cafe has, the rustic style has all the organic and natural materials. You'll feel like you're in the woods when you enter this cafe. Include some beautiful plants and flowers with raw wood furniture to make the place cozier. 
Pink As An Accent Color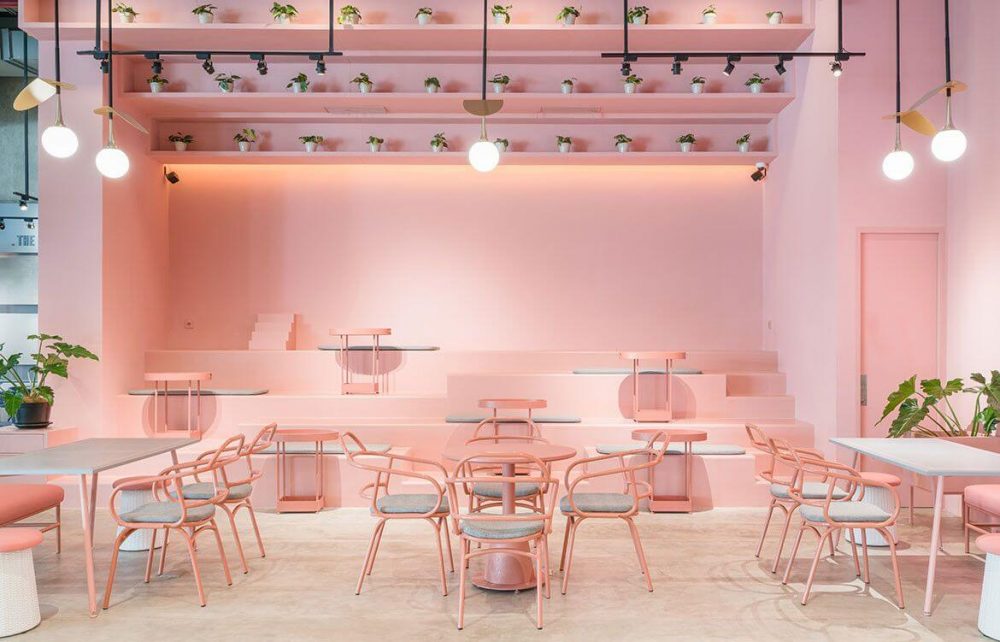 Source: pinimg.com
These days, the PINK color is prevalent. So, transform the cafe's interior in various shades of this beautiful color. You don't necessarily have to paint the entire walls in pink color, just use it as an accent color.  Pink chairs and fun quotes with neon pink LED lights will definitely look mesmerizing. You would have seen many pink-themed cafes around the world. From pastel pinks to millennial pink, you can select any shade of pink with black and white color as a base to accentuate it.
Portrait Wall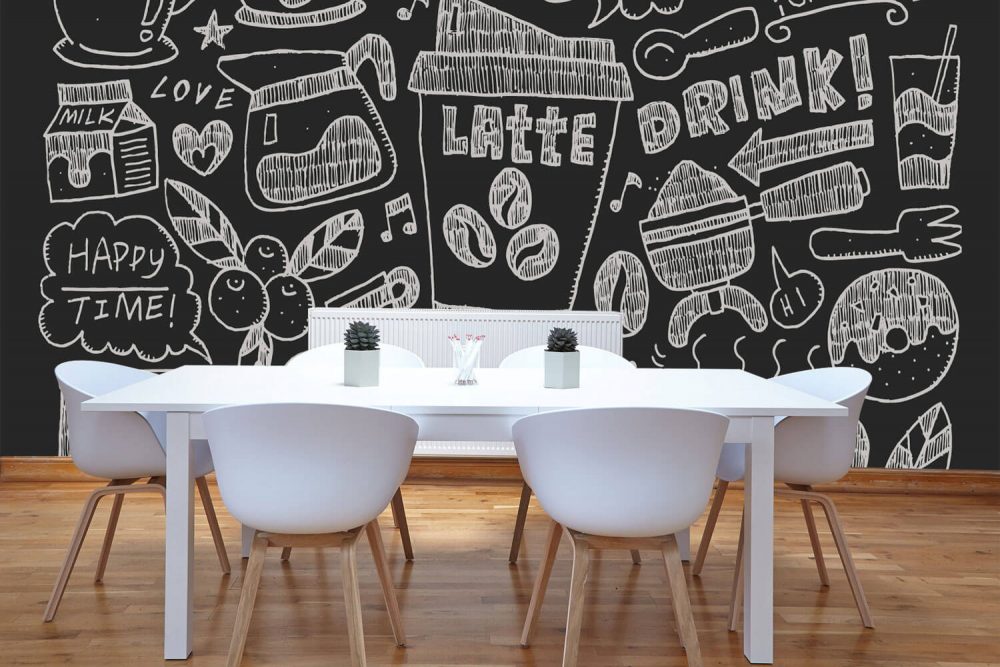 Source: printawallpaper.com
Want to give a glamorous look to your cafe? Then create a gallery wall in one of the main walls. A portrait wall or gallery wall is also one of the brilliant ideas to make a place attractive. You can place a famous celebs portrait to make it more appealing and entertaining. Place tables near to it, so that people enjoy the beauty of this stunning wall. 
Who woodn't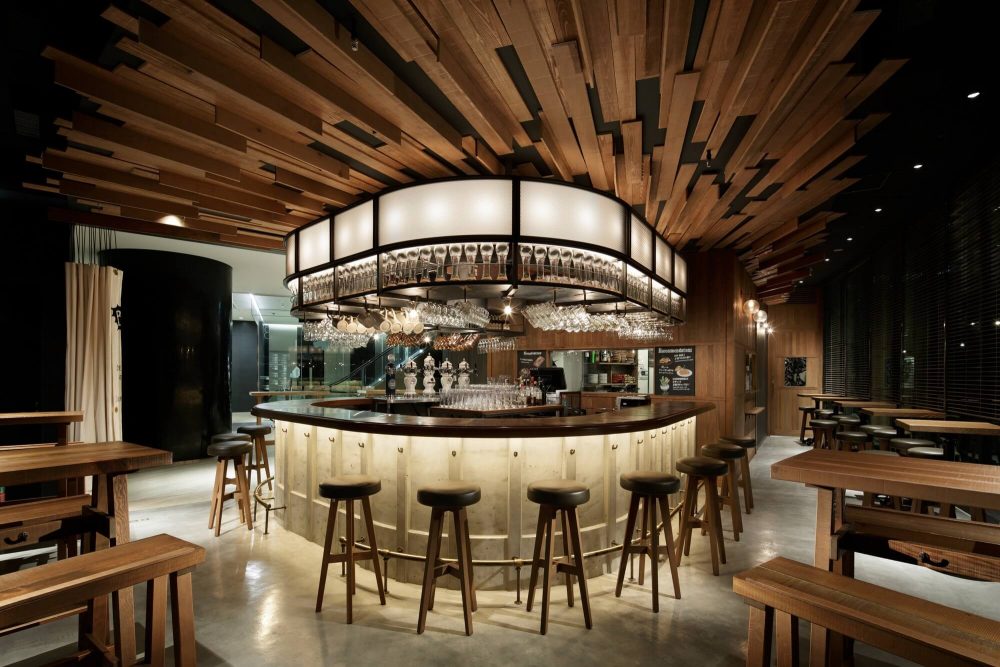 Source: whitemountain.ro
Who says wood can't be used as a decor element? You can use wood in many ways in your interior designs; it really looks good. You can use wood in the roof designs or furniture. Create partitions by small wooden planks of roofs to give some privacy to your customers. 
Set The Mood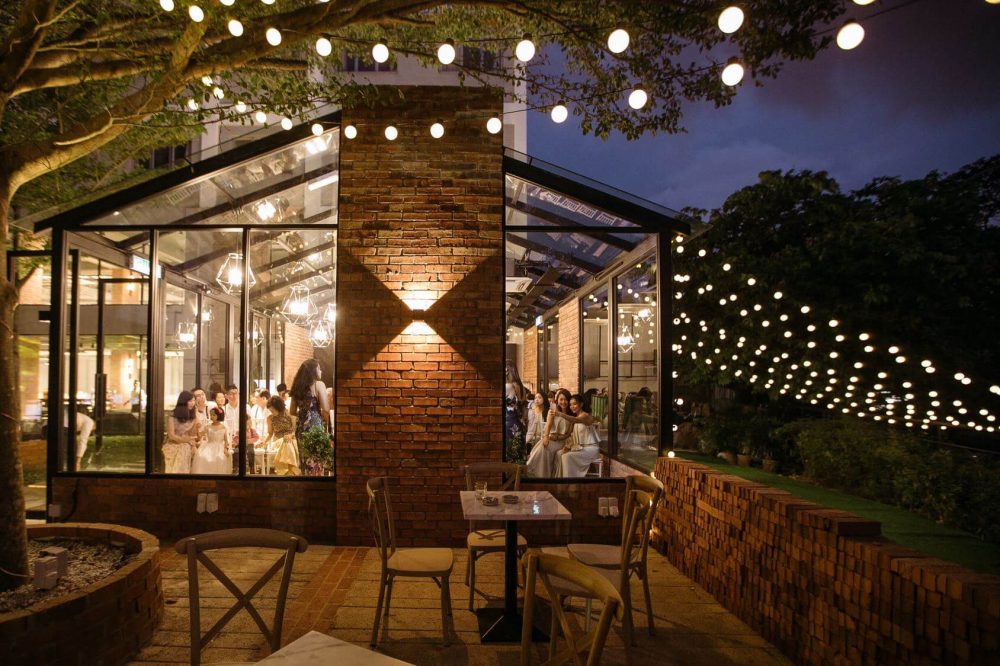 Source: says.com
Set the overall mood with the lighting of the cafe. From recessed lights to decorative pendant lights, use varieties of lights with the different intensity of the light to create a beautiful ambiance of your cafe. Colorful Lights unconsciously set the positive atmosphere around the space.  
Tone Down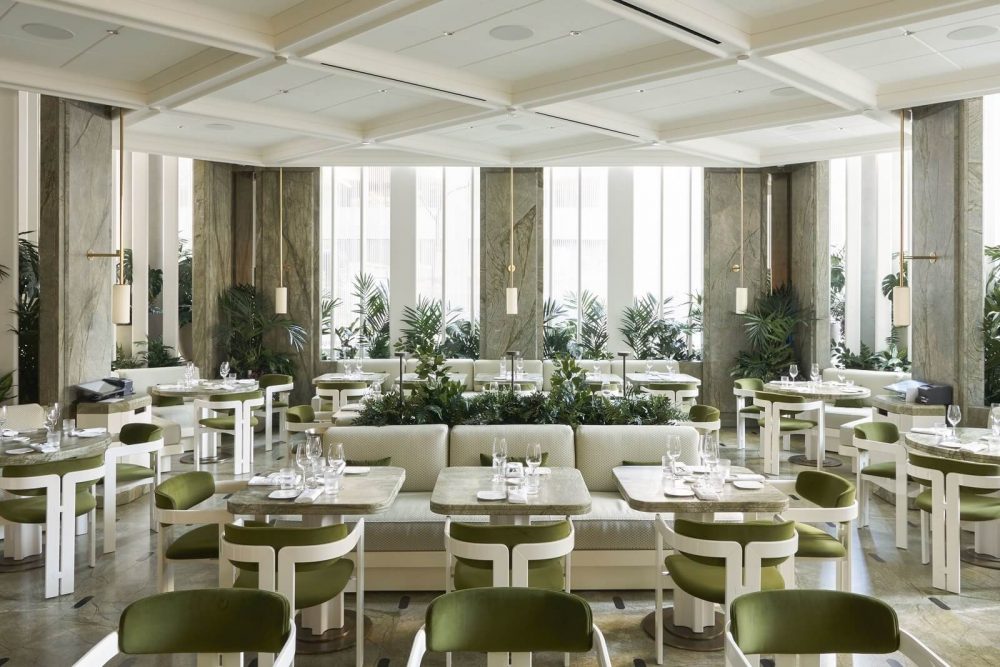 Source: architecturaldigest.com
To make your place, a different look, try a neutral look. Select all the interior pieces with designs in the same color palette and then add some pop of color. You can use soft fabrics with different textures. Take inspiration from the above image of a cafe that includes beautiful pink color fabrics in the seating chairs that goes perfectly with marble dining tables. 
Get inspirations from the above ideas and make your cafe an inviting space. Use details that reflect the overall theme of the cafe. All these cafe interior design concepts will bring out the ultimate cafe interior. When your cafe is unique and beautiful from others, only then you'll be able to attract more customers and earn their loyalty. To know more about wall designs, interior designs visit Architecturesideas.