Catholic Art: Inspire Your Days with a Faith-Based Wall Décor
For as long as mankind has existed, art has been present and actively so. Art is one of the highest forms of human expression, originating from individual inspiration and interpreted with just as much individualism by those who experience and encounter it. For many artists, inspiration can be drawn from the lightest moments of laughter, nature, melancholy, struggle, internal searching, and solitude – really, it's an endless stream. One unique source of inspiration that has transcended time and generations is religion. Some of the oldest catholic art forms are inspired by mythologies, belief systems, and religion-inspired culture. 
Take the Catholic Church, for instance, the oldest and the grandest church institution today. 
It is a true embodiment of art in many forms – right from the architectural aspect that is synergized with common elements all over the world. 
Let's take a look at how you can curate a wall of catholic inspired art pieces.
1. Choose Catholic Art Pieces That Move Your Soul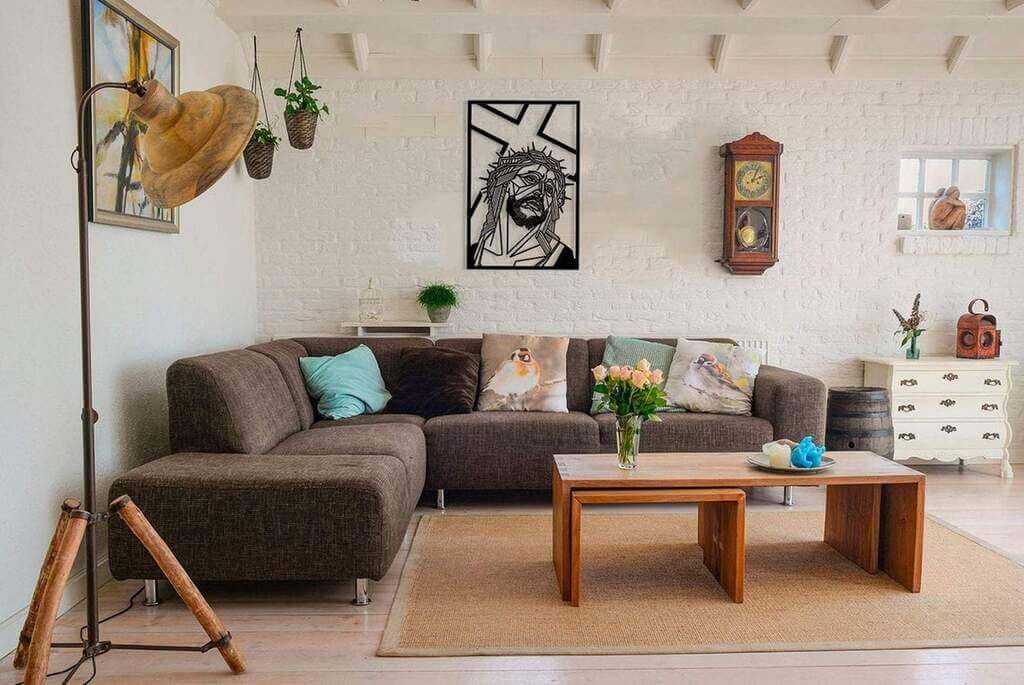 Source: shopify.com
No art is created to just create; so a key thing to look at is how it makes you feel. Does it inspire you to know God more? Or perhaps find your own expression and create as guided through your journey of life? – Whatever the case, selecting pieces that speak to you will ensure a flow of good energy around you and your space.
If you are looking for some works of Catholic Art, click here to order the beautiful oil paintings from House of Joppa.
2. Match Your Style
When one thinks of catholic art; it is easy to automatically eliminate it as an option for your house. It's almost as if every Catholic home has that one piece of Jesus on the cross. This may make it seem like a limited genre yet, nothing could be further from the truth. 
There are in fact thousands of pieces in different styles and a variety of aesthetics that can match the style of your house and compliment it to a tee. The key is to open-mind and look at varying options that one can source both online and in stores. 
3. Mix Things Up
To keep things fun and vibrant, it is a good idea to incorporate a mix of different things which is inspiring by the Catholic faith. Bringing together a variety of custom items kills monotony and adds depth and a Catholic theme to any space. 
You can incorporate paintings, rosary-inspired plant hangers, 3D prints with inspirational text, or a textured cross to give your space variance and character.
4. Keep Your Wall Space in Mind When Choosing Your Art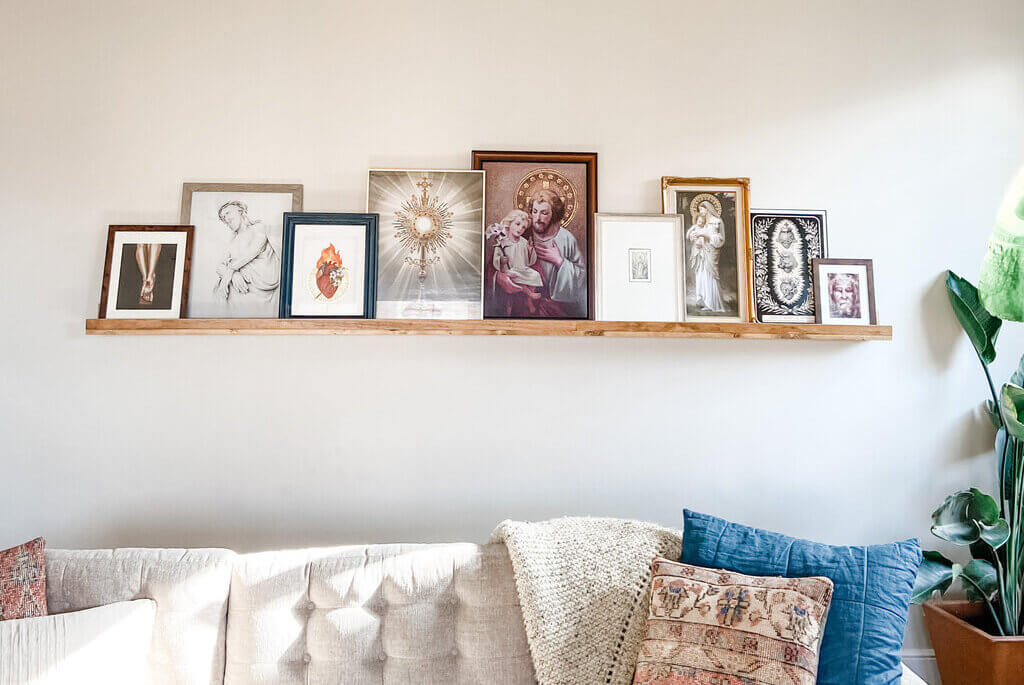 Source: squarespace-cdn.com
While you should definitely pick décor pieces that speak to your inner self, you also want to ensure that you actually have ample hanging space. If your wall is small and you go for a painting that's too large, it will look awkward or not fit at all. On the other hand, a small art piece won't make much difference to a large wall in your living space. 
So, opt for sizable Catholic-inspired art for bigger walls within your home, or create a unique cluster with small pieces. Smaller and medium pieces go well with less-spacious rooms like the bathroom or kitchen. 
5. Pick Art That Complements Your Interior Theme and Colors 
The best décor should complement or elevate your interior theme and color palette. So, have your wall color, home design pattern, and even your furniture in mind to determine the best catholic décor pieces. 
For instance, you can go for an immaculate heart watercolor piece to add color to your neutral-colored living room. That way, the art will be a central attraction for the room. Or a light-colored piece to liven your dark space. 
The good thing is that there's a variety of catholic art pieces you can find in different colors, materials, and designs to go with your desired theme. 
Also Read: Outdoor Wall Decor Ideas: 15+ Ideas to Revamp Your House Exterior in 2021
To Sum It Up
It's such a privilege to create a space not only inspirational but that also communicates to others who truly you are. Art undeniably does that, and what better way to showcase the centrality. It also shows the value of faith with your guests by incorporating Catholic art within your space. 
There are tons of different kinds and varieties of Catholic art to choose from. It is easy to find pieces that match your aesthetic and offer the serenity and grounding that your faith communicates.