Benefits of Coworking Spaces in the Modern Day Working Environment
"Coworking space", also known as Shared Workspace, has become a global phenomenon and a bastion for work alternative for today's workforce. Coworking spaces are a place that facilitates a common working place for people from different professions or even the same profession.
In a Coworking space, people assemble in an office-like working environment but work independently according to their work or project at hand. They have to pay to book their work table, or a private office cubicle, or even a large conference hall for group meetings. Hence, it is quite a practical and convenient concept for people who have to work remotely, but prefer an office-like setup, unlike the work from home concept.
This new working practice has become widespread all over the world and continues to increase rapidly. According to surveys conducted in 2020, In the United States opening of coworking spaces shows incessant rates of growth, and it is forecasted that 86% of companies are going to adopt this new work strategy.
In the point of view of 71% of employees, coworking has a positive influence in terms of creativity and productivity. Above mentioned statistics explain why the number of coworking spaces keeps increasing in many U.S cities such as Denver, Portland, Seattle, Atlanta. Thus renting shared office space in Portland or in each of these cities can be considered a beneficial decision any business owner can make. Besides being popular with the number of shared office spaces,  for example, Portland is also a perfect option when considering business relocation, taking into account such factors as the city's low unemployment rate, which is below the national average and quality of living. Thanks to driving Industries like Tech, the city has been called Silicon Forest and become a location with powerful business potential. In 2017 Portland has been ranked as number one as the best place for business and careers.
Coworking spaces offer a flexible desk and office space to startups, entrepreneurs, not-for-profits, technology freelancers, and sustainability businesses. They encourage collaboration, innovation, mentoring, and networking opportunities within a city located at a more affordable price than setting up an office. An Article from Coworkme estimated costs of coworking for a small business of 10 people in Melbourne saves over $400,000+ in 5 years.
The sums included the cost of rent, amenities, cleaning cost, electricity and internet cost, and office chairs, desks & furniture in Melbourne. 
Benefits of "Shared Workspace":
1. Nullifies the Negative Effects of a Pressure-Based Working          Environment of a Traditional Office: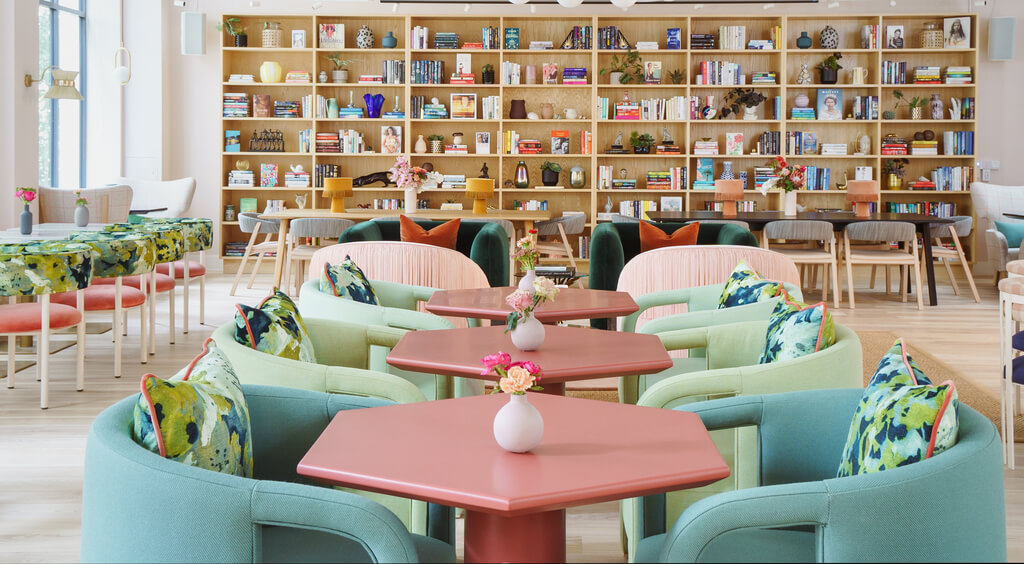 Source: workdesign.com
The modern-day working environment poses a lot of stress and pressure on the mind of a dedicated working professional. The ever-growing cut-throat competition in the modern world induces big corporations to battle for their supremacy over their competitors. At the same time, medium and smaller businesses strive for their survival and market stand.
Hence, the biggest benefit of a shared coworking space is that it neutralizes the negative effects of a pressure-based working environment, where an employee always feels being monitored and has to meet strict deadlines, which often induces undue pressure on the mind. A coworking space offers the staff members space to relax their minds and work to their full potential.
2. Promotes Good-Health and Overall Efficiency and Effectiveness of a Working Individual:
Nonetheless, a coworking space not just countervails the negative effects of undue office environment pressure, but also in turn promotes the good health of a working professional. An employee of a certain company, working through a coworking space can rejuvenate himself/herself from time to time taking short breaks, refreshing their minds which in turn leads to better efficiency and effectiveness.
3. Helps in Avoiding the Allurements of a Homely Environment:
The "Work from home" concept has been prevalent more during these days due to the Covid19 pandemic, and many working professionals have adapted to this form of working, based out of their homes under their employer's guidelines.
However, to point out one factor which makes the "Work from Home" concept at times difficult for working professionals is that a person working from home always has a homely mindset and can't overcome the temptations of that environment, such as sitting on their couch or lying on a bed and working, or watching a little bit of TV, or going to the kitchen for snacks, or even having a chit-chat with family members.
These are all the in-house disturbances which at times might feel pleasant to a working individual, but he/she may not always understand that it's distracting their focus and dedication to work, which might not have been the case if they were in a professional office environment. The individual's mind would find it easier to stay alert and focused in a professional office environment.
4. A Cost-Effective Way to Save on Office Rentals:
Looking from the point of view of Employers who have to run their organizations, coworking space offers them a financial advantage, as they don't have to pay out a lease for physical office buildings. Suppose they can ensure their employees follow the rules and regulations of the company in shared office space while still performing and delivering to the best of their potential.
Employers can even encourage their employees to work through a coworking space by offering them reimbursement of the fees charged by the co-working space provider. If you compare the significant cost of rent of a whole office building, reimbursing a small fee for a shared workspace shouldn't be a big concern for an employer.
5. Promotes Structured Way of Working: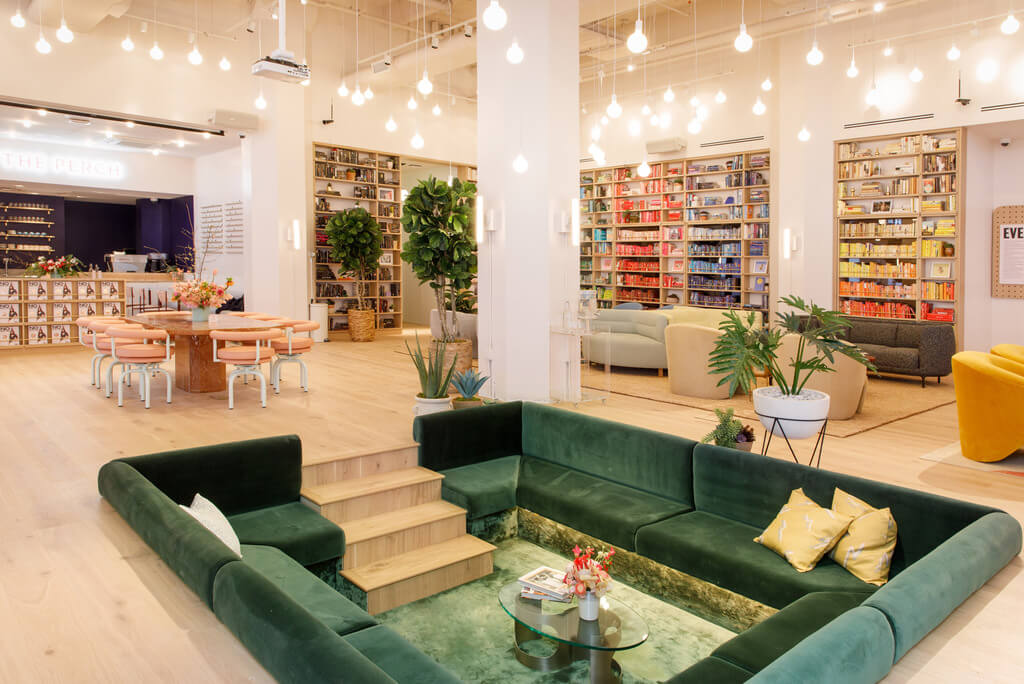 Source: fohlio.com
Another benefit of shared office space for remote workers is that it encourages a structured way of working as it does in a professional office setup. The environment plays a big role as the working individuals are always subconsciously programmed to work in a structured manner in a well-structured and organized setup, leading to better individual yield.
Hence, it's a great way to enhance the productivity of a working individual who works in a shared office independently or with his coworkers.
6. Offers Collaborative Opportunity:
Another significant benefit of coworking spaces is that it provides for opportunities of professional collaboration with other working professionals and organizations. Since the purpose of a coworking space is to bring together professional minds from various sectors of the industry, hence people get a chance to interact with their surrounding coworkers.
They get to interact during a break or an interaction could take place over a shared work table, which gives a chance for the individuals to know each other professionally. This might create an opportunity for official collaboration among the companies they represent individually, as the chances are that one company might prove useful to another, or one could provide services to another who might happen to be a potential client in the future.
Shared workstations and combined work desks can also help in bringing people together for collaborative conversations!
7. Helps to Battle Depressive Confinement:

Having an environment where sharing office space with coworkers is promoted, such an environment helps in battling a gloomy mood. If an individual has a habit of working in seclusion continuously, isolating himself from others or does not engage in healthy conversations with others, then such a person might sooner or later face issues arising out of social isolation.
Just a small problem or issue at work might play as a catalyst in inviting mood-based issues. An individual might face frustration, cranky mood swings, etc. Hence, an office space with coworkers where they get a chance to daily interact with others might help in postponing or rather halt an upcoming mental illness altogether!!
Also Read: Work From Home: 7 Inspirational & Creative Home Office Layout For Every House Type
8. Activates the Creative Part of an Individual: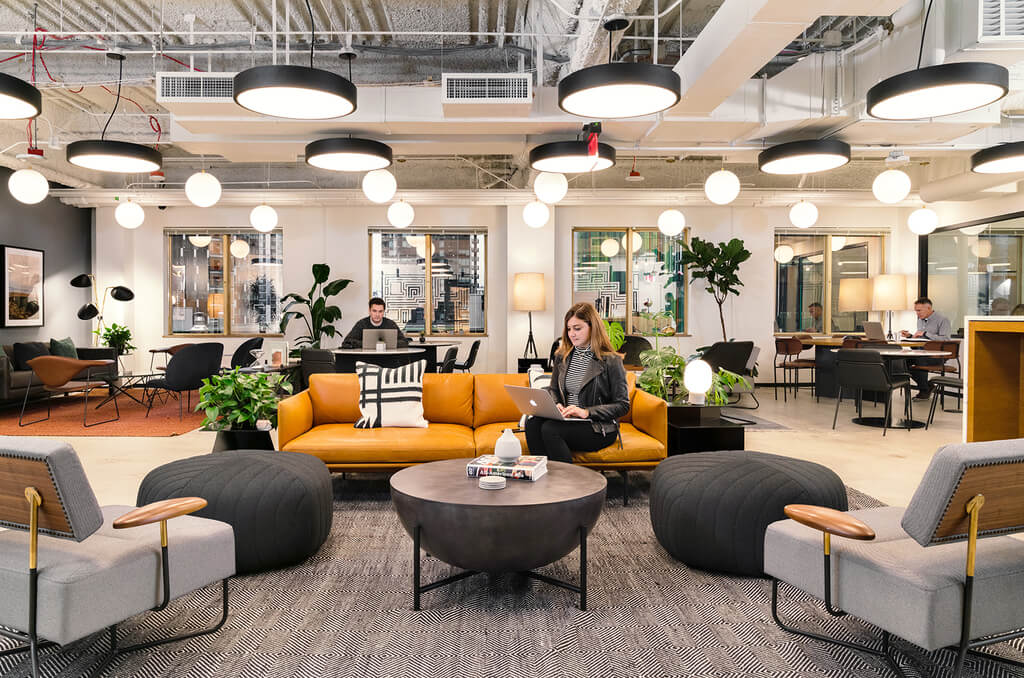 Source: whizsky.com
Another important aspect of coworking is that, since it promotes serenity and tension free work environment, it helps in activating the creative centers of the brain. A dedicated and determined individual who feels much relaxed at the workplace, successfully taps into his innermost core of creativity, apart from enhancing other faculties of his brain. Hence, such a place is highly beneficial for individuals who are into creative professions.
9. Safe-Way of Working During This Notorious Covid19 Pandemic:
Finally, one distinct benefit of Coworking spaces, which is more applicable in the current pandemic-prone scenario of the world, is that it is one of the safe and secure ways of working during the ever-increasing and multiplying threat of the Corona Pandemic.
Now, since mutant variants of the lethal coronavirus have been detected in most parts of the world, it is all the more important to work in a safe and secure environment without disrupting the continuity of work. Covid19 has impacted the continuity of most of the work in huge office buildings where a large no. of people used to work.
Now, since too many people working on the same floor in closed cubicles or shared workstations pose a high risk in spreading the virus, hence such office buildings have been shut down and a "Work from home" initiative has been induced.
Hence, in these tough times, Coworking spaces offer a safe and secure alternative, where people can work keeping a safe distance from each other. Also, a coworking space does not allow too much of a crowd at a given space, promoting silence and quietness while working. Other hygienic factors, such as the facility of hand sanitizers are also taken care of in a shared office space.