Renovating Your Bathroom? Here's How to Create More Space
Just because your home has a small bathroom space, it doesn't have to look or feel small. With a few new ideas, you can create a bathroom that feels bigger, and with a space-saving design, you can achieve a bathroom that's, brighter, more functional, and stylish. To get an expert's opinion, we talked to Moufid El-Khoury from Sydney Home Centre and asked him for his take to create more space in your bathroom. 
1. A Smaller Sink Closer to the Toilet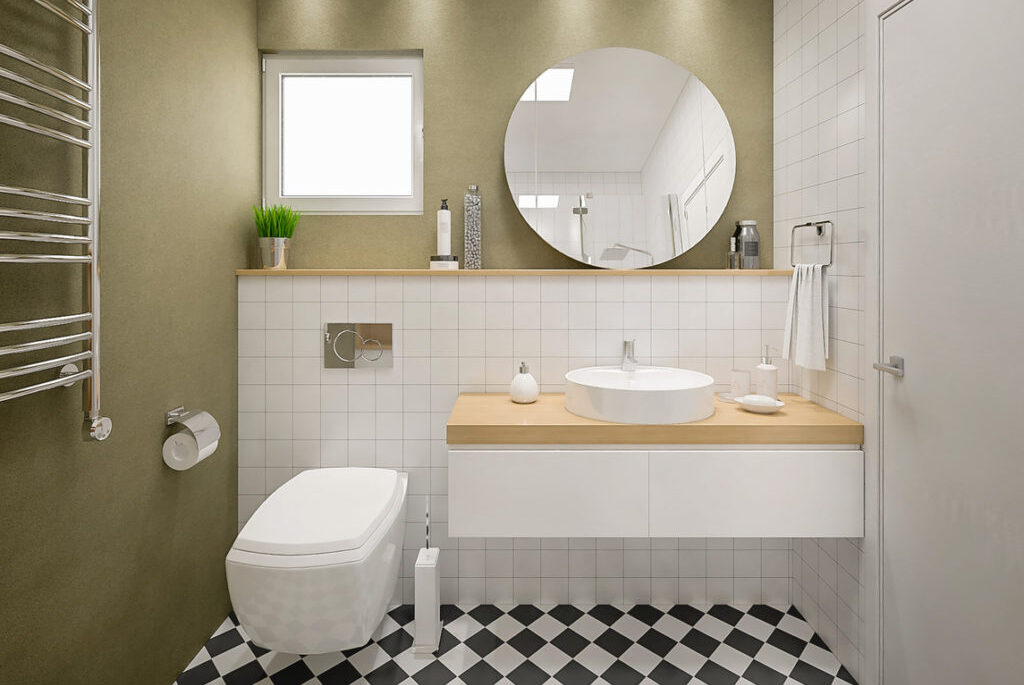 Source: stackpathcdn.com
If you have a small bathroom, installing a compact sink, especially a wall-mounted unit is an easy choice you can make to start saving space.

When planning a redesign, allocate space to your toilet first. 
Moufid says "Toilets should have at least 90cm spacing around the bowl." When you're seated on a toilet, you should have 45cm of space left on both sides. Enough to slip your legs into without feeling cramped. 
You can go for a freestanding basin (Pedestal Basin) or a wall-hung basin. This type of basin will give you a lot of space at the bottom, which can use as storage units. 
If you're prepared to spend a bit more, get a sink cabinet.  A sink cabinet is much-needed shelf space that would otherwise be underutilized dead space under the sink. Great for storing towels, or some extra rolls of toilet paper. A sink cabinet can hold your bathroom essentials and utilities. There is no back panel to the cabinet, meaning that there is plenty of room for plumbing access. 
Buying a sink cabinet can be costly, but will really help give your bathroom an organized look and a more spacious feel. 
2. Get a Vanity Cupboard
Source: zyzclima.com
The easiest way to make a bathroom feel small is to clutter it. The last thing you want is to take up more floor space than you need to with storage and cabinets. You need to get creative to store bathroom essentials by making your bathroom feel like a broom closet.
So what's the solution? Moufid adds, "Get a vanity cupboard! They are dual-purpose mirrors and do two things in the space of one."
They hide your bathroom essentials from plain view and are the cheapest way to create more space in your bathroom. Most dual-purpose mirrors cost less than $500 including installation.
3. Use Wall Mounts
If you're using floor cabinets and racks in your bathroom, you're wasting a lot of good space. Get everything off the floor, and use those big empty walls. Using wall mounts can keep your bathroom floor clear and keep the bathroom feeling fresh and open. 
You can try hanging basket shelves, hanging towel racks, wall cabinets, or floating shelves.

Bathroom soaps and supplies take up a lot of space. By keeping these items on a ground level you will make your bathroom feel smaller than it really is. Wall mounts are a great option for organizing items without wasting a lot of good space.
4. Consider an Open Bathroom Setup
An open bathroom, or a wet room bathroom, is where the shower is not separated from a shower screen. You aren't showering in a box. Everything gets wet and the water from the shower drains via a tiled floor area in the bathroom.
Open bathrooms are quickly becoming a trend in Australia, as more people are moving to the cities and looking for effective space-saving solutions to create an open feeling in smaller bathroom spaces. 
The openness of a wet room bathroom can give it an open look and help it feel bigger. Not having a separate shower box means that you're saving a lot of space, which you only benefit from in the shower. 
If you want to have a bathtub and a shower, they can be sectioned together in the bathroom. 
Wet room bathrooms can be quite expensive, as they require the floor to be tilted and the walls to be waterproofed. All plumbing in Australia needs to complete by a licensed Plummer, but to better understand the costs, you can check with your local authority to get the height requirement for waterproofing.
5. Get Creative with Underutilised Space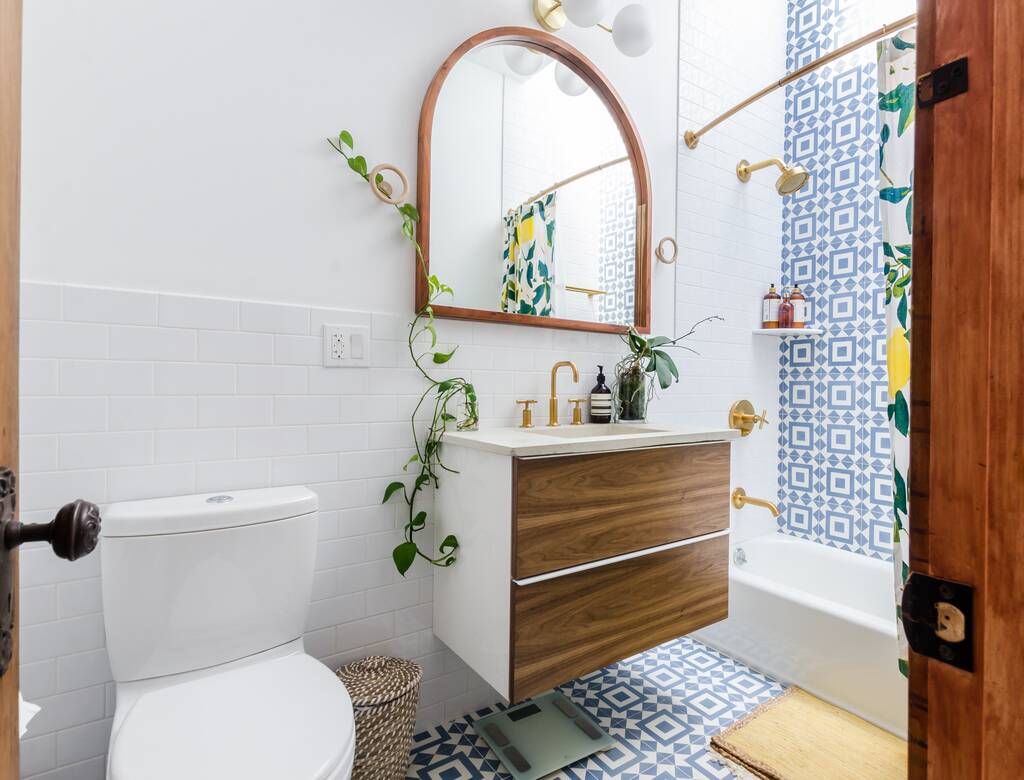 Source: architecturaldigest.com
If you look closely, you'll see that there's a lot of empty unused spaces in your bathroom. Your walls, doors, bassinets, showerheads, everything can use as a storage space for making your bathroom feel bigger.
You can put towel bars behind your bathroom door, or beside your sink. So, you won't have towels lying here and there on your bathroom floor. 
Also, a great idea is to build in an alcove for your shower to increase its storage capacity. You can keep all your shower essentials inside the alcove, freeing up more space in your bathroom. 
6. Embrace the Natural Light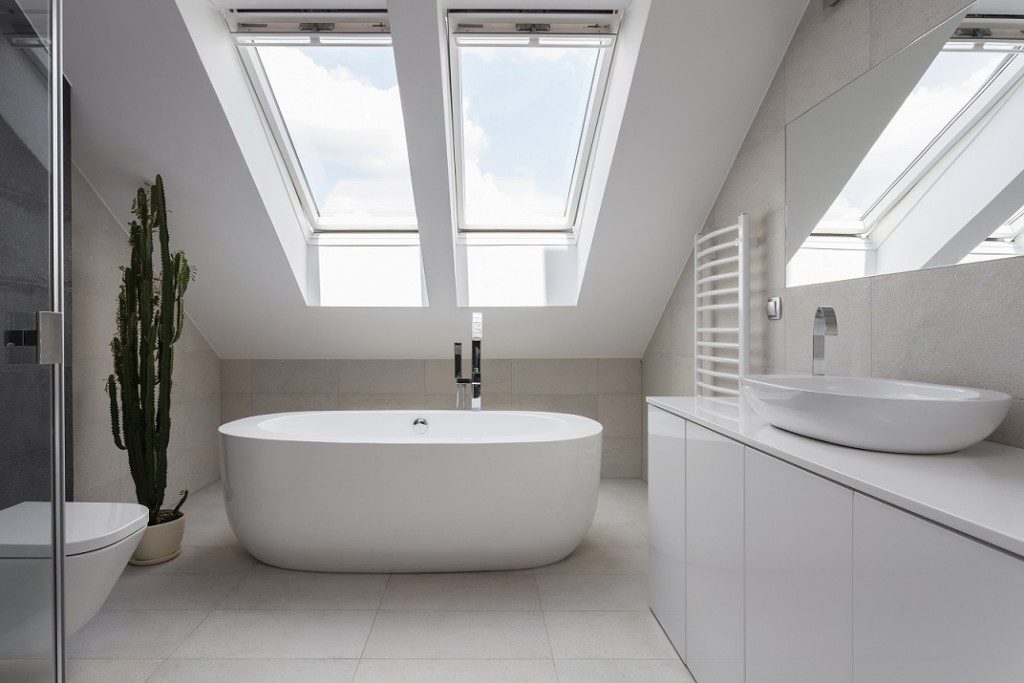 Source: ferrishomeimprovements.com
Moufid says, "You should always be aiming to increase natural light in your bathroom. Try to install a window or a skylight. Darker rooms always feel smaller. Natural light can give a fresh and bigger look to your bathroom."
Also Read: Top 12 Best Bathroom Wall Decor Ideas To Check Out
7. Move Appliances Out Your Bathroom
If you have a washing machine or dryer in your bathroom, consider moving them out. Large appliances can make bathrooms feel very congested. You can also consider building a laundry enclave inside your bathroom.
To Sum it Up
These are some of the best ways to create more space in your bathroom. It's all about organization and utilizing the space available to you in the most efficient way possible. You can't increase the actual size of your bathroom space, but you can get creative and unlock the potential of your bathroom by following the tips and tricks mentioned in this guide. For more tips and tricks, take a look here.