The way we design the interior and how we arrange all of the pieces is critical to the restaurant's operation. Regardless of how unique a design theme is, how convenient a location is, or how enticing the menu appears; if the interior space and layout are not equally practical; there is a considerable possibility that you will have difficulties attracting and maintaining consumers. Here we will talk about the tips for creating a fantastic restaurant design.
Of course, the element of long-term viability is quite important before choosing a subject. While you may have the financial resources to invest in more renovations in the future; you may want to be more practical and choose a theme that will stand the test of time rather than a trendy look that may be out of style in a few years. Consider what it will be like to visit your institution in five or seven years; will it be as enticing and interesting as it is now?
Color Scheme
Colour can transform an interior area into an upmarket restaurant. Its usage should never be taken for granted or treated as a last-minute addition. Color has an impact on more than simply the aesthetics of space; it can also influence the mood of those who live there, triggering different emotions in a variety of ways, such as the food they eat or the amount of money they choose to spend.
Different hues elicit different subconscious reactions, and they can have a significant influence on sensations of hunger, thirst, attentiveness, and other emotions. Warm colors boost the mood while also serving a dual purpose of enticing your customers to have a positive experience with your company or organization.
It is likely that having a wonderful eating experience would leave you with positive memories of the restaurant's ambiance.
Restaurant Furniture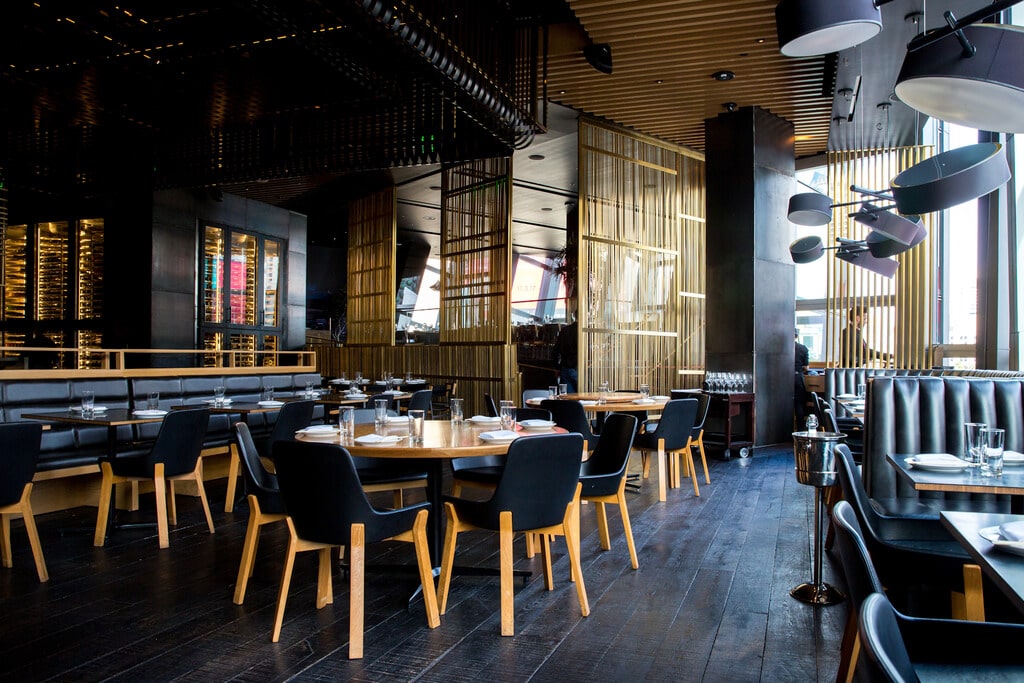 The type, quality, and general design of your restaurant determine by the furnishings you choose. When it comes to comfort, it's important to think about whether or not visitors will be impressed after sitting for 30 minutes or longer. It is also important to consider the outward design and visibility. What kind of craftsmanship and elaborate styling do you use in making your furniture? Is it modern and simple, or is it out of touch with the times?
Choosing the appropriate chairs and tables for a restaurant is not a simple endeavor. Many factors are considering, like the cost, the design, and the available area. On that point, it is important to remember that design should never take precedence above comfort and practicality.
Regular modifications may need to be made from time to time in order to meet the demands of the consumers.
Chairs, Barstools, Booths, and Benches
Tables, on the other hand, have a limited number of configurations. There are single seats, stools, booths, couches, and a variety of combinations of these items. You must next select a material and finish from among the following options: wooden, leather, metal, or plastic. The decisions, on the other hand, should be in keeping with the desired ambiance and theme.
In a family-friendly restaurant or a casual eatery, for example, sofas and booths are typically a good fit since they increase the closeness of the dining experience. The use of beautiful leather seats informal or fine dining establishments, on the other hand, is a superior choice.
Square, Rectangular, and Circular Tables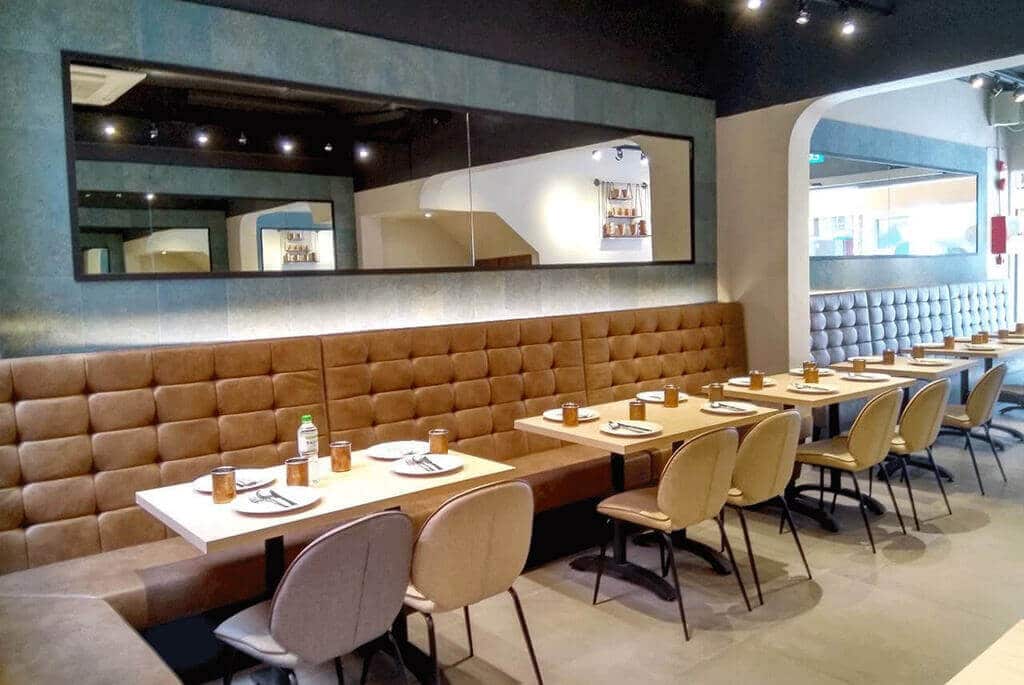 The choice of restaurant chairs is closely related to the choice of table. They should be able to fit comfortably beneath the table and complement the design. There is no doubt that square tables are the most popular table form in restaurants nowadays.
They can utilize individually to accommodate two or four people, or they can place close together to accommodate bigger parties. Round tables can utilize in more informal places, whereas rectangular tables are employed in restaurants where big parties are anticipating to gather.
Lighting
Having a well-executed interior design can boost people's mood, and having the appropriate lighting in your restaurant is critical to ensuring that this occurs. Clients that receive the proper illumination are more likely to become repeat customers.
It is important to illuminate the exterior of the building properly so that it draws attention to the establishment and informs potential customers that it is open for business. The restaurant lighting design on the outside must be visually appealing while also providing adequate illumination to offer a sense of security and visibility.
A few levels of light will require in order to achieve the desired lighting effect, as well as to create the tone for the room and differentiate the different regions. Ambient lighting adds to the overall degree of illumination, but accent lighting can draw the viewer's attention to certain architectural aspects in space. For places such as cash registers, the bar area, and the kitchen, direct illumination will also be required in addition.
Restaurant Ambience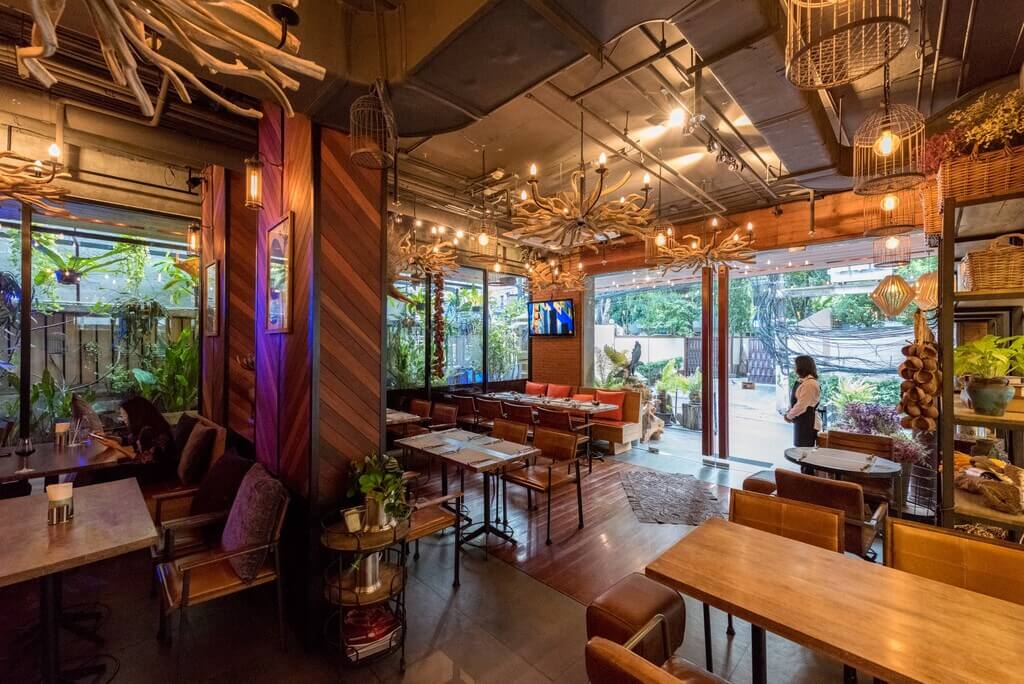 Customers' happiness and retention are greatly influencing by the atmosphere or ambiance created in a business or organization. So, even if your design scheme and delicious cuisine will certainly be the major focus of your operations, it is vital not to overlook the importance of fundamental decisions such as fragrance and music throughout the planning phase.
Essential are scents that cause most people to react; lavender, for example, has a calming impact on the human brain and is thus recommended. Vanilla and chamomile help to alleviate tension, sadness, and anxiety, whilst citrus and peppermint can boost attentiveness.
There are other odors that can have an impact on our perception of a space. Apple and cucumber fragrances will make a space appear larger and more open, but barbeque smoke will make a room appear smaller and more claustrophobic than it actually is.
Decisions on music can sometimes have far-reaching consequences. A certain song has the ability to take you to a different time and location. When the appropriate environment creates, music becomes more than simply sounds – it becomes an experience.
You must first decide if you want to create a lively, informal atmosphere for game days or a romantic one ideal for dating evenings. The consideration of your guests' requirements will serve as a useful guideline for the overall ambiance fragrance and music selection.
Menu Design
Are you interested in learning how to build a restaurant menu? Once you've decided on the idea for your restaurant, you'll need to start thinking about the menu since a well-thought-out menu design is at the heart of every effective marketing strategy.
It's essential to know the connection between your kitchen and your menu while designing your menu, as well as the customer demographic that the restaurant is targeting. The size and design of the menu at the offer will directly influence by the size and style of your kitchen.
The most essential thing is that your menu should be able to communicate the restaurant's brand identity in a way that educates guests about the experience they are going to have, gets them thrilled to be there, and makes them want to come back again.
Staff Uniform
The importance of uniforms in the hospitality sector cannot be overstated. First and foremost, it serves to identify the members of the restaurant's working crew, instills visitor trust. It preserves the restaurant's image by developing and promoting its brand. Additionally, it encourages a productive working atmosphere that complies with all applicable safety and health regulations.
For high-end consumers, you may want to choose a uniform that is in keeping with the ambiance of the business, such as a tidy, crisply professional style — such as formal waistcoats and slacks — to capture their attention. If you go to a casual café on the other hand; you will most likely notice a more laid-back uniform style that is yet professional and tidy.
Conclusion
It is not enough to create a visually appealing restaurant environment; it must also be practical and intelligent. Proper design and layout are requiring to make the most of every square foot of your rented space and to provide a positive customer experience for your customers.
Your primary focus should be on completing your restaurant interior design, but this should not be your only concern. Making certain that everything complete correctly is likewise critical to the functionality, workflow, and circulation of the system. Bring in as many people as you should guarantee that the process runs smoothly and consistently from beginning to end.