How You Can Decorate Your Bedroom According to Your Personality
A bedroom is one of those places in your home that you want to improve only for yourself. Unlike the living room that you want to show off, the bedroom is a private oasis where you feel being the most vulnerable while sleeping. For such space to work, you want it to be good in making you feel sheltered and relaxed. Changing the interior design of your bedroom is probably the most intimate type of home remodelling you will do. Focusing on your tastes is the best way to make this possible, so here are some ideas on how to decorate your bedroom according to your personality.    
Satisfy Your Creative Side
If you appreciate art, then you should think about ways to introduce it to your bedroom. Large-scale pieces to take up most of the wall are excellent for creating a focal point. However, look for artwork that speaks to you and not one that perfectly complements the colour palette in the room.
Moreover, try to find the art in the details, like patterns on the curtains and ornaments in the woodwork. Mirror frames can also serve as art, as well as weave on the carpets, lamp design, and style of furniture. Art makes the bedroom personal, complete, and comfortable, but it can also be an inspiration and boost your creativity.
Boost Your Mood with Colours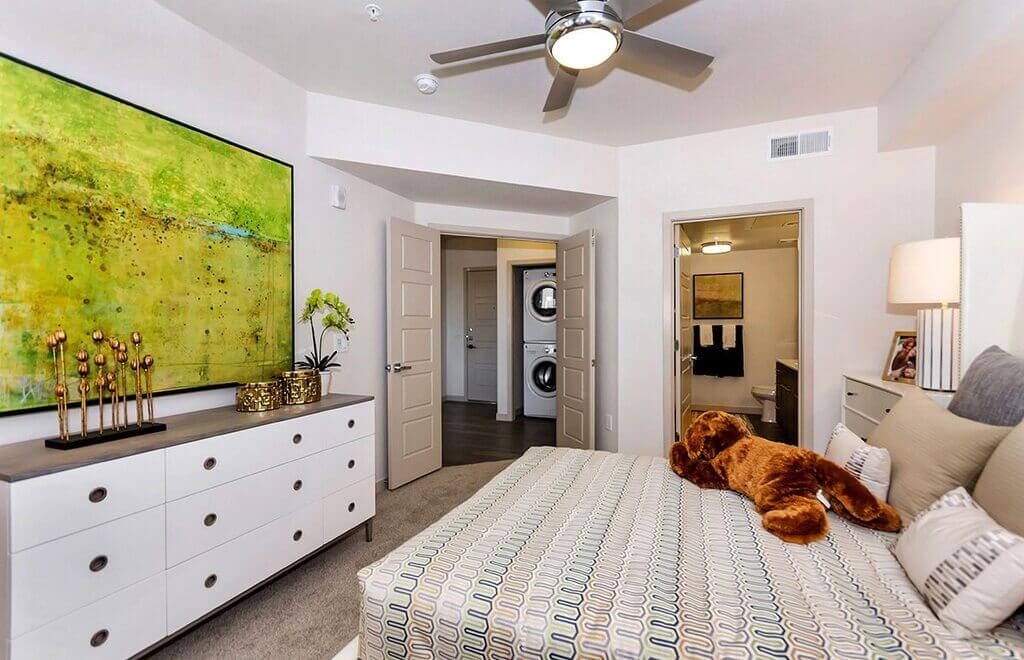 Source: azbigmedia.com
The monochromatic palette is safe and simple, but if you have a vibrant personality then your bedroom colours should mirror that. Just remember that the colour combination in your bedroom is not only about walls, but every piece of furniture and decorations. Start by looking for shades you like and see whether they can contribute to the harmony of the room. 
Choosing a flamboyant chair or brightly coloured vase can breathe in liveliness into the neutral or pastel combination. Focus on colours that create certain moods, like blue for tranquillity, and pink for love, and let them speak to your personality. The great thing about changing the bedroom colours is that you can do it on a budget, by painting the walls and upgrading upholstery, for example.  
Keep It Tidy
Decluttering your bedroom can only get you so far if you lack space to store your things. To make this possible, invest in furniture that has additional storage, like drawers under the bed. A window seat with space inside for storage or a vintage chest at the foot of the bed is a creative way to keep your bedroom tidy.
Tidiness is especially important for small bedrooms that can quickly get overwhelmed with clothes, shoes, and other items usually stored away. Shelves of any kind are the most commonly introduced pieces of furniture, but make them visually pleasing with woven baskets to hold your things. Clutter can bring anxiety, dim creativity, and disrupt your sleep, so adding storage space can be a great mood booster.
Feel Free in Your Bedroom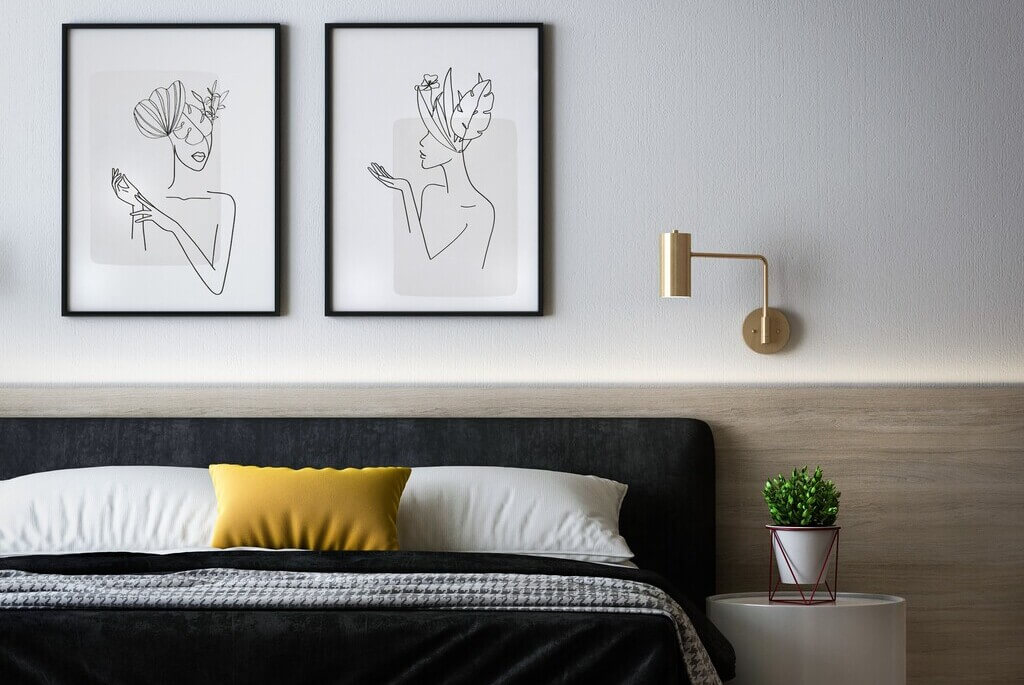 Source: amazonaws.com
Adding more storage is a fine way to free up space, but you may be a person that is not a fan of having unnecessary things in the bedroom at all. In that case, a minimalist design is a perfect way to decorate your bedroom to expose elegance and cohesive design. The concept of minimalism is also a wonderful solution for those who have a bit of OCD or like everything well organized.
You can introduce a minimalist design with pastel and light colours, white curtains for maximal natural light, and plants to awake the room. Only pieces of furniture that are necessary are welcome, although you can add a painting, a bowl, or any other object with pure decorative purpose. A splash of colour is more than okay, as long as it's not a predominant shade.
Mirror Your Values
Items in the room define the vibe that space will emit. If you want to create a personal space full of emotions, then you have to give it décor that reflects your values. This means that using significant objects for decorations can be the manifestation of your beliefs and thoughts. It's about bringing personal values into your personal space and allowing them to keep you company every day.
Decorating with family photos will evoke memories of childhood and nostalgia, making you feel cherished and loved. Hanging your diplomas on the walls will show you how much you are capable of and give encouragement to a curious mind. Always decorate with items that have a positive effect on you, so you don't dwell on events that make you sad, anxious, or worn out.
Decorate for Comfort
If you like to feel safe when you go to bed, then invest in cozy super king quilt covers and soft linens. They will warm you up when you are cold and comfort you when you had a bad day. Big pillows and cushions to support you when you are reading and having breakfast in bed should also be on your shopping list.
A cushy bench at the foot of your bed and a vintage vanity will give your bedroom a dose of elegance and functionality. A canopy over the bed is more than mosquito protection, giving your bedroom an intimate touch with a dash of luxury. A large carpet or two overlapping rugs, warm wood tones, and heavy drapes may also turn an ordinary space into a solacing retreat.  
Feed Your Reading Habits
Source: wordpress.com
A book warm such as yourself wants to keep all your favourite titles close by. A bookshelf in place of the headboard, or under-bed drawers stacked with books are excellent solutions for a tiny bedroom. But if space is not an issue, you should splurge on creating a reader's sanctuary. 
Imagine a big, comfortable chair by the window with an ottoman to raise your feet and a small table for a warm beverage. Or, perhaps a lounge chair with an artisan lamp and a blanket to cover your legs while reading in the lazy afternoon. Sometimes, a reading nook on your window with comfortable cushions and a view of your gardens may be just the décor your bedroom needs to be complete.     
Support the Environment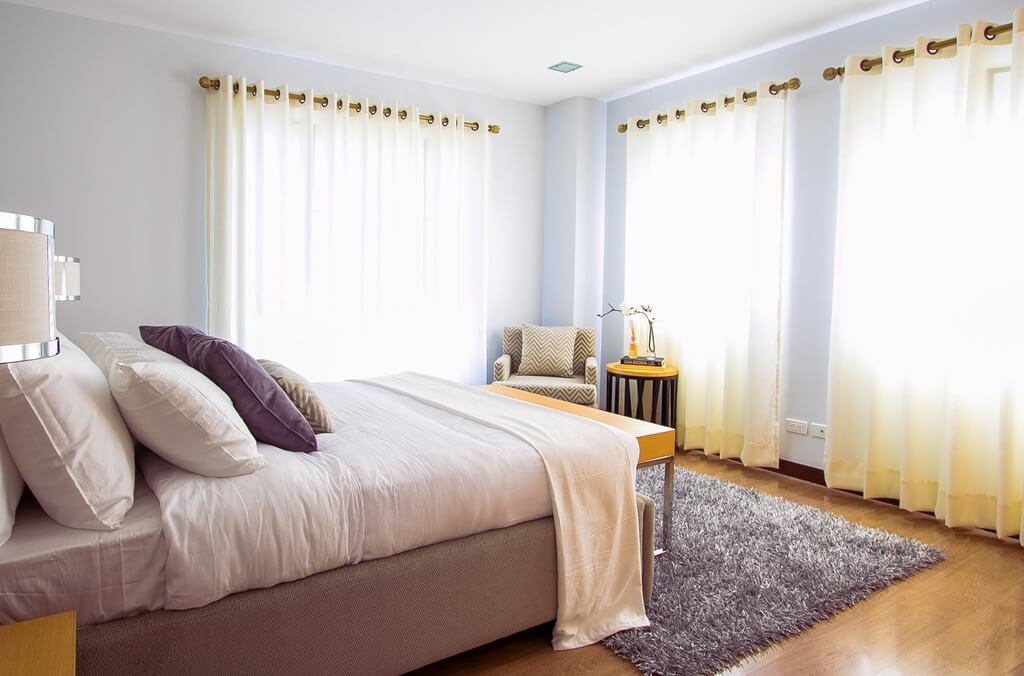 Source: iconshots.com
A bedroom can be an eco-friendly environment that will not only improve your health but also contribute to the healing of the planet. To sleep in a sustainable and green environment, surround yourself with furniture made from recycled materials. Visit garage sales and look for pieces you can repurpose instead of buying new and supporting the overuse of resources, like forests and water.
VOC-free paint, bamboo bed frame, and good insulation of windows are some of the ways to turn your bedroom into an environmental haven. Bring in the plants that are known oxygen-producers and introduce colours that bring to mind nature, like olive, sage, and blue. Replace your AC unit with a ceiling fan and use only LED bulbs for your lights, preferably with a dimmer to use less energy.   
Enhance Your Sleep
A bedroom should already be a place to get a quality 8-hour sleep every night. But some individuals may need a nudge in the right direction to pull out the all-nighter. To begin your decorations for better sleep, start by adding another rod to hang drapes or install shutters on your windows. Remove all electronics from the room, with exception of lights, and hang pictures of nature and serene scenery instead.
Essential oils and fresh flowers, like lavender, can enhance your sleep, and the same applies to appealing to the sense of sight with colours in your bedroom. Shades that reduce stress, like green, blue, and orange are the best options since they may calm you down and help you relax. Try to avoid adding too many details that will clutter the décor and keep you awake unconsciously.   
Also Read: 21+ Anime Bedroom Ideas: Create a Fantastic Manga Inspired Room in Budget
Embrace the Luxury
Luxurious décor is 80% creativity and 20% splurging, so even if you are on a budget — you can have a bedroom worthy of royalty. Replace your old bed with a high-rise one with a thick mattress and lots of throw pillows. A velvet headboard in a darker hue, like burgundy and plum, is a beautiful contrast to the rest of the room's lightness.
Nothing says luxury more than a crystal chandelier, but that is only true if you have high ceilings and a big bedroom. Otherwise, it would be best to add equal shine with a big ornamental mirror or a couple of golden lamps. Tall, leafy plants in the corner in large pots made of granite, weaker, or stone will bring grandeur to décor. Creating a luxurious environment is about feeling embraced by space without suffocating from its opulence    
In the End
When you finally decide to decorate your bedroom, be true to yourself and do it according to your personality. Of all the parts of your home, the bedroom is the one where you are the most vulnerable, so you need to create a sheltered space. From changing a few details to doing a full makeover, gifting yourself with the best version of a bedroom should be the ultimate goal.