9 Great Decorative Project Ideas For Your Garden
Many will agree with me when I say that having a garden, whether it's big or small, can be incredibly satisfying. A garden can bring color and liveliness to a dull home, and also helps in oxygen production and air cleansing. However, your garden will be the perfect accessory to your home only when you make it look interesting. In this article, we will talk about some decorative project ideas for your garden which are easy yet cool garden projects that can make your home garden look the best, without taking away much of your money or time. Take a look for yourself! 
1. Mini Floor Greenhouse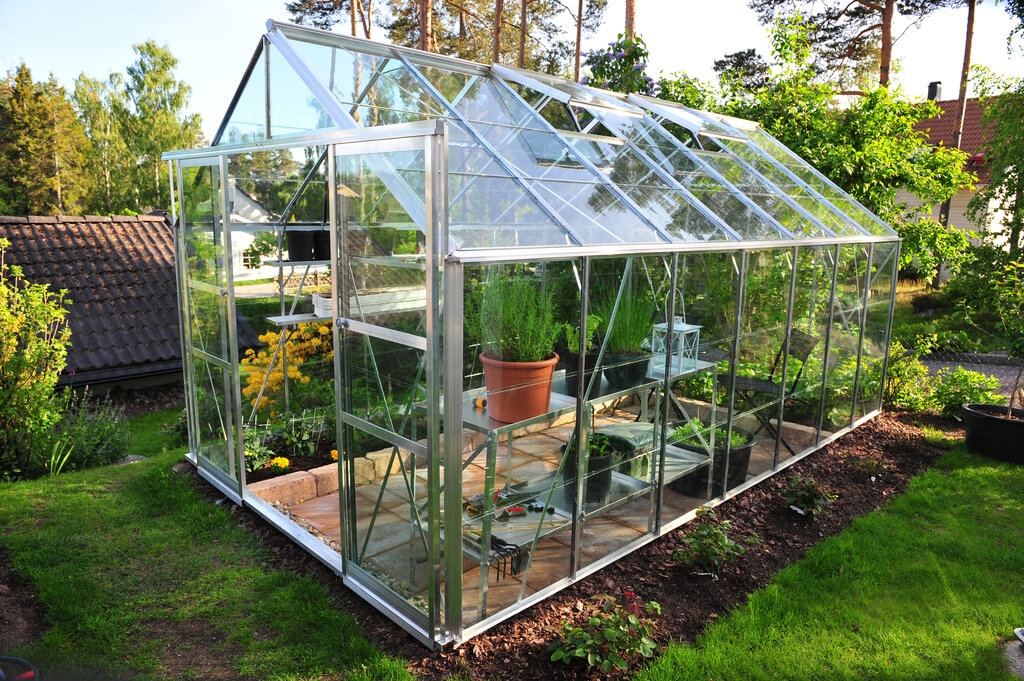 Source: ltkcdn.net
If you have a backyard garden and you want to give it a unique point to check out, then a mini floor-based greenhouse is just the project for you. All you need are some recycled bricks, wooden panes, and glass.
You can lay the bricks down in slanted sections, with a taller back and shorter front. Then place wooden panes on the too opening, and cover with glass. This makes for a cute and efficient addition to your garden. 
2. Cork Garden Markers
If you have cork lying around, then all you need to do is place them on some wooden skewer sticks and with a marker of your choice, write the name of the plant you will place them on. These make for really cute and environment-friendly plant markers, which look perfect in your garden.
They look best when place on small pots, but of course, you can put them anywhere you want. So the next time you have a party and there's going to be lots of wine going around, make sure to save the corks!
3. Use Flat Stones to Create Boundaries
If you have a large garden, then it takes very little for it to start looking messy and unkempt. Giving your plant beds a proper demarcation can make your garden look much more sophisticated and organized. However, you don't need to do much. All you need are some nice flat stones, which you can tend to arrange around your plants in either a circle, a straight line, or an s-shape, which can give it fluidity. 
4. Hanging Herb Planter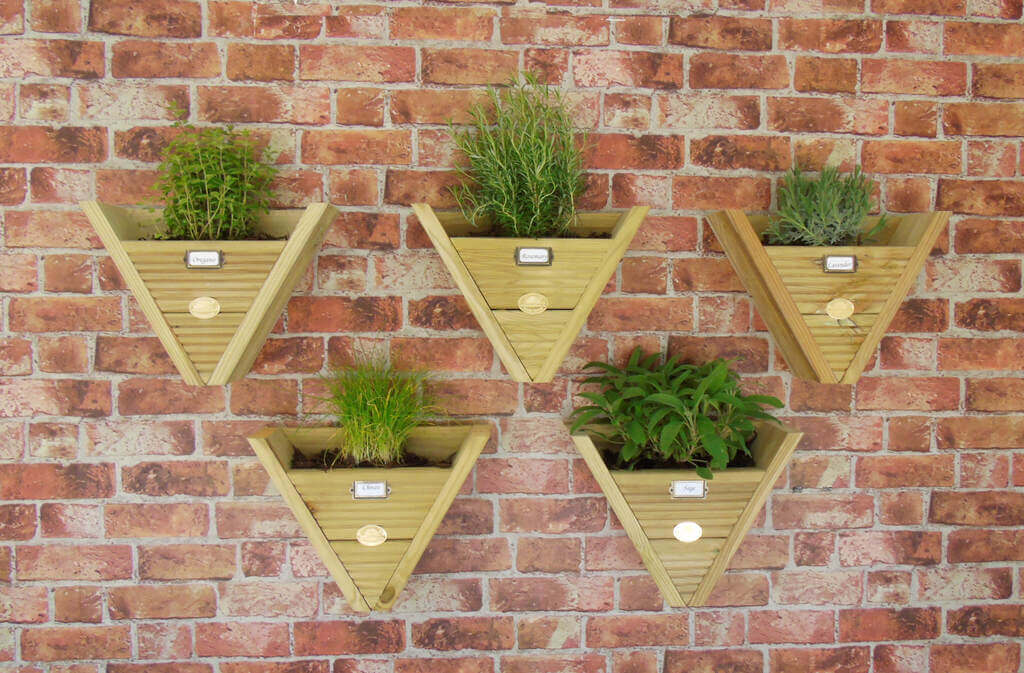 Source: woodshedltd.co.uk
If you want to have a little herb planter that looks cute and adds personality to your home garden, then you can create one easily with wooden gutters and rope. All you need are straight, rectangular wooden gutters, or planters that you can find easily.
Attach three of them with ropes and hang them in your garden. Fill in the boxes with soil and place your seeds and/or saplings. This project is great because it translates well to both indoor and outdoor gardens. 
5. Use an Old Teapot as a Planter
If you want to add a dash of magic to your garden and give it a kitschy, cute feel, then you can use an old teapot as a planter. You can either hang it on a branch, if you have an outdoor garden, or keep it on a window sill if you live in an apartment.
But that's not all. If you're not really interested in using it as a planter, then it can even make for an excellent bird feeder. Just fill it up with seeds, and lay down some hay or fabric. Cut out a hole in front of the teapot, to allow birds to enter and feed. 
6. Wire Garden Globes 
Want to make your garden look like it's straight out of a fairy tale? Then all you need is some easily bendable chicken wire and spray paint. Bend and shape the chicken wire into small globes and put them on top of sturdy twigs. You can even buy thin metal or wooden dowels, and place one end inside the ground, and put the wired glove on the other end.
Then using some rope or twine, attach the wire globe to the stick and finally, paint the globes in a color of your choice. These globes resemble large dandelions and give your garden a whimsical, fairylike feel. If you want to take things a step further, you can place a lamp inside the globe or attach small, battery-powered lights inside each of them. 
7. Decorative Clay Toadstools
While we're talking about fake decorative plants for your garden, then we also have to mention clay toadstools that are the perfect accompaniment to your home garden. Create a small, flat circle of clay and make it into a conical shape with a flat bottom. This will be the top of your toadstool.
Using the same clay, create a thick, short stick that will be the stalk of your toadstool. Let the clay dry, or bake it if needed, and using red and white acrylic paint, decorate your toadstools as desired. Once you're done creating enough, just play them around your garden. These will add a pop of color and beauty to your garden. 
Also Read: 15+ Fabulous Modern Garden Ideas & Designs For Your Home!
8. Wine Box Planters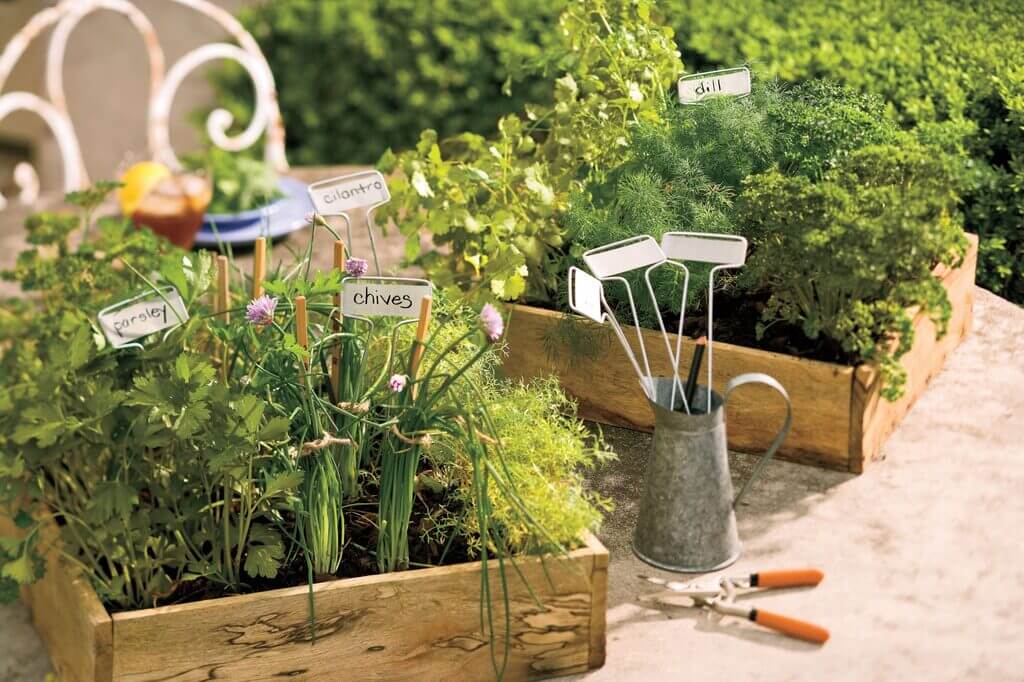 Source: meredithcorp.io
Another great planter idea that is really popular right now is the trend of recycling wine crates. All you need are some old wooden wine crates. Clean them out as needed and carefully place soil and seeds or saplings.
Again, this is an idea that translates perfectly for both indoor and outdoor gardens as you can change the size of the wine crate according to your requirements. They are a great alternative to having to buy new planters, and they give your garden a wonderfully rustic, vintage yet minimalistic look that is often hard to achieve. 
9. Flower Pot Table 
If you have an outdoor seating arrangement, and you think it needs a side table perhaps, then you can create a DIY flower pot table. You just need two large, equal-sized terra cotta flower pots, a pizza pan, and paint of your choice. Place one flower upside down, and the other on top of it – right side up.
Then, using hot glue, glue down the pizza pan on the open end of the flower pot on top. For added stability, you can drill a hole between the two pots and attach a screw. Once that's done, paint the pots with your desire color and if you'll be keeping it outside, remember to give the pizza pan a good coat of anti-rust spray.