Whether it is tinker bell or silver mist, no matter whatever age we belong to, we all love fairies. It's also true that many people who get inspired by Disney movies are now creating little places for these tiny beings. So if you are also looking for some inspiration to create your own fairy gardens, keep on reading.
Today we have come up with eleven amusing fairy garden ideas that will help you build your own little garden. Whether you have a huge garden area or you're living in a small apartment, we have listed ideas for everyone and that too in budget. Some of them can be made from simple materials such as wooden boxes and planters. So grab your fairy accessories and materials and get ready to build a magical and whimsical home for fairies. Here are some incredible images of tiny fairy homes from which you take inspiration to build your own.
11 Magical Fairy Garden Ideas
Now let's know how to make one for your kids. Below are some creative DIY fairy garden ideas which you can easily build with your own:
1. Gnome Home Fairy Garden
This is a beautiful Gnome home fairy garden. To make this, just place a small door on the trunk of a tree and then secure it with some iron nails. After that, put some floating stairs so that fairies can go to this cute house. You can also add some fairy statues and other decorations to complete the look.
2. Rock Fairy Garden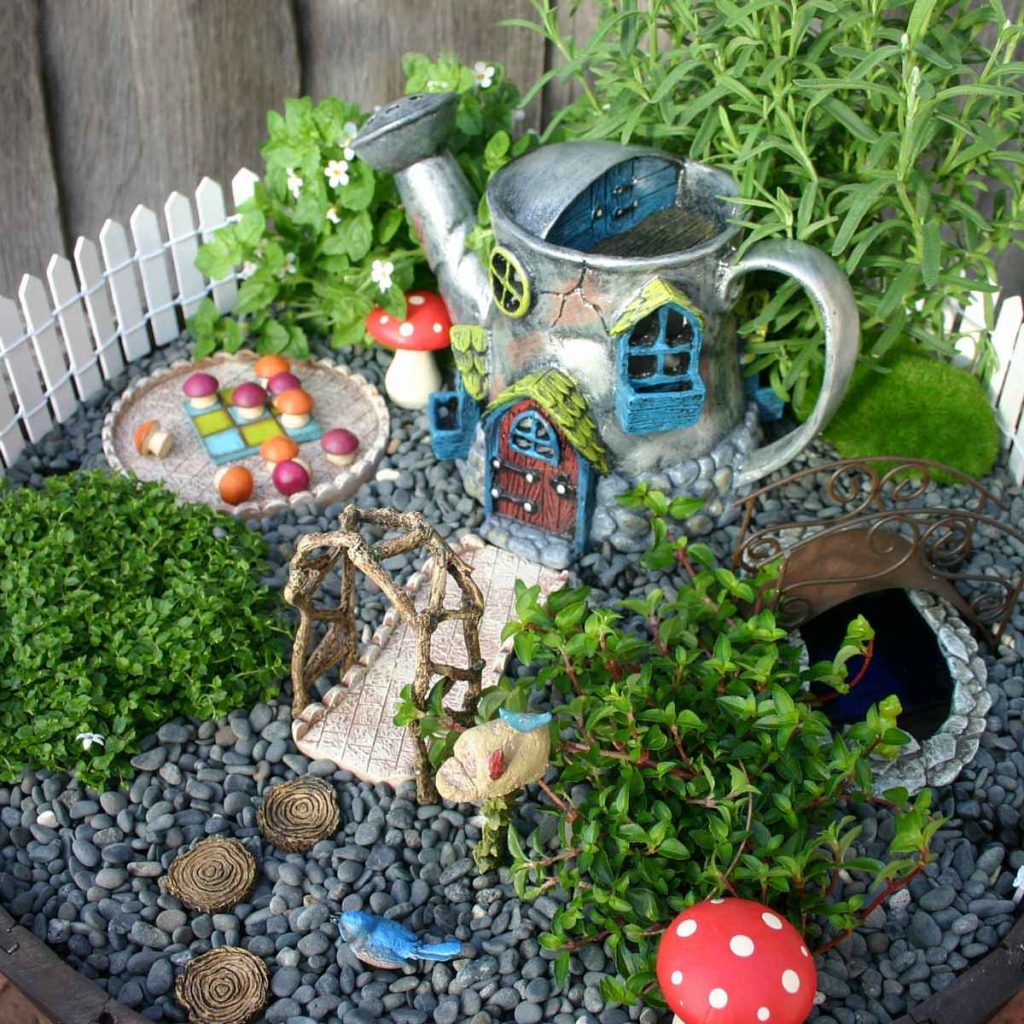 Fairy garden without rocks…it is just like fries without sauce! This little fairy garden includes many small pebbles and rocks. With the plants, you can also see here is a small watering bucket, which is looking great as a decoration. You can definitely repurpose many things to create your own style of garden.
3. Campsite Fairy Garden
Want to create a unique fairy garden? Then create this camping fairy garden because fairies also love to do camping. DIY a camping tent or bus and place it on the clean surface of your garden. After this, place two Adirondack chairs and even a canoe to complete the look. Isn't it looking unique? 
4. Fairy Garden with the Castle
Do you have a broken pot? Don't throw it because you can create a mesmerizing fairy garden from it. Yes, even from broken stuff, you could make great things. You can use any size of the planter to make this. Decorate it with some fairy garden accessories, and it is ready to show!!
5. DIY Wooden Box Fairy Garden
Don't want to spend a lot on buying a fairy garden? Then DIY it! Take inspiration from the above one. Here, an old wooden box is used to make the garden. You can also reuse any old wooden drawer or box and create your dream fairy garden. Don't forget to add the tiny birdhouses, birdbaths, and small garden chairs.
6. DIY Colorful Beach Stone Fairy House
To make this one, all you need is some rocks and stones. Take help from your kids to collect and paint the stones in bright colors. You can take them from the beach or even from your backyard. Little fairy touches like mini mushrooms will add so much character to the garden.
7. Spring Season in Fairy Garden
Look at this colorful, mesmerizing fairy garden covered in spring flowers. To build this delightful fairy garden, you'll need a tiny birdhouse, miniatures figures, and miniature flowers. You can also add multiple colored flowers to create this spring scene in your garden because fairies love flowers!! You can also glue some dry leaves on the top of the roof of the birdhouse. 
8. Cute Teacup Fairy Garden
This teacup fairy garden will definitely catch people's attention. Isn't it looking charming? From kitchen windows sills to the living room table, you can place this anywhere in your home. But to make this, you'll need a good-sized cup, and that's it. Because the rest depends on your imagination. Add tiny mushrooms or furniture; you can put anything to achieve your desired looking fairy garden. If you want to know more garden tips like how to protect plants from unexpected frost, click on the link to read our blog on that.
9. Unusual Fairy Garden Idea
After looking at the above fairy house, you might be wondering, like do really fairies live in these kinds of places. Yes, because a fairy garden doesn't mean to have a place full of victorian home decor. It is about a natural and organic setting because you already know that fairies love nature. So why spend a lot of money on buying those exquisite fairy homes, just create this one. This will be a weirdly strange magical place.
10. Easter Basket Fairy House
Yes, this fairy garden is in easter baskets. Charmingly striking mini garden in a basket will not only look like a great statement in the Easter season but in every season. Setting this is also quite simple. Just grab some easter bunny figurines & fairies miniatures and then place them on a landscape. It doesn't have to look fancy, make it more natural-looking. The main benefit of having this type of fairy home is that it can be used over and over again every year.
11. The Magic Mushroom Garden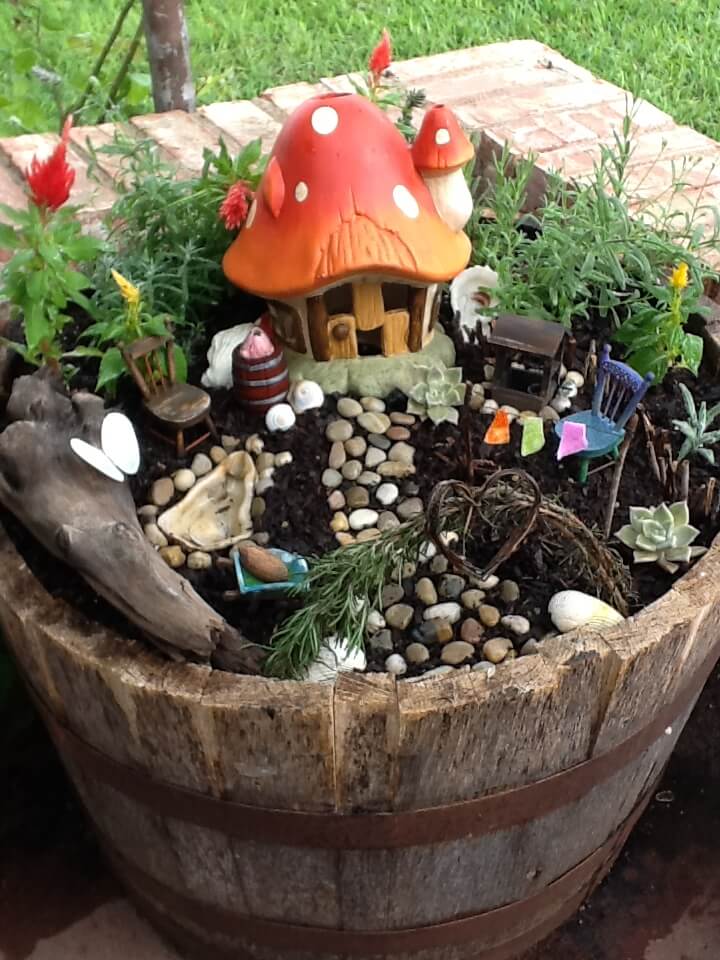 Does any fairy garden is complete without a mushroom popping out the ground? Never, right! This fairy garden is placed in a wooden bucket that consists of a big mushroom house. Not only the adults but also the kids in your family will enjoy decorating their amazing fairy home.
Ask Fairies to Visit Your Place
So these are all the creative magical fairy garden ideas. I hope you got some inspiration from them. No matter whether you're living in a tiny apartment, ideas like easter bucket and pot ones will fit even in the tiniest places. Choose either a traditional one or totally opposite edgy looking fairy garden. Just don't forget to pray and invite fairies to visit your garden.