For many years, people have been using carpets to decorate and insulate their own homes. But if earlier only wealthy people could afford a woolen or silk carpet, now the assortment of carpets is so great that it is able to satisfy the buyer not only with any wallet size, but also with various stylistic, color, and texture preferences. Let's have a look at 3 easy tips to find the perfect rug for your home.
1. Decide on the Material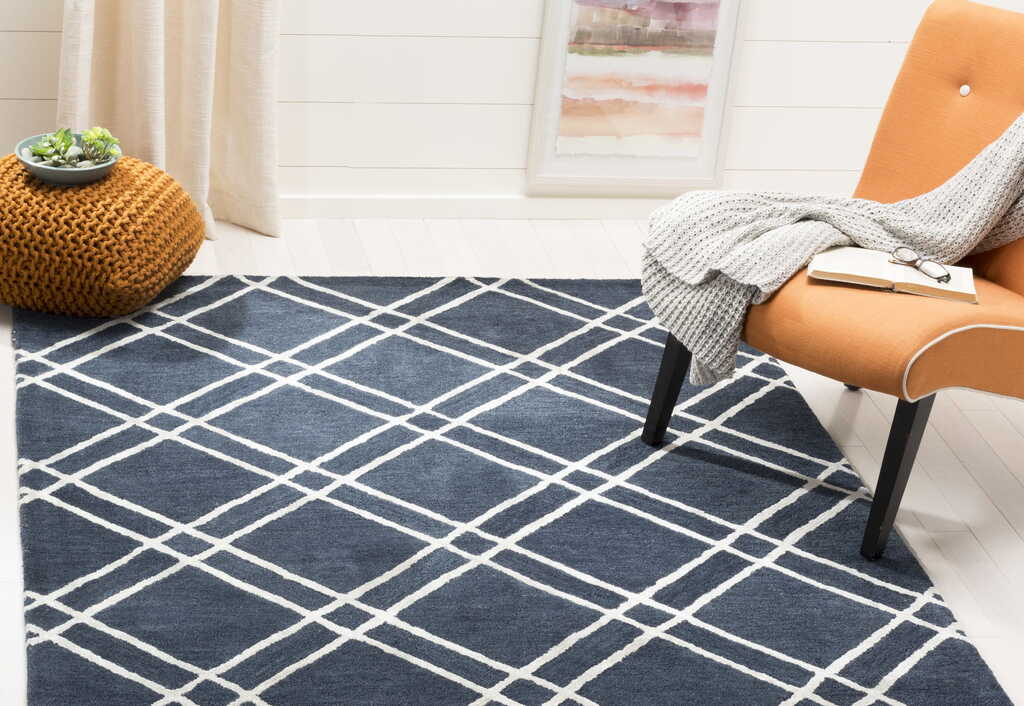 Now carpets are made from dozens of materials – natural and synthetic.
The former is invariably luxurious and has all the advantages of natural origin: naturalness, pleasant texture, and authenticity. These are sheep's wool, silk, and cotton. The latter is practical and hypoallergenic. For example, acrylic or polyester.
And then there are new generation materials that combine the beauty and tactile tenderness of nature with durability. They are made from natural fibers using chemical and mechanical treatments. These are the most environmentally friendly materials to date, organic and safe.
Why Is It Important to Pay Attention to the Material of the Carpet?
In addition to the properties you need, it will add a special atmosphere to the interior. If you choose a carpet made from natural materials, like australian made cowhides, then be sure to take care of the rules for caring for it. Each material has its own energy and tactility. The touch of wool, viscose, or silk will give you completely different sensations – and it is important to choose the most pleasant one.
In addition, the material will accentuate the texture of furniture and floors.
By the way, if you have a beautiful wooden floor, don't be afraid to "hide" it with a carpet. The texture of wood only benefits from being adjacent to a properly selected carpet, filling with new colors and becoming even nobler.
When choosing a carpet for an interior, our decorators always take into account the shade and texture of the floor so that the resulting ensemble looks perfect. As a result, you will get a stylish interior and all the comfort that a carpet can give.
2. Get a Bigger Size
If the choice is between a small and a large carpet, go for a large one. It will make the room visually more spacious. A small carpet, on the other hand, will visually reduce the space, and the room may seem cramped.
How Do You Know If the Size of the Carpet Is Right?
The entire furniture group fits on it at least partially. For example, the couch and armchairs can be fully resting on the carpet or with only the front legs. The carpet in the living room is 30-40 cm less than the perimeter of the room on each side.
In the bedroom, the carpet protrudes beyond the bed by at least 70 cm – then, getting up in the morning, you will feel a soft, warm pile under your feet, and not a cold floor. Without a doubt, the living room and dining area especially need a large carpet.
Just imagine how great it will be to gather family or friends in the evening, sit on a fluffy shaggy and play board games or watch a movie. And there is enough room for everyone! In addition, a large carpet will ideally gather furniture into an ensemble and give a sense of harmony and general mood.
3. Use an Ornament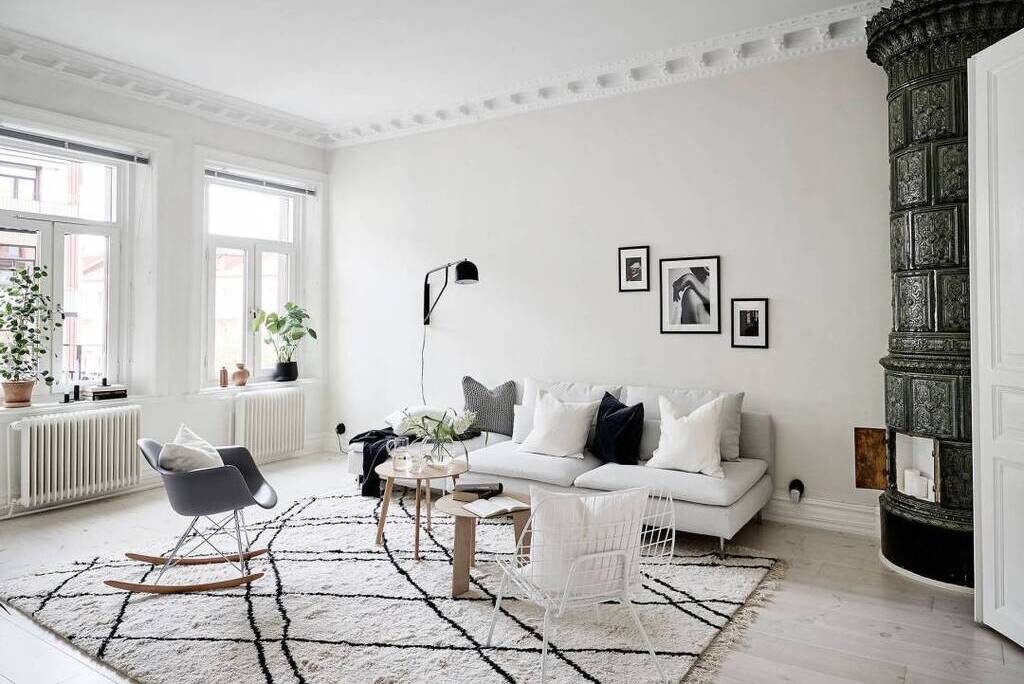 Feel free to experiment with amazing carpet designs.
It is like a seasoning with which the "dish" – your interior – will acquire all facets of taste. Of course, a solid or neutral rug is "safe", because it will not attract so much attention. But with an ornament, you get a lively, attractive space that reflects your personality.
Not sure which ornament to choose? Are you sure that it is difficult to combine them in the interior?
Here's a quick cheat sheet on which pattern suits different styles:
Floral – classic, neoclassic, province, country, shabby chic, eclecticism. A small floral pattern will create a sense of richness and luxury. Large – freshness and spaciousness.
Damascus – classic, neoclassic, baroque, empire, boho, eclecticism. This pattern creates an atmosphere of sophistication, even splendor. When there is a lot of it, it can look "stuffy", but if you use a little damask pattern, it will give your home extraordinary elegance.
Geometric – Art Deco, Classic, Loft, Scandinavian Style, Minimalism, Bauhaus, Ethnic, Fusion. There are a lot of geometric ornaments. Large ones make the atmosphere in the room free, the gaze "rests" on them. Small ones bring strong dynamics and focus.
Tropical – eclecticism, boho, ethnicity. Such an ornament brings an exotic note and gives the interior an energetic flavor.
Natural – Scandinavian style, neoclassicism, Mediterranean, art deco, eclecticism. Imitation of textures of sand, stone, marble, natural landscapes will make the room fresh, fill it with naturalness and peace.
Abstract – minimalism, Scandinavian style, neoclassicism, eclecticism, Bauhaus. The abstract ornament can also be very different, but invariably brings a sense of freedom, lightness, and inspiration.
And here are 4 easy rules on how to combine patterns in the interior:
It is better to place a bright drawing on a neutral background. For example, a perfect rug with an ornament will look good on a plain floor;
Let one ornament dominate and others complement. The dominant ornament is usually the largest and most noticeable, while the rest are more neutral and small;
All patterns need at least one common color. Then they will look harmoniously next to each other;
Combine no more than 4 ornaments in one room.
Whatever carpet ornament you choose, will prompt you for the rest and allow you to "build" the interior you want.
Keep Reading