Suppose you want to make your outdoor space beautiful by adding some greenery. You can use the flower boxes on the Railings. It is a good idea to enhance the look of your outdoors.
Flower boxes on railings are an amazing way to beautify your outdoors. Adding flower boxes to your railings can turn your space into a vibrant oasis. Also, they are quite simple to fix.
You can modify your Flower Boxes for Railings to meet your demand.
In this blog, we will see the benefits of flower boxes on railings. We will also provide tips for choosing & maintain them.
If you plan to use flower boxes on railings, this guide will be very helpful.
Benefits of Flower Boxes on Railings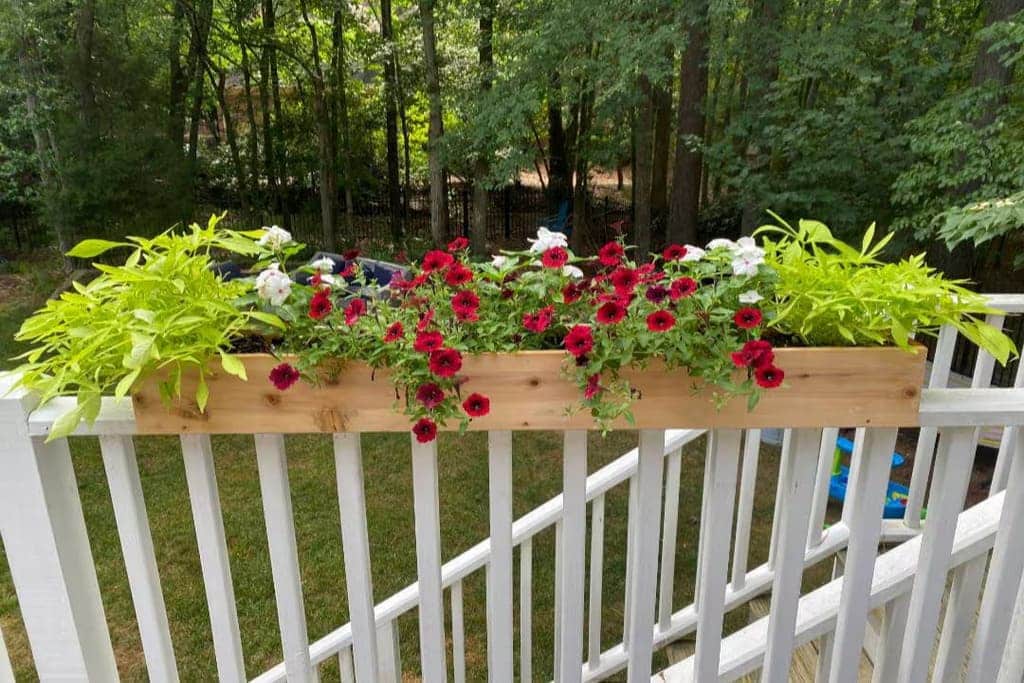 Here are some of the major benefits of flower boxes on railings. Let's have a look at them.
1. Creates a Welcoming Atmosphere
When you have flower boxes on railings, it will create a good look and be very welcoming.
When anyone enters the home, it will catch your guests' attention. It will look very good even when you return to your home from work or from outside.
Flower boxes create a warm & inviting atmosphere. It makes the outdoors more welcoming & beautiful.
Flower boxes can help to soften the look of a hard balcony or deck. It feels more like an outdoor room.
2. Adds Color & Beauty
Flower boxes on railings enhance your outside space with color & charm. These are a quick & simple way to give your balcony, porch, or deck a splash of color.
Finding a flower box matching your aesthetic is simple. It is available in different colors, shapes, and sizes.
3. Maximizes Space
Flower boxes maximize your outside area on railings. They are ideal for compact areas with little space, such as balconies.
Using flower boxes on your railings can increase the number of plants in your outside area, also, without taking up important floor space.
4. Increases Curb Appeal
Flower boxes atop railings can enhance the curb appeal of your home. These are a great way to improve the appearance of your house's exterior.
5. Improves the Air Quality
Plants improve air quality by filtering pollutants and releasing oxygen.
When you add flower boxes to your railings, the air quality around you improves.
Tips to Choose Flower Boxes on Railings
Here are the crucial tips for choosing flower boxes. It will help you to select the right boxes.
1. Pick the Right Size
Consider the amount of sunlight & wind your outdoor space receives. You should be very considerate when picking the plants for your flower boxes.
Choose plants that will grow well under those conditions. Measure your railing before purchasing a flower box to ensure the right size.
2. Choose the Right Material
Flower boxes on railings come in various materials, including wood, metal, and plastic.
Choose a material that is weather resistant. It should also be durable. Wood and metal flower boxes are more durable than plastic ones.
3. Choose the Right Plants
Consider the sunlight and wind your outdoor space receives.
Choose plants that can thrive in those conditions. Some plants that do well in flower boxes on railings include petunias, marigolds, and geraniums.
4. Pick the Style That Fits Your Space
The flower boxes are available in various styles. You can get boxes in traditional wooden boxes.
So, choose the style that fits the overall aesthetic of your outdoor area.
Tips to Maintain Flower Boxes on Railings
1. Water Regularly
Water is very important for the growth of flowers. Flower boxes on railings also need regular watering. Try to do it, especially during hot, dry weather.
Check your flower boxes daily & water them when the soil is dry.
2. Deadhead Timely
The act of deadheading is the removal of dead blooms from plants. The plant produces more flowers as a result of this.
You need to deadhead your plants regularly to keep them looking the best.
3. Fertilize the Plants
Fertilizers play a crucial role in the growth of plants. It is also very important to use the right fertilizers.
Like water, plants also need fertilizers. Flower boxes need occasional fertilizing to keep them vibrant.
Try and use a slow-release fertilizer every few weeks. It gives your plants the necessary nutrients.
4. Use Good Quality Soil
The good quality soil in the flower boxes plays a crucial role in maintaining plants. It also helps in the growth of your plants.
It is advisable to use a high-quality potting mix with organic matter. It will ensure the plants get the necessary nutrients.
5. Consider Adding a Drip Tray
Add a drip tray below the flower boxes if you are tense about water dripping onto your railing or deck.
The tray will catch all the excess water and prevent damage to your outdoor area.
Conclusion
At last, we would say that the flower boxes on the railings are beautiful. It is an easy way to add color & beauty to your outdoor space. Using these tips, you can enjoy a beautiful & vibrant outdoor space all season long.
For additional insights:-