3 Theme-based Halloween Party Decoration Ideas For The Spookiest Evening
Hosting a Halloween Party? That's a good thing, but there is a lot of work that you will have to do. From organizing to sending an invitation to wrapping up. If you would be hosting a regular party, decoration ideas are many. But for Halloween, you will have to look for something kooky and spooky. Plus it should be child and adult-friendly. To make Halloween party decorations easy, go for a theme-based Halloween party.
Source: shopify.com
While thinking about the decoration ideas, you will have to take care that you don't go overboard with the decorations that it looks eerie. Background music should not be too loud or too slow. Bass should be normal. Lightings should be soothing to the eye so that guests can enjoy the party. Trick-or-treaters you also get the taste of your Halloween Party Decorations. You will find how you can do it in the content. Here are some Architect Costume Ideas for you to try out. You can select whichever theme you want, simply add a haunted essence to it, and you are ready with the Halloween party theme.
Here we have mentioned three different themes that you can go for. And plus point is we have also listed down the Halloween Party Decoration Ideas for the same. So all you have to do is go through the list we made on the Halloween Party Ideas for an amazingly creepy Halloween party.
Also Read: 12 Spine-Chilling Spooky Halloween Door Decorations
Some points to keep in mind while decorating:-
– Door decoration is a must. It will reflect the theme of your party. 
– The invitation card's theme must include the dress code and timings.
– Try to use the things that are already available in your house.
– DIYs will make the decor look more personalized.
– You can keep food items in the menu theme-based by using edible colors.
Parallel Hollywood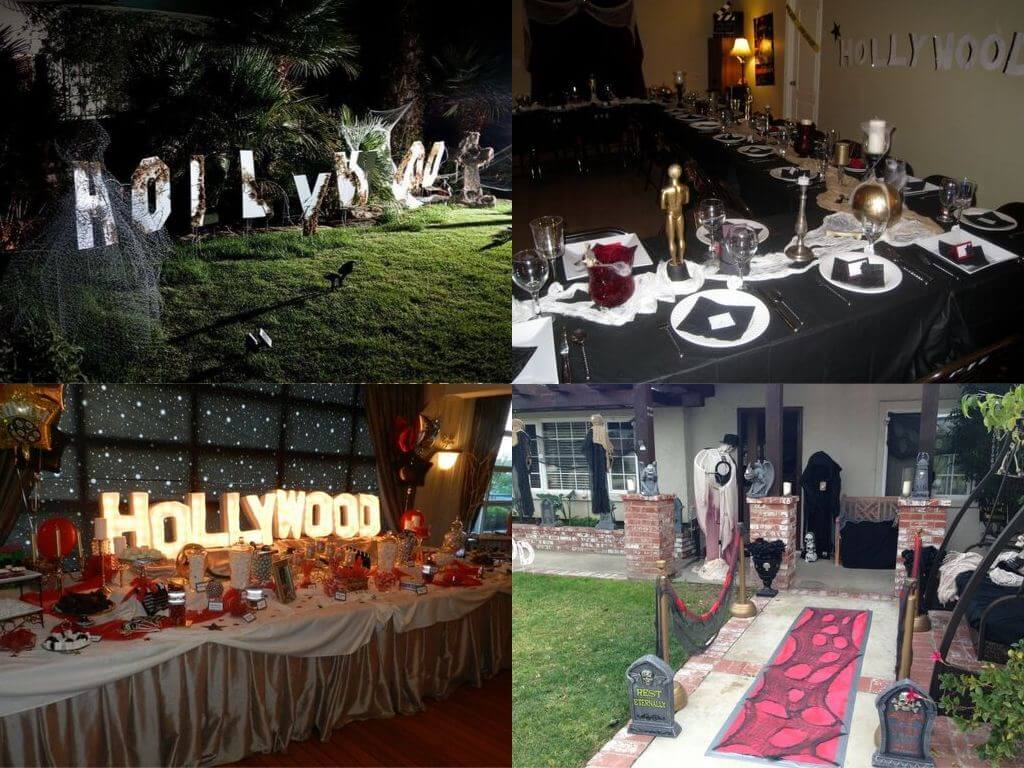 Source: google-image
You can go with Hollywood as a theme, but then it would look more like a cocktail party. To add more creepy effects go with the parallel universe theme. Now, you might have a question: How does Hollywood look in the parallel universe? Think out of the box. 
Invitation Card – Get an invitation card printed as it is of some award function card.
Filmy Props – HOLLYWOOD sign at the entrance is a must, but keep it in a shattered way. Arrange the director's chairs everywhere.
Lights, Camera, Action – Hollywood theme is incomplete without the red carpet.
Grand Dining – Filmy parties, have grand dining where everyone eats together, which will remain the same even in the parallel universe.
Award Function – For the Award function, you will have to get awards ready along with the categories. As for awards, they should look spooky like a skeleton theme trophy.
Color Palette: Red, White, and Black
Accents to Add: Rusty and Dusty effects everything.
Monstrous Pumpkin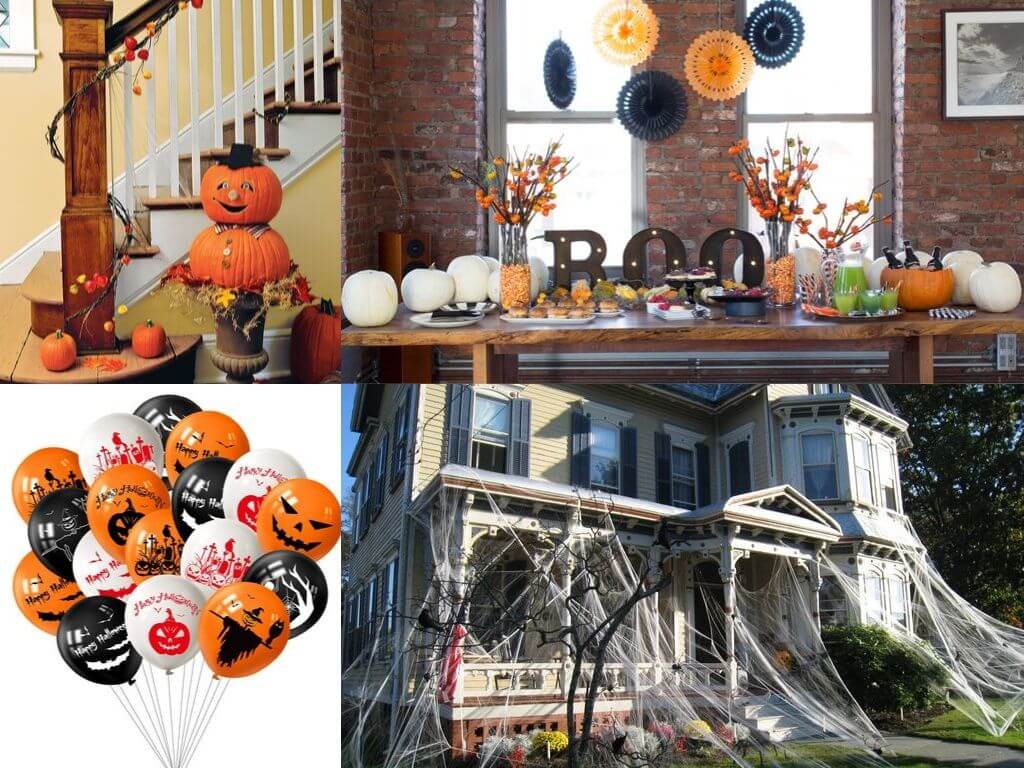 Source: google-image
Carved-out pumpkins are the main attraction of Halloween. Make them your theme for the party. Lots of jack-o'- lanterns can make anyone feel eery. Plus it can also be the budgeted theme party. Get pumpkins in bulk and carve them out. Not all, as you will have to use some in food as well.
Invitation Kit – Don't send out an invitation, give invitation kits — a pumpkin bucket filled with treats and an invitation to attend the Halloween party.
Carved Pumpkin Decor – Decor should be done with carved pumpkins only or with the pumpkin elements.
Spider Web – Spider webs are not the scariest thing but they do define the presence of ghosts and obviously spiders.
Halloween Balloons – Add a funky scary element to your decoration using Halloween Balloons. As for color go for the color palette.
Award Function – Your award-trophy must reflect the theme of the party. I.e., either you can go for a pumpkin trophy or a spider web one.
Color Palette:- Orange and Black
Accent to add:- Orange Fairy Lights
Dead Planet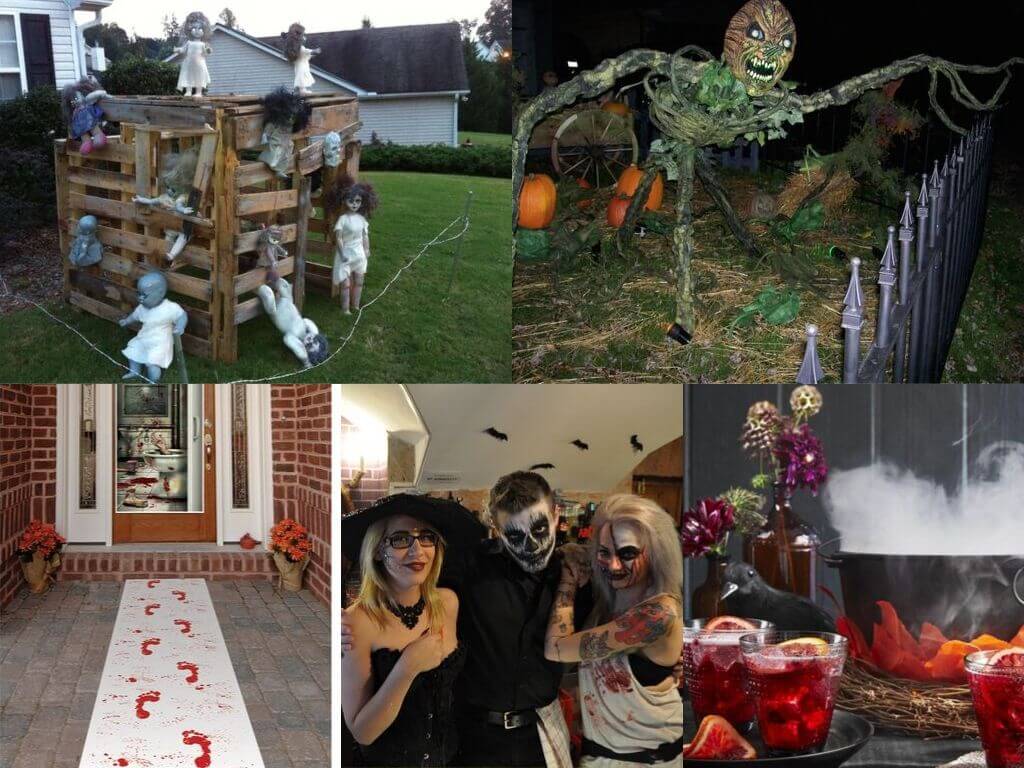 Source: google-image
Everyone is dead! Create an aura of the dead planet within your area. From plants and animals to human beings everyone lost their lives and transformed into either zombies or skeletons or half and half. Imagination of dead planet alone is horrifying, you are going to recreate the vibe of it just think about the outcome. We wish there would be something like "Best Halloween Party Decor Award", then this was going to be yours only. 
Invitation – Give the shape of burnt paper to your invitation card. Some blood spots and faded black ink will give the perfect dead planet effect.
Bloody Decor – As for decoration, bloody handprints and footprints will work best.
Dead Animals – Another thing that you can use as decoration is the dead bodies of animals (not the real one!)
Ghostic Statues – Place ghostic statues randomly in the living room, in a lawn, wherever you think people will definitely go!
Costume Ideas – For costumes, everyone can go for regular casual clothes but either torn out or burnt. It should show that you were murdered brutally and now you are here to take revenge. A zombie is also a good option.
Blood red or orange drink – Drinks should be of these two colors only!
Color Palette:- Black and White
Accent to add:- Bloody Red or Orange color to every food item
Above are the three best theme-based decoration ideas for the Halloween Party. Either than these, you can also go for a zombie theme, a mysterious murder, graveyard, haunted wonderland, spooky Disneyland, monster mash (monster's birthday bash), etc.
For more information on the interior or exterior decoration, visit Architecturesideas.