The air conditioner is one of the most hard-working appliances in our homes. We tend to take it for advantage until it stops working when a heatwave hits. An emergency callout to have your air conditioner fixed will cost you a premium, not to mention the inconvenience and headache! Routine maintenance can prevent this from happening to your A/C unit and will also save you money by cutting down on your energy usage. Here are some tips to guide you in getting it right:
#1 Do Regular "Housekeeping"
There are other maintenance efforts you can put in to make sure that your system continues to work efficiently. One of the most important jobs is to change the air filter. You'll find this part in the unit's filter slot. To change it, slide out the filter. Then, simply slot the new air filter in. Make sure you take note of the direction of the airflow so you know which side of the filter needs to face outwards. Also, check the instructions to ensure you buy the correct filter size and replace it properly.
Also, check the indoor vents to see if they are clean. Your outside unit also needs a bit of spring cleaning. Remove any debris such as leaves or twigs that could clog it up, and ensure there are no plants within two feet of it. Never open the outside unit. If you feel it needs a more thorough clean, and you can't achieve this without taking it apart, call in a professional team. They've got the skills, tools, and safety knowledge to do the dirty work. While they're in, ask them for advice on what you can do to prevent this happening more regularly. They may recommend trimming trees that are near the unit, for example.
#2 Get a Pro to Service it Annually
Calling in the company that installed your air conditioner is recommended as they know the system and history. The expert AC company in Tampa recommends you schedule a regular service at least once a year. Spring is the best time to get this done.
If you have pets or kids with allergies, it's worthwhile changing the filters more regularly. Your air conditioning service team will also be able to give you some guidance here. Filters come in varying strengths. If you have fur babies in your home, you may need your filters serviced monthly or invest in a filter that has a higher rating. If you have family members with allergies, work on the 90-day schedule to have your filters cleaned, or do them yourself. Pollen and dust mites are common triggers for those that are sensitive to allergens. If yours isn't coping with the needs of your family, discuss this with your technician and see what other solutions they can offer. They may recommend a single unit in the bedroom of the affected family member, for example. 
Another reason to schedule a professional service of your aircon system is that this might be one of the rules in place according to your warranty. If you're not sure, check your warranty and make sure you adhere to the clauses laid out in it. You don't want to be landed with hefty bills down the line simply because you forgot to schedule a totally affordable annual maintenance.
#3 Keep an Eye on the Performance of Your A/C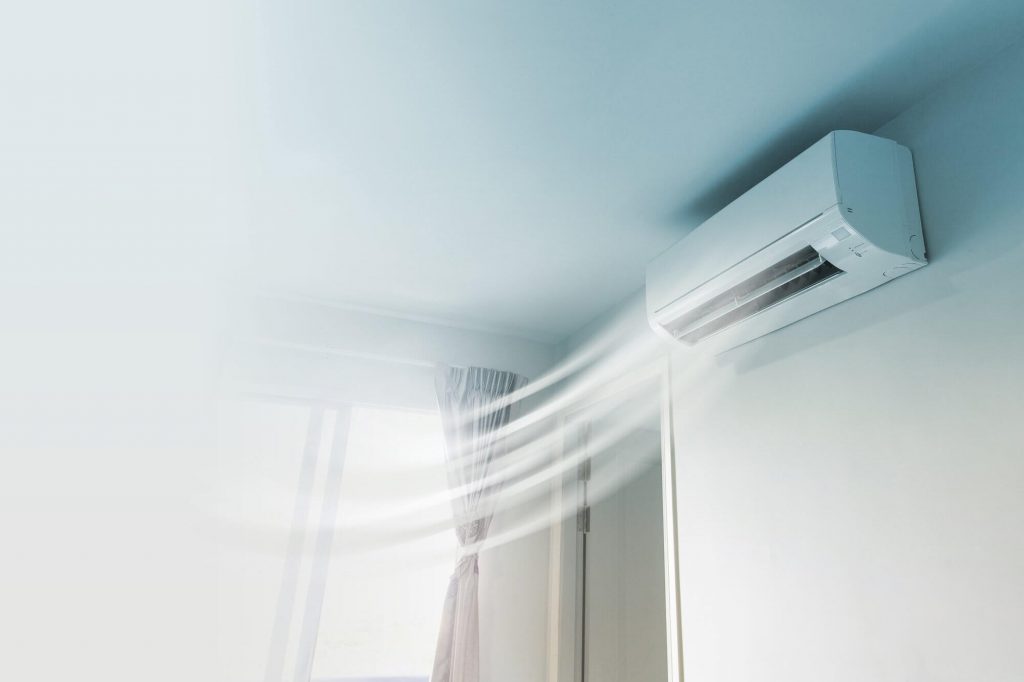 Have you noticed your electricity bill creeping up? A problem or inefficiency may be causing it. To test your system, take some time to turn it up to the highest setting. Is it making any odd sounds? This process will give you an idea of how your system is working overall. You may notice a smell – this is just the system clearing out dust and is nothing to be concerned about.
Here Are Some Questions to Run Past Your Technician:
Give you advice on the best time to use your aircon and tips on how to use it efficiently to minimize energy use.

Ask them to set up an annual reminder to service your A/C system.

Ask them to give you an idea of which parts will need replacing soon. At some point, it may be worthwhile to replace your system rather than continuing to replace parts.

How energy efficient is your system? Air conditioners are constantly advancing in technology and it may be worth your time to look into a new system that is environmentally-friendly and will save you money in energy bills in the long-term.

Can they give you advice on how you can insulate your home to support the aircon system to be more efficient? There are simple strategies you can put in place too, such as keeping doors (external and internal) closed when you are running your aircon.