While cooking pasta, did you accidentally spill some of it on your gas stove? This happens with everybody. We all unintentionally splatter or spill the food while cooking, right? But one thing that doesn't look good on your stove is the stains. These days everybody is going for glass-top stoves because they are modern and sleek. But unfortunately, there is a downside. Even the minimal spill, splatter, or smear will be extremely noticeable on the glass top stove, and these stains will be like an eyesore.
Are you facing the same issue? Don't know how to clean glass top stove? If your answer is yes, then keep reading this blog. Today we're going to tell you some of the easiest ways to clean stoves. All the glass top stoves require some level of cleaning after each use. If you don't clean or wipe them immediately, these leftover food stains can burn onto the surface the next time you cook, making the situation even worse. These burnt-in stains are hard to remove, and excessive cleaning may damage your stove.
So what is the right procedure to clean them? How to clean your glass cooktop to prevent burnt or stubborn stains? In this blog, we've explained three cleaning routines or methods: Daily cleaning, Weekly cleaning, and Deep cleaning. So let's start with the first method.
How to Clean Glass Top Stove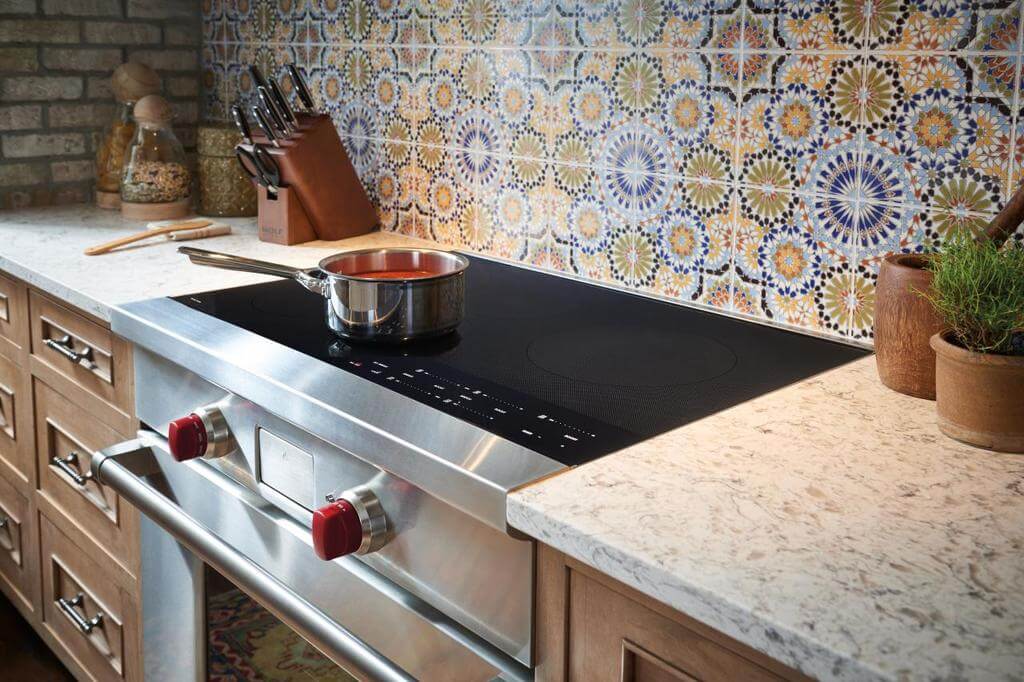 The first step is to go to your pantry area and look for basic cleaning supplies. Yes, instead of spending money on high-priced Cleaning products, you can make your stove shine again with just white vinegar and baking soda. Only purchase cleaning supplies or products if your stove has burnt marks or needs a deep cleaning. Here the three different ways by which you can keep your glass cooktop clean and shiny:
1. Everyday Cleaning
Let's start with the routine cleaning procedure. If you follow regular cleaning your stove will not be so dirty that it is difficult to clean. This daily cleaning will keep your stove surface clean and also save your time. Here's how you can easily keep your cooktop sparkling:
Try to wipe down the surface after each use.
If you have dropped any food particles while you're cooking, immediately cleans them with a microfiber cloth or sponge.
You can use water or vinegar to damp the sponge or cloth.
Sometimes the surface looks clean, but there are invisible layers of grease that can build up and burn over time, and later they're hard to remove.
You can also use a grease-cutting spray or wipe specifically made for glass tops.
These cleaners are safe to use, and also they won't leave any hazy streaks behind like other glass cleaners with ammonia can.
After wet wiping, dry the surface with a soft cloth or paper towel.
Note: But always do this on a cool cooktop (means when the surface of your cooktop is no longer hot).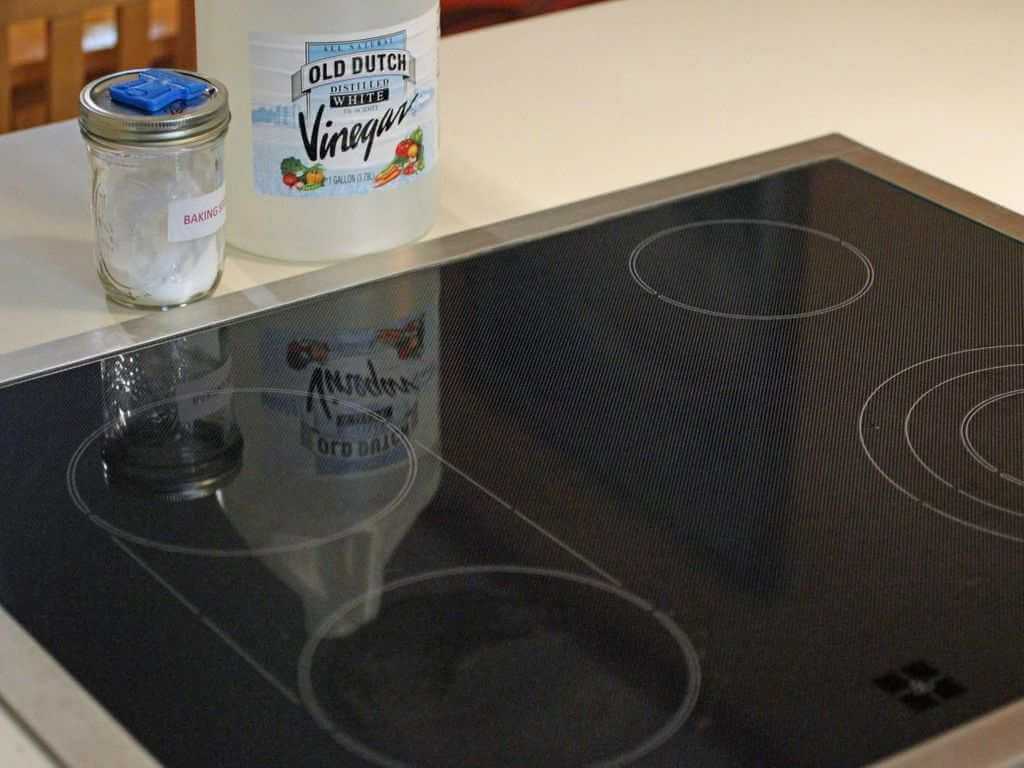 2. How to Clean a Dirtier Glass Stovetop
Have you been busy all week? Then perhaps, you may not have had time to clean your glass stove regularly. If your cooktop spills have gotten worse or you're dealing with stuck-on stains, you'll need a more in-depth cleaning technique.
Now, it's time to use cooktop cream or paste or homemade cleaning solutions to clean them. These formulas with gentle abrasives will help loosen stubborn residue and make your weekly cleaning less hectic.
Do you know which is the best cleaner for glass top stoves? The answer already lies in front of your eyes in your kitchen: Vinegar and Baking Soda! Let's know how to clean a glass stove top with baking soda and vinegar solutions:
You'll need:
Water
Baking soda
Towels or Microfiber cloth
A spray bottle of distilled white vinegar
A clean sink basin or bucket filled with hot water
Step 1: First, let your stove completely cool.
Step 2: Once the stovetop is cool, spray white vinegar all over the surface of your glass top.
Step 3: Now, take a damp microfiber cloth and start wiping to remove any surface debris and degrease the surface. (You can also use any other surface cleaner, but vinegar is inexpensive and is always there in your pantry.)
Step 4: After this, generously sprinkle baking soda over the entire glass top.
We all know that vinegar and baking soda are great natural cleaners. This mild alkali solution will help breakdown grit and grime more easily.
Step 5: Now, take a towel and damp it in hot water. Next, place this towel over the vinegar/baking soda mix on the stovetop and leave it for about 15 minutes to soak. It will loosen the tough stains that have accumulated.
Step 6: Now remove the towel, and with the elbow grease, start scrubbing the stove. Do this with safety, and don't apply too much pressure. You can rinse and wring your towel frequently until your stove gets cleaned.
You can also use cooktop cream or paste and start scrubbing with a non-abrasive scrubbing pad in a circular motion.
Step 7: Later, if any residue is left, wipe it away with a dry microfiber cloth. It's important to remove any cleaning product residue completely; otherwise, these leftover residues will bake and burn on again.
Step 8: The last step is to polish the surface. For that, just use some vinegar and damp cloth and then later clean it with a dry cloth. Now your stove is shining again as new.
3. How to Remove Burnt-on Stains From Glass Cooktop
Does your glass stove have burnt-on stains? If yes, then it is impossible to remove these stubborn stains by a weekly washing process. Then how to clean glass top stove burnt on grease? If your cooktop is covered with burned-on grime, it's time to apply the heavy-duty cleaning technique.
For that, you'll need a handheld razor blade. Here's a step-by-step procedure for you to learn how to clean glass top stove with a razor blade.
But always read the manufacturer's care instructions before trying this method. If they caution against using razor blades, do not proceed.
Let's start,
You'll need:
A razor blade in a holder or scraper tool
Distilled white vinegar in a spray bottle
A microfiber cloth
Step 1: First, spray some vinegar or any cleaning solution on the entire surface of your cool stove.
Step 2: On top of this, lay a moist towel as this will help soften the residue and loosen burnt-on food.
Step 3: Next step is to hold the blade as flat as possible or hold it at a 45° angle against the stove and start scraping the surface to remove burned bits and stains. Apply light and uniform pressure on the blade.
Step 4: If necessary, repeat the hot towel/razor blade step several times until the surface is free of stuck-on gunk.
Step 5: Lastly, clean the entire top with a cleanser; then rinse well and buff dry.
Note: Never use the razor blade's corners to scrap as it may etch or scratch the glass-top surface. Try to work one spot at a time with even motion to avoid scratching the glass. For an easy, effective, and safe cleaning, use a graspable razor blade holder. Don't worry too much, as the glass on these cooktops are usually durable and can handle this treatment.
Aren't you sure about the razor method or unable to clean your stove with a razor blade? Worry not, as there are also other alternative heavy-duty methods. Many heavy-duty abrasive cleaners are available in the market that can easily remove the stains and will not scratch your glass-top stoves.
Things to Consider Before Starting the Cleaning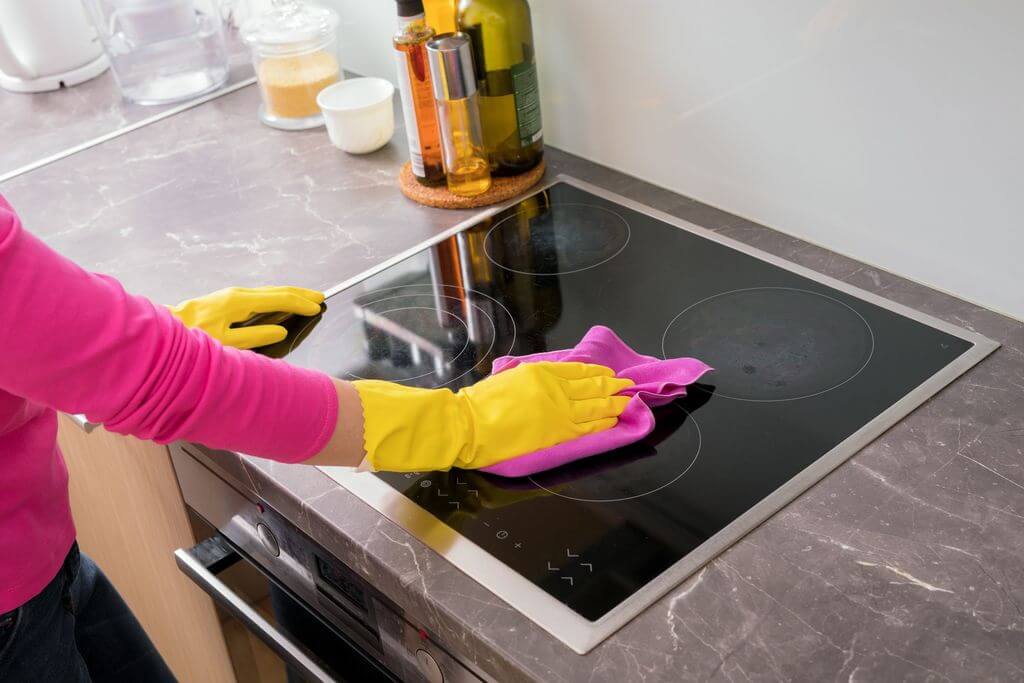 Before you start your deep cleaning routine, below are some tips that you should keep in your mind, and they will also help to make this whole cleaning process less complicated:
Always start cleaning when your stove is completely cool. Never clean your stovetop when the surface is still hot as you may burn yourself, and stains will also not get removed.
As we already told you that you don't have to buy expensive cleaning products or pull out the heavy housekeeping artillery when cleaning these surfaces. These chemicals can be harsh, and sometimes these abrasive cleaners can scratch or damage your stovetop.
If your hands are sensitive to hot water and baking soda, wear a pair of rubber cleaning gloves.
Look at the manufacturer's instructions for your stove. Carefully check care instructions so that you don't accidentally break any warranties or policies.
As stovetops are generally durable and resilient but sometimes excessive scrubbing and scraping with scouring pads or brushes could leave scratches. So you can use gentle tools such as microfiber cloths or sponges.
The Bottom Line
Glass-top stoves are a sleek addition to any kitchen for creating a minimalist look. They also come with many benefits, but one drawback is there. That is, even the smallest spill or splatter is noticeable. They're also susceptible to scratches, but don't worry because all the above methods are easy and safe to use to clean any glass gas stoves.
After reading this blog, we're pretty sure now you've learned how to clean glass top stove without scratching it. So, keep your kitchen looking its best and organized. So this is all about cleaning glass top stoves. I hope you find this blog helpful. Do share it with your friends and family who need help in cleaning their gas stoves.
Explore further:-