How to Create Profitable Patio Space for Restaurant
After the harsh winters, spring season witnesses restaurants abuzz with customers again. Pool parties and barbeque get-togethers can provide the perfect opportunities for restaurant owners to cash in on the rush time. By utilizing your patio space and using appealing patio furniture, your customers get a chance to enjoy meals and drinks outside.
Tips to Create Perfect Patio Space
Let's look into some tips to create the perfect patio space for your restaurant:
1. Choose Appropriate Patio Furniture: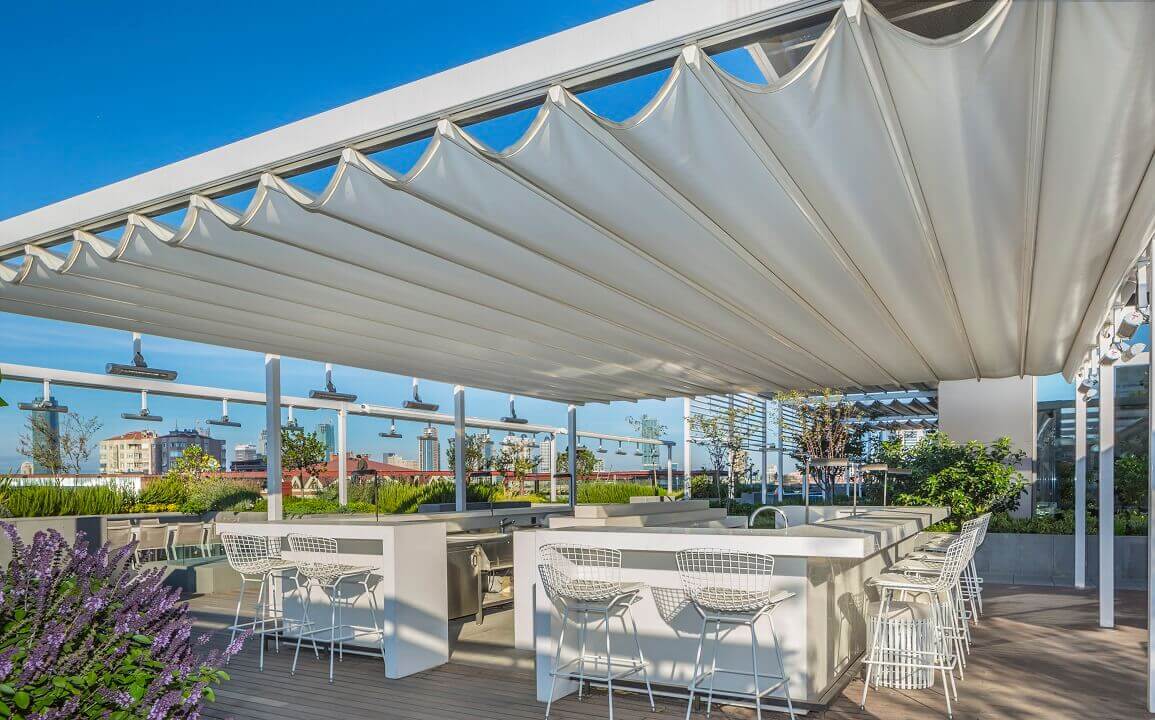 Source: retractableawnings.com
Your patio furniture must reflect the ambiance of your restaurant. Here are a few tips to help you with the best patio furniture for your restaurant:
Choose the Proper Material:

You can opt to recreate a rustic design using wooden

restaurant chairs

and tables, or you can go with vibrant metallic furniture. However, ensure that the selected material appears to be an extension of your restaurant furniture and does not look out of place. Additionally, select a durable material that requires less maintenance.

Choose the Right Style:

If you are adding the patio space in your existing restaurant, you must select a style as per the latest trends. Minimalistic design in classic wooden furniture is an evergreen option that goes with the theme of any restaurant.

Choose the Perfect Fit:

The size of your outdoor chairs and tables must be comfortable and allow an intimate setting for your customers. Selecting the right furniture size allows you to make effective use of the space available as well.
2. Design the Patio Layout: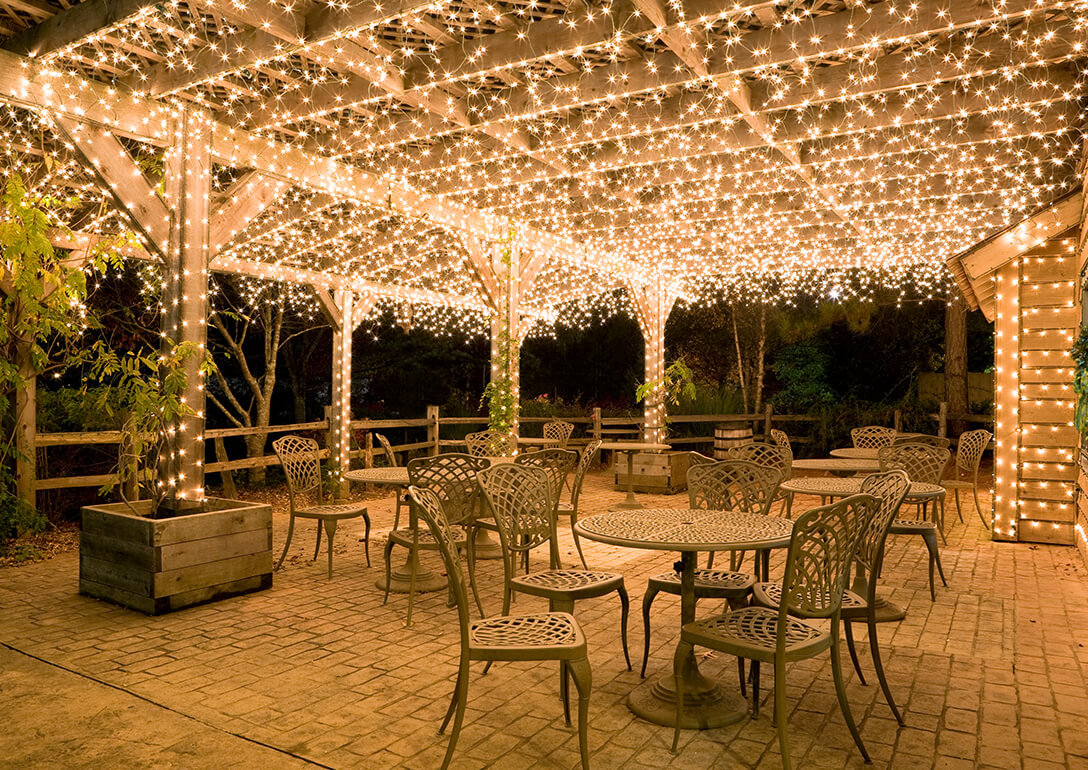 Source: amazonaws.com
Before you start buying outdoor furniture, you must make the best use of your patio layout. To do so, create a patio layout by including every element required to function independently. Rather than proving a boring layout with just sitting and dining, you can get creative with the design to make it more inviting and cozy for your guests. Here are a few suggestions:
Cook Outdoors:

Providing a separate kitchen for your patio space reflects your confidence and transparency in food preparations. The refreshing aroma of charcoal on the barbeque grill or spices while food getting prepared encourages your customers to spend more

Implement a Full-Service Patio Bar:

An open bar alongside the pool can be a profitable addition to your patio. Having a bar might promote impulse spending on drinks by your patrons. Even if you can't afford setting up a full bar with a bartender, a stall to pour and mix drinks might work like a charm.
By providing these facilities, you will have to sacrifice the outdoor chairs in your patio. However, these elements help you in offering an exclusive and engaging atmosphere for your customers. Additionally, while finalizing your patio layout, ensure that you provide ample space for the movement of your guests and waiters. You can also hire a professional designer who can provide you the best interior design services with the best of their knowledge.
3. Prevent Pests From Attacking Your Patio Space: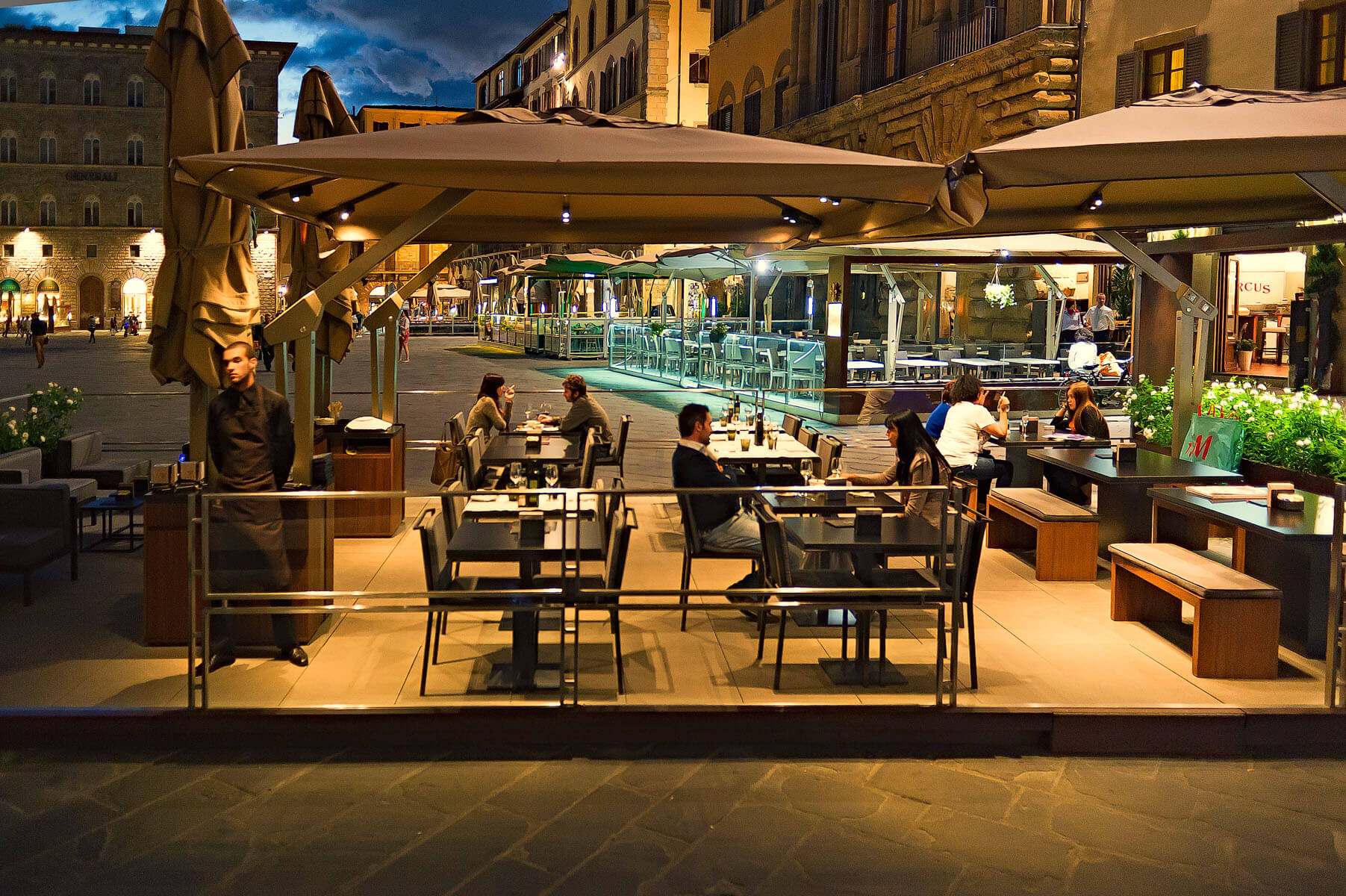 Source: netdna-ssl.com
One of the biggest troubles in having an outdoor dining area is managing pests. Apart from rats, ants, or cockroaches, you will have to safeguard against common outdoor pests like birds, insects, flies, squirrels, stray cats, and dogs, etc. Since it is inevitable to keep them away, you must work on minimizing such incidents from happening by following hygienic practices. Here are some handy tips:
Observe extra caution to clean spilled drinks or juices immediately. 

Store sugar and sweets in closed containers to avoid attracting ants and bugs

Install bug or flycatchers in the different sections of your outdoor patio to keep the flies, mosquitoes, and other insects away.

Scrap the floor to remove any left-over food items as its smell might attract squirrels and birds.

Keep fruit juices in secured glass containers and keep them covered.

Use pest-control solutions and repellents periodically to check the insects from invading your outdoor area. If all these practices fail, hire a professional pest control agency.
4. Be Prepared For Inclement Weather: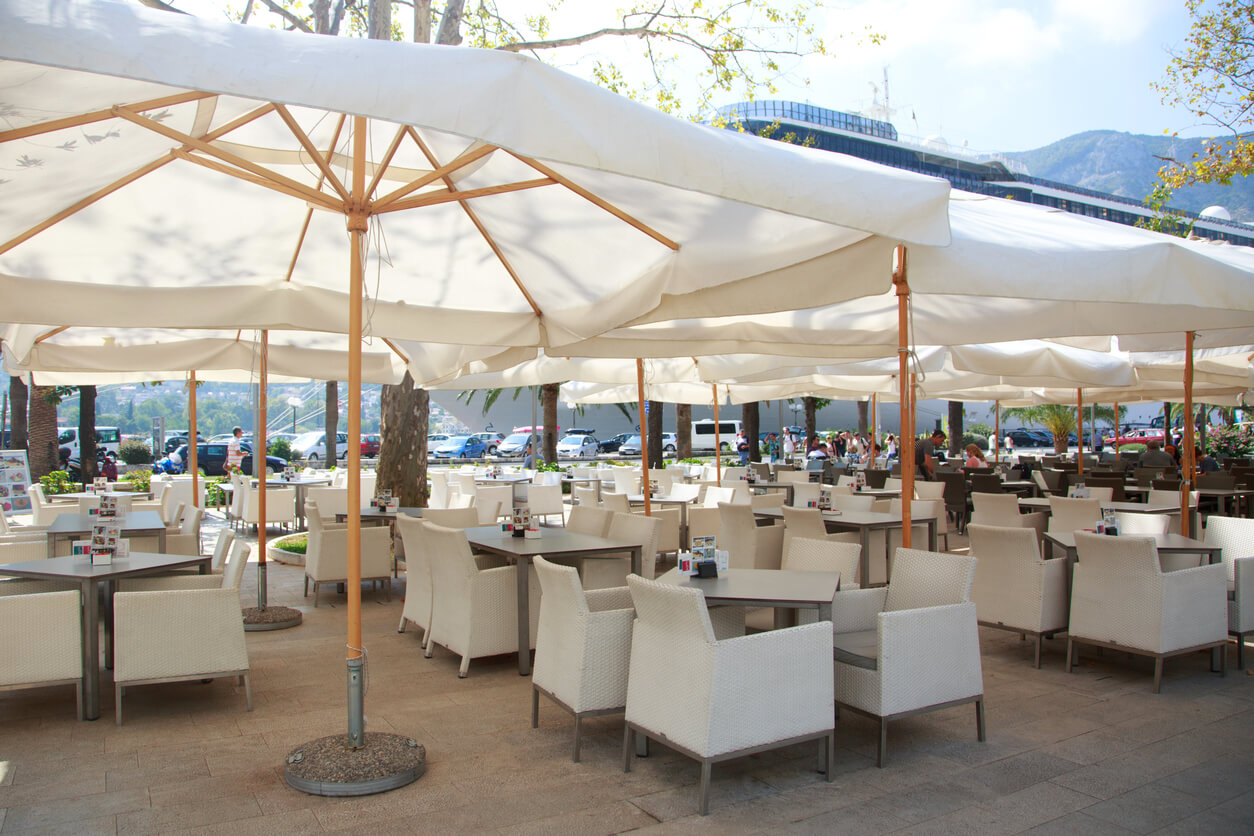 Source: cool-off.com
Unlike the indoor restaurant, your outdoor setup bears the brunt of extreme weather conditions. Although you can't control the weather, you can prepare arrangements for such cases to ensure a safe and comfortable dining experience for your customers. Here are a few suggestions you can consider:
Install fans on the roof or walls. If it is not possible to set up ceiling fans, you can try table fans that are easy to move around your dining area.

If you live in an area that experiences extreme temperatures, install water or mist coolers in the summer and heaters in the winter.

Use foldable awning, shades, or umbrellas to protect your customers from sunlight during the day.

During the rainy season and icy cold weather, cover the outdoor patio furniture with a waterproof cover to prevent damage from moisture and water.

In case of sudden weather degradation, have an evacuation plan ready to escort your guests to a safe place.
Summing it up:
With the proper layout, facilities, and preparedness, you can create a profitable patio space in your restaurant. Whether you want to provide an outdoor dining option or set up a poolside bar, effectively using your outdoor space and investing in outdoor furniture can enhance your business substantially. Hopefully, by taking advantage of the tips mentioned in this article, you can design the best patio space that helps in growing the profitability and popularity of your restaurant.