How to Incorporate Bean Bags into Your Home Decoration
More and more often bean bags can be spotted in modern interiors. What is it, is a pouf necessary in the living room or can you get by with the usual furniture to sit, perhaps it will take up some area in the room and will interfere, or maybe the bean bag is a very convenient thing for the living room? So here we have mentioned some best ways to incorporate bean bags into your home.
Usually, a bean bag is made in a square, rectangular, or round shape with a seat much softer than a chair, it is made without legs and with legs, there may be wheels to make it easier to move it. The manufacturers of bean bags vary in size from small to bulky, making it easy to find the right size for a room.
Because of the convenient shapes, it can place anywhere in the living room, it will not take up much space, and if necessary, the bean bag can rearrange from one place to another.
Basically, bean bags are big pillows. To provide rigidity, these "cushions" are provided with an internal frame made of wood or plywood. Although this is not necessary since it can be frameless. 
Ideas for Poufs in the Interior
Bean Bag with an Original Design
Buying an unusual designer bean bag that instantly attracts attention is one of the easiest ways to refresh an interior or add bright color spots to it. The unusual appearance of designer ottomans allows you to freely combine them with a wide variety of furniture.
Modern Bean Bags for Every Taste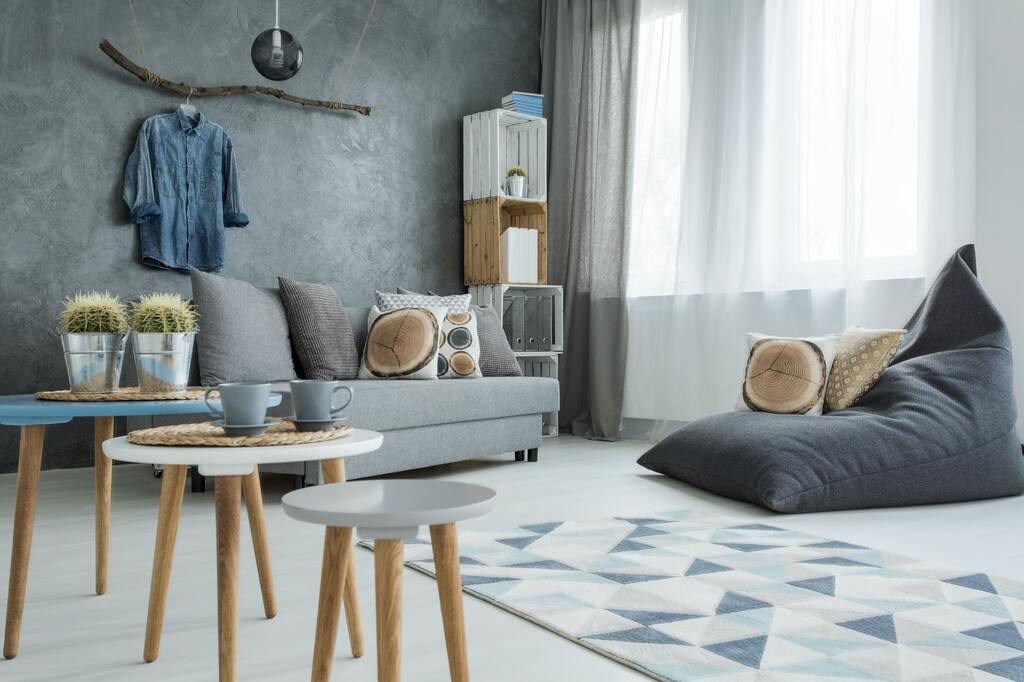 Source: pintuarias.com
It is easy to choose a model with the right mood from the assortment of bean bags in a modern style. A softly rounded bean bag will add coziness to the living room or bedroom, and elegant ottoman tables will add a touch of grace. However, its role in the interior is not only decorative. Comfortable wide models are quite capable of replacing a chair.
Sets of Bean Bag
Some poufs look especially good in groups. It can be several of the same models in finishes of different colors, or vice versa, ottomans of different sizes in the same finish.
Ideas for Using Bean Bags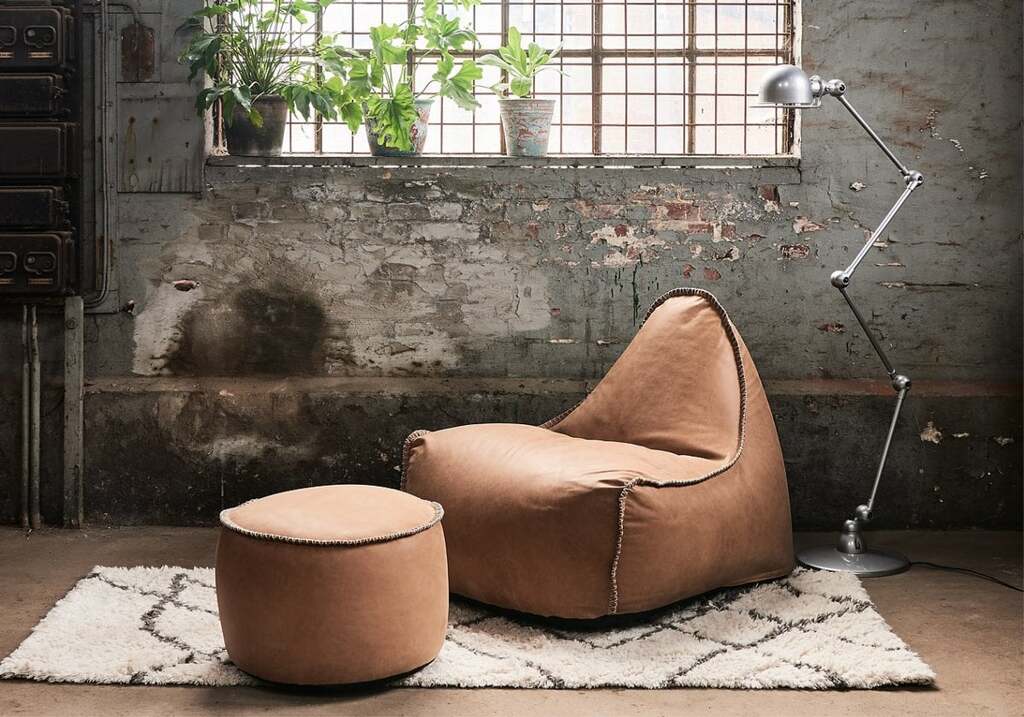 Source: tlcinteriors.com
Several bean bags for each family member can place in the living room by the sofa. Then everyone will be able not only to accommodate with the same comfort but also to change the functionality of the space at their discretion: rearrange the bean bags and receive additional seats for guests or a small table if desired.
Do not be afraid to use the bean bags for purely decorative purposes. Sometimes a bright accent is simply necessary for an interior with a restrained color of furniture and walls. So why not use a small and interesting bean bag. It attracts the eye, emphasizes the color contrast in the space, and creates the completeness of the composition.

A large bean bag located in the recreation area will replace an armchair. This is a great option for rooms with little space. If desired and according to your mood, the "secluded corner" can move to another place in the apartment. Mobility is one of the main advantages of bean bags.

Bean bags as an art object
A bold and bright interior will only benefit if you add an unusual, stylish bean bag like the ones from Ambient Lounge to the space. Place it in the center of the composition and enjoy the effect.
Place a bright bean bag in the children's room. The kid will decide how to use it – fold toys, use it as a table, pedestal, or chair. Plus it will be a great place to play.
Also Read: A Complete History of the Most Loved Furniture Bean Bag Chair
Style Matching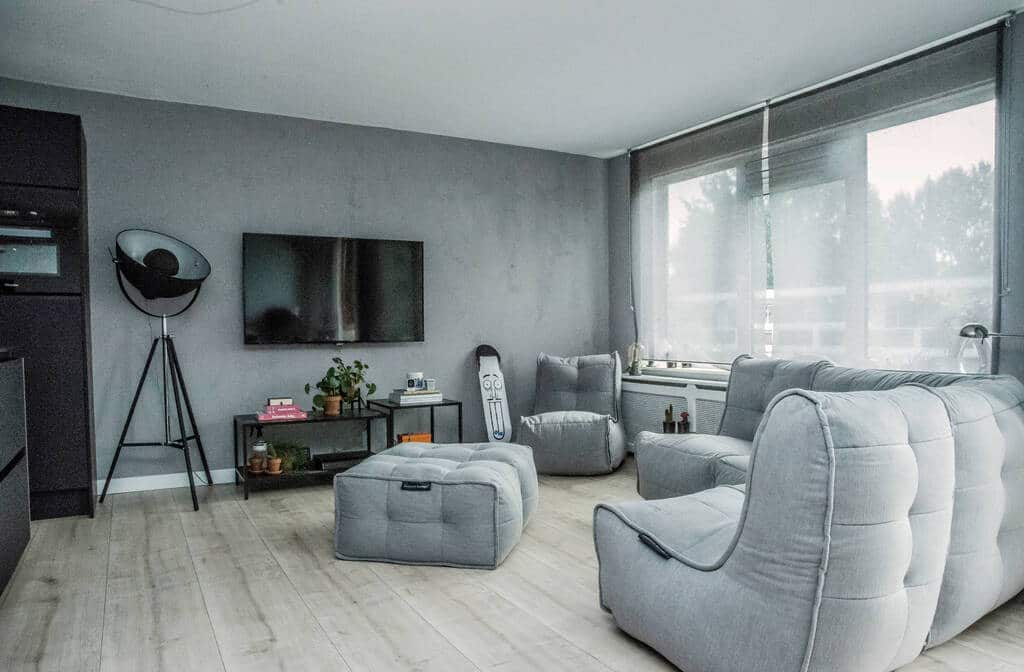 Source: hzcdn.com
The most important nuance of choice (in terms of style) is the material of the cover. On sale, there are solid models in leather and eco-leather and cozy armchairs upholstered in fabrics: practical tapestry and jacquard, delicate velour and velvet, colorful matting, and jeans. There are tons of options, so be guided by the style and color scheme of the room.
In a strict classic interior, a leather armchair will look harmonious. By the way, you can safely choose eco-leather – in appearance, it is indistinguishable from natural material and will last just as long. Priority colors are black, brown, white, restrained pastel shades.
For an eclectic loft, bold Art Nouveau, or sumptuous Art Deco, bean bags in vibrant hues, solid colors, or ornaments are perfect. The cover can be made of fabric, suede, or fur – it doesn't matter what it is, for that it is eclectic. A bright bean bag is appropriate even in minimalism, moreover, a catchy accent will breathe life and dynamics into the interior.
Rooms in Scandinavian, country, eco-style will be decorated with bean bags in covers made of natural fabrics – matting, cotton, linen, jeans. Natural colors are preferable – green, sand, gray, blue. Floral ornaments would also be appropriate.
The Bottom Line 
Bean bags in the form of cylinders or cubes, with or without legs, closed or open, classic or unusual, made of leather or fabric – choose any, because today it is not a tribute to luxury, but a functional, versatile and bright piece of furniture for any interior.