Fireplaces are capable of doing more than just keeping you warm on wintry days; they can be the focal point of your living room seating arrangement. When properly designed and placed, fireplaces can create a homely feeling. They can make the living room feel inviting and cosy. Because of that, a fireplace should be positioned to be both functional and aesthetic. The fireplace should evoke the feeling of warmth even when not in use; it should be a fixture of function as well as beauty. Here are some best fireplaces for style and ambience.
The ability to use a fireplace effectively as a feature of ambience is a matter of creativity. However, there are some fireplaces carefully designed with style in mind. These also create the desired effect so beautifully.
There are 1001 great ideas on how to play with your fireplace to maximum effect. Here are a few of them:
Make Your Fireplace the Centre of Attention
Making your fireplace the centre of your living room life is both functional and aesthetic. During cold days it is the most effective way to keep warm. So, you should take care that you do not place any furniture in front of the fireplace.
Arranging the seating around the fireplace is a great way to focus on the area. This seating should place in a way that takes advantage of the shape of the room.
You can also frame the fireplace to draw more focus to it. Suitable materials for framing include stone tiles and wood. Moulded frames are also popular.
Tip: Making the fireplace the centre of attention is an impressive driver of conversation.
The TV draws away attention to itself, while the fireplace forces you to focus on each other.
1. Utilise a Freestanding Fireplace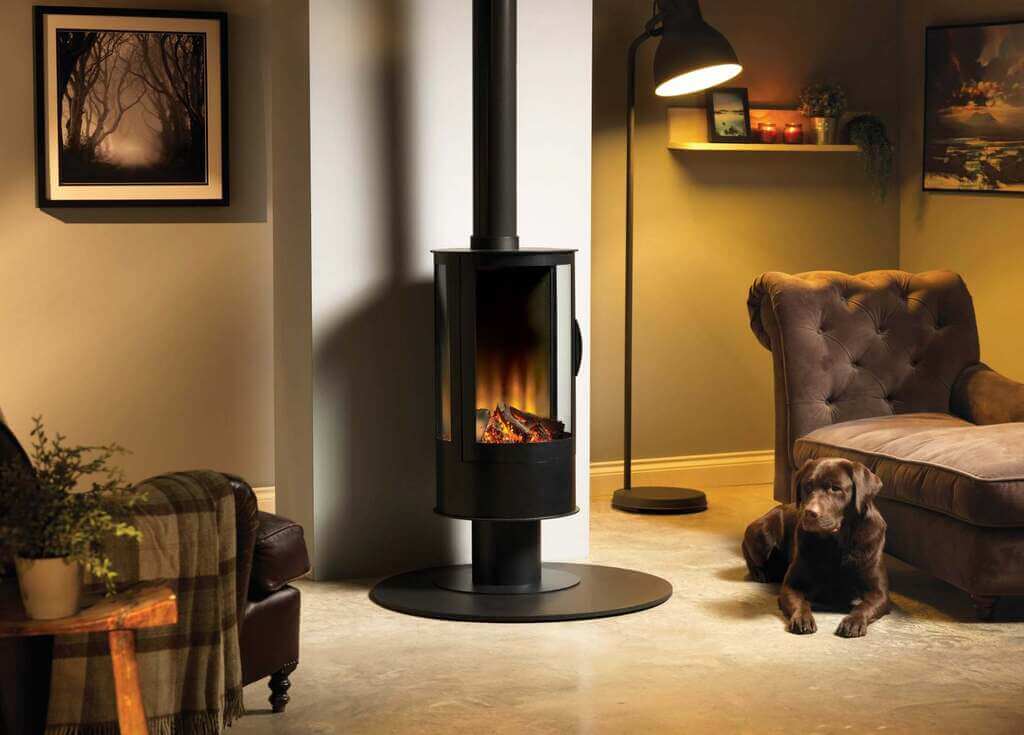 Standalone fireplaces are excellent for tiny rooms. Some can even be moved around as needed. They offer heat all around and so are more effective at heating a room.
Freestanding fireplaces come in a range of designs that can enhance any living room feel. They can be classic or contemporary and burn any fuel. Therefore, they can come with a flue or without. If they do, make the flue part of the room's décor.
Exploit its size and nature to create ambience.
2. Make Your Fireplace Fit In
Integrate your fireplace's style to fit in with the rest of the room. If the rest of your living room is contemporary, sleek, and minimalist, make sure your fireplace flows along. In this instance, try to avoid a traditional fireplace's ornate and curved iron features (unless you feel a personal pull towards this look).
It is impossible, neither is it advisable, to limit the reaches of creativity.
3. Tucked Away
Tucked-away fireplaces go well with minimalist décor. They help avoid unnecessary juts and conserve a clean space. Since recessed fireplaces pair seamlessly with mounted televisions, it solves the dilemma of whether you should face the fire or the TV.
Recessed fireplaces are also safe, especially for children. Since they have no protrusions, they have few hot parts that can burn. They also tend to be electric; therefore, they emit no sparks, no fumes, and no smoke.
4. Enlist the Chimney
You can use your chimney or even flue as a part of your room's decoration. It can make an excellent mount for your photos and trophies. You can clad it in tiling or drape it with wallpaper. A chimney wall would be a great addition, and you could make it as prominent or hidden as you wish.
5. Use a Dividing Fireplace
A dividing fireplace can help undermine the vastness of a room. This is ideal when an open floor plan makes the room look too big to be cosy – a large room can create a feeling of bleakness and cold.
A dividing fireplace counters that by breaking up the room into manageable spaces and warming it simultaneously. The fireplace succeeds in doing this without closing off the other room; the concept of the open floor is still conserved.
6. Off the Floor Fireplaces
Lift your fireplace off the floor by about a foot. This adds an asymmetrical feel to the surroundings while also making it possible to sit closer to the fire. The foot of space left below the fireplace can use to create a storage feature for firewood. The space can be utilised as a decorative feature.
An off-the-floor fireplace also protects the floor as less heat is passed to it through conduction. Generally, electric fireplaces are lifted higher to create an optimum visual effect.
You cannot afford to ignore the fireplace in your living room when you plan your interior décor. Use it as an ally in creating décor.
Discover More: