In today's world, there are not many people who use traditional lighting. People definitely prefer to use LED lighting, especially LED strip lighting. What's so special about LED strip lights? How to use them in your home? In this article, you will find creative home lighting ideas for LED strips. We hope that you will be inspired by our tips!
What Are LED Strip Lights?
LED strip light is also known as an LED tape, and it means a flexible circuit board with surface-mounted LEDs, which can easily be bent to fit even the tightest corners.
LED strip lights are one of the most popular and flexible types of both interior and exterior lighting (strips are perfect for gardens, balconies, and terrace railings). However, in this article, we're going to focus on interior lighting.
LED strips can be used in many different ways. They can actually be used in every room. They are powered by a power adaptor – simply plug the adaptor into the PowerPoint. Pretty simple, right? It's worth mentioning that there are also battery-powered LED strips available on the market.
There's a full range of LED strip lights available in different colours, temperatures (warm white, neutral white, and cool white), shapes, lumen levels, and lengths.
They are easy to cut and connect. It's easy to install them thanks to self-adhesive backing (the other option is installing with the use of traditional fittings). You can find out more about LED strip lights on the Here.
Why Is It Worth Using LED Strip Lights?
This kind of lighting has so many advantages that it's hard to pack them all into one article. LED strips are really efficient. They use less energy than traditional lights – it means lower electricity bills for users. They are environmentally friendly and user-friendly.
It's possible to control LED strips by remote control or via a smartphone app. The world moves on! LED technology doesn't struggle behind.
LED strips can easily be used as ambient lighting. Each time, LED strip lighting creates a cozy and pleasant atmosphere. There are so many adjectives that can describe LED strip lights: versatile, customizable, durable, flexible, long-lasting, or safe. The list of examples could be endless.
Home Lighting Ideas for LED Strip Lights
We did our best to push our creativity to its limits. We have prepared a few ideas on how to use LED strip lights in your home as creatively as possible. There are interesting ideas around stairs, ceiling coving, furniture, mirrors, and shelving.
Stairs
One of the first places you should think about are stairs. LED strip lights can be used below the railing. Or, if you want, you can add them underneath the tread. It's up to you. Both of these ideas are great, especially given the fact that they make it much easier to move freely along such well-illuminated stairs.
You don't have to be afraid of the dark! LED strips minimise the risk of falling down the stairs. You'll never have to turn on bright overhead lighting again in order to see anything in night. Needless to say, stairs illuminated with LED light strips look sleek.
Cornice or Ceiling Coving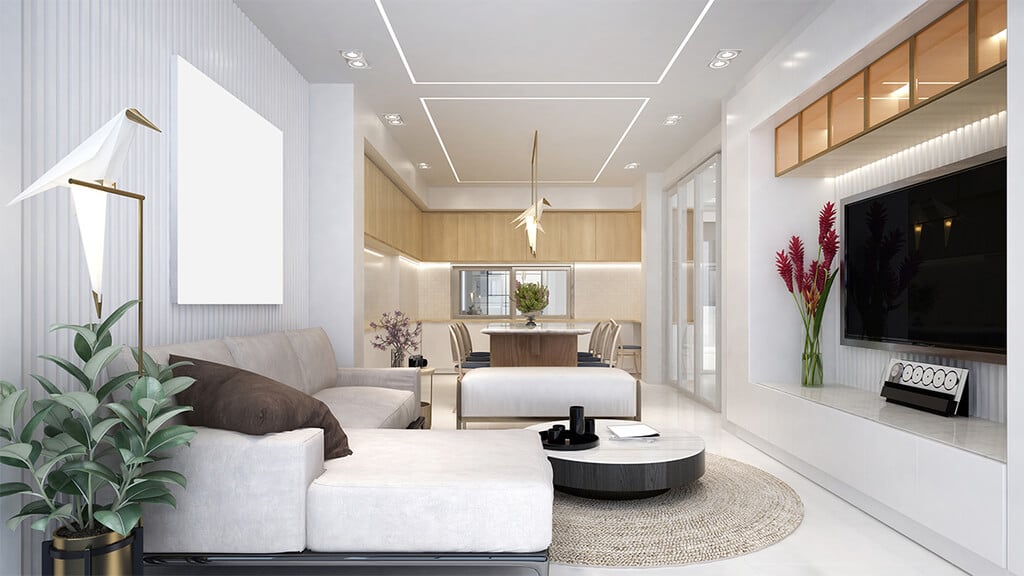 If you're wondering how to make your ceiling look more attractive, consider using LED strip lights. We advise that you install this type of lighting in the ceiling coving of any space in your home.
We strongly recommend putting this idea into practice, especially because it doesn't cost much. What's more, this solution is very convenient. Thanks to LED strip lights, it becomes possible to highlight architectural details near the ceiling.
You can, for example, try to create a warm atmosphere in your entryway. With the use of LED strips, it will be more than easy to highlight ornate ceiling details in your living room or dining room.
Feel free to add lighting to your bathroom or to accent the top of the cupboards in your kitchen. All this is possible thanks to LED strips!
Furniture
There's nothing stopping you from adding LED strips under your furniture. Thanks to that, each room can be given its very own and a unique glow. The undoubted advantage of this solution is that small spaces can appear larger.
You can think about adding accent illumination to your sofa or armchair. It not only looks good – it is also functional. Finding a remote control under the sofa will never again be a problem! The other idea is to beef up your old table with the use of LED strip lights. The light generated by LED strips is soft, ideal for parties.
One more piece of furniture worth considering is a bed. Do not hesitate and illuminate your bed! Do it for yourself, and you won't regret it. LED strip lights will improve visibility at night and will work wonderfully added to a headboard.
Mirrors
You will immediately feel good after looking in the beautifully illuminated mirror. You feel good because you look good! Indeed, strips limit shadows and make you look your best. Light your mirror with strip lights and let it reflect every detail of who you are.
It's better to choose strips instead of traditional large mirror bulbs. First, because strip lights are more practical, and second because strips create a softer glow. You, as a mirror owner, are given a very even level of lighting.
Shelving
There is no greater way to showcase your favorite collectibles, books, or artwork than to illuminate them with LED strip lights. This kind of lighting idea on shelves can work wonders! We can mention here that this solution is functional, too. Thanks to illuminating shelves, it becomes easier to search through dark closets, pantries, and cupboards.
There's no need to turn the lights on and off every single time. Choosing motion-activated LED lights is a game changer.
Summary
Using LED strip lights in your house can give you a lot of fun. You will have a chance to get creative. Take your time and illuminate your stairs, entryways, living rooms, dining rooms, bathrooms, kitchens, sofas, armchairs, tables, beds, mirrors, closets, and cupboards. Have a good time and enjoy perfectly illuminated rooms and objects!
Also Read: