13 Bathroom Lighting Ideas for Sleek & Elegant Look
Lighting is an important element of the interior design of any space. It helps to add drama and character to any space. Moreover, a bathroom is a space where one gets relaxation and refreshes. Thus a bathroom needs various types of lighting as per various needs. Bathroom light design plays a very important role in bathroom interior design. It is possible to make even a small and cramped space feel spacious using small bathroom lighting ideas. 
A bathroom is a space that needs to be functional as well as aesthetically appealing for ultimate relaxation. Hence it is better to attain a perfect balance between practicality and mood creation. The easiest way to start with is to analyze the space and its properties. A bathroom is generally divided into a shower area, a bath, and a vanity area. Nowadays, there are several bathroom lighting ideas available in the markets for various subspaces ranging from recessed to hanging pendants and chandeliers and much more. 
Following is a list of 13 beautiful bathroom light fixtures ideas ranging from vanity lighting to wall lighting to pendant lighting and lots more. Hope these ideas encourage you to remodel your bathroom space.
Take a Look at These 13 Elegant Bathroom Lighting Ideas
Task Lighting
Task lighting is lighting that is meant to specifically help you with a task. It is usually around your vanity. There are various lighting fixtures under task lighting which have been mentioned below:
1. Bathroom Lighting Ideas Over Mirror and a Vanity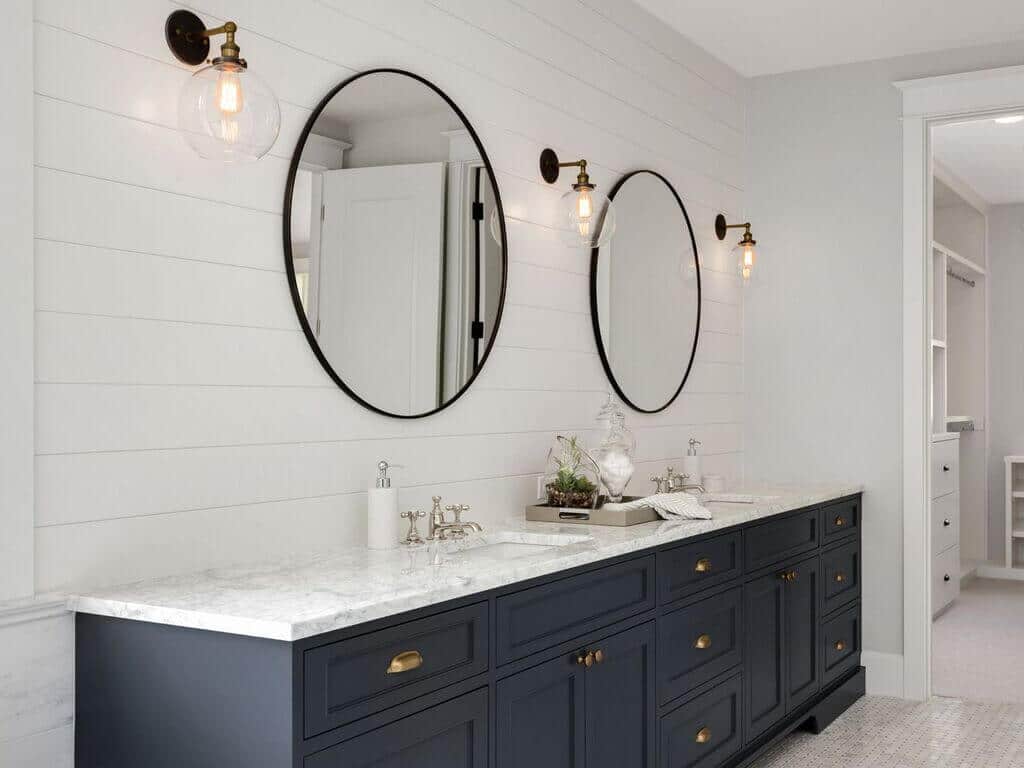 Source: vox-cdn.com
With perfect lighting, your bathroom can reach higher levels throughout the day and night. You will need different types of lights, as one central light would not suffice your all needs. This is achieved through a layering of light, where you use a variety of lights as per your needs. 
Downlighters have now become one of the popular trends, with a bunch of numerous styles that are ideal for illuminating your bathroom vanity or for adding character and ambience to a focal wall or showcasing your decorative mirror.
2. Modern Bathroom Lighting Ideas with Spotlights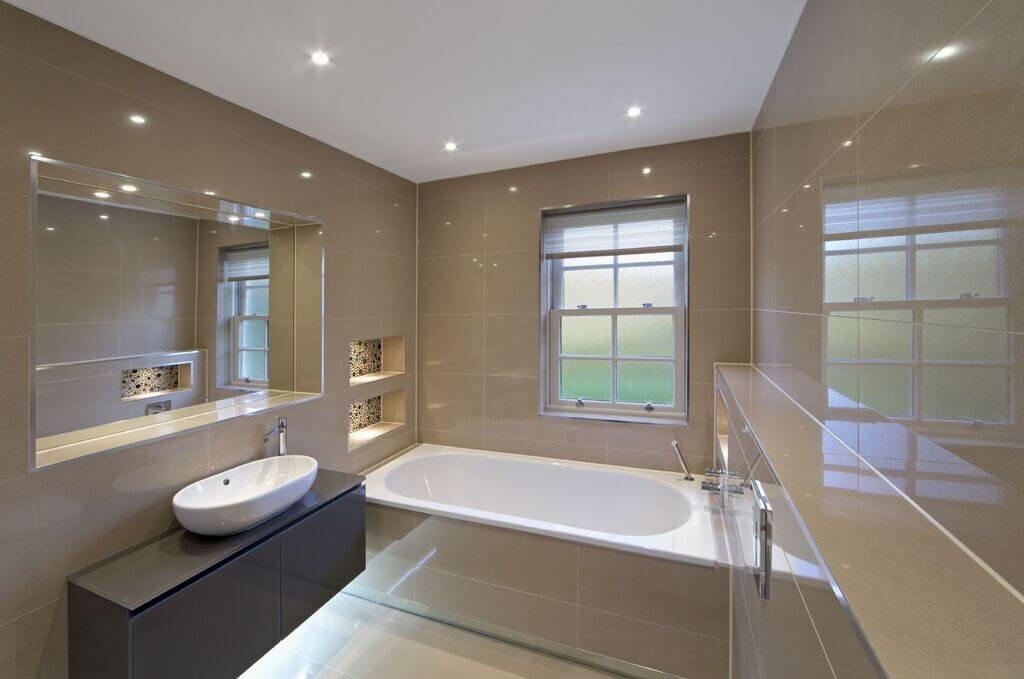 Source: pinimg.com
Bathroom lighting can have a huge impact on the ambience of the space. Thus it should be thoughtfully planned at an early stage in order to ensure that all the key elements are well lit.
Go for enough task lighting in the vanity and shower areas. You can add ambient lighting around the bath area, and also in niches and alcoves. 
Generally, the bathroom light is usually in the form of recessed downlights. But instead of installing them in the ceiling in a form of a central grid pattern, decide which elements you want to showcase and then place the downlights accordingly. This spotlighting will help showcase your bathroom features more beautifully. 
3. Shower Lighting Ideas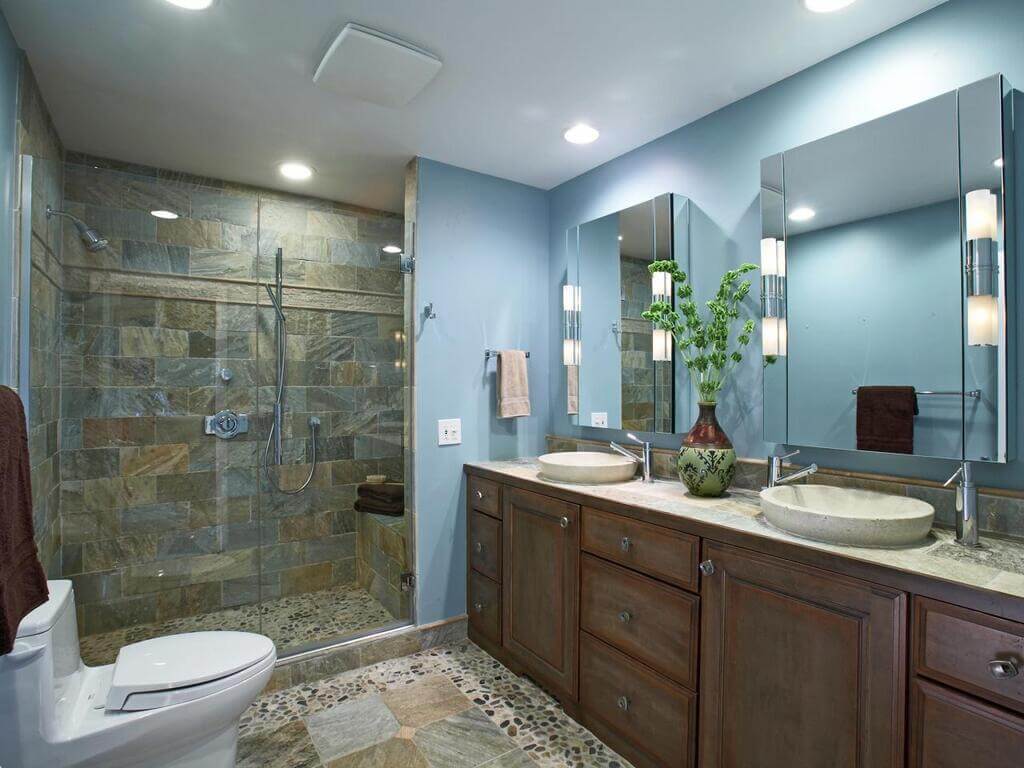 Source: sndimg.com
You may plan for recessed lighting for the shower especially if you have a walk-in shower. Thus you will need to use either a damp-rated or moisture-rated fixture. You can choose the recessed light as per your preference of the look and feel of your shower. The bulb comes in a wide range of varieties of styles such as opal, frosted, and albalite.
Decide how much lighting you need for your shower area. Add at least one recessed light in a single shower and two in a double shower. Some homeowners also prefer to add task lighting in the shower niches to illuminate their bath products.
Bathroom Ceiling Lighting Ideas
The most popular bathroom ambient lights are the bathroom ceiling lights. Following is a list of the best ceiling light ideas for your bathrooms.
4. Recessed Bathroom Lighting Ideas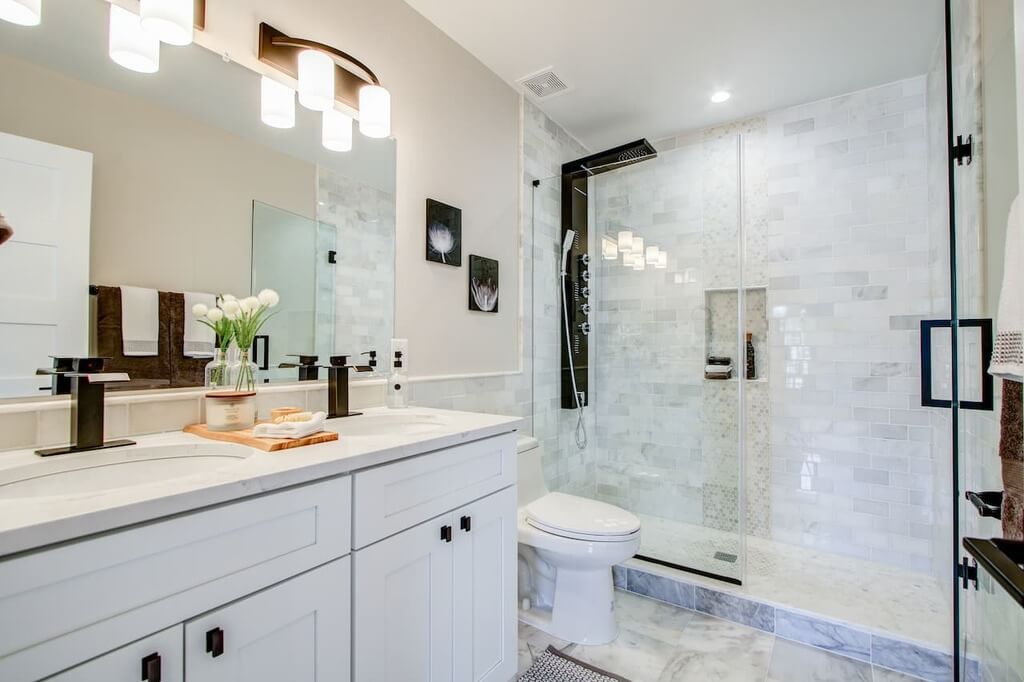 Source: kitchenandbathshop.com
You can even hide the source of your mood light by recessing it within cabinetry and niches. These lighting fixtures must be specially designed for bathroom use and IP rated according to their proximity to water. You can consult your lighting designer or electrician for any related advice. Recessed ceilings and walls are great ideas for hiding spot lights and LEDs.
5. Install a Large Pendant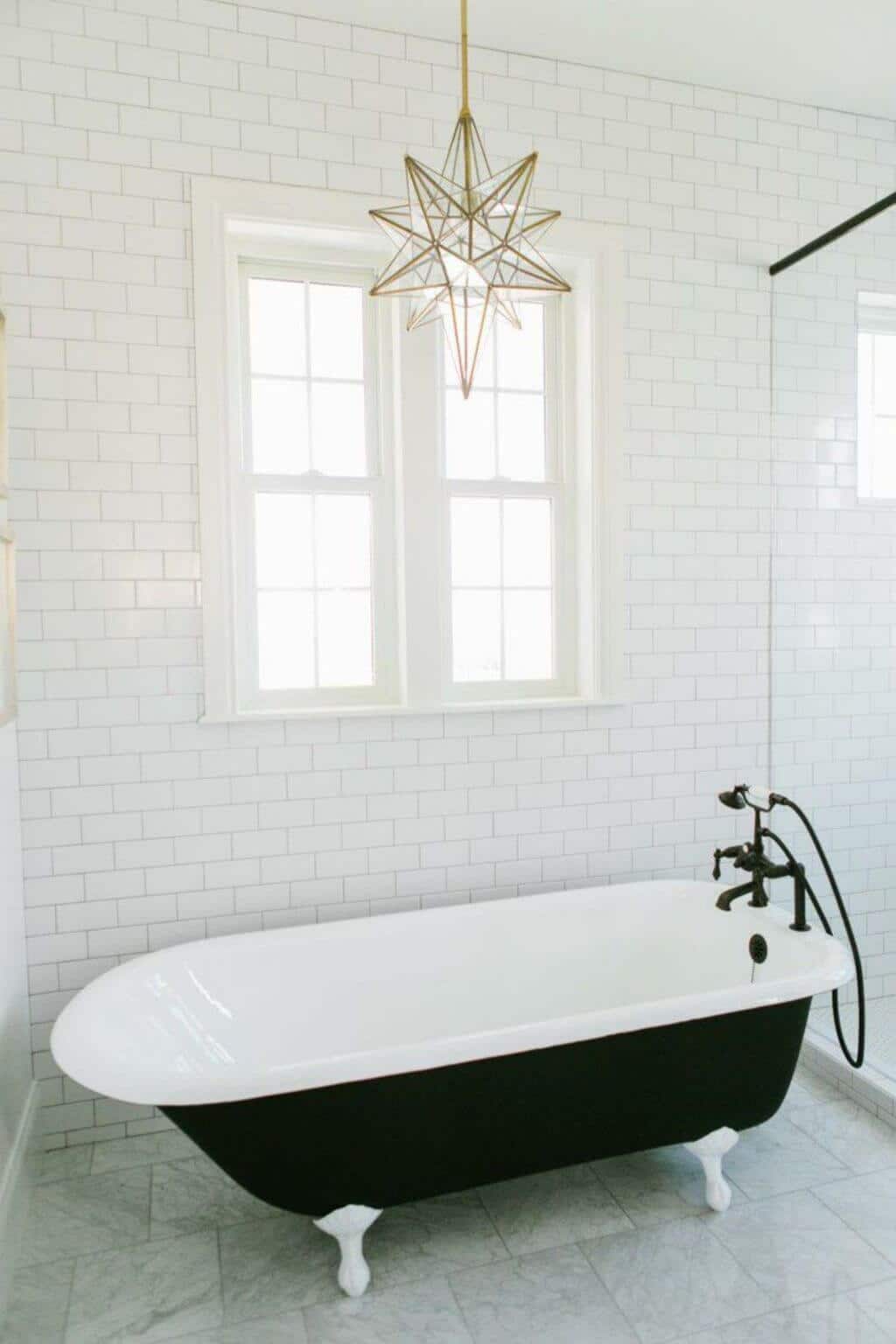 Source: thespruce.com
Gone are the decades when the lighting was just a source of the ability to see in the darkness. Nowadays, lighting plays various roles in interior design. It acts as an interior decor element bringing an elegant look to your bathrooms.
Giant floor lamps, drum pendants, and big chandeliers are popular trends. They are apt for those who want to attain a statement look with lighting. Don't be afraid, just take this brave step for a bold and beautiful ambience.
6. Create Drama with a Bold Fitting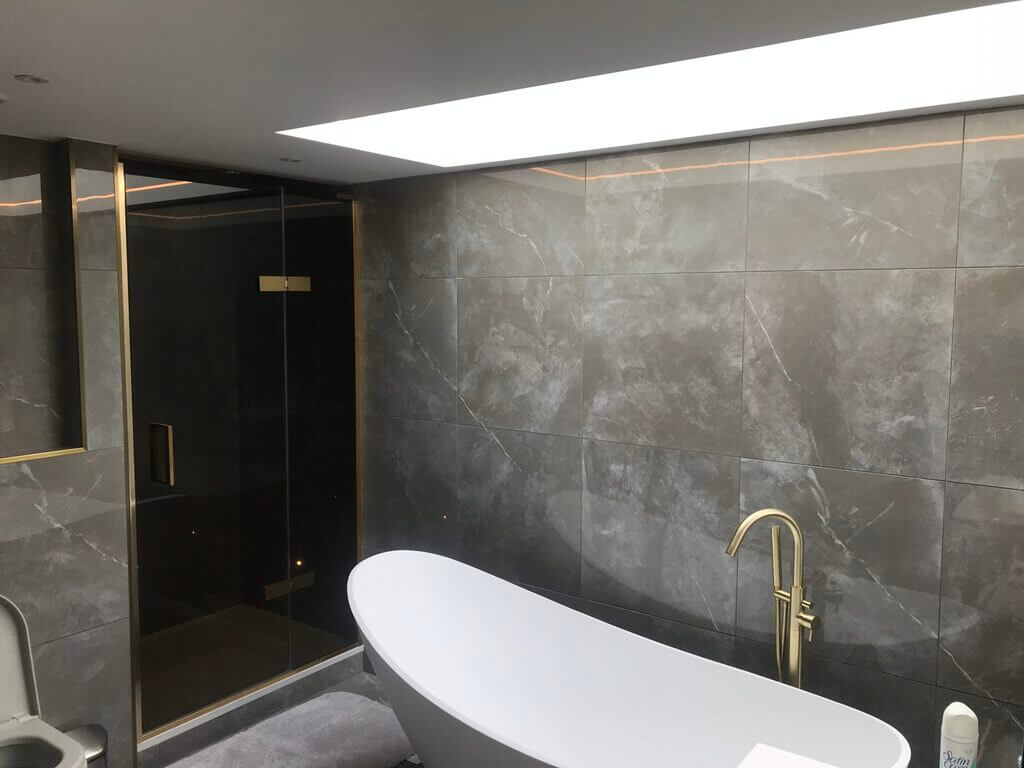 Source: netdna-ssl.com
Overhead lights help bridge the gaps between bathroom floors and high ceilings, thus making it essential than occasional for such spaces.
As ceilings are like a blank canvas just as floors, pendant light helps to hold the whole space together. It helps to make a space feel cosy.
7. Want A Luxe Look? Make a Statement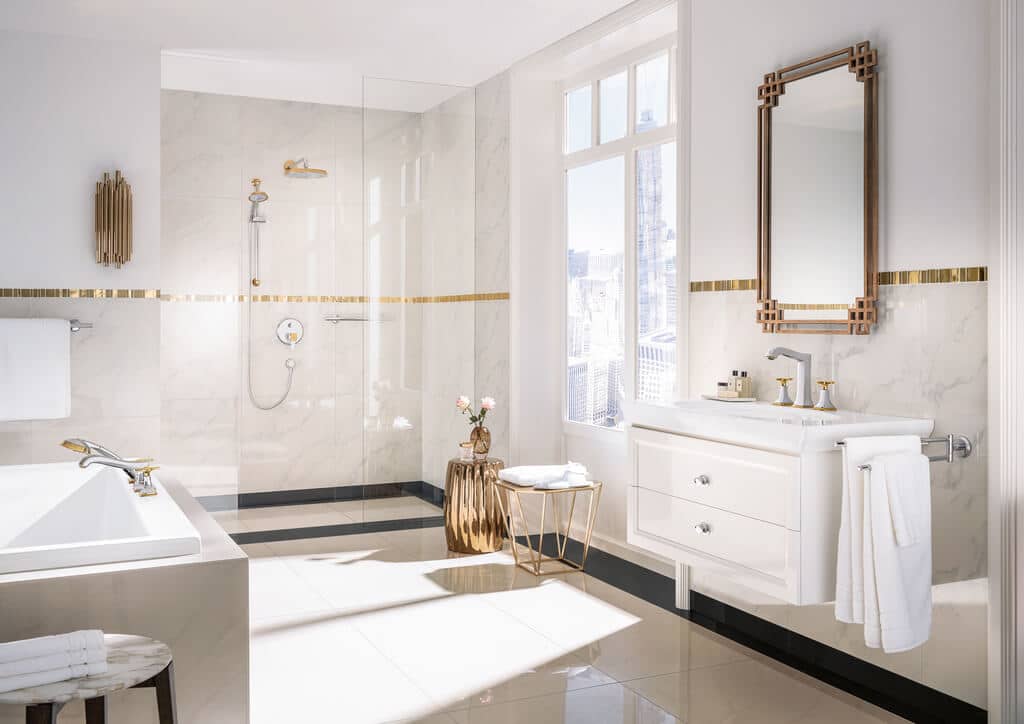 Source: lifestyleasia.com
Statement lighting is about creating a moment. You can opt for oversized or crystal, glamorous lighting. A statement light will help bring a luxurious look to your bathrooms.
There were days when statement chandeliers and low-slung pendants were avoided due to safety issues. However, nowadays, these fall under bathroom-friendly designs. You can go for fixtures designed from moisture-resistant materials like lacquered brass, nickel, and chrome as fabric shades are susceptible to rust. Choose fittings with accurate IP ratings according to the zones of usage.
Trending Bathroom Lighting Ideas 2022
8. Evoke a Spa-Like Atmosphere
Source: dwell.com
You can create a spa-like ambience at home by strategically placing mood lighting. If you're a bath person, pay attention to atmospheric bathroom lighting to create ambience near the bath area. Even waterproof lighting fixtures can be added inside the bath and shower area, creating an effect of a luxurious spa as the lights shimmer through the water.
Also Read: 7 Bathroom Trends for Late 2022 and Beyond
9. Choose Antique Style Fittings for Glamour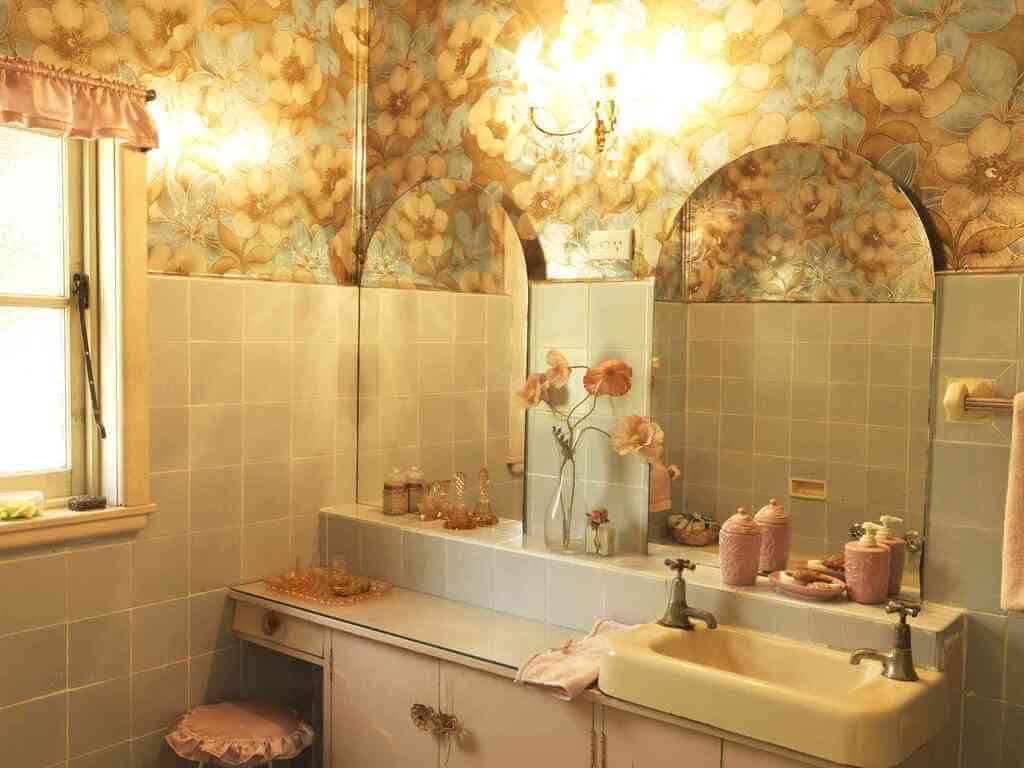 Source: thespruce.com
Bathroom lighting ideas should not just be efficient but decorative too. They should help attain a beautiful character in your bathroom. 
Select fittings that go well with other accessories within the space, but choose a suitable bulb colour. Go for warmer light tones for a welcoming experience rather than stark white light which can bring a cold vibe to your space.
10. Industrial Lighting in a Rustic, Country Bathroom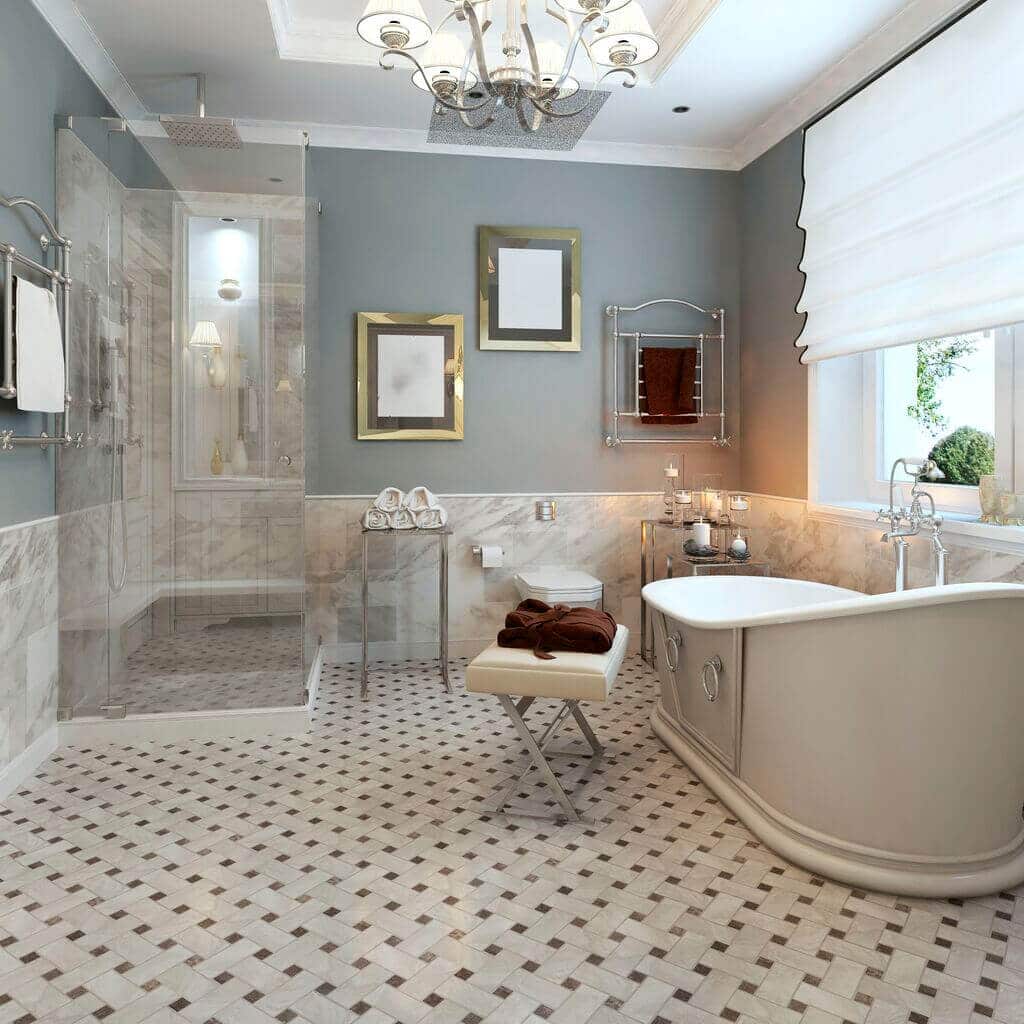 The farmhouse-inspired bathroom can be paired with industrial-style lighting fixtures. It would be a kind of chic combination. The antique brass wall lamps with shades of black are placed over the weathered wood vanity. It helps add a rustic character to the overall look of the bathroom
11. Art Deco-Inspired Bathroom with Period Style Lighting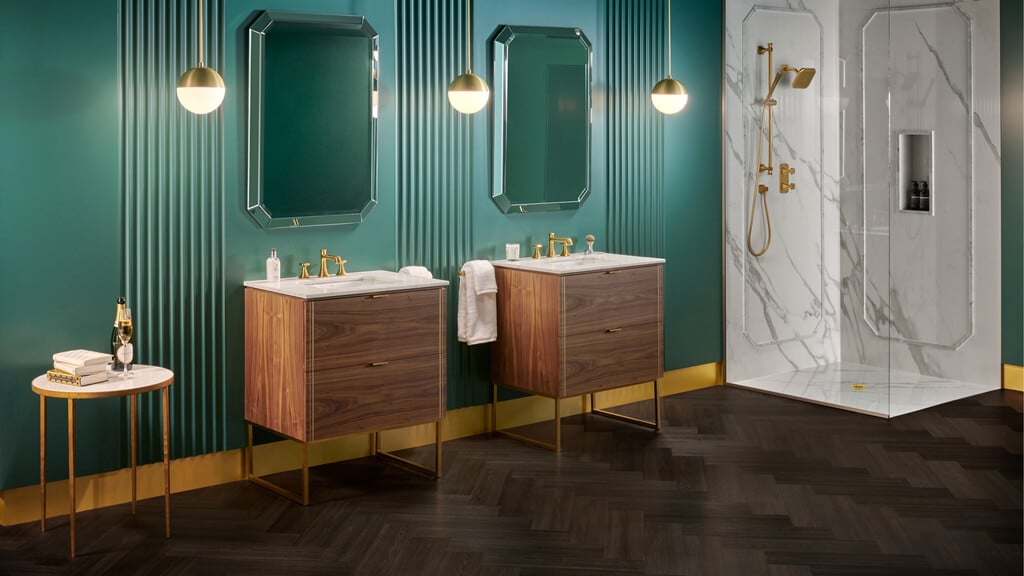 Source: residentialproductsonline.com
The renovation of this bathroom was an experiment of classic modernism. Extra attention is given to the art deco history of the house. The two globe-shaped pendant lights that are inspired by the art deco period help light the mirrors and free-standing marble vanity.
12. Seaworthy Lighting for a Nautical Bathroom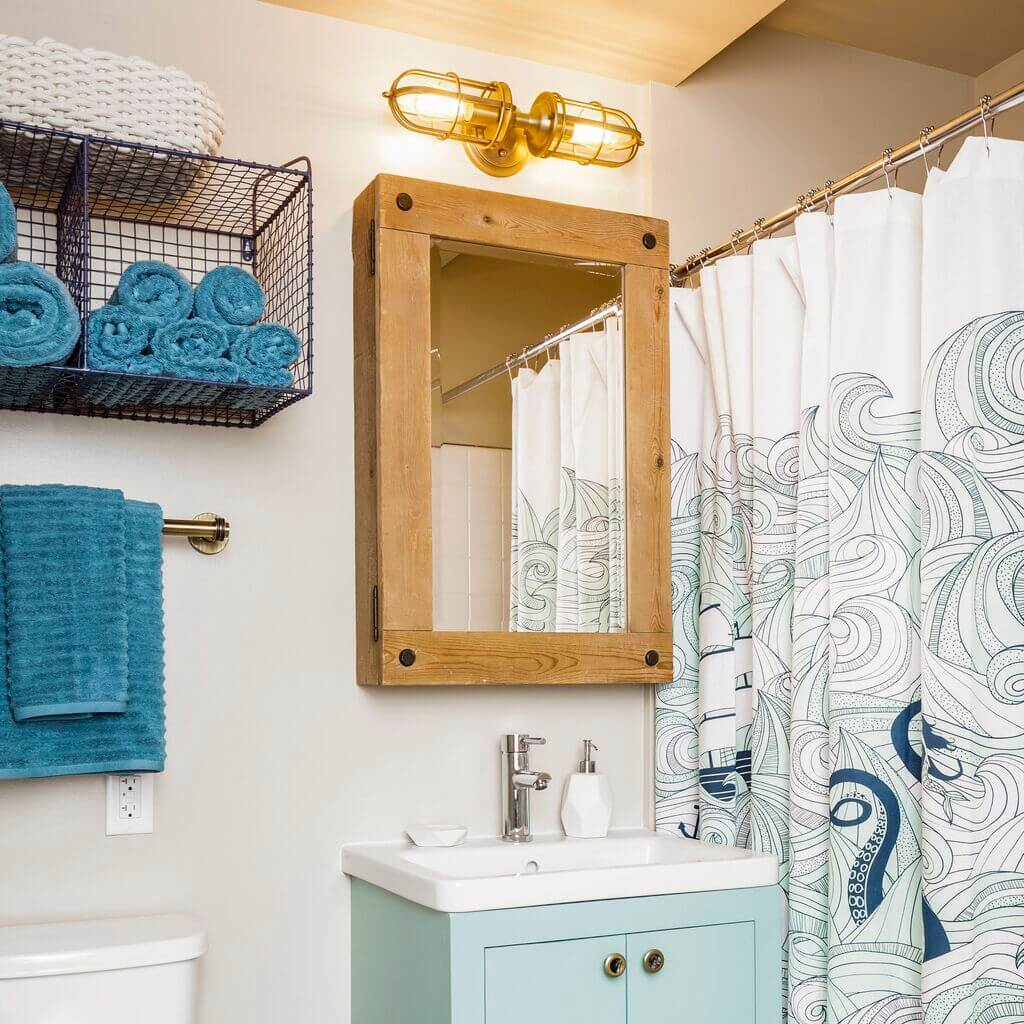 Source: thespruce.com
You can even have a nautical-themed bathroom. Go for shiplap-clad walls that are decked out. You can have a trough sink with two gooseneck faucets. The mirror can be hung by a rope. You can opt for seaworthy lighting to give a final touch to your nautical-inspired bathroom. You can go with copper cage-styled sconces to illuminate your mirrors.
13. Traditional Shade Light Fixtures in a Rustic-Inspired Bathroom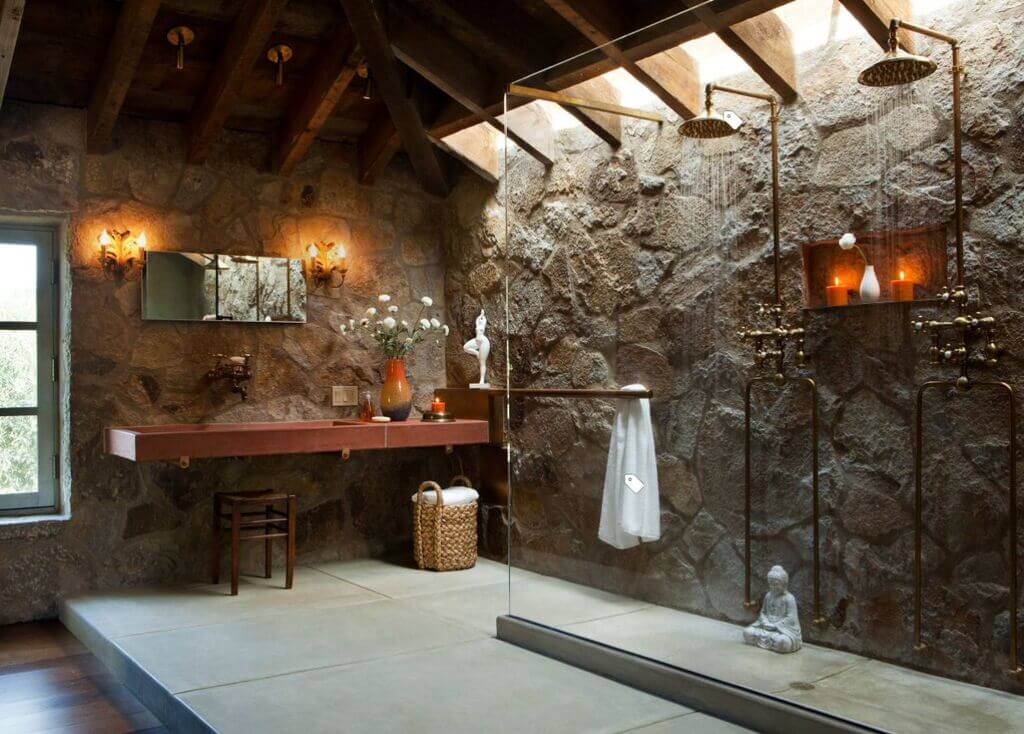 Source: homedit.com
You can go with shade sconces and even pair them with a similar shade chandelier to brighten up your large bathroom. These bathroom lighting ideas will bring traditional and old-time vibes that pair well with the rustic accents spread throughout the space, even the old wooden ladder placed in the corner.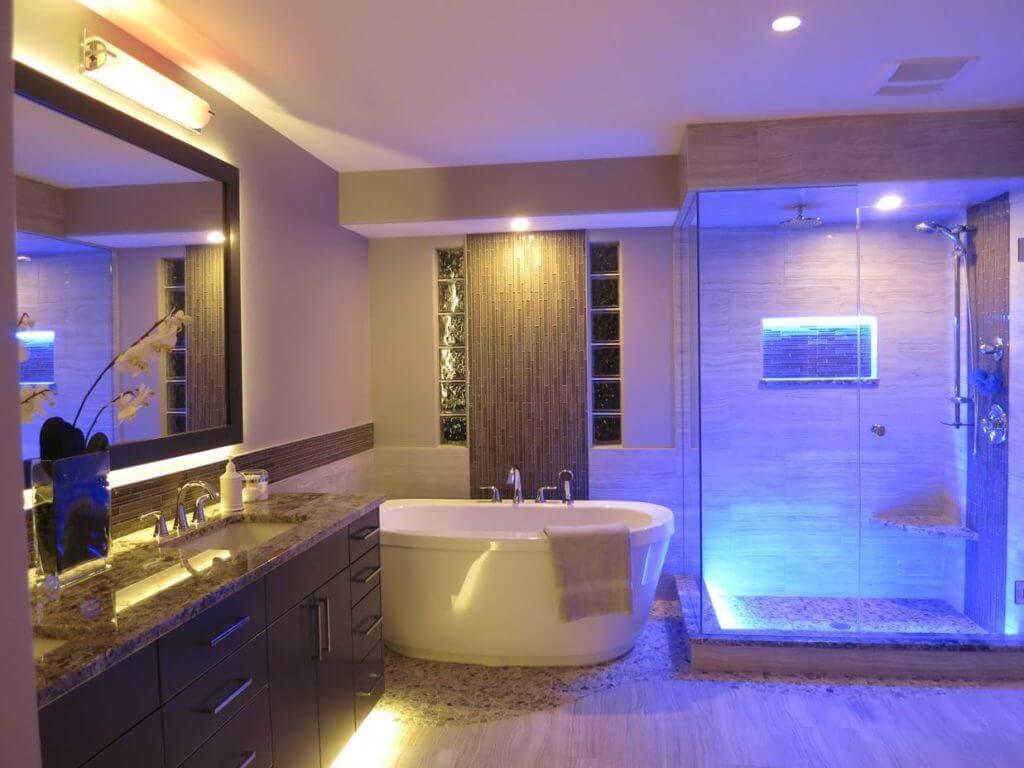 Source: thearchitecturedesigns.com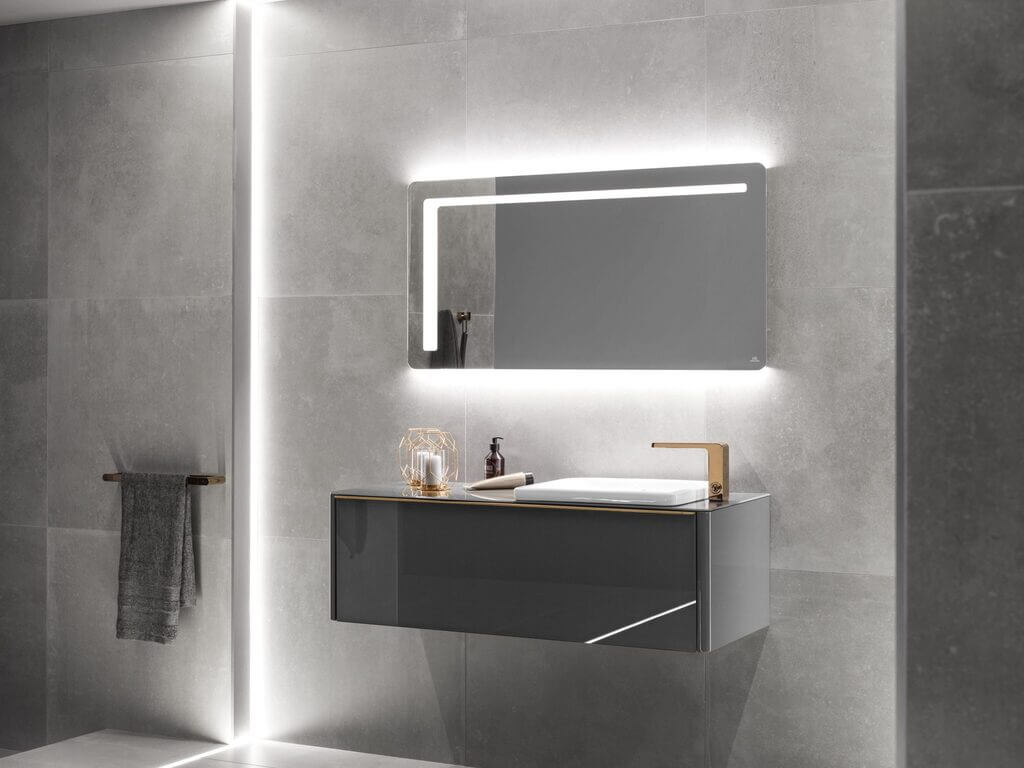 Source: foyr.com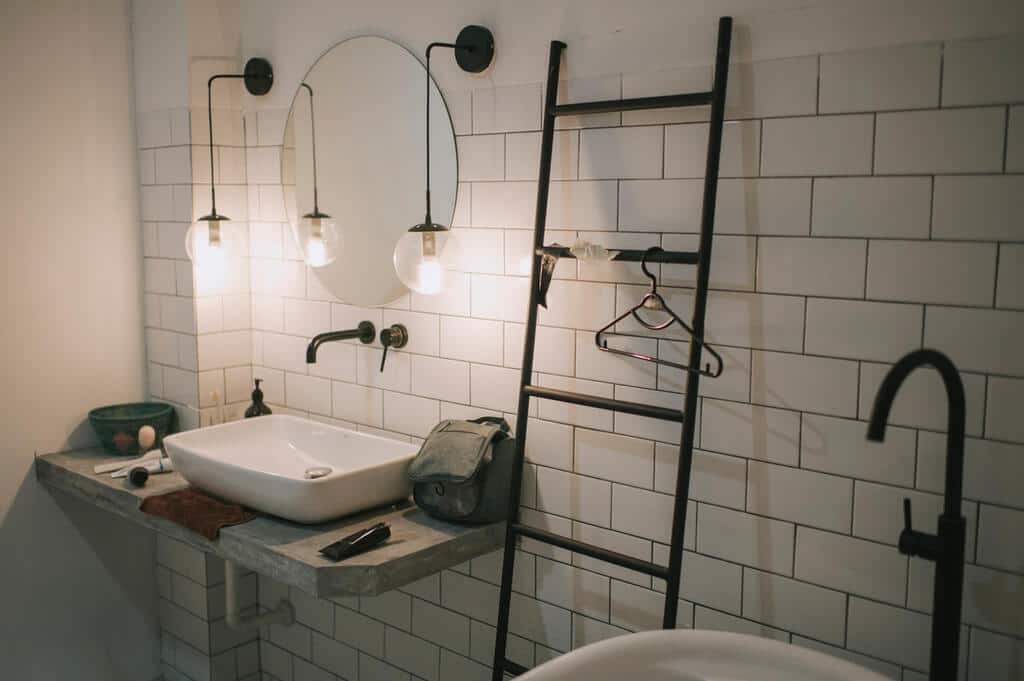 Source: bobvila.com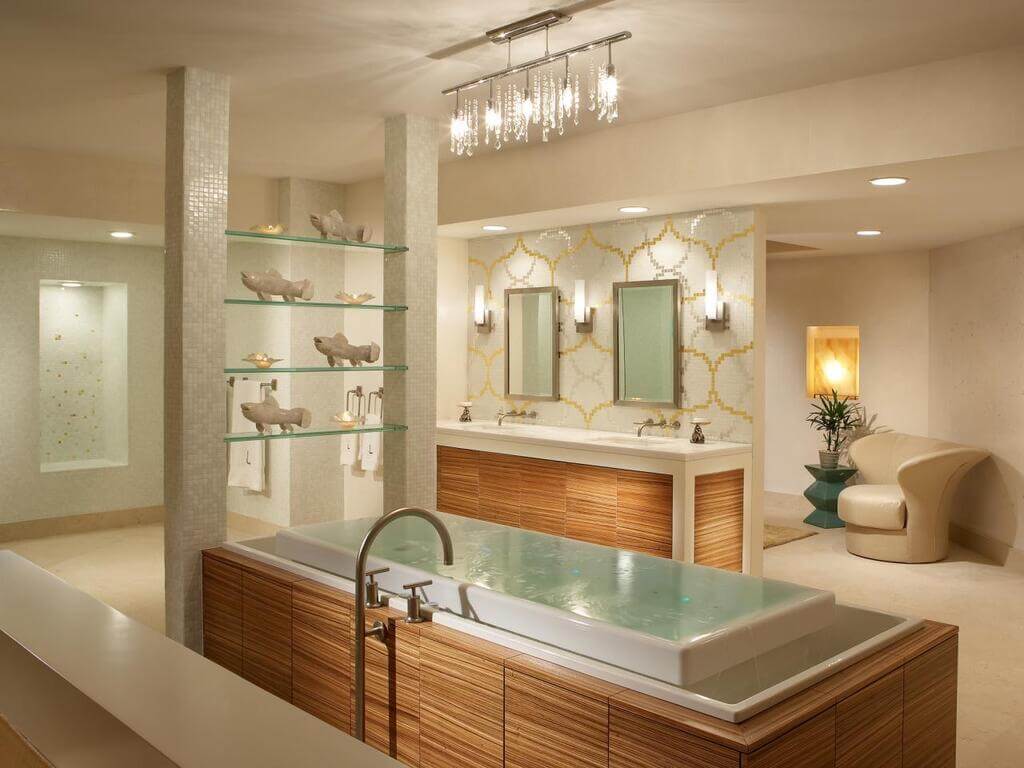 Source: sndimg.com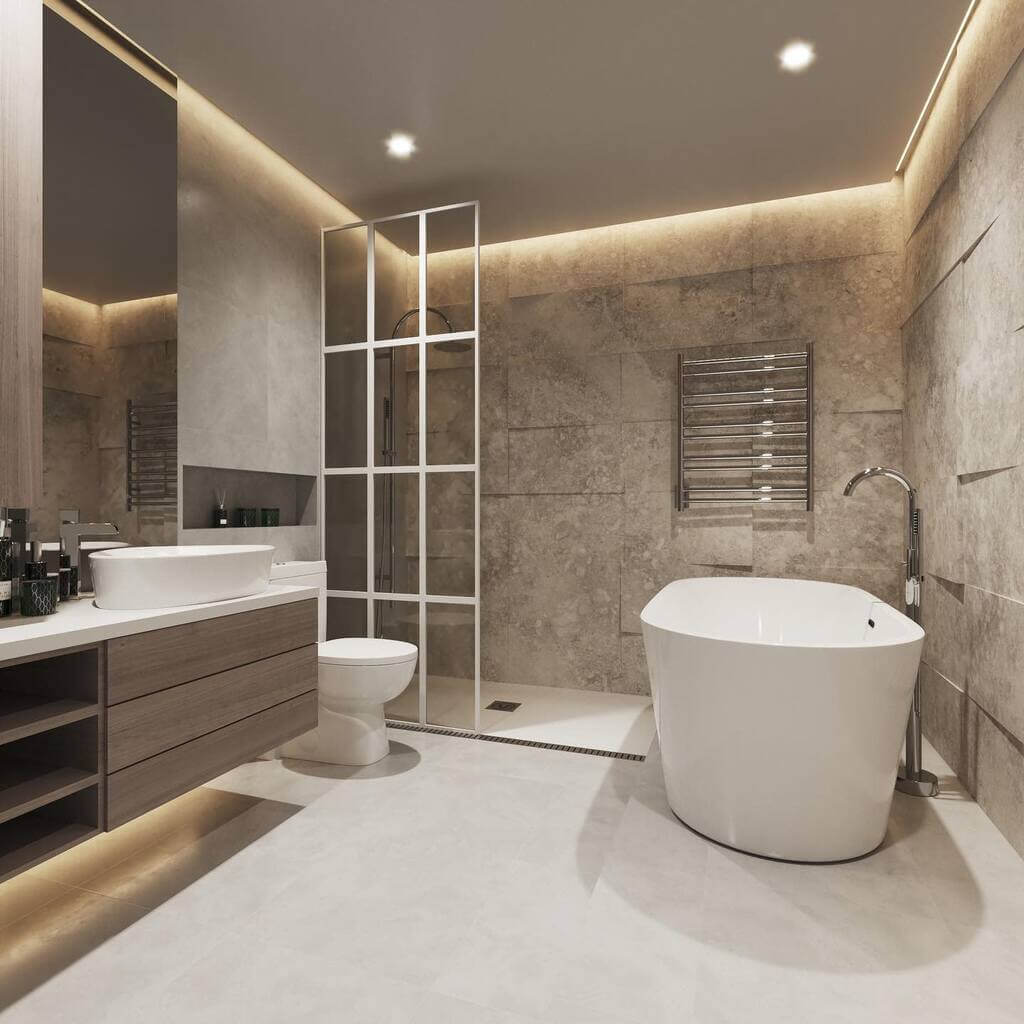 Source: trendey.com
Source: kreatecube.com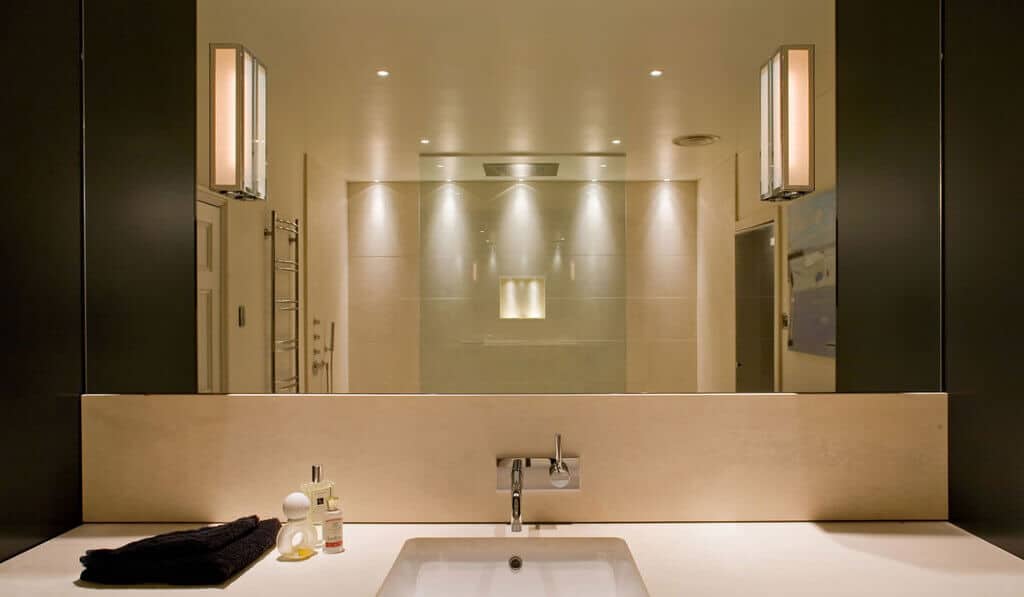 Source: thearchitecturedesigns.com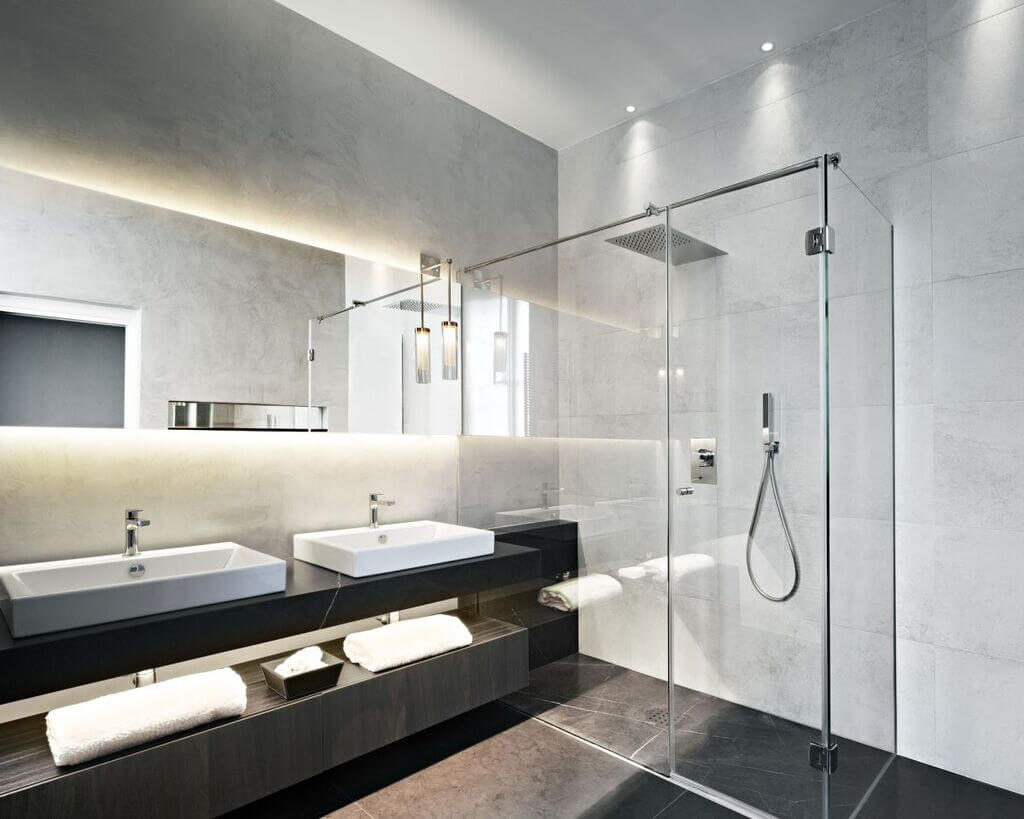 Source: futurecdn.net
Which are your Ideal Bathroom Lighting Ideas?
These 13 wonderful bathroom lighting ideas might have made you aware of the lighting possibilities for your bathrooms. You can explore the various types of lighting from ambient, rope, task, mood, etc. You can even go crazy and combine two-three lightings to achieve a better ambience. 
Hopefully, these bathroom lighting ideas inspire you to take a bold and beautiful step and revamp your bathroom.
To know more about Home improvement ideas, Cleaning and decoration tips visit ArchitecturesIdeas.
For daily updates, follow us on our Instagram page @architectures_idea.