Modern LED Wall Design & TV Panel Design Ideas
Do you remember your granny's television? It was enormous and so heavy that if we wanted to watch a show then its tuning was never set at the right time. You needed the patience of a God to set that frequency…Right? Hahaha… Ya old times…old memories…but they are beautiful!
But in this 21st century, nobody has those kinda television sets (Thank god!). Now we have the ultimate LED TV and QLED curve TV, UHD TV, and so much more. The quality of pictures from these TV's amazing, but that will in part depends on the quality of the signal being received.
This can be tested by a service engineer from a company like TV Aerials Chester or Aerial Services. Every month, there is a new led wall design that comes up with unimaginable TV features rolling in the market. But what if you buy your dream screen and there is no specific space to place it or you just simply put it on the table? You just made a hash of your dream!
To save you from that kinda situation today, we bring the best LED TV wall panel designs, to make your living area a better place for entertainment. There are many more led wall designs 2023 and you'll find wonderful TV  unit sets in the market. But, it is always exciting when you are able to customize certain things. Isn't it true?
Also Read: What You Should Know About Outdoor TV and 5 Great Picks
All the TV panel designs that we have listed down are customizable; you can always change the color and a little bit of design according to your space. 
Check out LED wall design for your home:
1. Green Walls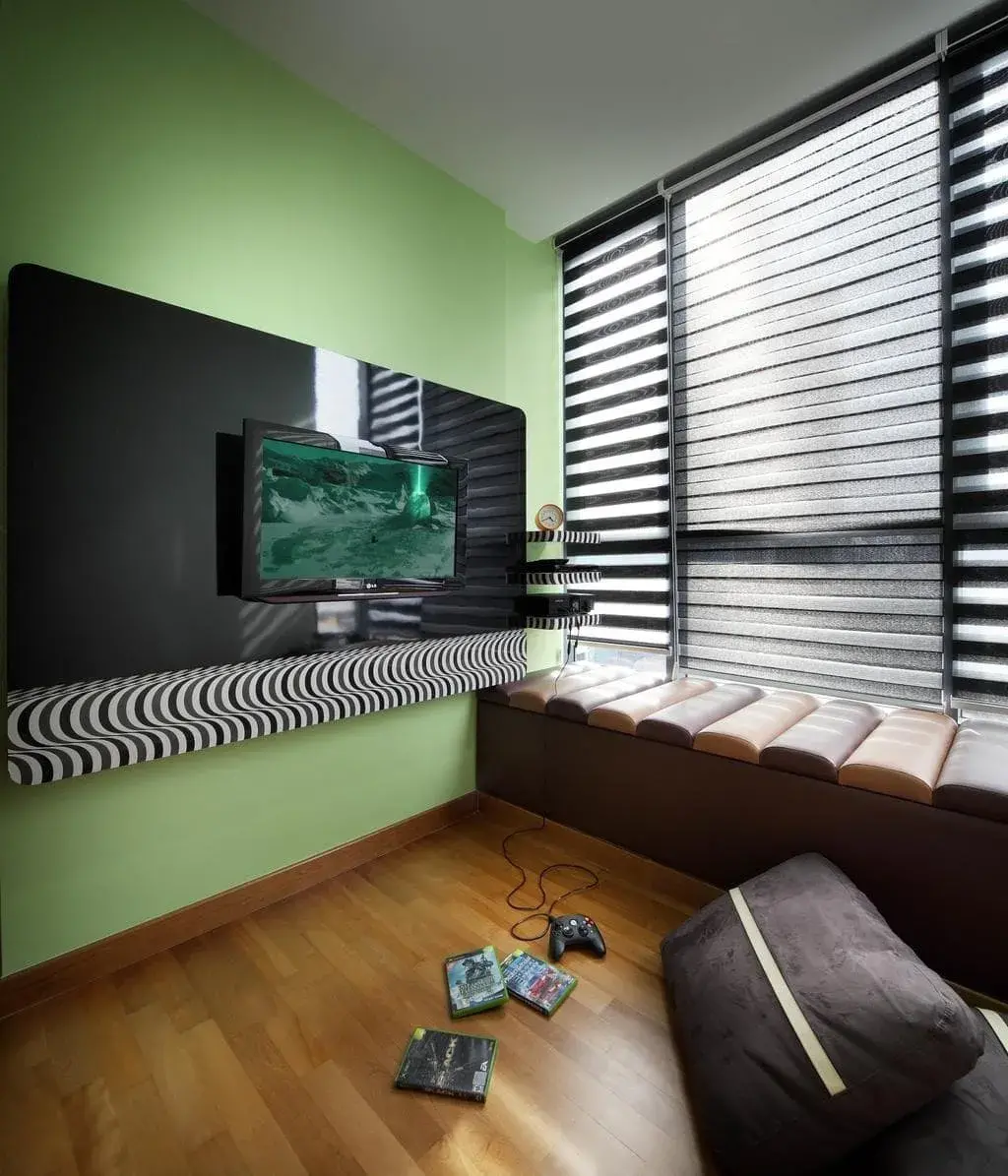 Source: cloudfront.net
We all know how much green walls are in trend these days. It is a perfect way to bring some greenery from outside to inside. You can always go for either live plants (which is kinds hard to maintain) or artificial ones (which requires zero maintenance). 
Like this house, the tv is placed in between the vertical green walls, which looks absolutely marvelous. 
2. Plywood TV Unit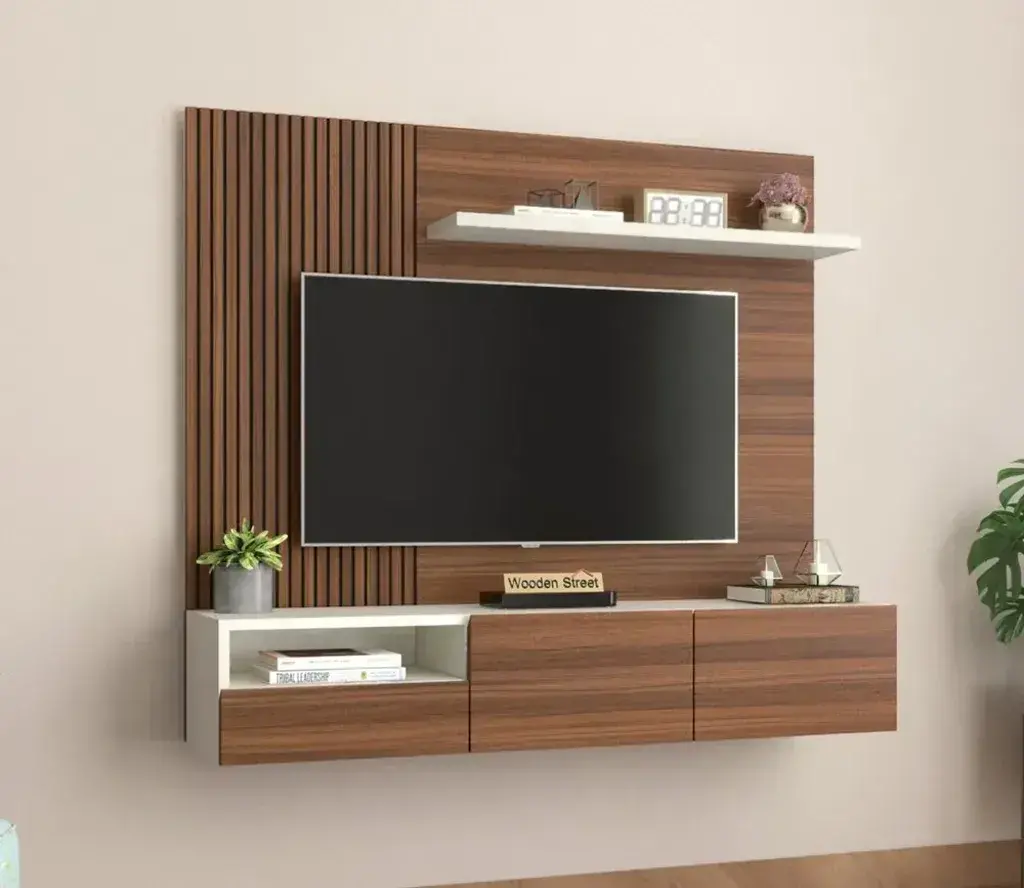 Source: imimg.com
Wood is an excellent option to bring warmth and coziness in your living area. This Tv-stand is made from plywood, which is uniquely fitted on the wall. 
3. Tv Unit + Bookshelf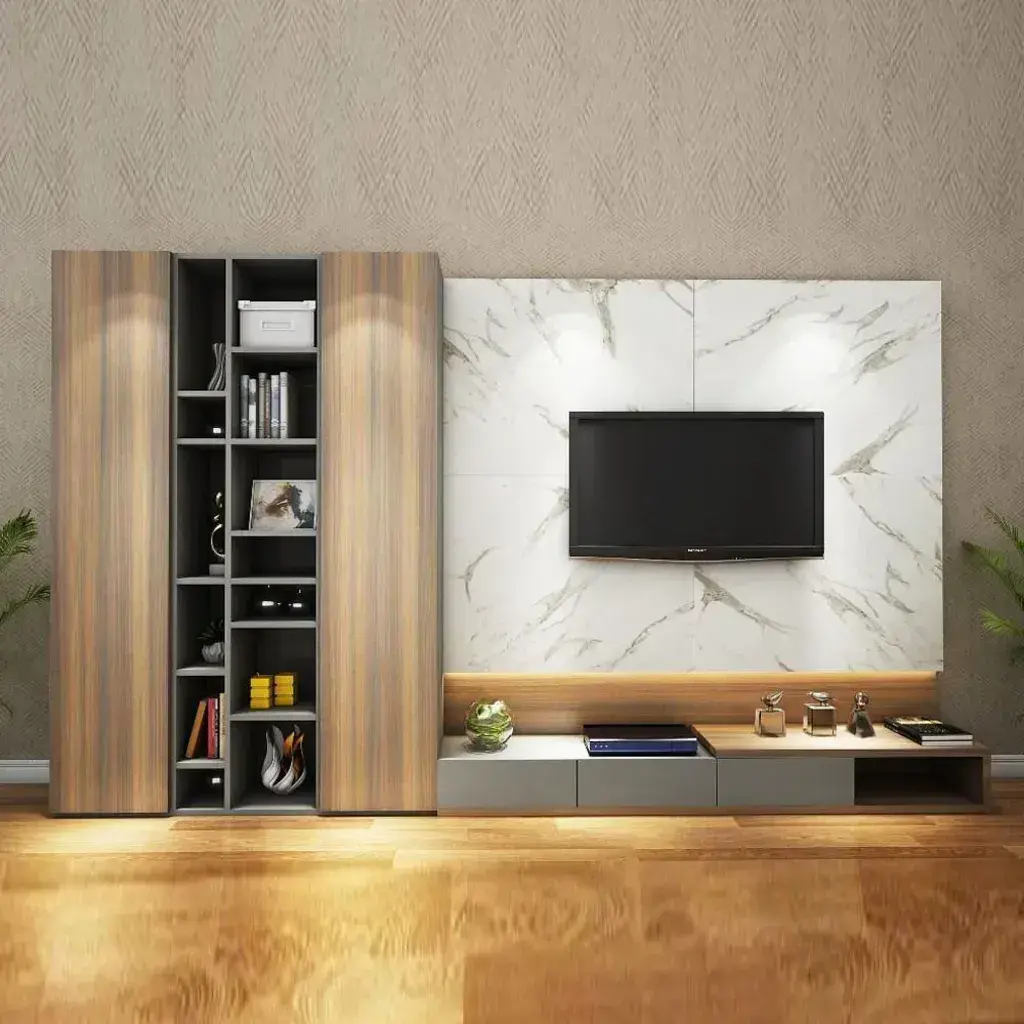 Source: shopify.com
Do you love to read books but your house doesn't have enough space for a bookcase and a tv unit? Then merge them- this is the perfect wall design for space-efficient homes.  
4. Textured Walls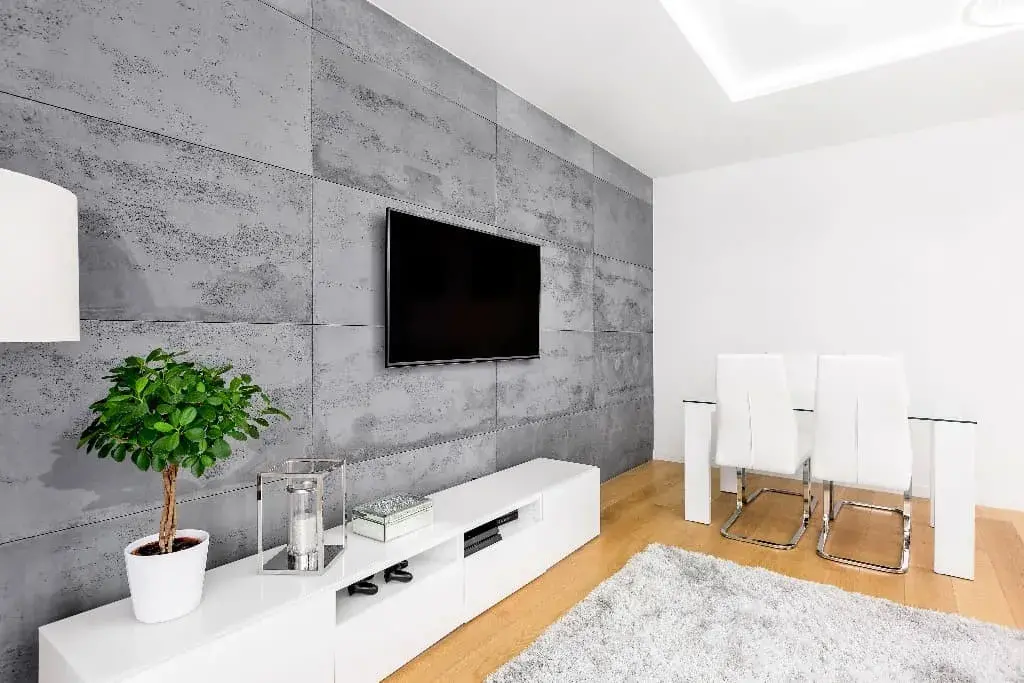 Source: homebliss.in
Another fun and creative way to display your television is the bring some textures on the wall. Use various patterns, designs and even materials such as timber and metal to create your dream living room.  
5. Family Theme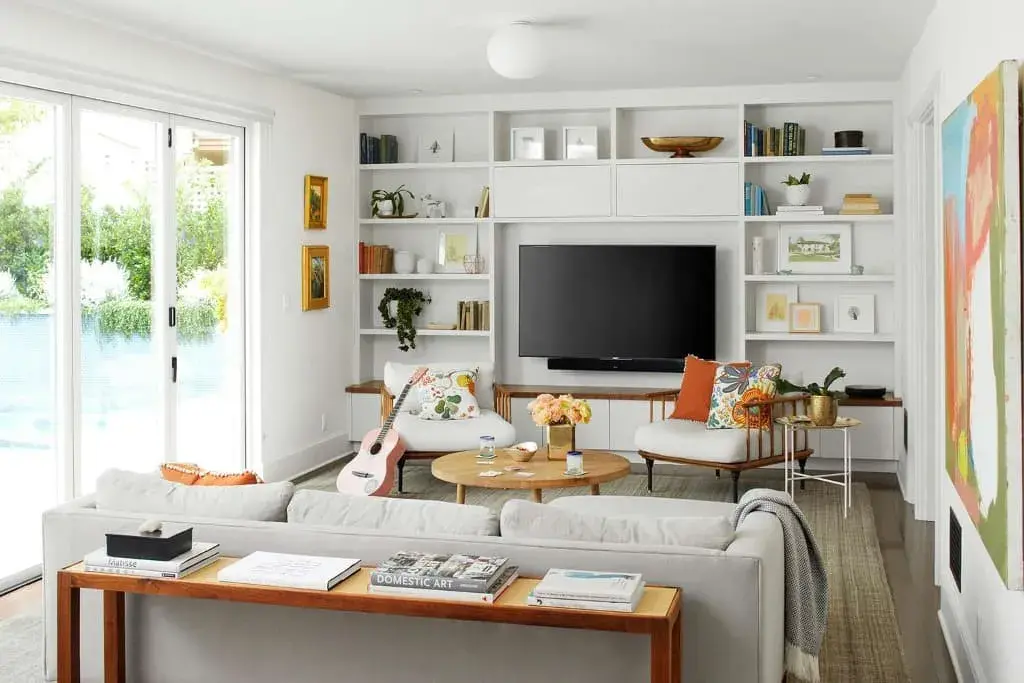 Source: bhg.com
Do you live in a classic bungalow that holds your family history, and you want to represent that in your home interiors? Then this is the best way to show that respect and love for your family. Make an accent wall and engraved your family initials on the wall with some dark background to match up the whole theme of the house. 
6. Vertical Blank Walls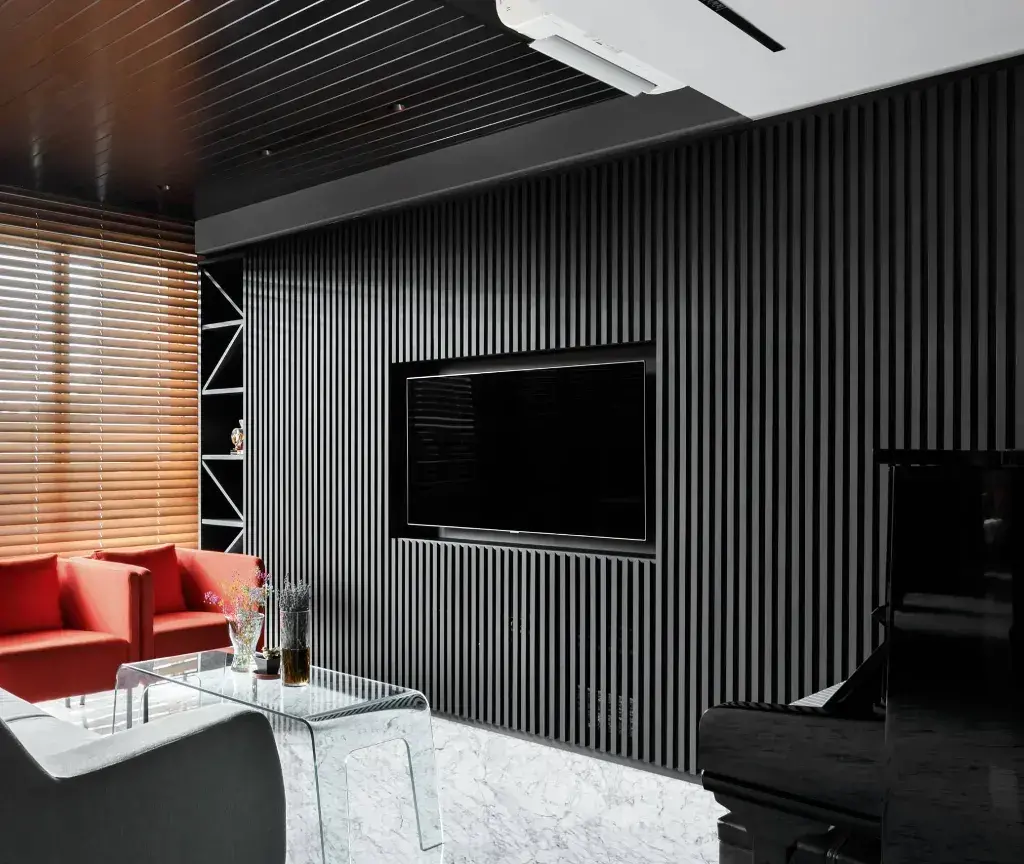 Source: shopify.com
It is quite easy to decorate a horizontal wall, but when it comes to decorating a massive vertical wall, people face difficulty doing it. So here is an expert tip for you, if you're facing the same problem, this led wall design use plywood (or any kind of background material) from the top of the ceiling to the floor, and in random patterns. This way, you're able to make an illusion, and this really brings the eyes up to level.  
7. Multi-functional Media Unit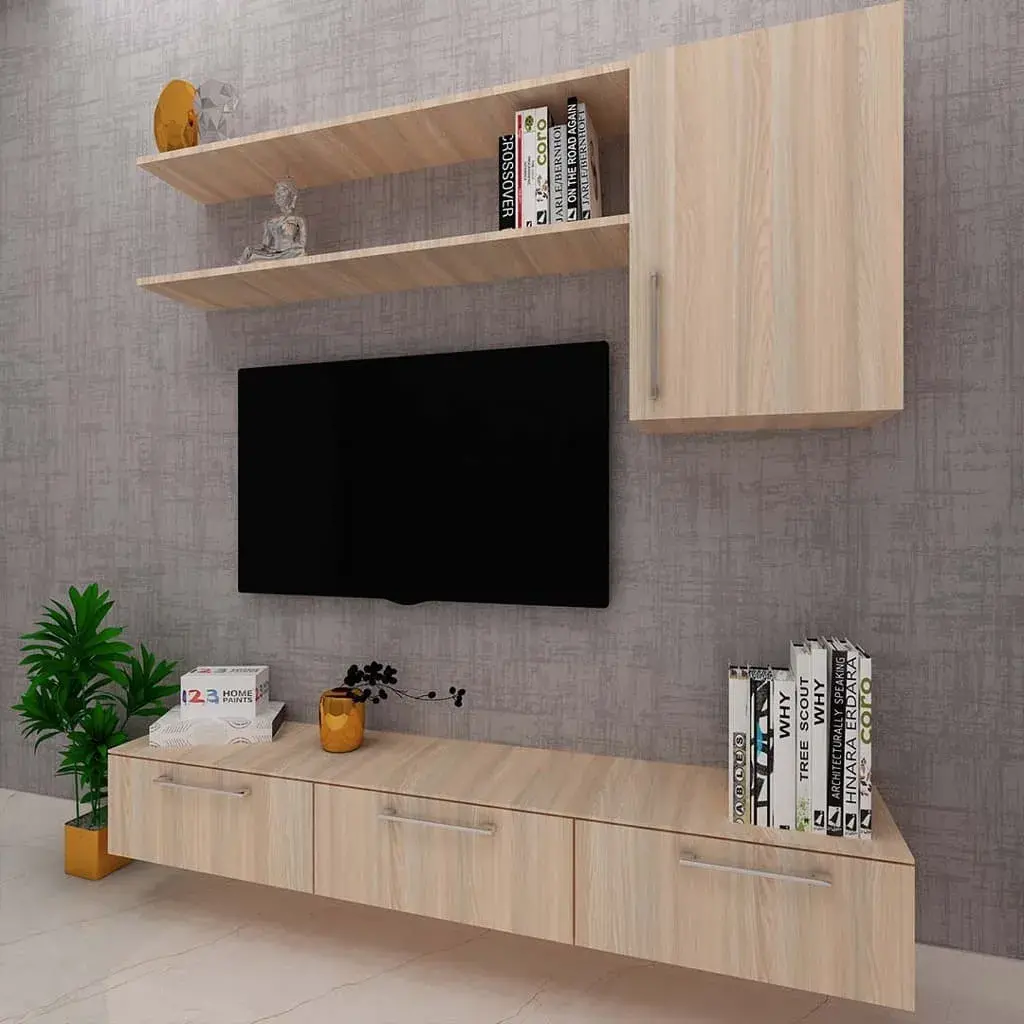 Source: homepaints.com
If you're living in an apartment, always choose furniture that you can use in multiple ways. Like this media unit, it has a place for your LED, space for your speakers and also has a spot for your book collection. And all these places are hidden means just looking at them you have no idea what this thing has that many things inside of it. 
8. Luxurious Marble Prints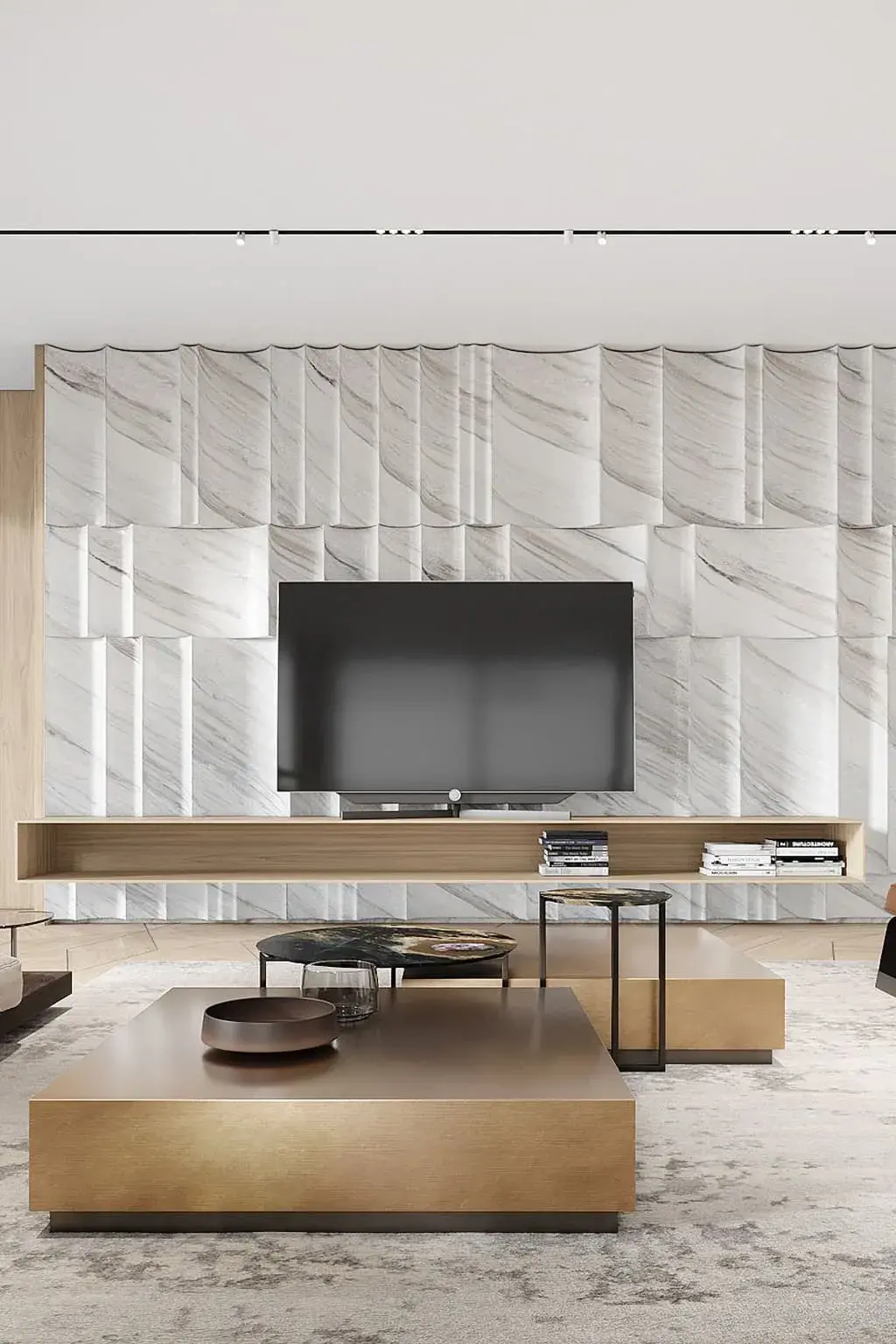 Source: feeta.pk
Who doesn't love marble print? It is elegant, and stylish, and can jazz up any place. People are crazy about this print from mobile covers to kitchen countertops, you'll see this classic print literally EVERYWHERE!! So this time try out your media unit. 
9. Blend-In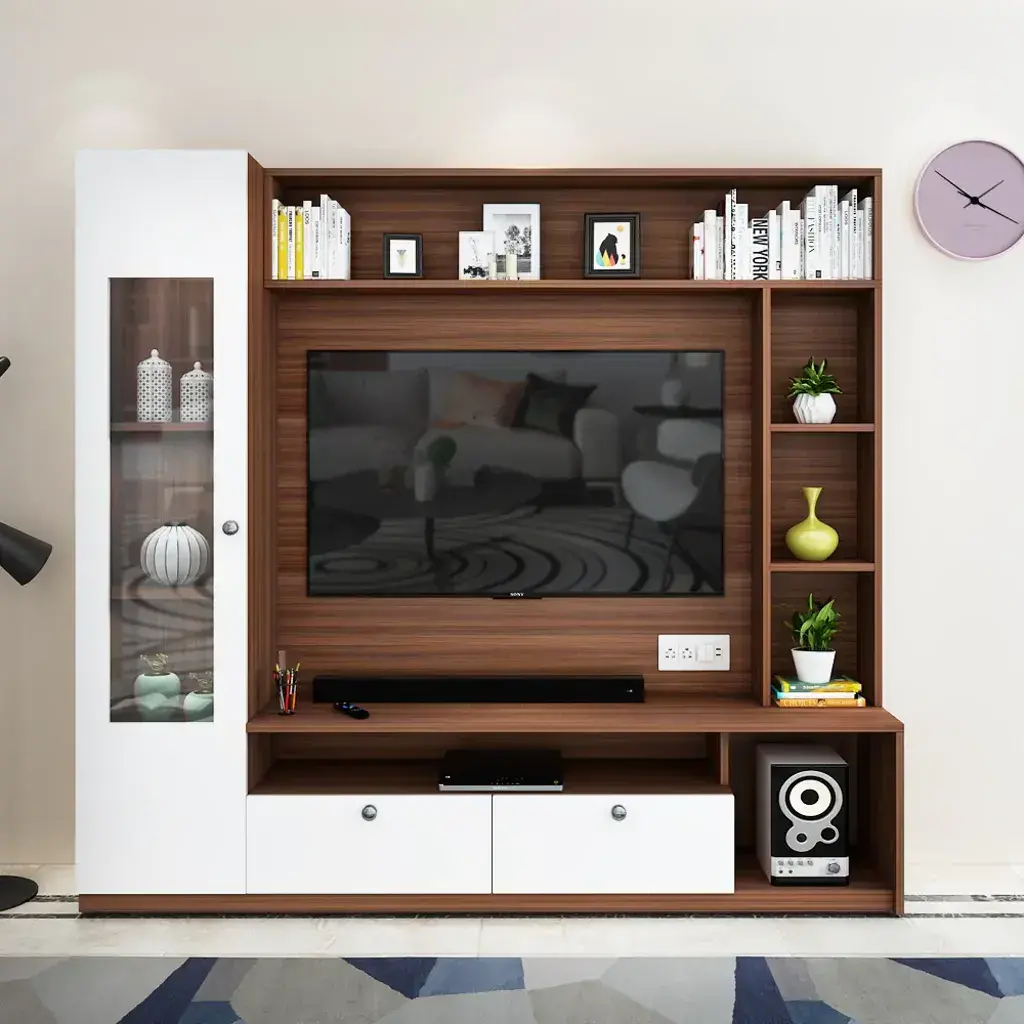 Source: shopify.com
There is also another amazing led tv wall design for small homes in that the television media units are never located in a specific place in the living area. Place the TV as it is on the wall with no other extra interior decor, this way, it will beautifully blend with the rest of the interiors and your place doesn't look stuffed and tacky. 
10. Magical Lights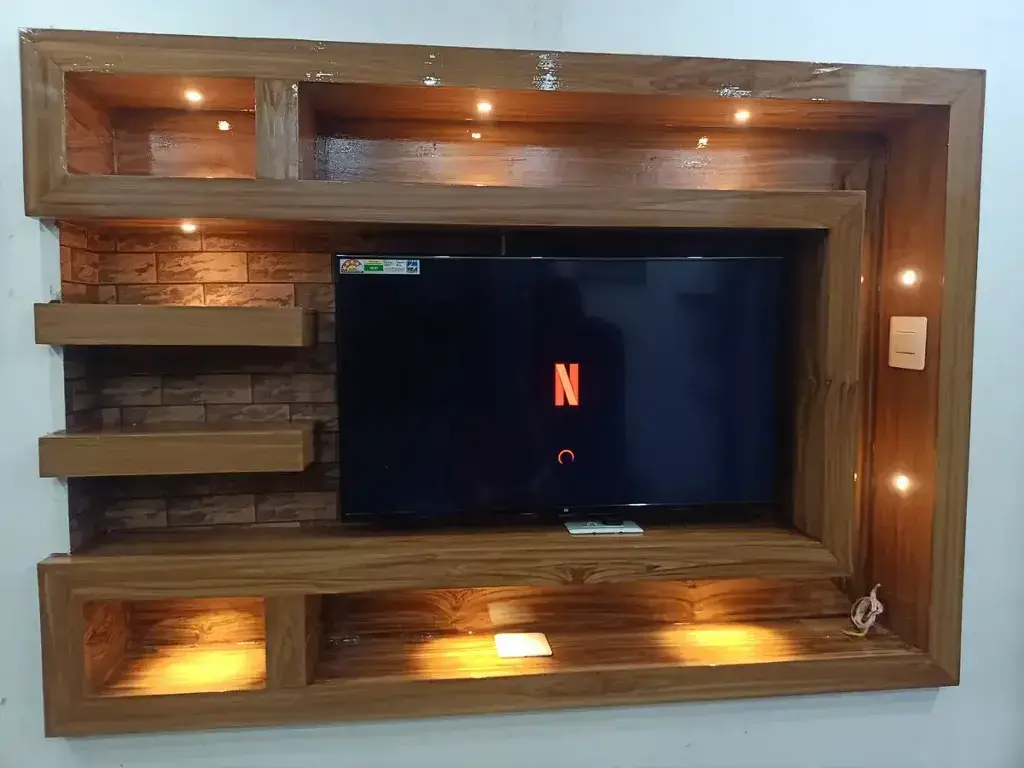 Source: koloapp.in
Place some bias lights (LED tape lighting) on the back panel of the tv. It will really look astonishing when you turn off your lights and also reduces the strain on the eyes. It kinda creates a theatre in your room, and now you can enjoy your movie nights in your personal home cinema. 
11 Zigzag Floating Shelves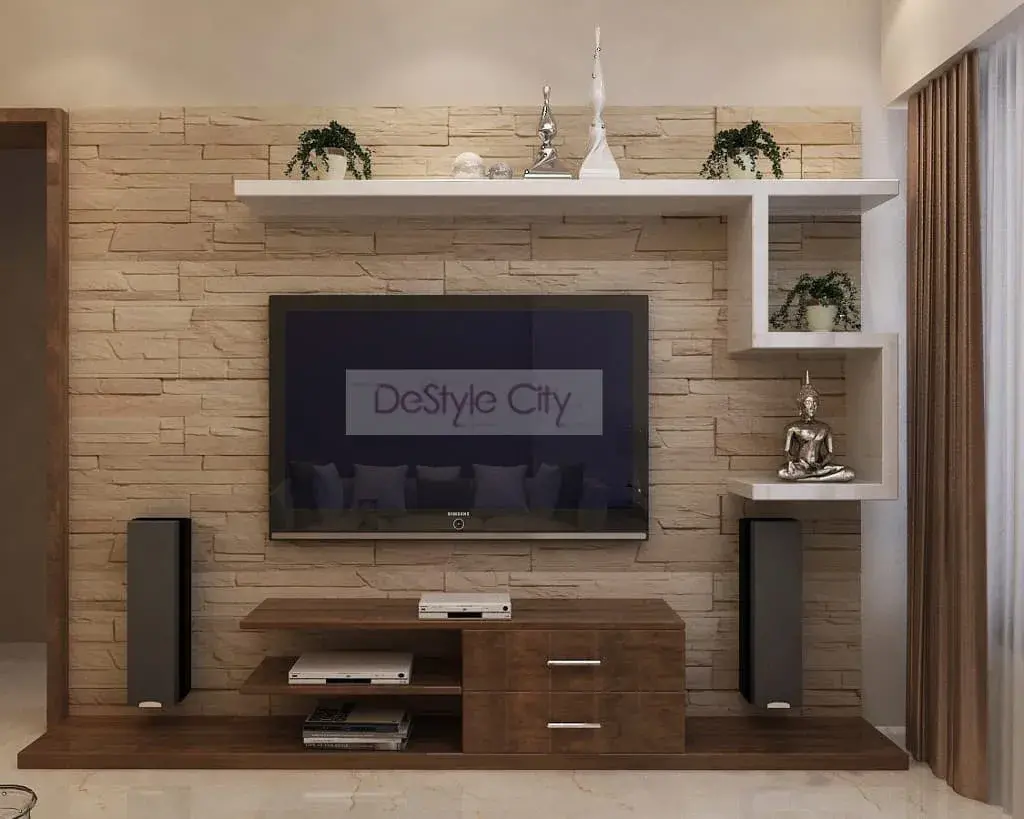 Source: pinimg.com
Place floating shelves near your media unit, it is a great way to display and store anything such as your DVD collections, books, and Xbox. 
No matter how big or small is your place, there is always a way to make it beautiful and suitable for you. Don't leave your entertainment walls plain and boring, spice them up through these led panel designs.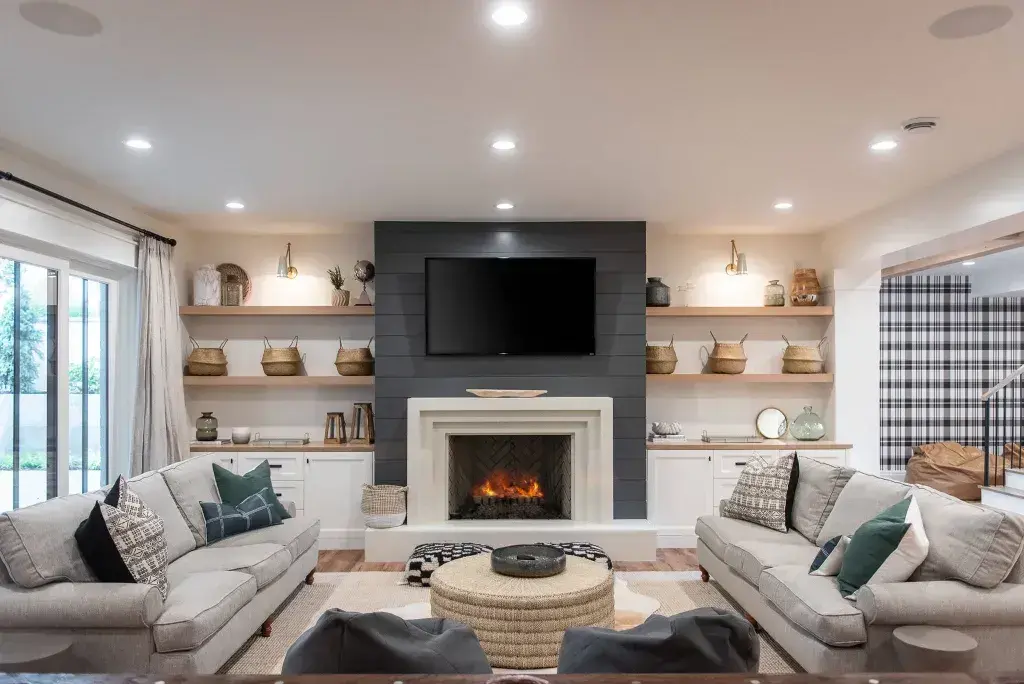 Source: tlcinteriors.com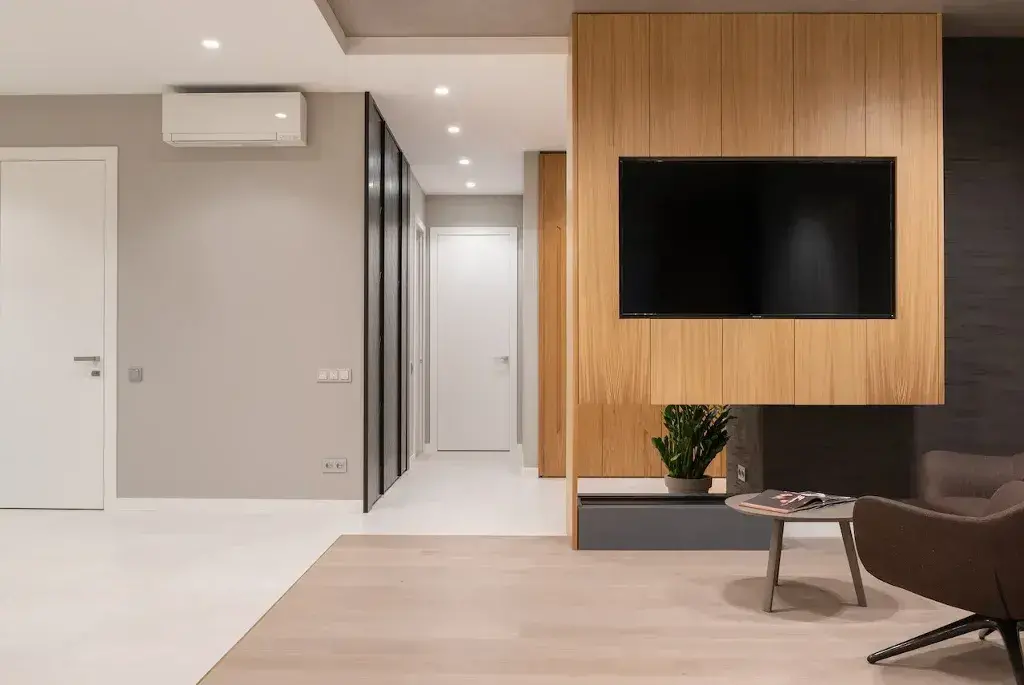 Source: homelane.com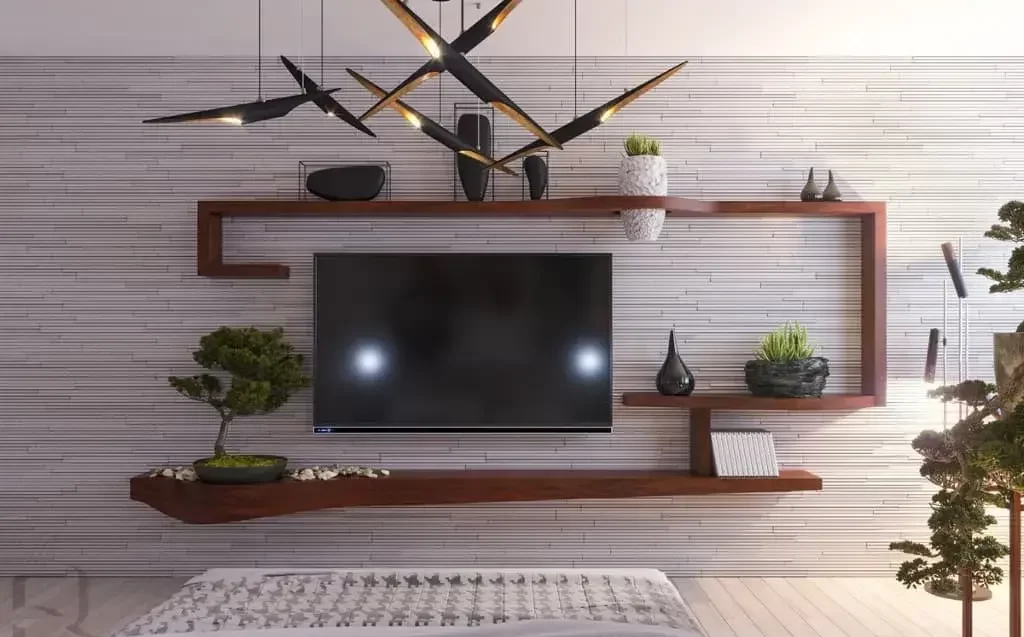 Source: home-designing.com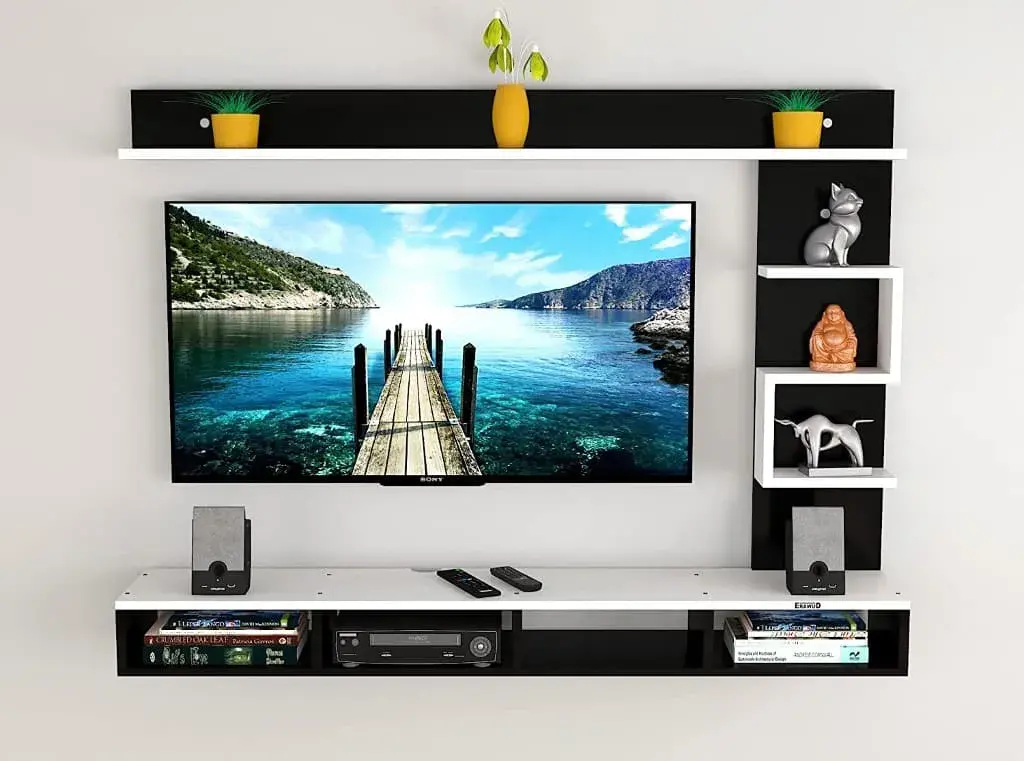 Source: amazon.com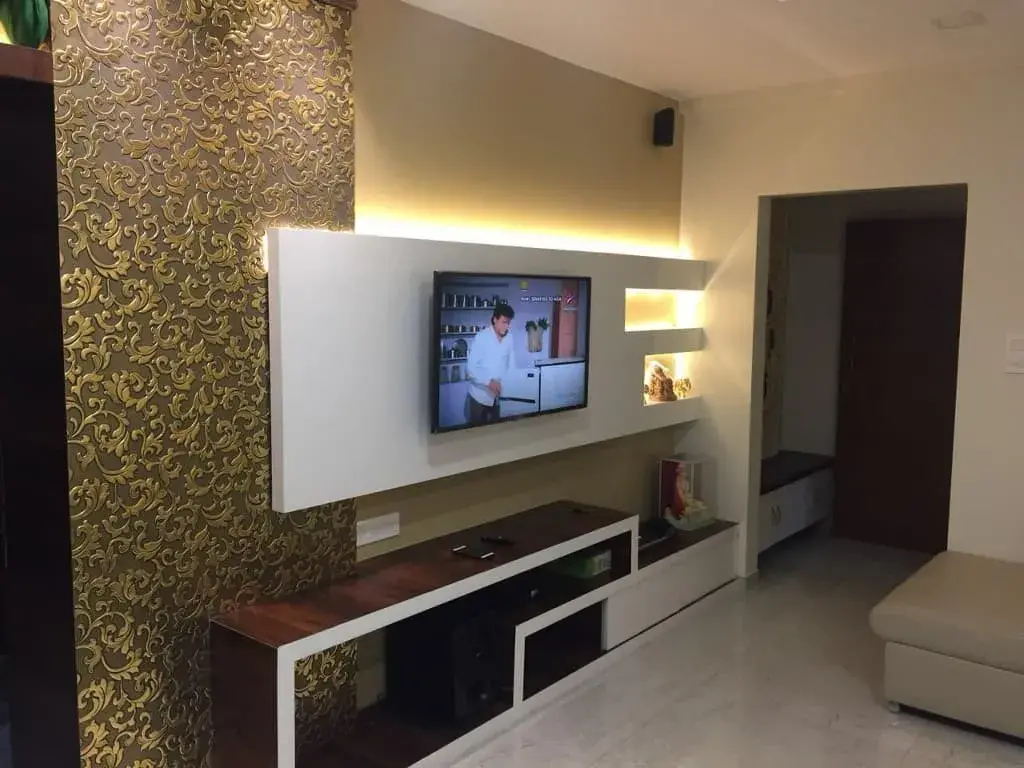 Source: makemyhouse.com
Source: mykaleidoscope.ru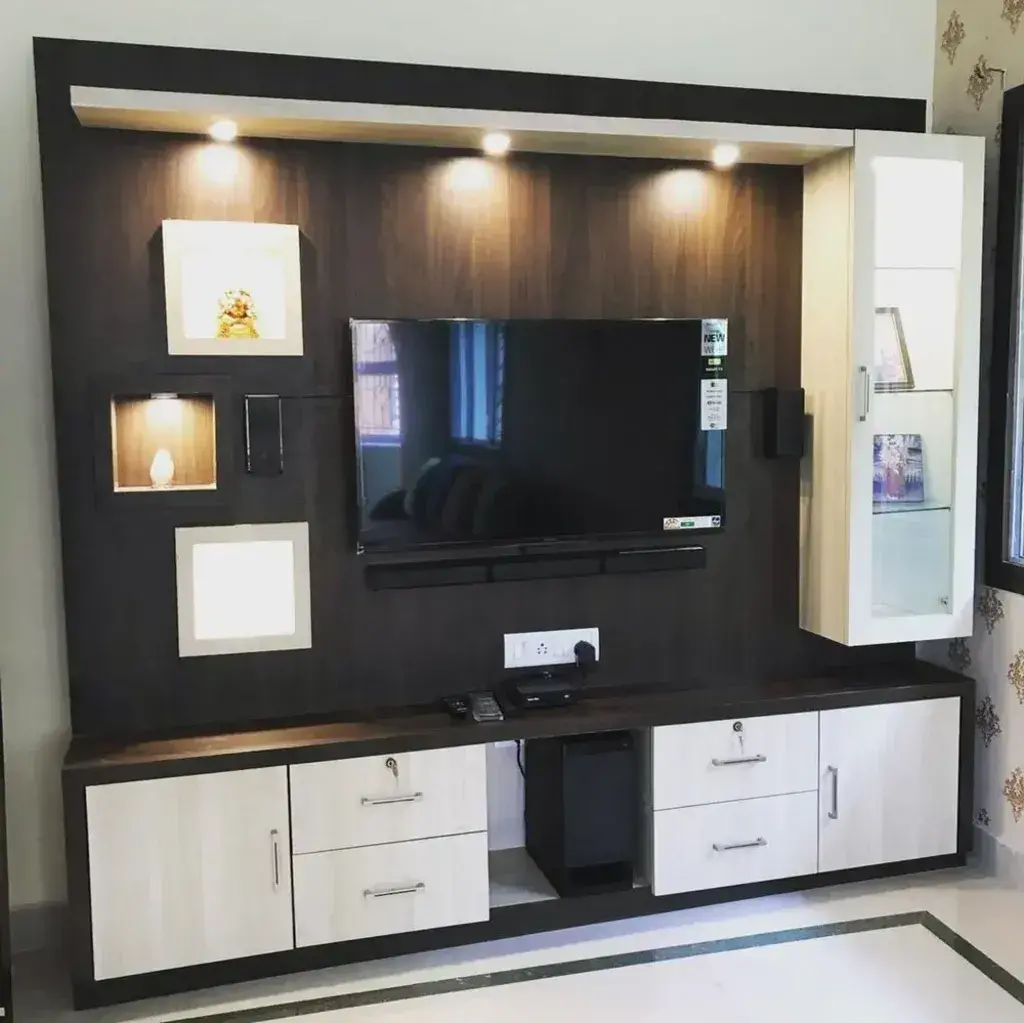 Source: imimg.com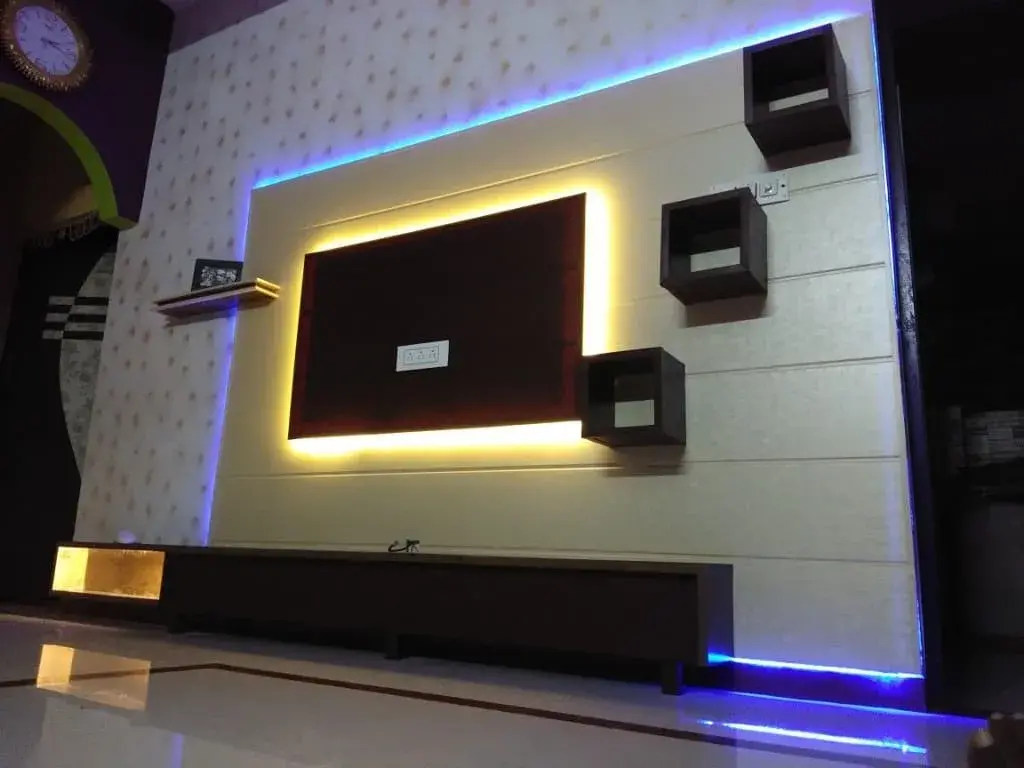 Source: pinimg.com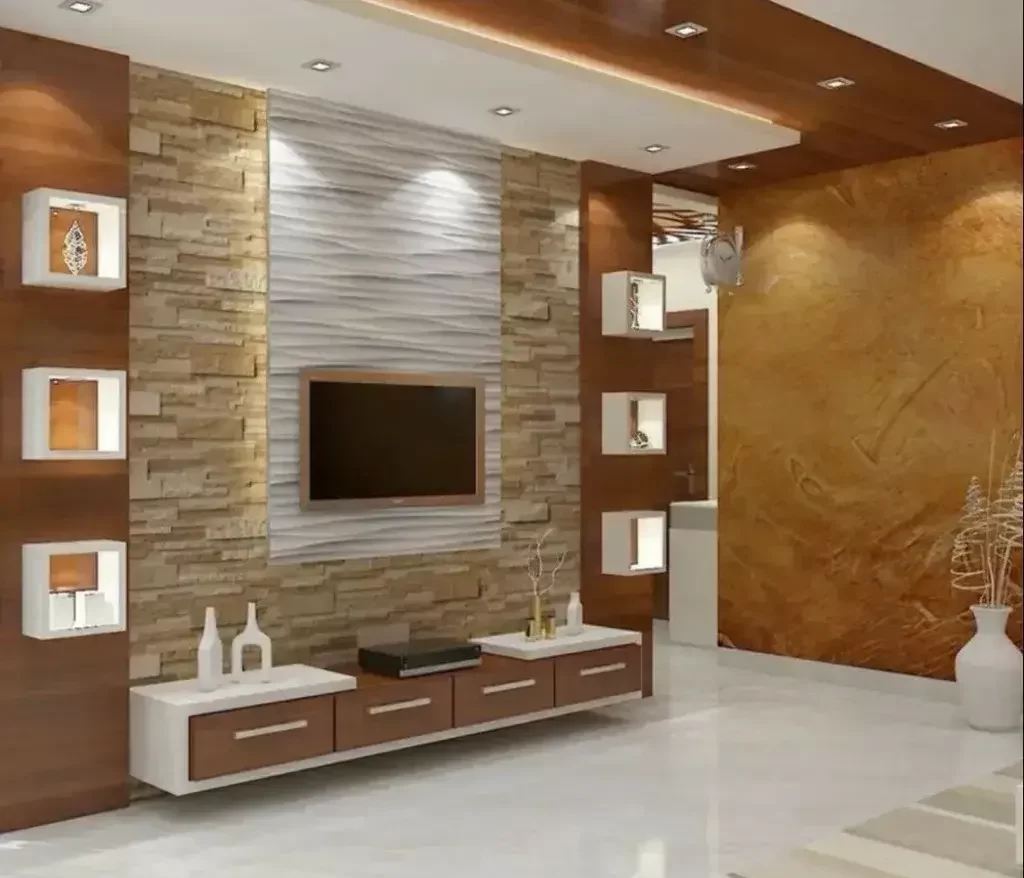 Source: imimg.com
To know more about Home improvement ideas, Cleaning and decoration tips visit ArchitecturesIdeas.
For daily updates, follow us on our Instagram page @architectures_idea.