15+ DIY Valentine Box Ideas 2023 That Are Unique and Fun!
Valentine's Day is right around the corner! This day sparks more joy to kids than the adults because all the fun happens at school. From going around the classrooms placing cards and gifts in homemade Valentine's Day boxes to sharing the Valentine's Day treats with everyone is very exciting for kids. These funny DIY valentine box ideas will spark their creativity, and they'll have a lot of fun while making them. 
Do your school-aged children want to carry the most creative and unique Valentine Box in their classroom? Here we've come up with some of the most adorable and creative DIY valentine box idea 2023. 
Don't know how to make a valentine's day box? Worry not! Creating the perfect Valentine box for your kids is a much more easy task than what you're thinking. From sweet panda bear, googly-eyed bumblebee to the retro mailbox, you'll find incredible valentine gift box ideas in here. The best thing about these Valentine's Day crafts for kids is that they're quite simple to make and that too with the materials lying around your house. 
Pom-poms, heart stickers, and multi-colored glitter, or whatever decorations you want, there are many ideas to decorate Valentine's boxes. Pick the best one from a bunch of valentine box ideas and ensure that your kids will have a great day at school with a valentines day box that truly shines among all the others. 
So take out your glue gun and markers and be ready to make beautiful homemade Valentine boxes for school. 
15+ Cute & Easy DIY Valentine Box Ideas 2023
All the class valentine box ideas for school are easy-to-DIY and will be in the right size to hold all of your kid's cards, candies, trinkets, and other Valentine's Day treat. You can make them simple or add many details; it totally depends on you. One thing is sure these amazing box ideas will help them to collect all the sweet notes and treats from their friends and make their Valentine day special.
1. Pretty Floral Mailbox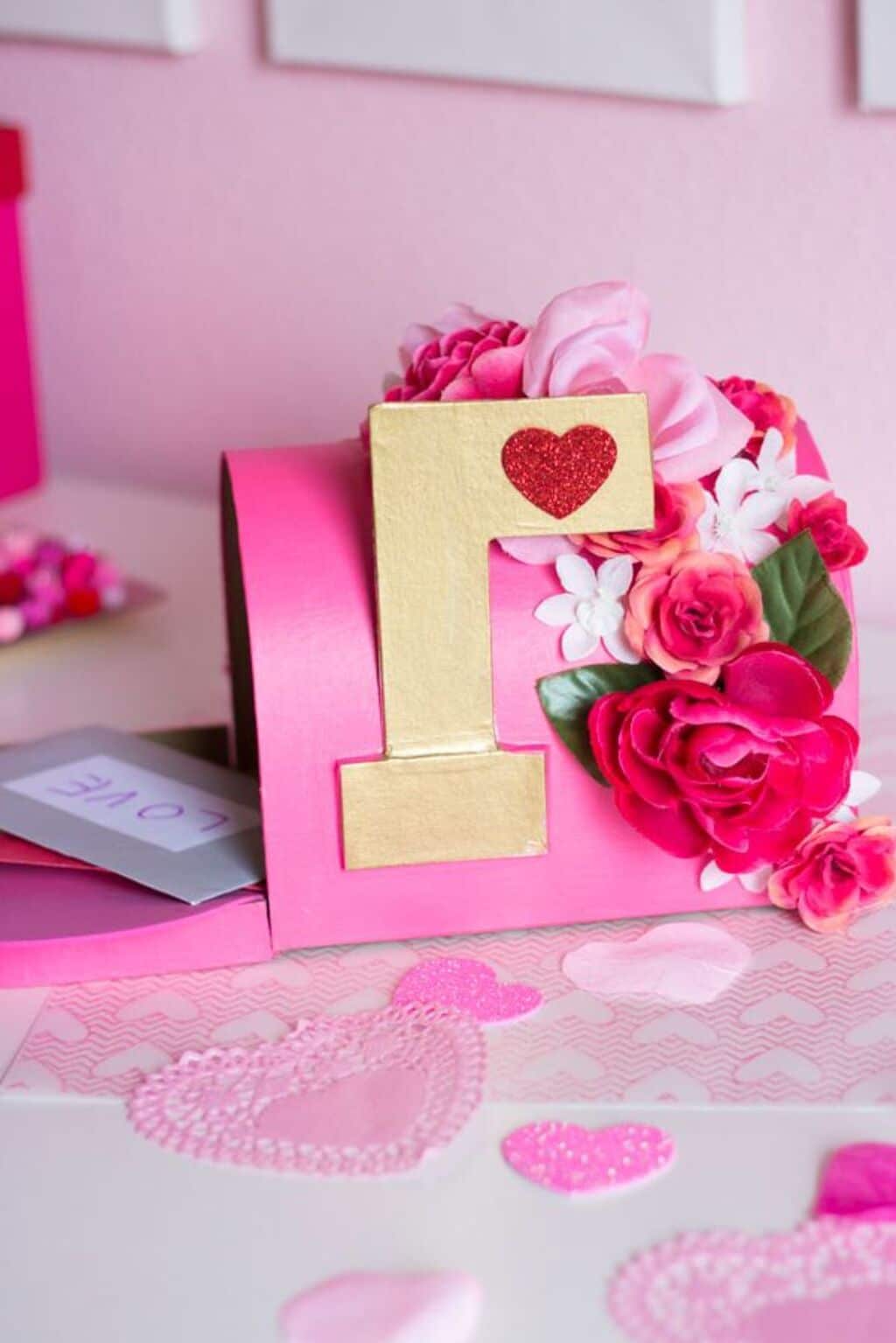 Source: hearstapps.com
What's better than the flowers on Valentine's Day? Nothing, right! So, make this cute pink and red mailbox decorated with flowers. Select the flowers which your little one chooses, and you can also help them paint their box in a bright pink or any color.  
2. Love Train Valentine Box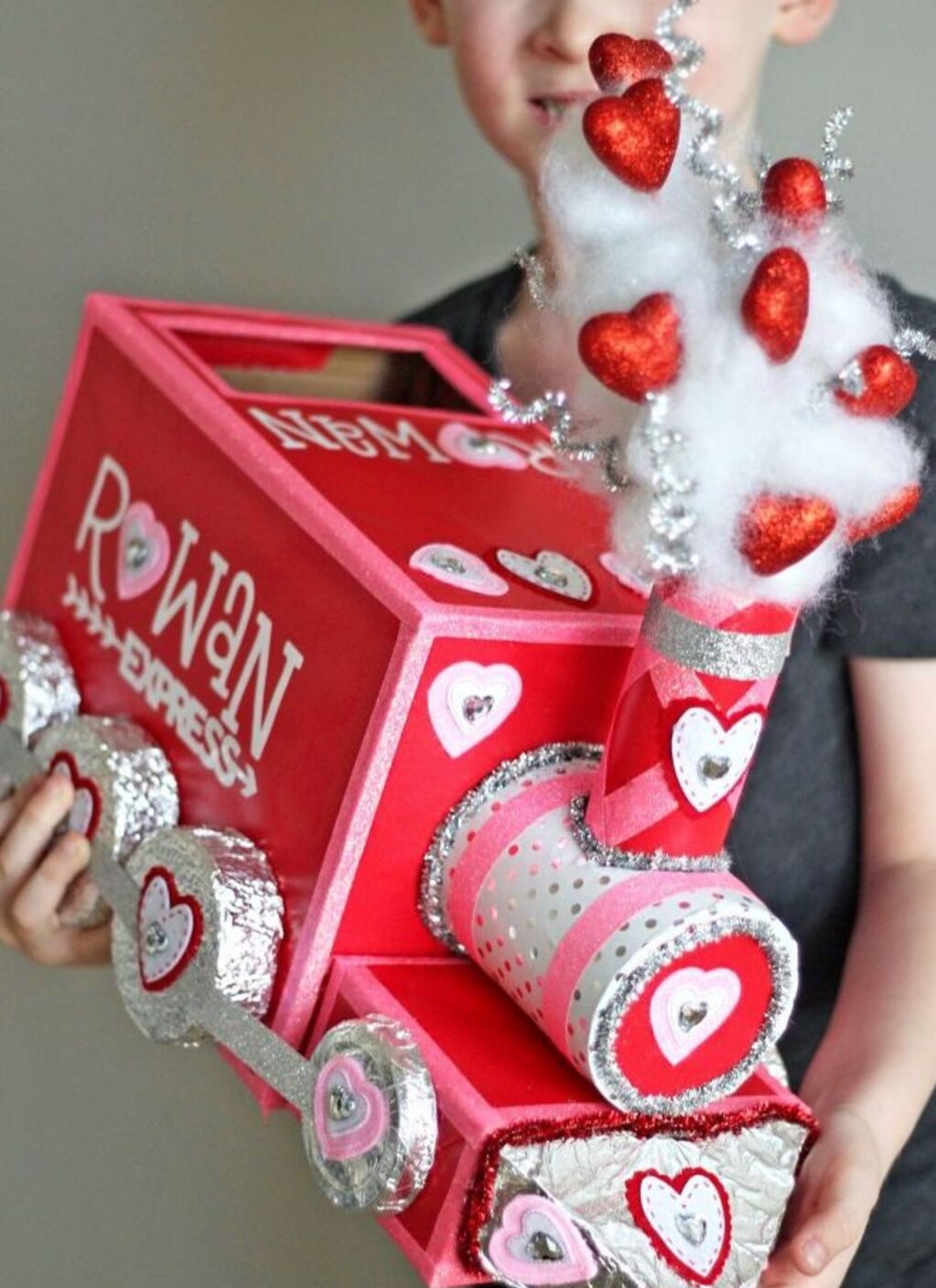 Source: hearstapps.com
Make this love mail train DIY valentine's box and ask your kid to be a conductor who will receive all the love notes and cards from their classmates! This train with a little engine will be unique, and it is one of the best valentine box ideas for kindergarten.
3. Tie Dye Valentine Box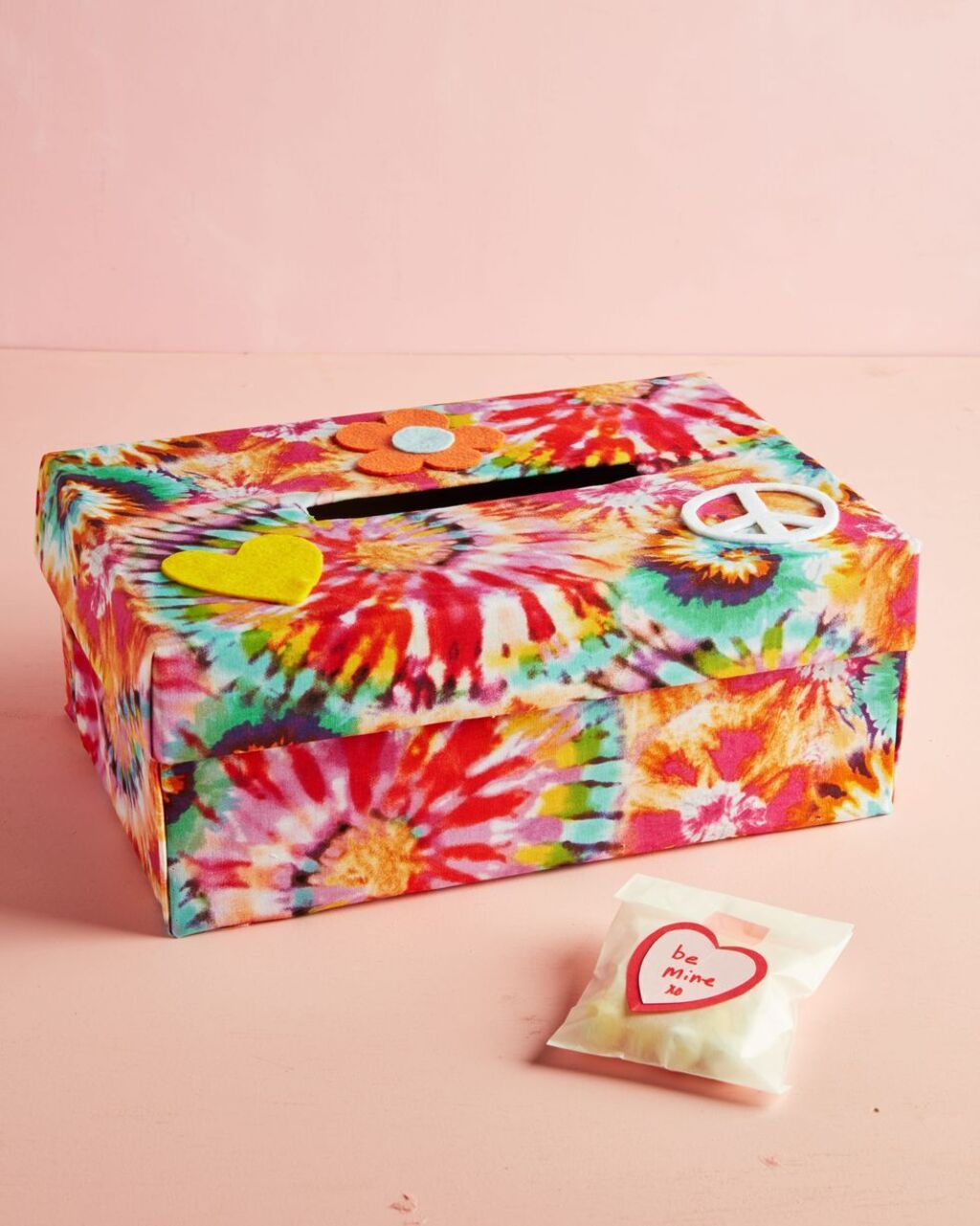 Source: hearstapps.com
Yes, tie dye is back in trend! This is a fabric-wrapped box that is decorated with peace signs and flower power. To make this, all you need is a tie-dye fabric and glue. Wrap the box in this fabric and put decorations of your choice. Your kid will spread the love with this tie-dye fabric-wrapped box. 
4. DIY Unicorn Box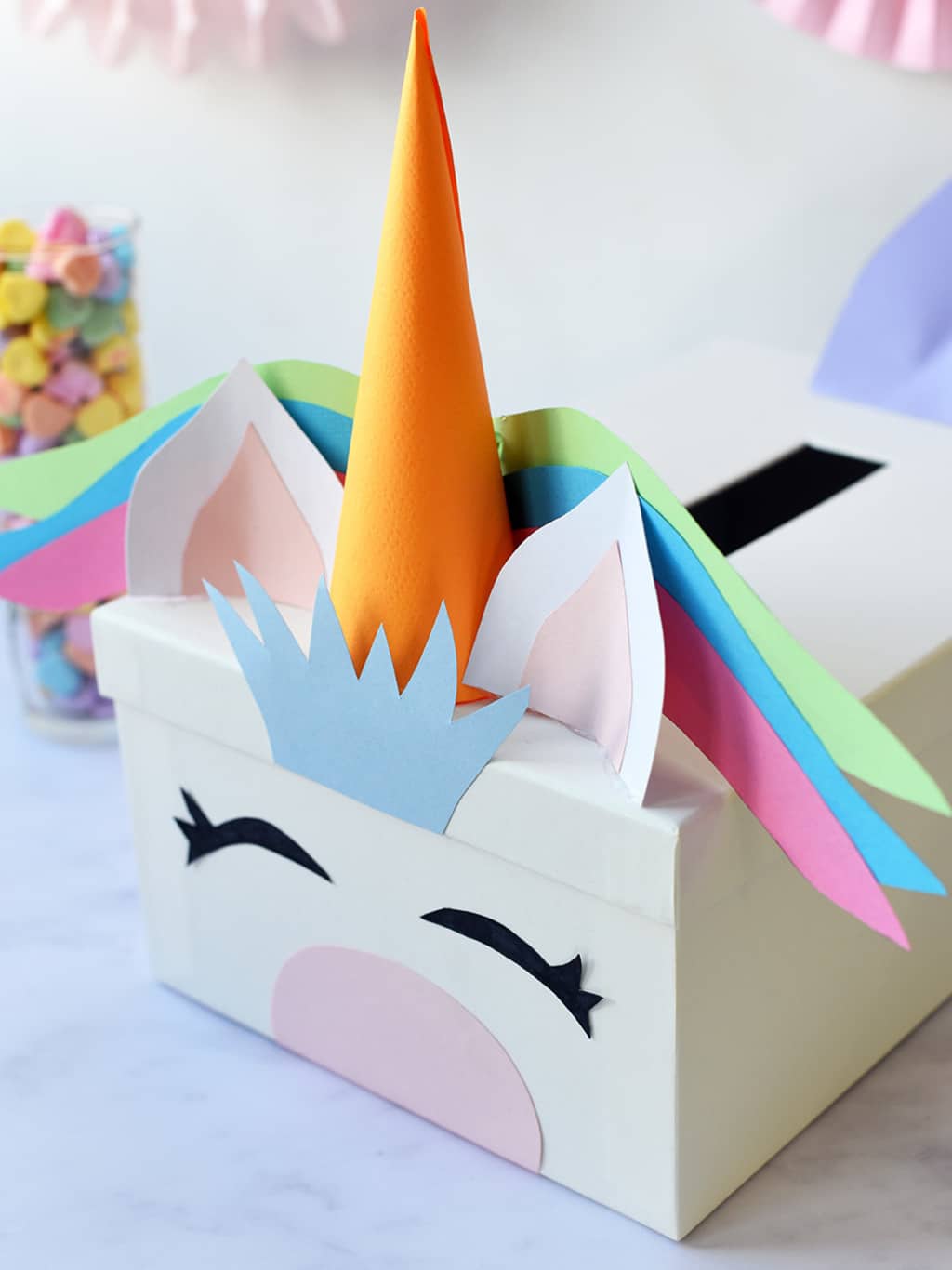 Source: orientaltrading.com
Look how beautifully a simple card box has been turned into a magical unicorn valentine box! You can download the free unicorn template online and then make your box. Your kids will be more than happy to carry this Unicorn Valentine Card Box for their school party this year!
5. DIY Taco Valentine Box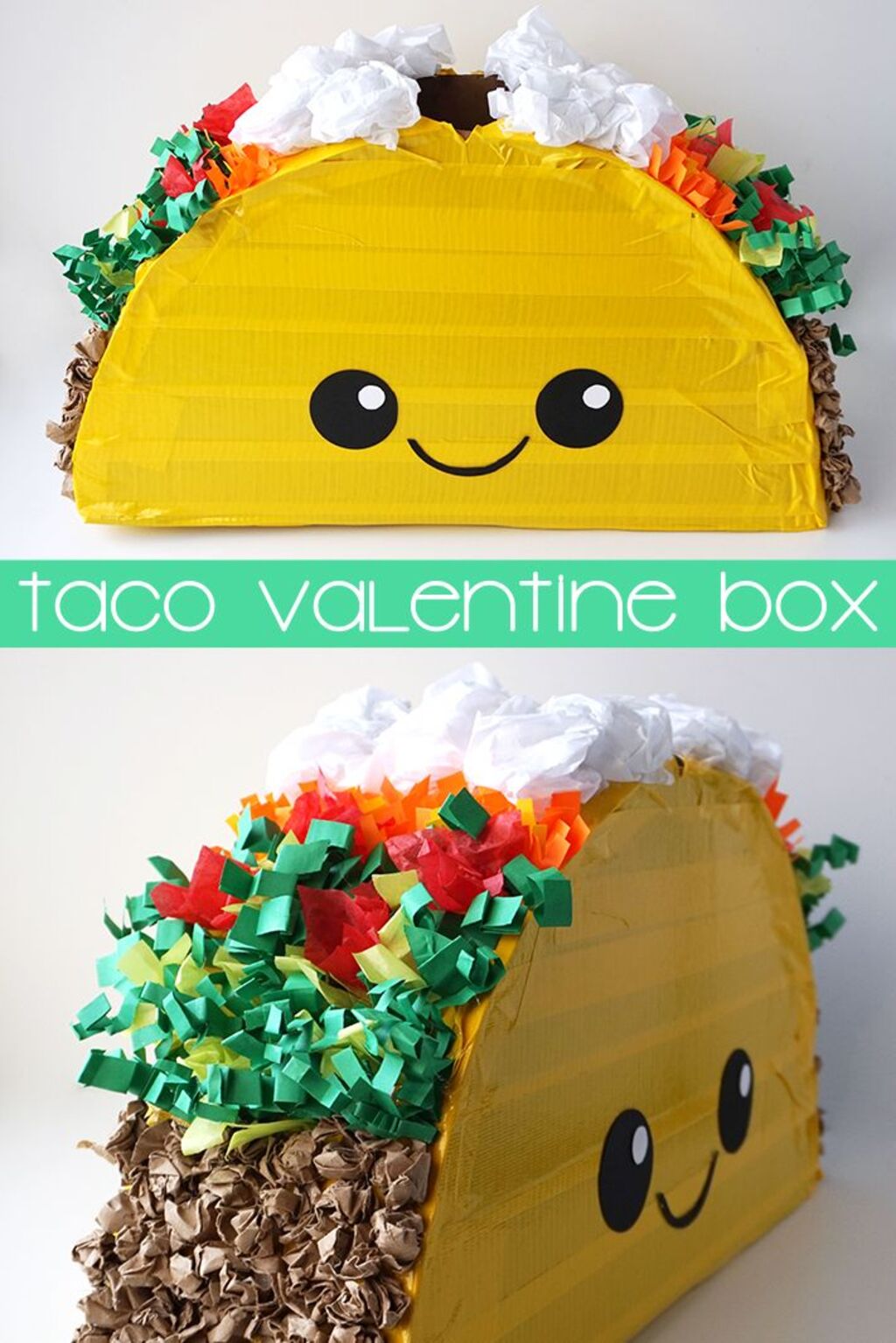 Source: hearstapps.com
Do your kids love eating tacos? Yes, then make one as their Valentine's day box! This Super easy-to-make box will make your kids day, and he'll be happy. 
6. Hot Air Balloon Valentine's Day Box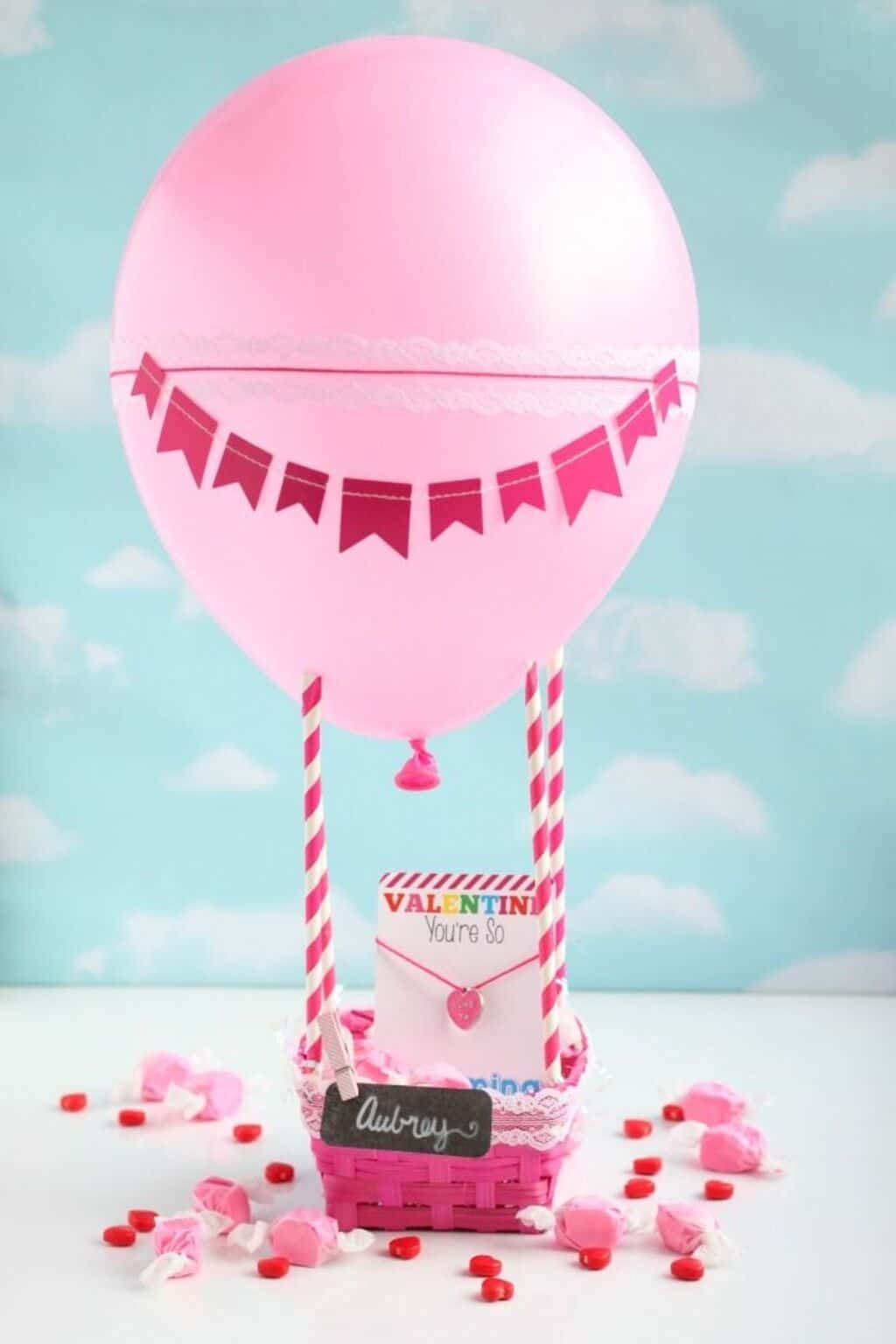 Source: pinimg.com
Another idea for cool Valentine's boxes is this balloon one. Try to make this unusual hot air balloon day box for your children. Believe me; this will take the craft to a whole other level. And most importantly, their classmates will be amazed by this cute little box. 
7. Cute Kitty Cat Box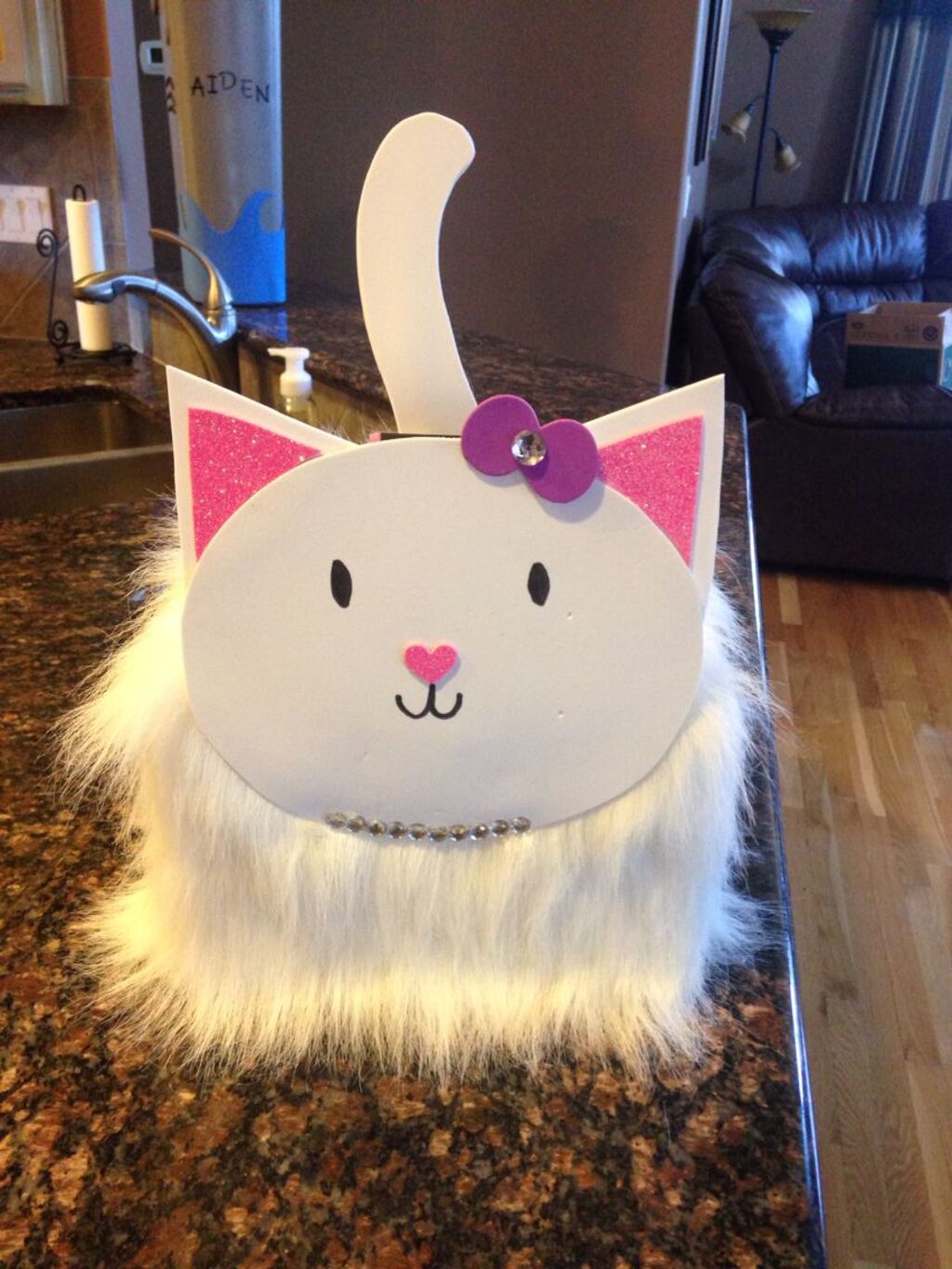 Source: pinimg.com
This will be a perfect valentines card box for your baby girl! This meow cat box is easy to make and doesn't require many things. So start gathering all the things and be ready to make this Cute Kitty Cat Box!
8. Yummy Donut Valentine Card Box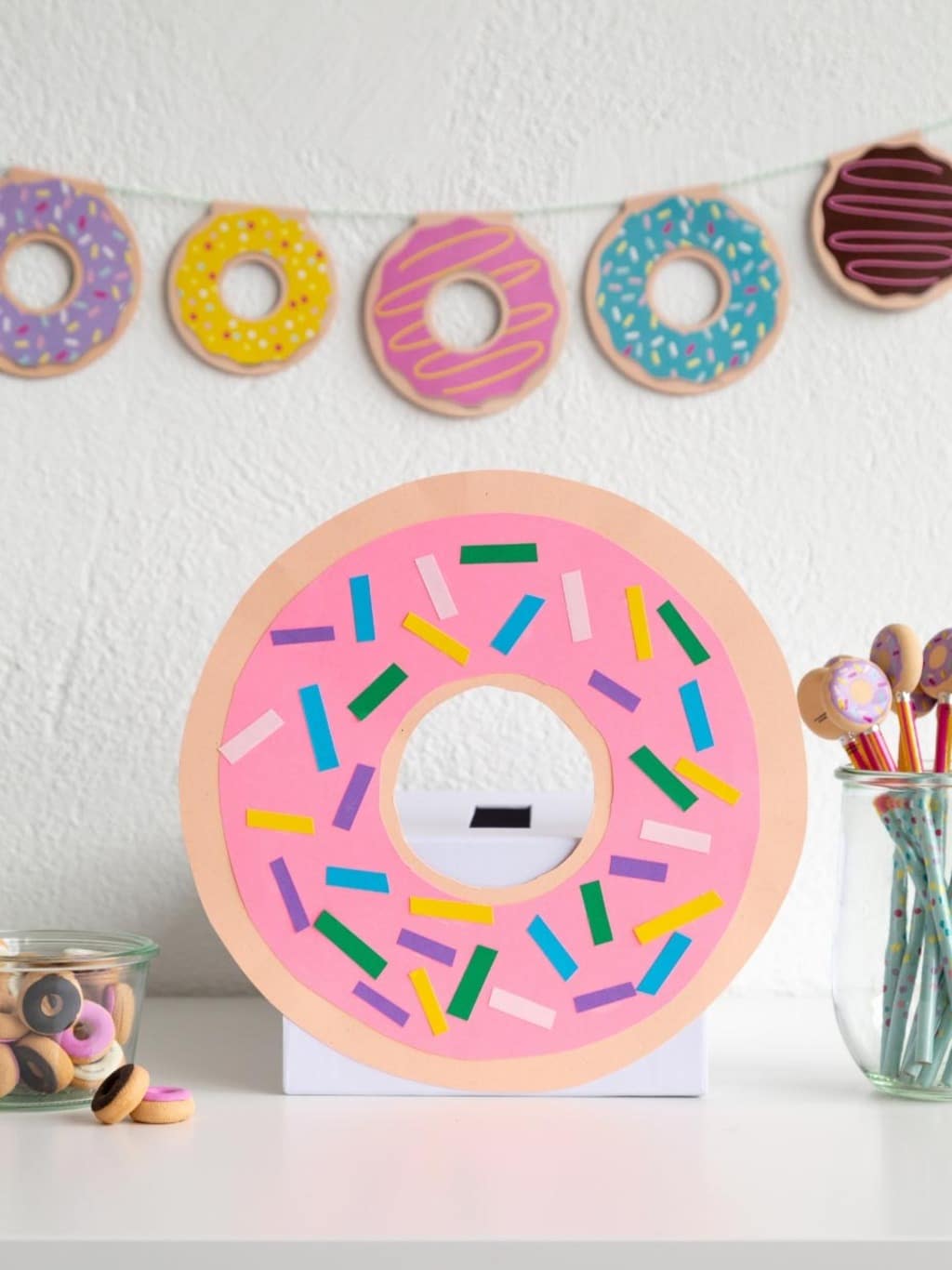 Source: orientaltrading.com
Who doesn't love donuts? Everyone does, especially children! So, this is the perfect Valentine Card Box for your little one. Make this delicious donut from old cardboard and decorate it with some colorful papers. Don't forget to add the colored sprinkles. Lastly, add donut plushies and donut pencils for the perfect Valentine handouts, and your box is ready!! 
9. DIY Bee Valentine Box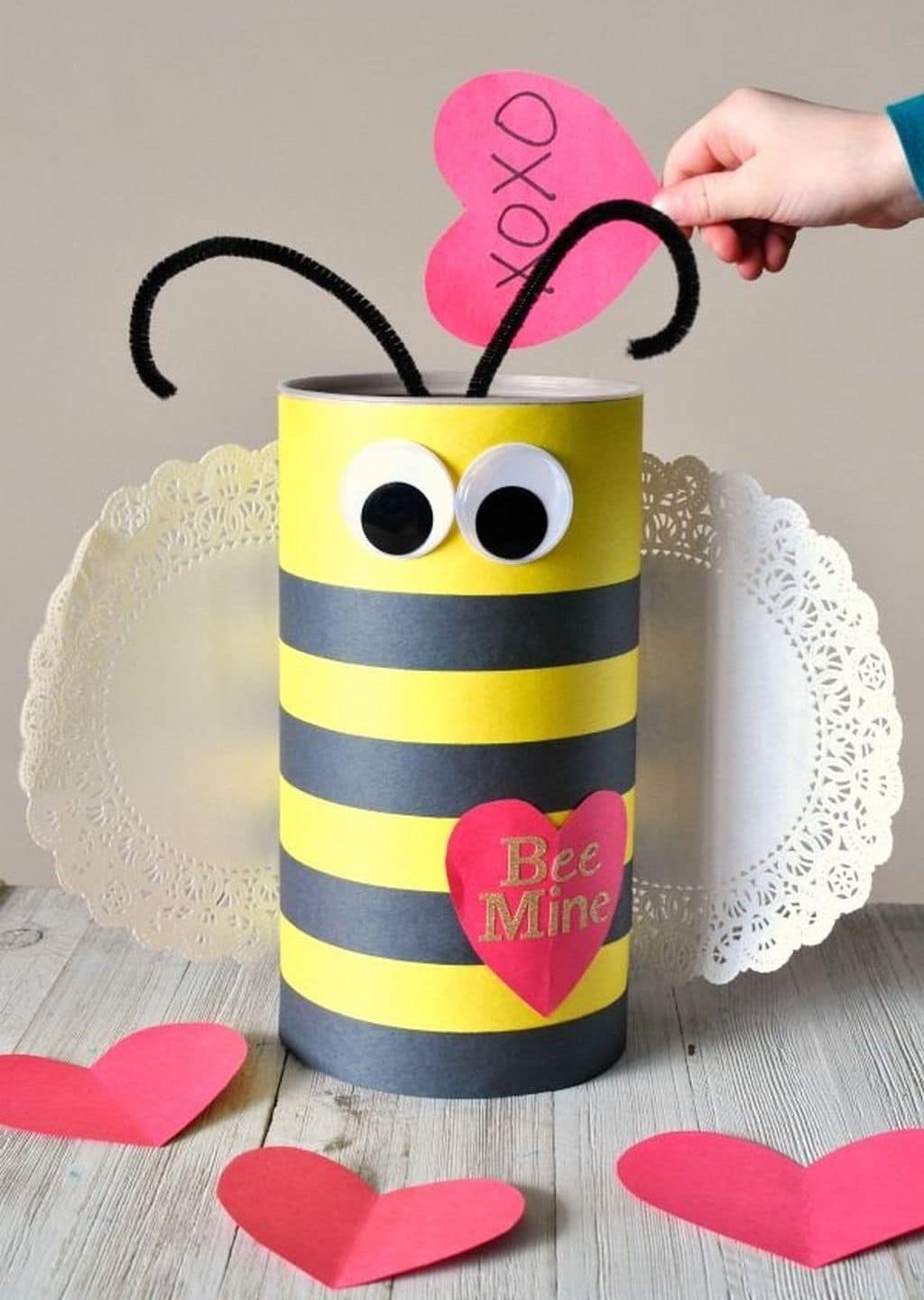 Source: coodecor.com
Bee Mine!! This is the only way you can have a bee in the classroom without scaring students and teachers. All the friends of your kid will be a fan of this sweet honey bee box idea. To make this, all you need is a chips box or an oatmeal canister in a cylindrical shape. Rest decorate as you like and your little one likes. 
10. Happy Rainbow Valentine Card Box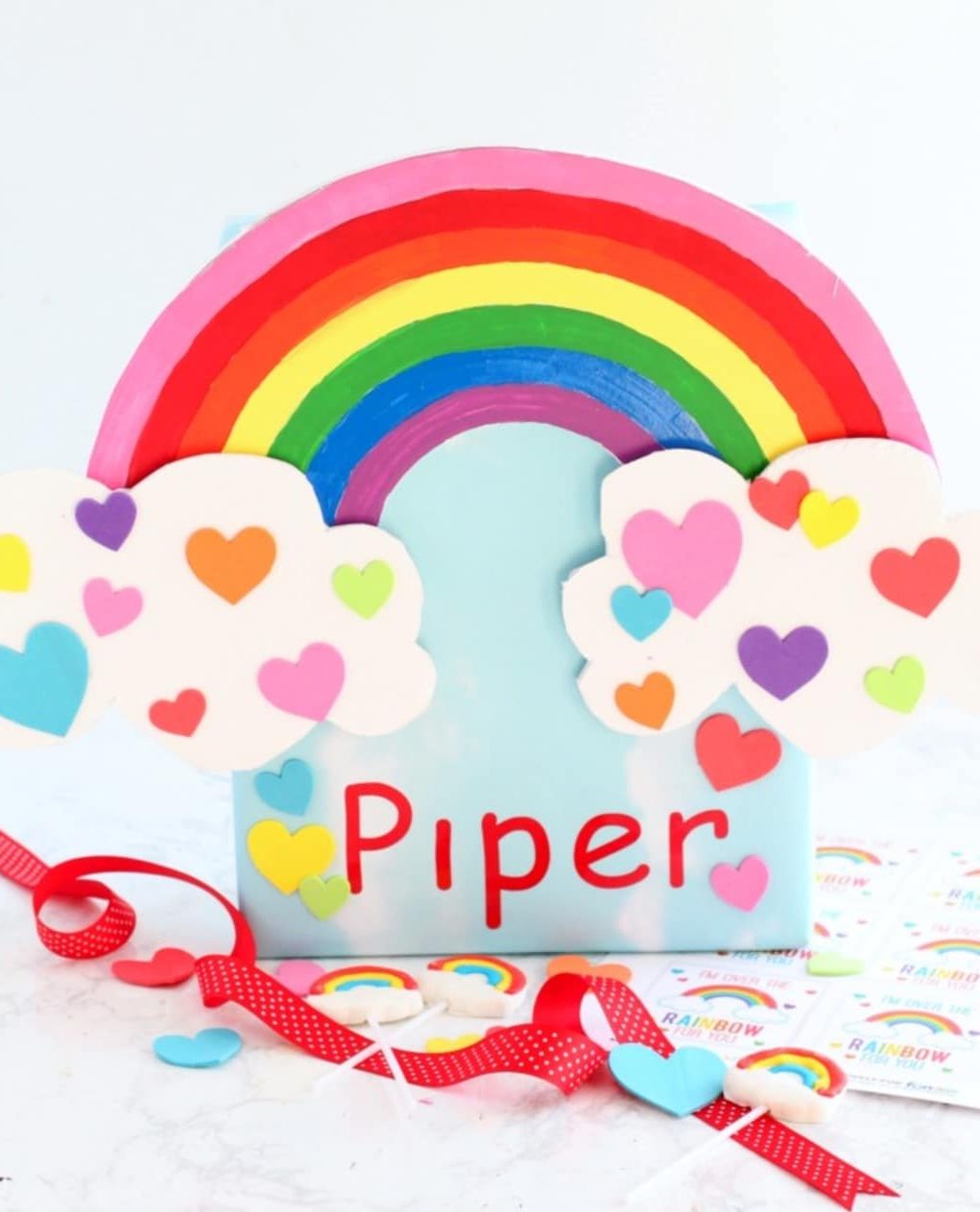 Source: gigglesgalore.net
Make your little one's dream of catching a rainbow true with this cool idea. This adorable DIY Rainbow Valentine Box is so simple to make, yet it looks really creative. Create magical memories with your kid while making this colorful box.  
11. Easy Pom-Pom Valentine Box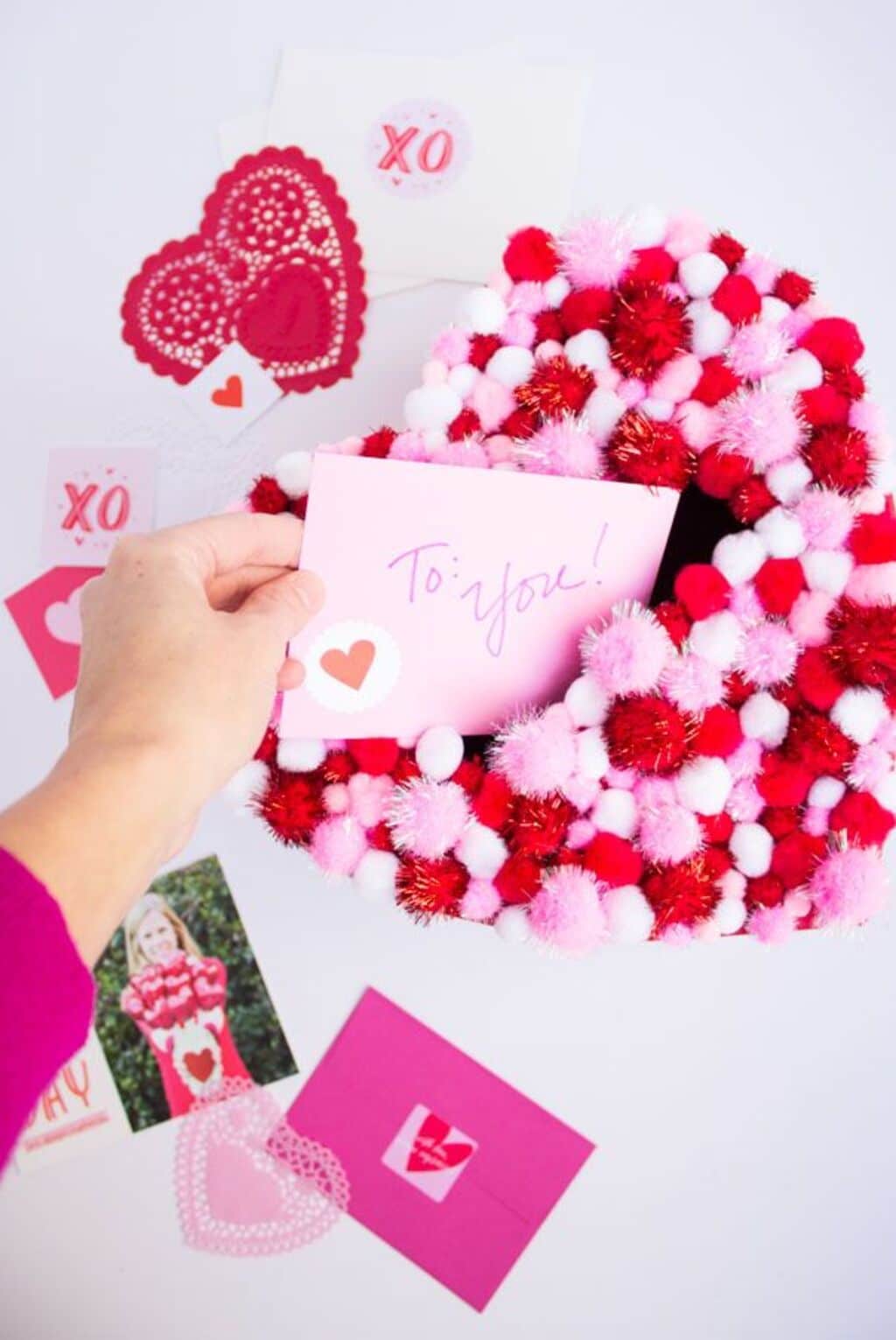 Source: hearstapps.com
Don't have much time to make a box? Just grab a bunch of festive pom-poms and glue them on a heart-shaped box, and that's it! Seriously, this is it, and your box is ready in under 5 minutes. Our kids will be more than happy to bring this pom loaded box to their classrooms.  
12. Panda Valentine's Day Box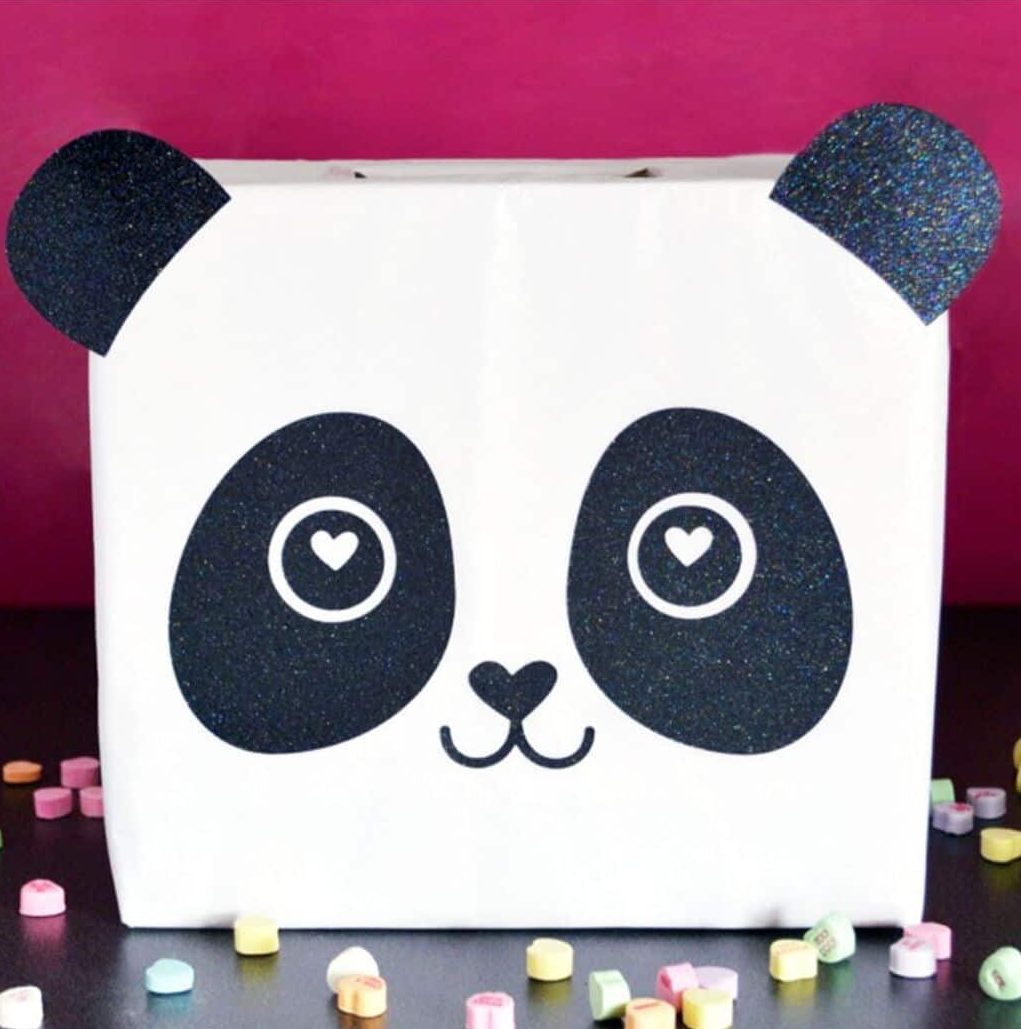 Source: hearstapps.com
Spread the message of LOVE with the help of this cute panda box! You'll need only a printable pattern of the panda, and you can make this in under 10 minutes! 
13. 80's Themed Valentine Box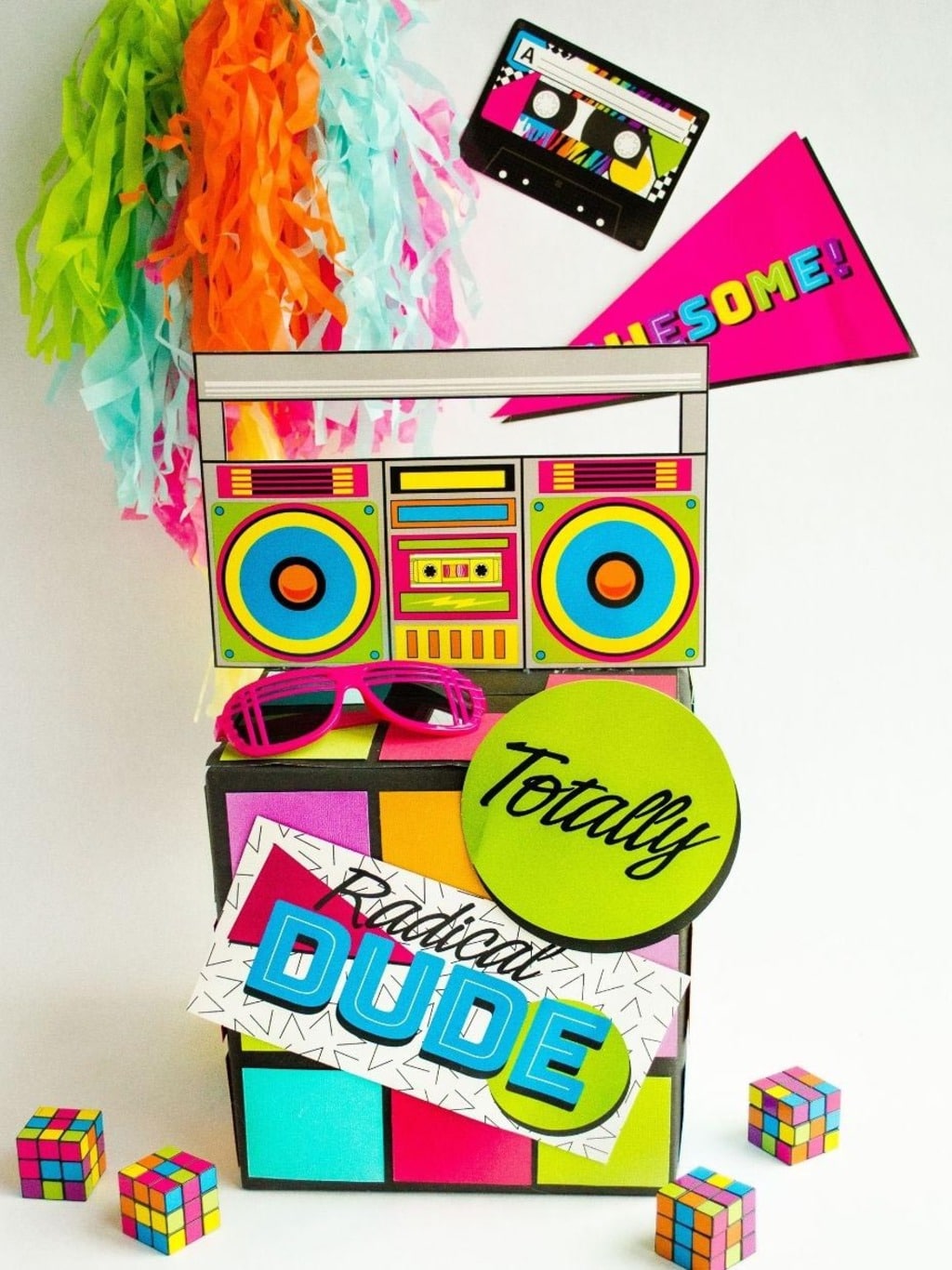 Source: orientaltrading.com
This retro-themed Valentine's Day Box will be so different in the whole class. All you need is some 80s Props, a full-color spectrum paper pack, and hot glue to create this groovy box. Additionally, you can also include the Mini Bright Puzzle Cubes, as they will match the theme perfectly. 
14. DIY Hippo Valentine Card Box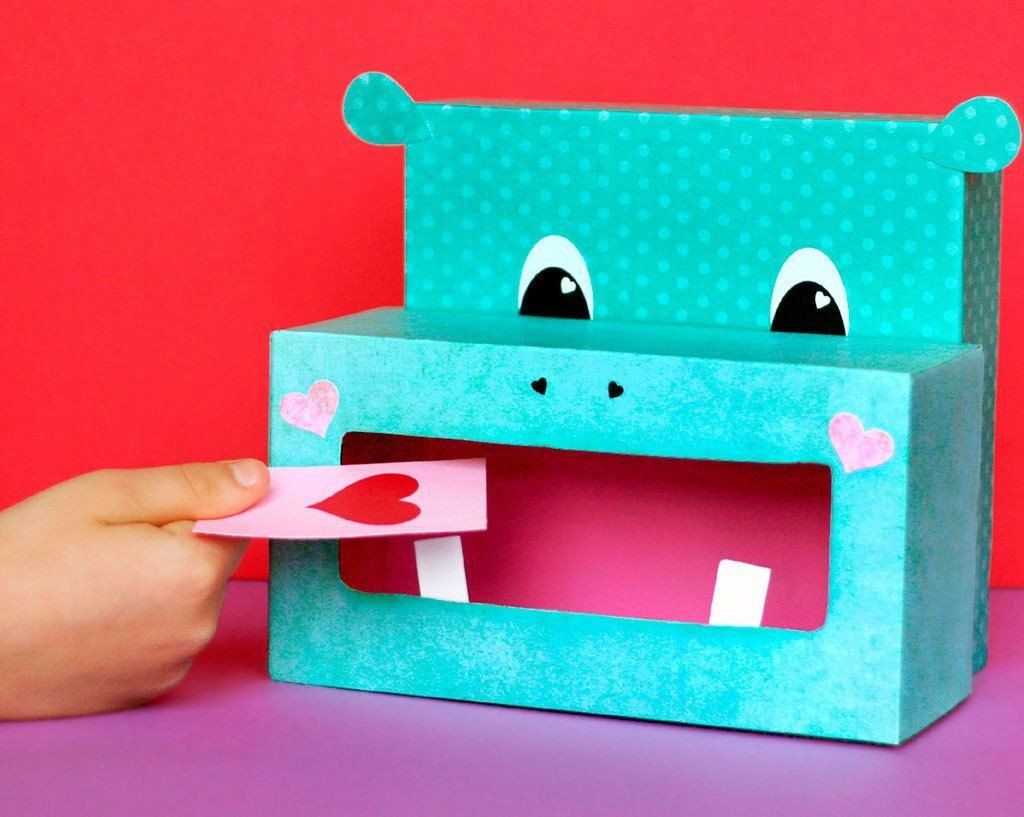 Source: pinimg.com
Isn't this hippo box adorable? Make this, and your kid will enjoy the hippo rides while collecting love notes and treats.  
15. Diy Cupcake Valentine Card Box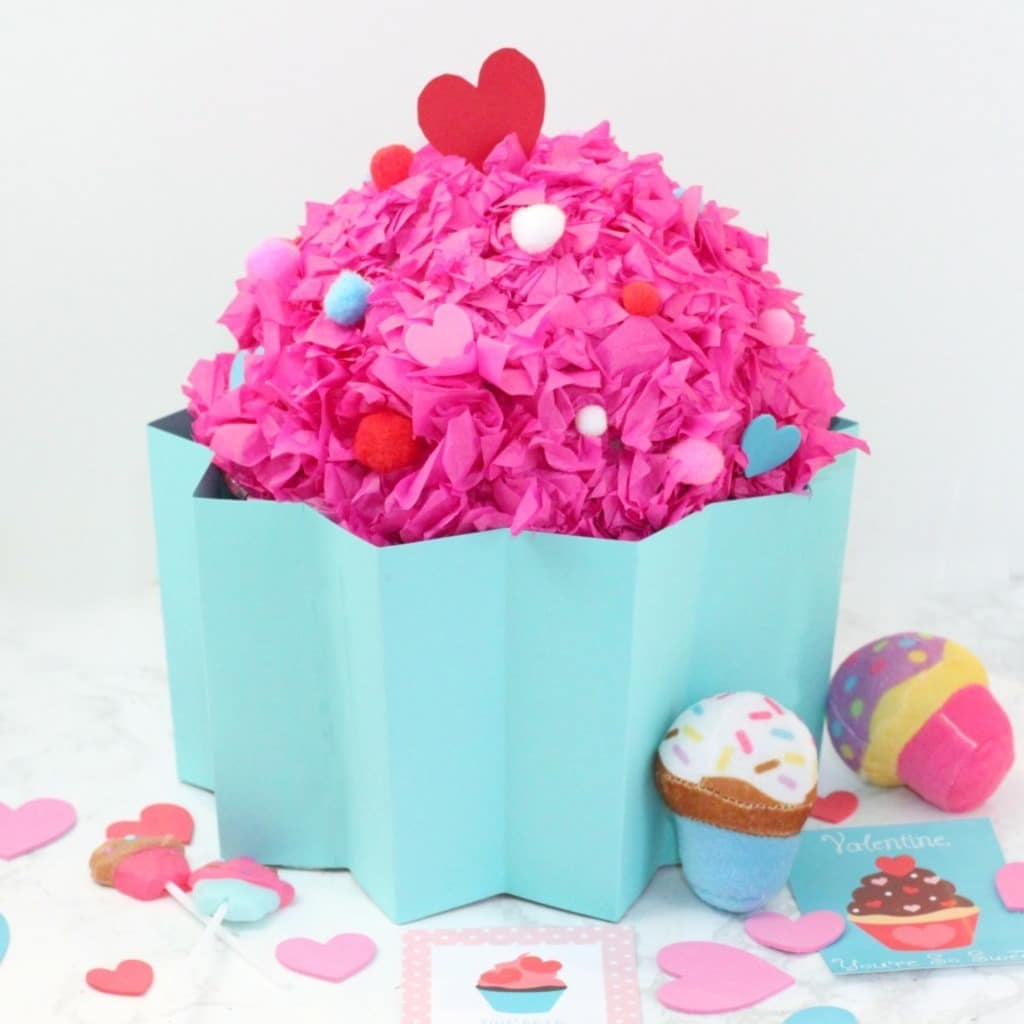 Source: orientaltrading.com
Food is love! This adorable DIY Cupcake Valentine's Day Box. is as sweet as love. Make this for your little cupcake so that she will collect her Valentines in this giant cupcake. You can make this in any size and color and also take the help of free cupcake themed Valentine's printables. 
Also Read: Easy And Beautiful Valentine Wreath Ideas
16. Get Your Lobster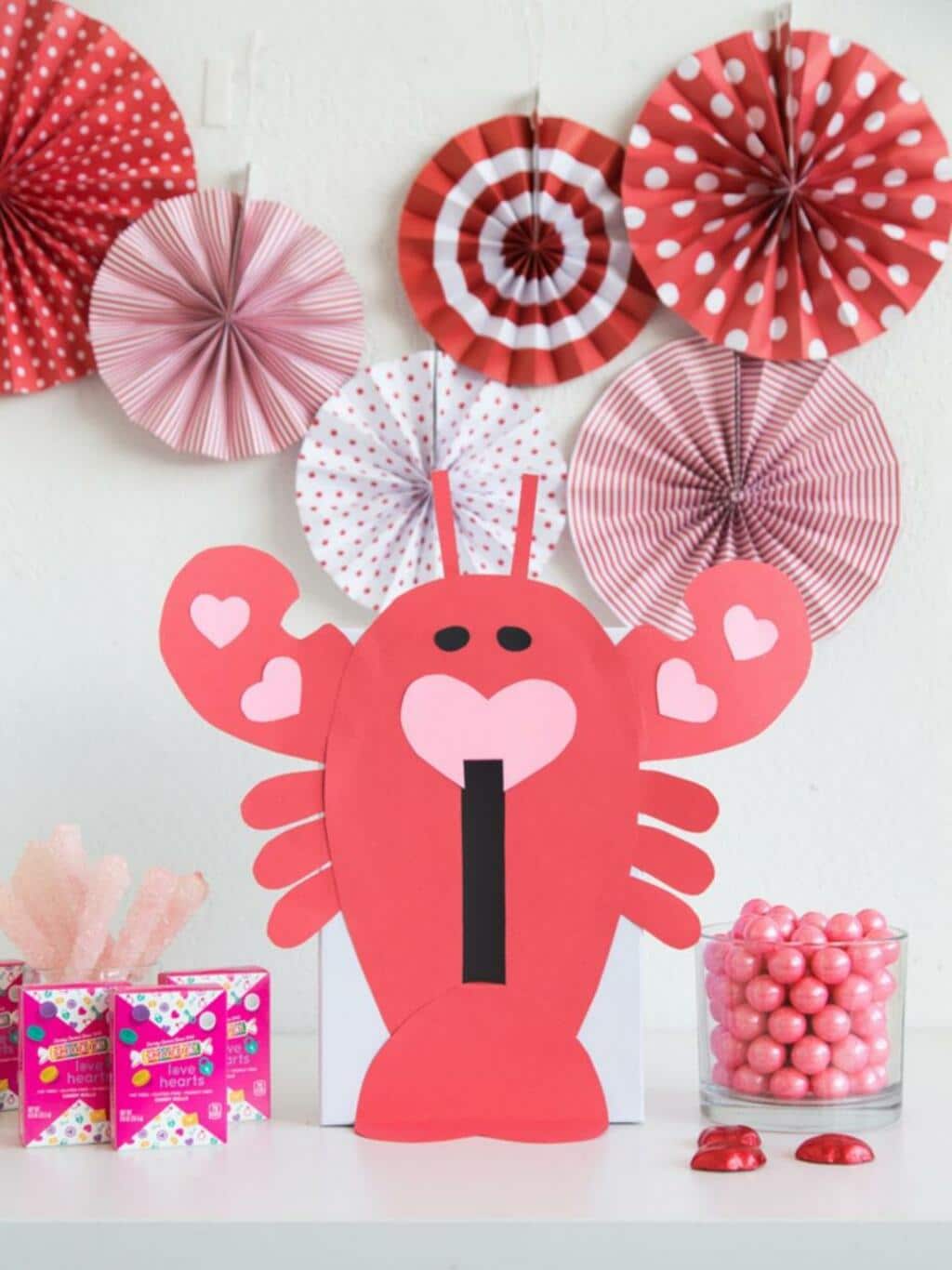 Source: orientaltrading.com
Have you seen any lobster cuter than this? Simply from a plain white card box, you can make this lovely valentine card box. Grab some red, pink, and black papers, scissors, glue, and start making this with your children. First, print the template, then cut it in the right shape. Then glue the pieces together and ta..da… Your Valentine Lobster is ready to spread the love!  
Happy Valentine's Day!
So are you and your kids ready to rock Valentine's Day classroom activity? This Valentine's day, send your kid to school with the most stylish and creative box that totally represents them. The most important thing is to have fun while working together on the project and creating memorable memories. 
I hope this blog on DIY valentine box ideas has given you some inspiration to make the card box for your kid's school. All these Valentine treat box ideas are easy to make. If you find this blog helpful, feel free to share it with your friends who are also looking for some ideas for their kid's school project.
More from The Architecturesideas
For more DIY ideas, decoration tips, and home improvement ideas, keep coming to Architecturessideas.
For daily updates, follow us on our Instagram page @architectures_idea.