30+ Modern House Design Ideas That You'll Love
Modern contemporary home design is showing tremendous popularity, but only some have the budget or resources to create their vision. In recent years, modern house design ideas have changed in numerous ways. This year residential house designs are all about modern elements with extraordinary floor plans, so in this blog, you will read about modern house designs in 2023. Well, in 2023, people will be more inclined toward modern house designs than traditional ones.
Functionality and simplicity are the most critical factors for modern house designs. The first thing that comes to our mind is the façade. Per experts, their modern design is expected to reinvent contemporary and architectural designs and offer unusual geometrical shapes.
30+ Most Popular Modern House Design Ideas
Have you seen many beautiful contemporary best house design ideas beyond your wildest imagination? Take a peek inside the most luxurious and unique modern house designs in 2023.
1. Modern House Design Sperone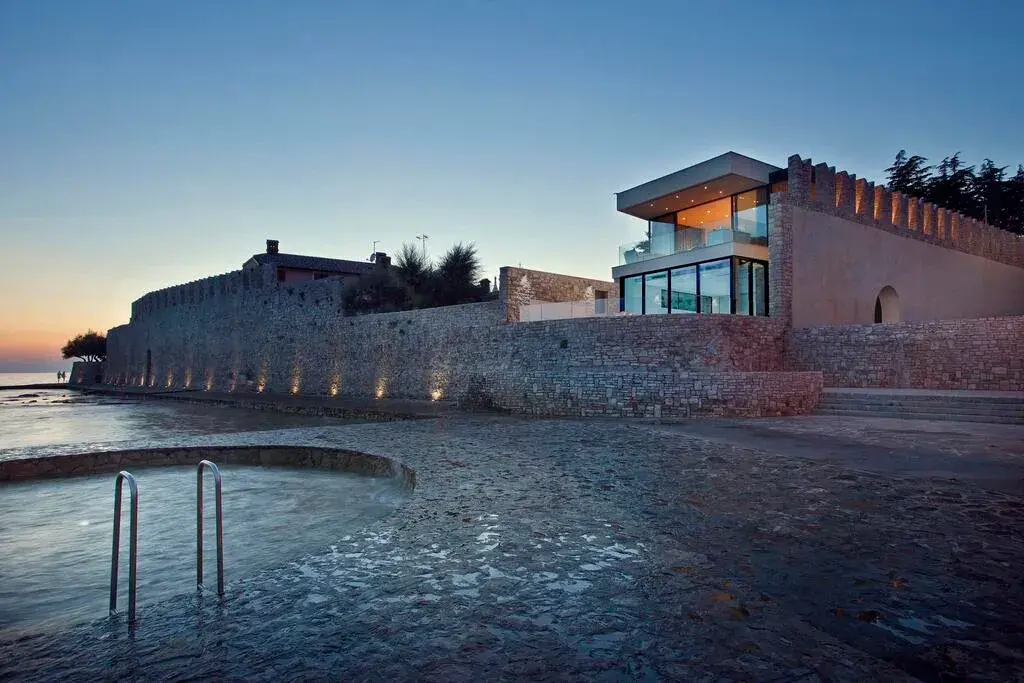 Source: kienviet.net
Architect: Studio Metrocubo
Location:  Novigrad, Croatia
The architects of House Sperone tried to blend traditional and modern elements altogether. That's why it seamlessly blends with the historic surroundings. The ground floor comprises a spa, sauna, and a stunning infinity pool. You can also consider it one of the latest house designs in 2023.
2. Running Wall Residence: House Design Ideas
Source: trendir.com
Architect:  LIJO RENY architects
Location: Kerala, India
The most striking feature of the running wall residence is the massive Laterite stone wall that covers both sides of the garden. The wall serves dual functions; first, it makes the area more secure and gives enough privacy to the residents.
The architects designed the entire home with the preceding style, which is also practical. They intentionally made the ceiling levels of the modern house design irregular to create proper ventilation. At the ground level, an indoor pool keeps the environment cool. 
3. Edgeland House: Modern House Design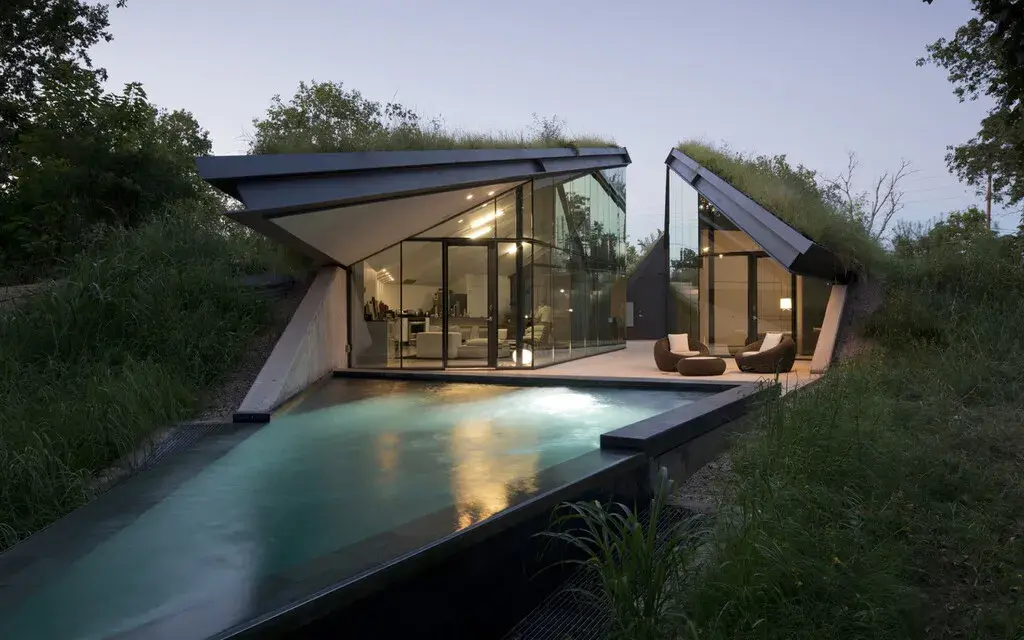 Source: pro-dachnikov.com
Architect: Bercy Chen Studio
Location: Austin, Texas
You can only find the most excellent example of restoration and rejuvenation if you have The Edgeland House. The land was a brownfield site that had been neglected for years. But after a few years, a task was assigned to Bercy Chen Studio to transform this land into the best modern house design.
4. The Cresta: Modern House Design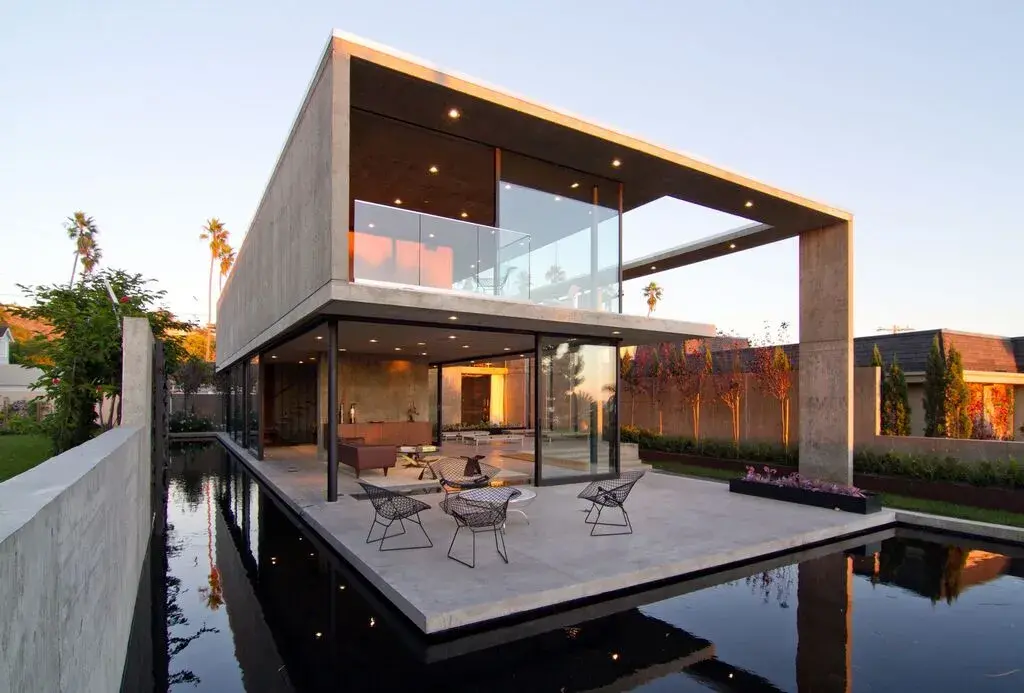 Source: pinimg.com
Architect: Jonathan Segal
Location: San Diego, California
The Cresta house represents harmony and balance in nature. Architects give equal importance to the interior and exterior. Due to its excellent floor plan, it is considered the best modern house design in 2023.
Transparent glass walls are the main features, giving sufficient privacy to the residents. The outdoor pool creates an island-like "oasis." The furniture is kept simple and elegant, which perfectly goes with the theme.
5. Flint House: Best House Design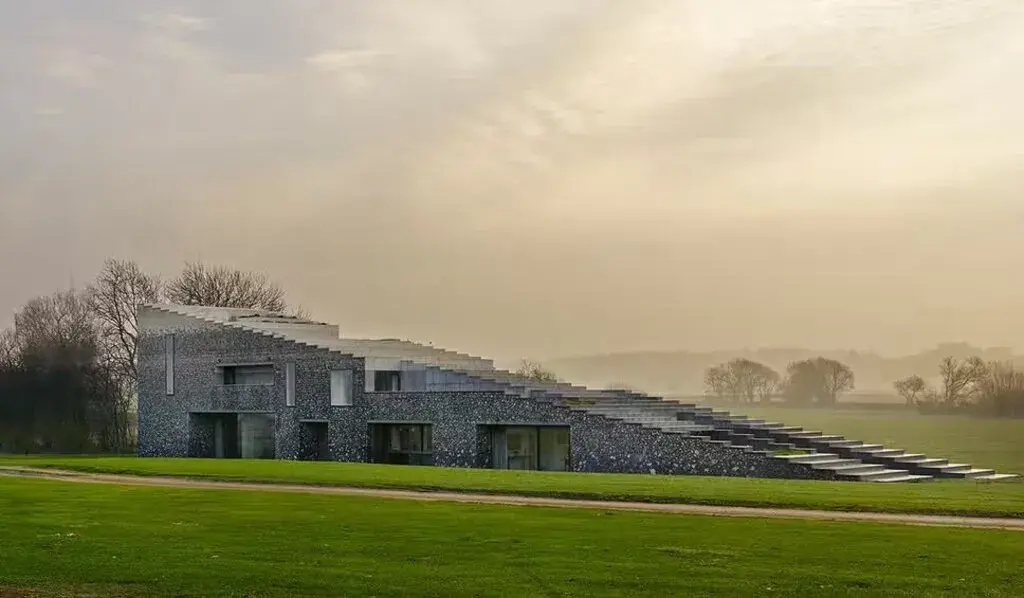 Source: static.standard.co.uk
Architect: Skene Catling de la Pena
Location: Buckinghamshire, United Kingdom
Flint House is an excellent example of architecture. It has an unparalleled combination of materials and elements that makes it stand out from the rest of the modern house designs. The two wedge-shaped buildings emerge from the Waddesdon estate. The structure points away and forms a "V" of a valley.
This home features a stepped roof, and the exterior is covered with impressive facades. The beautiful interior reflects intricate and minimalistic designs. The house design contains modern, rare, and distinctive art pieces. The owner of the house loves to collect decor pieces and sculptures. All his exquisite collection pieces are placed wisely in his residence to enhance their beauty. 
Its distinctive features and architecture are why it won the prestigious RIBA House of the Year 2015 award. It also got shortlisted in the top modern house design category. No surprise, it is also one of the best modern house designs in 2023.
6. Evans Modern House Design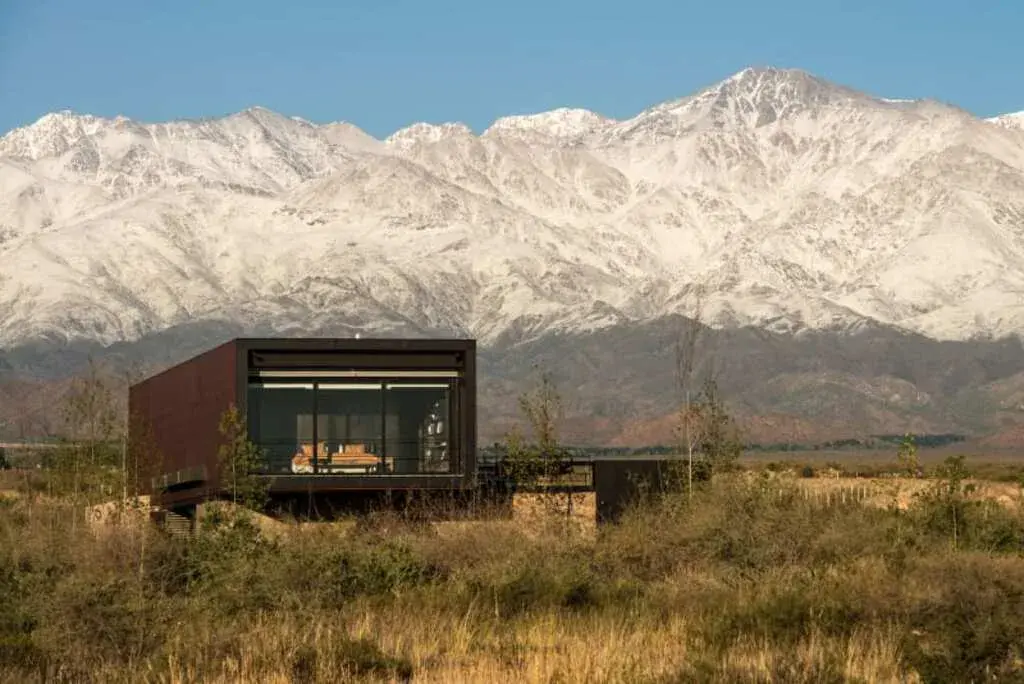 Source: cloudinary.com
Architect: A4 ESTUDIO
Location:  Mendoza, Argentina
The architects took inspiration from a fallen tree trunk. They designed the structure of the  Evans modern house design in a long and linear shape to look like a hollow tree trunk. It's a novel concept because most buildings are tall, but instead of tall and intrusive forms, they shaped the modern house design to be long and narrow. 
They aimed to focus on the natural landscape's materials and shapes. The supporting structure is made from river rock, and the main exterior facade is covered with rusty steel, giving the home a rough industrial look.
Wood was excessively used as an interior material to make it resemble a tree trunk. Other key features of the modern house design are a built-in wine cellar and ample entertaining space with a rooftop pool. 
7. Sky Garden Modern House Design
Source: pinimg.com
Architect: Guz Architects
Location: Singapore  
Green roofs are frequently used as a critical component in sustainable housing. Aside from being good for the environment and the overall sustainability of your home, they also add value to the modern house design's visual appearance. Guz Architects' Sky Garden House in Singapore features a tremendous green roof as part of the modern house design.
8. Shakin Stevens House: Modern House Design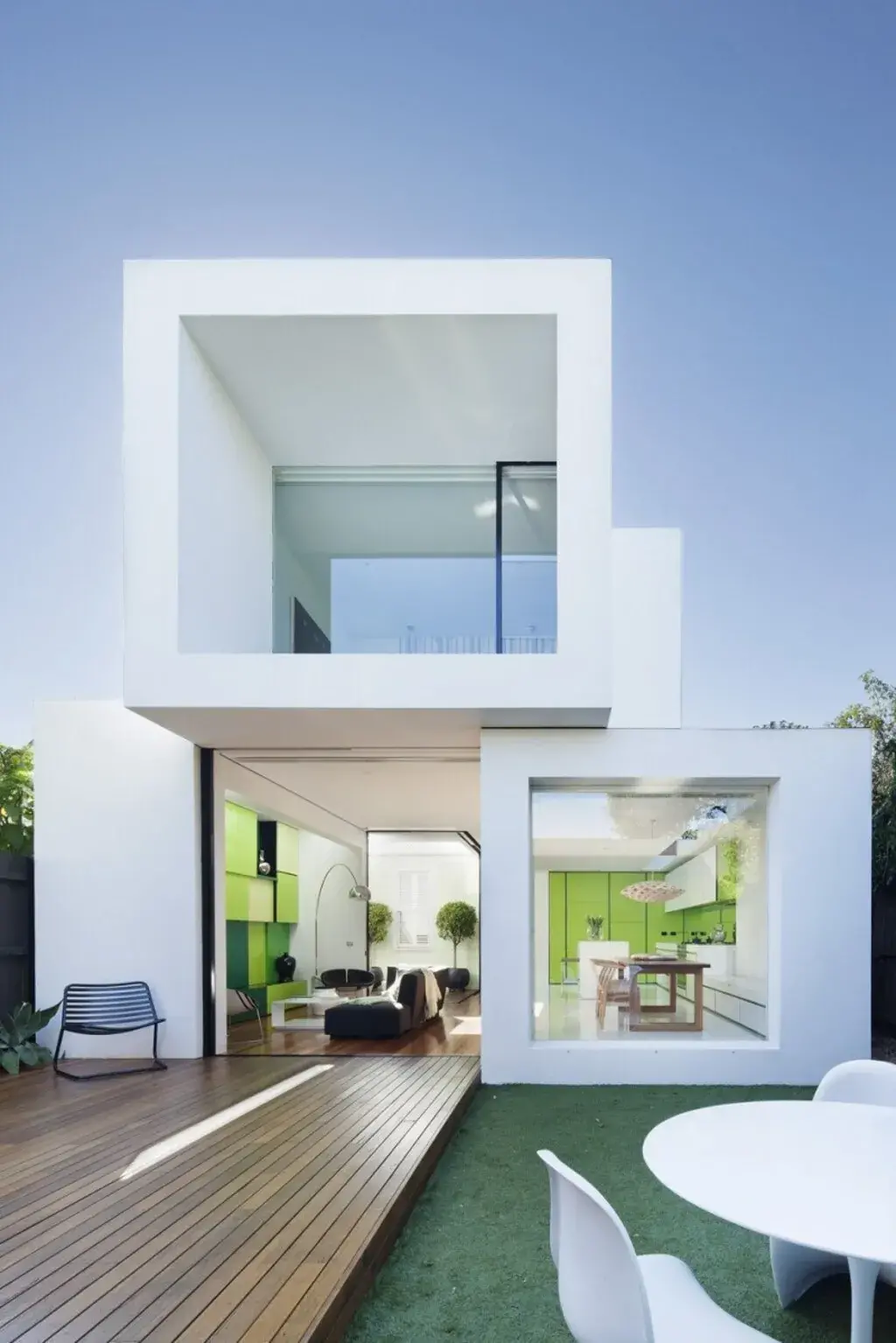 Source: homedsgn.com
Architect: Matt Gibson Architecture + Design
Some people prefer smaller houses to large, imposing mansions. Nobody can blame them because small modern house designs are often more charming and beautiful than large modern house designs. One of them is Matt Gibson Architecture + Design's Shakin Stevens House. Minimalist and "less is more" small house design modern ideas can work wonders.
9. Desert House: Modern House Design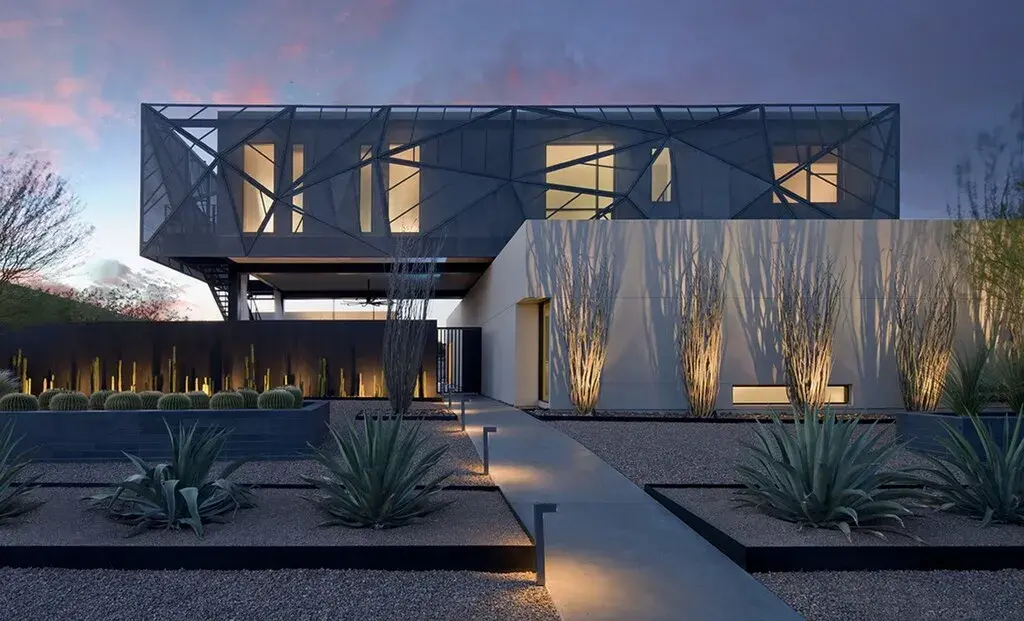 Source: wordpress.com
Architect: Assemblage STUDIO
Even though life in the desert sounds highly uncomfortable, and one wonders why anyone would want to live there, this intriguing modern house design by assemblage STUDIO demonstrates that being surrounded by nothing is possible. However, rocks and sand still enjoy a comfortable living space.
10. Modern House Design: Villa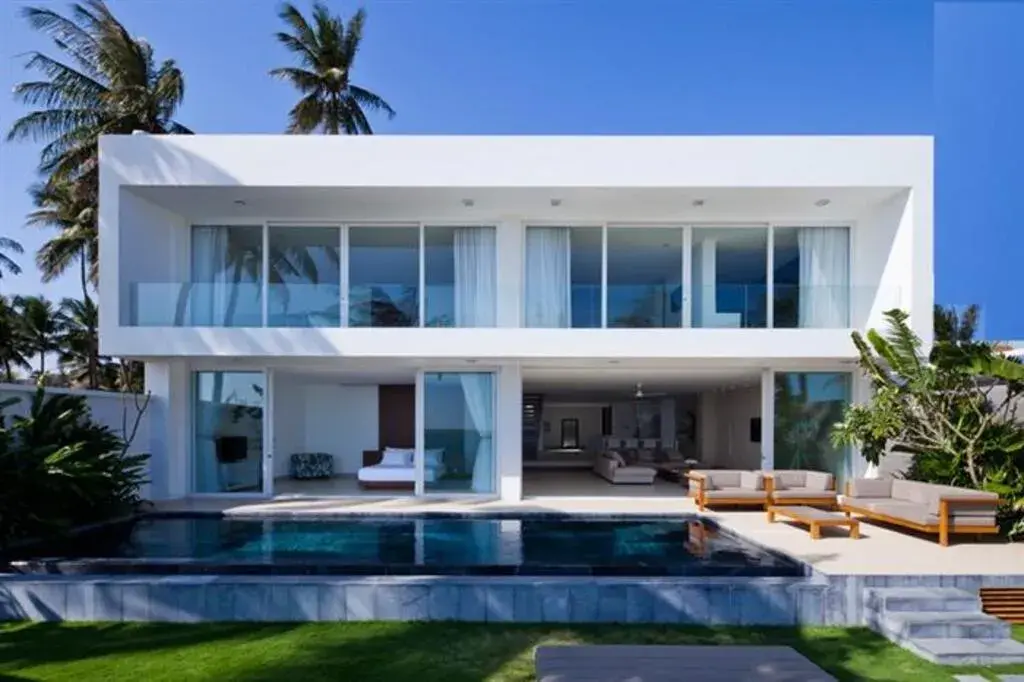 Source: coldwellbankerislands.com
Architect: MM ++ Architects
Location: Phan Thiet, Vietnam
This incredible modern villa designed by MM ++ Architects is part of the Oceanique Villas small real estate development in Phan Thiet, Vietnam. The residence has a modern house design with an incredible terrace, swimming pool, and indoor-outdoor connection—everything a beach lover could want.
11. Concrete House II: Best House Design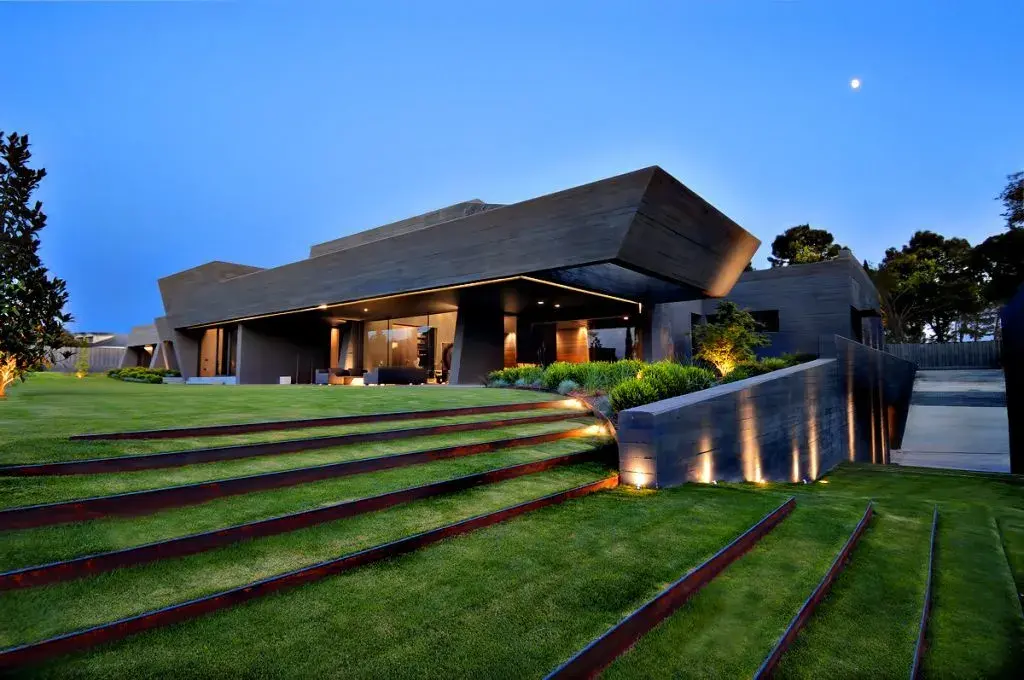 Source: thepinnaclelist.com
Architect: A-cero
A-Concrete Cero's II modern house design features an incredible staircase to a house covered in grass.
12. Summit Modern House Design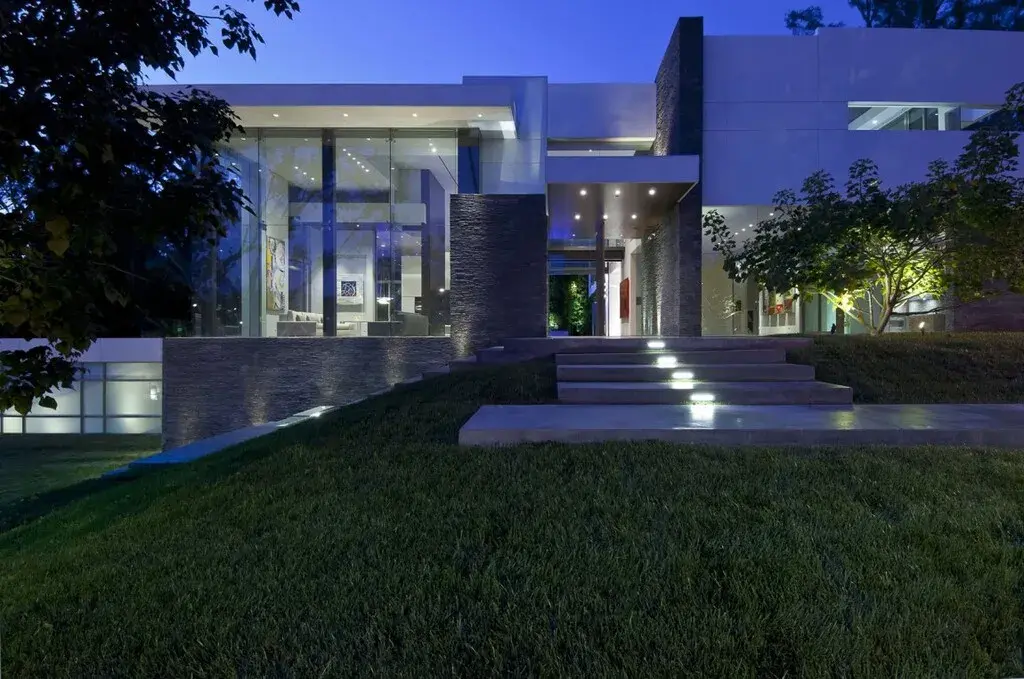 Source: picslovin.com
Architect: Whipple Russell Architects
Whipple Russell Architects' Summit modern house design features a stunning walkway with a lit-up staircase leading to a stunning modern entrance.
13. Sorbonne Road Residence: Modern House Design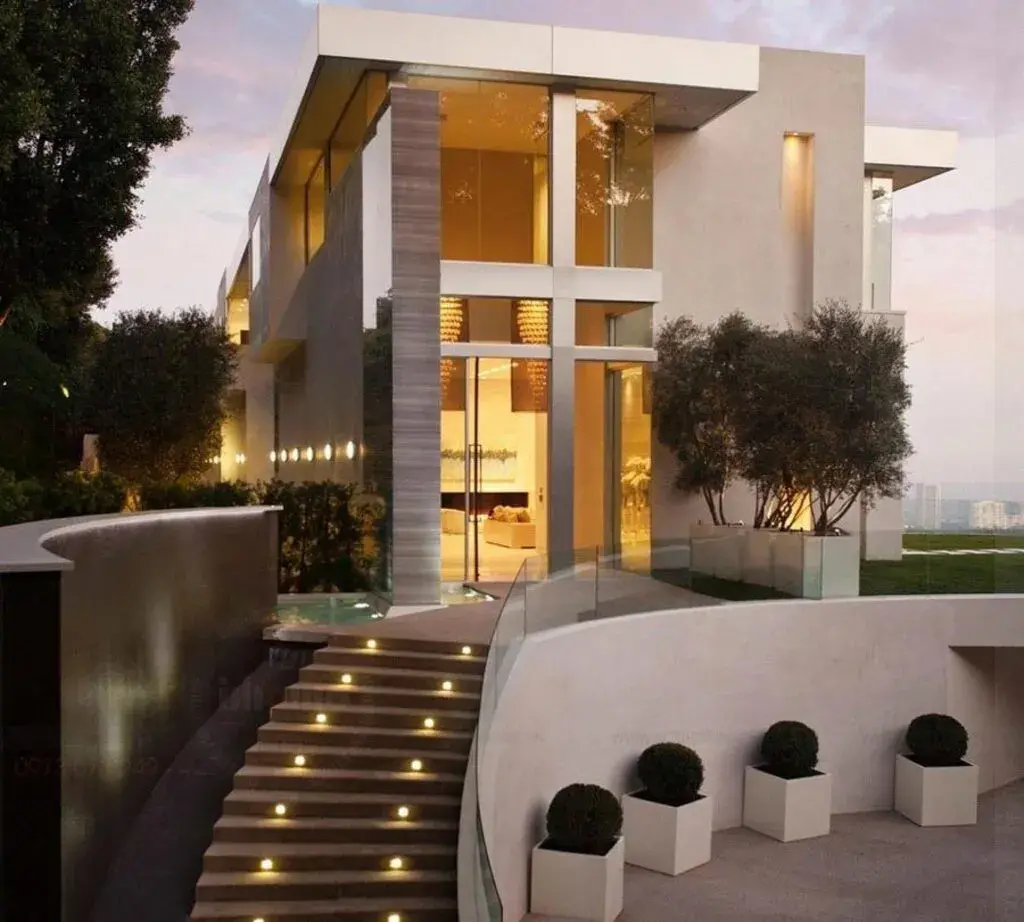 Source: inhat.vn
Architect: McClean Design
McClean Design's Sarbonne Road residence features a curved outdoor staircase with a glass railing that perfectly complements this modern house design.
14. City Villa: Modern House Design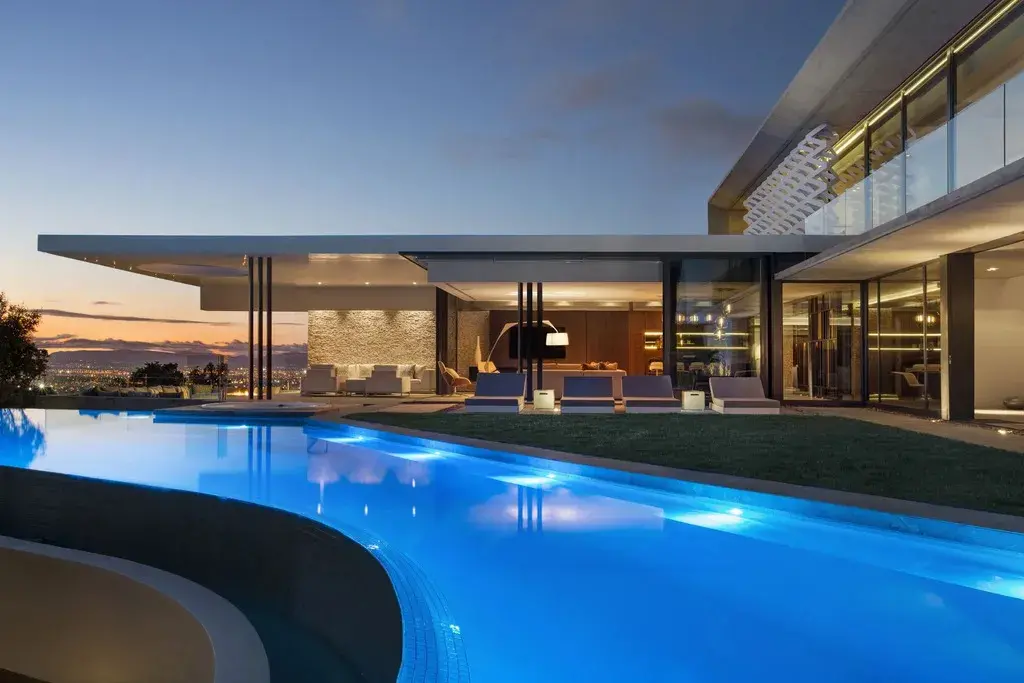 Source: lovethatdesign.com
Architect: ARRCC Office
The ARRCC office designed the stunning modern home known as the City Villa. Because of the "L"-shaped modern house design, owners can enjoy the central courtyard, which houses a beautiful swimming pool, without invading their privacy. The modern house design also has stunning, unobstructed views of the city below.
15. SU Modern House Design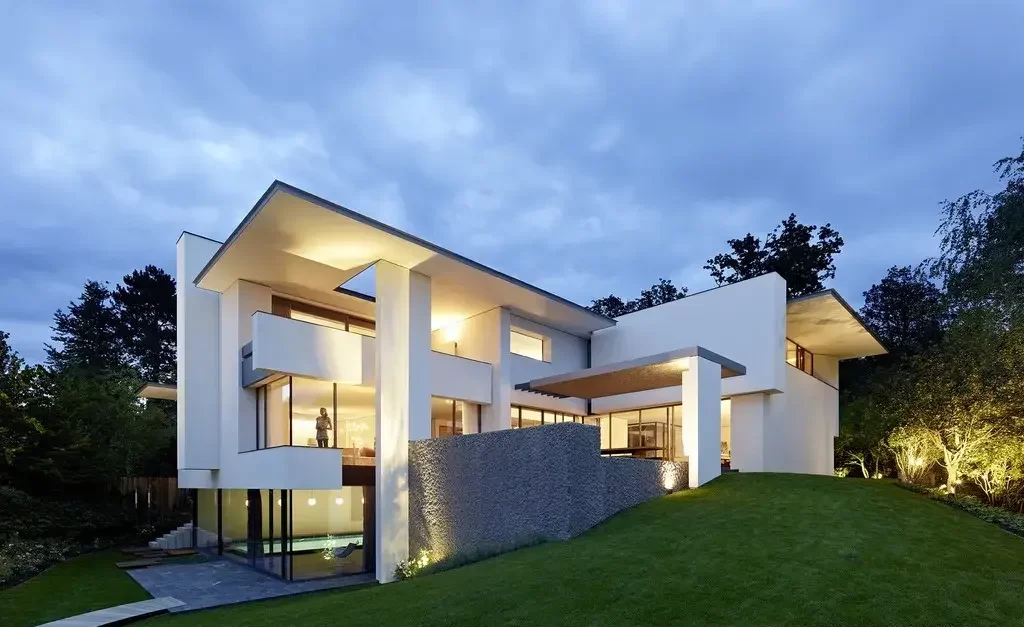 Source: archilovers.com
Architect: Alexander Brenner architects 
Location: Stuttgart, Germany
The SU modern house design is a modern villa unlike any other. Alexander Brenner, a very creative architect, designed them, showcasing architectural genius and style.
The modern villa is located on the outskirts of a forest in Stuttgart, Germany. This environment ensures that the SU modern house design is always welcoming. 
A careful examination of the aesthetically pleasing structure reveals that the architect paid close attention to detail. Every aspect of the structure exudes elegance and sophistication, which can leave one speechless.
16. CH House: Best House Design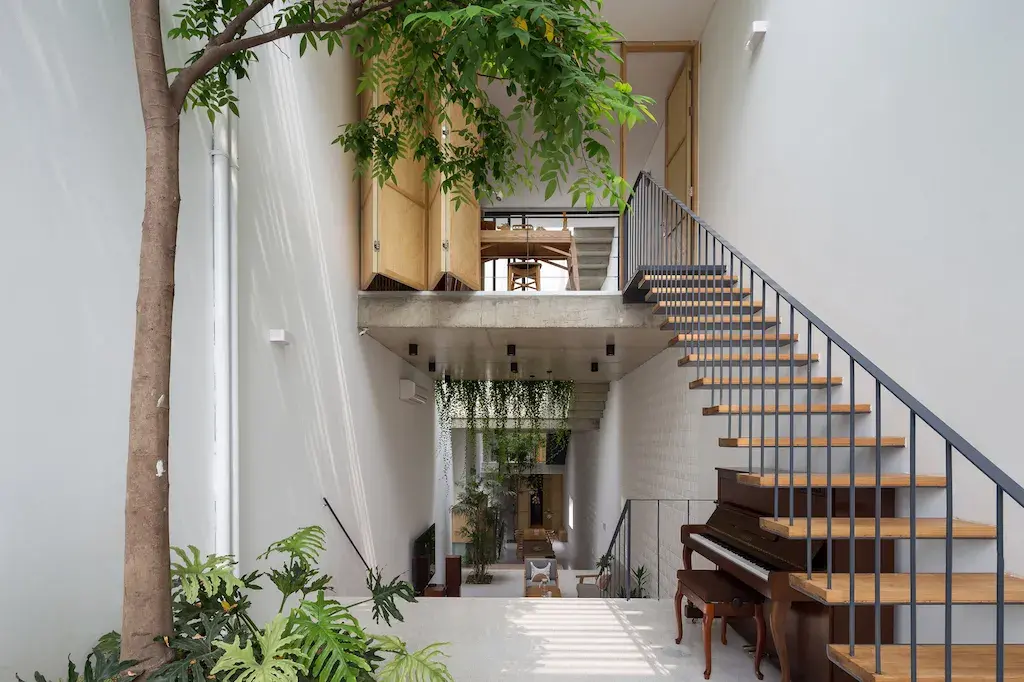 Source: de51gn.com
Architect: ODDO architects
Location: Hanoi, Vietnam
The modern house design was designed for three generations of a family who wanted to create a harmonious space in the busy city to enhance the traditional family's life. Inspired by Hanoi's old traditional houses, these spaces are filled with natural light and ventilation thanks to inner courtyards.
The design aims to bring a breath of traditional spirit to modern life while creating spaces with plenty of natural light and ensuring ventilation throughout the modern house design.
17. IH Residence: Best House Design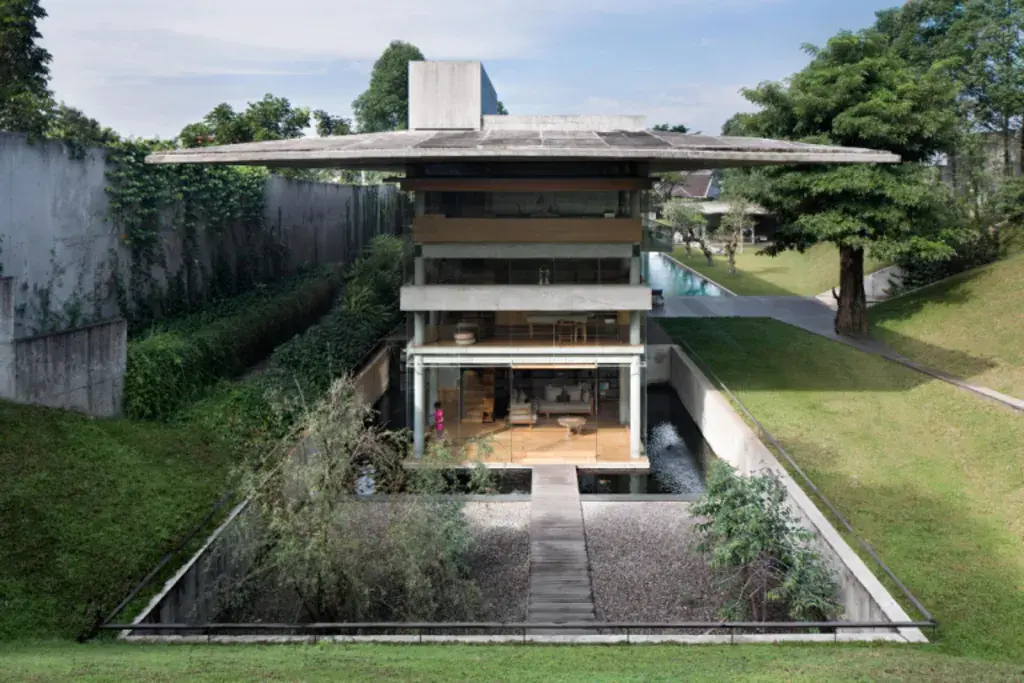 Source: designspeak.asia
Architect: Andramatin
Location: Bandung, Indonesia
The modern house design responds to the elongated site's nature by constructing a large mass in the centre, detaching it from any site walls to support cross-ventilation along the building.
18. Blind House: Modern House Design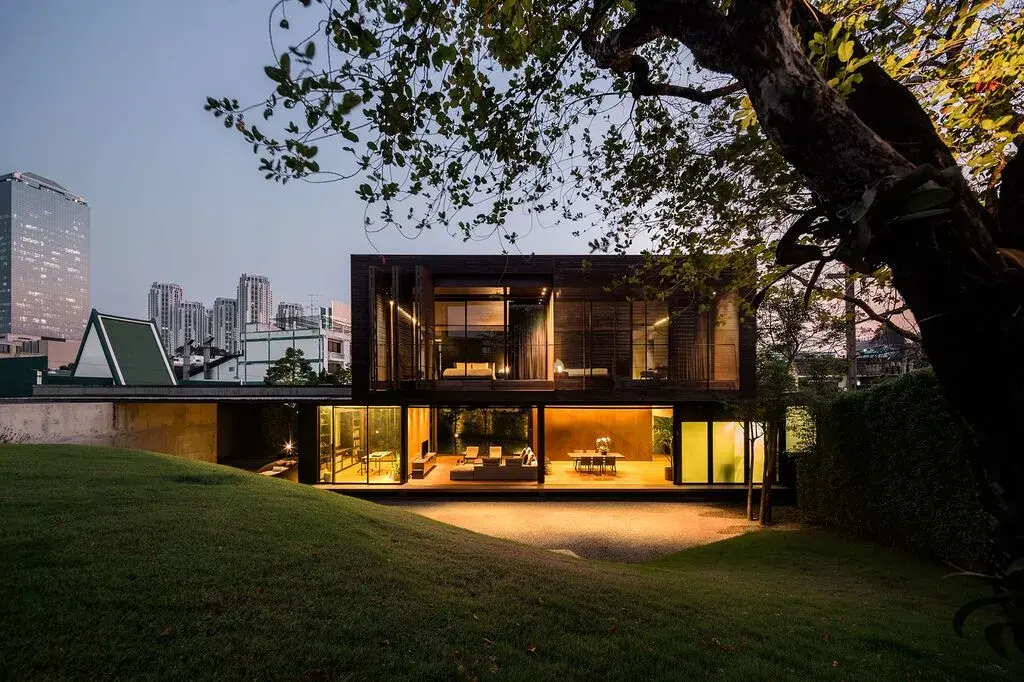 Source: arch2o.com
Architect: BOONDESIGN
Location: Bangkok, Thailand
In the modern house design, a concrete plane hovers diagonally across the landscape, following the north-south orientation. Blind Mass, the upper level's single solid and void mass, simply functions as a mute being and non-being abstract living space by day and glows its absence by night.
19. Riverside Modern House Design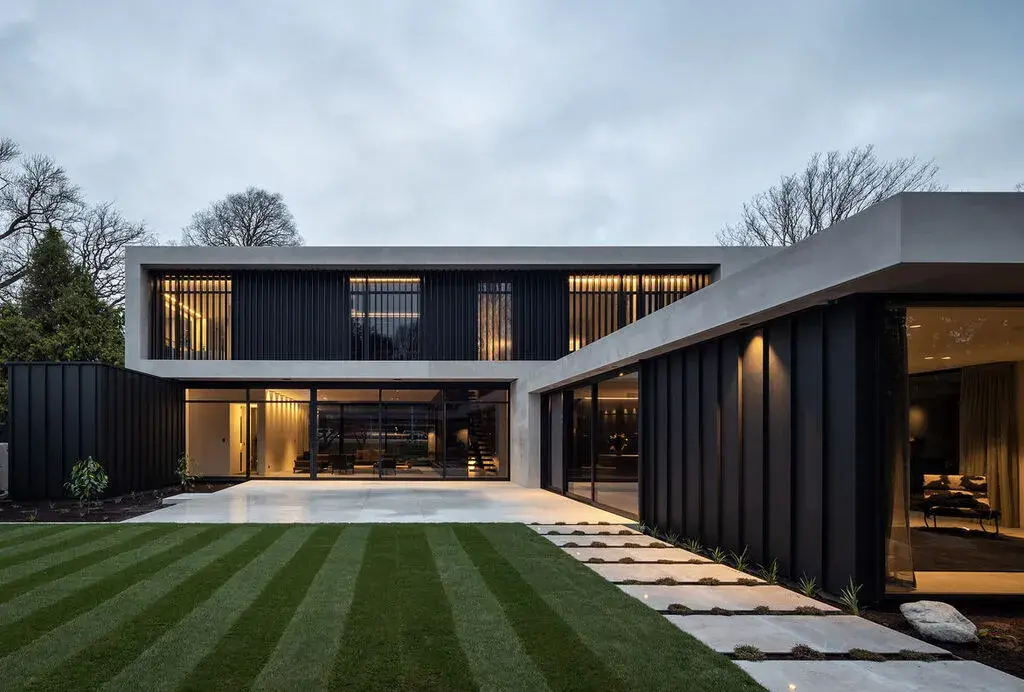 Source: amazonaws.com
Architect: Three Sixty Architecture
Location: New Zealand
This modern house design celebrates its location and complements the existing site context and surrounding landscape while providing a comfortable retreat away from the bustle of the city.
20. Stairway House: Modern House Design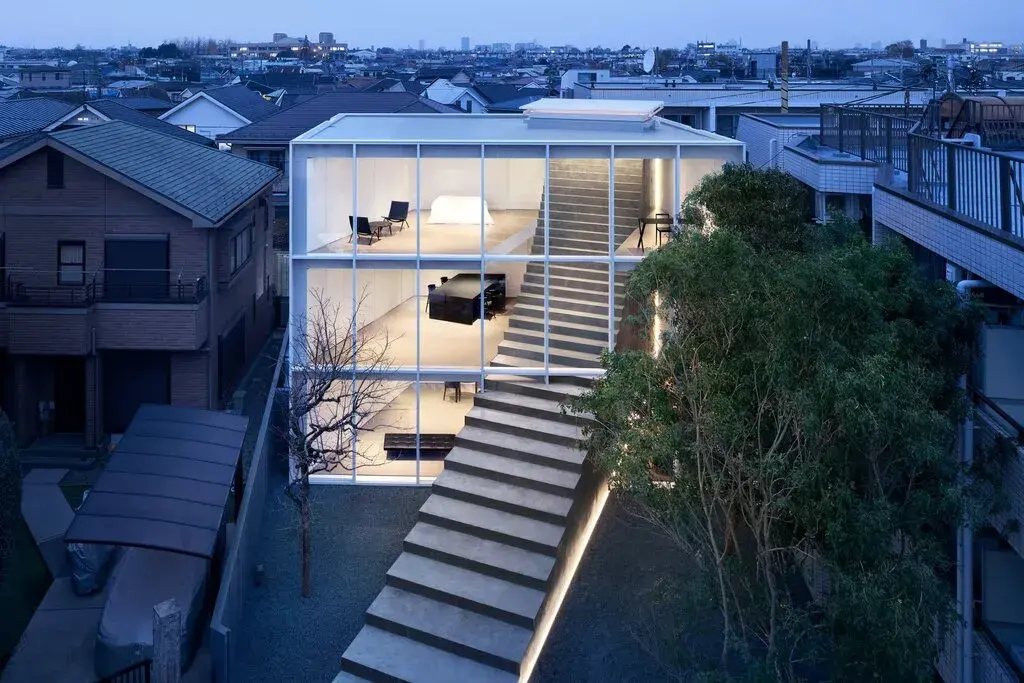 Source: archinect.imgix.net
Architect: Nendo
Location: Minato city, Japan
A two-family home in a quiet Tokyo neighbourhood. With other modern house designs and apartment buildings surrounding the site, the designer pushed the architectural volume to the north to incorporate daylight, ventilation, and greenery from the yard into the living environment via a large glass front on the southern façade.
21. On The Water House: Best House Design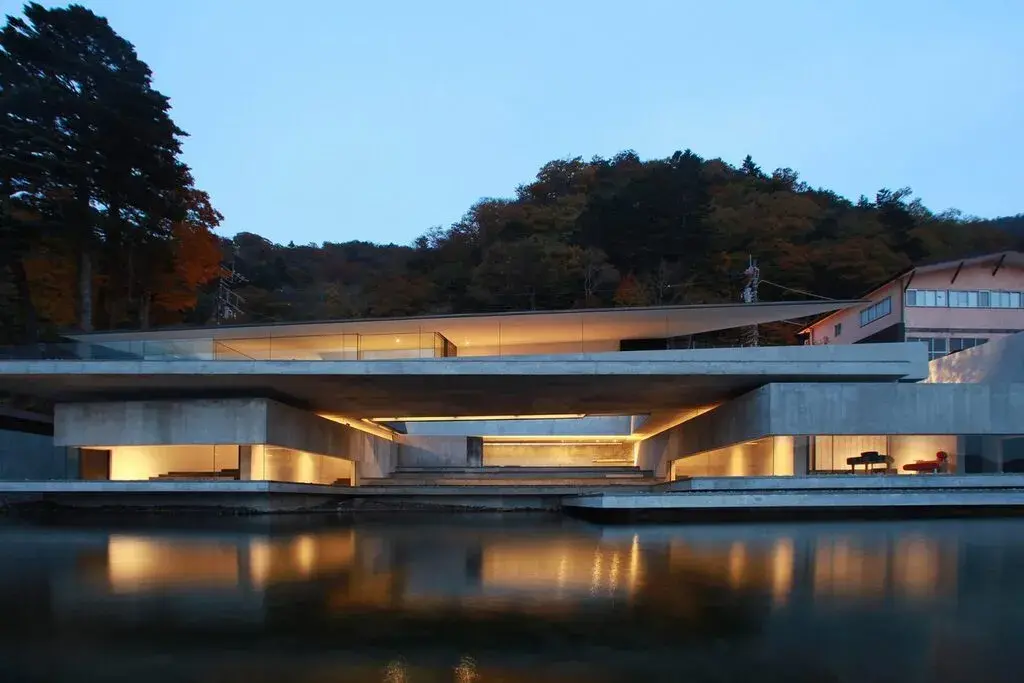 Source: digitaloceanspaces.com
Architect: Nikken Sekkei
Location: Japan
This lakeside modern guest house design was designed as a continuous spiral space that flows from the approach to the bedrooms. Each step further inside the building reveals a different lakefront view. 
22. Villa Mandra: Modern House Design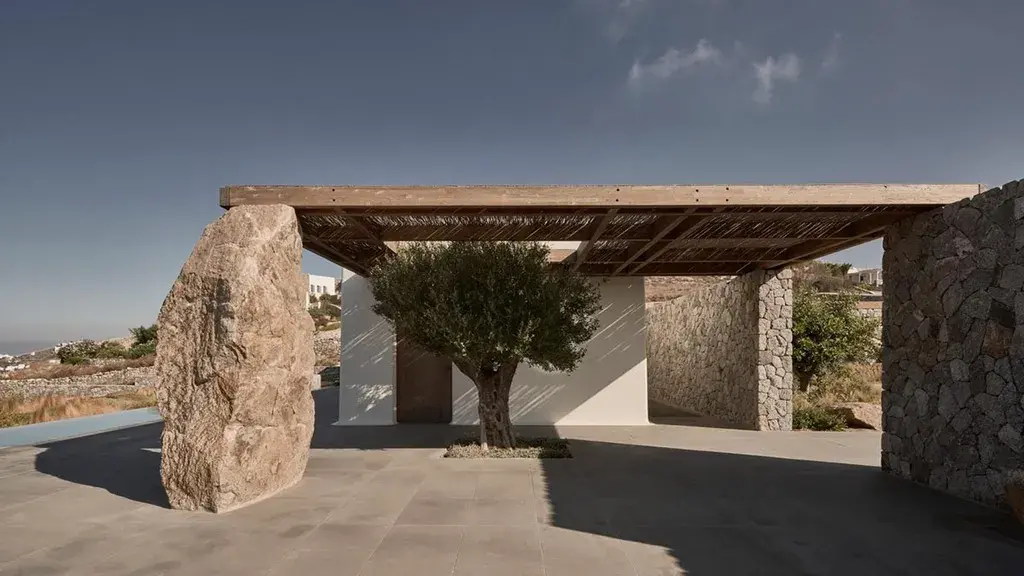 Source: worldarchitecture.org
Architect: K-Studio
Location: Mykonos, Greece
Villa Mandra, a modern house design overlooks the sea and the sunset over Delos, a neighbouring island. A 6-bedroom vacation home built for a young, dynamic couple to enjoy with their family and friends, it celebrates its spectacular view from a grounded viewpoint while blending into a sensitively landscaped, stone-walled garden that screens it from the road behind.
23. Escobar Modern House Design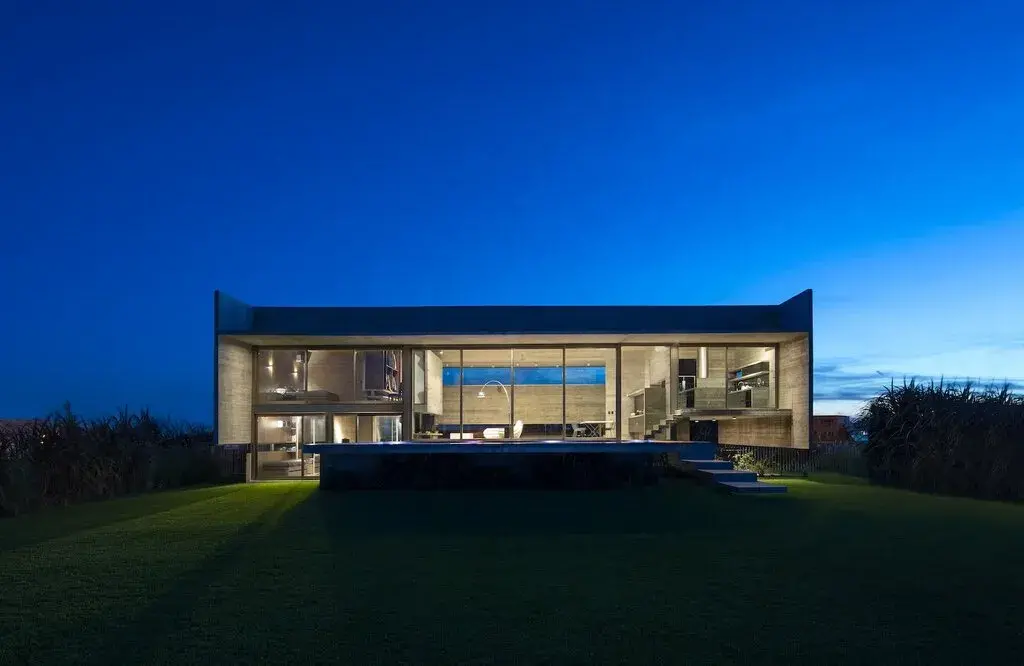 Source: architizer-prod.imgix.net
Architect: Luciano Kruk
Location: Belen de Escobar, Argentina
A compact volume with a simple shell inside which the different heights, natural light effects, and envelopes of each room would produce a wide range of spatial conditions. The architect aimed to create a cosy modern house design with simple lines and artifice-free spaces that would engage in close dialogue with their natural surroundings.
24. The Sanctuary House: Best House Design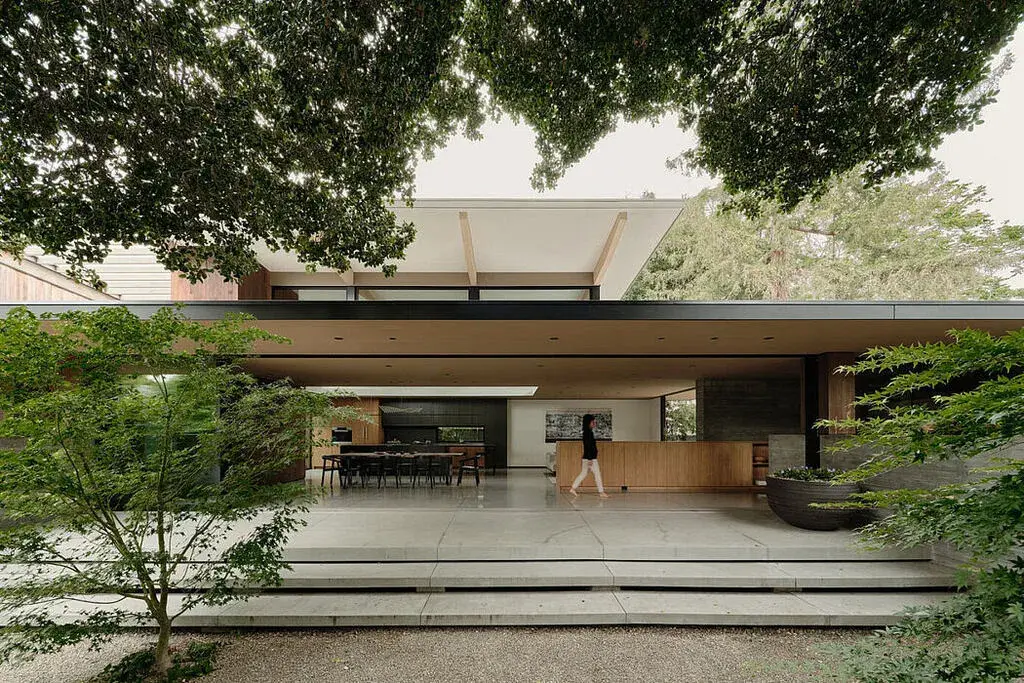 Source: homeadore.com
Architect: Feldman Architecture
Location: Palo Alto, United States
The modern house design is set quietly behind an enormous heritage oak tree, whose canopy stretches across the spacious front yard. After passing beneath its branches, visitors are led through a series of courtyards and can view gardens that weave through the building's undulating footprint. Each interior space is paired with its landscape moment, allowing architecture and landscape to merge.
25. House BF: Modern House Design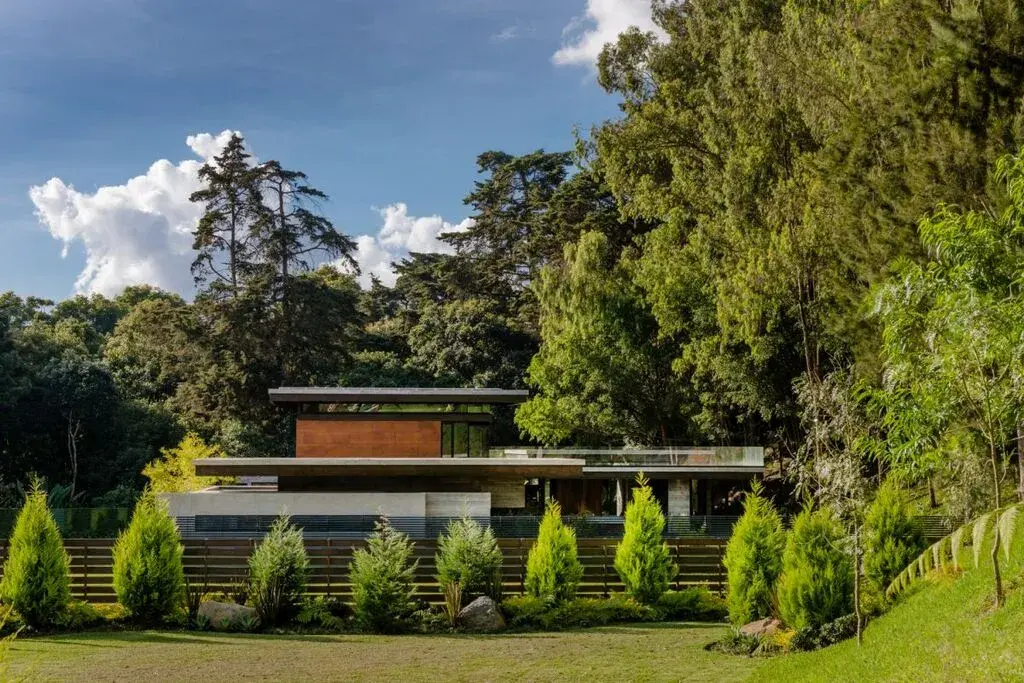 Source: pacocabello.es
Architect: Paz Arquitectura 
Location: Guatemala
The design's central concept is functional and visual transparency. The spaces in the social areas operate in an open configuration and are clearly and subtly interconnected.
26. River House: Best House Design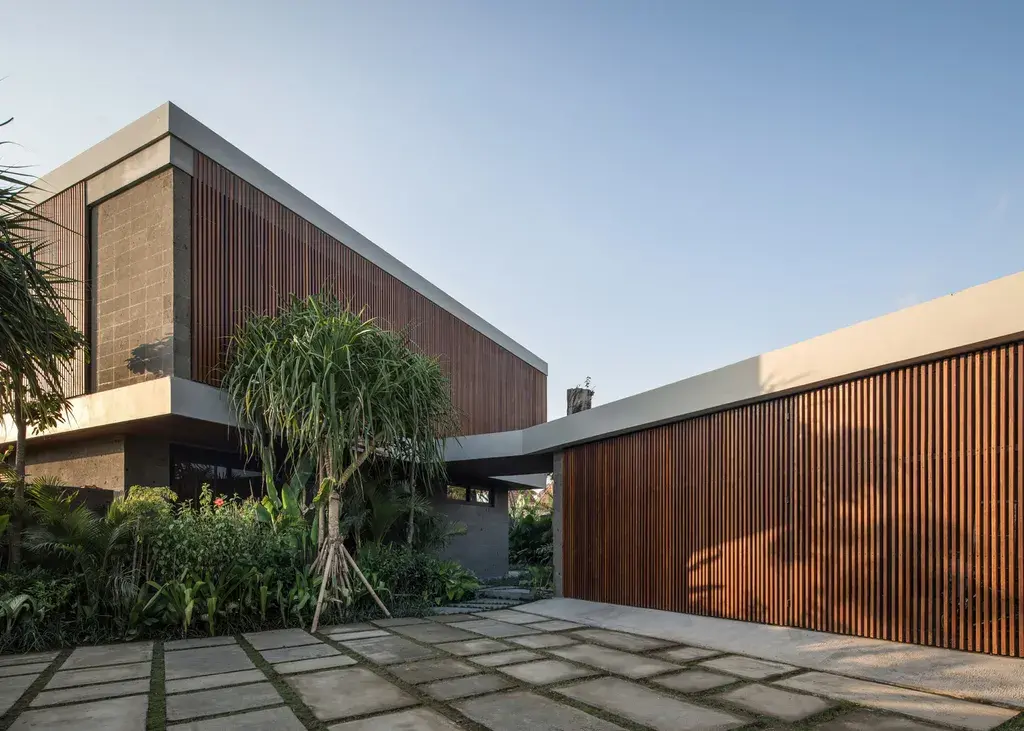 Source: adsttc.com
Architect: Alexis Dornier
Location: Indonesia
The River modern house design is a five-bedroom private residence in Pererenan, Bali. Private spaces are grouped into a cubistic volume that appears to hover above the premises' living rooms and garden. An expansive pool forms a strong vector into the adjacent rice field, providing a graphic contrast to the first floor's horizontal layout.
27. CJ Modern House Design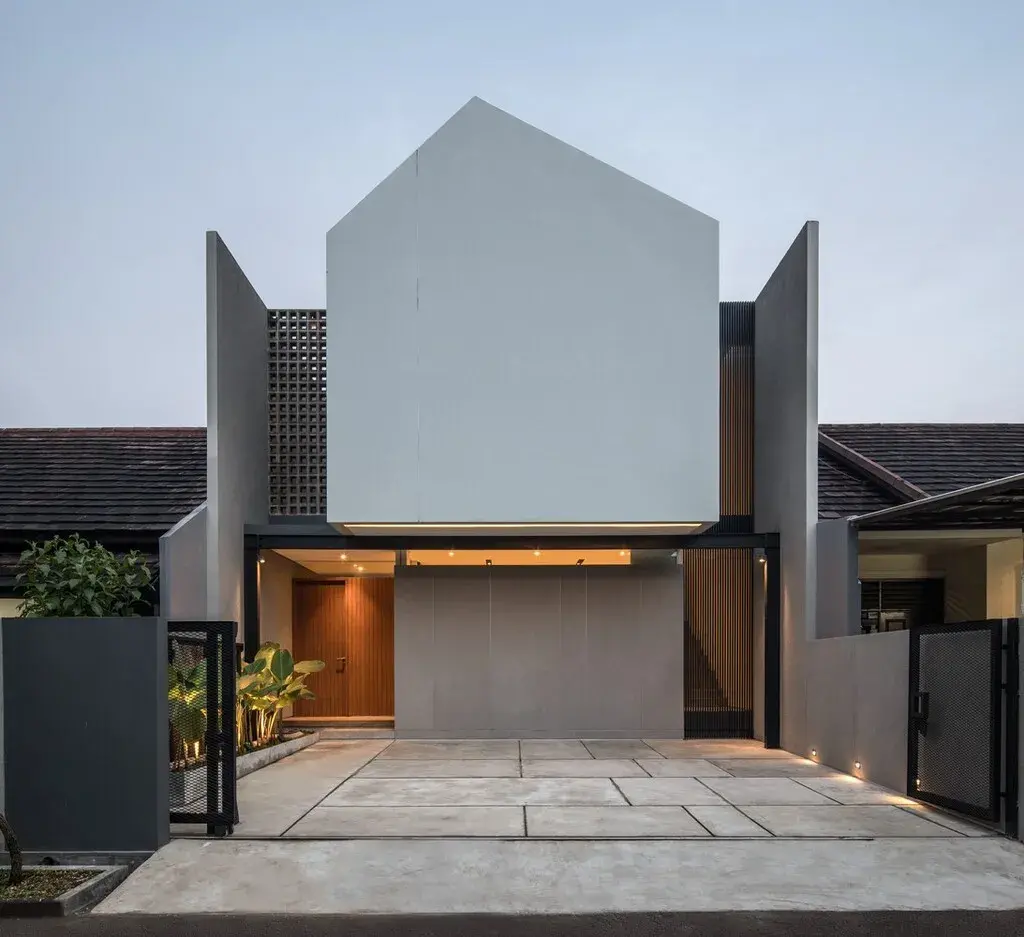 Source: adsttc.com
Architect: Ruangrona 
Location: Indonesia
The building opens from the side, completely closed from the front. There appeared to be some concern about the light in the modern house design, but the number of side openings and skylights provided a solution for bringing some light into the modern house design that appeared to be blocked from the front.
The dwelling is designed with an inward orientation in response to the situation surrounding the building, which is directly adjacent to the residential area so that residents can enjoy their residence without interruption.
28. GUHA: Modern House Design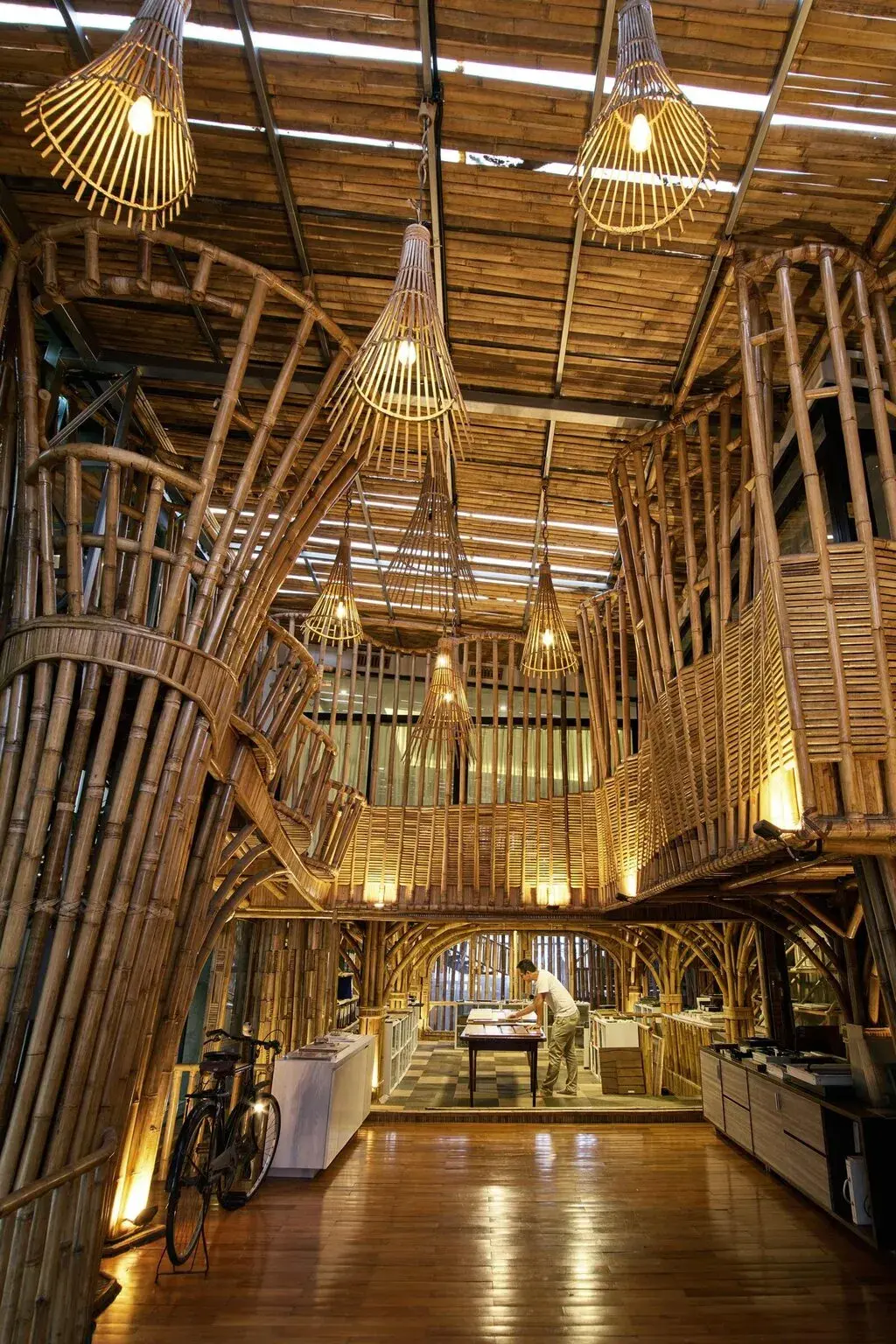 Source: squarespace-cdn.com
Architect: RAW architecture 
Location: Indonesia
The basic materials used in the facade of the modern house design are concrete, vertical louvres made of steel, and bamboo. By maintaining the privacy and opening itself to the public, the program challenges traditional Indonesian housing to be mixed with more micro-business programs such as education and coffee shops. 
Generations of artisans from West Java use traditional fish mouth joints in bamboo constructions and more modern construction methods such as steel.
29. Amagansett Modern House Design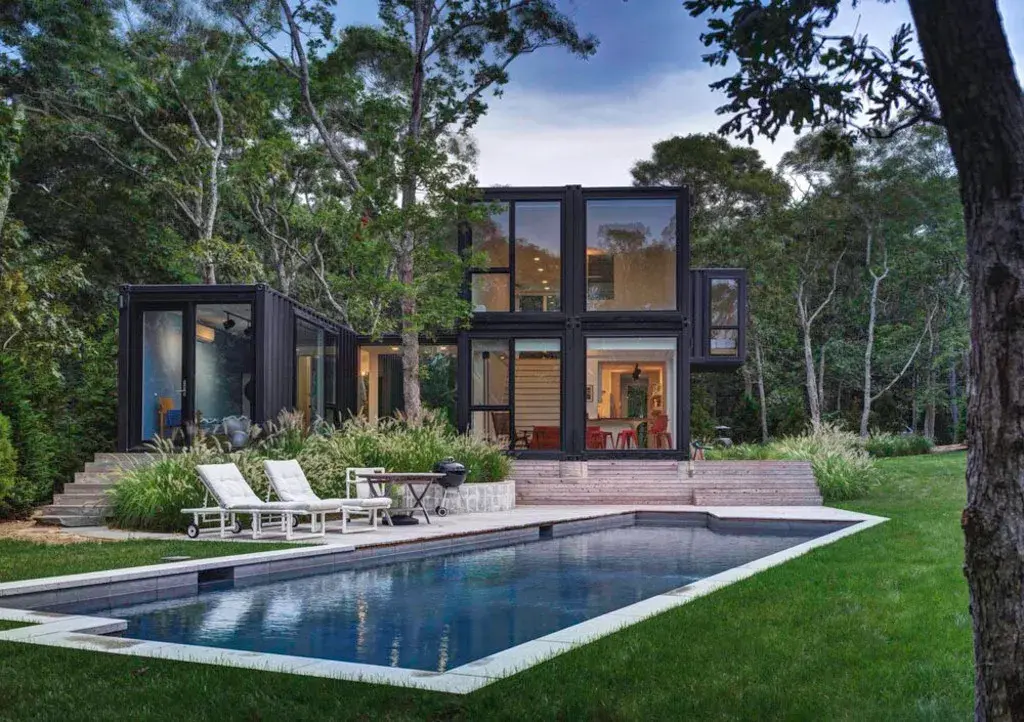 Source: homebuilderdigest.com
Architect: MB Architecture
Location: Amagansett, United States
The single container housing two bedrooms are set back from the main structure to create courtyard-like outdoor spaces that allow the structure to nestle into the sloping landscape while making the small modern house design feel spacious.
30. Kodikara House: Modern House Design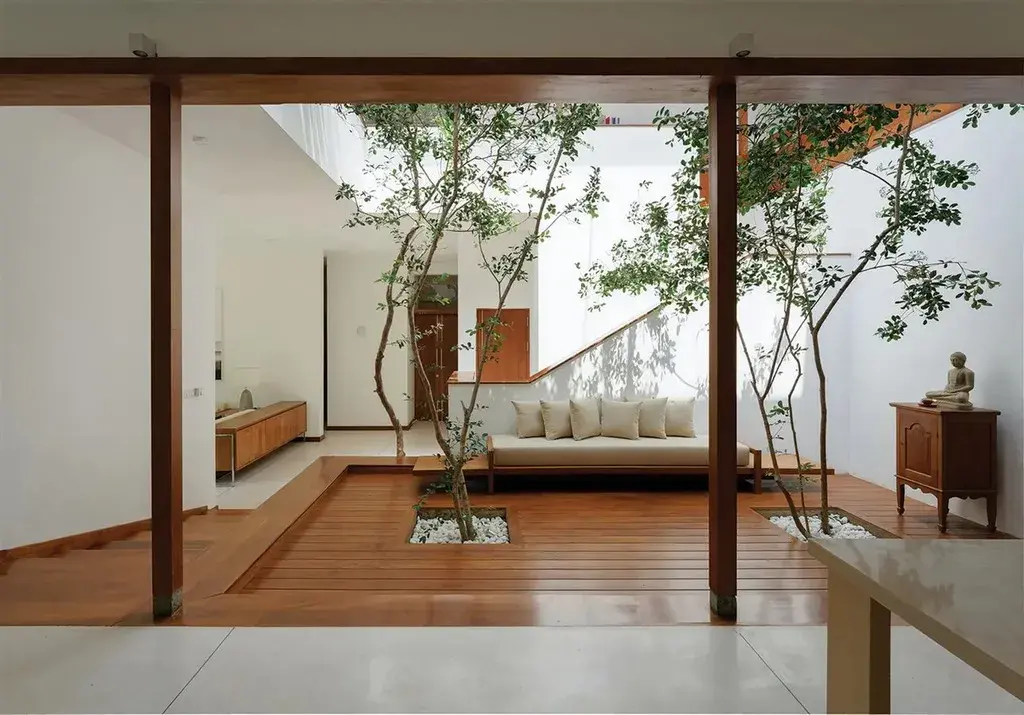 Source: imagekit.io
Architect: Lalith Gunadasa Architects
Location: Sri Lanka
The modern house design was conceived as a clever puzzle of interior rooms and outdoor gardens that, when combined, create the illusion of infinite space on what is, in reality, a 14-perch urban plot.
31. Bin and Bon Modern House Design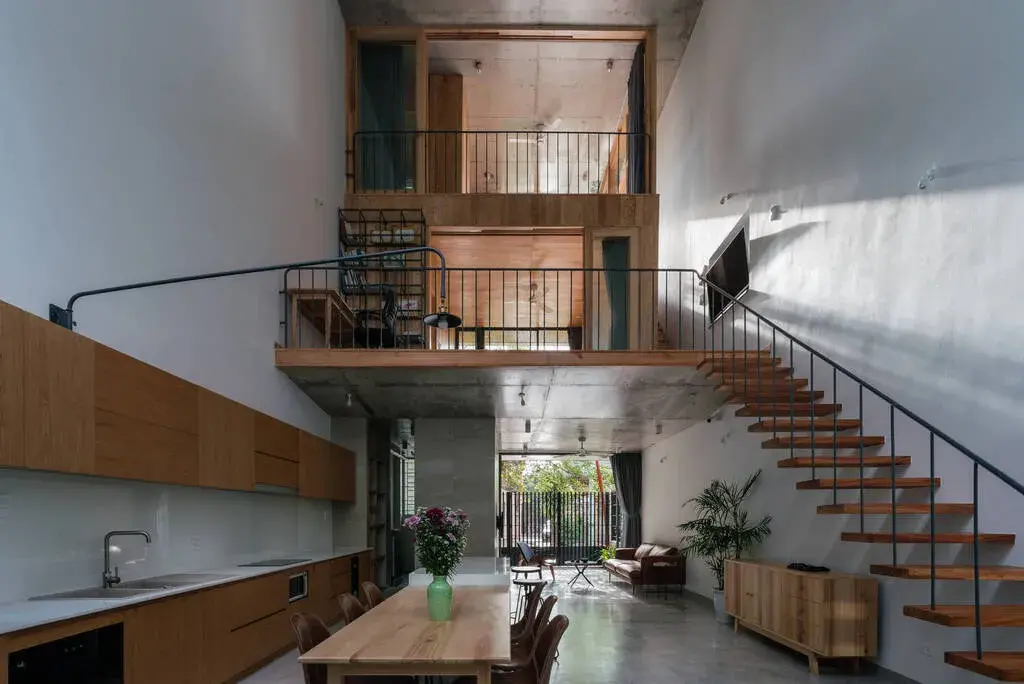 Source: static-5.happynest.vn
Architect: H.A
Location: Qui Nhon, Vietnam
The modern house design is at a crossroads in a small alley. There is a front yard with a porch where the neighbours' children gather to play with Bin and Bon. Because the front of the house frequently receives hot, dry wind, each floor has a garden as a windbreak to reduce wind and light from the main road to the alley.
Behind the building, there is a 3-metre-high hill bank. Because some houses are located there, the design team built a tall wall to obscure the back view of the modern house design and block the eastern sunlight. The architect transformed a 2-metre-wide yard into the kitchen's primary green space.
32. Residence WULF: Modern House Design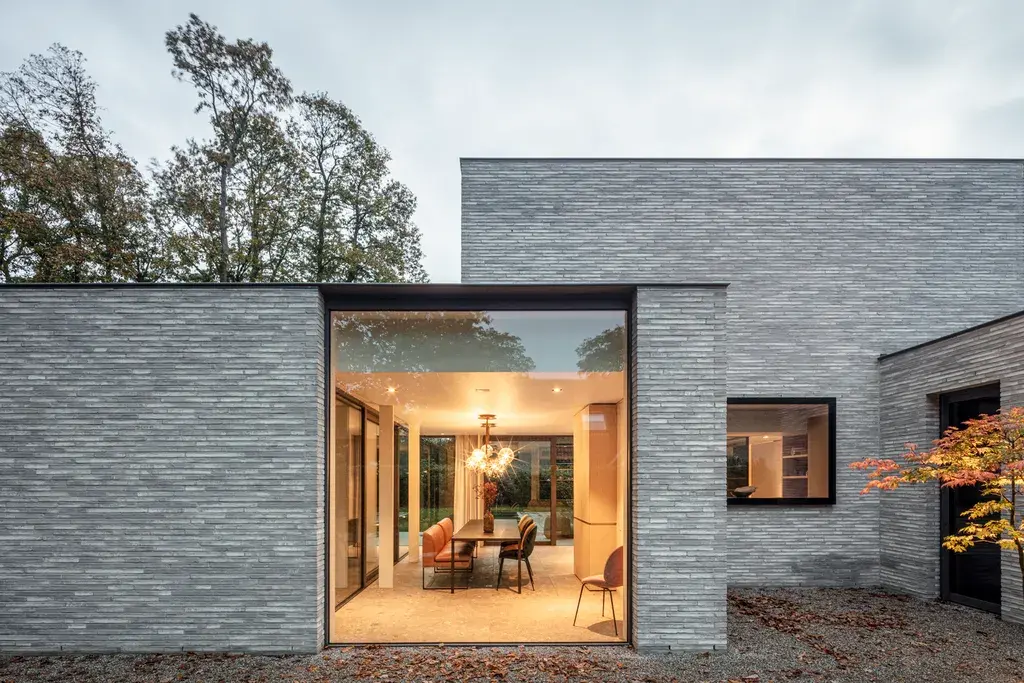 Source: adsttc.com
Architect: CAS Architecten
Location: Bruges, Belgium
First and foremost, the architects' were grateful for the location, surrounded by old oaks and beeches. They contribute to the project's perception creation. They chose an intimate architecture of brick and glass that blends in perfectly with the surroundings. 
The fact that the client, who is very interested in architecture and design, shared our viewpoint contributed significantly to the project's success. A modern house design that will easily withstand the test of time while also being an ideal combination of living and working.
And… Which Design Fired You Up the Most?
Contemporary modern house designs are a great way to show off your sense of style while still being able to call it home. With the help of these 30+ stunning contemporary modern house designs, you can bring the outside in with open-concept floor plans and even incorporate unique features that will make your home stand out from the rest. 
Whether you want something with an industrial look or are looking for something more classic and timeless, there is sure to be something here that fits your needs. So start dreaming about how you'll make these contemporary modern house designs yours!
Also Read: 15+ Mid Century Modern House Ideas in 2023
FAQs: Modern House Design
1. Why Are Modern House Designs So Popular?
Modern house designs are becoming increasingly popular because they are built to be sustainable, affordable, and comfortable.
2. What Are the Advantages of Modern House Designs?
Modern house designs are built to be environmentally friendly and sustainable. They come with many features that make living in them more comfortable and convenient.
Some advantages of modern house designs include:
They are designed to be environmentally friendly and sustainable, making them eco-friendly.

They come with many features that make living in them more comfortable and convenient, such as high ceilings, large windows, natural lighting, etc.
3. What Are the Disadvantages of a Modern House Design?
Many people believe that modern house design is a symbol of success. However, there are some disadvantages to living in a modern house design. For example, many people live in large houses, making it difficult to maintain them. Housekeepers who take care of these houses need to be paid more because they have to clean a lot more than before.
Another disadvantage of living in a modern house design is that many people need help to afford it. In the past, most people could afford to buy their own homes, but nowadays, this is different because most homes are too expensive for regular families.
4. When Was the First Time a House Was Considered Modern?
The term "modern" can be traced back to the 1920s, but the first time a house was considered "modern" was in 1928.
In 1928, a group of architects in Berlin came up with an architectural style that would later be called "The International Style." This modern architecture is characterised by its simplicity, lack of ornamentation, and clean lines.
To know more about Home improvement ideas, Cleaning and decoration tips visit ArchitecturesIdeas
For daily updates, follow us on our Instagram page @architectures_idea.