10 Ways To Improve The Exterior Of Your Lakeside Home
A lakeside home is one of the most unique kinds of properties available in the real estate market today. The water feature alone is enough to sell a property, but you want to add even more value to your investment. Explore these distinct ways to improve a lakeside home's exterior with an emphasis on beauty and value.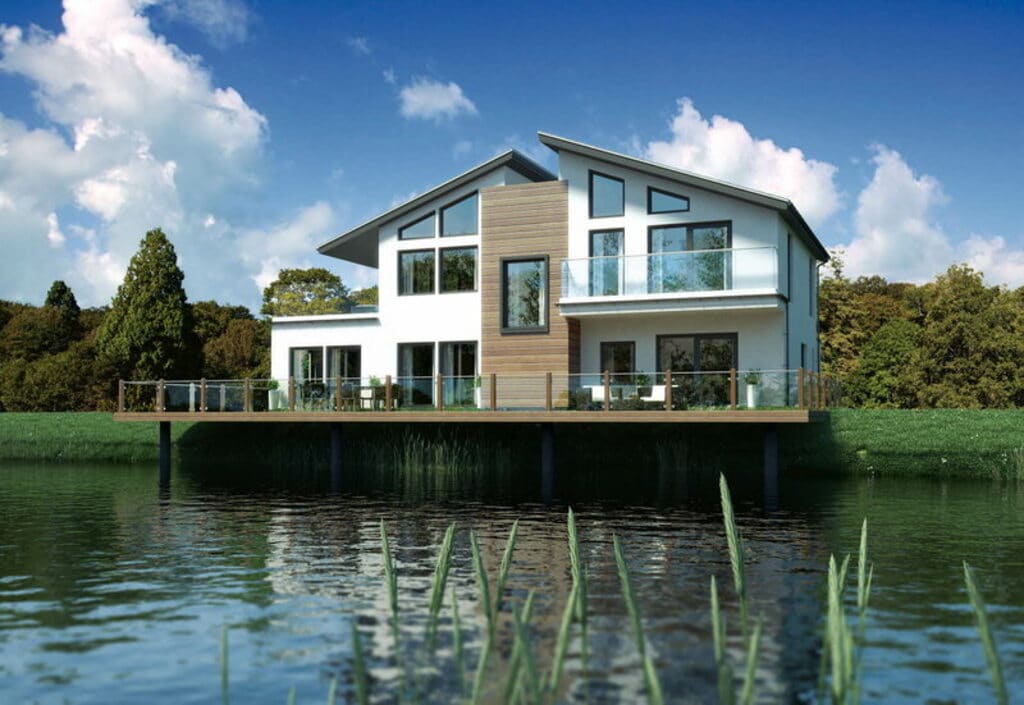 Source: Savilla.com
1. Add Safety-Minded Accessories

 
Being near the lake means there are natural transitions between the land and water. They may be steep or precarious features in some cases. Consider adding safety-driven items, such as a fence along a cliff edge. It adds aesthetic value while offering the best safety along the property's edges. 
Think about adding lighting down a pathway that leads to the water as well. It can be solar-powered, which means you don't have to worry about running electrical wires between the home and fixtures. Anyone who enjoys an evening near the lake can see clearly down the path.
2. Invest at the Water's Edge
Most people who seek out a lakeside home are interested in water activities. Adding a dock to the property is a standout way to improve it. Be sure to ask the local authorities about permits, which usually include allowable materials, sizes, and weight limits. 
This dock can support a wide variety of watercraft, such as jet skis, kayaks, and small boats. If you already have a vessel, base the dock's design on its size. Consider a slightly larger or longer dock in order to appease more buyers when selling time arrives.
3. Focus on Patio Accents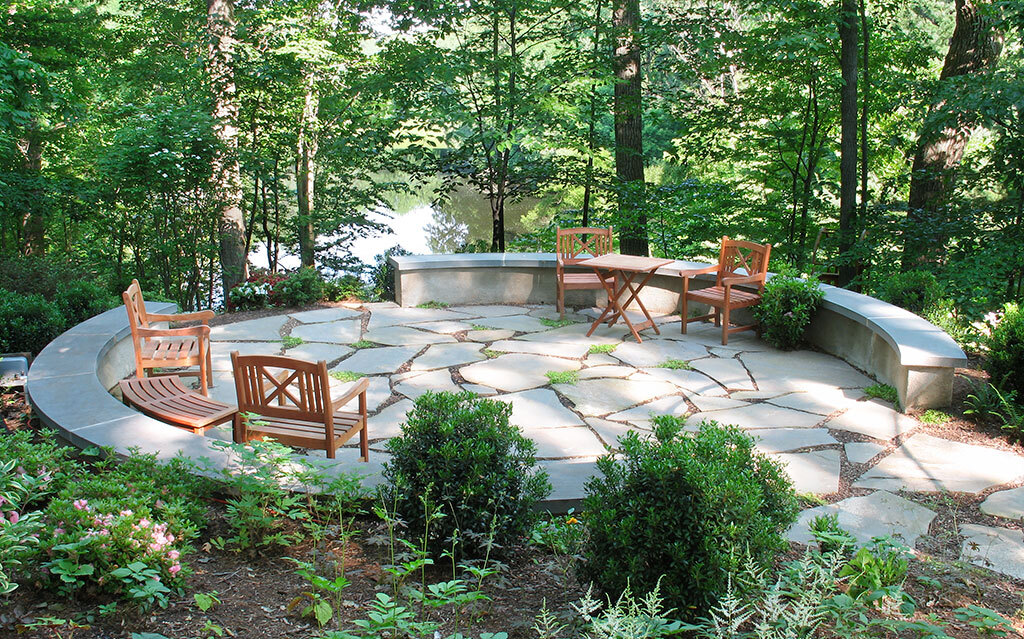 Source: shorblandscaping.com
There are simpler ways to improve the exterior of your lakeside home too. Think about new patio accents. Gorgeous table-and-chair sets can be strategically arranged on the back porch so that the lake view is the main attraction. Add a fire pit or other lighting feature that might brighten up dark nights.
For those sunny days, try an awning on the south side of the property. These installations are often retractable, which means that you control the amount of sunlight striking the back patio. Comfort is the goal with an awning addition.
4. Consider a Boat Lift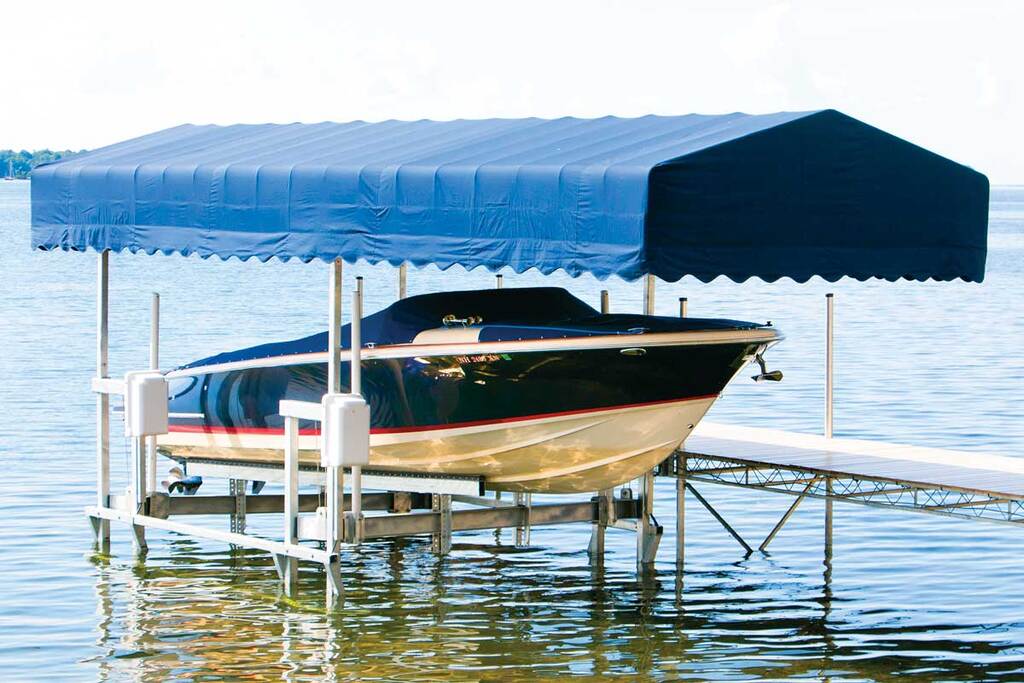 Source: Craftlaander.com
If you already have a docking area for your water vessels, think about adding a boat lift. These devices lift and hold a vessel out of the water, which protects it from damages caused by weathering. This feature is particularly desired by potential buyers, so don't overlook this enhancement if it's not at the top of your "want" list. The lift creates substantial shade over the docking area too so that you can maintain a vessel or store it for long periods of time.
5. Improve the Water Edge
A lakeside home can have some rough edges to it. The water's edge may not be conducive to everyday activities. Sharp rocks might create treacherous conditions, for example. Consider slight alterations to the shoreline, such as adding sand or beach boulders. Verify any changes with the local authorities before you start any projects, however. Some areas have restrictions based on conservation efforts.
These changes can create a safer and more attractive shoreline so that every family member feels comfortable with space.
Also Read: Three Easy & Smart Ways to Improve the Exterior of Your Home
6. Update the Siding
An improvement that's incredibly important for your lakeside home is new siding. The open water is beautiful, but the constant moisture can create deterioration across the exterior surfaces. Update the siding with a material that's harder than wood, such as fiber cement, so that you can add even more value to the home. It'll look better, last longer, and provides enhanced energy efficiency within the structure.
7. Install Stone Walkways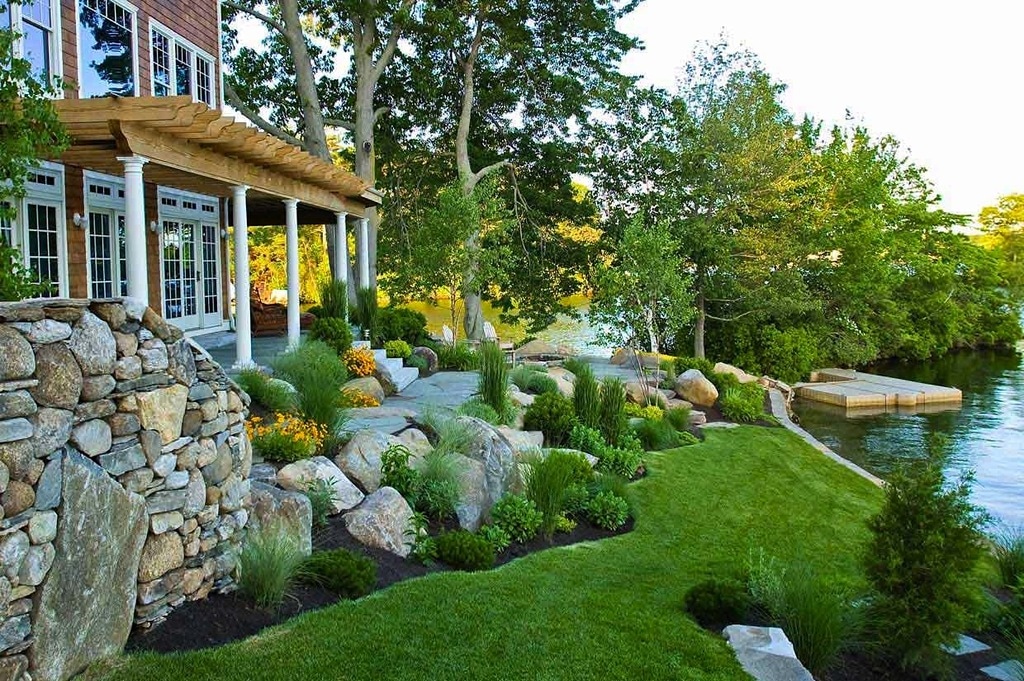 Source: houzz.com
Your property might have grass that grows right up to the shoreline. This natural landscape is certainly attractive, but it ends up being trampled on as everyone treks to and from the water.
Consider stone walkways between the home and shoreline. They can be as simple as stones set in common stepping intervals for comfortable walking. You can also go as far as pouring a complete pathway. The design is entirely up to you as long as everyone remains on the walkway to save the grass from stress.
8. Prune Back the Trees
One of the easiest ways to improve your home's exterior appearance is by focusing on landscaping. You may love the surrounding trees, but they can block out the view of the home and lake entirely. 
Prune back the trees so that both the home and lake are visible from the front side of the property. This tip also reduces the tree debris that might end up on the roof and inside gutters. A messy rooftop takes away from the home's aesthetic value and causes damages over time.
9. Build a Front Porch 
Some lakeside homes have a lackluster structure across the front porch; the property emphasis has always been on the lake view. This Old House recommends building out the front porch. Create a sitting area with an overhang to cover it when rainy days arrive. This structural alteration softens the appearance of the front side while making it look larger than its actual square footage. This improvement type definitely requires a contractor's expertise, but it can pay off when it comes to property valuation.

Source: Decora.com
10. Go Bold With the Front Door
Don't be afraid of bold colors when it comes to your front door, suggests HGTV. The home's main color might be gray or brown, but the door can have a bright hue. Reds, oranges, and other colors are perfect accents as you draw visitors' eyes to the property. 
Consider the home's main color and surrounding features. Use these characteristics to guide your color choice. You can always change the color if it isn't perfect the first time. The front door is a small change that makes a big statement.
Ultimately, the main selling point of any lakeside home is the view itself. Keep this fact in mind as you pick and choose the best improvements for your budget. Nature's beauty complements the property as its value inevitably rises every year.