In recent years, elements like natural decors in interior designing and architectural style have become extremely popular. People are now attracting more towards a sustainable lifestyle. After all, following a healthy lifestyle and adding a few natural decor pieces to your home is always an amazing and lively idea. One of the natural furniture that has been trendy for a few months and will be one of the emerging interior design trends of 2022 is the Live Edge Furniture and, more specifically, Live Edge Tables!
Live edge furniture looks stunning in any area of a home. Whether you want to decorate your living room or you're looking for a table for your dining area, the live edge furniture is the answer! There are endless options in this type of furniture, from live edge table, consoles to bathroom counters and floating shelves. From eating food to celebrating birthday parties, you can use your live edge table for many more occasions.
Do you know every piece of live edge furniture is unique in itself? Yes, custom-made by mother nature, each piece is just as unique as your fingerprints! Isn't it amazing? However, the more amazing thing about this furniture is that these unique pieces work perfectly with contemporary, modern, and minimalist interiors. Plus, you can also feature or display them in any other space of your home. So, whether you're looking for some furniture to furnish your home or just want a statement decor piece, live-edge tables will be the best option.
Today in this blog, we've gathered up some of the best live edge tables of 2022. From traditional dining tables to modern coffee tables and bar tables, we've included every kind of live edge table for you. So, keep on reading and find the suitable one for your home. But first, let's know more about live edge tables in detail.
What is a Live Edge Table?
Live edge tables come with original surfaces or edges. This means these tables have at least one side; sometimes, both sides are left natural or untouched.
In simple words, in live edge furniture, instead of sawing off the edge of a tree beneath its bark, its original gnarled shape is carefully preserved.
The remaining edges or sides are milled down to simple straight planes. Later these slabs are used to make live edge furniture like tables and benches. By doing this, the live edge tables get a raw and edgy look.
Live edge style incorporates various planes of the wood's surface, including wormholes, bark, wood grain, etc. Unlike the traditional and regular finished tables, live edge tables bring the natural lines of the tree into the living space. Without making the space too congested or bulky, it brings the appearance of the outdoors inside from its unique design and style.
Are you excited to see the latest and stylish live edge tables? If yes, keep scrolling!
9 Trendy & Stylish Live Edge Table Ideas
Live edge desks and tables are available in various sizes and various kinds and shades of stain. From mid-century, contemporary to modern and bohemian style, you can find every type of live edge table in the below list. You can also select the one with a hairpin or metal legs to create an industrial and bold ambiance. So take a look at these live edge dining room table and other furniture ideas for your home and office:
1. Modern Live Edge Dining Table
Provide an upscale addition to your plain dining room with these types of modern live edge dining tables. This table looks super elegant and adds a modern touch without catching too much attention towards itself. You can either go with matching dining chairs or pick the black geometric chairs.
These types of live edge wood dining tables are perfect for open spaces. When the kitchen and dining area are combined, sometimes it is challenging to decide the right furniture for the space. However, picking these live edge tables will gracefully blend both the kitchen and dining space altogether. It will also bring the embedded luxury from its original design and looks into the room.
You can easily decorate it with any kind of interior design and style. This single piece of furniture makes the ideal boardroom table for corporate spaces looking to bring luxury and originality to their offices.
2. Berkshire Natural Live Edge Large Coffee Table
Are you looking for a replacement for your old coffee tale? Get home this modern and sleek live edge table. This table is from the Alaterre Berkshire brand, and it is made from gorgeous natural Acacia wood.
Apart from its shiny live edge sides and finished surfaces, its legs are pretty unique. Solids legs are in an unusual design, and no two live edge tables will be exactly alike. This is because the subtle imperfections such as knots and cracks in the wood surface are unique in every table.
This rectangular-shaped table provides ample space to put all your stuff like tv remote, food, and drinks. You can also display many home decor, books/magazines, or electronic devices on it. Another benefit of this table is that every table comes with nylon floor protectors. So, it will protect your floor from any type of furniture marks or scratching.
3. Tree Slice Coffee Table
Are you looking for a unique furniture piece for your living room? Here's another great coffee table option for you. Look at this live edge table; it's not a regular table that you can find in any store or shop. It is uniquely designed and crafted by the designers. 
These types of live edge tables are also known as tree slice tables or natural tables. They're a solid cut piece of a tree trunk. With the black hairpin legs, this amazing table will add a chic and stylish touch to any room.
4. Live Edge Wood Bar Table
If you're looking for some bar or counter tables for your kitchen, live edge tables can fulfill your dream! Yes, look at these stylish and trendy bar tables. From small to super large-sized, you can get these tables in any size.
Another interesting thing about this table is its hairpin legs. Here the super-sized, bar-level hairpins have been used for this large bar table. These types of legs will offer a modern and chic look to your space. Available in many shades, finishes, and colors, you can buy the one according to your interiors and decors.
So bring home this trendy bar table and have a fun time with your family and loved ones.
5. Live Edge Working Desk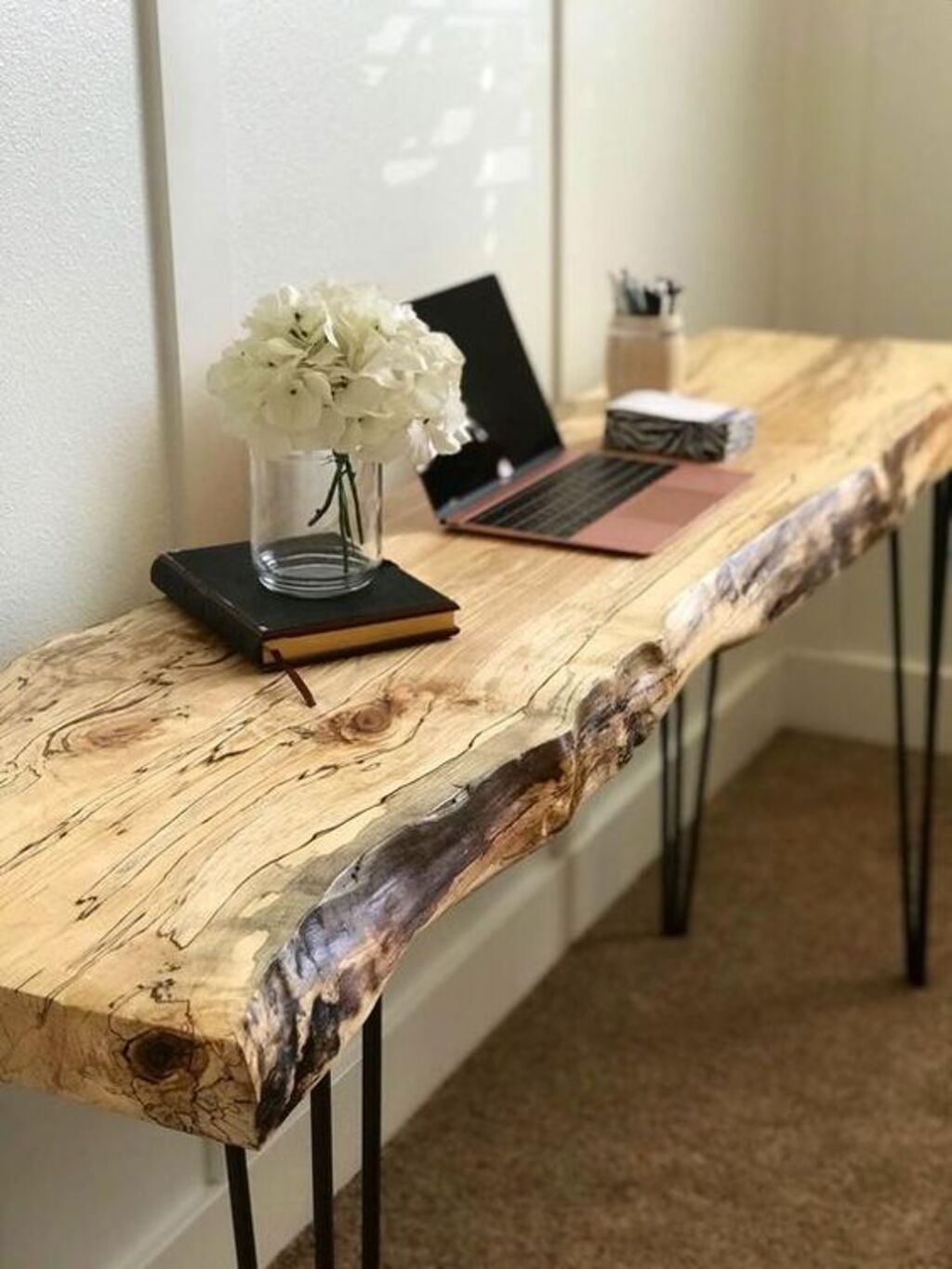 Since the pandemic happened, people have started working from home. These days, more and more people are preferring this idea over regular office going jobs. Nowadays, working space has become a necessity rather than an optional space to have. So, if you're also working from home and looking for a decent-sized table, you can buy these live edge working tables.
From L-shaped to regular rectangular tables and foldable ones, you can get live edge desks in any size and shape. They look aesthetically pleasing and also provide a comfortable space to work on.
Look at the above table; you can buy something similar as per your space and work requirements. For example, for a mid-century modern look, you can get a live edge corner wooden desk with white drawers with mustard touches for a stylish and functional home office. On the other hand, for an industrial and edgy look, go with a small wall-mounted live edge wooden desk.
6. Live Edge Console Table
Add some drama and elevate the overall look of your entryway with these sleek live edge console tables. It's a very important part of the house. After all, this is the first thing that your guests will notice while entering your home. So, you have to make this space special and give the right impression to your guests and visitors.
Not only in your entryway, but you can also put these live edge console tables in your hallway and passages. Look at the above table ideas, isn't a great way to spice up any space? You can go with the sleek entryway console with a live edge and contrasting metal legs. This will provide a contemporary look with the latest style.
7. Hairpin Leg Live Edge Tables
Why go for simple and boring ones when you can get the latest and fashionable live edge table with hairpin legs! This is one of the increasingly popular leg styles these days. You can include various types of live-edge tables such as side tables, stools, bar tables, coffee tables, and dining tables.
Live edge tables with hairpin legs look so sleek and streamlined. They're perfect furniture that complements a range of design styles. Look at the above pictures, see how beautifully hairpin legs have been used in different sizes and types of live-edge tables.
From outdoor ideas benches, console tables to dining tables and stools, you can include hairpin legs in any kind of live edge table. They're also perfect for using both indoors and outdoors.
8. Live Edge Outdoor Table
Spice up your backyard or outdoor space with a natural live edge table! Having a proper siting and entertainment area on the deck or porch is a must thing. You can enjoy sipping your morning coffee here or watching the sunset with your loved ones.
To create a perfect outdoor hangout spot, there is nothing more suitable than live edge tables! You can get them in any size and style and create the perfect ambiance. You can even DIY live-edge tables according to your liking and personal style.
9. Live Edge Floating Table & Shelves
Another great way to use live edge tables is the mountable ones. Yes, we're talking about a great space-saving option: Floating shelves. These things will instantly give your space a natural and edgy feel without making it too bulky.
All you need to do is to mount some live edge table slabs on the wall. From bathroom cabinets to makeup vanity and desk, you can literally use these shelves for anything. They not only look great in any room but also save a lot of floor space.
Here are some more live edge table and furniture ideas for you to get some inspiration for your home: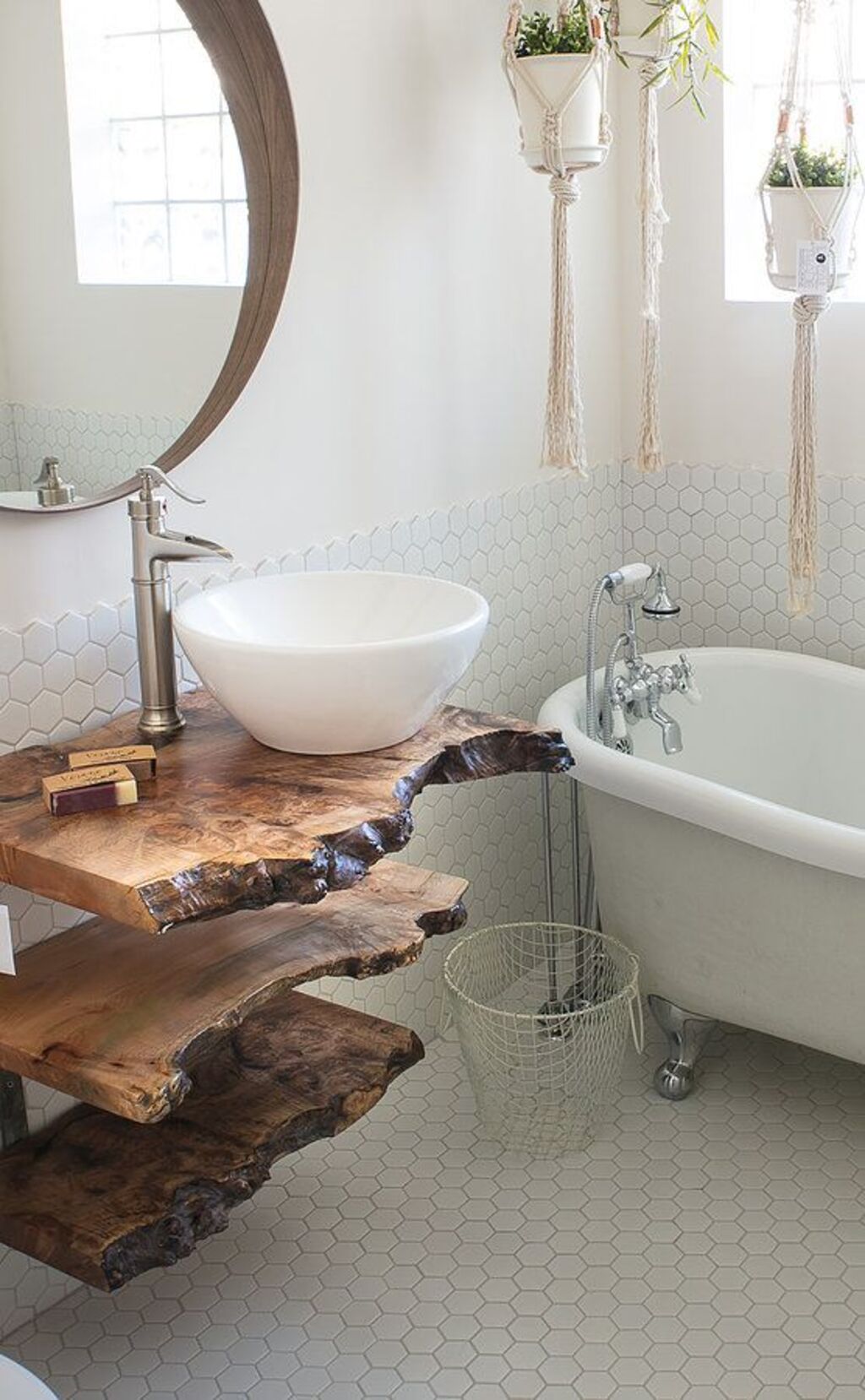 Final Thoughts
So which live edge furniture idea do you like the most for your home? Live edge tables work perfectly for the dining room, living room, or any part of the house. They're eco-friendly
and sustainable and come with 100% natural finishes. Another advantage of having these live edge dining tables or furniture is that you can easily style them with any interior decor or design, and that's why they never go out of style!
Live edge tables are available in so many different styles, colors, shapes, and sizes. You can get the one according to your space and as per your liking and taste. However, it is advised that before investing in one, always measure your space and the table.
So, this is all about the live edge tables. I hope this blog has helped you to pick the right live-edge furniture for your home. Also, don't forget to share this blog with your friends and family so that they can also spice up their space with these amazing live edge tables.