DIY Vanity Tables: 15+ Creative Ideas to Organize Your Beauty Essentials in 2020!
Everyone wants to start their day with some glorious and peaceful moments and also want to look beautiful and gorgeous all the time. Morning is the time when we get ready for the day, and sometimes it becomes the most hectic part of the day. And guess which thing we use mostly in the morning time while getting ready? Yes, Mirror. From making the perfect hairstyle to getting ready, we all use a mirror a trillion times in a day, right! 
Do you own a lot of makeup or grooming stuff, but there is no place in your vanity to store? Do you always get late because a lot of your time is wasted to find the right stuff? If your answer is yes, it's time to organize your vanity area. 
Nobody likes the unorganized and cluttered vanity table, and you'll never be able to find the right thing at the right time, which results in a waste of your time. And we all know that in the morning time we all want things fast and quick. But you don't need to buy an expensive vanity to stay organized. In fact, you can build your own with simple supplies. How? Read this blog till the end as today we've collected more than fifteen creative and cute DIY vanity table ideas that'll make your life easy. We have also included bathroom vanity ideas so that you can organize that too. The best thing about creating them is that you can customize them according to your space and style. 
15+ Creative and Cute DIY Vanity Table Ideas
From modern vanity tables to traditional rustic ones, there is a vanity for everyone. So get ready to give a makeover to your unorganized and cluttered vanity make it more stylish and clean.
1. DIY Mirror Vanity Table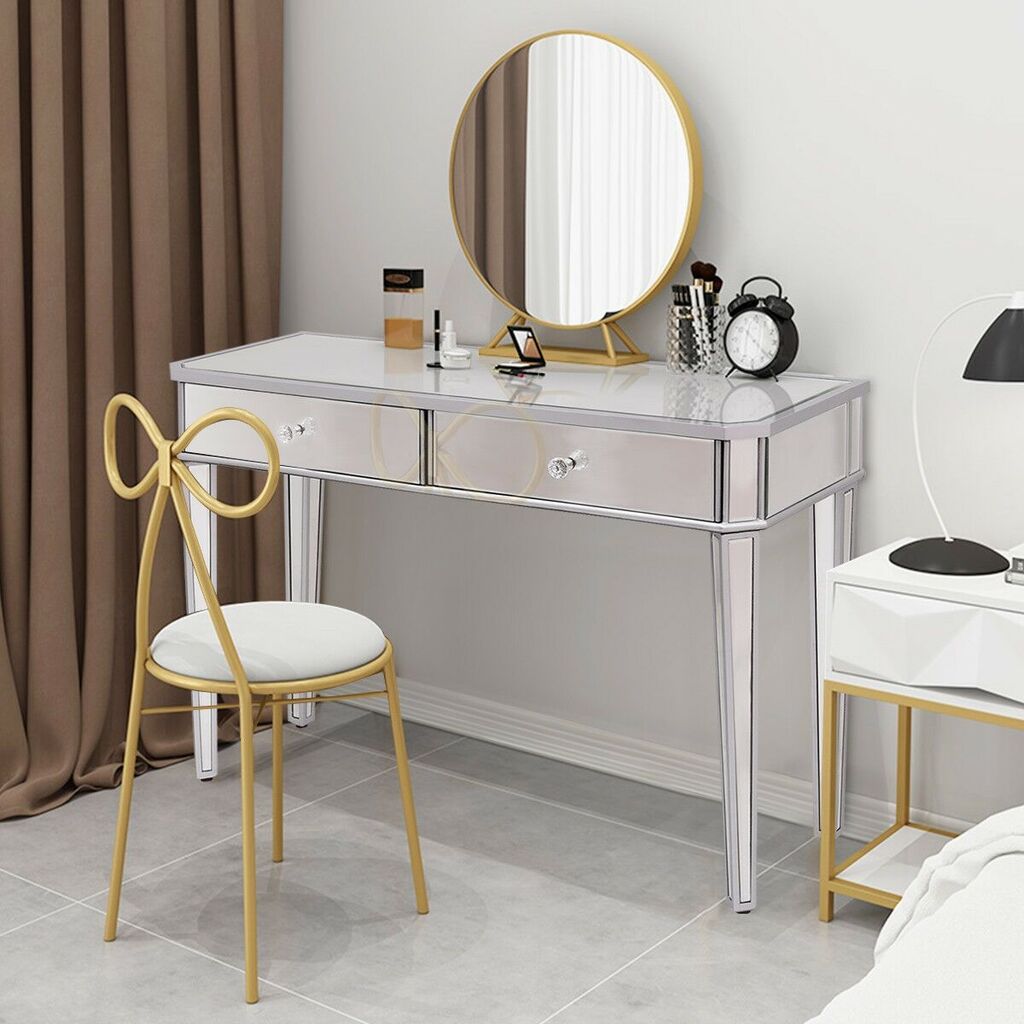 Source: pinimg.com
This simple vanity is in white color with some gold detailing, which makes it luxurious at the same time. Perfect round mirror designs are essential for every vanity. You can also do the same with your vanity to get a modern look. 
2. DIY Compact Vanity Table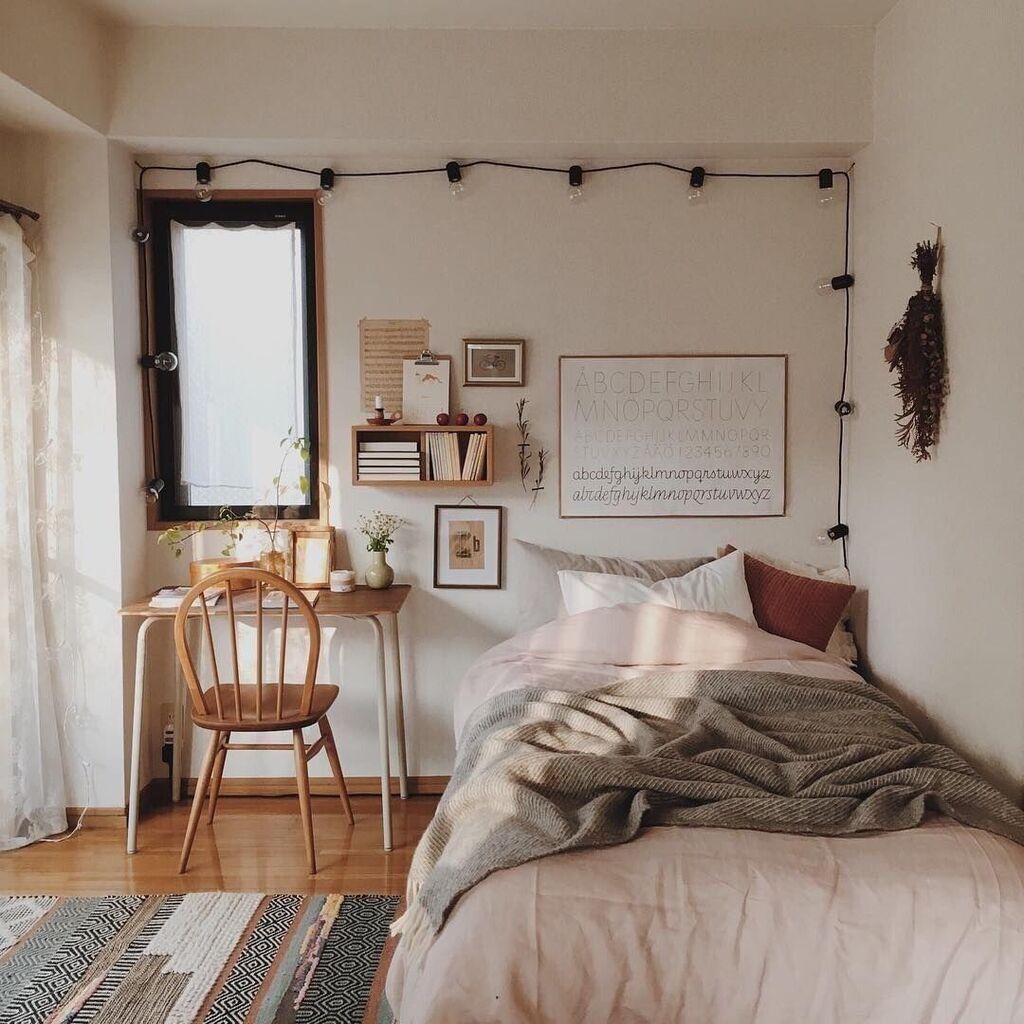 Source: pinimg.com
This vanity table is perfect for those who live in tiny spaces. First, mount a small shelf, or you can also use one bar stool with a hanging mirror, and you'll have a nice and useful vanity in your room. 
3. Farmhouse Style DIY Bathroom Vanity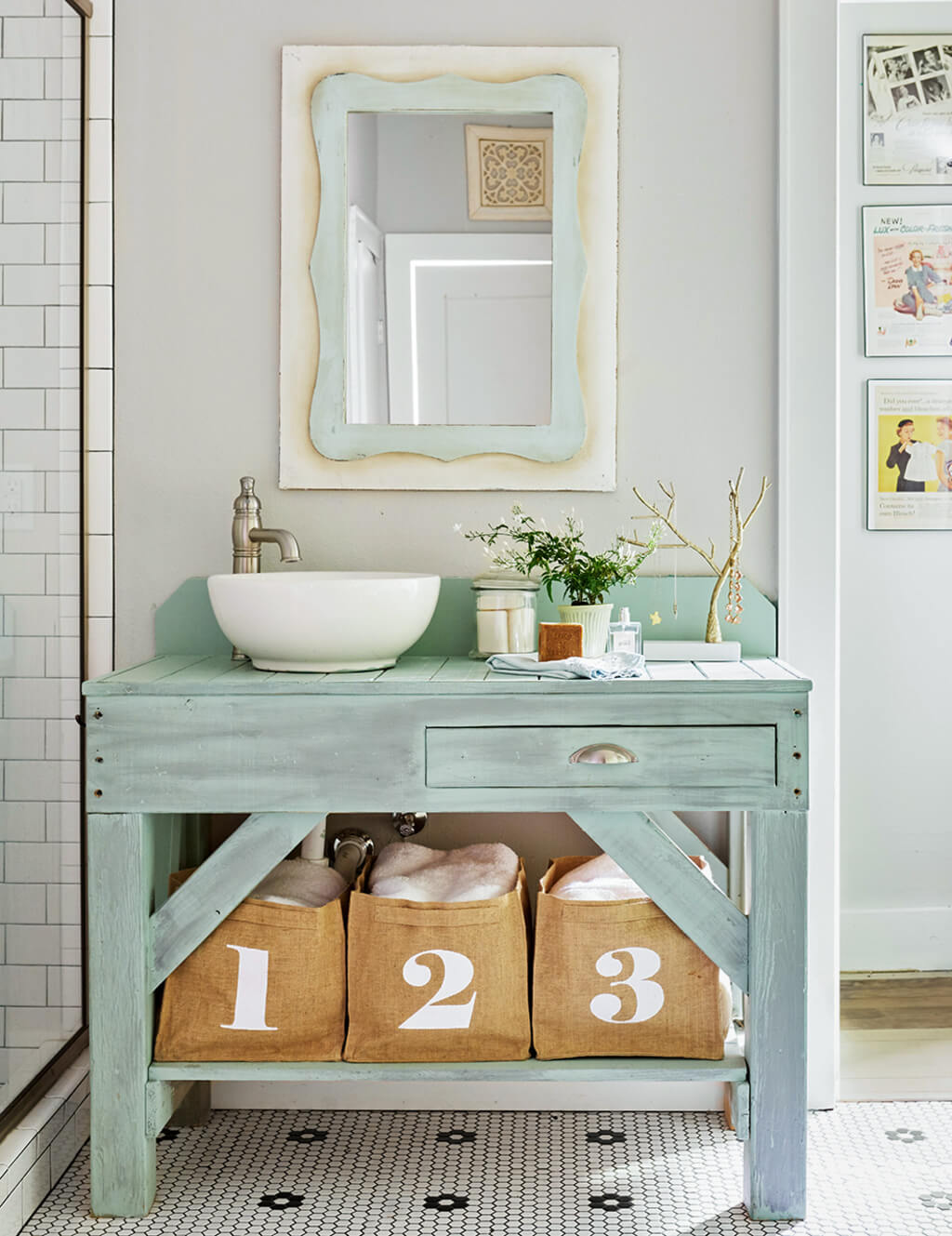 Source: meredithcorp.io
What do you think about this farmhouse style vanity? Here the homeowner painted the antique mirror in a similar color and style to match the vanity table.
4. DIY Bookshelf Vanity Table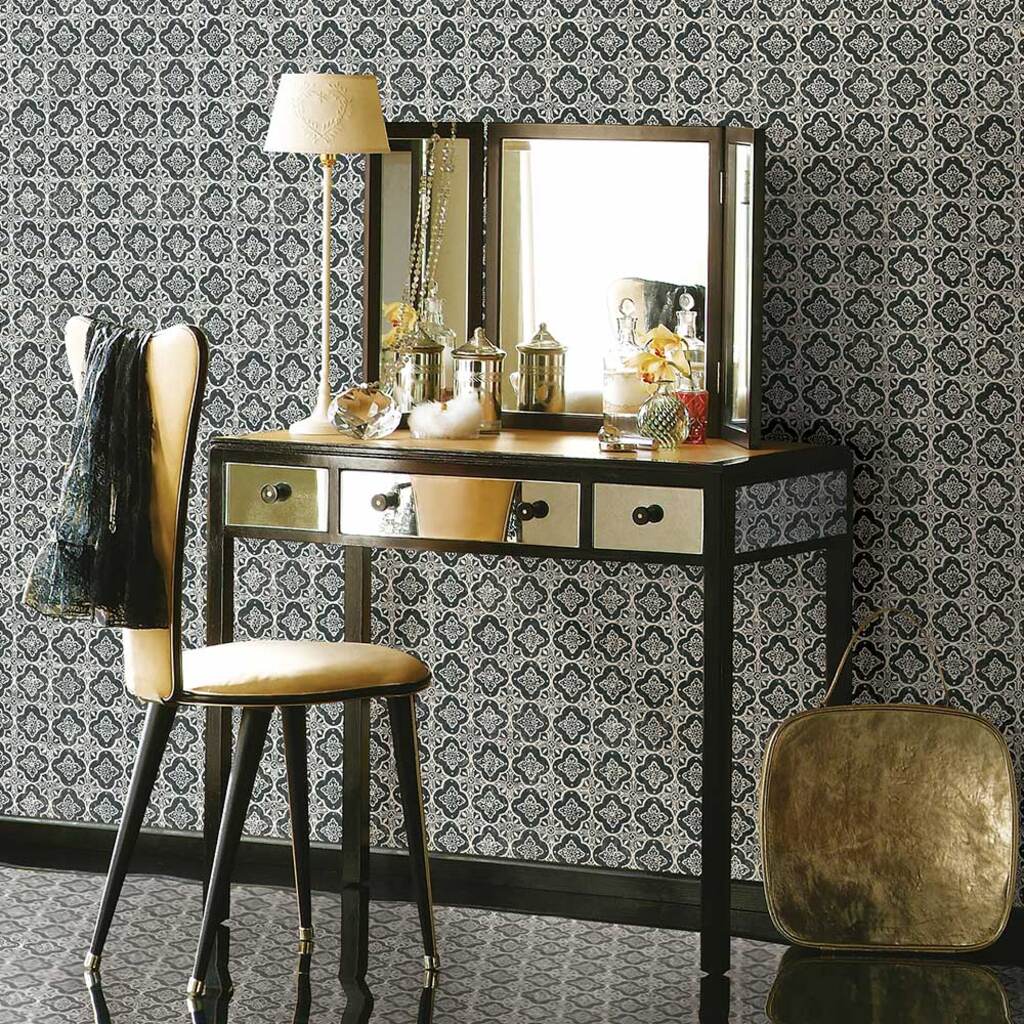 Source: homedepot-static.com
Do you have extra bookshelves in your home? If yes, use them as your vanity organizer. Yes, they'll be perfect for storing makeup, perfumes, purses, and other accessories.  
5. DIY Vanity Table With Mirror Cabinet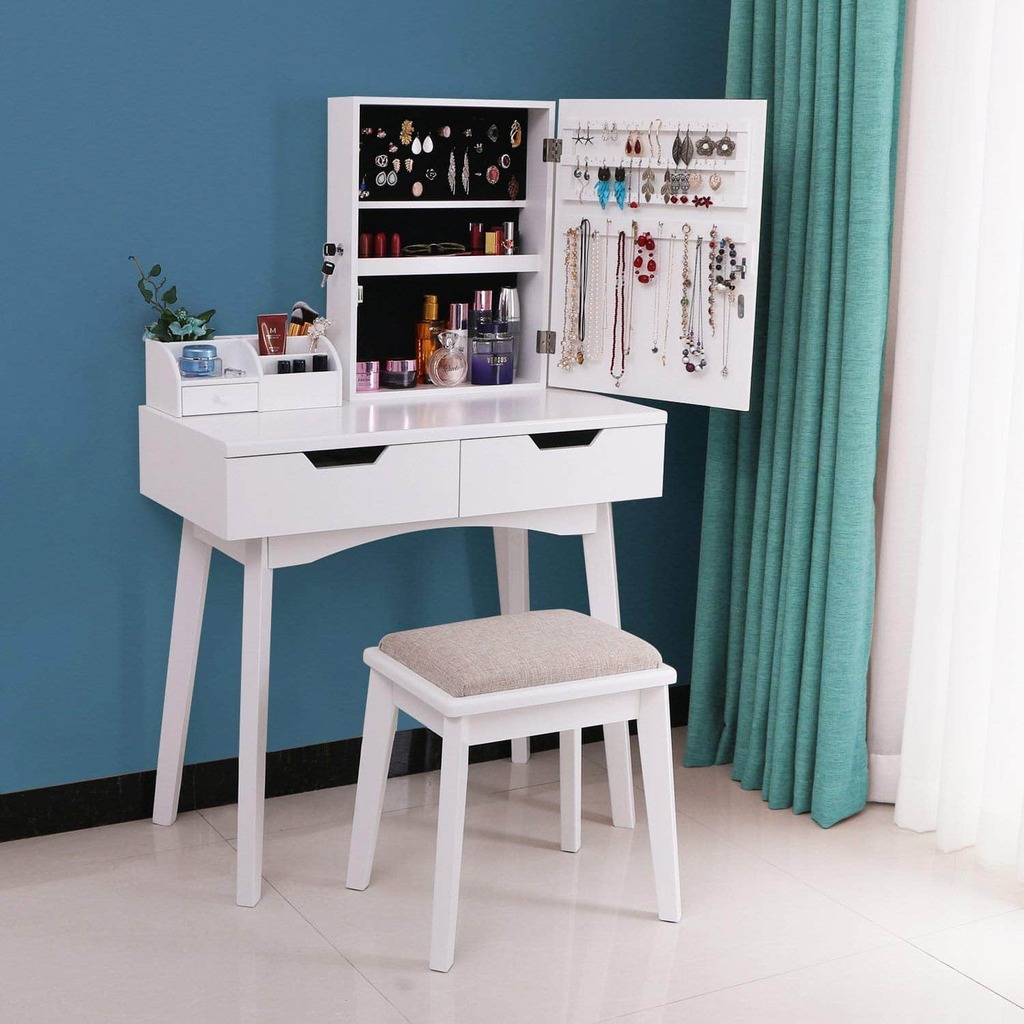 Source: hqreview.com
Love collecting jewelry? Create a makeup vanity with a special cabinet like this. You can put all your jewelry items in here. With multiple storage compartments, it will be easier to find your favorite necklace without creating a mess.
6. DIY Budget-friendly Vanity Table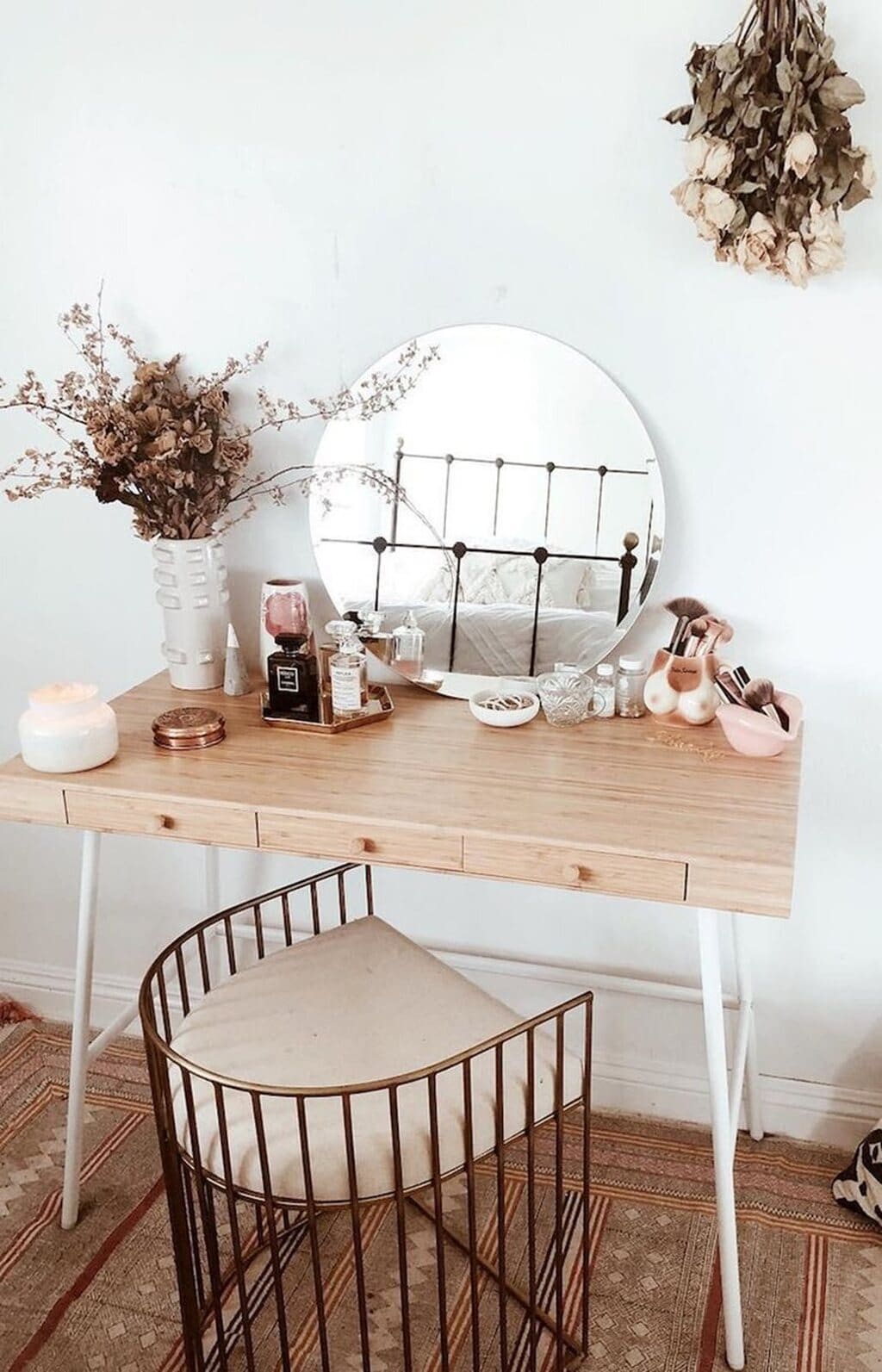 Source: fthis.gr
Who says that building a vanity table will cost you a fortune? That's not true at all. Look at the above vanity set up. There are many affordable ways to turn any furniture into a makeup vanity. It's quite simple and pretty!
7. DIY Bathroom Vanity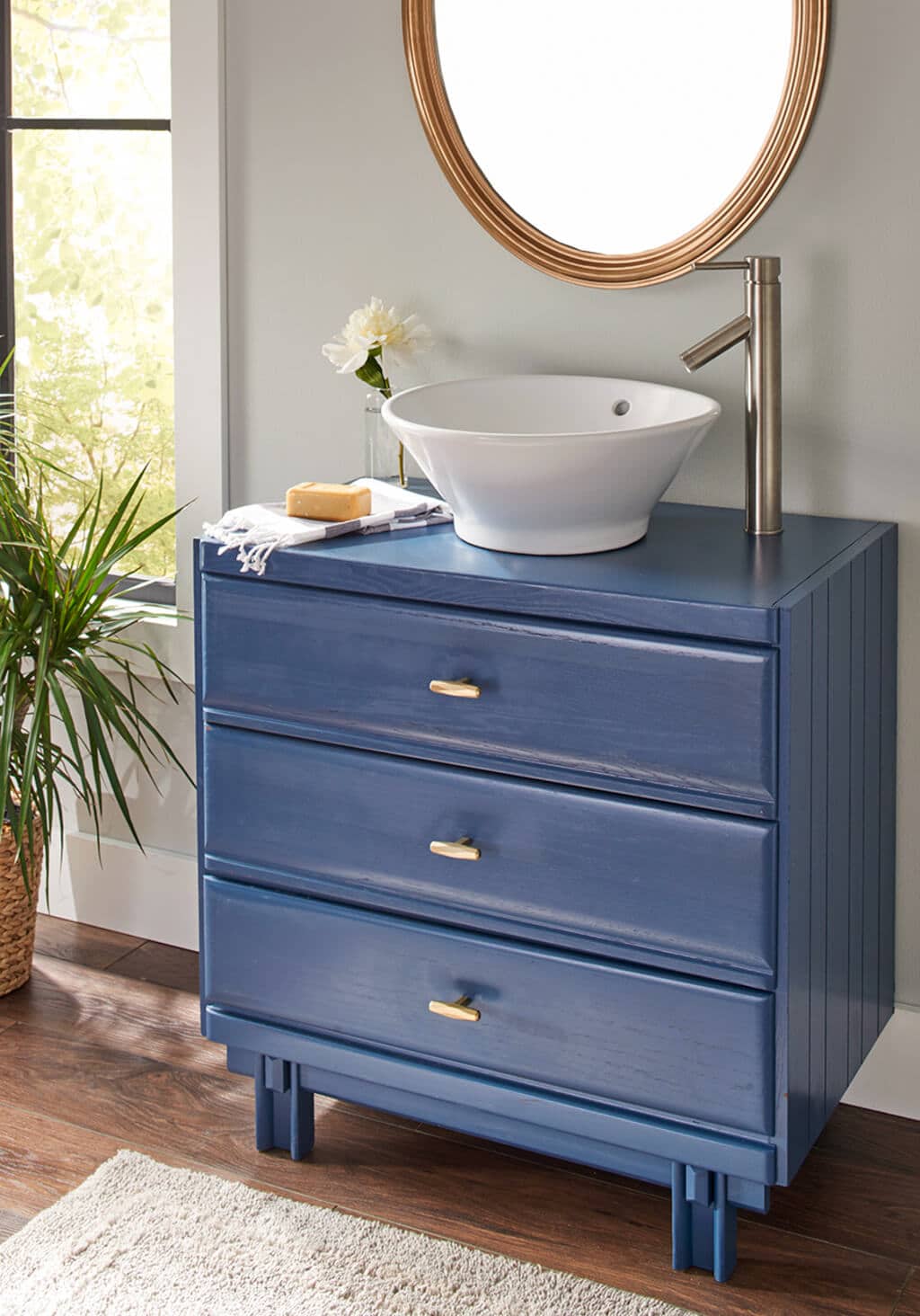 Source: meredithcorp.io
Here is another example of reusing a furniture piece. To create this kind of vanity set up in your bath, all you need is an old dresser. Just paint in your desired color, and it is ready to work as your vanity. 
8. DIY Glass Top Vanity Desk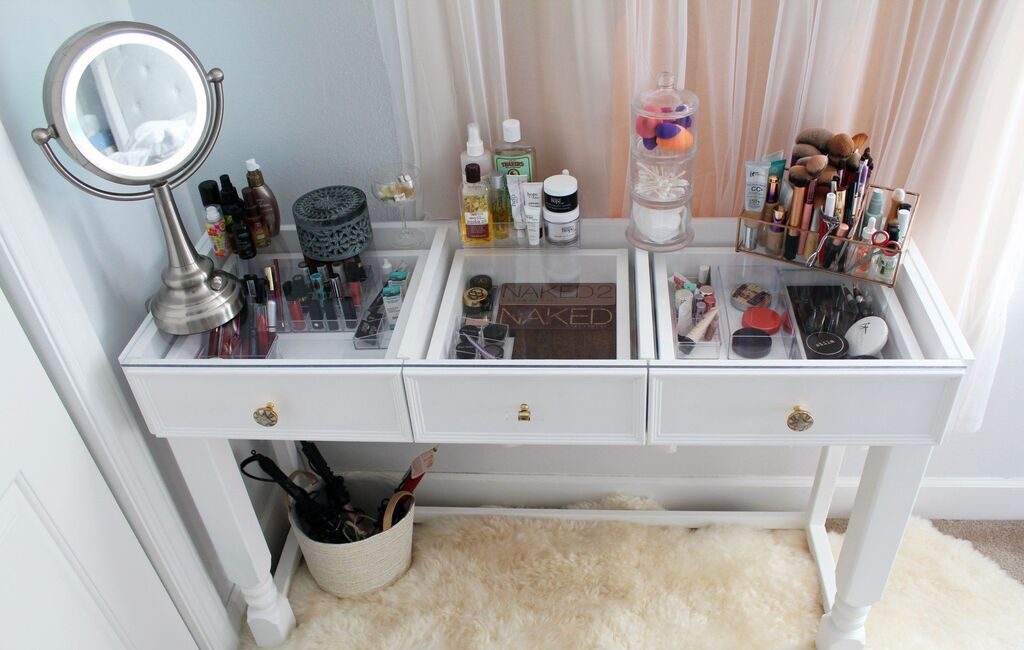 Source: pinimg.com
Super classy…super chic, this vanity is my personal favorite. With a glass top, it is easy to find all of your beauty products. Besides that, you can also use some small plastic containers to organize your stuff, like lipstick in one and eye shadows in others. 
9. DIY Floating Vanity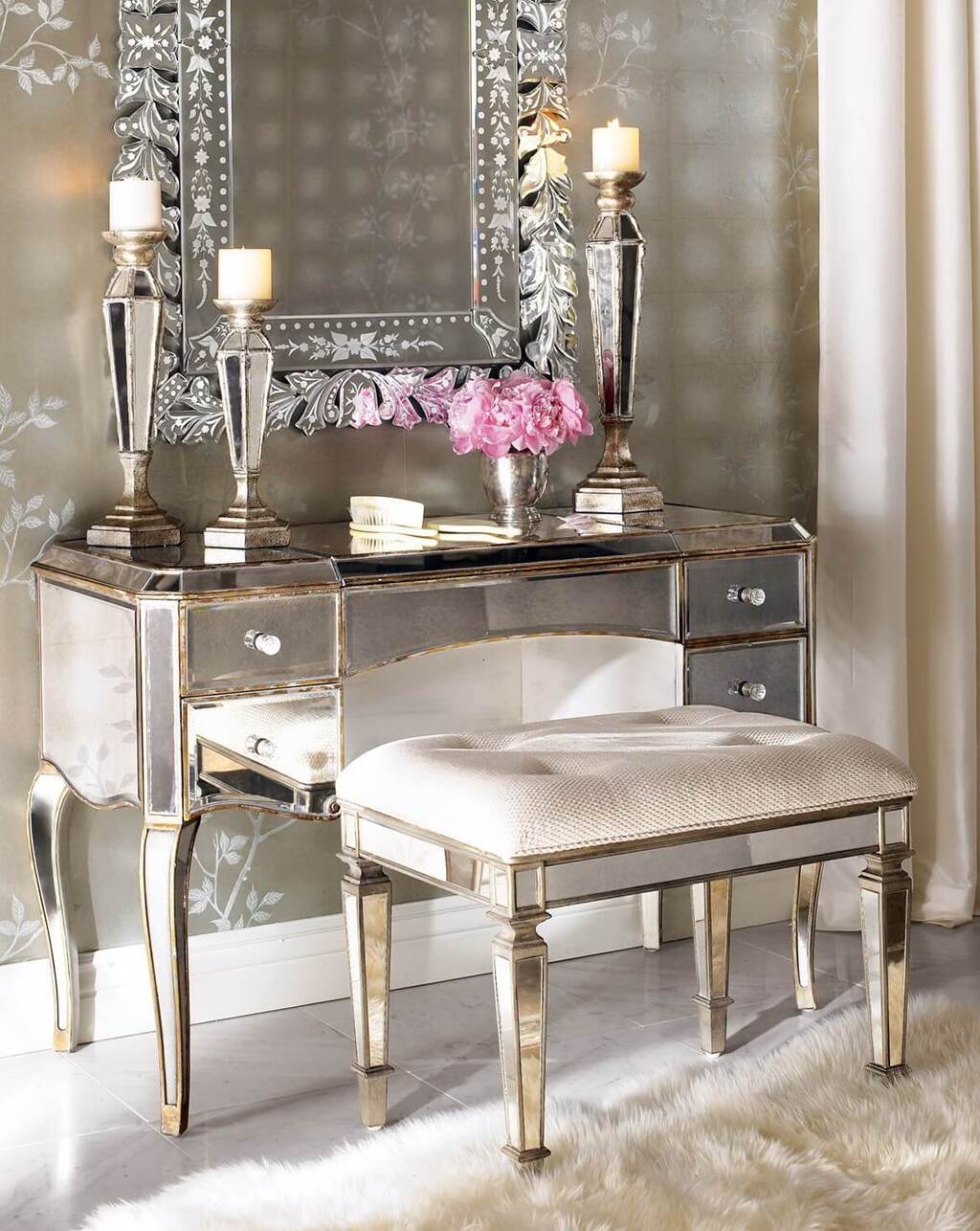 Source: homebnc.com
A floating vanity will not only save a lot of floor space, but it also looks gorgeous. So include this type of lovely vanity in your room. To create this, all you need is to Combine two shelves and mount them on the wall. Make sure to leave some space in between to place some boxes and baskets. Finally, add a large mirror, and it is ready to use! 
10. DIY Makeup Vanity Table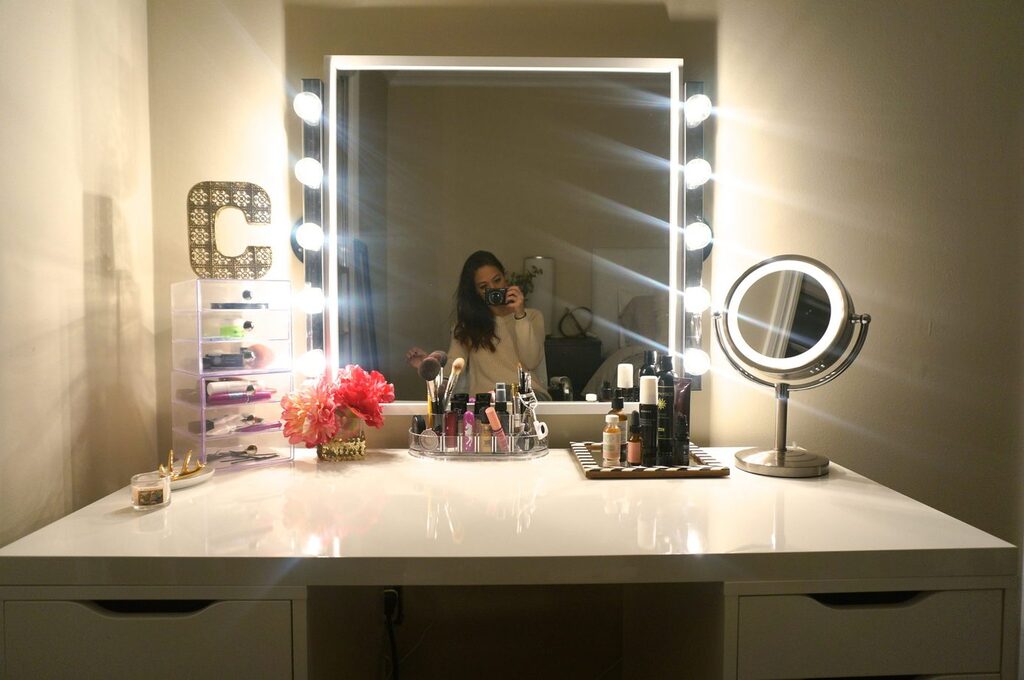 Source: simphome.com
I already told you that you don't need extra money to create a vanity; all you need is some creativity. Here the homeowner cleverly has used the old dresser and reuses it as her new vanity. Nobody will ever know that this stylish makeup vanity is made from an old dresser.
11. Combined Vanity in Bath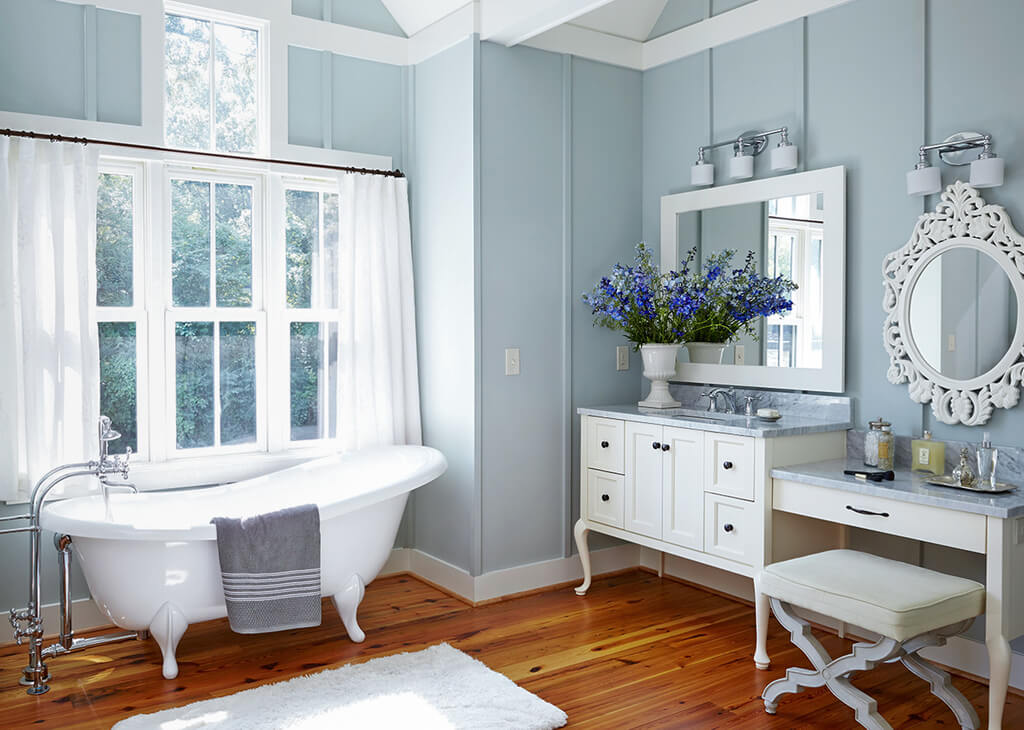 Source: meredithcorp.io
Take your makeup vanity to your bath and place it beside the bathroom vanity. Why? It is a lot more convenient for you, and two people can simultaneously use it, which ultimately saves a lot of your time in the morning. Here the whole area has antique, curved furniture, which is giving hotel-like vibes.  
12. DIY Vintage Vanity Table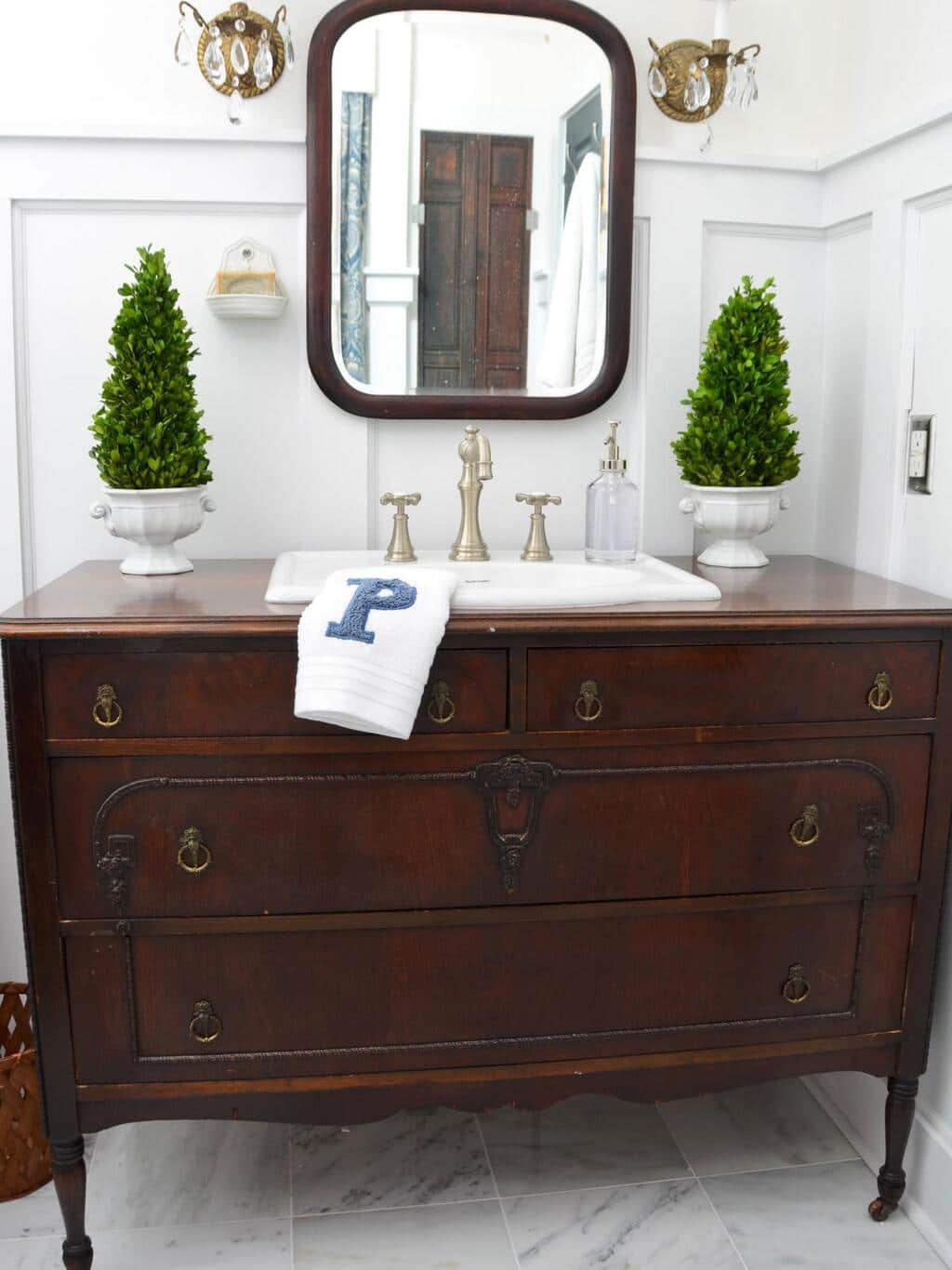 Source: sndimg.com
This unique vintage looking vanity is perfect for those who love the 1980's inspired decors. You can find these types of vintage desks, tables, or vintage chairs and mirrors in local markets or thrift stores. They not only look gorgeous, but you can also store a lot of stuff in them. 
13. DIY Clear Makeup Vanity Table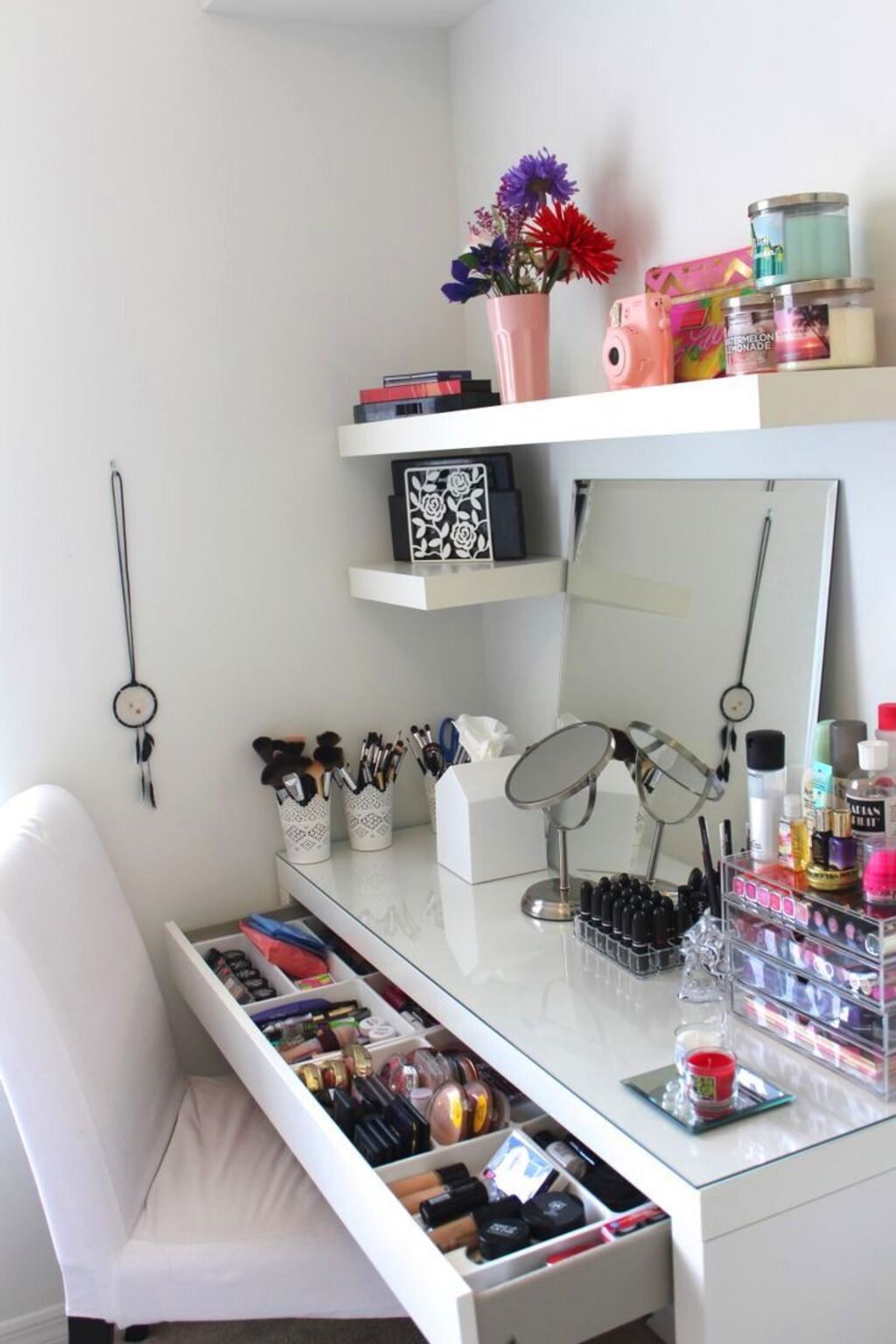 Source: junkmail.co.za
This DIY golden makeup vanity is a superb and amazing idea to add more beauty and glam to your bedroom. 
A well-organized and decorated makeup vanity is a dream and wish of every girl. Look at this glamorous clear makeup vanity. It has many storage compartments where you can put lipsticks, perfumes, and many more. Moreover, it is not attached to the wall, so you can easily move it anywhere. 
Also Read: 10 Convincing Reasons To Buy Decorative Wall Mirrors Online
14. DIY Dresser Vanity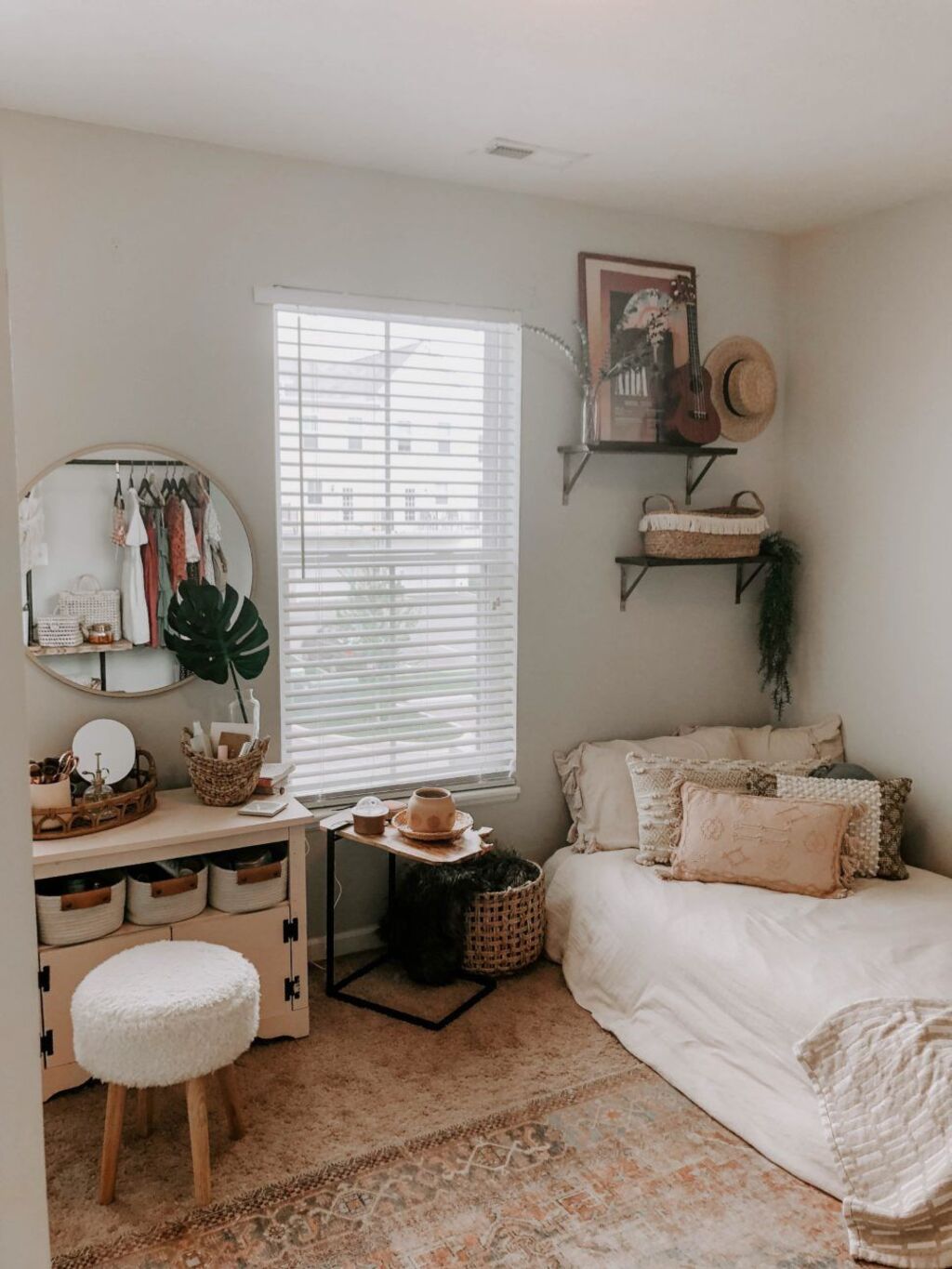 Source: pinimg.com
The best thing about vanities these days is that you don't need to follow the old tradition of a table and chair as your vanity. You can use whatever you want or have in your home. Here the girl has used an old dresser and a small mirror on top and shelves on the side to create her cute vanity setup. 
15. Wood DIY Bathroom Vanity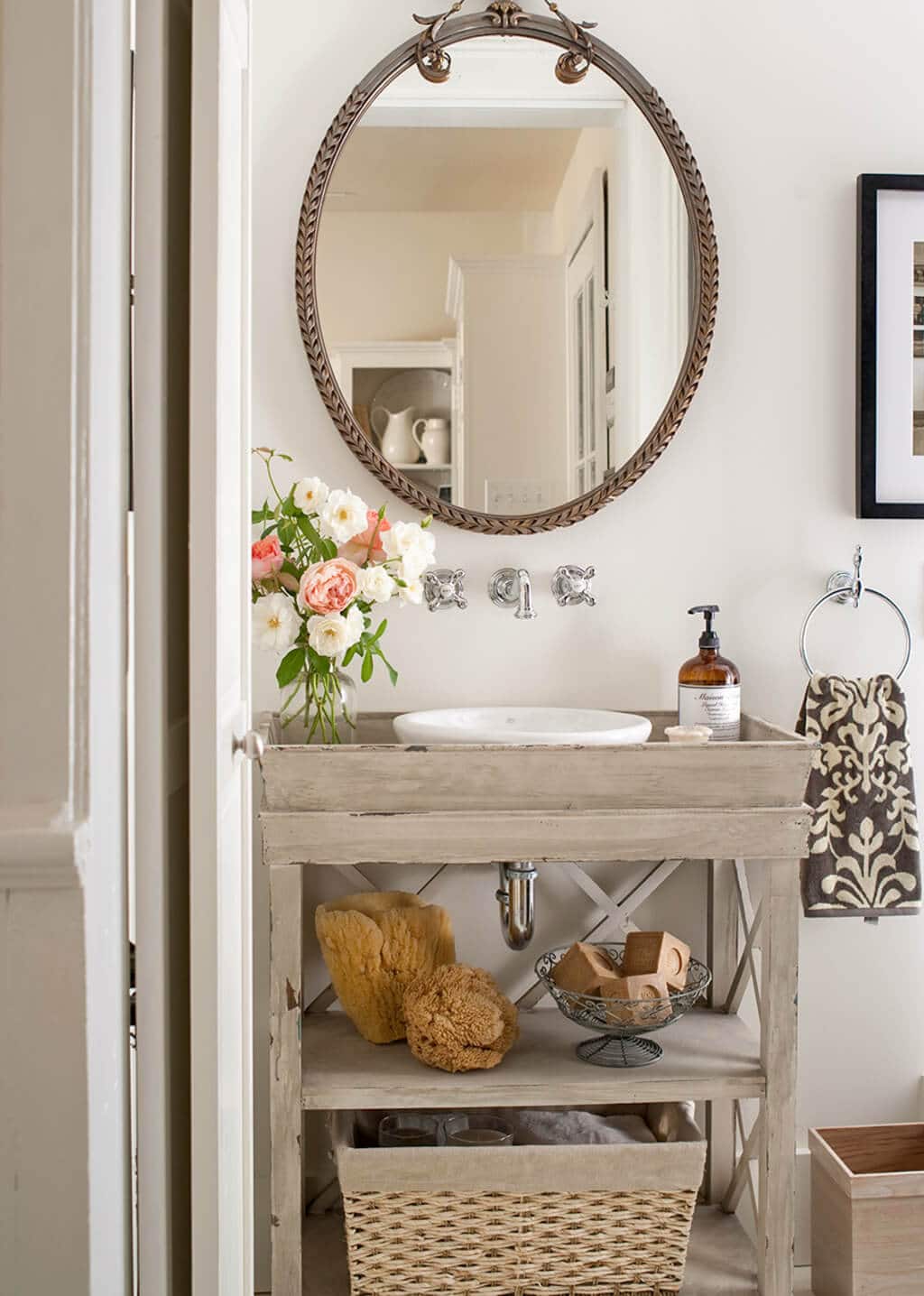 Source: meredithcorp.io
Small bathrooms have a problem that you can't store many things in there. If this is the case with you, go with something like this. Here a narrow wood table is used to hold a sink and storage. Use antique furniture pieces as they're a great way to incorporate antique finds into your rustic bathroom vanity plans.
16. DIY Door Vanity Table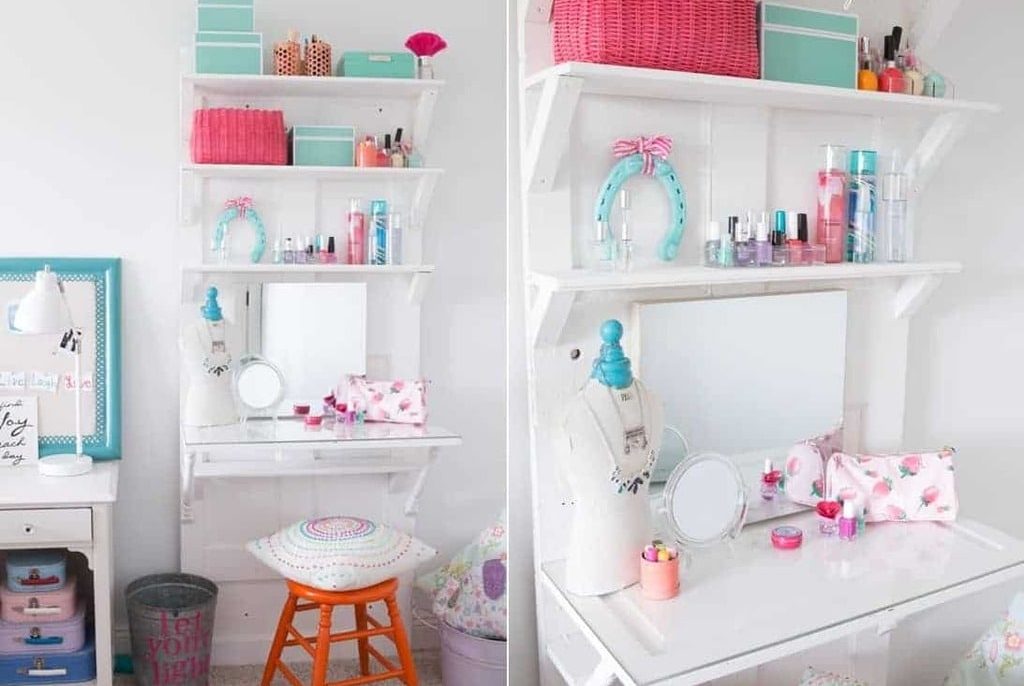 Source: remodelormove.com
Just looking at the picture, do you even guess that this stylish vanity is made from an old door? Yes, it is true. Here an old door is painted in white, and some extra shelves are later added to it. Finished with a clear glass top, this vanity will organize all your stuff gracefully. You can even use baskets and storage boxes to make the vanity look even more delightful.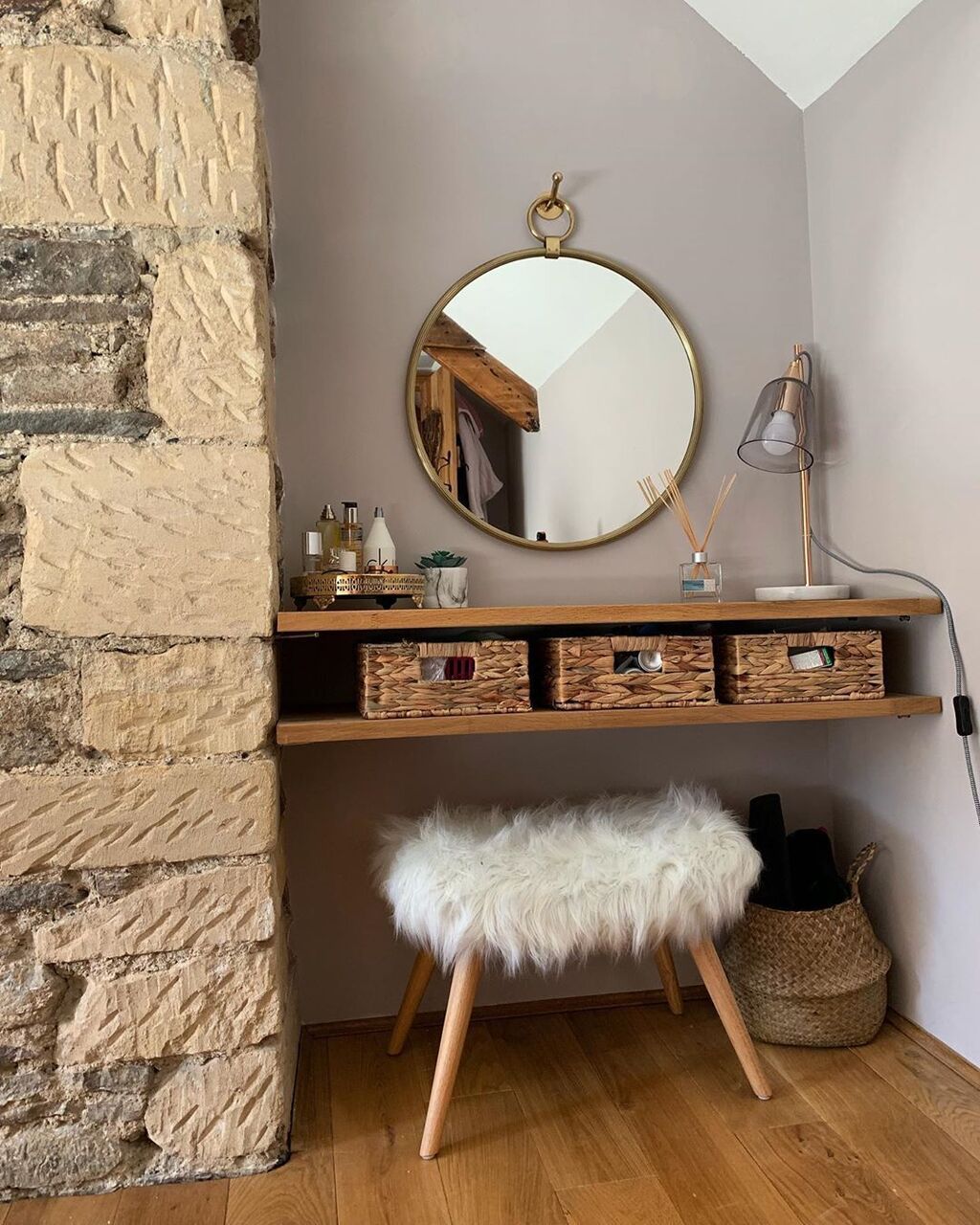 Source: pinimg.com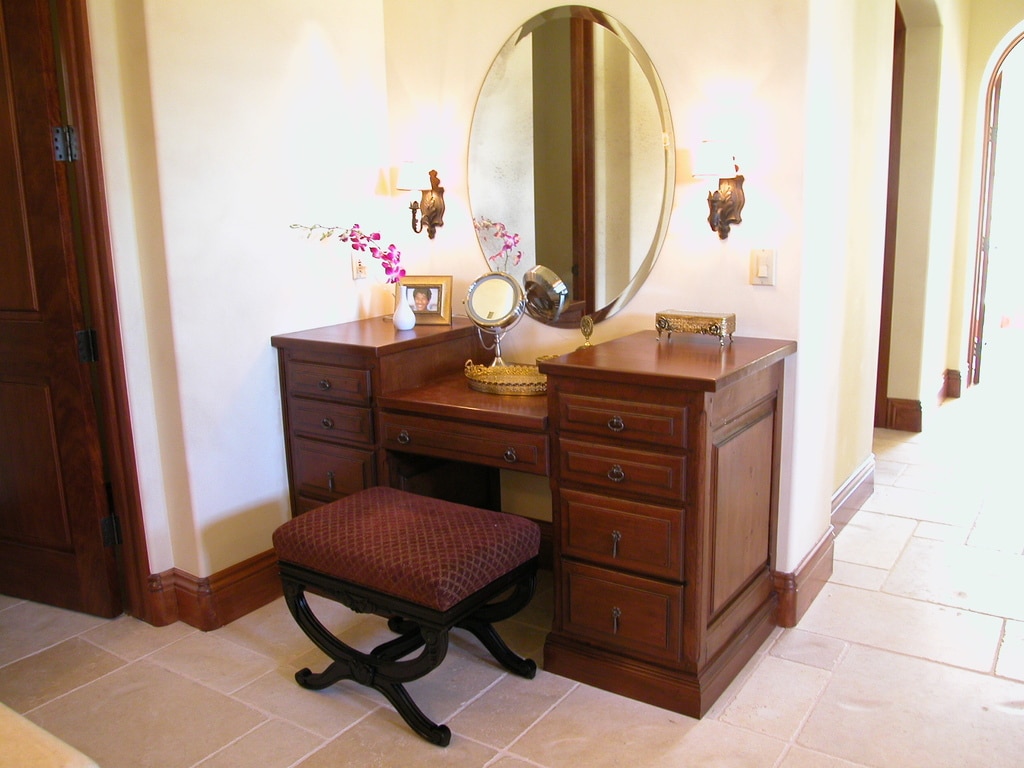 Source: designwalls.com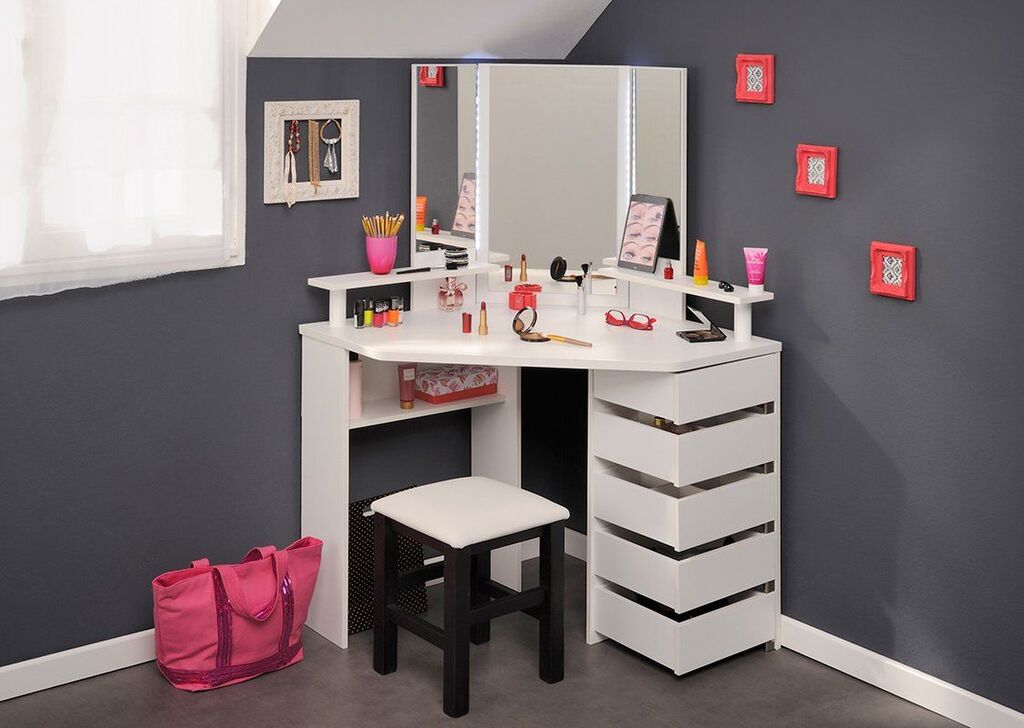 Source: pinimg.com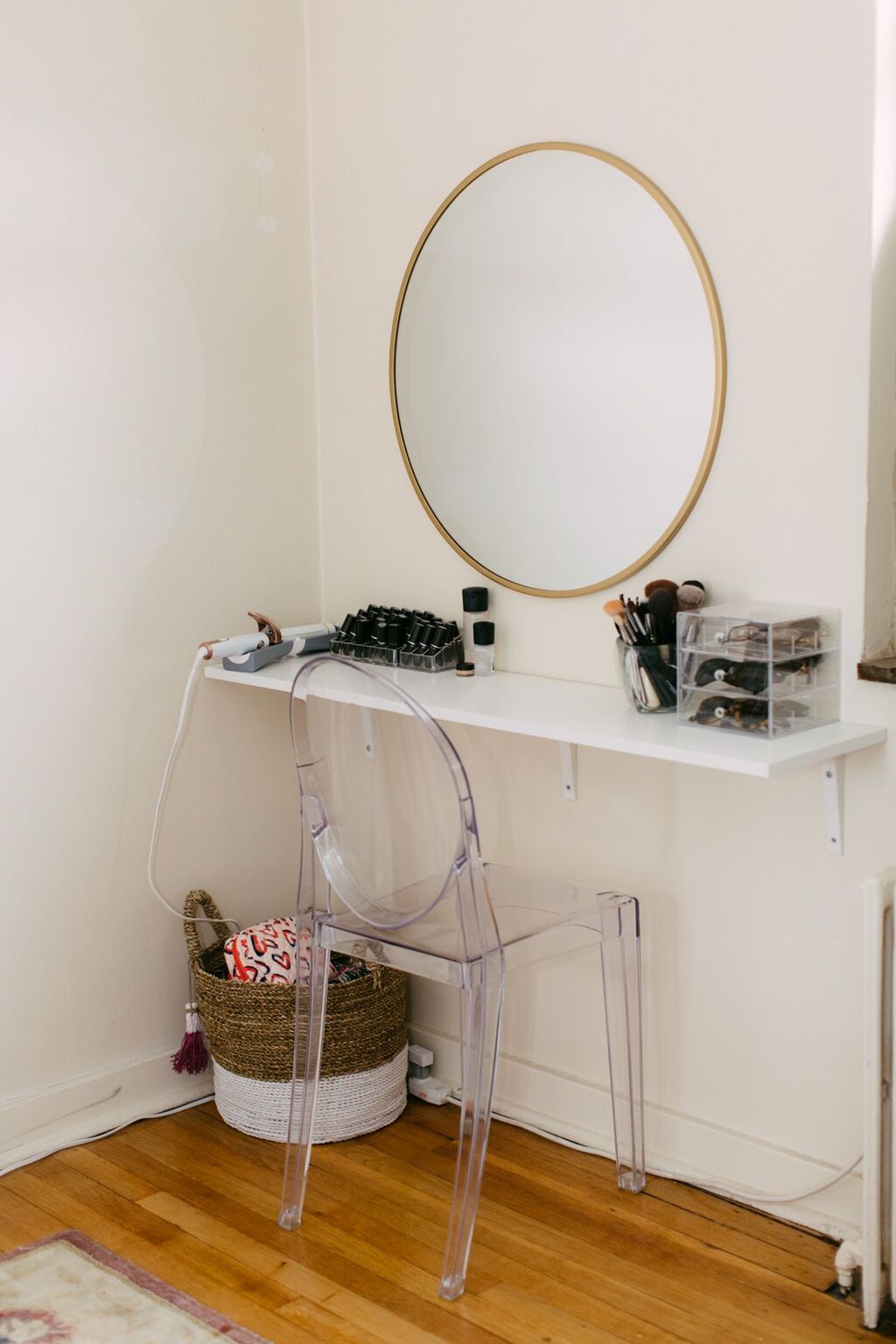 Source: pinimg.com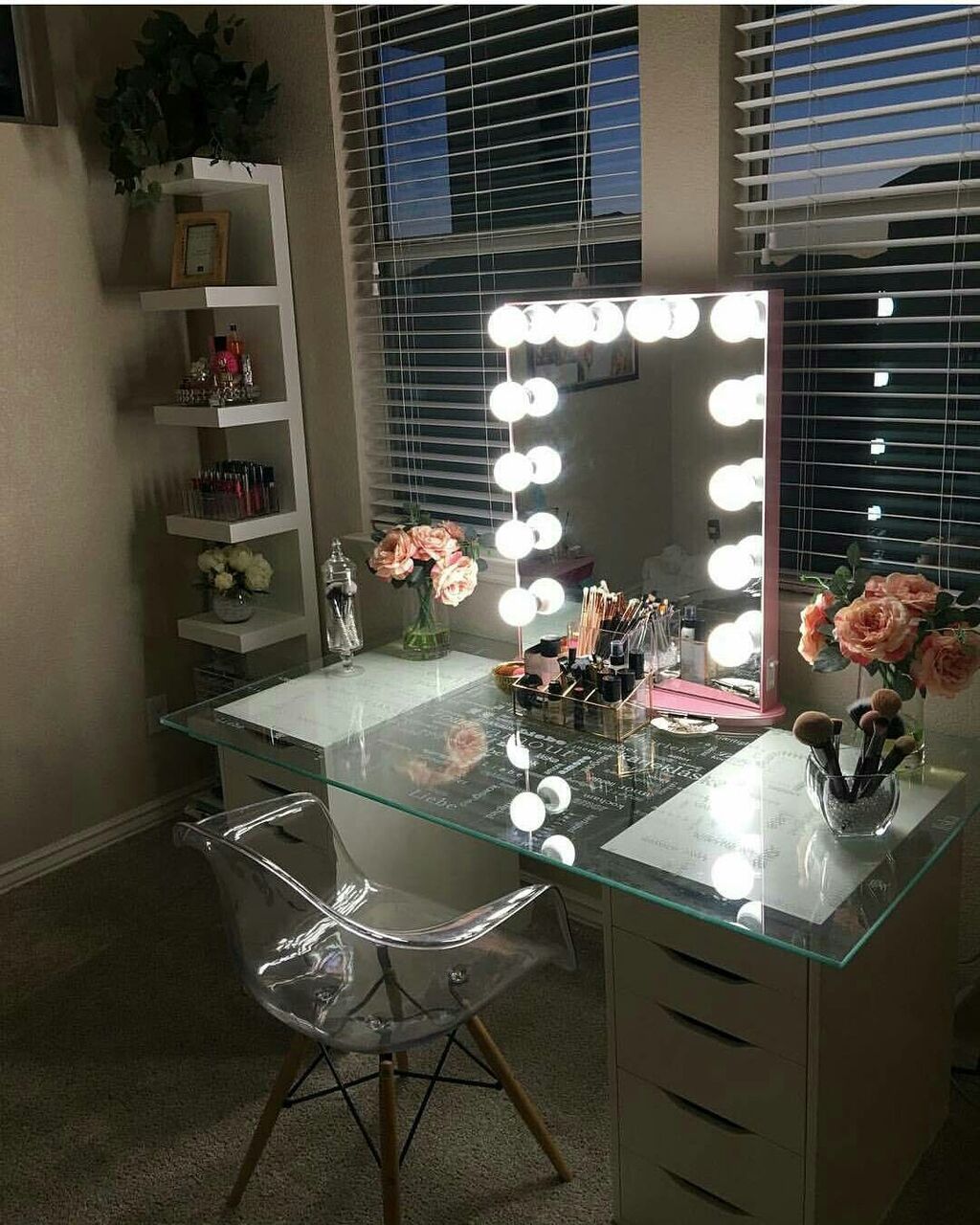 Source: pinimg.com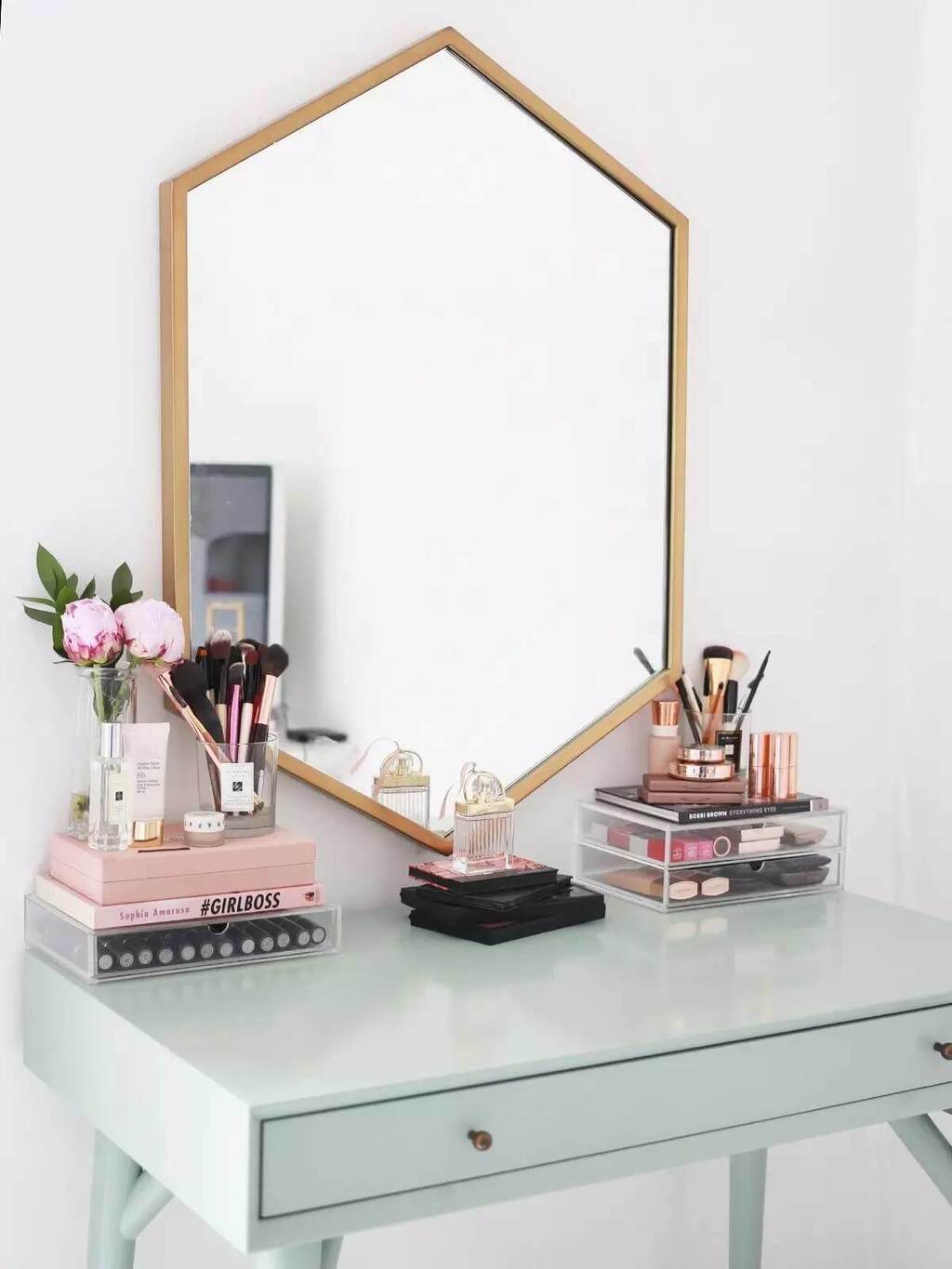 Source: homebnc.com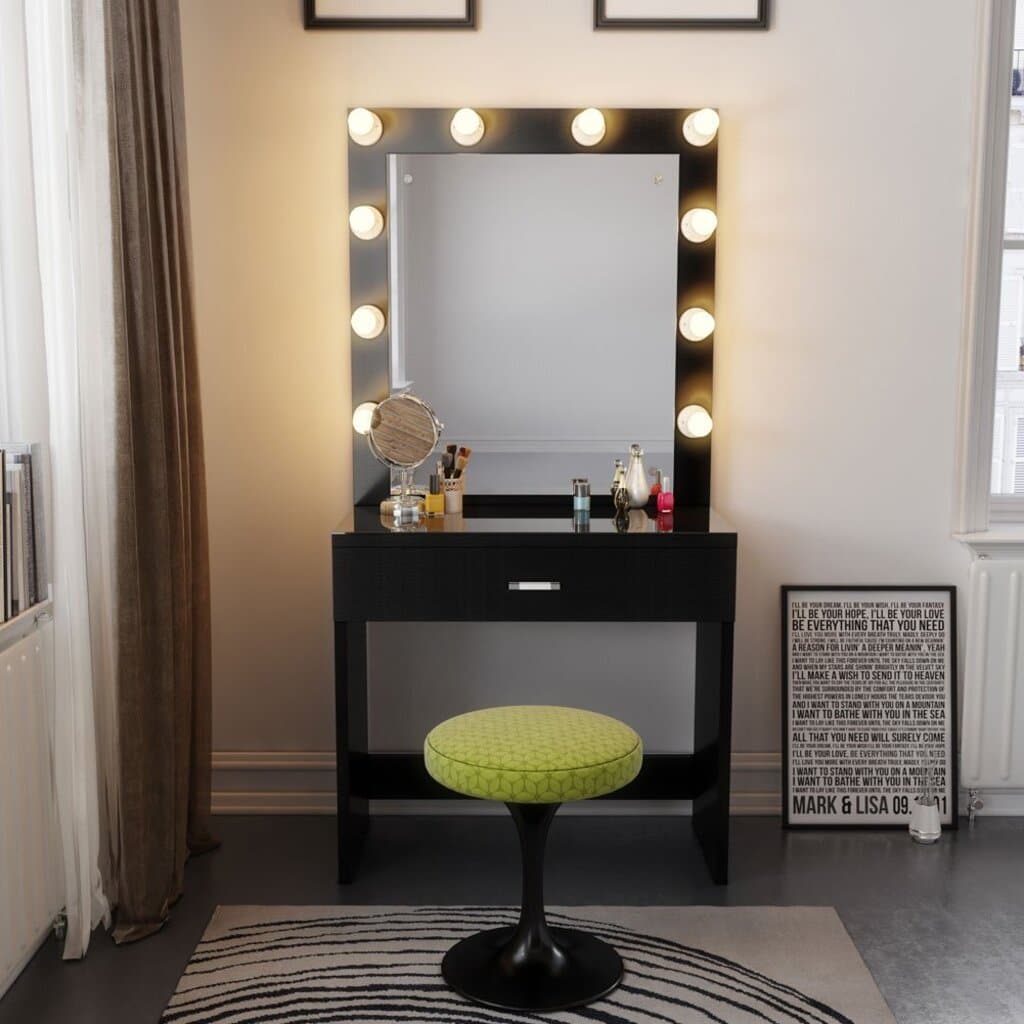 Source: officepdx.com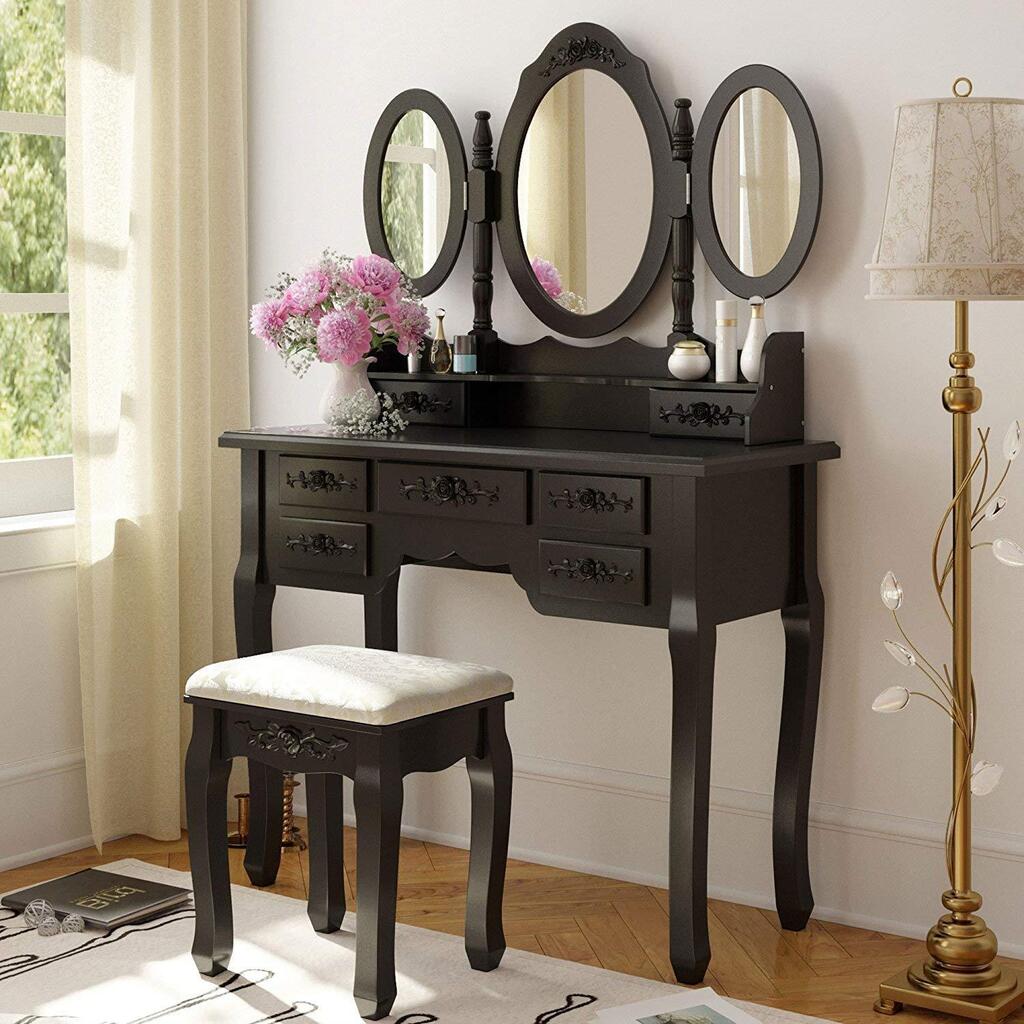 Source: walmartimages.com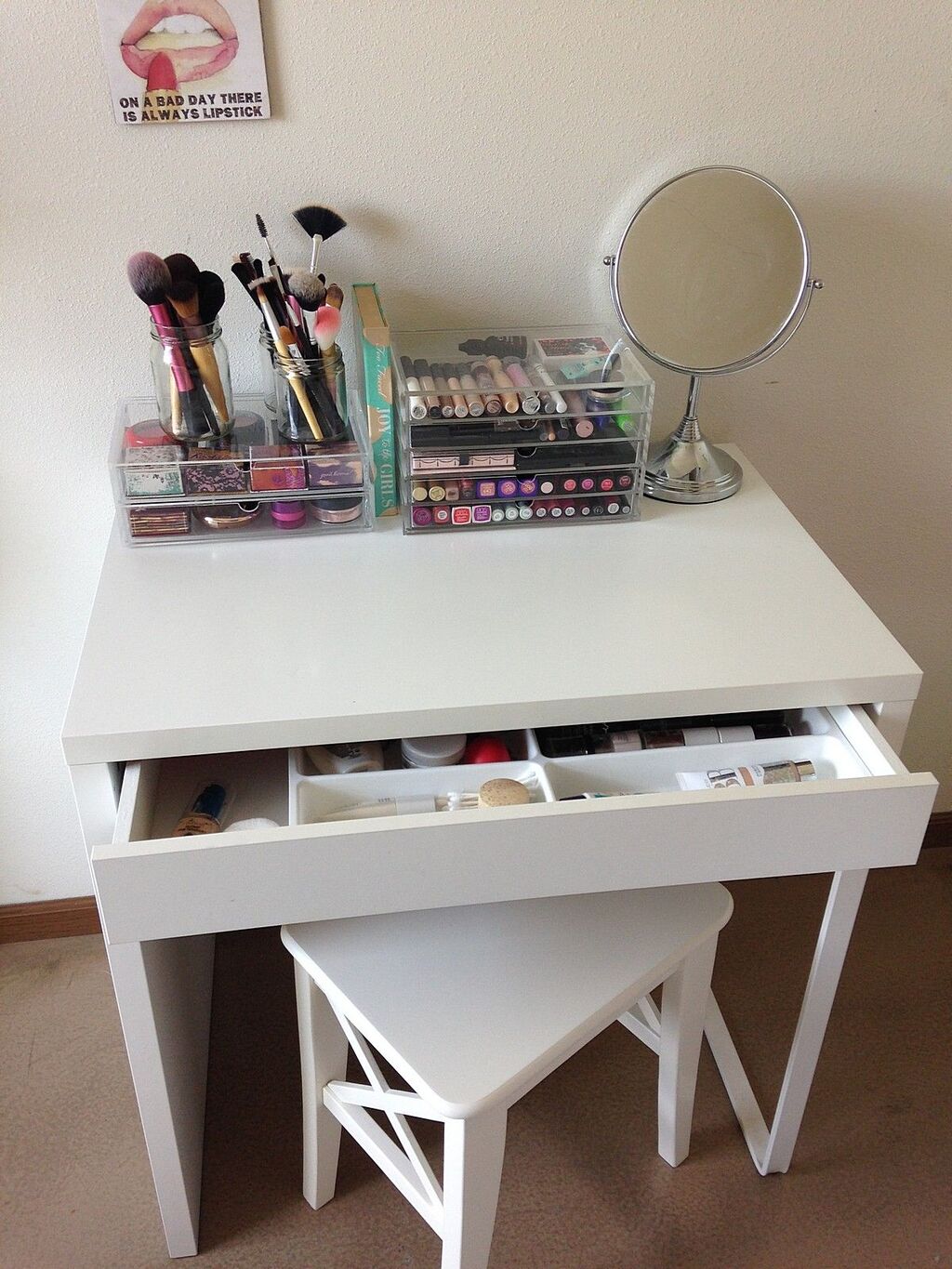 Source: pinimg.com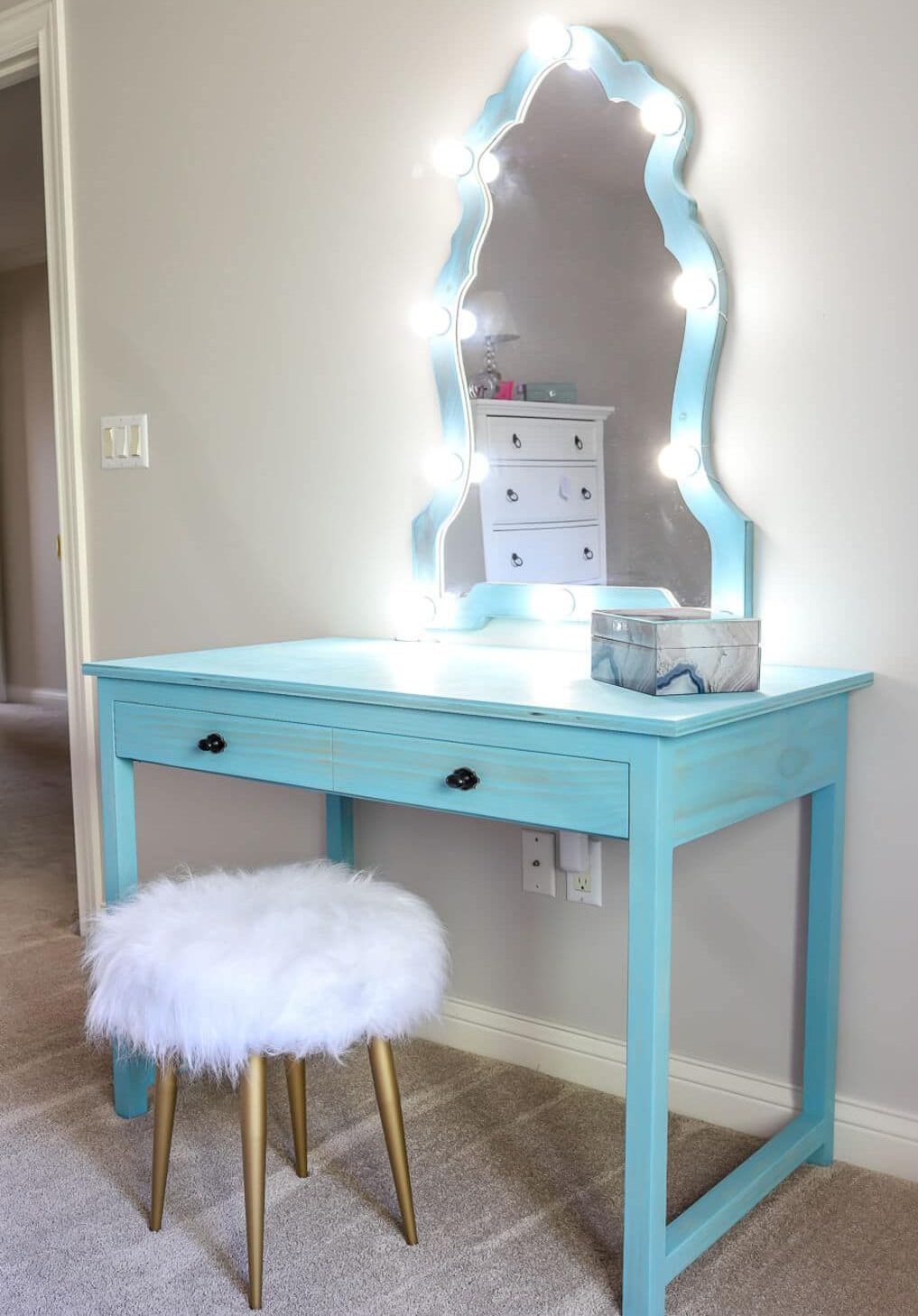 Source: jenwoodhouse.com
Get Creative
The sleek minimalist vanity or the glamorous mirror vanity? The luxurious one? Which vanity is your favorite among all these beautiful vanities? To make something useful and pretty, all you need to do is to use your imagination power. We always tell you that nothing is a waste. You can create amazing things from old furniture. 
So, this was all for today. I am sure that you have got enough ideas and inspirations to make a vanity table of your own. So take care of yourself and keep creating new things! Keep coming to Architecturesideas for more interesting DIYs and decorating ideas.