Summer is already here! Eating outdoors, lounging, and many outdoor activities suddenly increase in this beautiful spring-summer season. Whether it's a family morning breakfast or late-night parties, there is no better place other than backyards and outdoors to do these events. Let's see pergola designs ideas.
However, creating a cool and comfortable outdoor area is sometimes challenging. This becomes more difficult when there are fewer trees in your backyard to block out the hot summer sun. Thankfully one effective solution is there to tackle this problem, Pergola Designs Ideas!
A patio roof is now commonly referred to as a pergola, which is a stylish outdoor shelter with no walls. It provides decent shelter from the sun, rain, and wind while adding comfort and aesthetics. They're super easy to install, and you can use them during warmer, sunnier seasons.
When it comes to Pergola designs and style, there are numerous options to choose from. You can effortlessly add a stylish statement to your outdoor space without compromising your comfort or budget. Today we've collected eighteen latest pergola design ideas to add beauty and function to your front or backyard. 
17+ Trendy & Budget-Friendly Pergola Designs & Ideas in 2023!
Generally, pergolas consist of rafters, beams, and posts and can be attached or detached to a house. You can either build in your garden as a relaxing corner or an outdoor dining area.
If you're looking for pergola designs for patios, backyards, or any outdoor space, below is the list. Here are some of the best pergola design ideas representing different styles, sizes, materials, and budgets that will certainly inspire you!
1. Paradise Pergola
Look at this pergola design. It is a part of this really gorgeous Makena Beach home designed and built by Architectural Design & Construction, Inc. Located at the southwestern shores of Maui; this house features seamless transitions from indoors to outdoors.
Surrounded by lush tropical trees, native plants, and stone-covered posts, this place looks mesmerizing. Here, flat, simple, horizontal wood beams and rafters have been used, which also do not block the serene sea view.
2. Stylish Outdoor Pergola Idea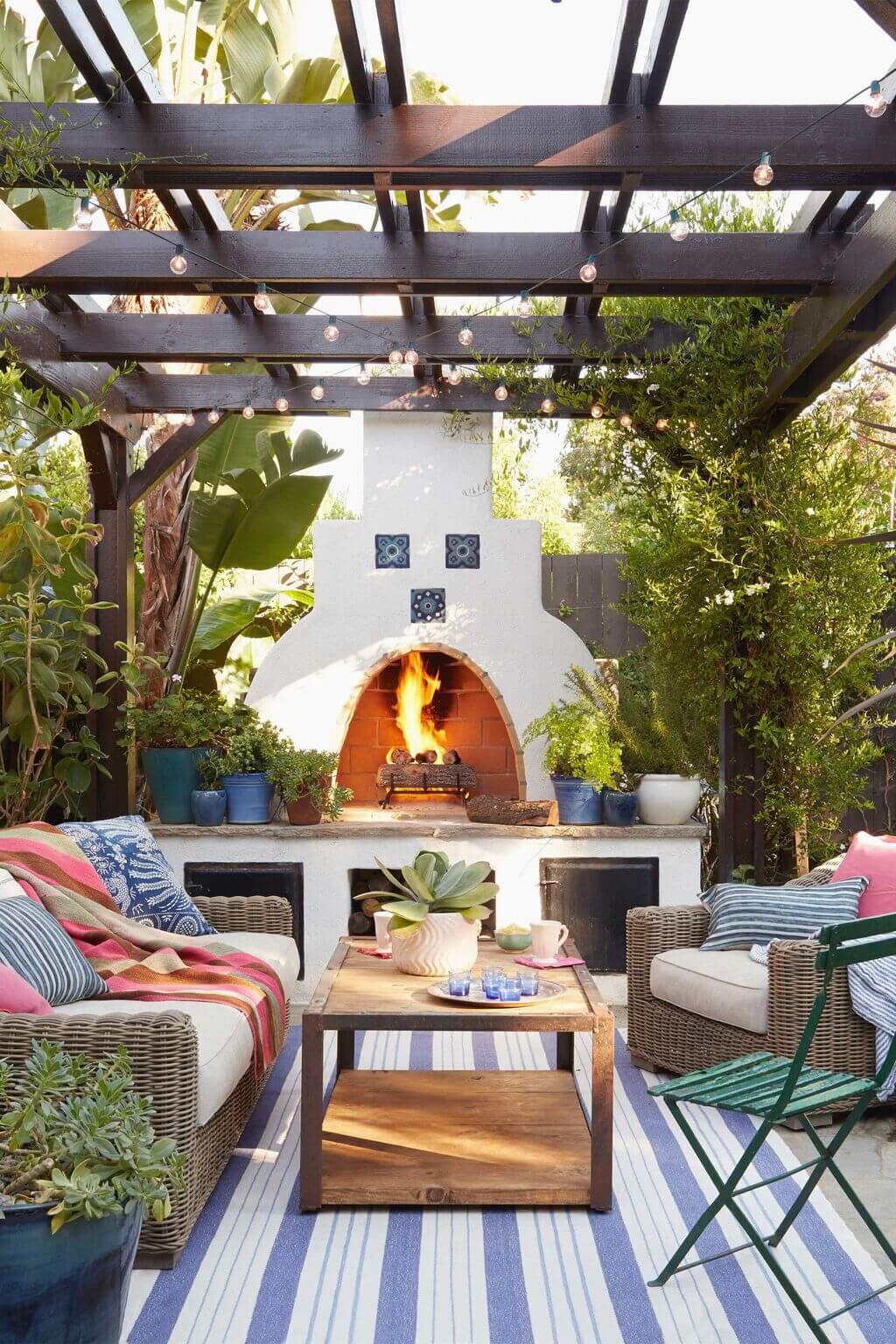 Look at this pergola setup. Emily Henderson has designed this California space. Here wood or composite materials have been used to bring sophisticated style to an alfresco sanctuary. Other than these, roll-down windows, space heaters, and lighting and sound systems are also included in the outdoor area.
3. Contemporary Pergola Design
Are you looking for a contemporary style pergola? Take inspiration from this design. Here the patio is covered with a pergola. It is built by cedar planks, and it is attached to the house.
4. Modern Pergolas Design Ideas
If you love the minimal and clean style, you can go with this modern setup. From materials to colors, you can select everything according to your taste. This outdoor area is inspired by Dale Alcock Homes in Perth, Australia. It has a concrete block feature and a wooden pergola with panels.
5. Private & Cozy Corner
If you want a private little space in your garden, you can go with this type of smart pergola design. Just add comfy cushions, light fixtures, and your private corner nook is ready! This is the perfect pergola for small backyards.
6. Hot Tub Hideaway
Do you love bathing outdoors? Make this experience more enjoyable by building a pergola. This pergola isn't too far, and it will provide you with proper shelter and privacy. The above one is built by Paradise Restored; the Portland, Oregon yard and it has been recently renovated.
7. Large Outdoor Pergola
If your home has a large outdoor space, then we highly recommend you build a huge pergola. This will not only provide you shelter from the sun but also become an inviting space that rivals any living room. Just decorate it with some comfy furniture and decorations, and your permanent hang-out place will be ready!
8. Garden Pergola Pod
We can bet that you never ever have seen this type of pergola in your life. This is something different and unique. If you also want to surprise your guests, build a pergola pod in your garden.
It not only provides you utmost comfort but also privacy to your outdoor living options. This is one of the best pergola ideas for small backyards.
9. Quad Scotia Beams
Beams are the main elements of the pergola. They are known by various names to identify the way these beams or rafters are cut in a pergola. This one is from HighCraft Builders, and it is called a quad Scotia.
Most beams are designed according to the architectural style of a home. So pick the one which goes well with your house exterior and architecture.
10. Gazebo Pergola Hybrid
This specific gazebo-pergola hybrid pergola design will take a lot of time to build. However, after completion, you'll love its overall look. Are you wondering how to decorate a gazebo for summer? It's very easy, just place some outdoor or lounge furniture with complementary decor pieces.                                                                                                                     
11. Pergola With Mountain Views
Imagine relaxing in your outdoor space and enjoying the breathtaking mountain views. Wouldn't this be incredible? If your house is at these types of hilly locations, you should consider building a pergola in your backyard.
Take inspiration from this charming, cozy country house in the foothills of Loveland, Colorado. It offers a cross-beam pergola which is further decorated with string lights. You can use it for simple gatherings to dine or gather around the fire pit.
12. Private Pergola With Curtains
Yes, usually pergolas are open, but if you think that's too open for you, you can always use curtains. They'll give you appropriate privacy and look great.
Use curtains made of sheets because they'll add the right drama and privacy to your pergola-covered deck. You'll feel like you're staying in a resort!
13. Mediterranean Screen Style Pergola
Do you want to add a warm and romantic look to your outdoors? Or whether your home has an Old World Mediterranean Architecture, the Mediterranean Screen Style Pergola Will be best for you!
These beautiful designs of screens will provide you with the perfect backdrop. They not only add pattern, texture, privacy, but you'll be able to add an interesting interplay of light and shadow without adding any additional color.
14. Covered Pergola Ideas
If you don't like the look of the beams and rafters, you can definitely go for the covered pergola. The above solid pergola design is from HighCraft Builders. It is supported by posts sunk into stone pedestals. The owners have decorated it with some string lights and outdoor furniture.
15. White Slat Wood Pergola
This design is different from other types of pergola designs. It is entirely made from white slat wood, and it supports the structure well. If you are also looking for something stylish and trendy, go with this pergola pattern.
16. Outdoor Kitchen Pergola
Make use of your unused outdoor or backyard space by building an outdoor entertainment unit. Look at the above house; here, 9th Avenue Designs have created this custom-built outdoor kitchen in Cleveland, Ohio.
There are also a pergola and fireplace to complement the kitchen. You can also create something like this for your bar parties, festival meals, and get-togethers.
17. Poolside Pergola
Bring more fun to your poolside with this freestanding pergola. You can rest and have afternoon meals after taking a dip in your pool. This freestanding wood pergola will surely provide a calming poolside escape, which makes it absolutely ideal for cozying up after making a splash.
18. Indoor-Outdoor Transition
This transitional modern pergola design is not common to see in every house, but you can surely go for it. You can directly walk into your backyard or terrace/veranda through your dining room/den. There will be no rooms or any kind of interruption in between these two spaces.
Here in this place, the terrace is an extension of the open interior which is covered by a pergola. The dark wood palette has been kept the same everywhere, whether it is pergola rafters or wooden furniture.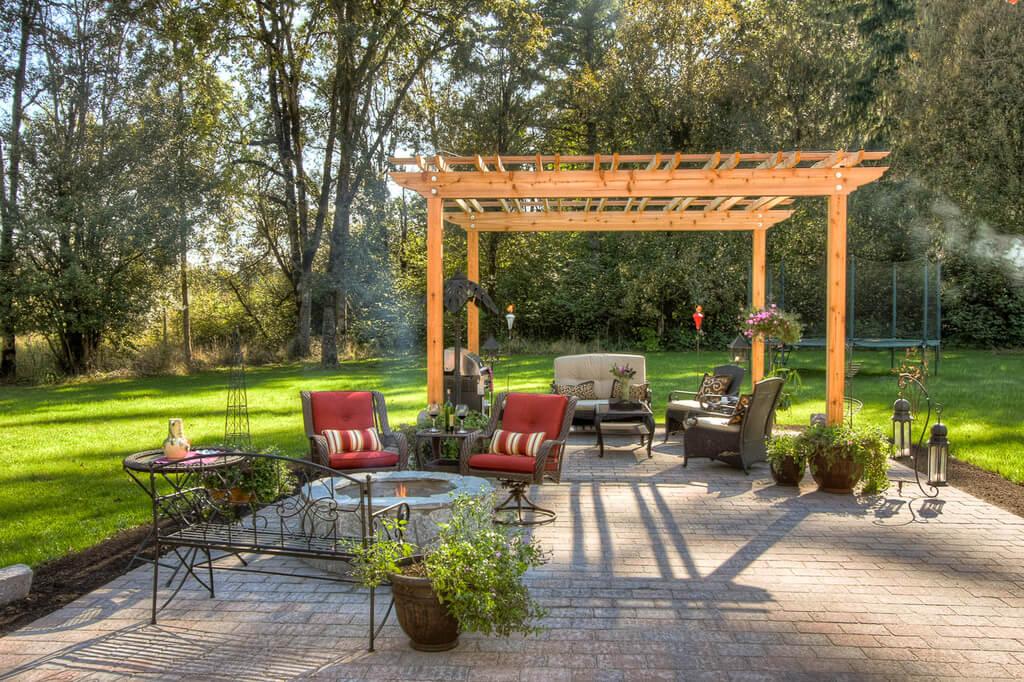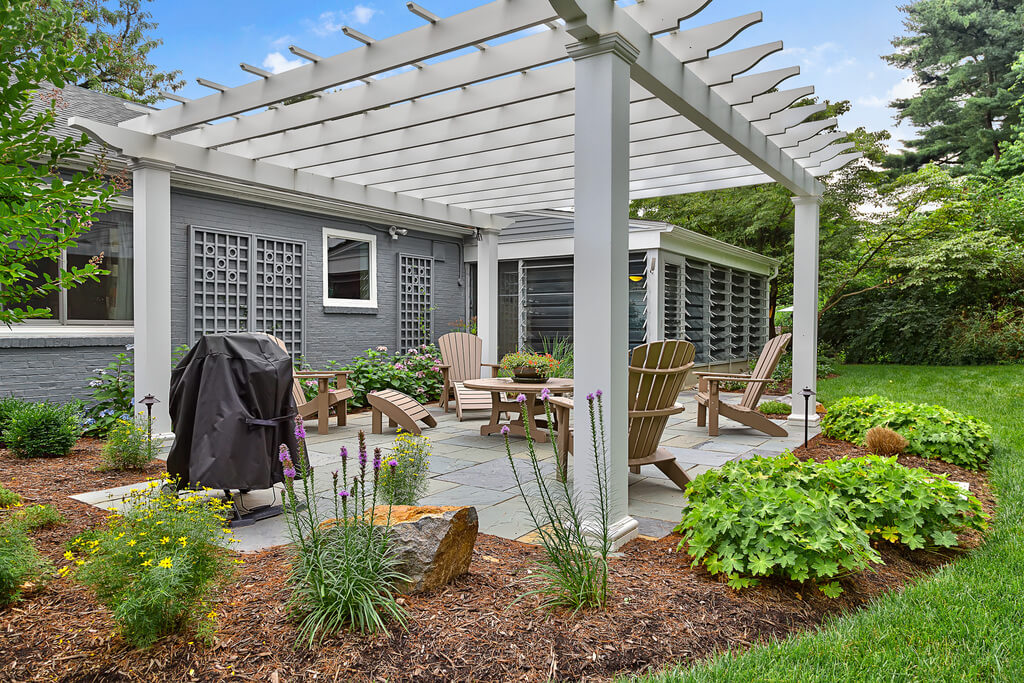 The Bottom Line
So, which pergola design or style do you like the most? Not only in America but pergolas are widely popular and used around the globe. There are thousands of different styles of pergolas available in the market, from old classic styles to chic modish ones. You can select the one according to your home's architecture.
So these are some of the best Pergola Design Ideas. Help your family and friends in creating a serene outdoor space by sharing this blog.