8 Ways to Protect Your Deck This Winter
You've probably already begun the process of winterizing around your home. You've unhooked and covered outside water spigots, wrapped any exposed pipes in insulation, and changed your thermostat to heat. In this process, don't forget to ready your deck.
Just as you protect your deck with flashing tape and sealant, guard against the elements this winter with this 8-point checklist.
1. Pack Away Furnishings
The first step in getting ready for colder weather is to put away anything you won't be using through the winter. For heavier items such as grills or wooden deck furniture, put on covers. The best covers are waterproof or at least water-resistant.
Polyester,  which is lightweight, durable, and water-resistant, allows moisture to pass through in a hard rain. Vinyl, which is laminated onto fleece or polyester offers waterproof protection. You can buy covers to fit the shape of your furnishings, or get larger pieces and secure with a bungee or other straps.
2. Give it a Good Cleaning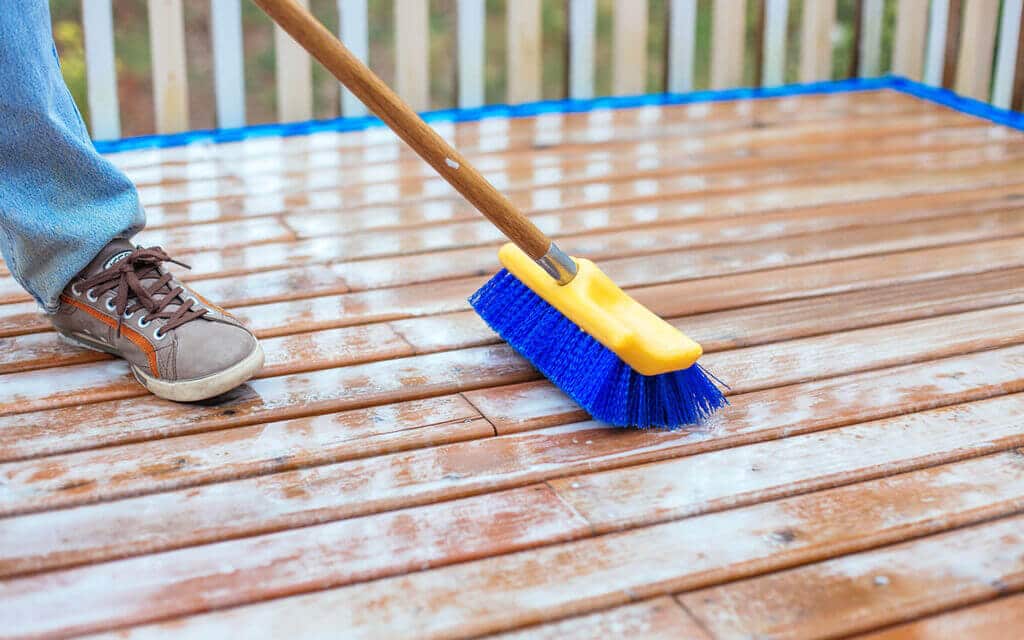 Source: amazonaws.com
Leaves, dirt, and vegetation that sit on your deck boards will trap water and cause damage over time. Sweep or use a leaf blower to get out all of the debris, especially between the boards. Then, wash with soap and water. Power washers can damage a wood deck and cause splintering.
If you choose to use a power washer, put it on a low setting, hold the nozzle at least two feet from your deck boards, and use a fan attachment. Be sure to rinse off the surface completely to avoid a film. Then, let it dry well before moving furnishings back on or applying sealant.
3. Protect your Wood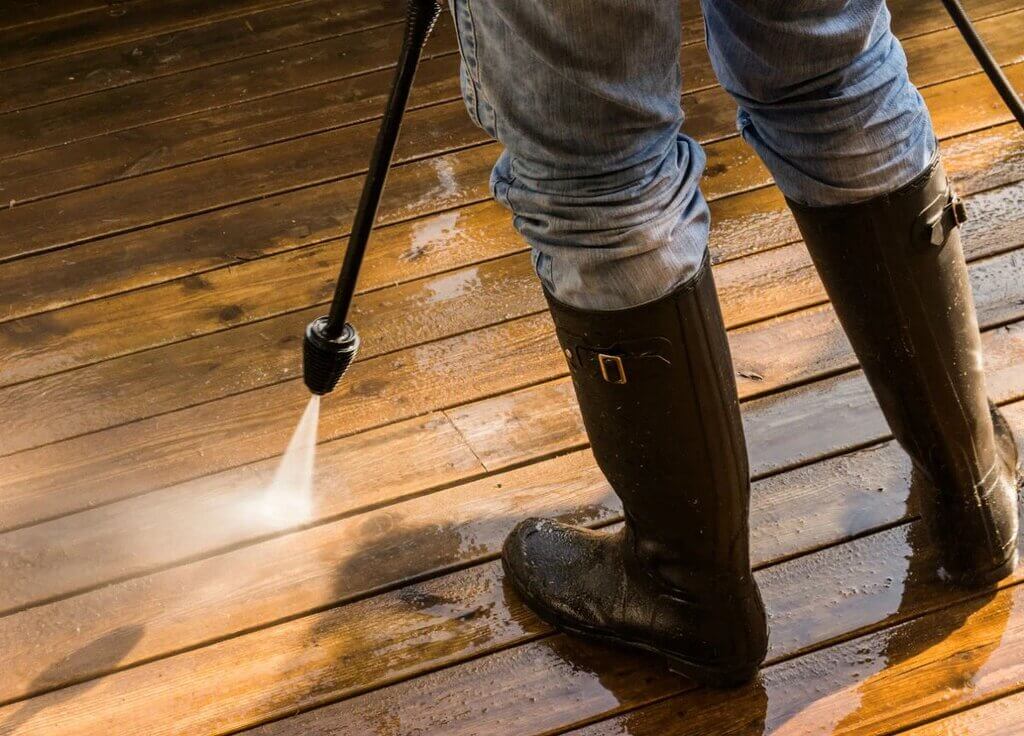 Source: bobvila.com
Staining and sealing your deck can be time-consuming but provides protection for your wood and beauty for outdoor living space. The most important piece of advice: Take your time. Adding stain or seal is a little like waxing a car, enhancing beauty while practically helping to waterproof your valuable possession.
Here is a step-by-step guide:
— Choose the right time: A sunny day, preferably above 50°F is best for sealing.
— Make sure the surface is clean, per the instructions above.
— If needed, sand down any rough surfaces. Then, clean off any sawdust, especially between the boards.
— Stir, don't shake, the sealer to keep out bubbles. 
— Apply the sealer using a brush, roller, or sprayer. Go thin and apply more as needed.
— Let it dry completely before moving furnishings back on deck.
4. Give it an Inspection
If left unprotected, the wood on your deck can begin to rot in as little as 8-10 years. If you walk across aboard and it springy, address it before it becomes dangerous. If you see signs of damage, it's important to either DIY a solution or calls in a professional deck builder. What should you look for? Cracks, rotting, darkened spots, or any wood that feels spongy or is flaking off.
Also, test railings and stairs to ensure they are sturdy and safe. The primary culprits for deck damage are moisture and insects.  Look for rusty screws, nails, or fasteners that have come loose or are compromised. Also, check for any signs of insect damage:
— Springy deck
— Wood shavings on the ground below the deck
— Rustling noises inside the deck
— Winged ants on the deck
— Wood sounds hollow
— Sunken wood
— Rot
5. Cover it Up
Using a tarp allows you to lift the tarp and empty off the snow or ice more easily. However, tarping the whole deck may not be the best idea. Limiting all airflow can lead to mildew and mold.  If you do cover in a tarp, make sure your wood can breathe.    
Also Read: Deck Safety Tips That You Should Know Before Building One
6. Stock Up
on the tools, you'll need. While some harsh de-icers are not recommended, especially for wooden decks, you may use salts that advertise being safe for patios on their packaging. You'll also want to be sure you have a plastic shovel and outdoor broom. Having these items on hand now — before they sell out at the hardware store — will make it much easier when you have your first snowfall.
7. Keep the Snow Off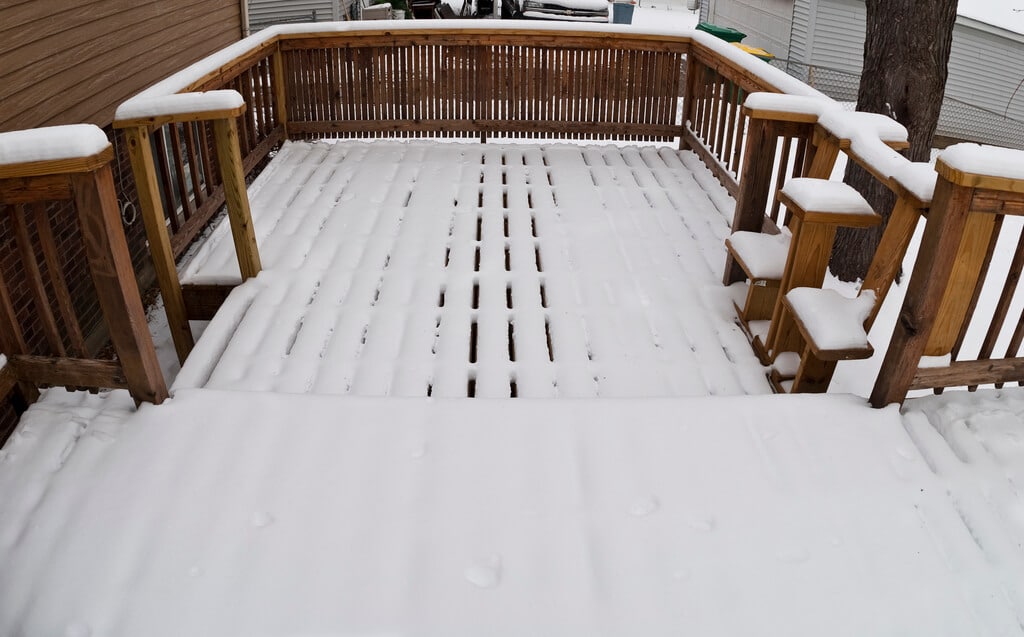 Source: excelfencinganddecking.com
Remove snow quickly after it falls on your deck using a broom or plastic, not metal, shovel, or a safe-for-decks de-icer. If you allow the snow to stay, it may melt in the sun and freeze at night making it much harder to remove.
8. Cut Back Vegetation
Overhanging tree limbs, overgrown shrubs, and out-of-control climbing vines are not only unsightly but dangerous to your home. They hold moisture, which is can cause wood to rot faster. Limbs can also fall on your deck or home and cause serious damage. Prune the vegetation yourself or bring in a pro. While sooner is better, be sure to follow guidance on pruning shrubs and trees based on the time of year to ensure you don't damage your beloved roses or hydrangea.
Enjoy your deck this season whenever you can, and stay safe when winds turn icy. You'll be glad you took the time to prepare for winter when days turn warmer and you can spend more time in your well maintained outdoor living space.