The kitchen is not only where you prepare great meals, but it's also where you come together for family meals and comfort. Your kitchen should be highly functional yet inviting. While remodeling your kitchen, you should aim to create an excellent workspace for preparing meals while still a perfect spot to relax and unwind. However, this is often a huge challenge when remodeling a small kitchen. It's even more difficult when your small kitchen is oddly shaped.
However, this doesn't mean you can't spruce up your small kitchen to transform it into your dream kitchen. With a bit of planning and clever revamp ideas, you can make the most of every inch of your kitchen space without spending a fortune. This will help you create a space that's practical, feels spacious, and looks terrific. Here are a few remodeling tips for your small kitchen.
1. Install Wall Cabinets On One Side
If you're revamping a small galley kitchen, you should consider installing your wall cabinetry on one side. The one-wall layout will make your kitchen functional, allowing for more effortless movements and creating plenty of usable workspaces. Having counters and cabinets on two walls can make the space feel smaller and like the walls are falling on you.
You should also consider doing away with the dated and boring cabinet doors and drawers and replacing them with open shelving or glass doors to showcase your favorite glassware and crockery. You can also try glass doors for your pantry to display nicely organized, labeled food choices.
2. Ensure Proper Lighting
Proper lighting is key to the success of any small kitchen remodeling project. While your space may be limited for a characterful lighting fixture, there are plenty of lighting options that can do the trick. One of your options is to add recessed lighting over the wall cabinetry, into the ceiling, and beneath base and wall cabinetry.
You can also consider adding some pendant lights over countertops or accent lighting to highlight pen shelving. Your goal should be to add layers of lighting throughout your kitchen to make it appear bigger and enhance its overall functionality.
Additionally, you may also want to bring in lots of natural light. Light beaming will make your small kitchen look bigger, whether it's painted in pale or dark colors. You can do that by keeping your window treatments simple or eliminating them to allow sunlight into the space.
3. Choose Light Countertops
You can also make your small kitchen appear spacious by adding light countertops. Try reflective materials for your countertops, like bright white quartz or marble countertops. This will create a beautiful contrast with your cabinetry while reflecting the natural light throughout the space. You can also try installing a mirror backsplash on one wall of your small galley kitchen to amplify daylight and give the illusion of bigger space.
You may also consider rounding the corners of your island countertop to soften the edges and create some allowance for easy movement and circulation through the space. It's also a beautiful design element to add to your small kitchen.
4. Consider Several Storage Options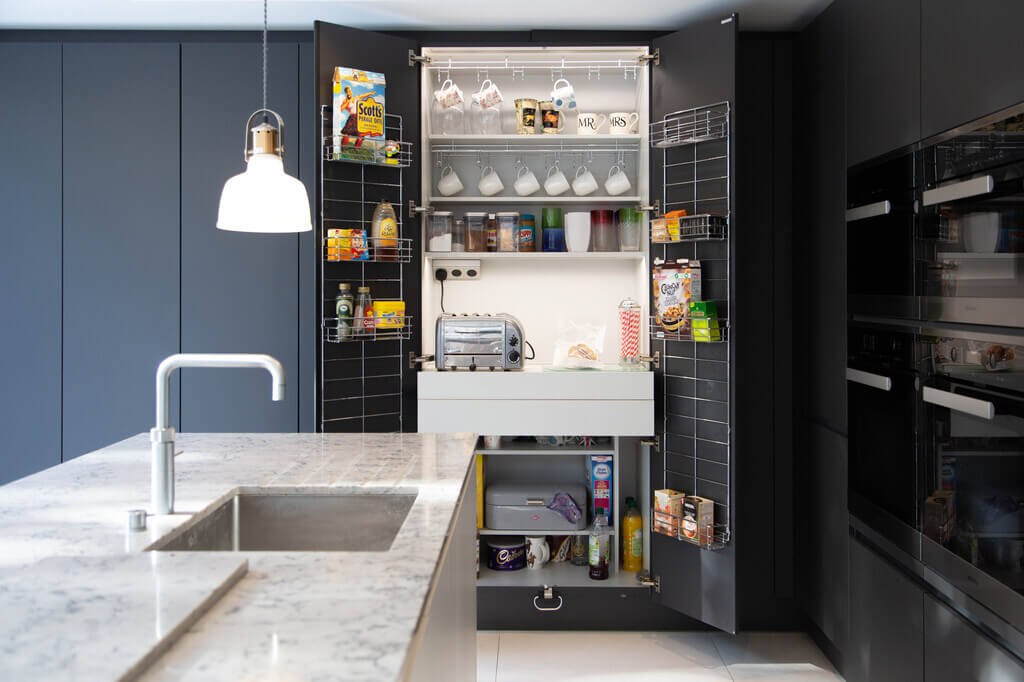 To make the most of the available space in your kitchen, you need to utilize even the awkward nooks. Build custom cabinetry into the awkward spaces. Other storage design ideas to consider when remodeling your small kitchen include installing upper and lower cabinets to make use of every inch of space. Install open shelves rather than closed cabinets that usually take up lots of wall space.
If there's room, consider adding a small island with some cabinets. While it will take a considerable amount of your floor space, an island will provide additional storage space, ample workspace, and a lovely space to gather and enjoy meals or socialize.
You can also add cabinets above an over-the-range microwave. Be creative about how you'd want to store your kitchen essentials to ensure you maximize your limited space. From crockery, cutlery, and pans to dry stores, appliances, and wine, you want to ensure your small kitchen can effortlessly hold all your kitchen essentials.
5. Go Big For Tiles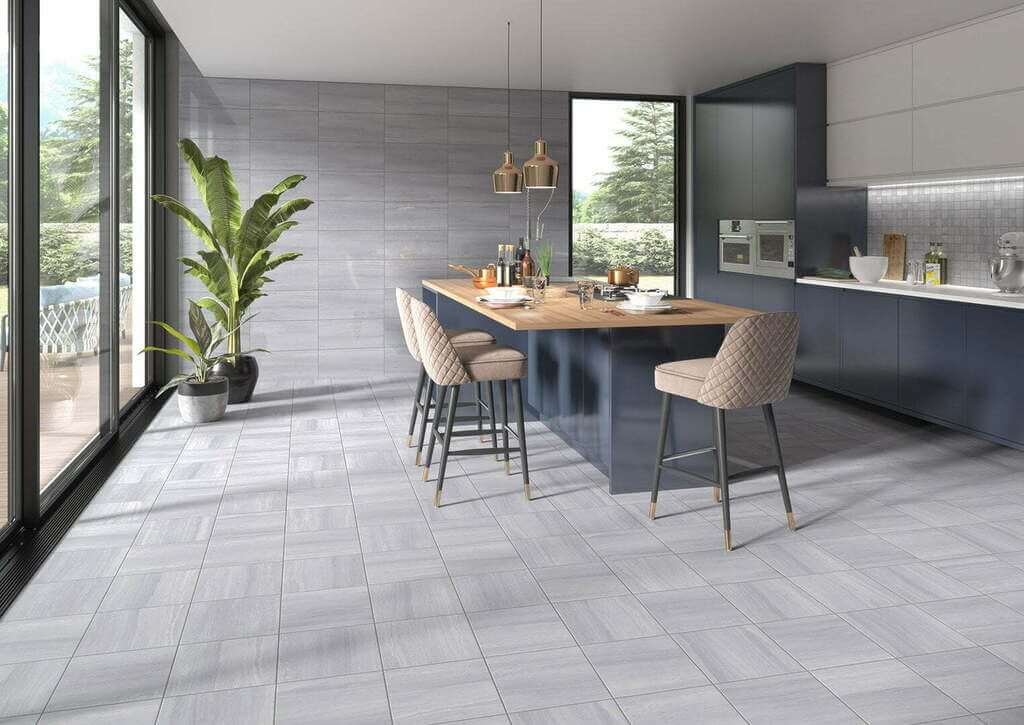 Installing larger floor tiles in your small kitchen can make it look bigger, as larger tiles will have fewer grout lines, reducing visual clutter. Go for mid-sized tiles for the backsplash and extra-large tiles for your kitchen flooring. Avoid using extra-small backsplash tiles with contrasting grout in your tiny kitchen.
Consider using lighter color tiles like cream or white, so they can reflect more light throughout the kitchen, making it look bigger. You can also try using metallic or glossy finish tiles or laying them diagonally to enhance your small kitchen while giving it the illusion of a bigger space.
6. Use Light Colors
Instead of using confined, dark color schemes in your tiny kitchen, consider using light colors to make the space look brighter, bigger, and more inviting. You can do that by painting soft shades on your cabinetry and neutral hues on the walls to visually enlarge your small kitchen space.
You can also choose cabinetry made of bright wood and neutral shades for counters and walls. This way, natural light coming into your kitchen will be reflected by the brightly-colored cabinets and walls, increasing the light intensity in your tiny kitchen while giving the illusion of a larger space.
Endnote
While a small kitchen renovation might be challenging for many, the remodeling ideas above will give you plenty of inspiration to start on the right foot. Stay organized and creative in every aspect of your kitchen remodel, from accessories, colors, and flooring, to lighting, cabinetry, and storage.
Try to utilize every inch of space in your kitchen without making it appear cramped or darker. Ensure your flooring is practical and light, and be smart with your color choices. Typically, you'd want to use lighter shades and reflective surfaces in your small kitchen for a visual lift and make it appear spacious.