5 Things to Consider When Remodeling Your Bathroom Space
Did you know that renovating or remodeling your bathroom can add a substantial amount of value to your home?
And, even if you don't plan on selling any time soon, having a beautiful bathroom can create a relaxing space to escape to – and the best part is it's right in your own home!  
But, before you dive headfirst into a bathroom-rejuvenation project, there are five essential things you should consider first.
1. Previous Problems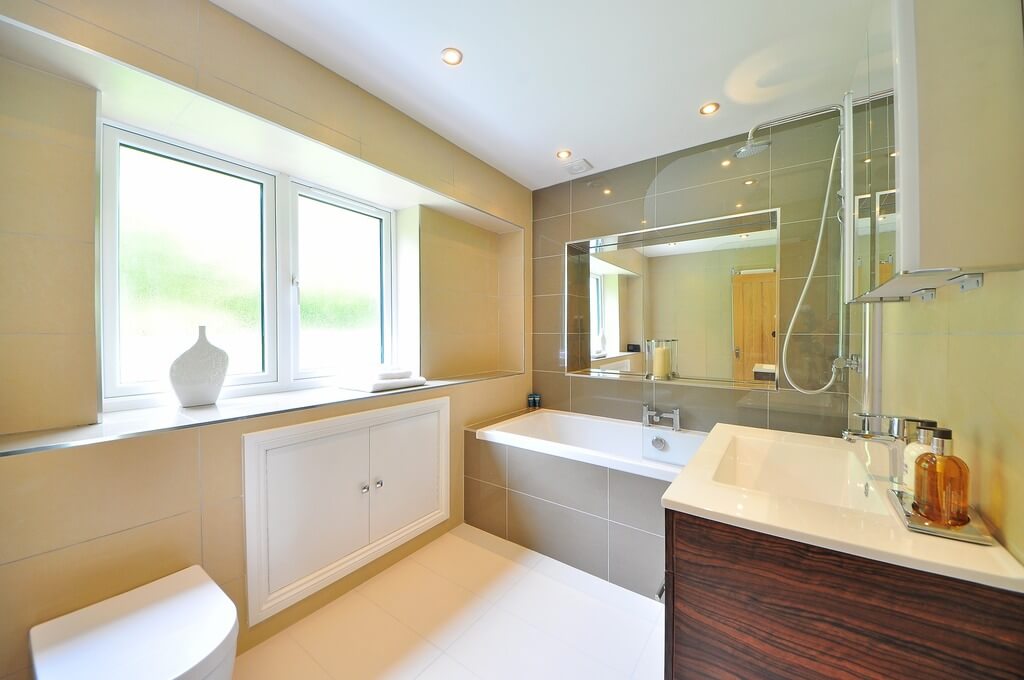 Source: reficiencyremodeling.com
Before beginning any major bathroom remodel, you should have a renovation plan that also details all the bathroom's current problems. 
This helps because when you hire professionals to renovate, you can be sure that you deal with any previous problems and minimize the chances of creating new ones. 
The most significant issues in many bathrooms are usually due to water damage, a non-waterproof bath, wall tiles or floor, rusted fixtures, bad plumbing, poor ventilation, and leaky connections. To ensure that you don't encounter more plumbing problems, contact a team of qualified plumbers to help you if you plan to move fixtures or pipes.   
2. Your Budget
When you can transform your bathroom according to your exact specifications, you have a unique opportunity to invest in your property and increase its value. However, it's easy to get carried away and spend more than you intend to – that's why it's so important to set a realistic budget before you start. 
Due to the costs of labor and materials, remodeling a bathroom can get expensive quickly. The best contractors and subcontractors are licensed professionals, so they are in high demand. Upgrading your existing bathroom with high-quality materials will also raise the cost to remodel, so you want to factor in the price of absolutely everything. 
When you draw up your budget, you should consider a few things – such as whether you are planning to sell your home in the near future, which components of the bathroom are essential, what you can afford to spend, and if you plan to move items that are plumbed-in.
Remodeling for Resale Value
When it comes to selling your home, remodeled bathrooms carry a high return on investment – especially if the bathroom was outdated or in disrepair. On average, remodeling your bathroom can have a 70% return rate when you sell. 
If you are remodeling the bathroom to increase the home's sale value, try to make more conservative choices when choosing the style and materials – avoid making design choices that can consider eccentric or highly specific to your tastes. 
3. The Type of Bathroom You Want
Source: twimg.com
Bathrooms come in all shapes and sizes. While you probably won't be changing the type of bathroom you have, it's a good idea to consult an interior designer because they can point out possibilities that you may not have considered. 
By playing with the layout of your bathroom, you may even be able to transform a half-bathroom into a spacious one simply by reworking or utilizing the space more efficiently. 
Half-Bathroom
A powder room, or half-bathroom, is smaller than a standard bathroom, and it usually only has a toilet and a sink. If your home only has one full-sized bathroom, adding a half-bathroom has enormous benefits. 
Having a half-bathroom is ideal for guests because they will be able to use the facilities without having to intrude on your personal space, and you'll have an extra toilet if someone needs to use it at the same time.
The beauty of a half-bathroom is that it doesn't take up much room – you can transform an unused corner or closet into a functional space.
Also Read: Improve Your Bathroom's Aesthetics with Bathroom Wall Panels
Standard Bathroom
A full bathroom, or standard bathroom, usually consists of a toilet, a sink, and a shower or bath – and sometimes all four. Many older houses only have one standard bathroom that was designed for the entire family to share. 
While master en-suites are practically the same as standard bathrooms, they are exclusively accessed by the master bedroom. Many homeowners opt for luxury when it comes to remodeling or adding a master en-suite – such as including features like a spa bath and skylights. 
If you're looking to increase your house's value and free up the standard bathroom, consider adding a master en-suite to your home if you don't already have one.
Wet Bathroom
A wet bathroom is a standard bathroom, but the shower is not enclosed. Instead, the entire bathroom is waterproofed – including the fixtures, walls, and floor. 
Aesthetically, wet bathrooms tend to look modern and stylized because there are no shower doors or curtains. They are also practical because you don't have to worry about water splashing on the wall or floor. 
When it comes to accessibility, wet bathrooms are the best for people with limited mobility because there are no obstacles like steps or curbs to get in the way.
Wet bathrooms also utilize available space very efficiently because a wet bathroom doesn't need extra square footage for stalls of shower frames. Although wet bathrooms cost more to build than standard bathrooms, they are well worth the investment.
4. The Layout
Once you've decided whether you want a full bathroom, a half-bathroom, or a wet bathroom, you should consider the layout. Generally, if the current layout works for you, you shouldn't change it. Moving walls or plumbing will drastically increase the costs. 
If your current bathroom was designed poorly, however, you may need to make some changes to the layout. 
Consult a designer when making changes to your layout – especially when you're looking for ways to make a small bathroom or area more efficient. 
5. The Lighting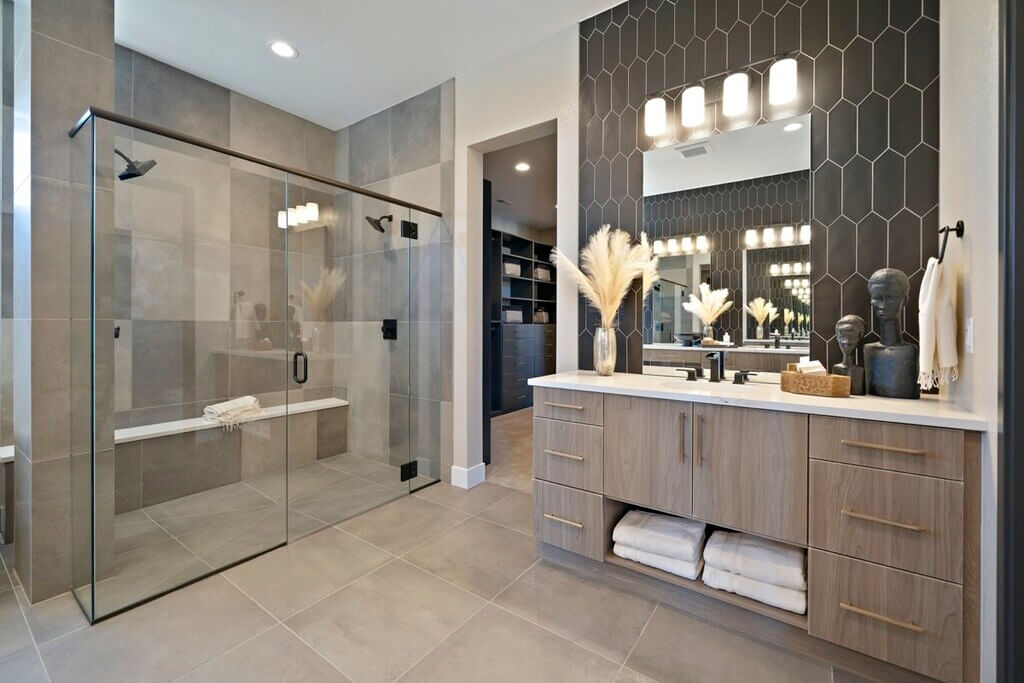 Source: thekitchenshowcase.com
When remodeling, many homeowners neglect to give lighting as much consideration as it needs. No matter how much thought you put into all the other elements of your bathroom, bad lighting can instantly ruin a space's utility and aesthetics. 
Also Read: Top 12 Best Bathroom Wall Decor Ideas To Check Out
Artificial Light
When considering your artificial lighting, layering is key. Layer soft lighting at face-level in front of mirrors to make using them more practical, and dimmer lights can provide the bathroom with ambient light – avoid bare bulbs and harsh light at all costs.
You should also add spotlights and downlights in functional areas above the bathtub and shower. 
Natural Light
Opt for an abundance of bright, natural light to make the bathroom appear brighter and airier. If you can, increase the natural light even further with large windows or skylights.