Should You Resurface Your Concrete Pool Deck?
People resurface their pool decks for various reasons. Some want to add personality to their pool decks while others want to repair their damaged concrete structures.
Resurfacing your pool deck increases the value of your property giving it a new feel and great looks. There are multiple materials and different techniques you can use to give your pool deck a new look, performance, and style.
Factors to Consider When Resurfacing Your Pool Deck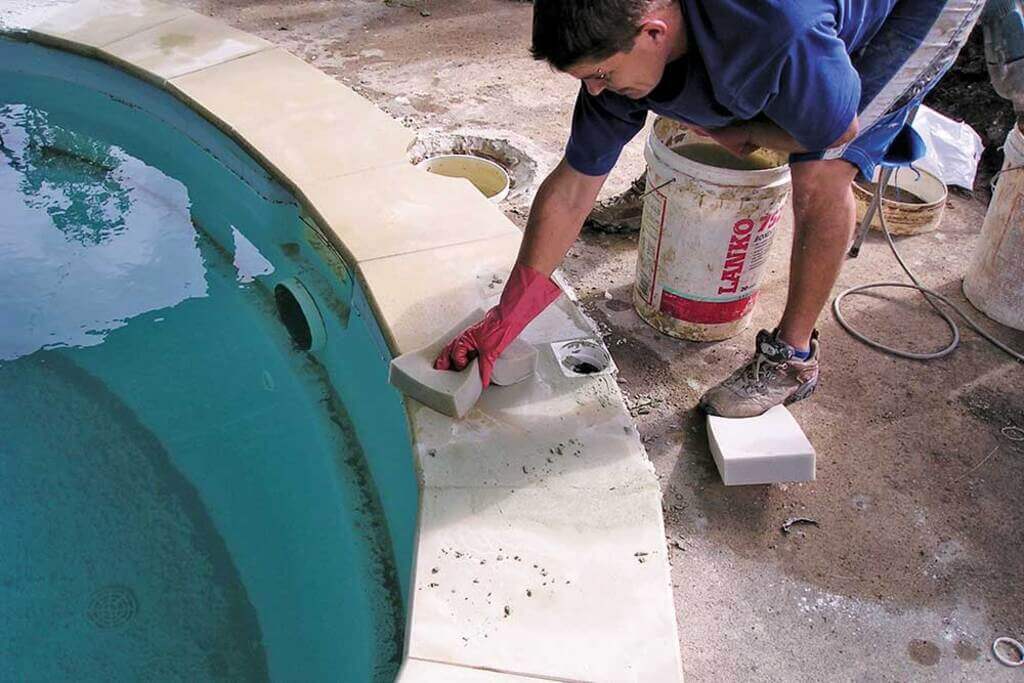 Source: handyman.net
You don't just wake up from sleep and decide to resurface your pool deck. You have to consider some important factors like the ones discussed below;
1. What is the Shape of Your Concrete?
For you to successfully resurface your pool deck to your desired standards, you need to make sure that the concrete is in great condition. If not, then you won't achieve your desired results after the facelift.
If the surface has small imperfections in form of pores or small cracks, you can easily restore it using prime and base coats. However, for major breaks and cracks, you will need to repair the concrete surface before resurfacing your pool deck. This is what is commonly known as surface preparation.
2. Are the Products Safe to Use?
During the process of resurfacing your pool deck, you will use various products from different manufacturers. Remember this is a recreational space/place and you need to ensure that your guests or visitors are safe.
The products you use must contain anti-slippery features to prevent injuries due to falling. You understand how surfaces can be slippery especially when sprinkled with water.
3. What Are Your Goals?
Even before you begin the process of resurfacing your pool deck, you must identify the primary reasons why you are doing it. This will help you to stay on your course throughout the project.
Some of the things to consider here are the style you want, the looks, and the feel. Besides, your goals will help you identify the right materials and techniques to use on your pool deck resurfacing project. You should also go for materials that allow you to designs for your pool deck.
Why Resurface Your Pool Deck?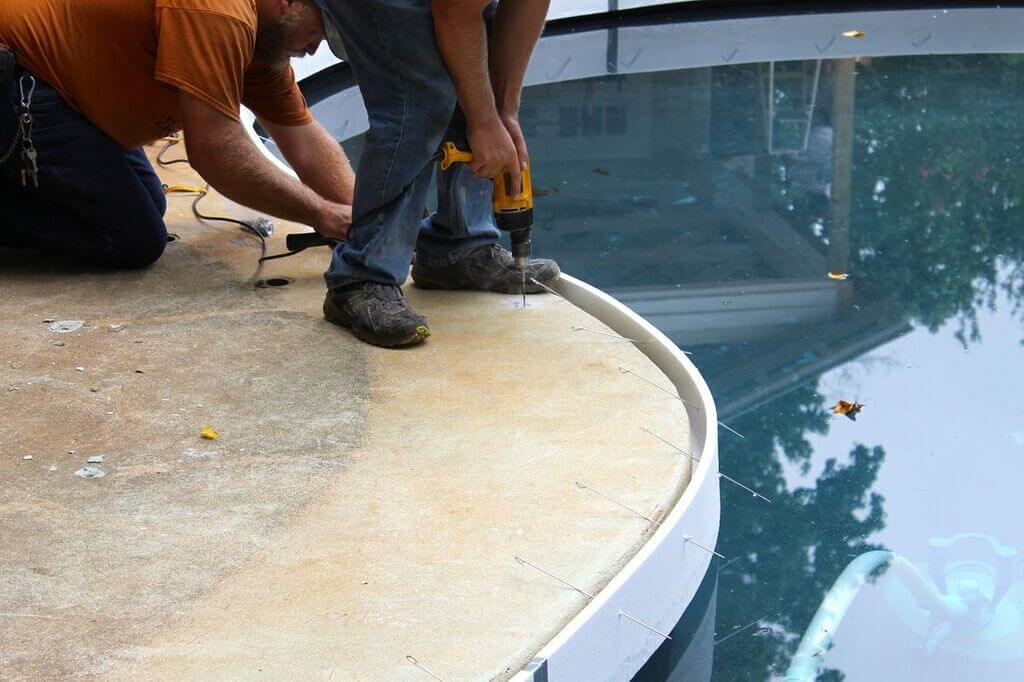 Source: pinimg.com
Resurfacing your pool deck comes with some benefits which are;
1. Redefines Your Pool Deck's Looks
If your pool deck is looking dull and outdated, you can always revive it to make it more attractive and impressive to your visitors. 
Pool deck resurfacing gives you full control to change your space and to add some personality, design, and patterns to it.
You can also choose from an array of colors to brighten up your pool deck and create an ambiance for your visitors or guests.
2. Save Cash
Rather than replacing the entire concrete on your pool deck, a resurface could help you save some dollars.
Besides, it is less time-consuming and it will reduce time wastage. If you choose to resurface your pool deck rather than replacing the entire concrete, you save time, money, and effort.
Also Read: The Top Mistakes We Make When Installing a Pool – And How to Avoid Them
What Are Your Options for Resurfacing Your Pool Deck?
You have three main options to consider for resurfacing your pool deck which are;
1. Stamped Concrete Overlay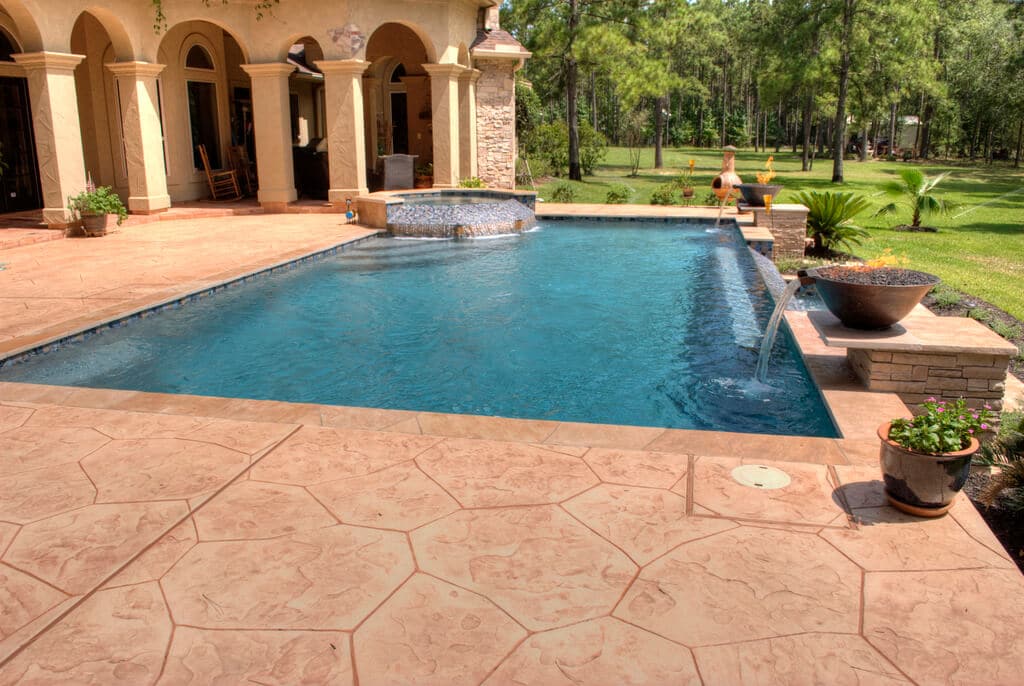 Source: alliedoutdoorsolutions.com
This option allows you to do two things; fix a damaged concrete structure and add an ornamental component that resembles wood, slate, stone, or even brick.
The initial cost is high but it is cost-effective in the long run.
2. Concrete Pool Deck Paint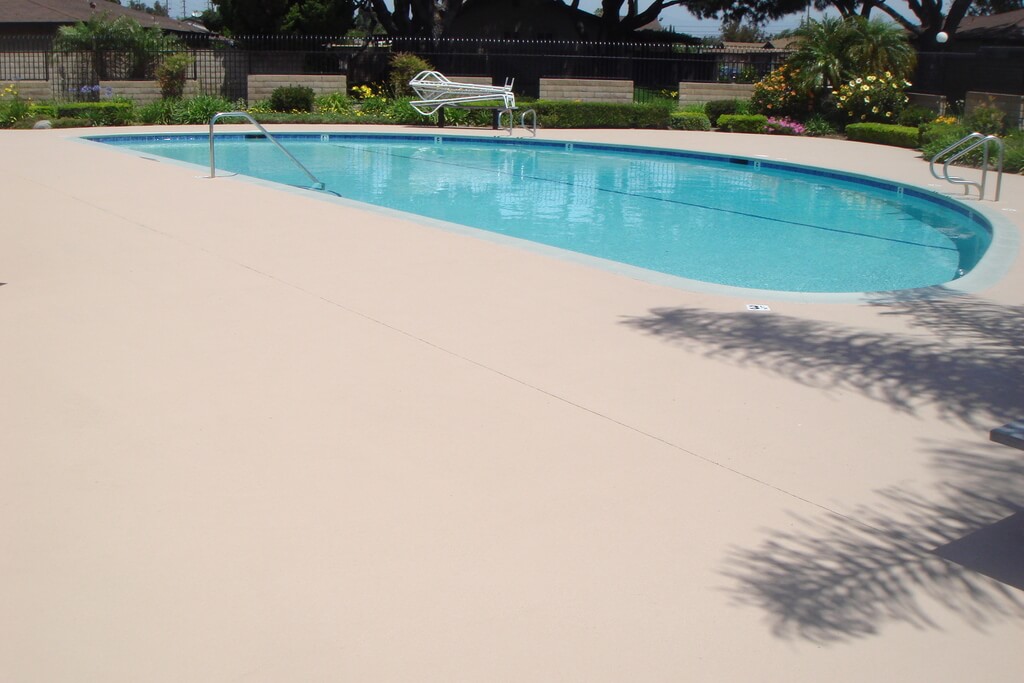 Source: website-files.com
This is the easiest and cost-effective option for resurfacing your pool deck. The only drawback it has is that it is not durable.
3. Spray Texture Overlay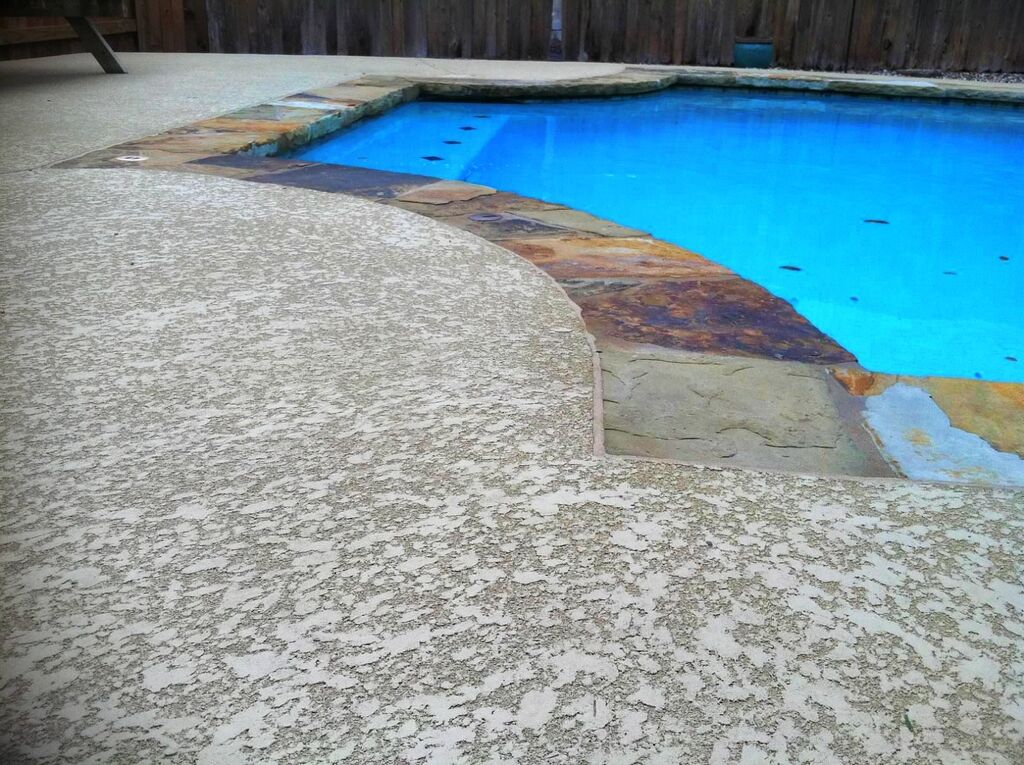 Source: pinimg.com
This is one of the most common options for resurfacing your pool deck. It gives you the ability to personalize your pool deck with score lines, custom colors, aggregate effects, and many more.
The technique is also known as knockdown finish.
Resurfacing your concrete pool deck is a great move whether you are doing it to redecorate your concrete or want to repair some areas on it. Doing this gives it more life and makes it safer.
The swimmers can enjoy their time in and outside the pool without worries of falling and hurting themselves. If it's a commercial pool, the appeal of your new installation will invite more users.