An outdoor pool is a luxurious addition to any home and can transform an ordinary backyard into a relaxing oasis. Not only does it provide a space for exercise and recreation, but it also enhances the aesthetic appeal of your outdoor area. Whether you are planning to build a pool or already have one, there are various ways you can make the most of it to create an inviting and functional outdoor space!
This article will provide a list of 5 cost-conscious tips to make your pool area more inviting. Then, we'll take a brief look at the differences between pool materials, allowing you to make an informed decision as to what is right for your backyard!
5 Low-Budget Ways to Make Your Pool More Inviting
Plants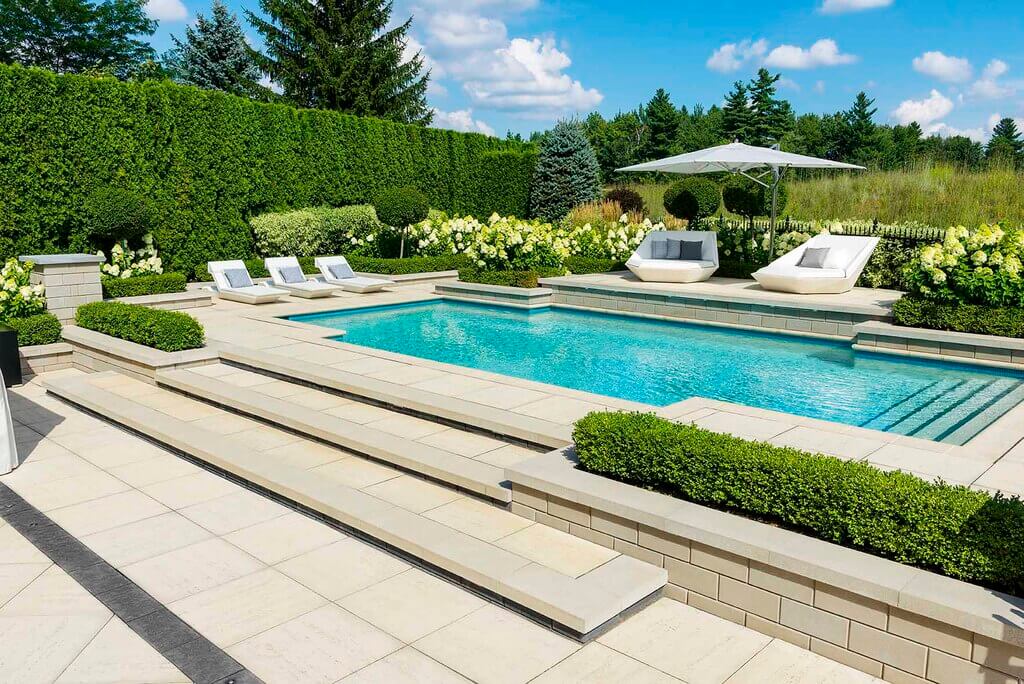 Shrubbery, potted plants, hanging vines, and other plantings around the pool area are essential elements of eco-friendly pool landscaping. They go a long way towards making the pool feel organic and integrated into the nature of your backyard. When placed correctly, the plants can create a subtle guiding funnel – a suggested path – into the pool, highlighting it as the centerpiece of your backyard.
Water Features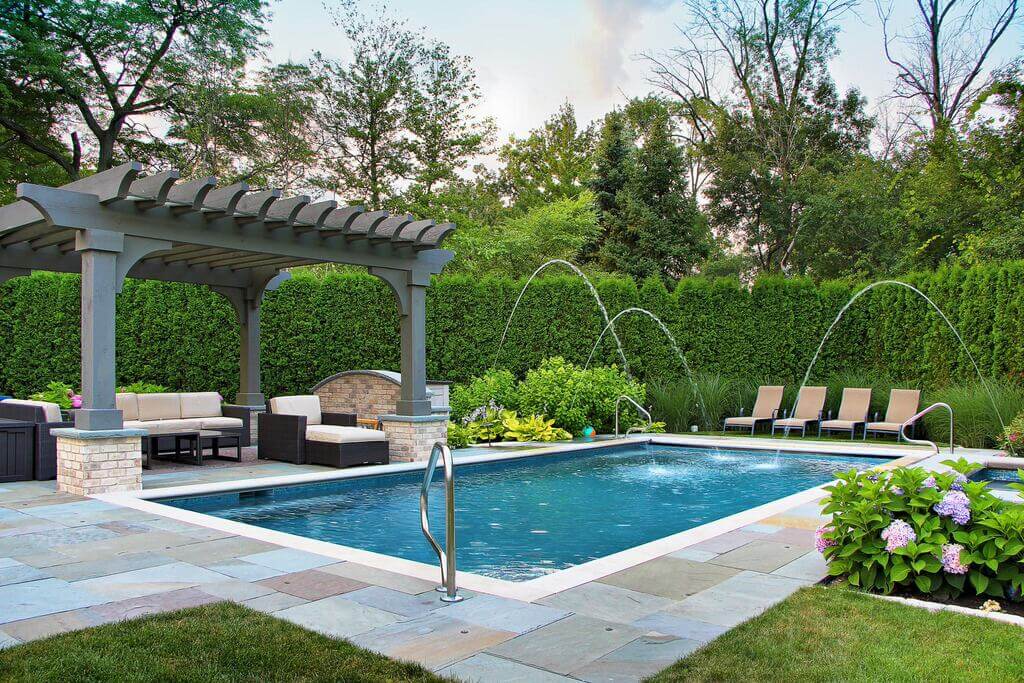 Jets, waterfalls, and fountains are excellent ways to make your pool feel more fancy and luxurious. Most often, you'll have these features built-in when you install your pool, but you can buy a few aftermarket products, like fountain floats that sit in your pool and produce a beautiful waterspout. 
Lighting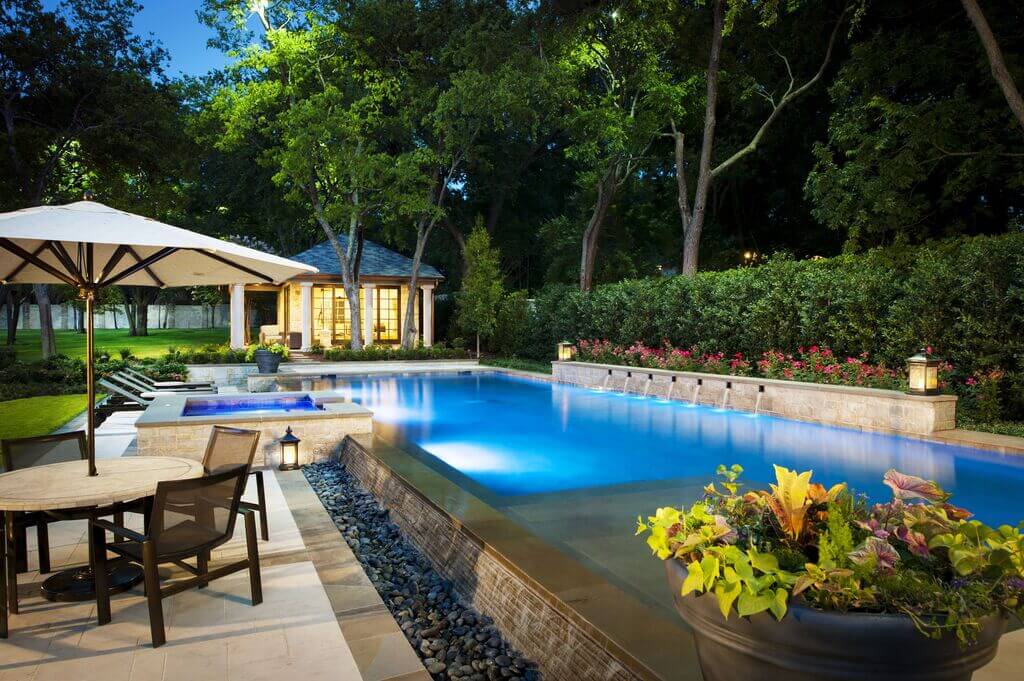 Unless you have a penchant for swimming in total darkness, you'll probably want some lights so you can swim at night. Not only will you get more hours out of your pool, but lights are also important for safety in the pool.
In-ground pool lights will typically be installed alongside the rest of your pool. LEDs are the longest-lasting, typically lasting between 50,000 and 10,000 hours. There are even smart bulb options that allow you to change the color and activate the lights from your smartphone.
String lights are a cheap and aesthetically pleasing solution to make sure you can see the deck. It's versatile; you can run string lights or wire lights through fencing, shrubbery, alongside the walls of your deck, and just about anywhere.
If you have steps, you'll want to opt for stair-step lighting. A set of waterproof, low-voltage LED lights is the best option to assure the safety of anyone using the steps after the swim while also adding some ambiance.
Areas for Entertainment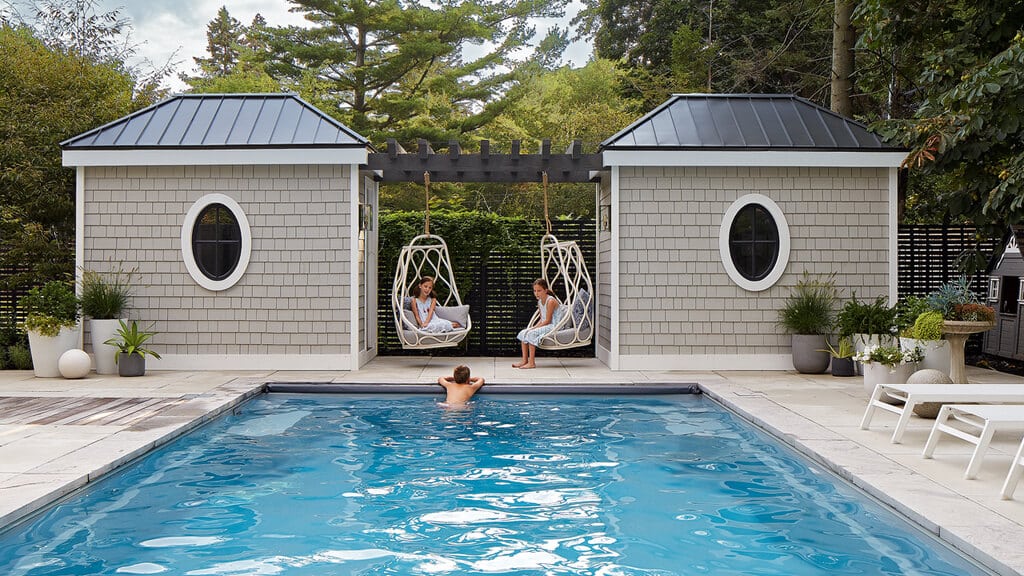 We all agree pools are awesome. But unless you're a young child, chances are you'll spend a fair bit more time on your deck entertaining guests than submerged in the water of your pool. That's why it's important to have some dedicated entertainment areas and furniture items to make the entire pool area more inviting, even to non-swimmers.
An outdoor fire pit or chiminea is an essential item – and you can find good quality ones without breaking the bank on Amazon or Homegoods. For my family and me, many summer swims were capped off with warming up, telling stories, and roasting marshmallows over the open fire.
Beyond that, you'll need a place for everyone to sit! If you can afford it, an outdoor dining area complete with a table and seating for at least 4 people is fantastic. If the weather's nice, you'll be able to have dinner outside! 
Quality outdoor cushions are a bit more expensive than indoor cushions because they're built to withstand the elements – namely, water and heat. Depending on the size and color,  they'll cost you anywhere from $30-150. If that's not an option, at least incorporate some kind of comfortable seating so people can relax, chat, and soak in the sun.
Decorative Walls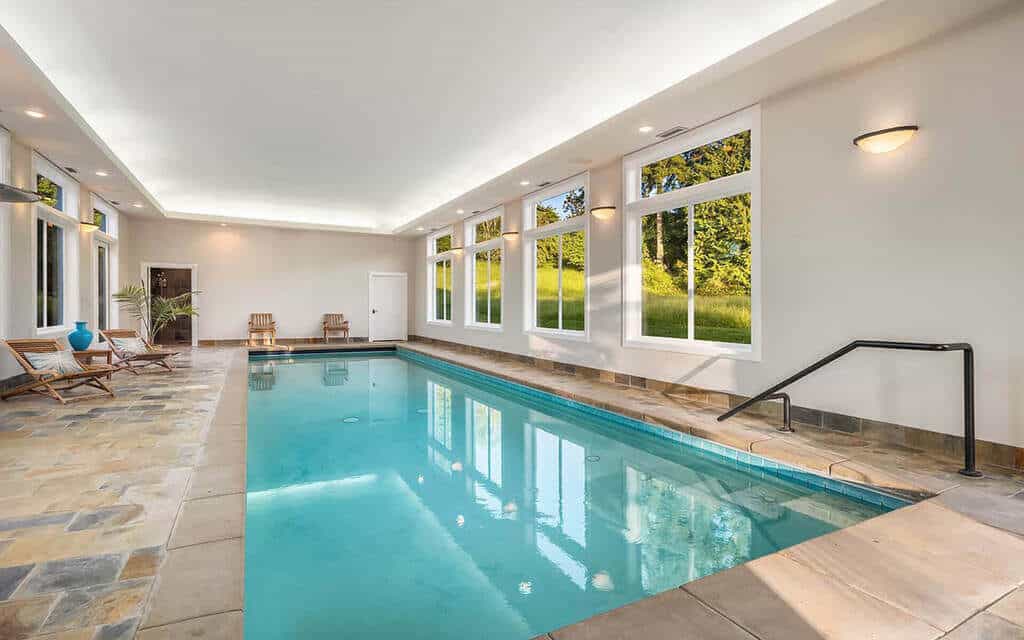 Pool walls and fences are great for privacy and safety, but the creative decorator will find a way to make them add to the beauty of your pool area.
Pool walls and fences already have tremendous and important values: privacy and safety. However, with enough creativity, a decorative wall can beautify your pool area and add to the overall aesthetic of your backyard!
Aluminum, mesh, and vinyl are barrier materials with the lowest maintenance required. Brick, stone, and glass are durable but will cost a bit more. You can opt to go for a plant wall, such as a large hedge, but you should know that plant walls don't qualify as fences in most municipalities that mandate fences for safety reasons.
Best Materials to Use in Your Pool Area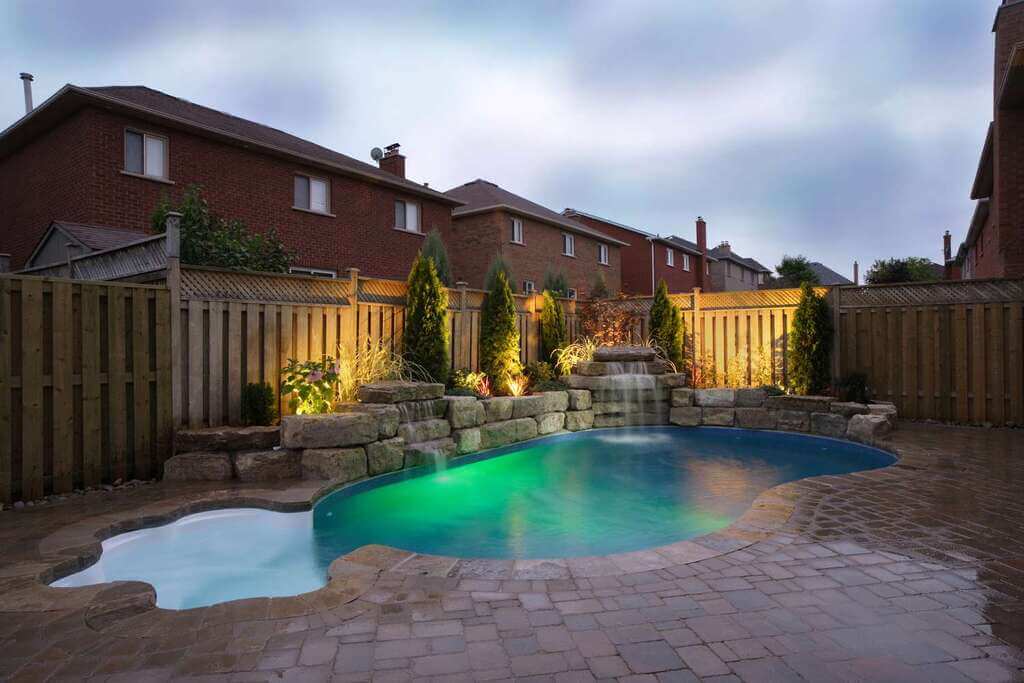 We've given plenty of ideas for materials to use around your pool. But what kind of materials are best for your pool itself? Here's some information to help you tell the difference and choose the best pool material.
If you're one of the many homeowners considering adding a pool to your property, you essentially have 3 options: vinyl, fiberglass, and concrete.
Vinyl
Vinyl pools are the most affordable option, with costs ranging from $20,000 to $40,000, and they can be installed in as quickly as a week. However, they have a shorter lifespan and might cost you more over time because they're not as durable as the other options.
Concrete
By far the most customizable and durable option, the real downside of concrete is its cost – $50,000 to $100,000. It's expensive to install and repair. Additionally, it's got a long install time – about 2-4 months.
Fiberglass
Whether you live in Boston, Brussels, or Brisbane, a fiberglass pool is the best of both worlds when it comes to affordability ($25,000 to $50,000) and durability. It's a terrific investment into your future – and your property value!
The only negative is that they're only available in pre-set molds, so customization is limited.  However, new models are arriving on the market constantly.
Conclusion
Pools are an exciting challenge for any homeowner or decorator. They might seem a bit strange when you take a step back… a big vat of water dug out of your yard for periodic soaking? However, they're a fantastic opportunity to flex your creative muscles when it comes to choosing materials, decorating, and cultivating an aesthetic. 
The end goal is to create a cohesive feel; so that the pool feels like a natural element of your property. To that end, run wild! It's your pool and your property! Follow your gut and do what you think looks and feels the best.
Explore further: