7 Ways To Make Your Outdoor Sauna Look Amazing
Do you live in an area with freezing winters? You may want to invest in an outdoor sauna to keep warm – but the benefits of a sauna don't stop there.  Saunas can be beneficial to your health, as it helps you burn calories, flush toxins from your body, lower stress levels, reduce blood pressure and increase circulation.
You can either buy a ready-made sauna, like the amazing saunas at Plumber Spot, purchase a DIY sauna kit, or build one from scratch. We have gathered some tips to make your outdoor sauna look amazing.
1) Wood-Burning Stove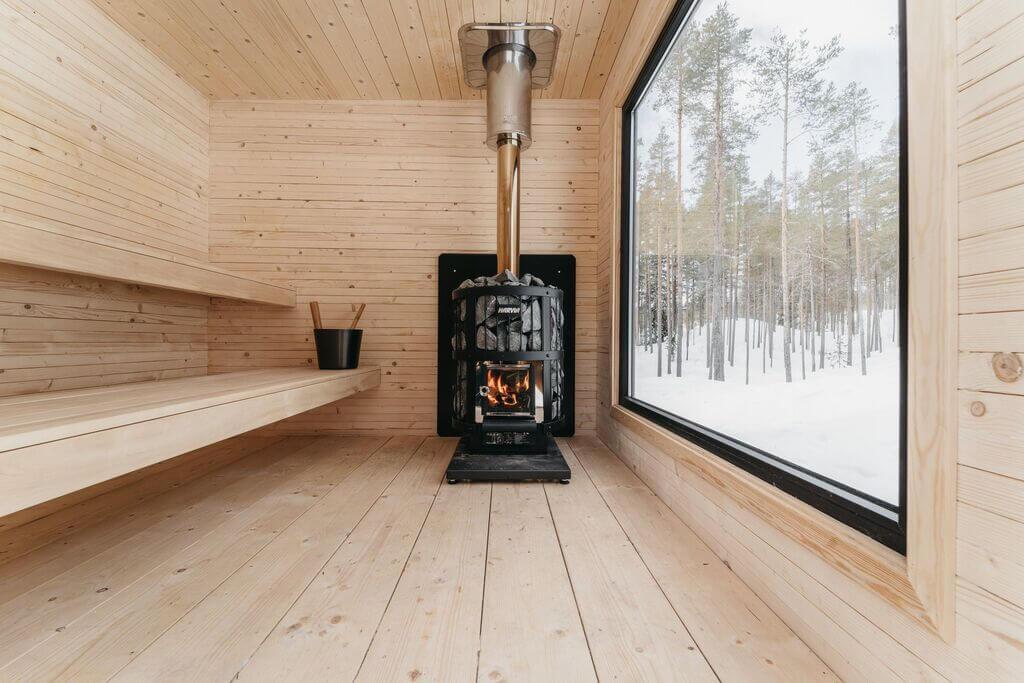 Source: pinimg.com
Having a wood-fired sauna stove is very traditional and also the easiest option in your sauna.
Traditional saunas would have an open fire heating up a pile of rock, but due to irritants in the smoke, a wood-burning stove is now used to eliminate the smoke filling up the sauna.
The basic idea remains the same, with the stove heating up rocks, which heat up the sauna.
2) DIY Infrared Sauna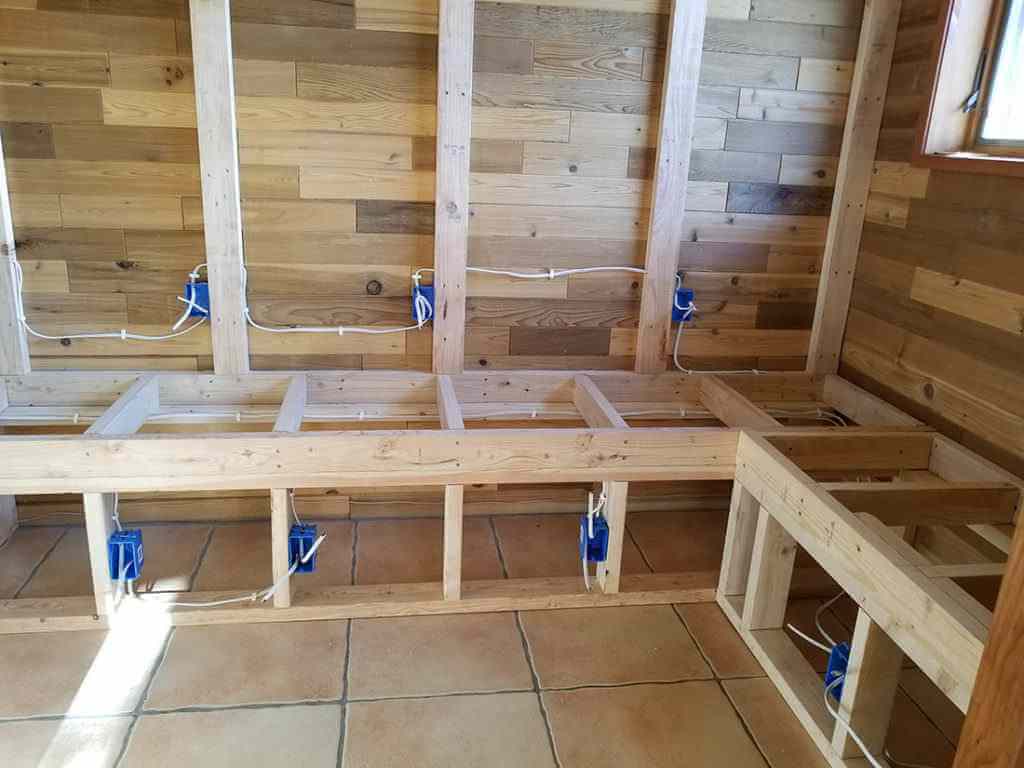 Source: saunacloud.com
Infrared saunas are heated with infrared heaters and not fire or hot stones. The infrared light is warm and will penetrate the wood, heating up the entire room.
You can install your own infrared sauna heaters, but just do proper research as not all infrared lights are of the same quality.
Also Read: Four Unique Saunas Worldwide That You Need to Visit
3) Portable Sauna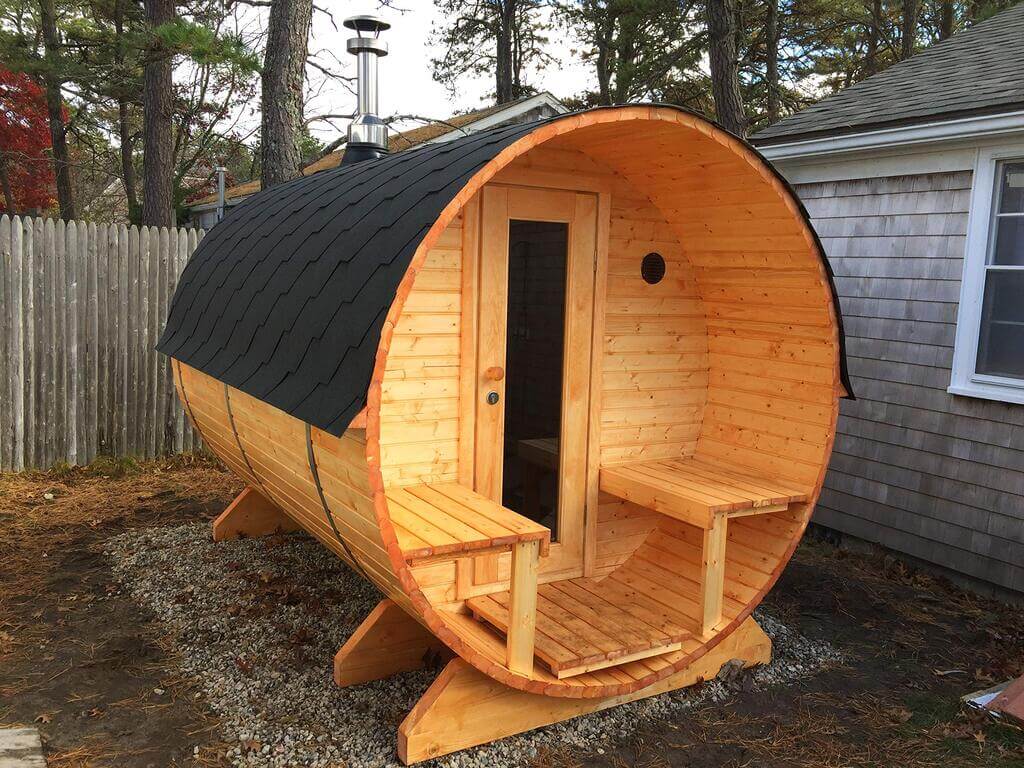 Source: amazon.com
If you live in a large property, you may want to be able to move your sauna room around to enjoy different views.
If you are planning on building your own sauna, why not make it portable in the process?  This is also a great option for those people who are looking for a budget-friendly sauna. 
You can either purchase a small portable sauna that can be used anywhere in your own home or construct your DIY outdoor sauna to be small enough to move around. Even though it is a small portable sauna, still you'll get the same experience that you'll get in a full-size sauna. 
4) Outdoor Barrel Sauna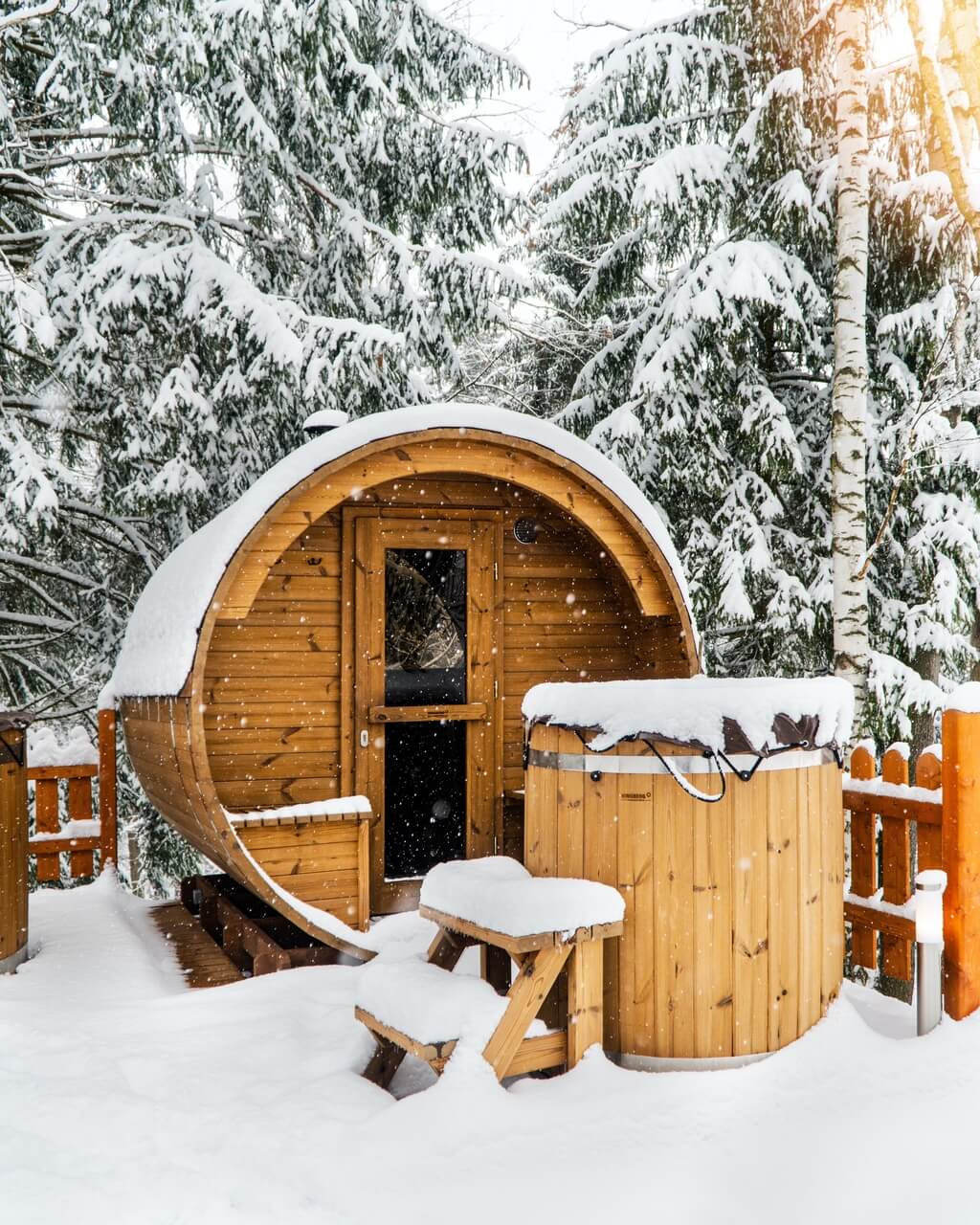 Source: twimg.com
This type of sauna is a great backyard sauna as it is small yet stylish – a welcome addition to any home.
There are plenty of kits and free sauna plans available to construct your barrel sauna, which can be done in a single day. The circular shape allows for faster heating and even distribution of heat as the heat rises.
5) Upgrade Your Traditional Finnish Sauna with Accessories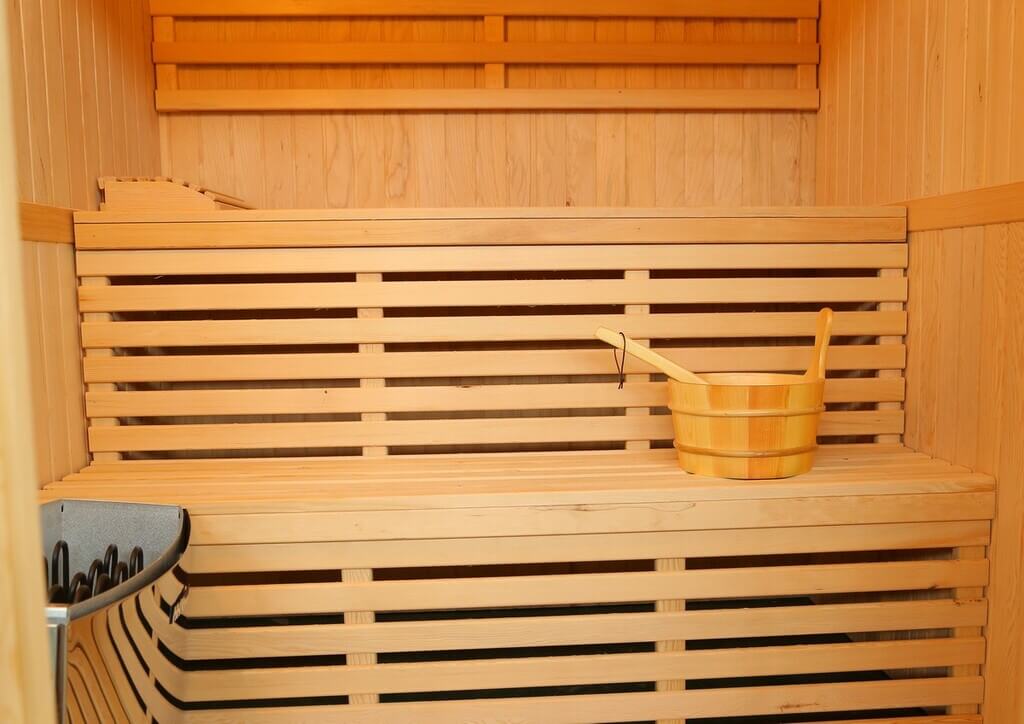 Source: lacinazahrada.cz
The traditional sauna is a wooden building with a wood-fired stove to heat up rocks. Water is then poured onto the rocks to create steam and further heat up the area. You can upgrade your sauna by adding sauna accessories including:
seat cushions

aromatherapy

sound system with guided meditation or music

color therapy lighting
Also, don't forget to add basic sauna accessories like a sauna towel, hats, seat covers, and body cleaning stuff (brushes, scrubbers, and whisks).   
Spending time in a sauna is actually really beneficial for health. So, increase its benefits by introducing aromatherapy in your outdoor sauna. Use scents and oils to create a relaxing ambiance to make the overall experience more enjoyable. 
6) Purchase Sauna Kits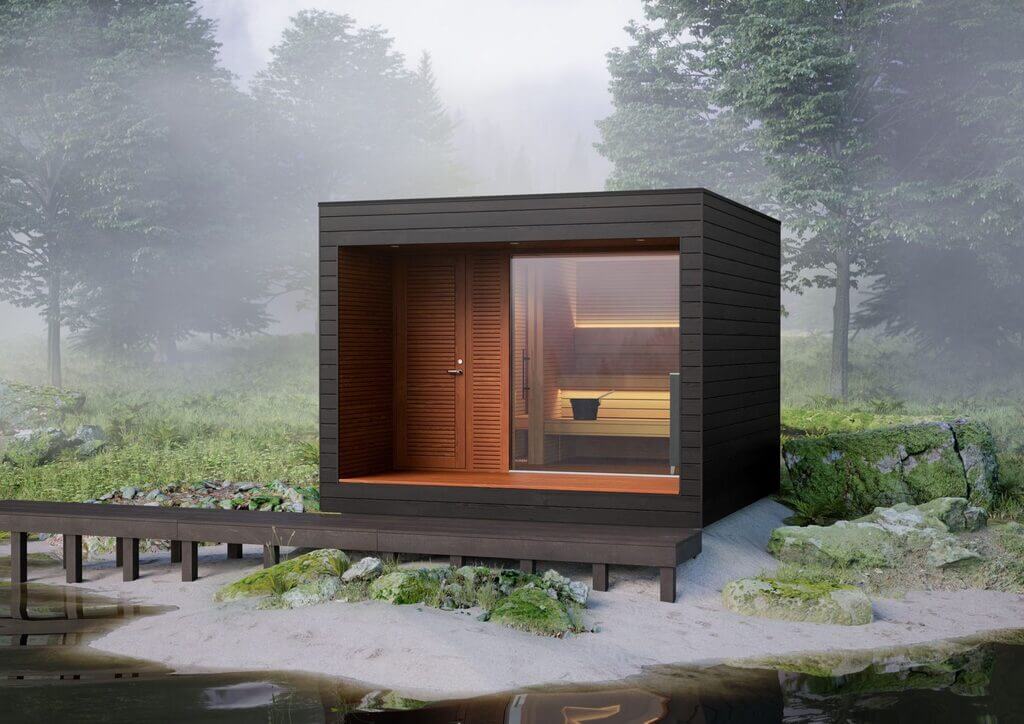 Source: sauna.com
Purchasing a sauna kit is the easiest way to construct outdoor saunas.
Building these types of saunas is extremely easy as these kits come with plans and all the materials. So you can build your dream sauna in one weekend. They come in a variety of types, from barrel saunas to shed-style saunas.
Also Read: Sauna Bath: 3 Reasons To Brings The Health Club Comfort Home
7) Go for a Steam Room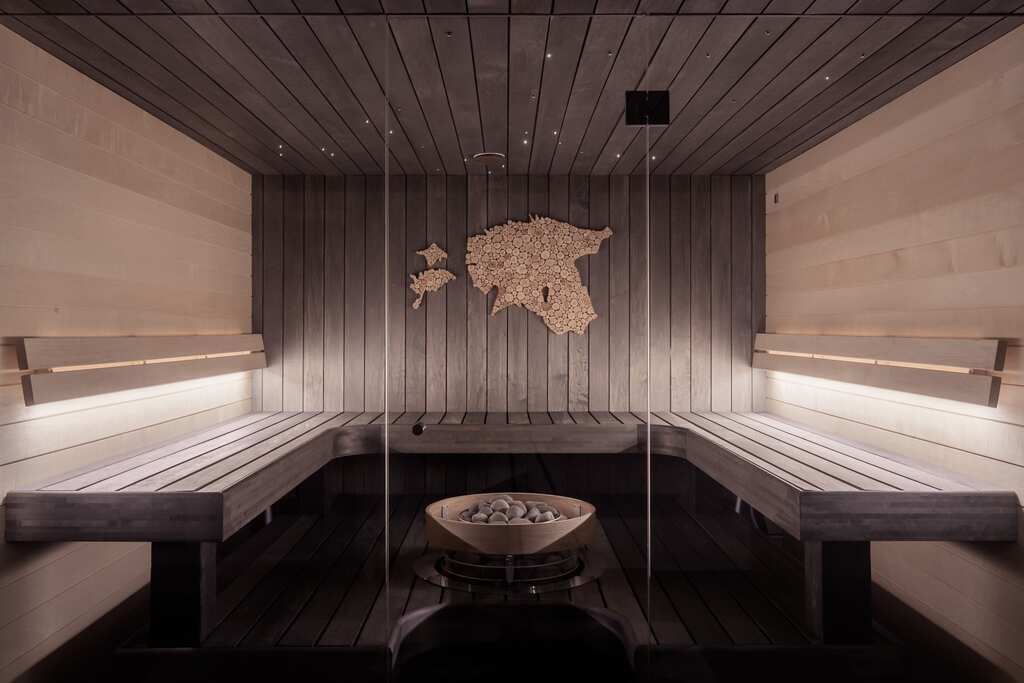 Source: saunamarketplace.com
If you cannot stand the dry heat of a sauna heater, you may be better off investing in a steam room.
Steam rooms create a high humidity environment, and although they are less hot than saunas, you will still feel the heat.
Go with a steam room with a glass door or frosted glass door as this will let the sunlight in. Steam saunas are popular these days as they have many health benefits. Through heat therapy and sweating, saunas improve circulation and increase cardiovascular activity.  
Conclusion
Your outdoor home sauna must be a place for you to escape the cold air, unwind and relax. Sauna has so many health benefits, such as it improves the skin, blood circulation; and is also helpful in reducing muscle soreness and pain. So if you're looking for some easy ways to improve your health, consider building an outdoor home sauna.  
Whether you go for a ready-made sauna, a sauna kit, or DIY the whole sauna yourself; you cannot go wrong with the addition to your home.
Buying a sauna may be a bit out of your budget, so get creative with materials you have lying around or can get for an affordable price at your local DIY hardware store, and get building!