Know the Benefits of Replacing Your Front Door
Getting a new front door can provide your house with new benefits, especially if you shop smart and save money in the process. The front door is a very important component of your house as it's the first thing guests see when they come to visit. It will also be the one place that gets the most foot traffic as family members walk through it every day. 
If you're thinking about getting a new front door, check out these great benefits that can improve the security, creative license, and style of your home. 
1. A Lovely New Door Can Boost the Value of Your Home

Source: westshorehome.com
When replacing your front door, you have the option of giving your home a completely different feel and ambiance. This can, in turn, give your property a boost in its curb appeal and value. You will have access to different materials—ranging from fiberglass, steel, or wood options, that can bring in a warm ambiance to your doorway and home as a whole. 
Each material option comes with its benefits, so take your time deciding what material you want your front door to be made out of. Once your curb appeal increases, it can lead to an improvement in your home's value. This is a great benefit, especially if leasing your home is part of your plan or if you intend to sell your home later. Have a look at the selections available at Alexandria front doors to see the best options for your home.  
2. You Can Make Your Own Design Statement With Your Door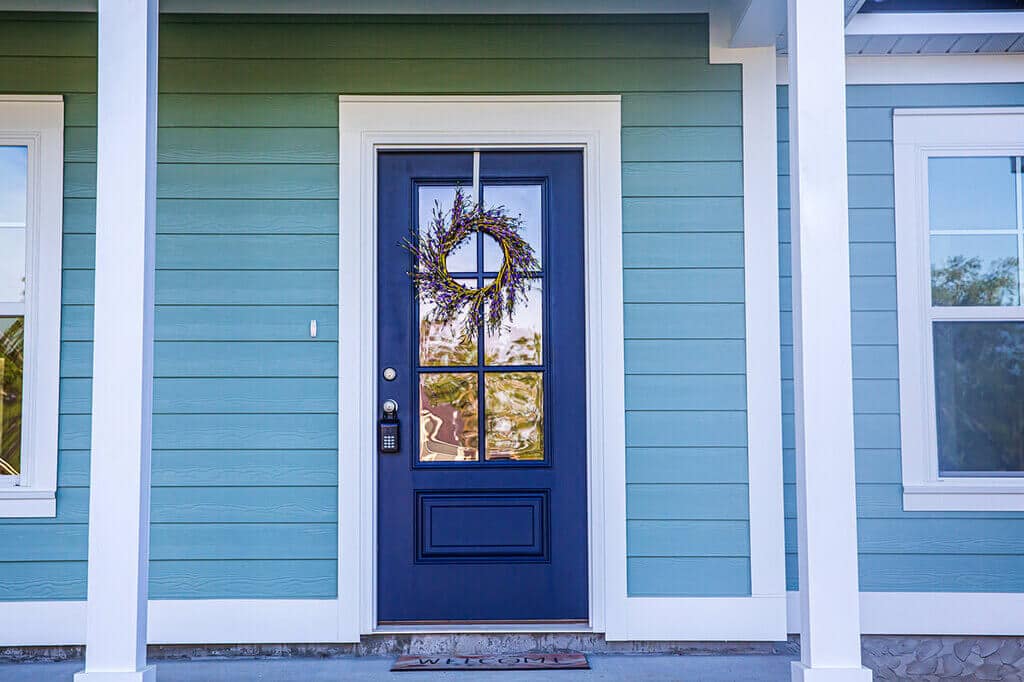 Source: ctfassets.net
Your front door can be more than just a means to enter your home. It can also be a way to introduce your creativity and tone to visitors, as well as to let them identify which house is yours.
This is great, especially if your door has a distinguishing feature, such as a unique color or design. You can choose rustic front doors to match the overall theme of your home, depending on the type of house you have. While a red door exudes an intriguing and enjoyable vibe.
Moreover, there are upgraded features you can choose from, such as doors with decorative glass or fancy iron lion knockers that can alert the whole house when someone is at the door. 
Also Read: 8 Tips On Choosing A Colour Front Door
3. You Won't Have to Sacrifice Style for Privacy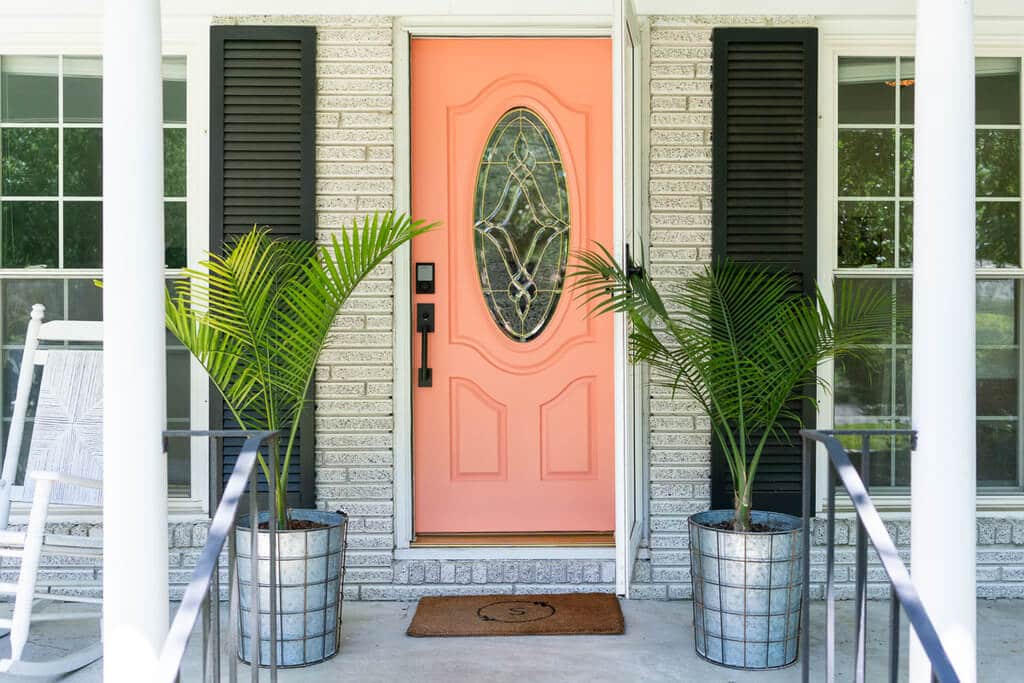 Source: abbymurphyphoto.com
If you're objective for buying a new door is because you want more light to come into your home, consider fiberglass. However, privacy is a concern with glass options. Luckily, there are choices that target that specific issue, such as sidelights and transom windows that provide a balance of light and privacy, preventing people from peering into your home. 
You can also get options with blinds and a textured surface to further enhance your privacy. 
4. You Can Increase Your Home's Security Features with a New Door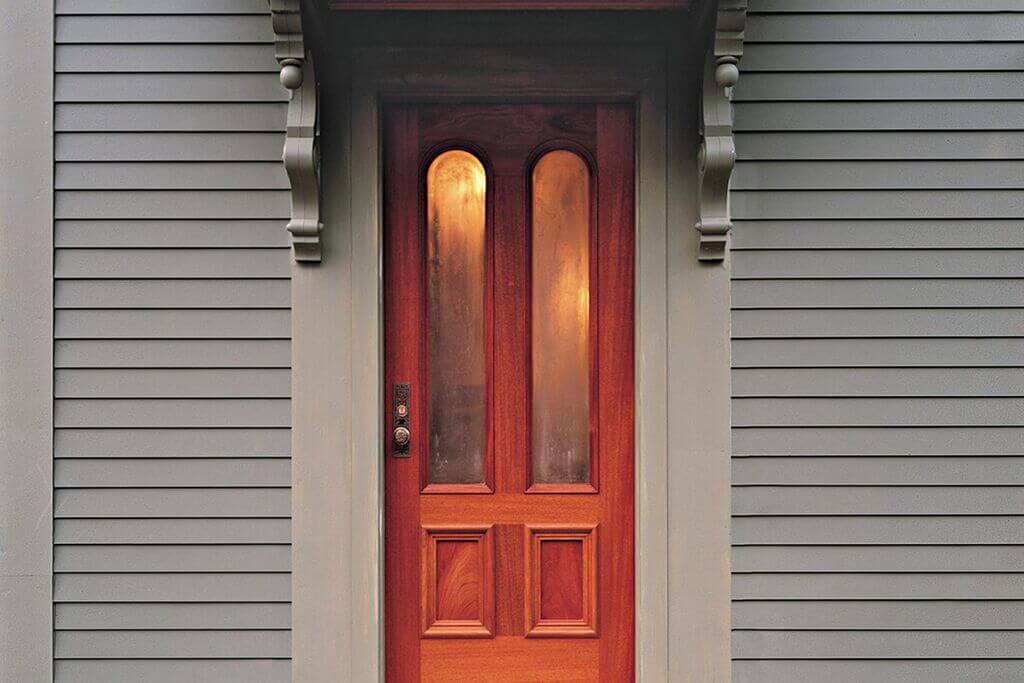 Source: vox-cdn.com
A new door also gives you the perfect opportunity to upgrade your home's security features.
Some new doors come with double bolts that increase security when the front door is locked, making it hard for intruders to enter. Composite doors are specially designed with added security in mind.
There are even features that come with a camera lens that films 24/7, making sure you know everyone who visits your front door, whether they be delivery, guests, or suspicious individuals.  Some doors also come with options for hinges that can increase security and safety.
Also Read: 6 Reasons to Choose Composite Doors for Your Home
5. You Can Protect Environment and Save Energy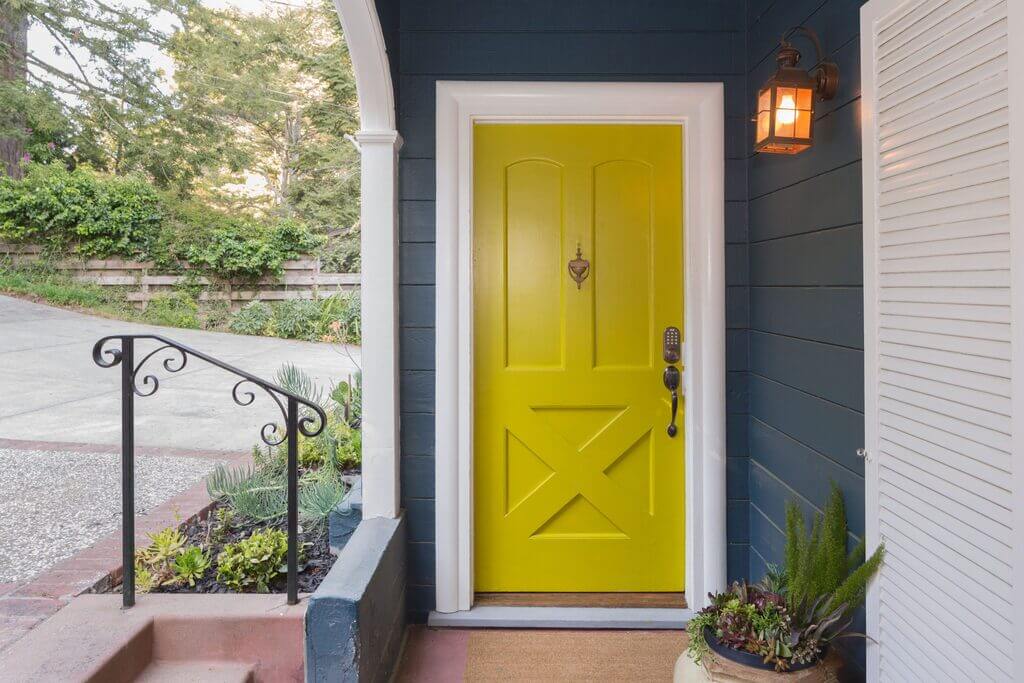 Source: mmcproperties.com
There are some great energy-efficient options for doors that you can invest in. Doors made of wood are great insulators that can help keep the cold out without needing to use the heaters. Steel and fiberglass options are also very durable and can be resistant to rot so that your door can last longer. 
If you want a more out-of-the-box option, then consider using solid polyurethane foam-filled panels for the door that can withstand any harsh weather. There are doors made of recycled materials that are good for the environment, so if you're environmentally conscious, look into this option. 
Conclusion 
If you're thinking about having a new door installed, look at these great features and pick the best door for your home. You'll be increasing your home's value, making it a very good investment for the long term. With a plethora of options to choose from, you can get the best one in terms of style, color, and aesthetics. Go for the one that fits your budget, as well as the one with special features that you prefer.  
The material of the door will determine how long it will last, so make sure you do your homework before purchasing one.