Pool Safety Tips for Our Loveable Pets
Do you have a pool? Do you have pets? If the answer to both of these is yes, then pool safety is an issue you must be aware of. Some pets love water and would enjoy using the pool. However, others don't. A pet that falls into the deep end of a pool is at high risk. When you have a pool at home, you need to take safety measures so your lovable pets don't face any risks.
Most people treat pets as part of the family. It is your duty to keep them safe, and you need to be concerned about pet safety. The article tells you all you need to know about making the pool safe for your pets. Also, it is necessary to keep your pool clean.
Pets Can Swim, Right?
You would have seen videos of dogs and other pets swimming and having a gala time in the pool. These sorts of videos make most people think that pets love water. It is true that many pets love spending time in a pool but not all. Even in dogs, not all love water. Some dog breeds like bulldogs and pugs avoid water. If you put them in a pool, they are likely to go into a panic and may even drown. Cats generally hate pools and avoid them. The chances of kittens falling into the pool are high, which can be deadly as they can drown very fast.
Some pets can swim not all. Even the pets that swim are likely to face problems if the pool is deep. When you have lovable pets at home, you need to take care of them and ensure they don't face problems because of the pool in your backyard. You need to take measures to keep the pool safe for your pets.
Ensuring Pool Safety
Ensuring pool safety is not very difficult. The following are various measures you need to take to make your pool safe for your pets.
Barriers for the Pools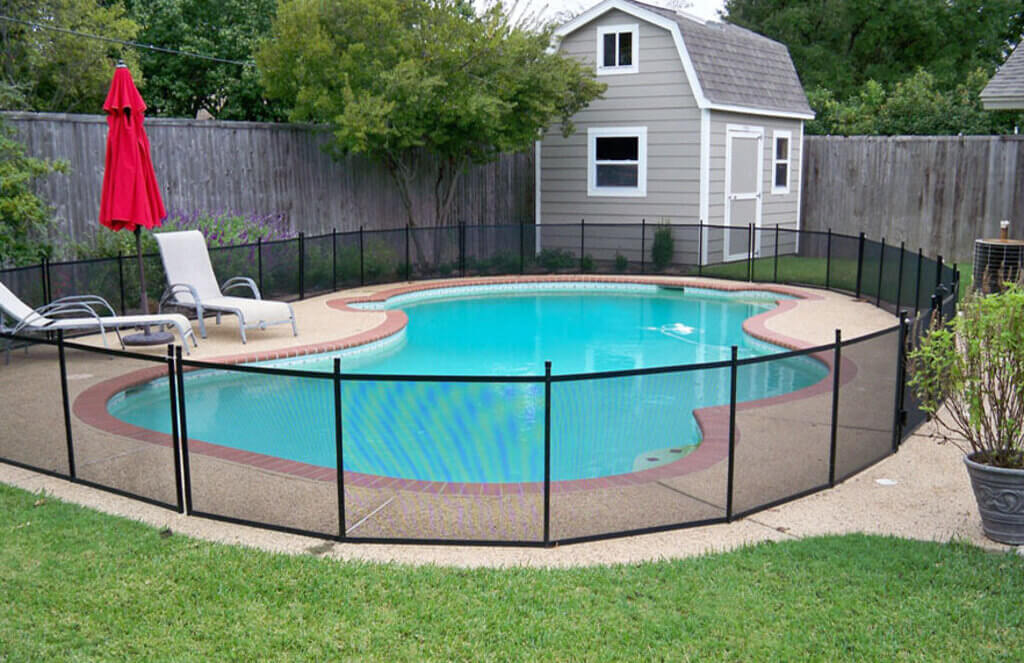 Source: toolversed.com
In most places, the law makes it compulsory to have barriers around your pool. This will protect children who are likely to face the risk of accidents. These barriers may be helpful to keep out large dogs but are not good enough for small pets. Small dogs or other pets can slip through the gaps in the barrier. If you have pets, you can consider making the barriers pet-proof. You can install horizontal bars, so there is not enough space for the pet to squeeze through.
Consider a Pool Cover
A pool cover will make your pool completely safe for your pet. With the cover on, even if your pet enters the pool area, it cannot get into the pool. For this, you need a pool cover that is hard. A tarp cover will not help as your pet can fall into the pool with the cover. A pool cover safeguards pets and kids. It also helps conserve heat and can keep the pool clean. So you may be wondering do i really need a pool cover?
Use a Sensor
You can install a sensor near the pool that can detect any animal. There are different types of sensors. Depending on the sensitivity of the sensor, it can detect even small animals. The moment it detects a moving creature near the pool, the sensor would ring an alarm and you can take immediate action. This sensor is helpful if wild animals enter your yard and try to drink water from the pool and end up in an accident.
Have a Pet Ramp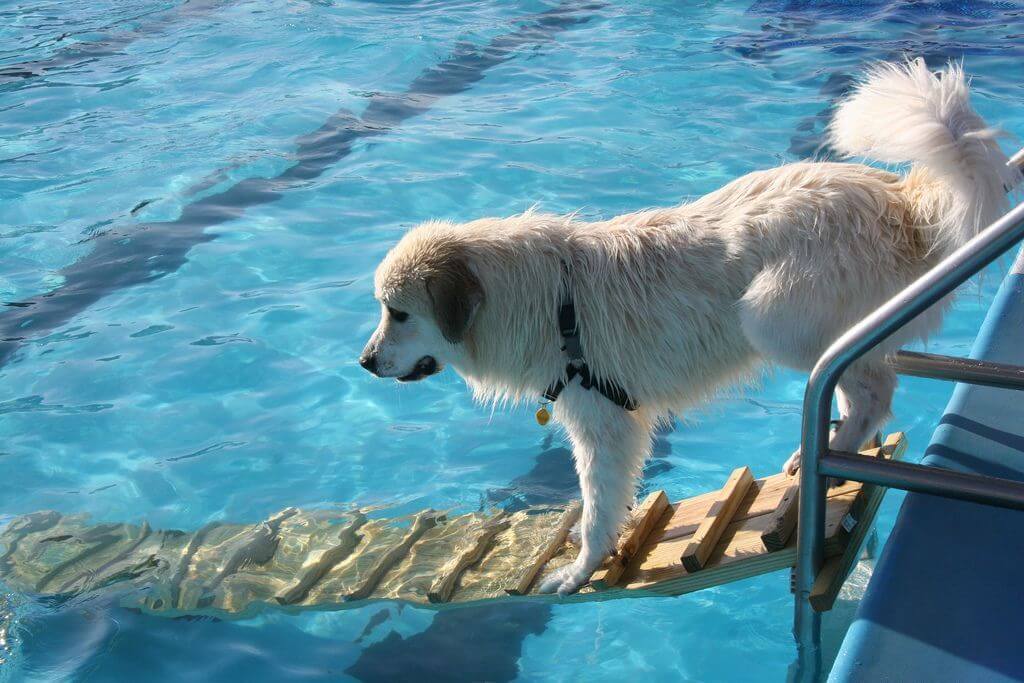 Source: pinimg.com
If your pet likes the pool but can get confused about climbing out of the pool, consider installing a pet ramp. Once the ramp is installed, train your pet on entering and exiting the pool from the ramp. Doing this continuously for a few days will make your pet understand that the ramp should be used. A pet that likes to swim may not drown but if it doesn't know how to get out, it can panic and get exhausted. Having a ramp or low stairs can be helpful.
Also Read: 23 Amazing Indoor Pools To Enjoy Swimming At Any Time
Teach Your Pet to Swim
Dogs and even cats can be trained to swim. Take them with you when you go to the pool. You will find they enjoy the experience. Training them to swim can help prevent any risk if the pet falls in when you are not around. You can get them a pet vest to help them swim safely in the pool. Remember that smaller pets like ferrets, gerbils, and rabbits will drown in a pool and can easily die. You must ensure that such small pets are not allowed to come anywhere near the pool. 
 Learn CPR
Pet CPR is similar to human CPR. If you don't know CPR learn it. Teach your family members too. Whether it is a pet is trouble or a human, knowing CPR can save a life. In case your pet dog has swallowed too much water, you can use CPR to try to resuscitate it.
Don't Allow Pets to Drink Pool Water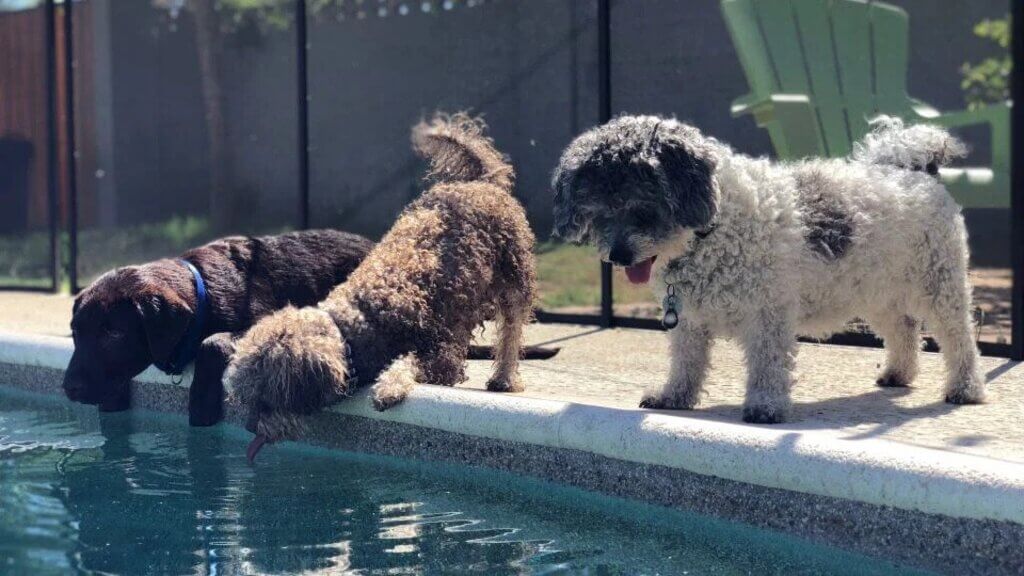 Source: rover.com
The chlorine in pool water can be harmful to small pets. Puppies can fall ill drinking this water. Ensure you train your pet not to drink pool water. Keep a separate tray near the pool with water for your pet to drink. This will ensure it doesn't try to drink the pool water and fall sick. You should also look for some amazing Fibreglass Pools that will work great for your home. 
Talk to Your Vet
Before you even think of bringing your pet near the pool, talk to your vet first. The vet can tell you if you should allow the pet in water or not. Some breeds do not manage well in water. Also, your pet may have some health problems that can increase the risk when it is in water. This is why get a vet check-up done before training your dog or cat to swim. 
The measures listed in this article are not difficult to implement. If you have pets in your house, implement all these so your pet will be safe with no chance of an accident in the pool.