Small Swimming Pools: 17+ Dreamy Pool Designs For Your Backyard!
Finally, summer is coming! Balmy nights, ice cream delights, and the endless light of, we miss a lot of things about the summer season. But most of all, we miss lounging by the pool and, of course, the awesome summer pool parties. But not anymore! Because to make your summer more funny and enjoyable, we have come up with some cool small swimming pools.
Honestly, there's absolutely no better way to beat the heat than a dip in a refreshing swimming pool. This becomes more fun when that swimming pool is in your own backyard. Nowadays, the pools are not in the old turquoise-lined rectangular shapes; now, they can be found in every shape and size. You may have already seen pools with built-in waterfalls, surrounding gardens, and organic shapes.
So if you also have an unused backyard or outdoor space, you can make a relaxing swimming pool to cool off. Even if your space is limited, a small swimming pool is a great idea. Today in this blog, we've come up with extremely creative and small pool ideas that'll help you to beautify your exterior spaces. 
So, whether your home is a traditional Tudor, a rustic farmhouse, or even a glass-wrapped modern ranch, these small pool designs will complement every architecture and style of your house. 
17+ Cool & Creative Small Pool Ideas in 2022! 
One thing specifically that I really like about the small swimming pools is that they are more intimate and personal. From a Tuscan-style retreat, and a rustic farmhouse swimming pool to an indoor lap pool, here are some interesting and fun pool designs that'll make you want to dive right in and float the day away. 
1. Small Circle Pool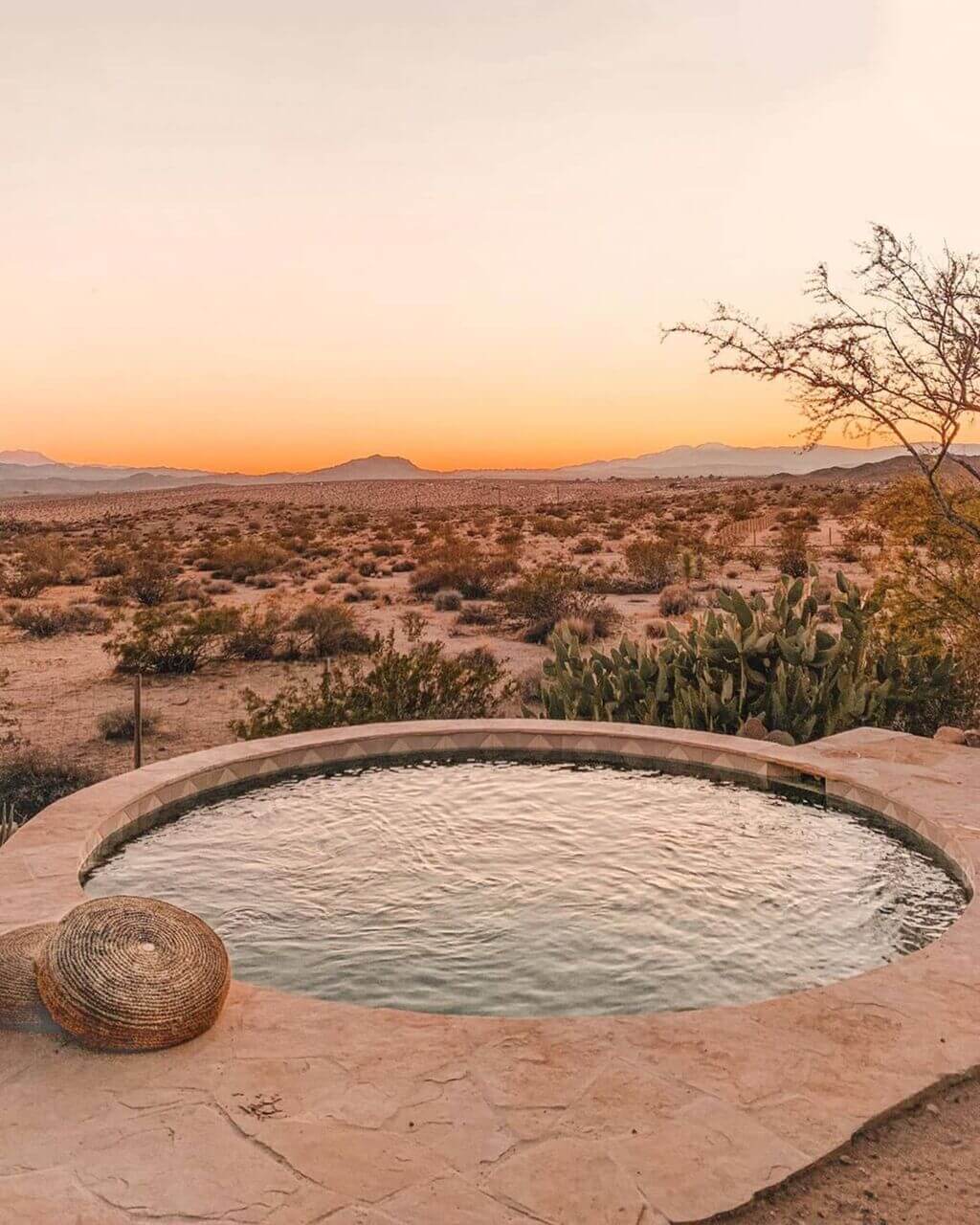 Source: pinimg.com
Imagine drinking your favorite wine while sitting in this stunning pool. Wouldn't that be amazing? This pool is a part of The Joshua Tree House, which is owned by Sara and Rich Combs. 
If you're also living at a place that has breathtaking views, consider constructing this type of pool. This small outdoor circular pool also takes very little space and requires less maintenance. 
2. Outdoor Oval Pool Idea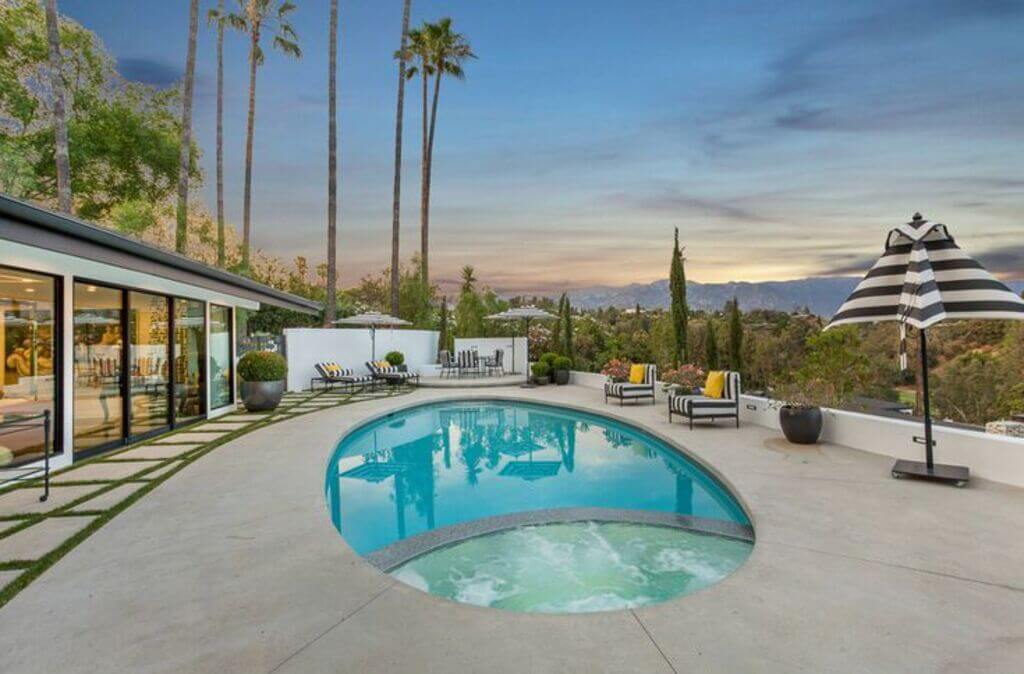 Source: pinimg.com
This unique-shaped pool is located on Pasadena, California, a hillside with a view of the Southland. This modern mid-century house also features a relaxing pool with this refreshing pool. 
3. Mid Century Style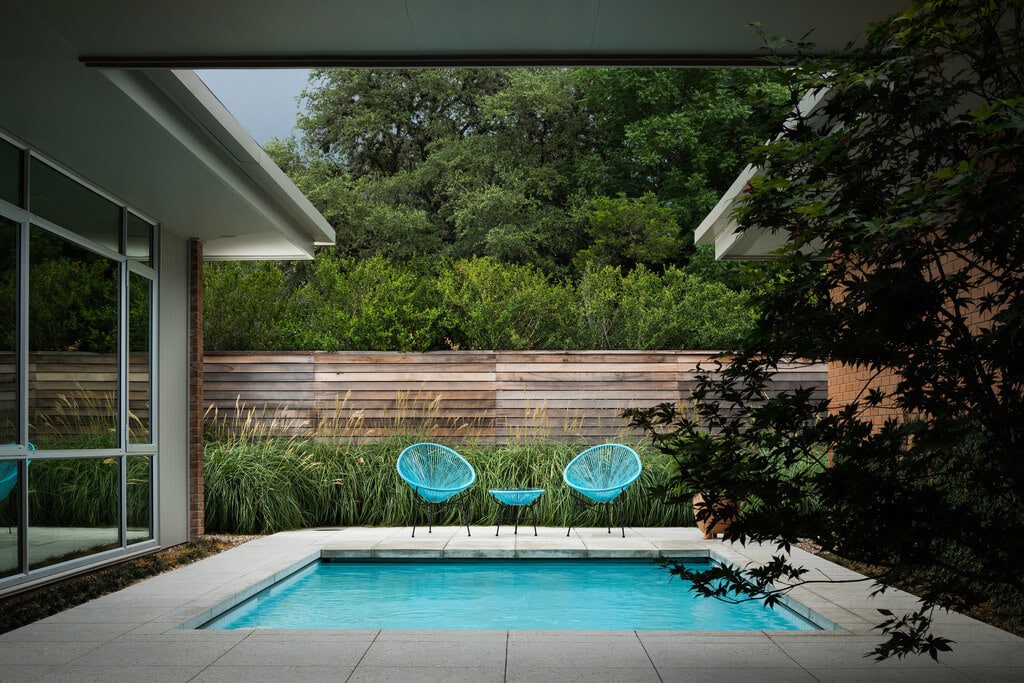 Source: apartmenttherapy.info
This modern midcentury home is located on Austin's Balcones Drive, and it was designed by architect Roland G. Roessner in the 1950s. The main architectural element of this house design is the cantilevered concrete balcony perched above a long, sloping hillside. 
This 2,680-square-foot house also features a small but spacious pool in the center of the house. If you like this mid-century modern look, we suggest going with this design.  
4. Small Plunge Swimming Pool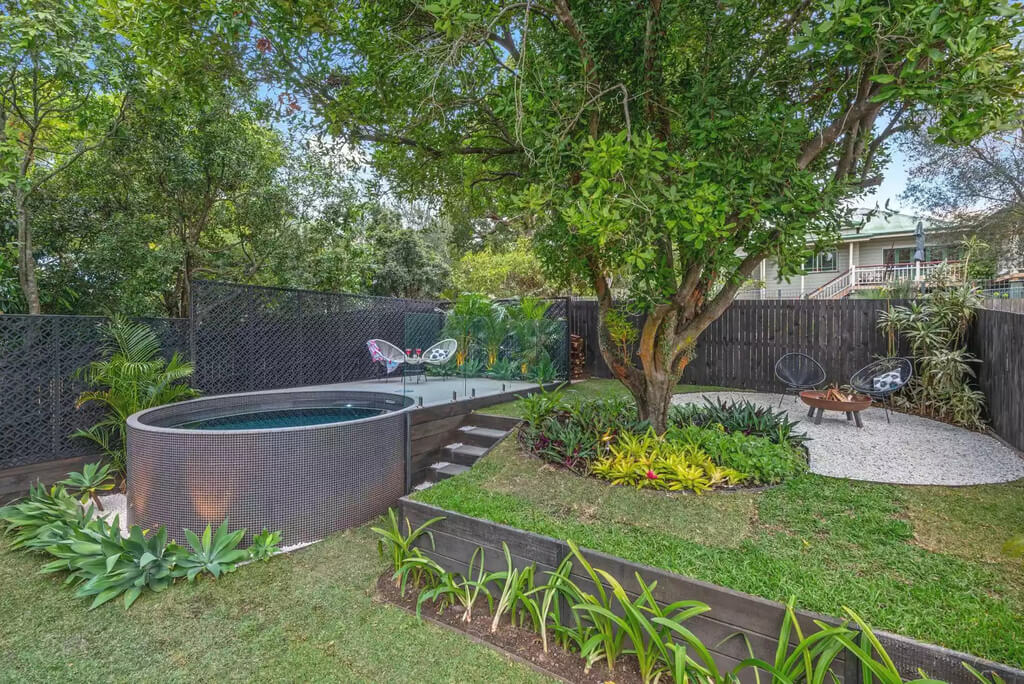 Source: godiygo.com
These types of pool designs are quite popular across America and Australia. Perfect for those places where it is hard to fit many things. If you're also facing the same issue, you can definitely try this type of pool design. 
This is a high-quality round tank pool that looks very sophisticated in any house design. You can select either in- or above-ground and make your summer days a little bit more fun and entertaining. 
5. Minimalist Design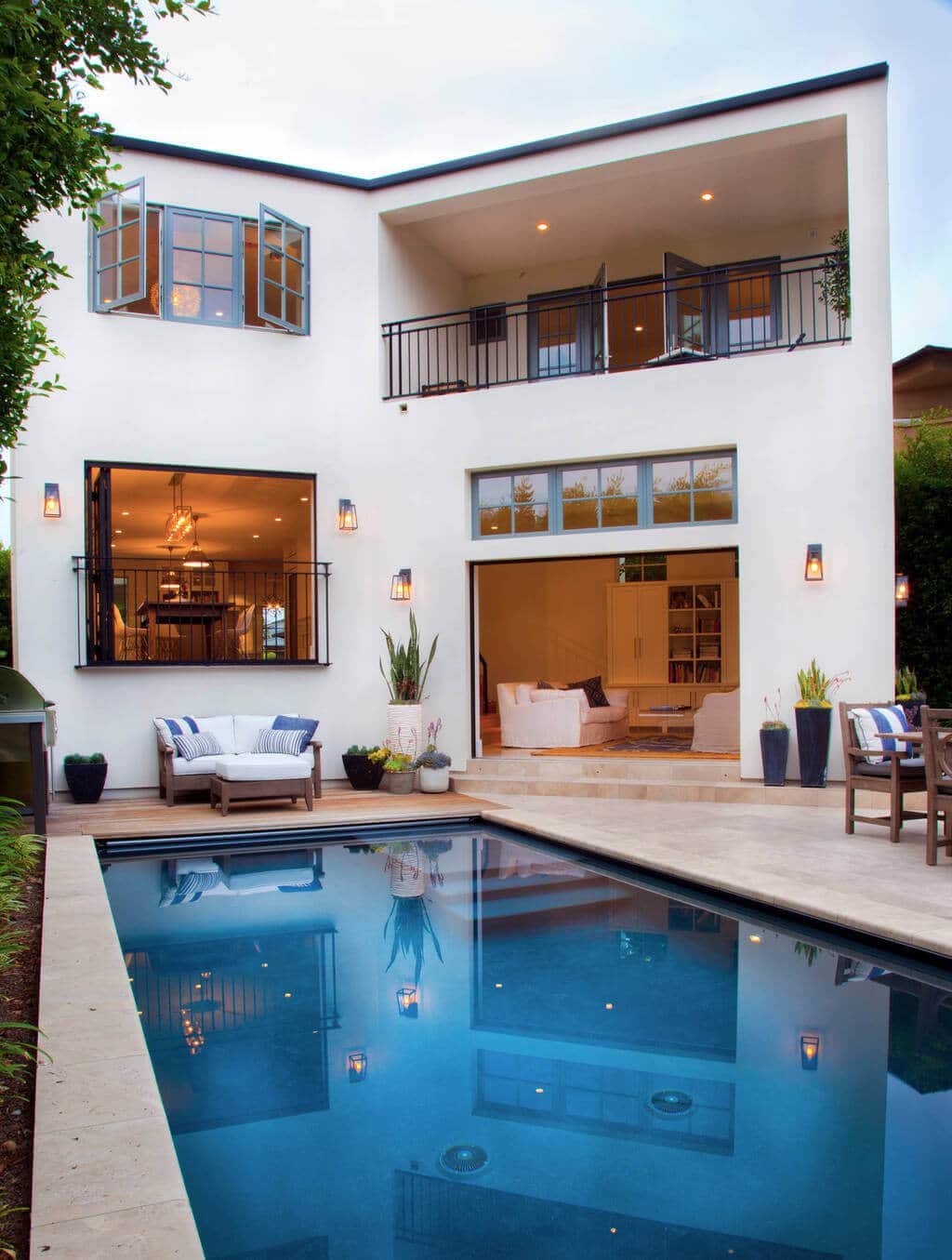 Source: hzcdn.com
Sometimes our houses have a weird shape or design. In that case, what you can do is just build your home at some angle or according to the architect but keep the pool in a straight position. 
Look at the above pool design; here, the home is built at an angle, but the pool is in a straight position. This proves that you can create any pool design in any shaped place. 
Also Read: 8 Myths Hindering Your Ability to Build a Swimming Pool!
6. Outdoor Spanish Pool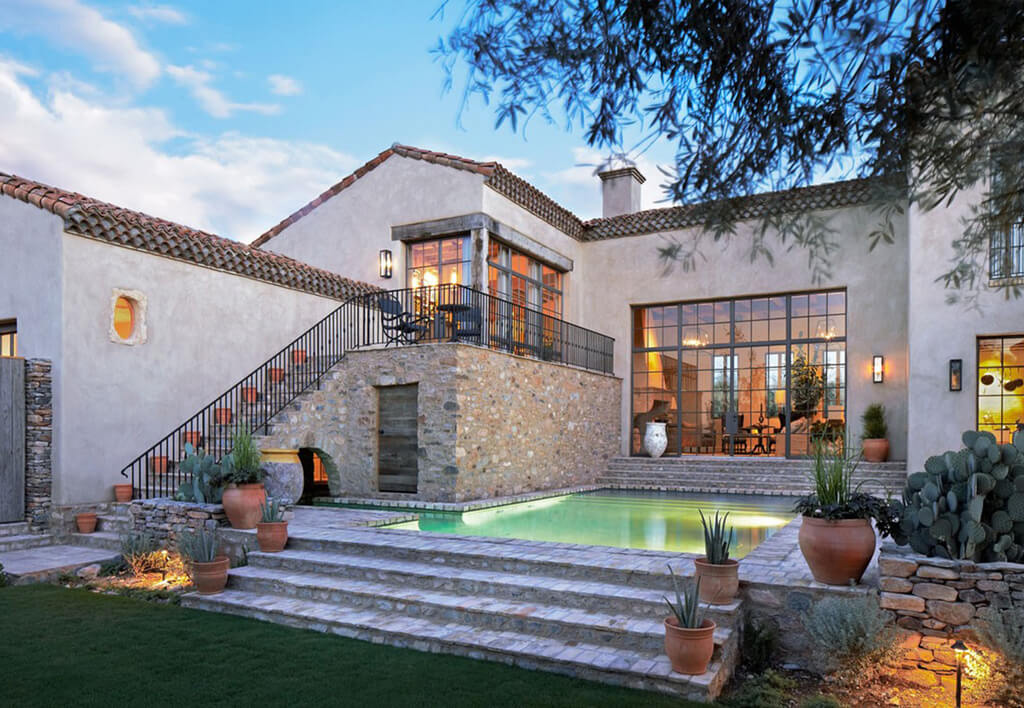 Source: ozarchitects.com
Look at this ultimate private pool. Located in Silverleaf in Scottsdale, Arizona, this house is designed by Oz Architects. The best thing about this focal-point swimming pool is that it is accessible from the living room or via an outdoor staircase.
7. Atlantic Beach Yard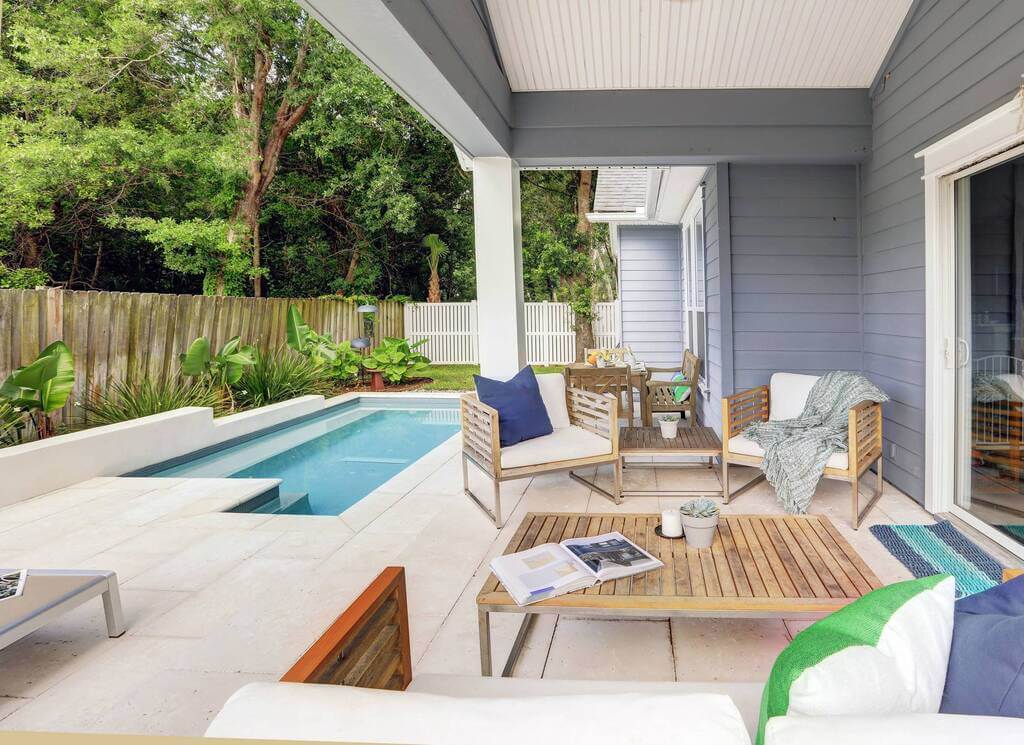 Source: hzcdn.com
This small pool is perfect for those houses which have a yard. You can build this cascade outdoor pool design in the yard. Outdoor furniture and black accent walls, this pool setup is everything you'll need to relax. You can also add a dining set or make an outdoor living area. 
8. California Pool Design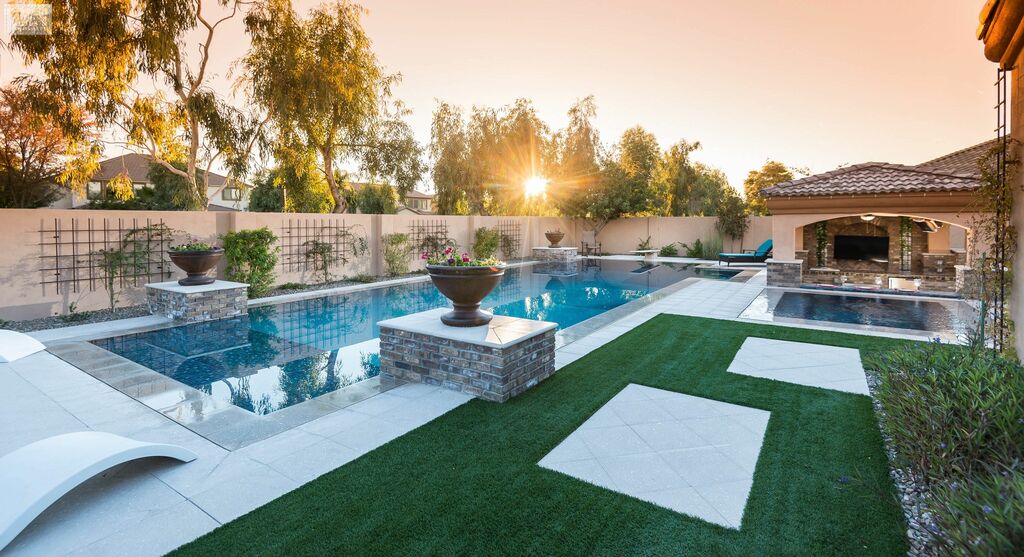 Source: pinimg.com
This dream swimming pool is situated on private property in California. Just add some colorful and interesting lighting and make your backyard a party-perfect place. 
9. Lap Pool Design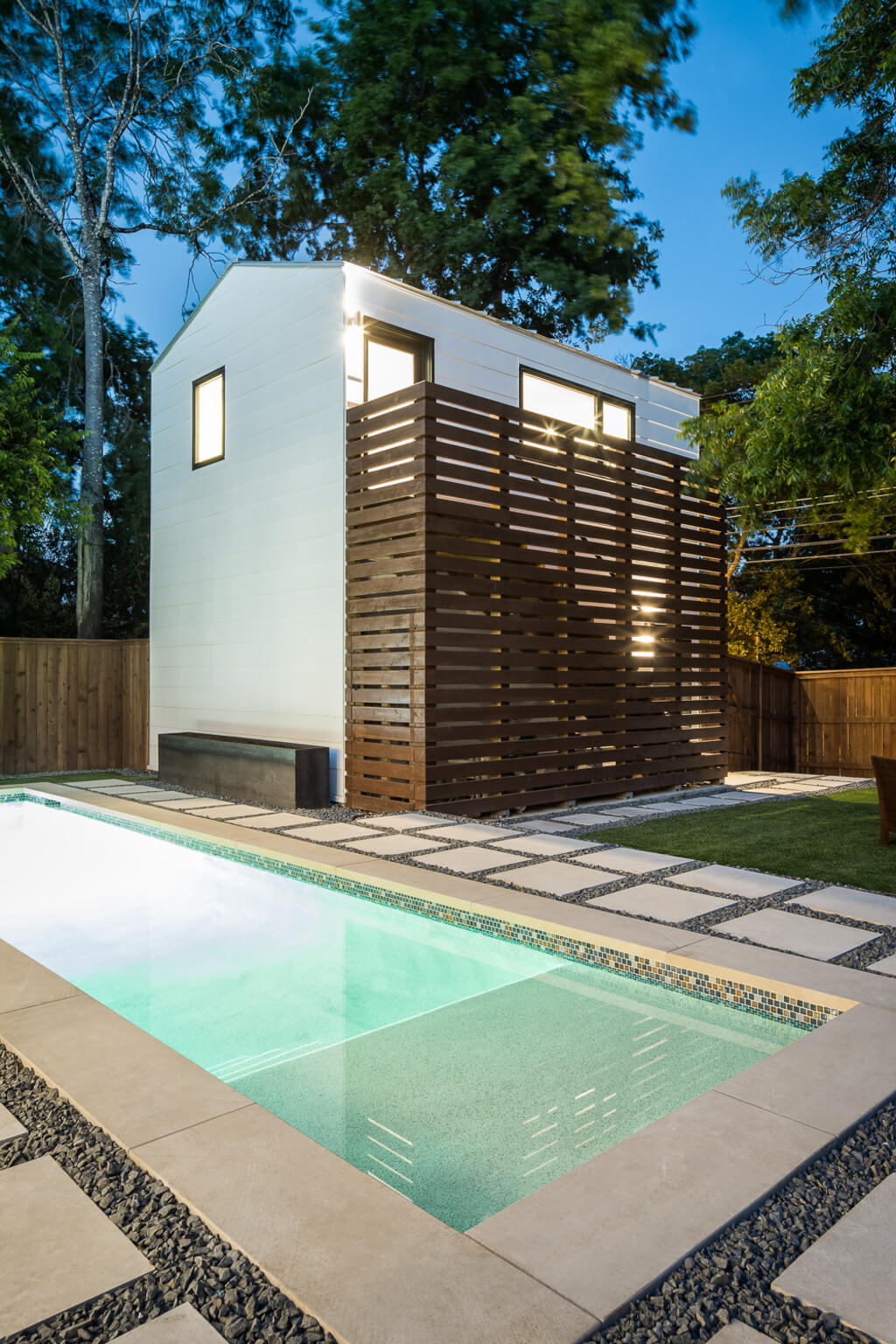 Source: squarespace-cdn.com
This is one of the best small pool ideas for your backyard. Lap pools can be built in tiny places, and they're super functional and look extremely luxurious.  
10. Deck Plunge Pool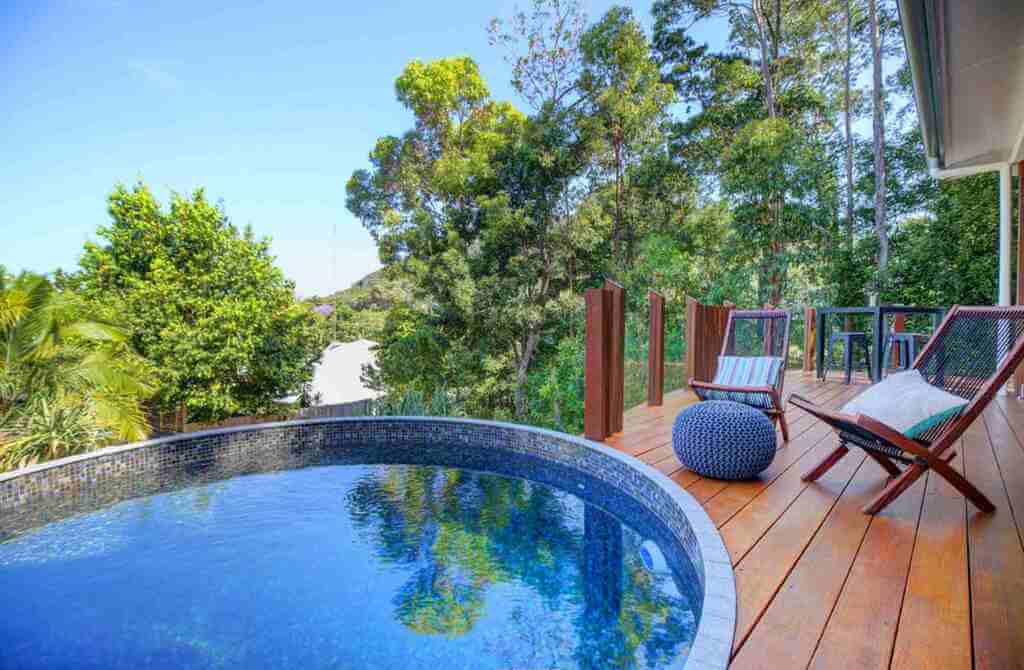 Source: thespruce.com
Are you mesmerized by this gorgeous pool design? Designed by Villa Plunge Pools of Perth, Australia, this warm and rich wood deck is all you need this summer. These types of plunge pools can easily be warmed up and provide a comfortable space to swim. 
11. Garden Pool Idea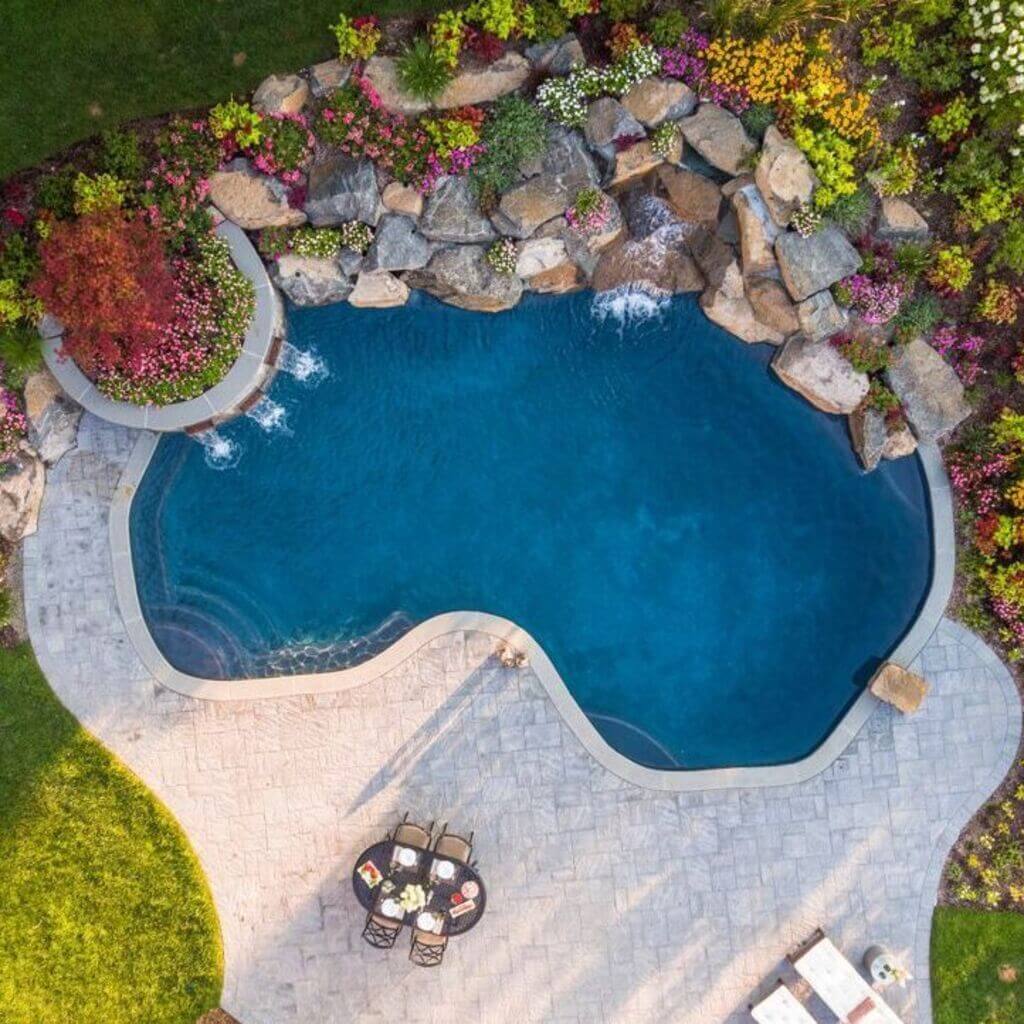 Source: pinimg.com
Glam up your garden by creating this wonderful pool. Surround it with stones, flowers, and some colorful plants. You can also add a dining table and enjoy late-night dinner parties. 
12. Geometric Pool Design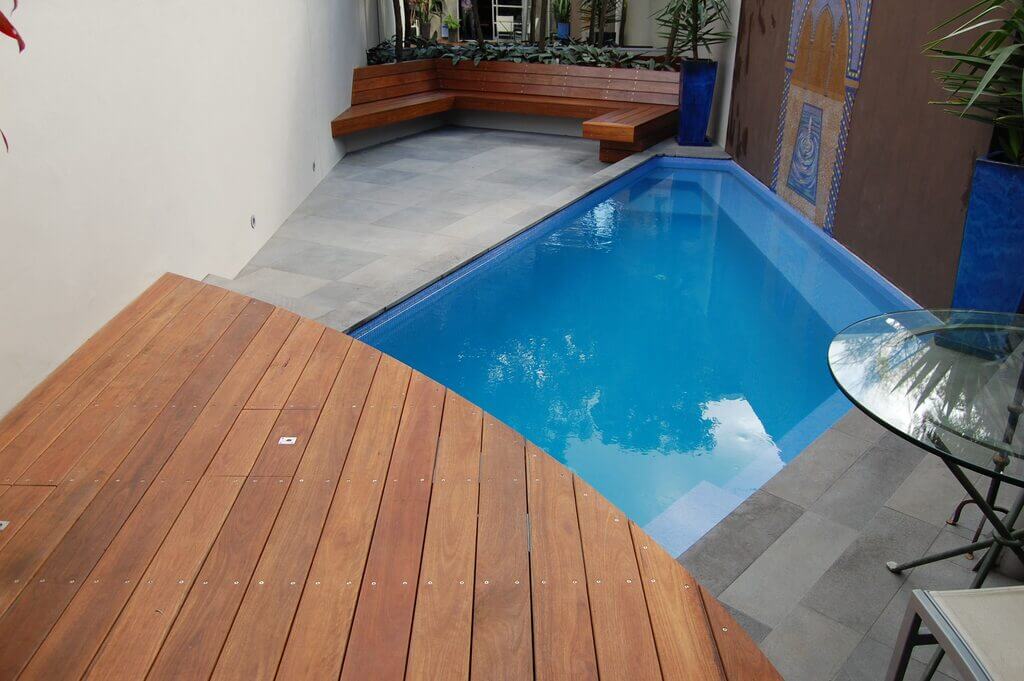 Source: hzcdn.com
Want something different and unique? If yes, then try out a unique shaped pool design. Take inspiration from the above home, here the pool is designed like the missing piece of a jigsaw puzzle. This is the idea of Space Landscape Designs of Sydney, Australia, specifically for this home. 
13. A Shipping Container Pool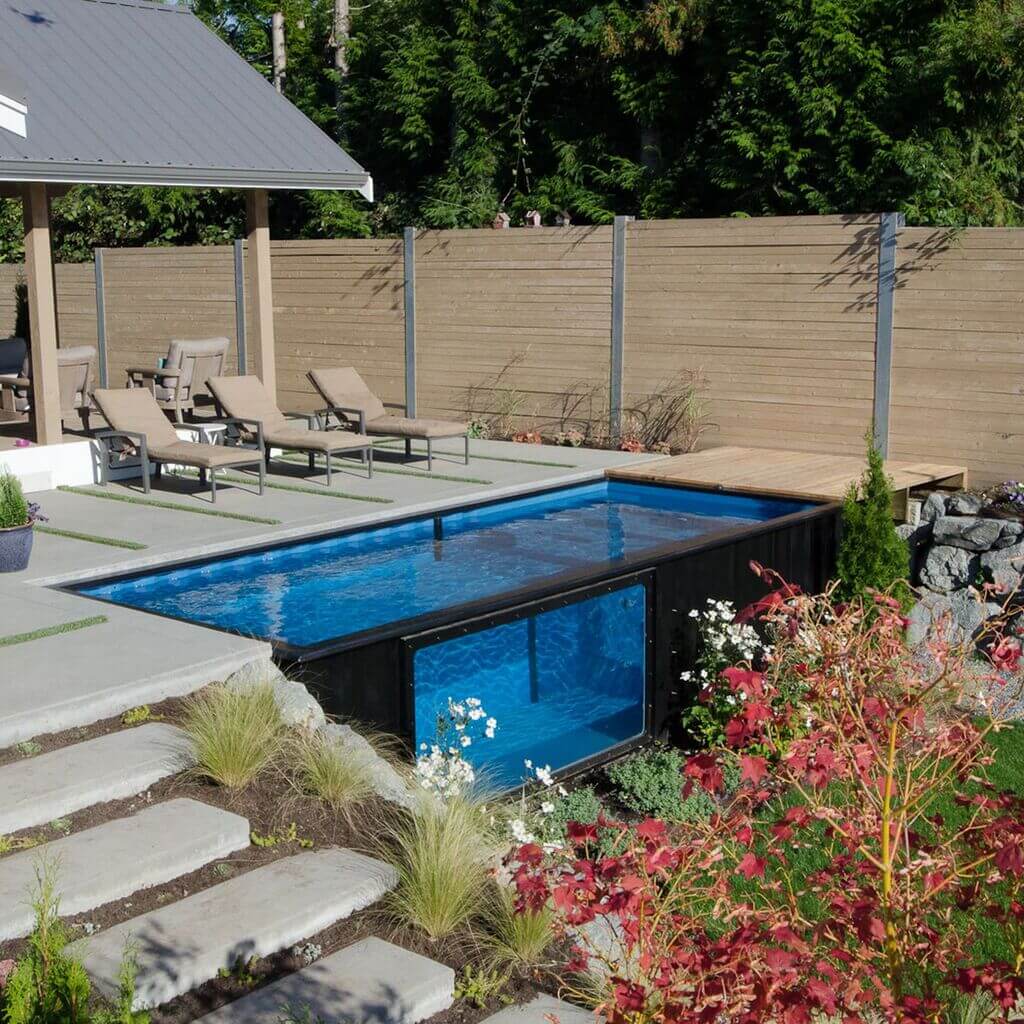 Source: vox-cdn.com
Have you ever thought that a shipping container can be a pool? If not, then start thinking now because it can be a great pool idea. Look how attractive and luxurious the above pool is looking. 
If you want something small but modern-looking pool design for your backyard, then go for this repurposed Shipping Container Pool. 
14. Southeast Charmer Lap Pool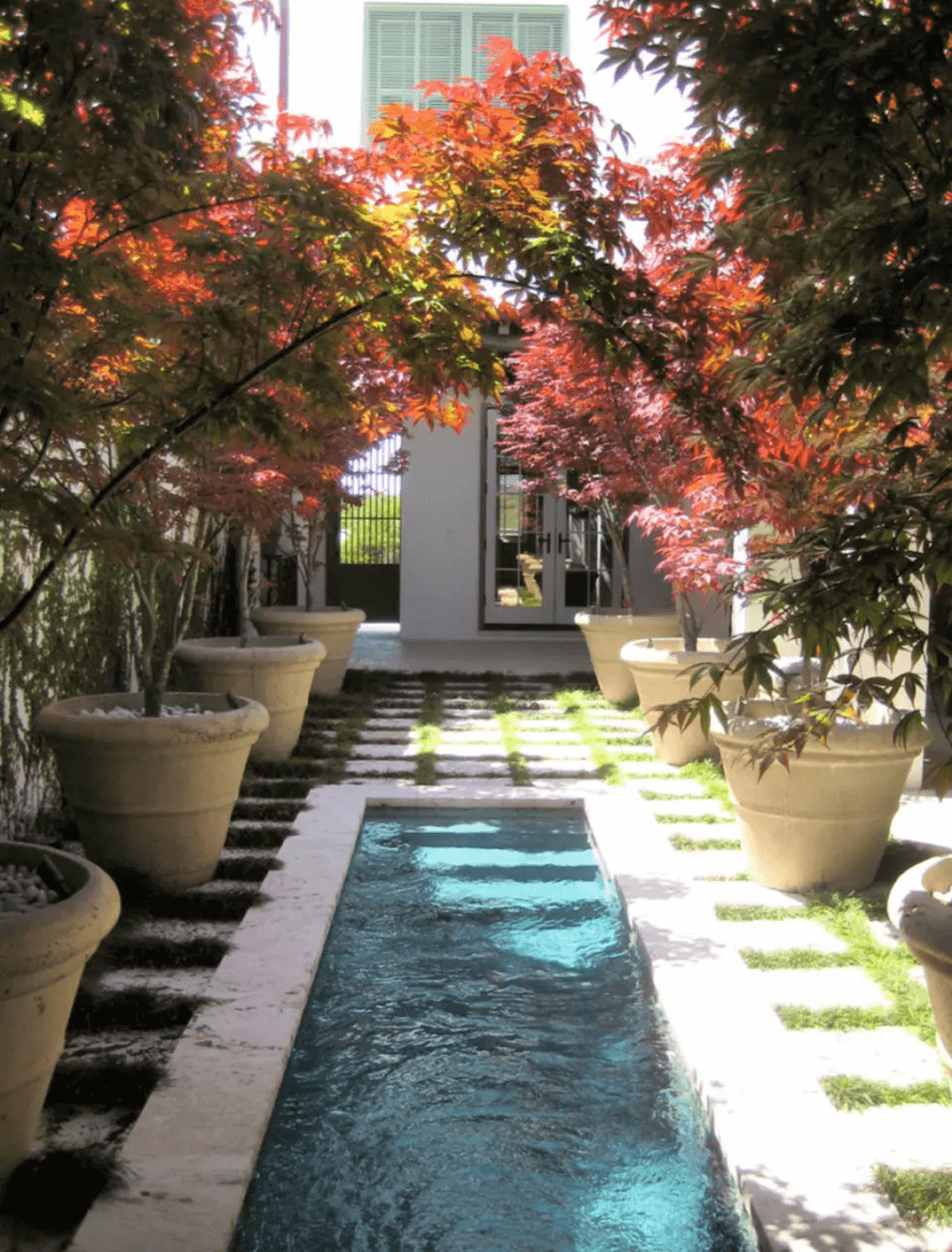 Source: pinimg.com
Another lap pool idea for you is this, but this time, it is smaller. Designed by Troy Rhone of Birmingham, Alabama, this pool is only about 5-by-16-foot. These types of long and narrow swimming pools are perfect for compact spaces. You can achieve more privacy by painting colorful trees or placing some large planter pots. 
15. Bring the Outside In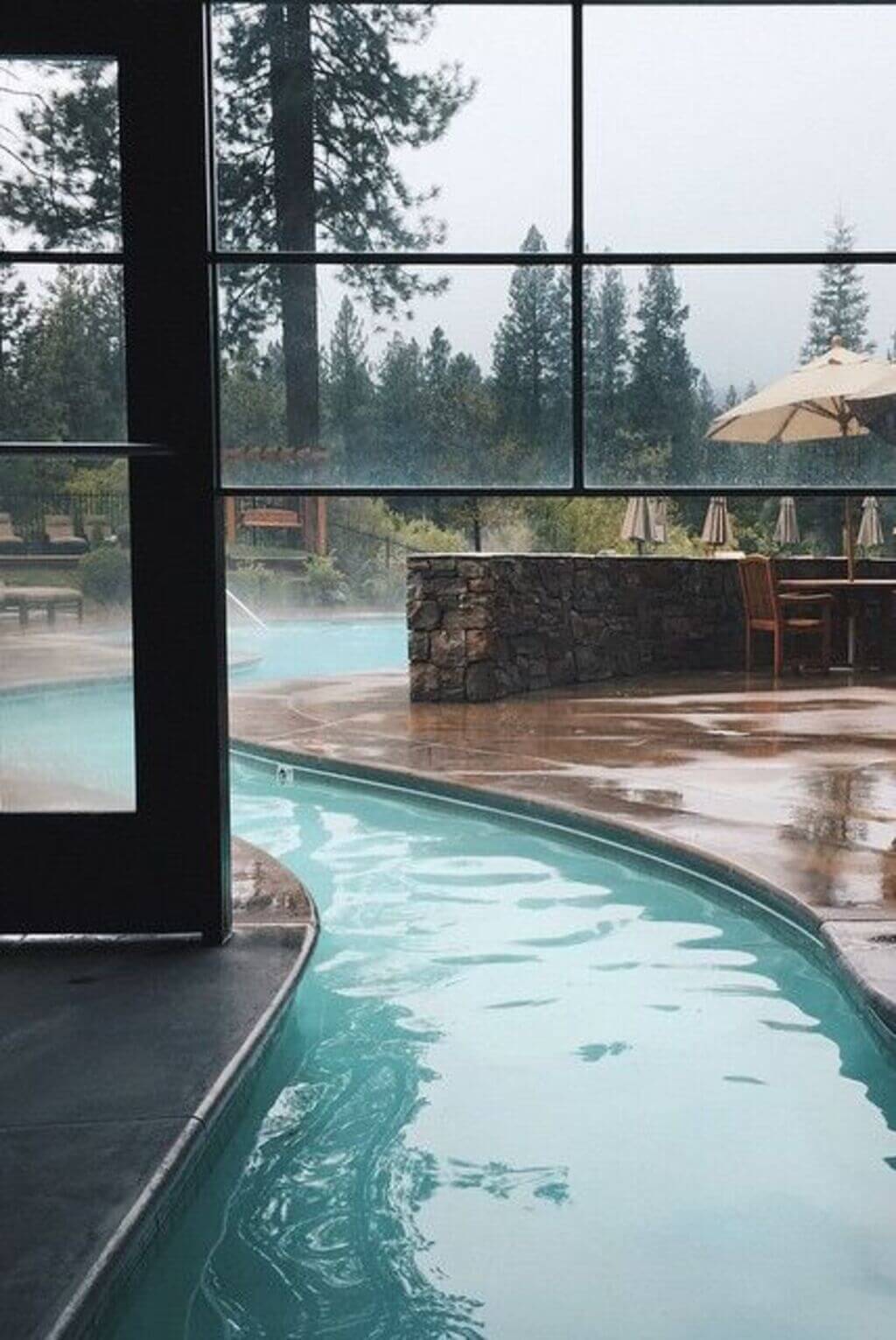 Source: hearstapps.com
This is probably the unique pool design that you have ever seen in your life. This is an indoor to outdoor swimming pool, which means you can swim from indoors or outdoors.  
The glass wall in between will give you the perfect transition, and you can enjoy your baths in complete privacy. 
16. Gunite Pool Idea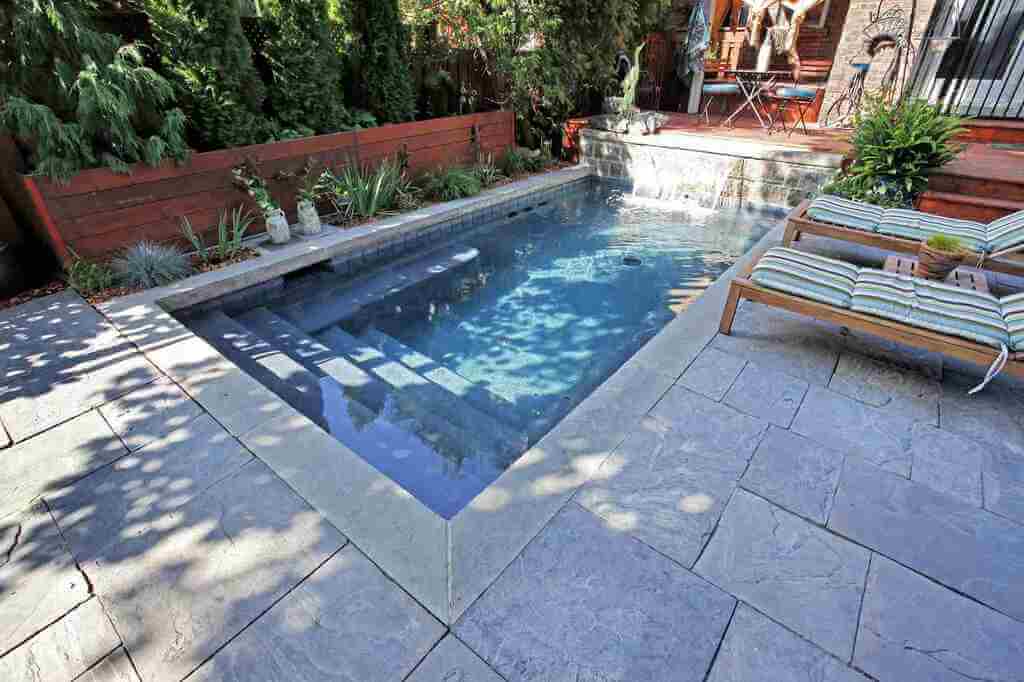 Source: thespruce.com
This pool is custom-built on the homeowners' demands, and it is designed by Betz Pools of Toronto, Canada. This urban Toronto home has a 9-by-18-foot gunite pool that is equipped with underwater benches, steps, a sheer-descent water feature, and a raised ledge-rock wall.
Also Read: 7 Things to Consider Before Building a Swimming Pool
17. Prefab Plunge Pool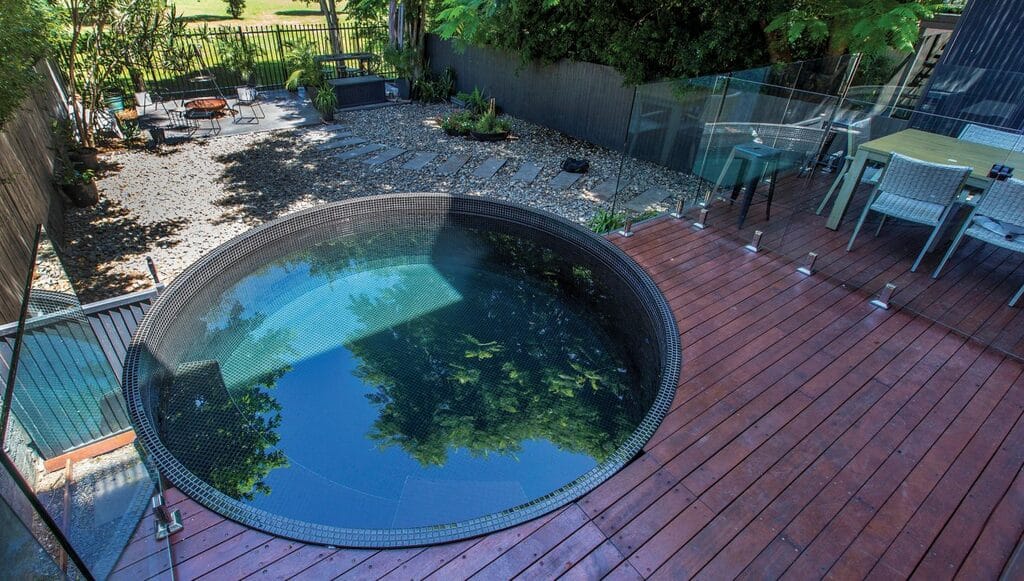 Source: queenslandhomes.com.au
If you think that small pools are not fun as large pools, then you're thinking wrong. Look at this prefabricated model by Australian Plunge Pools. It is completely made of concrete and also features a built-in standing ledge. 
You can also use these types of plunge pool for hydrotherapy as it has options like spa jets and mosaic tile.
18. Round Pool Design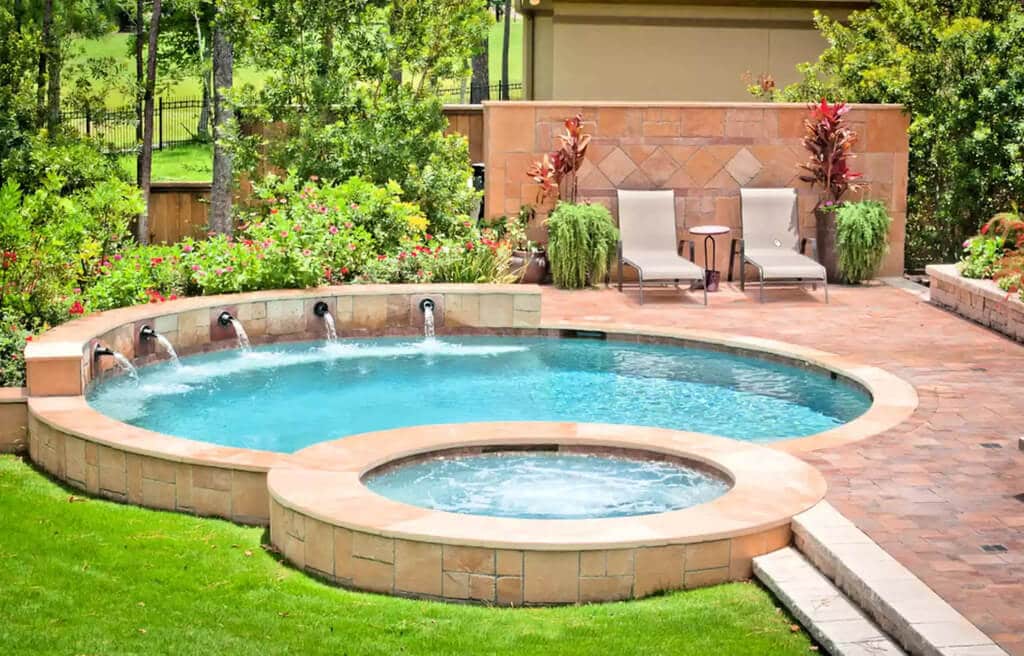 Source: godiygo.com
This double-rounded pool design is from Mirror Lake Designs. Located in Houston, this pool is a twist on traditional rectangular and geometric pools. It also features scupper water features and warm sandstone paving. 
The Bottom Line
So this is all about the small swimming pools. All these ideas prove that no matter your backyard space is small or big, you can always create a fun element without spending much. And one thing is sure that they will make your house more sophisticated and neat. 
I hope these varieties of small pool designs will help you to find the perfect pool idea for your space on a decent budget. If you like this blog, please do share it with your friends and family. For more architectural guidance and home improvement tips, keep coming to Architecturesideas.