Picking a colour for your front door and complementary door knobs can be a daunting part of your home decoration. The choices of colour are numerous and we are not thinking about bright colours. You can choose one of the numerous shades of white, grey, or black. For statement hardware, a lever on rose door handle is a great look
As you can appreciate, it takes a lot of time and thought to choose the right colour for your home. Herein, we will explore the top 8 tips on how to choose the best colours for your front door.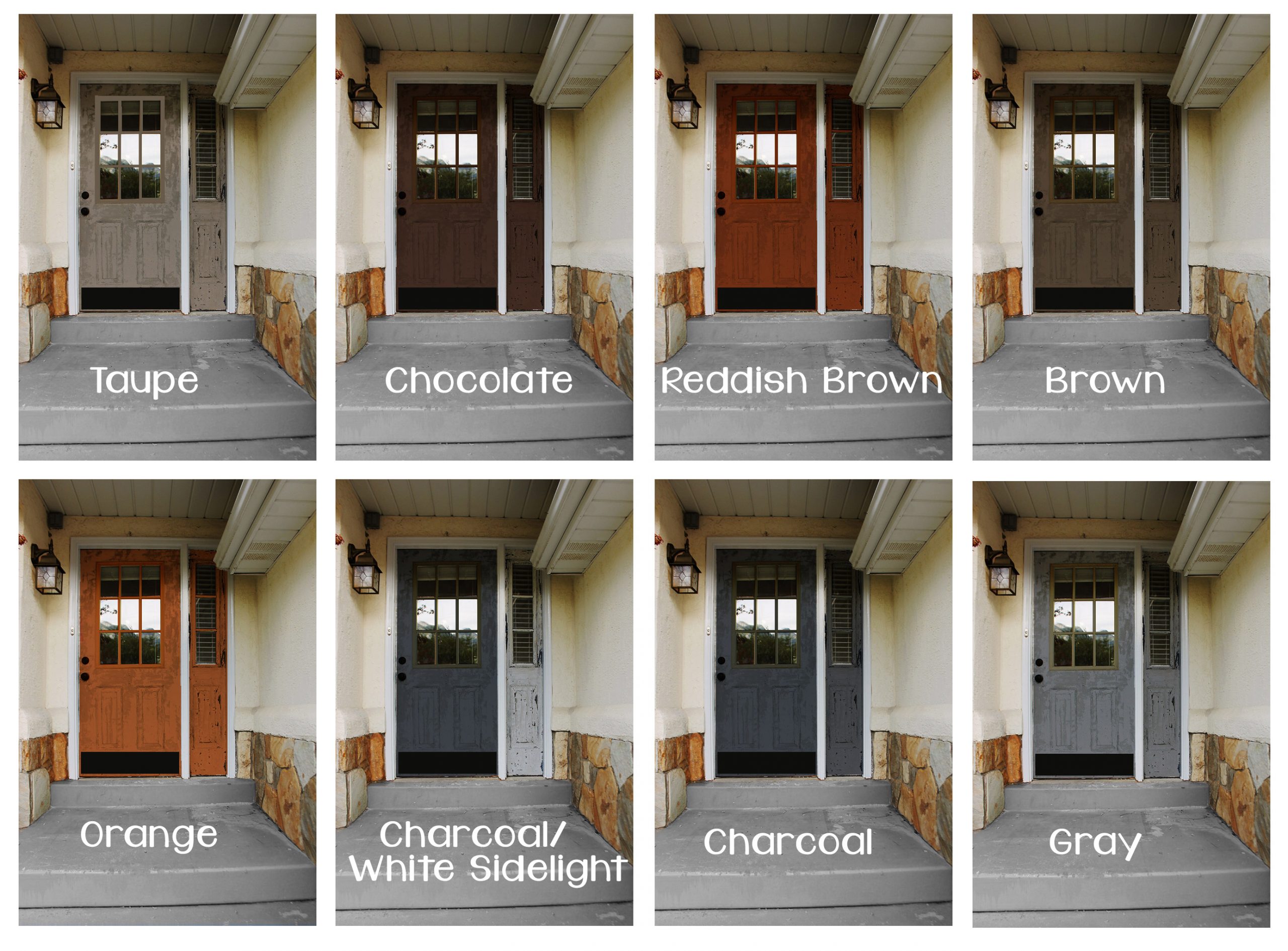 #1. You Do Not Have To Match The Door colour To That Of Your Windows Or Garage Door
So, do you think contrasting colours will work for your front door? If not or if you find the contrasting colour too much of step, consider going for a lighter or darker shade of the same colour as the frontage. Taking this approach will help your front door stand out, making it a special part of the front of your home. Importantly, it will add interest to your door and create a welcoming aura.
#2. Look Beyond grey If You Are After A Neutral colour
While the anthracite grey is on vogue, it is not the only neutral colour that can complement grey windows. You should consider choosing a colour that complements (not necessarily match) with the other elements of the structure. You can go a level up by choosing a colour that means something to you. Additionally, you should note that grey does not have to be a dull colour. There are shades of grey that have a kick in their hue. Consider going for such shades of grey.
Using neutral colours allows you to build up colours in other parts of your house, such as the hallway. It is worth following this approach as well when choosing a neutral colour for your door.
#3. Consider The colours Of All The Building Materials In The Structure
Keep in mind the colours of the cladding, brick, and roof when deciding which colours to go for. For instance, when you use a zinc roof, consider going for a black shade. If you have timber cladding, you have free reign on choosing a colour for your front do as long as it stands out. When you have walls made of brick with a colour pallet of brown, white, and dark red, choose one of these colours for your front door.
#4. colour Your Door To Brighten Up A Dark Exterior
It is always welcoming when the front door can shout, 'hello, and welcome home'. You can explore the examples of how turquoise and yellow help the front door stand out and create a welcoming environment. Given that the front door is meant to create an impressive first impression, you ought to make it a stand feature of your house. When you see a Miami blue front door, you do wonder what lies inside or who lives there. The same case applies for front doors coloured purples, orange, lime green, or lemon yellow.
#5. What About A Dual coloured Door
With the frontage and the hallway having different characteristics and needs colour-wise, you should consider dual painting your door. Pain the outside part of the front door with a colour that best works with the frontage colour. Likewise, paint the inside of the door with a colour that best works with the hallway colours. You can use colour to add value and a statement to your home, even when you are not trying to.
#6. Monochrome Shades Never Go Out Fashion
While whites and blacks are considered dull choices, there is a potential to make them bold and masculine when adding a touch of style and mystery.
A lot of the older houses tend to have black and white front doors. However, you should note that black comes in many shakes – charcoal black, pitch black, midnight blues. Pebble colours or light grey colours from afar appear as white colours. These shades of black and white colours yield a dramatically different effect, softening otherwise bold colours.
#7. Consider Your Frontage As A Blank Canvas
Why not make the door an accent to your frontage, just as the cushion on your sofa does. As such, think of your frontage as a blank canvas that you need to accessories and the door as the perfect place to do so. Use a different colour on your door to accessorize the whole frontage especially when the door is large and or impressive.
#8. Do Not Try To Match Metallic colour Shades With The Non-Metallic colour Shade Equivalent
Do not attempt to match metallic colours with normal paint colours. You might be tempted to choose a murky brown to match copper or using a light grey colour shade to complement aluminium. This approach to colour matching is difficult to get right. It is in your best interest to steer clear of this approach.
Discover More: