Your farmhouse front door is the most impression-making design element of the house. These doors serve as a gateway into your personality and design sense, so these have to be the most appealing, right?
A modern farmhouse front door, if paired with vibrant landscaping, can make your home look the most lively and elegant in the entire neighborhood. As the main door is the first noticeable element composing your home, we've curated a list of 18 farmhouse front door ideas to inject you with innovative solutions to make a statement!
18 Fabulous Farmhouse Front Door Ideas
Curb appeal is important, as you undoubtedly are aware, and luckily this job has been made super easy by adding style to your front door ideas. Don't be frightened to try something new. Here are the 18 fabulous ideas worth giving a shot for a gorgeous home.
1. Exuding Warmth: Rustic Farmhouse Front Door
The earthiness and warmth within the rustic farmhouse front doors offer an unmatched sense of aesthetics filled with soothing appeal. Make sure to color coordinate or contrast the tint of the door with external molding. A brown door set within white door frames is a perfect choice for a welcoming main door.
Pro-tip: Place glass panes to welcome the optimum amount of sunshine to your home.
2. Conventional Farmhouse Double Front Doors
What's more satisfying than staying well-knitted to the roots? Nothing, right? Thus, the choice of traditional farmhouse double front doors is a go-to option in any situation. The durability of the wood and charming brown accent is sure to accentuate the whole home design while keeping you on track with the set budget.
3. Sneaky Farmhouse Exterior French Doors
Want a home that makes a statement from the exteriors while also offering a little sneak peek into the interior? Farmhouse exterior french doors must be on your top considerations for that. This signature farmhouse front door style offers a seamless connection with the interior design through the glass panels.
4. Gorgeous Green!
There's nothing as bold and beautiful as a modern farmhouse front door splashed in green color. The vibrant green is sure to draw attention to itself and offer your home an artistic touch. This is the best idea that fits in the budget as all it takes is a coat of paint on the already existing door.
5. Pastel-painted Modern Farmhouse Front Door
We all know how the pastel palette has been ruling over the interior home decor. Well, the lovely pastels have made their way to the farmhouse front door as well. With the palette ensured to stay in the coming trends, don't hesitate to offer a fresh coat of pastels on your front door. This front door idea promises a welcoming and soothing design.
6. The Natural Texture!
You can never go wrong by opting for an earthy mood board. The natural texture and color of a wooden farmhouse front door catch the most attention and do magic in making the whole ambiance friendly and more welcoming.
7. The Welcoming Yellow
The happy color yellow, when applied to a modern farmhouse front door, is sure to form a positive aura around your home. This will form a lively curb appeal with an eclectic tone. Go over the top with this extravagant door color and keep your guests cheered up as they approach your home.
8. Adorned with Foliage
Does a door always need a stylish form in order to be enticing? No! You can ornament your farmhouse front door with beautiful foliage for a classic look. The color complements the rustic brown door with thick green foliage and lets your home celebrate a Christmassy palette.
9. Ornamented Brown Farmhouse Front Door
Consider a blank door as an opportunity to flaunt your creative side. Adorn the typical brown farmhouse front door with elegant wreaths to stay in a festive mood all year round. You can either take the road of minimalism by adding a wreath on the glass pane or follow maximalism by decorating around the door while staying on the same theme.
10. The Calming Gray!
The color gray symbolizes calmness with its soothing visual appeal. Being one of the widely adopted colors in interior design, creativity has brought this tone to the main doors as well. Color contrast the gray door with the shade of the walls for an interesting design.
11. Inviting White!
Nothing is more clear and bright than white! Mismatch the classic farmhouse exterior french doors with complementing tints in the landscaping. This will enhance the curb appeal of your house and a mixture of hues and textures is sure to draw guests toward your home.
12. Bold Farmhouse Front Door
Desire to take a bold route? Without any second thoughts, proceed with a black farmhouse front door. Let your door reflect your daring personality. Contrasted against white walls, a black door is an extraordinary color choice with its unmatched aesthetics.
13. Sunshine with Sidelights!
Your interiors shine brighter with natural light and exteriors look elegant with more use of glass. This makes a farmhouse front door with sidelights a perfect choice for homes. Let the play of wood and glass form appealing patterns that fill your homes with sunlight. This idea is highly rewarding in terms of aesthetics and functionality.
14. Complementing Farmhouse Double Front Door
Are you blessed with a lovely front lawn? If yes, then take this golden opportunity and complement the wooden charm with the elegant green lawn's reflection by placing reflective glass for the panes. This contrasted and coupled look is all about taking advantage of what's already in place.
15. A Themed Violet Farmhouse Front Door
Go for a dark farmhouse theme and add a splash of violet on your front door. This unique color choice breaks all the conventional rules of having beige or brown on the doors and takes a modern path.
16. Sliding into Innovation!
A modern farmhouse front door is all about the introduction of innovations and style. Rather than a traditional swinging door, opt for a sliding front door with brown panels. A blend of breakthroughs and the elegance of wood slides the door open for maximum beauty and practicality.
17. Ruby Red Aesthetics
A red farmhouse front door! Yes, that's exactly what we're talking about. Colors are a great way to catch attention and impart a certain vibe. A ruby red front door is an unconventional choice that can be paired up with a subtle-tone home exterior. Go wild on the color and let your front door welcome maximum attention with its vibrancy.
18. A Cottage Collection!
Are you done surfing for the farmhouse front door ideas and haven't found anything appealing yet? Well, consider the option of cottage front doors and we promise these will make their way into your heart. The sturdy and stylish door is sure to amp up the look of your home. Available in numerous styles, a cottage collection is worth looking at!
How To Go About It?
With numerous ways and ideas to customize your farmhouse front door, choosing one can be a task. You can spruce up the curb appeal by adding wreaths, flowers, or splashing an enticing color on your modern farmhouse front door. Now the real challenge is how to go ahead with one idea?
The answer lies within you. Yes! Your farmhouse front door ideas have to be a product of your personal liking and choices. Go ahead with what appeals best to you and the design language that soothes you.
Material
No wonder innovations have provided us with unlimited options in terms of materials or style. However, the most conventional and durable option is wood. Whether you stain it, polish it, or paint over it, a wooden door has a timeless appeal that will never make your home age.
Door Style
Single and double door styles are available, with glazed or solid fronts as choices. The modern designs also come equipped with several types featuring sidelights, as well as Dutch-style front doors, which open at the top but remain closed at the bottom. Pick an option that suits your set of requirements.
Design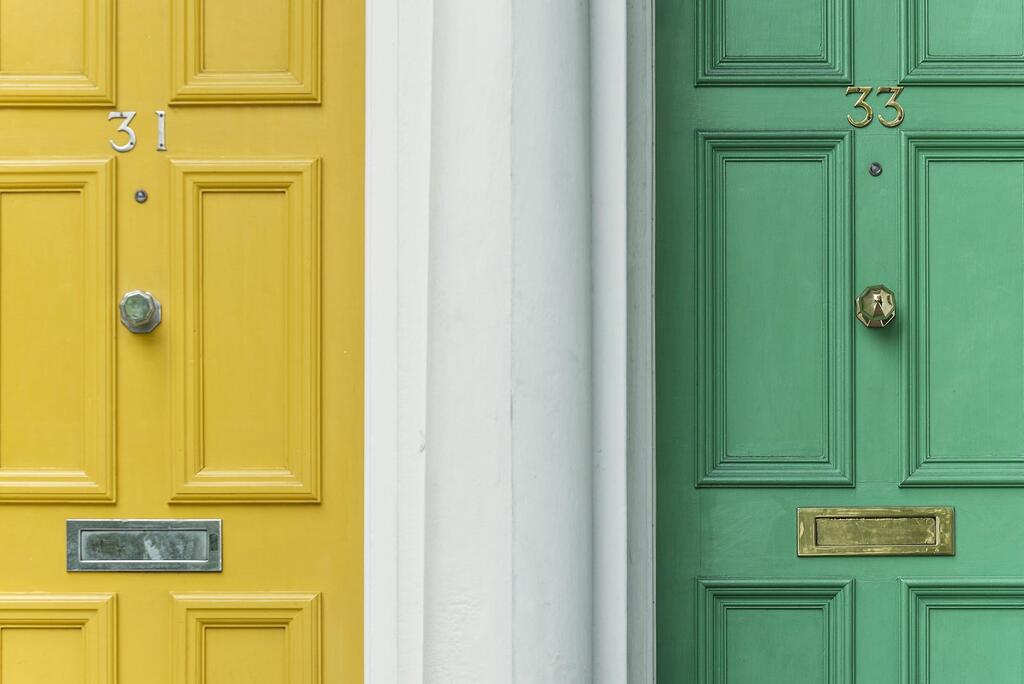 You must first consider the type of motif you desire for the main door before selecting a door. Are you aiming at creating a typical farmhouse ambiance? Rustic farmhouse doors are the answer. Perhaps want to go ahead with a modern touch on the farmhouse exterior french doors? Well, don't be hesitant to mix and match shades, especially if the house is coated in white.
Thus, the solution lies in your design sense and the statement you're trying to make!
Frequently Asked Questions
How to identify a farmhouse door?
If you come across a door that seems extremely elegant with its simplicity and exudes warmth, you can be certain it's a farmhouse door. The clean lines and minimal ornamentation are the key characteristics of these types of doors.
Which colors can be chosen for a modern farmhouse front door?
There are no restrictions on the colors for a modern farmhouse front door. From classic white to loud red, you can go with the tone that fits well in the design language you're trying to curate for your house.
Is a farmhouse front door currently trendy?
A farmhouse door encapsulates timelessness. Thus no matter which era you belong to, these will never go out of style. Its simplicity and high utility have made it one of the most desired door styles even in the year 2022.
The Inspirational Farmhouse Front Door
From old-school to contemporary, the styling options for farmhouse front doors are endless. You can pick an element from the vintage design and pair it with modern color. Explore different design languages and make a lovely blend for a one-of-its-kind door.
Stay open to experiments and welcome creativity through these doors!