Mount Waverley or Mt Waverley, situated near Melbourne with its historic and trendsetting modern architecture, has its gems when it comes to residences. Homes are luxurious whilst still affordable, with cutting edge envy-inducing features. These prestigious houses may be the home you dream of if you're looking for Mount Waverley houses for sale. When taking a stroll through this peaceful neighborhood, five particular residences stood out as the most significantly-designed homes and real estate in Mt Waverley including – 
The House of Primary Colors

262 Lawrence Road, 'Hazelwood'

Les Serin 'Swansong'

34 Park Road

Sienna Mt Waverley
1. The House of Primary Colours
Modernist in design and stunning on inside to match it's premier outer appearance, this home is designed by architect Maria Danos, a Melbourne architect, who currently lives here with her family. Materials include face brick and timber-framed window joinery, with varying ceiling heights that were designed to encourage the interplay of natural light.
This beautiful home was designed with a sense of 'richness'; the intention was to create an inviting and unpretentious abode. Danos enthuses about the home's ability to entertain; it is a welcoming place for all invited friends and family.
The color Cobalt blue is used to enliven private open spaces. It is then accented with a vibrant yellow and framed with a red pivot door and carpets. Living room floors are painted black, to add interest where granite adds contrast.
2. 262 Lawrence Road, 'Hazelwood'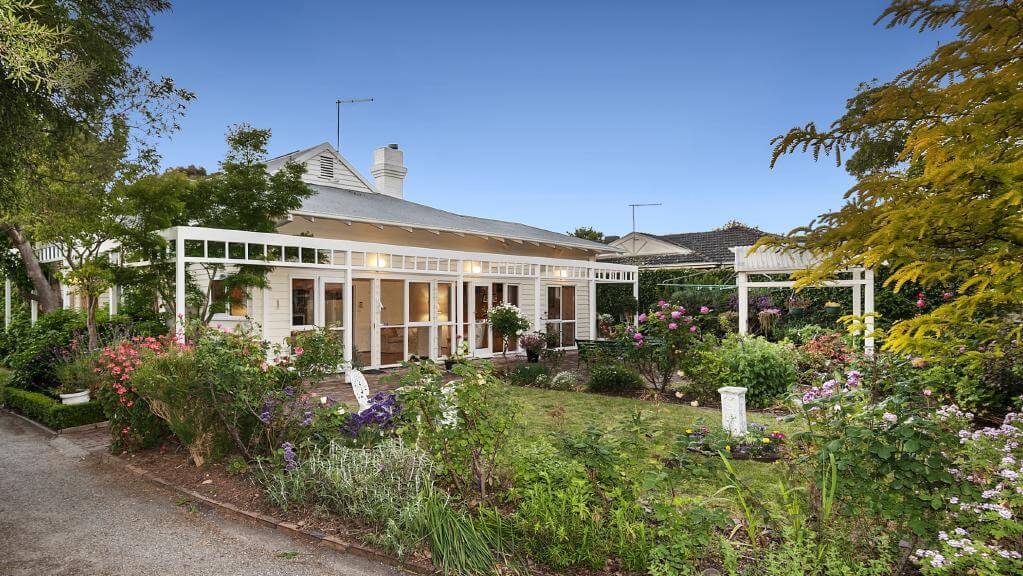 Going back to a historic tradition, this home, endearingly named Hazelwood, is an example of the early 20th century and is a design of Federation Farmhouse architecture. It is nestled amid a rose garden, with a landscape that covers approximately 1579m2.
Arched with high, 3.3m (11ft), ceilings and gorgeous leadlight windows, this masterpiece also features a centerpiece hallway with feature fretwork. Beautifully landscaped gardens are just outside the living rooms, where light is abundant and it is apparent that the landscaping is a special feature of this historic home.
One of the private bedrooms overlooks the enchanting rose garden. Although designed in the Federation Farmhouse style, the house has myriad modern enhancements that include a gas ducted heating, a gas flame fireplace, double glazed windows (front & rear windows), 4kw solar panels, split system cooling and a classically styled makeover in the family bathroom with a deep spa bath and Fowler vitreous china vanity.
This house is where modern meets historic and preserves the heritage of Mount Waverley. It was built in 1909 as a home for Bill and Catherine Hoare and their family of 10 children, as mentioned in the records of the Mount Waverley Historical Society.
3. Les Serin 'Swansong'
The last project by the building designer Les Serin before his retirement, this "swan song" house was influenced by the architecture of Frank Lloyd Wright and the Prairie School of home design. Rock, timbers, and limestone inspire the powerful verticals and equally strong horizontal lines in this highly crafted, very handsome home.
The house features a large photography studio, specifically built for the working photographer who owns it. Powering this marvel, German solar panels sit flat on the roof are part of the design, presenting clean lines as seen from below.
Views of the outside are enhanced through tall front windows. High clerestories are framed in cedar and present clean lines. A private south facade faces parkland, and an alfresco terrace provides a setting for the feeling of the grand. Entertaining on the beautiful terrace would provide a unique and relaxing experience.
4. 34 Park Road
Mid-century modern is the style of this home designed by Chris Connell in a 1960s residence. It is nestled close to Damper Creek Reserve and offers tranquility to those who live here. Its breathtaking garden adds a sense of peacefulness, where the pool provides a place for the family to share time.
High ceilings, dark timber floors and great expanses of glass define the generous sitting room, vastly proportioned living and dining room. Opening to a stunning blue stone-paved terrace with BBQ and picturesque heated and self-cleaning infinity pool, the living room is magical and creates a true ambiance to enjoying life at home. A deep northeast private native garden backs directly onto the reserve adjacent to it.
Lapped in luxury and opening to a surrounding deck, wine lovers will enjoy the extraordinary wine cellar and fitness enthusiasts will enjoy the gym on the lower level. Serenity is radiated throughout the house with spectacular views and an overall peaceful setting. It is the home to escape to after a busy day in the city.
5. Sienna Mt Waverley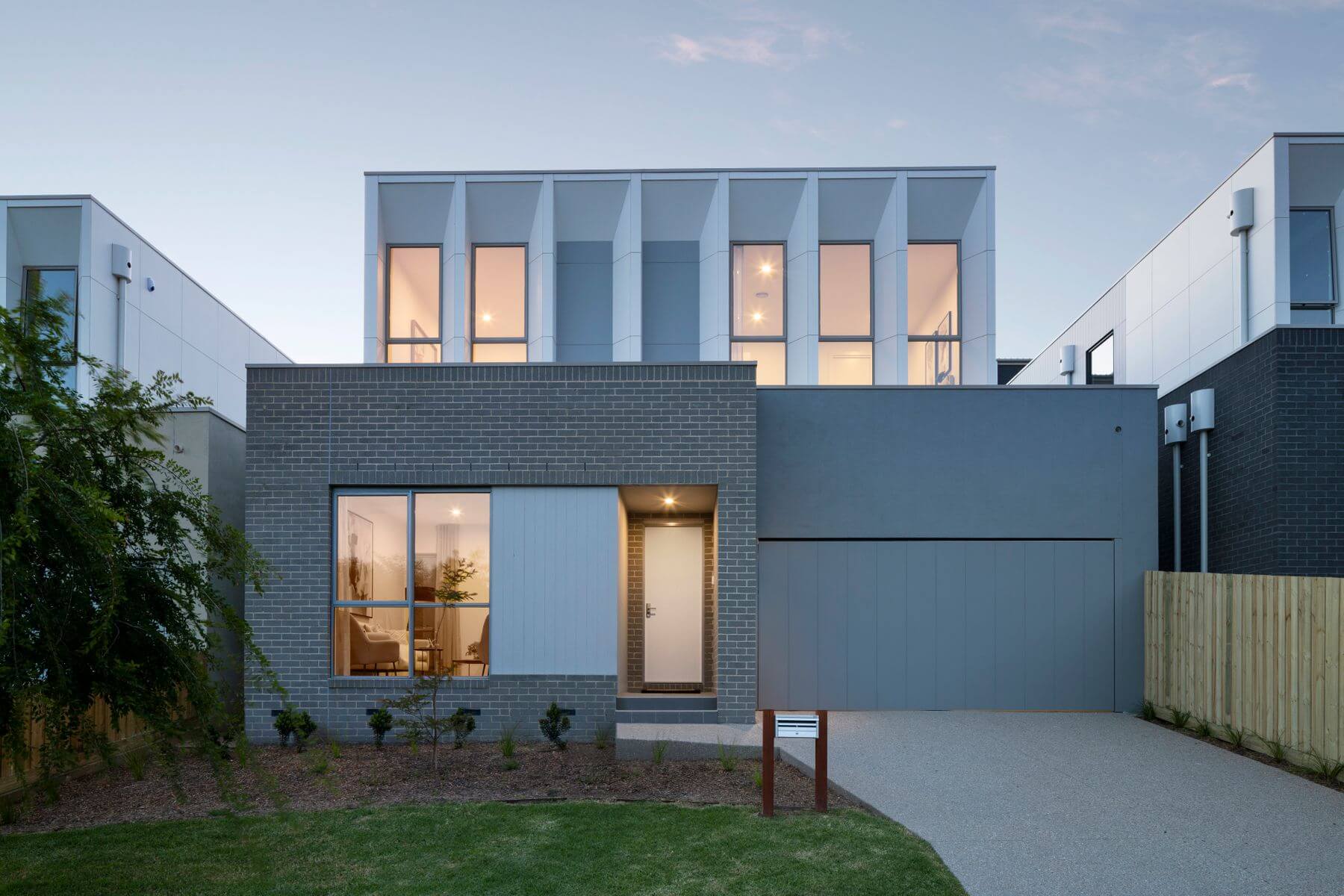 The most recent design destination in Mount Waverley is a new development adaptly named Sienna Mt Waverley which includes a premium selection of individually designed homes presiding over picturesque water views in the green heart of Sienna, named Aqua. Aqua is an absolute waterfront. The bespoke modern architecture is defined by the highest levels of quality and function from one of Melbourne's most vibrant architectural studios.
Both inside and out, purposeful design and crafted detail give each home an air of exclusivity with the luxury of space and customized appointments. These homes are large in scale and grand in liveability the dual-level, 4 bedroom free-standing homes featuring high ceilings, two living zones, powder rooms to both levels, spacious outdoor entertaining decks and remote-controlled, 2 car garage with internal entry.
Reside at Mount Waverley's award-winning residential destination, where luxury becomes part of your daily routine and intuitive architectural design transforms your lifestyle.
Homes across Mount Waverley consist of beautiful homes with architectural touches that are envy-inducing and Mount Waverley houses for sale are always in high demand. Clean lines, strong horizontals and verticals, a myriad amount of natural light and the most modern and ultimate in kitchen appliances are all marks of the best in homes in, Mount Waverley. Combining history and tradition, whether the early 1900s, the modern 1960s, 1970s or the 21st century, enviable modern architecture thrives in Mount Waverley, as evidenced by these five unique and sensational homes.