Effective Tips to Reupholster Your Old Furniture
Upholstery is just one more activity that, for no good reason at all, is shrouded in mystery.  Once you know and understand how reupholstering furniture works, you will find that each piece is made from stuffed furniture to make it accessible to replace the fabric.
Reupholstery is a major task involving furniture. Before it is recovered and placed back together in new fabric, it includes stripping the piece down to its frame. While it is a labour-intensive method to reupholster furniture, the results can be spectacular.
To reduce your anxiety, we come up with a list of tips to accurately reupholster your furniture and ensure that you get the best results. Also, to pick the ideal materials for your requirements, and avoid making the wrong investment, follow these guidelines.
Know When To Consult a Professional Upholsterer For An Advice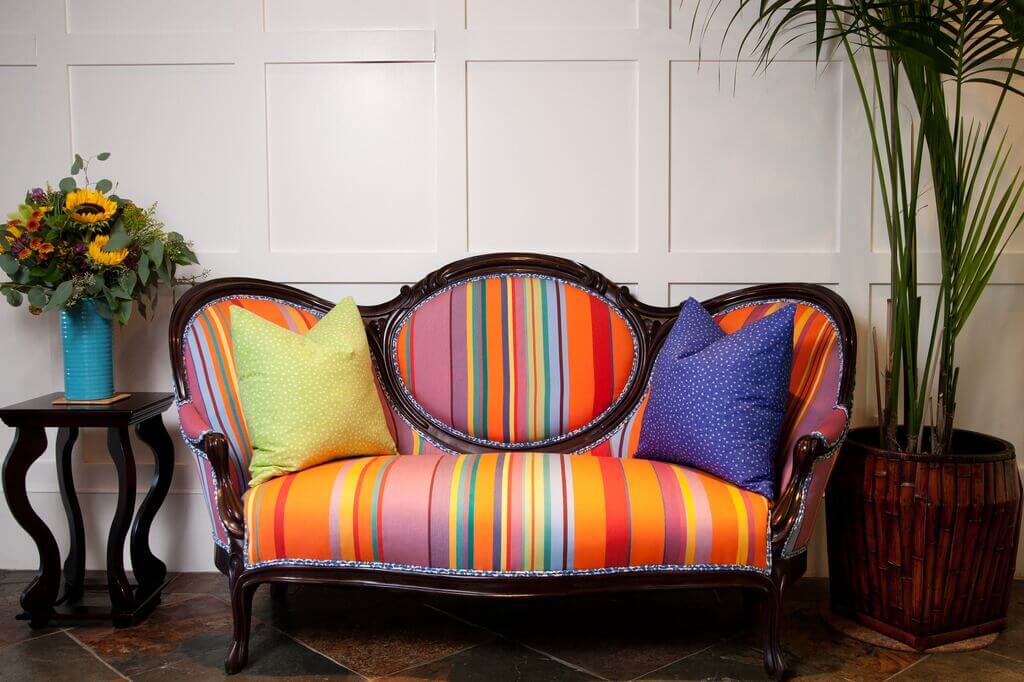 Source: hzcdn.com
Consulting with someone who has reupholstering experience would greatly assist you with your reupholstering project.  If you think it's possible to do it alone, then go for it.  For the process, just search on the internet.  But if you think you need one, then you should go and get one. 
Furthermore, it is important to work with an expert to make sure you get started on the right foot when redoing your upholstery. To improve the appearance and quality of your furniture, they will be able to instruct you on the best methods for inspecting your furniture and materials.
At the same time, they will share with you technical information so that upholstery suppliers do not trick you. We recommend this to you if you are new to upholstery so that you can perform the job properly, and you can also ensure good results.
Prioritise the Quality of the Materials
Depending on the materials used, reupholstering is very expensive, which is why you need to reconsider your decision over and over again if you want to reupholster your old furniture. In addition to that, you'll experience a lot of drawbacks when you don't know what exactly you're entering.
When buying upholstery, we suggest quality over expense. Don't ever buy materials just because they're cheaper than others, invest in good materials because they're going to last.
Quality fabrics, since they have durability, cost more than the average products available on the market. They can withstand varying pressure levels, and due to constant usage, their colours do not easily fade, they do not tear, and are easy to clean and maintain.
Choose the Right Fabric
Choosing a design and style for your reupholstering is fairly simple to do, but matching the right fabric with a design is the harder part. In addition to taking your design preferences and budget into consideration when selecting the material for your chair or couch, you will need to evaluate your lifestyle and the considerations that come with it.
Furthermore, for extra durability, you may want to consider the performance of various fabrics if you have kids, pets, or an active lifestyle.
There are several colours, patterns, and types of materials available, making it easy to find the best fabrics based on your unique needs. You can visit Yorkshire Fabric Shop if you need more information about choosing the right fabrics.
Evaluate Your Furniture
Before you start reupholstering, you need to know the reason why you want to do it. Check your furniture for any damage, in that way you can decide whether you re-upholster it, or buy a new one. 
Generally, damage to upholstered furniture comes in three categories: upholstery, padding, or structure. To know how to address the damage in your furniture, you need to know the category of its damage. 
Upholstery damage, including decolouration from exposure to sunlight, stains from spills and pets, and rips and tears from use, is one of the most common types of damage. This damage is not pretty, but with reupholstery, you can easily repair it.
Likewise, if your chair or sofa is old enough, it may distort its padding and will need to be replaced to make it comfortable again. Worn covers or lumps and bumps are indicative of the need for more filling.
On the other hand, the cost of repair can be high when the damage to your furniture is not only cosmetic but structural. If your furniture piece wobbles or squeaks, the frame is most likely broken, and if the fix is worth the cost to you, you'll want to reconsider it.
Consider the Costs
A fun way to redesign your furniture and upgrade your style is to reupholster a piece you already own. However, you'll want to weigh the costs associated with the project. Factors such as size, damage, and materials are all factors that decide the cost of reupholstery.
Furthermore, you'll want to prepare for labour costs if you hire someone. And as mentioned, reupholstery is time-consuming and labour-intensive, so a large portion of the overall cost is compensated for by labour. The price would also add to other special work required, such as tufting, aligning patterns, and adding or removing world cords.
Also Read: The Benefits Of Having Wood Furniture In Your Home
Keep the Leftover Fabric
Fabric can be expensive, so try to think of the best way to reuse it if you have found a print you love. Those fabrics can be used for other projects, such as throw pillows, curtains, or other decorations for your house.
Furthermore, you can use it if you want to have coordinating accents in your decorations. It makes the house neater and elegant by having a coordinating plan.
Add the Finishing Touch
After upgrading the fabric successfully, the job is not quite over yet. Make sure that the furniture joints are secure and that any problems with you fix the issues of the frame to give a brand new look to an old object.
It will add to the overall results of your work, so don't you ever forget this part. You can cut some excess fabrics and attach some loosen fabrics from the furniture. Always remember that simple details like that can make or break anything.
Takeaway
Reupholstering your furniture is quite a difficult task, but if you want to look brand new then you must consider learning how to reupholster. You can use those tips mentioned above to jumpstart your journey towards giving a new look to your old furniture.